Zucchini pancakes & frittata
Turning green into gold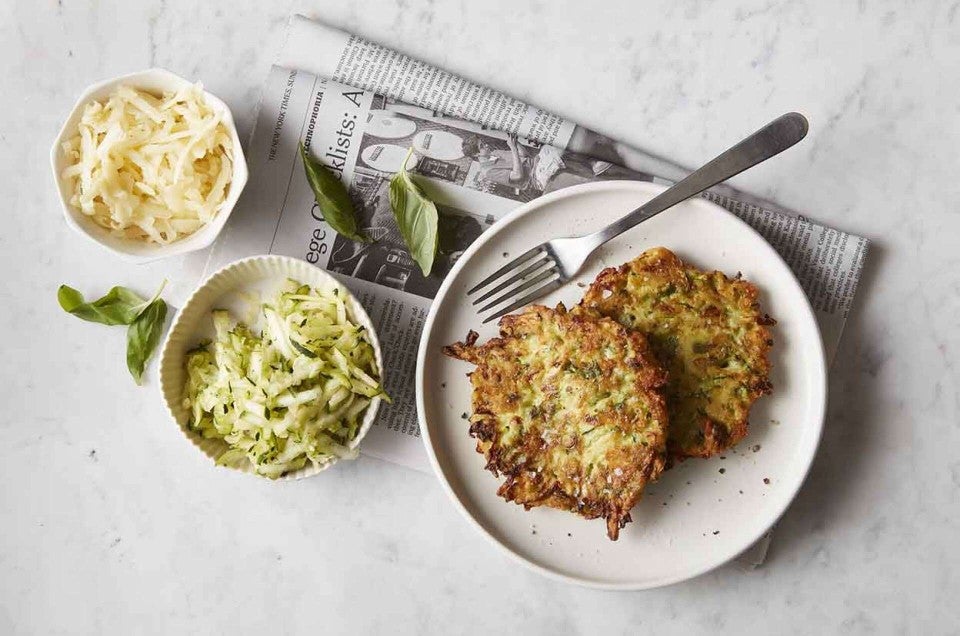 Zucchini muffins.
Check.
Zucchini bread.
Check.
Zucchini chocolate cake, and cookies, and frittata, and dip, and...
Check, check, and double check.
Is there anything, any combination of zukes, flour, eggs, and herbs and spices and sugar and butter and [fill in the blank] we haven't thrown together to put a dent in the ever-growing pile of zucchini outside the back door?
Methinks not. Though we keep trying to come up with new uses for this all-star of everyone's backyard garden.
Speaking of frittata, my 90-year-old MIL just happened to tell me her mother's zucchini frittata recipe yesterday over the phone. This recipe must be just about 100 years old, and it's been a favorite in my husband's family for decades.
Bet you'd like to hear it, right?
"Fry grated zucchini – Ma used 2 zucchini and 1 summer squash – and chopped onion with olive oil in a spider [cast iron pan]. Put eggs and Parmesan in a bowl. When the zucchini and onion is cooked, turn it out of the pan into the bowl with the eggs and cheese; it should come right out without sticking.
"Put the spider back on the stove to heat. Stir the vegetables with the egg and cheese, and pour back into the hot spider. Put it in the oven to bake until it rises and turns golden brown. Cut in wedges, spread with butter, and eat for breakfast."
Though my husband always liked my zucchini frittata, it wasn't quite "like Gram used to make." Now I know Gram's secret; and so do all of you.
But back to the task at hand: finding new uses for heaven's gift to the green-thumb challenged: zucchini.
The following recipe for Zucchini-Cheese Pancakes isn't new; it's been on our site for years. But it's been feeling neglected lately, so what better time than the present to resurrect an old favorite?
These cakes aren't the type you serve with butter and maple syrup, for breakfast. Instead, serve them just as they come off the griddle, no embellishments needed. Or spread hot cakes with butter, if you like.
Serve the cakes at breakfast, with eggs; at lunch, with a salad, or try them alongside pasta at dinnertime. They reheat nicely in the toaster, and they're even good at room temperature; wrap up a few cakes and stow in your backpack for your next hike.
And in the meantime, stow this recipe in your bookmarks folder; trust me, you'll be needing it over the next few weeks!
Now, on to the pancakes.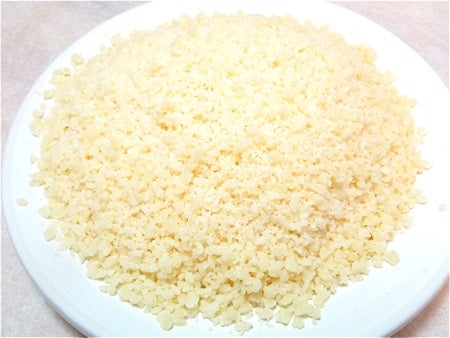 First, grate 1 cup (113g) of cheese. This is Parmesan; I think it stands up well to the remaining ingredients in these cakes. For best flavor, choose a stronger (Parmesan, sharp cheddar) rather than milder (Monterey Jack, mozzarella) cheese.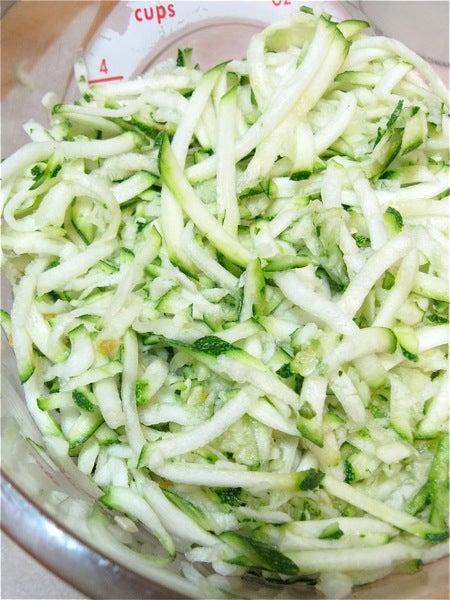 Next, grate some zucchini. You need about 4 cups, coarsely grated. This translates to about 17 to 21 ounces or 484 to 600g.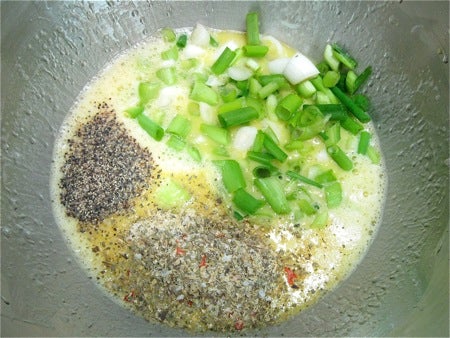 Stir together the following:
4 large eggs, lightly beaten
1/2 teaspoon freshly ground black pepper or coarse black pepper
1/4 cup (50g) olive oil or vegetable oil
2/3 cup (57g) chopped chives or scallions, about 1 bunch scallions, trimmed and chopped
2 teaspoons salt, to taste
1 teaspoon dried basil*
1 teaspoon dried oregano*
Substitute 2 teaspoons Pizza Seasoning for the dried herbs, if desired, reducing salt to 1 1/2 teaspoons.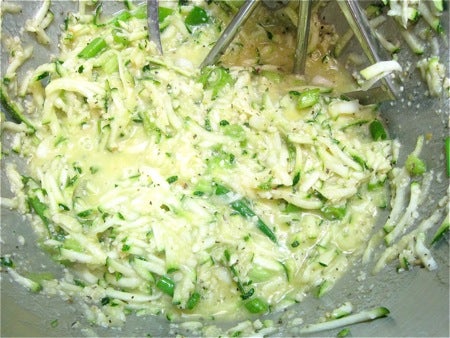 Add the zucchini and cheese, stirring to combine.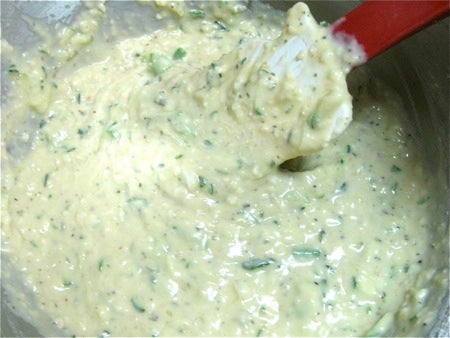 Add 1 3/4 cups (206g) King Arthur Unbleached All-Purpose Flour, stirring until the flour is thoroughly mixed in.
Preheat a griddle to medium-hot – about 400°F, if you have an electric griddle.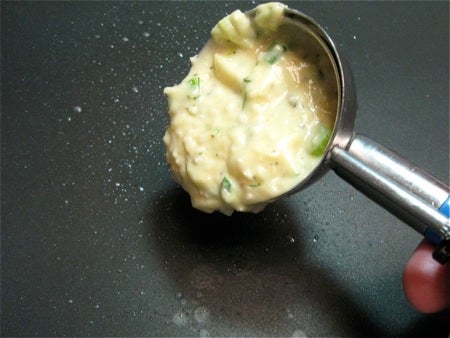 Drop the batter by 1/4-cupfuls onto the hot, lightly greased griddle. A muffin scoop is the ideal tool here.
Now, before you plop a whole lineup of cakes onto the griddle, fry one cake first; that'll let you get your griddle temperature down without burning or under-cooking half your recipe.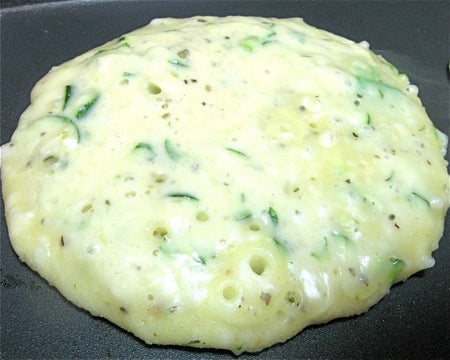 If necessary, spread the cake until it's 3 1/2" to 4" in diameter.
Cook the cake for 3 minutes, or until it's brown on the bottom, and bubbles have appeared on the top. The top surface will appear somewhat dry and set.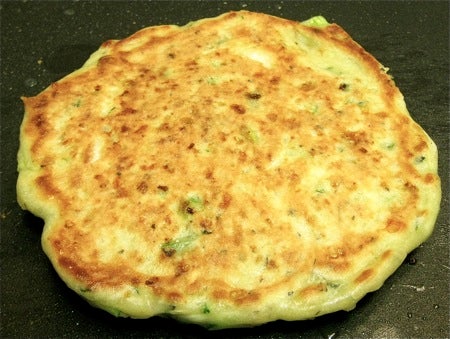 Flip over, and cook for about 3 to 4 minutes on the second side...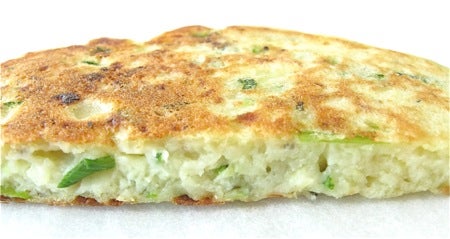 ...or until it's as moist/cooked as you like when you break it open.
I like mine pretty moist inside, but it's up to you.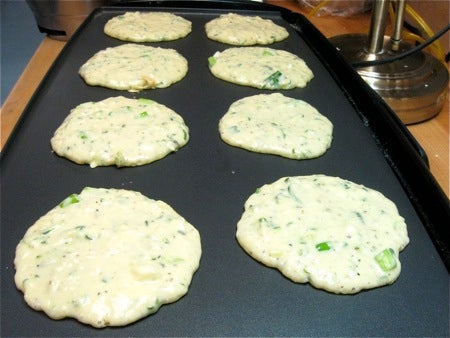 Repeat with the remaining batter. You can fit about 8 cakes on a nice-size griddle.
Serve warm, at room temperature, or cold; with butter and grated cheese, or without.
Store any leftovers, tightly wrapped, in the refrigerator. Reheat in a toaster or toaster oven, if desired.
Read, rate, and review (please) our recipe for Zucchini-Cheese Pancakes.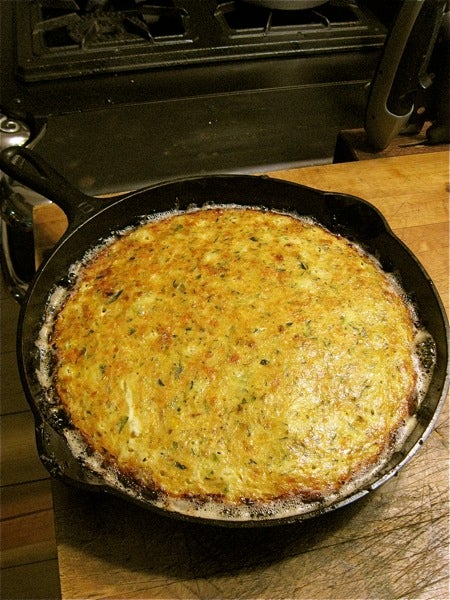 So, I couldn't resist trying the frittata.
My husband's comment? "Hey, this is pretty good." Which for him, means, "Totally awesome, you can definitely make this again."
Here's what I did.
2 pounds zucchini/summer squash (2 zucchini, 1 summer squash), grated
1 large onion (11 ounces), diced
1 ½ cups (6 ounces) grated Parmesan
6 to 8 eggs; I used 2 large and 4 jumbo
First, salt the squash, put it in a colander, weigh it down, and drain for an hour or so.
Combine with the onion, and fry in olive oil in a large (12") cast iron pan. Fry until soft; the vegetables will greatly diminish in volume. Season to taste with salt and pepper.
Put the cheese and eggs in a bowl. Add the vegetables, and stir to combine.
Drizzle some olive oil into a smaller (9" to 10") cast iron skillet, and heat it on the stovetop. Spoon the vegetables into the pan, and bake in a preheated 400°F oven for about 25 minutes, until the frittata is light golden brown on top. Serve hot, in wedges.
Maybe tomorrow I'll have it for breakfast, with butter...
If you need more recipes to use up the bounty of an enthusiastic zucchini plant, try our recipes for Double Chocolate Zucchini Cake, Savory Zucchini Galette, or Zucchini Lemon Muffins, just to name a few options available on our recipe site. 
Jump to Comments