The following recipe story is another post in the series of "I didn't know you could make THAT in a bread machine" blogs – a series of which I'm inordinately fond.
I'm a lazy baker.
There, I've said it. While I enjoy the process of baking – indeed, even love to bake, when time isn't too much of the essence – I'm usually more attracted by the end result than how you get there.
Heresy? Not at all. I have no official training in the kitchen arts; no culinary degree like my fellow test kitchen bakers, Susan Reid and Sue Gray. When food science gets down to the molecular level, and the Maillard reaction is getting a thorough going-over, I'm happy to listen and learn.
Hey, what can I say? I'm an English major. Which means I love to write. I also love to eat, and enjoy food in all of its incarnations, from the secret pleasure of a bag of McDonald's fries to the fanciest Beef Wellington.
Add to this a fervent desire to share with like-minded food-lovers, and to offer a helping hand to aspiring bakers, and I've found my perfect job:
Writing about food for King Arthur Flour.
With a specialty in "I love fresh-baked goodies and I don't have a lot of time to fool around." Ask anyone here: I'm the Queen of No-Fuss Cuisine.
Which brings us back to the Zojirushi bread machine, and the many, MANY ways it can help you, besides kneading bread dough. Once you start thinking of your bread machine as a compact, self-contained oven with its own built-in pan, there's no end to what tricks you can make it perform.
Like this easier-than-pie Chocolate Pudding Cake.
No Zo? Read on; you can make this the traditional way, as well.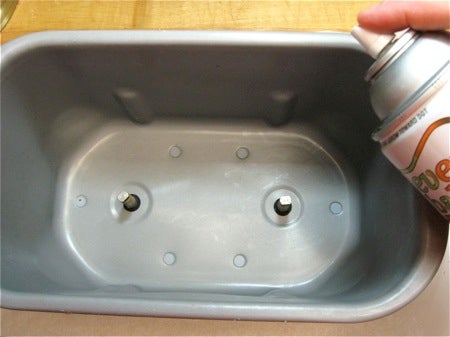 To prepare your bread machine: Remove the paddles from the bread machine bucket. Spray the inside of the bucket lightly with non-stick vegetable oil spray.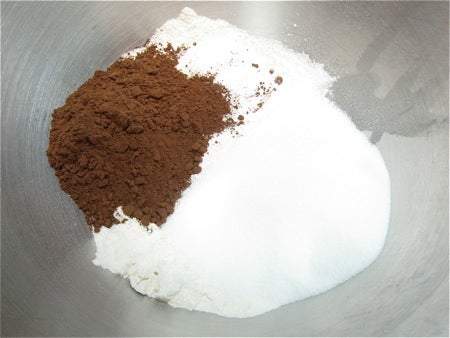 Place the following in a bowl:
1 1/4 cups (150g) King Arthur Unbleached All-Purpose Flour
3/4 cup (149g) granulated sugar
2 teaspoons baking powder
1/2 teaspoon salt
1/2 cup (43g) Dutch-process cocoa
1/2 teaspoon espresso powder (optional, but very good)
Whisk to combine.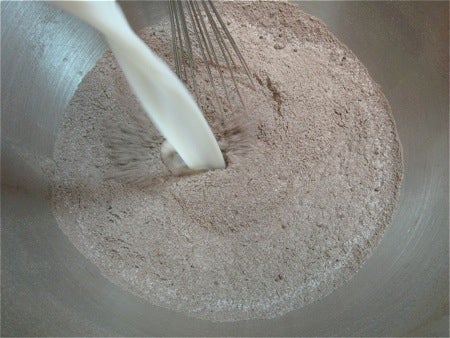 Add 3/4 cup (170g) milk...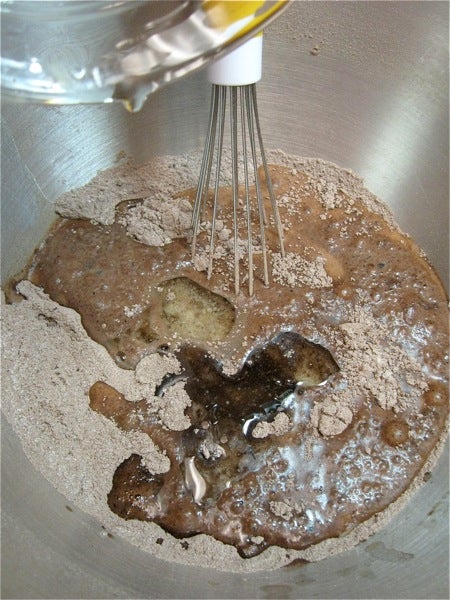 ...1 teaspoon vanilla extract, and 4 tablespoons (57g) melted butter.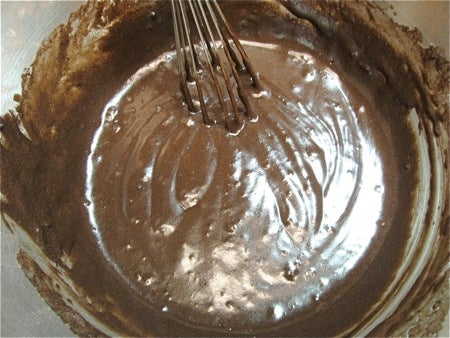 Mix until smooth.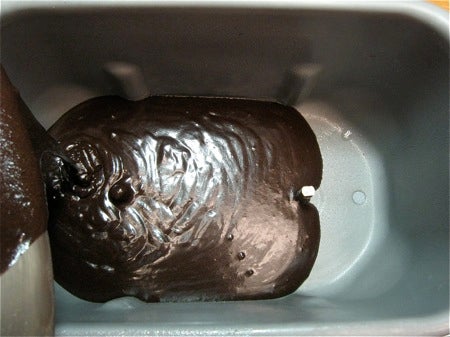 Pour the batter into the bread machine bucket.
To make the second layer: Mix 3/4 cup (156g) brown sugar with 1/4 cup (21g) cocoa and 1 teaspoon espresso powder.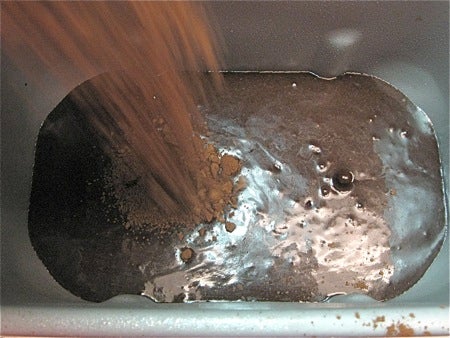 Sprinkle this mixture over the batter in the bucket.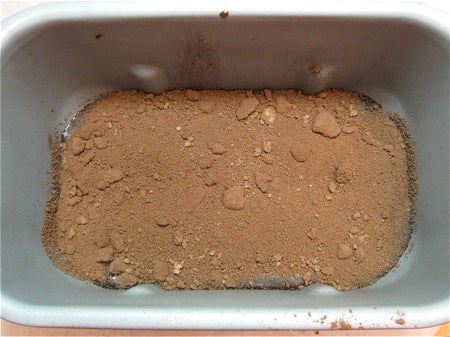 Gently shake the bucket to distribute the cocoa.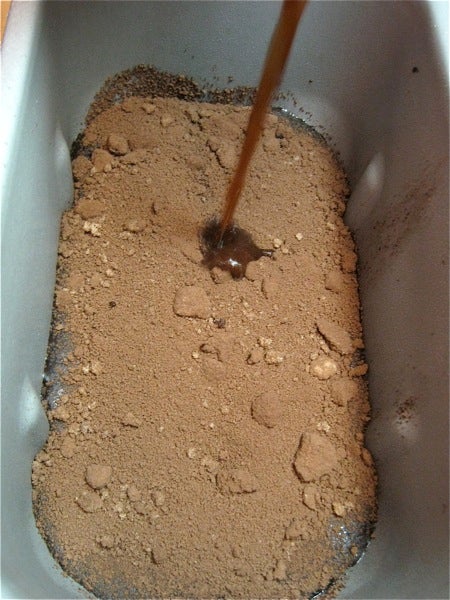 Drizzle 1 1/2 cups (340g) hot water or hot brewed coffee over the dry ingredients.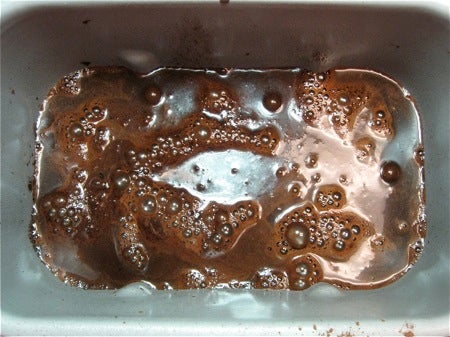 This is what it'll look like.
There's no need to mix it in. Really.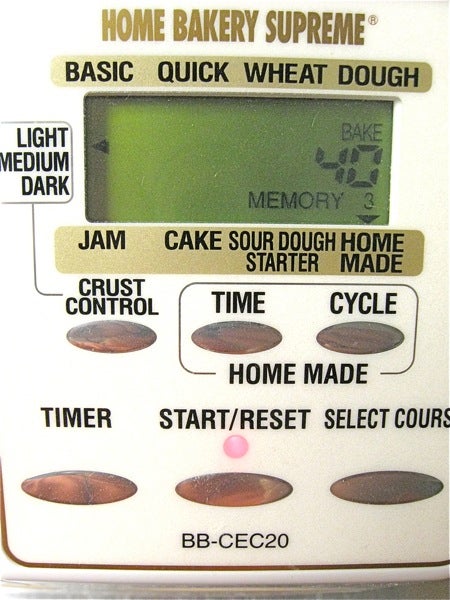 Program the machine for bake only, 40 minutes, no keep warm option.
Press Start. The red light (under Start) should light up. If it doesn't, press Start again.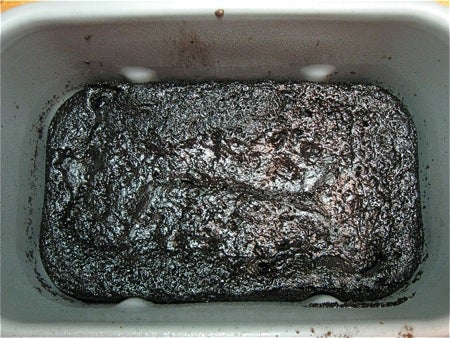 Allow the machine to complete its cycle.
Let the cake cool for at least 15 minutes before serving. The sauce will thicken as it stands, and when totally cooled will be the consistency of medium-thick fudge sauce.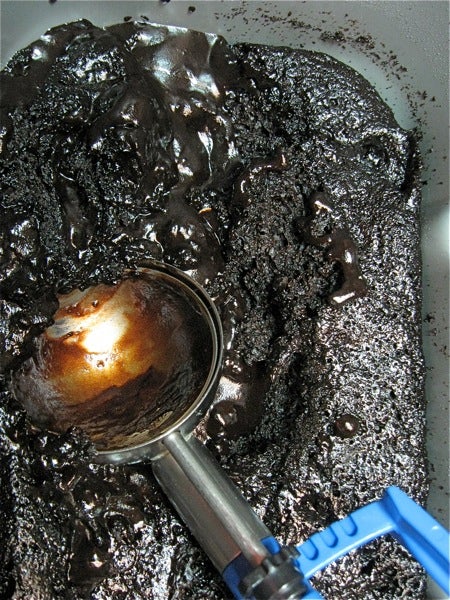 To serve, scoop servings of the warm cake onto individual plates; top with whipped cream or ice cream, if desired.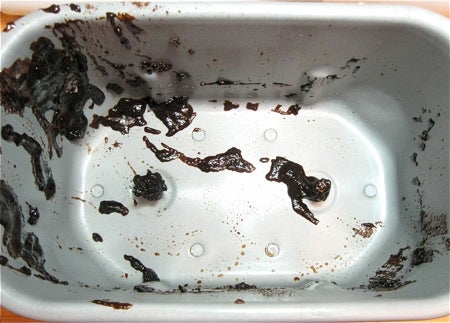 Here's what the pan looks like after you're done scooping.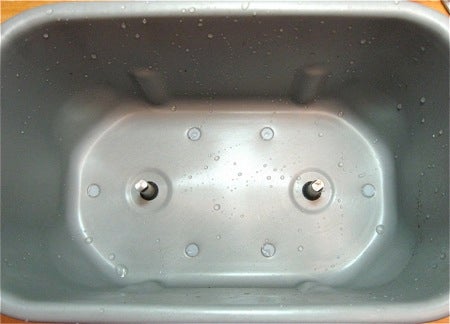 And here's how it looks after a quick rinse with warm water.
Slick, eh? Another thing I love about baking in the Zo – easy cleanup!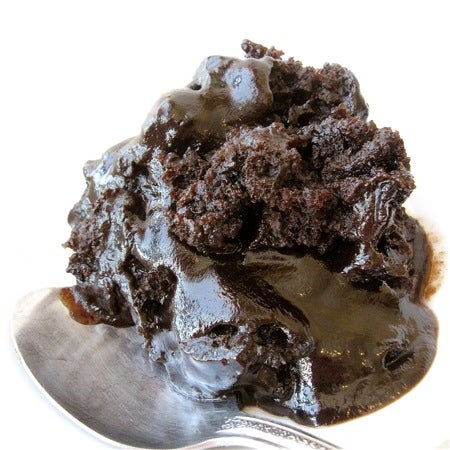 If you can't serve the pudding cake while it's warm, keep it at room temperature (for 2 or 3 days), and reheat it VERY briefly in the microwave just before serving.
Yes, it's messy. No, it's not photogenic. And yes, it's really... really... good.
Can you make this in a regular oven, rather than a bread machine?
Sure, just click to the recipe below; you'll find standard baking directions there.
Read, bake, and review (please) our recipe for Easy Chocolate Pudding Cake.
Jump to Comments