All right, Harry Potter fans, what was Dumbledore's password to his office in the very first book? Got it? All together now...
"Lemon drop!"
Later in the series he also uses "sherbet lemon" as a password to his private sanctuary. In my mind both lemon drops and lemon sherbet evoke images of crispness, clarity, and energy, just right for a brilliant mind.
Picture it yourself. I don't think anyone ever eats a lemon Popsicle to feel mellow. No one chooses lemon shaved ice to get that warm pajama feeling. Instead we eat lemon pie to feel refreshed and exhilarated in the heat of summer. Bake sale superstar, the lemon square makes us feel a bit like school kids again, full of vim and vigor. Even a lemon wedge in our water makes us feel like we're healthier.
Now, I won't lead you down the garden path and claim that our delightful Lemon Pudding Cakes are health food but I will say that the perky lemon flavor can do wonders for your spirits.
Pucker up, we're going to make Lemon Pudding Cakes.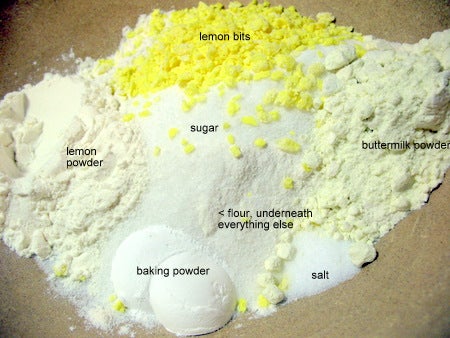 Preheat the oven to 350°F and lightly grease six individual 1-cup bakers.
In a large bowl, place all of your dry ingredients:
1 cup (120g) King Arthur Unbleached All-Purpose Flour
2/3 cup (135g) sugar
3 tablespoons (21g) lemon bits or chips
2 tablespoons (18g) lemon powder
2 teaspoons baking powder
1/2 teaspoon salt
2 tablespoons (18g) buttermilk powder
As you can see, if you give each ingredient its own separate place in the bowl, you'll be able to tell at a glance what's in and what's not.
You know how much I love ya, so I'll be honest. There isn't really a good way to make these cakes without the lemon powder. If there was, I'd let you know but in all honesty it's the lemon powder that gives these cakes their pucker and zest (no pun intended).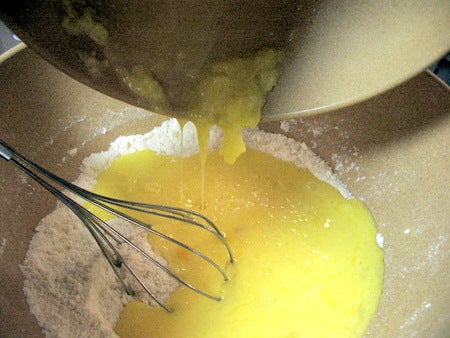 In a separate bowl, combine your wet ingredients:
4 tablespoons (57g) melted butter
2 large eggs
1/3 cup (74g) milk
Add all at once to the dry ingredients. I would recommend warming the milk slightly to prevent your butter from solidifying as mine did.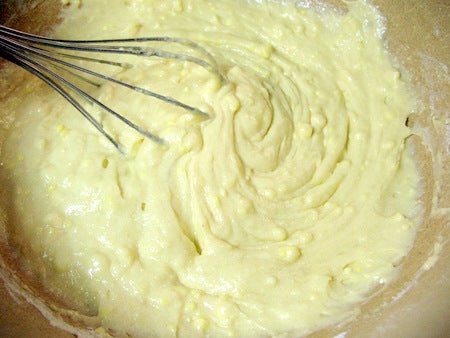 Whisk the wet and dry ingredients together until moist. The batter will not completely smooth out because of the lemon bits.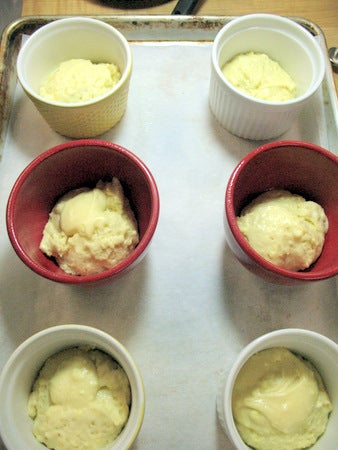 Scoop the batter into 6 ramekins or other small oven-safe bakers. I used a variety of different bakers here. The red bakers in the center were marked as 2 cups while the others were marked as 1 1/2.
It's important to keep in mind that those measures are for the full to the brim capacity,  not necessarily  the bakeable capacity of the dish.  For 1-cup bakeable capacity, you'll need a baker labeled at least 1 1/2 cups.
If you'd like to bake the cake as one pudding cake, you certainly can. PJ tested the recipe in a 9" round and it works beautifully. Just serve straight from the pan, don't try to invert it for serving.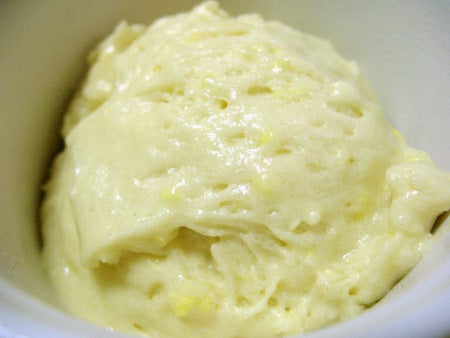 You'll notice that the cake base will puff up as you work with it. The acidity of the lemon will really make the baking powder go to town.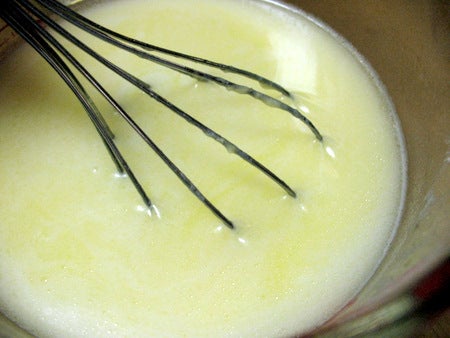 Next, whisk together the sauce ingredients.
1 1/2 cups (340g) hot water
3 tablespoons (43g) butter
1 tablespoon cornstarch
1 tablespoon King Arthur Unbleached All-Purpose Flour
3 tablespoons (28g) lemon powder
1/2 cup (99g) sugar
It's helpful to do this in a large measuring cup with a spout so you can pour the sauce right onto each cake easily.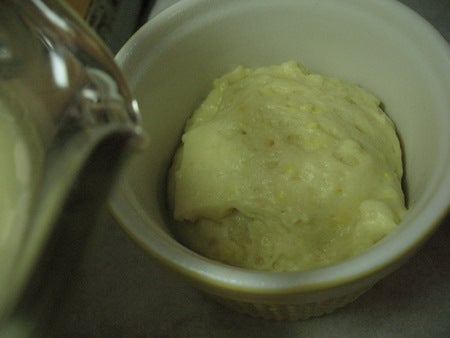 Dividing the sauce evenly among the 6 cups, pour the sauce over the unbaked cakes.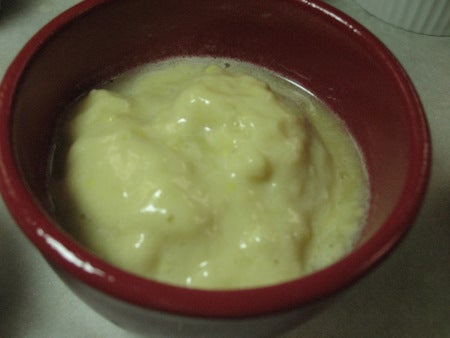 I usually make one round, pouring some into each cup, then let it settle a bit. Then go back and touch up each one with a bit more sauce until all of the sauce has been used.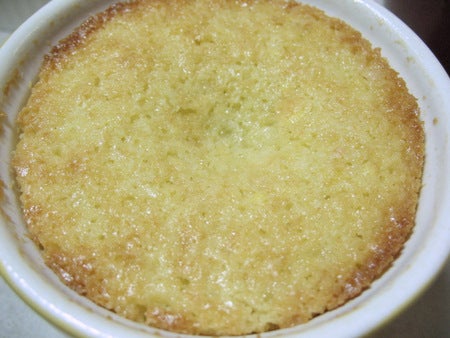 Place the ramekins on a baking sheet and put into your preheated 350°F oven. The cakes are done when the top is lightly browned and begins to pull away from the edge of the pan slightly.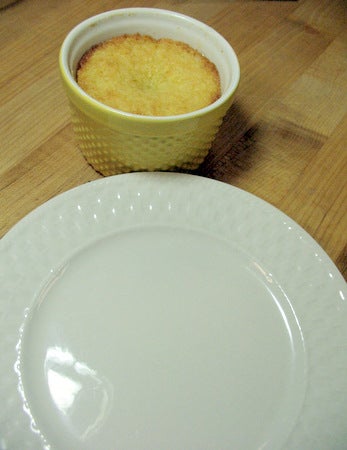 Let the cakes cool in the pan for about 5 minutes before serving.
To serve, you can either serve individual portions in the baker for a sauce-on-the-bottom experience, or you can turn out each cake onto a plate for a sauce-on-the-top treat.
To turn out the cakes, choose a plate that's large enough and has a slight lip to rein in the warm sauce. Run a flexible knife or spatula around the edge of the cake and invert it onto the plate. Remove the baker and scoop any extra sauce out onto the top of the cake.
Garnish with a touch of lemon peel or grated zest and serve warm. A little dollop of whipped cream provides a nice counterpoint to the perky, lemon-y sauce.
Remember, the scent of citrus is a mood lifter. So, if winter is still getting your goat, or if spring has already sprung and brought you mud and blackflies, make a batch of these heavenly scented cakes and breathe in the goodness.
Please bake, rate, and review our recipe for Lemon Pudding Cakes.
Jump to Comments