Gluten-Free Lemon Bundt Cake
Our Recipe of the Year made gluten-free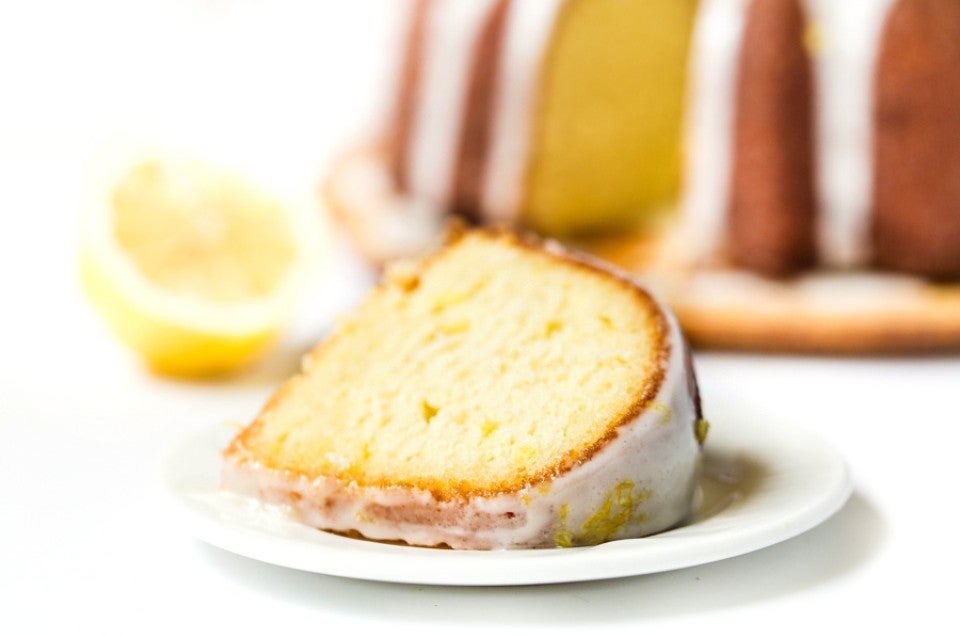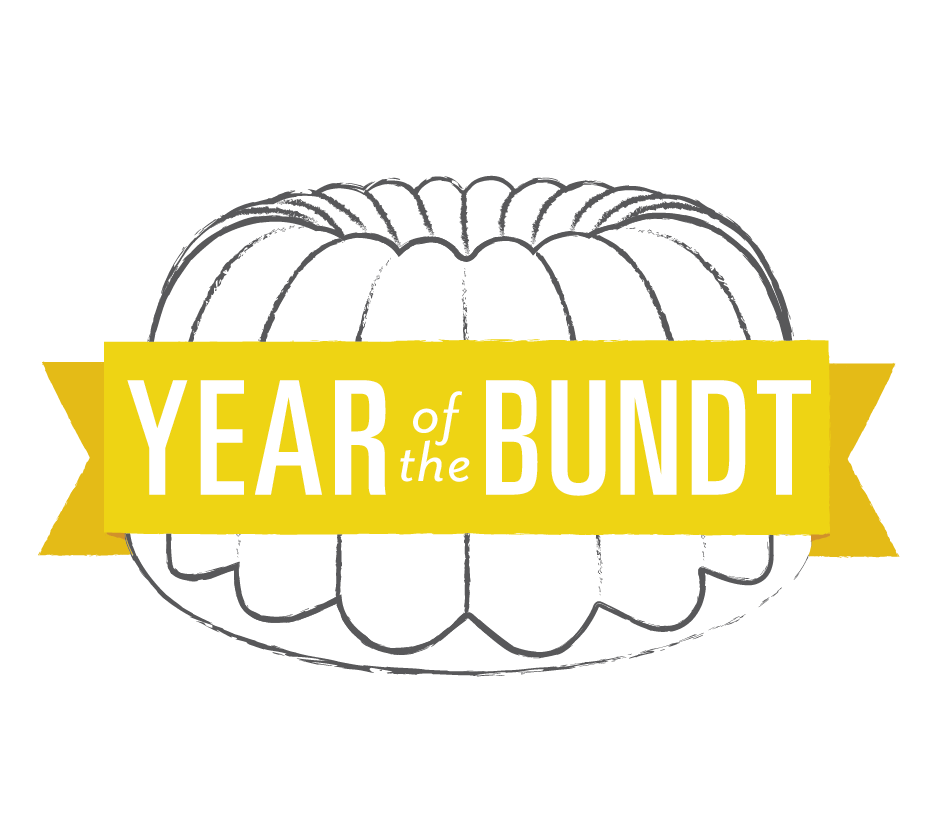 The Year of the Bundt rolls on! All year long, we're sharing delicious recipes you can whip up in a Bundt pan and today we're going to show you how to convert our recipe of the year, Lemon Bliss Cake, into a gluten-free lemon Bundt cake — simply by changing one key ingredient.
As with most Bundt cakes, Lemon Bliss works perfectly with our gluten-free Measure for Measure Flour as a 1:1 substitute for the all-purpose flour. And, seeing as this cheery, citrus-y cake reigns supreme this year, we thought you'd enjoy seeing just how similar this gluten-free version really is. It still has that wonderful crumb, springy texture, and tangy flavor.
Gluten-Free Lemon Bundt Cake
Preheat the oven to 350°F.
Begin by gathering your ingredients. You will need:
16 tablespoons (1 cup) unsalted butter, at room temperature
2 cups granulated sugar
1 teaspoon salt
4 large eggs, at room temperature
2 teaspoons baking powder
3 cups gluten-free Measure for Measure Flour
1 cup milk (we prefer whole milk)
zest (grated rind) of 2 lemons OR 3/4 teaspoon lemon oil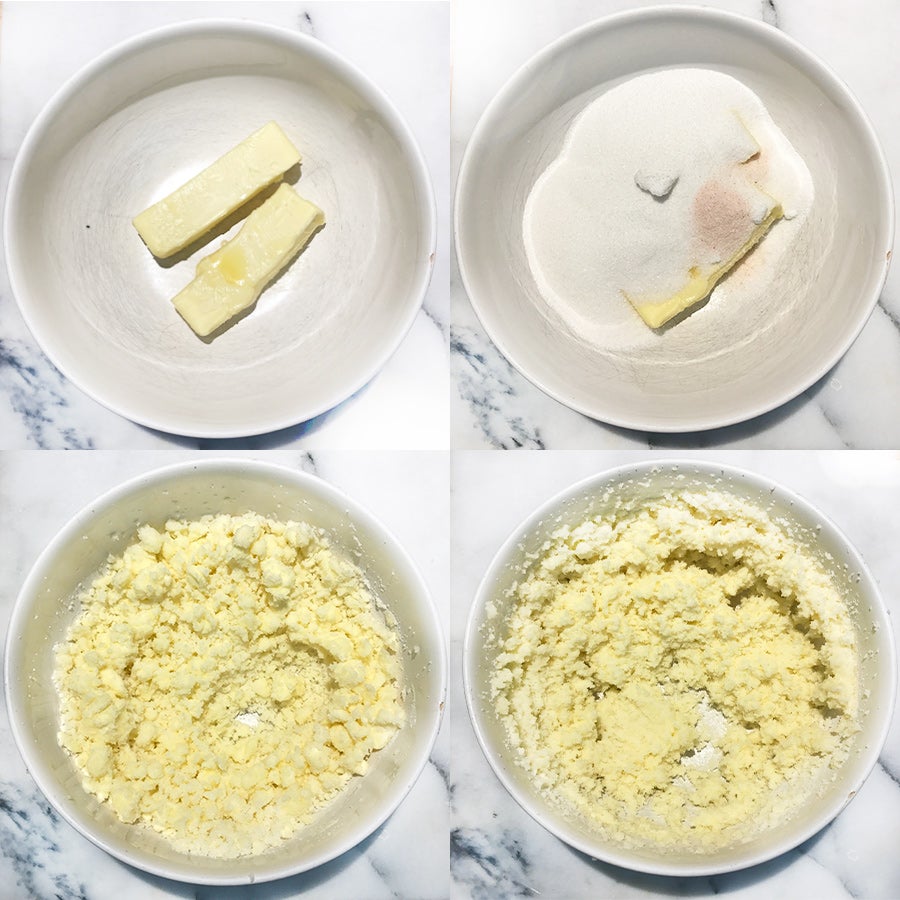 Start by beating together the butter, sugar, and salt, first until combined, then until fluffy and lightened in color.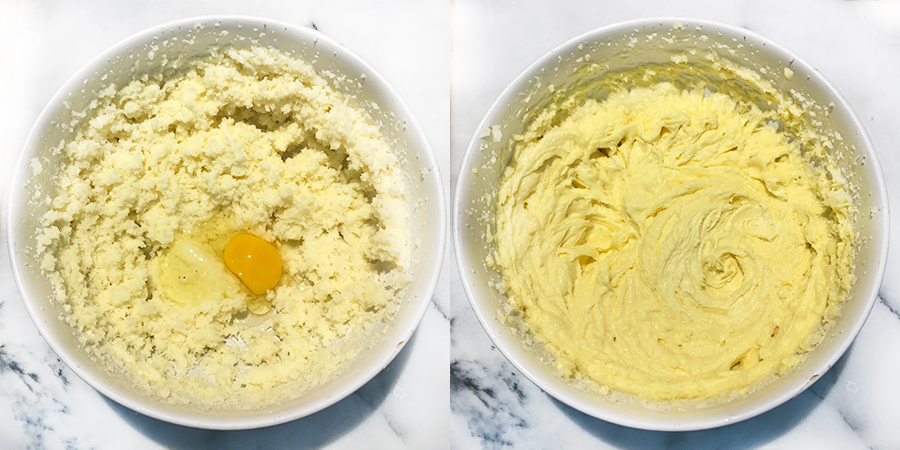 Next, add the eggs one at a time, beating well after each addition. You'll want to scrape down the sides and bottom of the bowl once all the eggs have been added, before moving on to the next step. Beat again briefly to recombine any residue.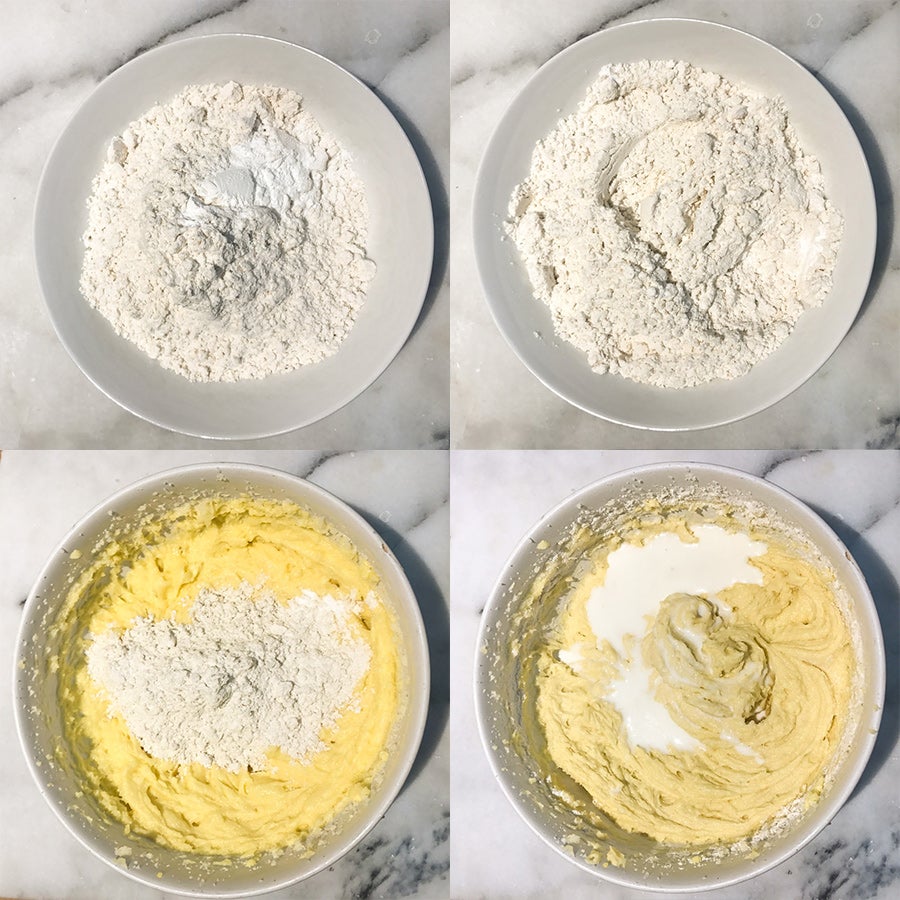 Whisk together the baking powder and flour. Add the flour mixture to the batter in three parts alternately with the milk, starting and ending with the flour. The batter may look slightly curdled when you add the milk. That's OK; it'll smooth out as you add the flour.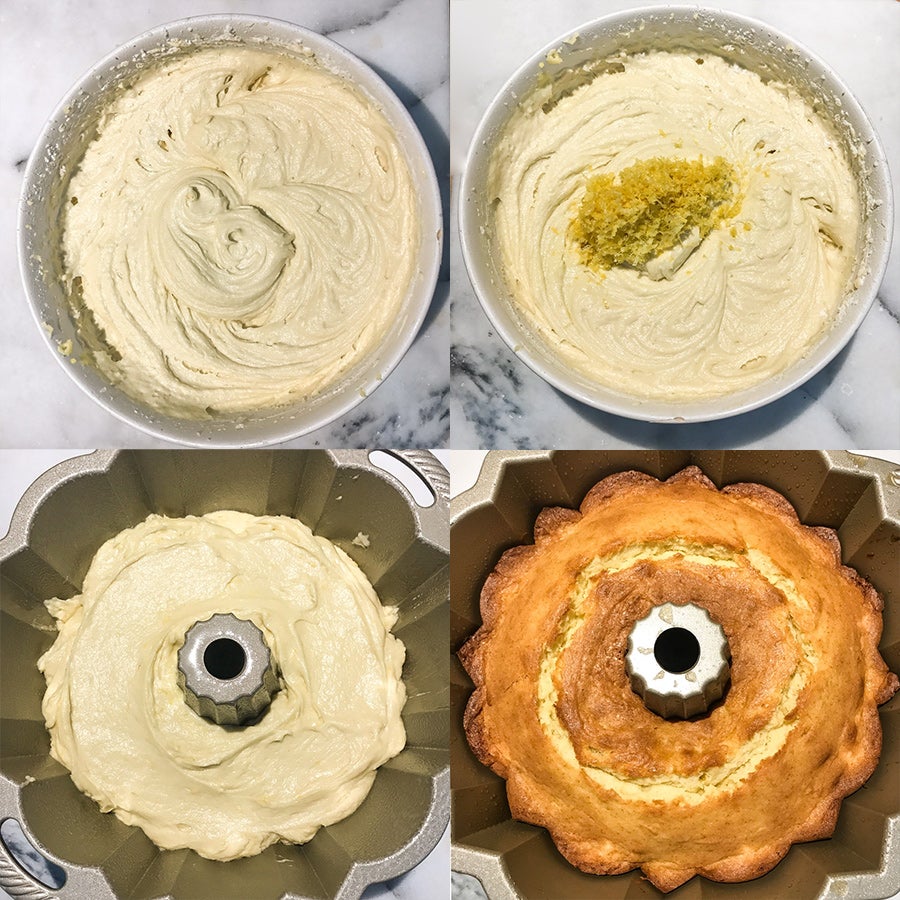 Stir in the grated lemon rind or lemon oil.
Thoroughly grease a 10- to 12-cup Bundt pan, making sure to coat all the pan's nooks and crannies. If your pan is more intricate than most, it's worth it to take the time to melt shortening, and spread it over the pan's interior surface with a pastry brush. Sticking is the main pain point with Bundts, but it's easy to overcome, if you know how. Earlier this year, we covered 10 tips for preventing Bundt cakes from sticking.
Mix until everything is well combined; the batter may look a bit rough, but shouldn't have any large lumps.
Bake the cake for 60 minutes, or until a cake tester or toothpick inserted into the center comes out clean. A pan with a dark interior will bake cake more quickly; start checking at 45 minutes.
Glazing your Gluten-Free Lemon Bundt Cake
While the cake is baking, make the glaze:
1/3 cup freshly squeezed lemon juice (the juice of about 1 1/2 juicy lemons)
3/4 cup granulated sugar
Stir together the lemon juice and sugar. Microwave or heat over a burner briefly, stirring to dissolve the sugar — less than 1 minute should do it. Set the glaze aside.
Remove the cake from the oven, and carefully run a knife between cake and pan all around the edge. Place the pan upside down on a cooling rack. If the cake drops out of the pan onto the rack, remove the pan. If the cake doesn't drop onto the rack, let it rest for 5 minutes, then carefully lift the pan off the cake. But if the cake still feels like it's sticking, give it another 5 minutes upside down, then very gently shake the pan back and forth to loosen and remove it.
Brush the glaze all over the hot cake, both top and sides. Let it sink in, then brush on more glaze, continuing until all the glaze is used up.
Allow the cake to cool completely before icing and serving.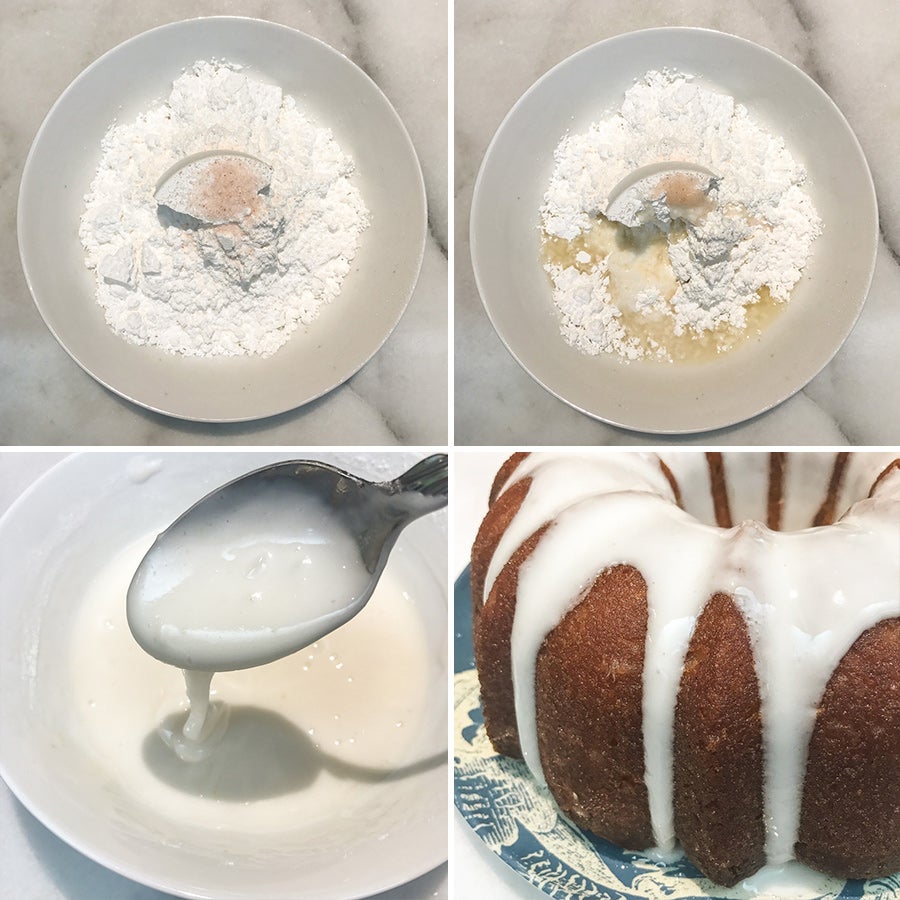 Why ice the cake, since it's already glazed? Well, the glaze helps seal in the cake's moisture, besides adding wonderful tangy flavor. The icing on top is just that — icing on the cake. It's pretty, and adds even more lemon flavor.
Here's a delicious option for a simple lemon icing. The ingredients we'll use are:
1 1/2 cups confectioners' sugar, sifted
pinch of salt
2 to 3 tablespoons freshly squeezed lemon juice
Mix the sugar and salt, then mix in 2 tablespoons of the lemon juice, adding just enough additional juice to create a thick glaze, one that's just barely pourable.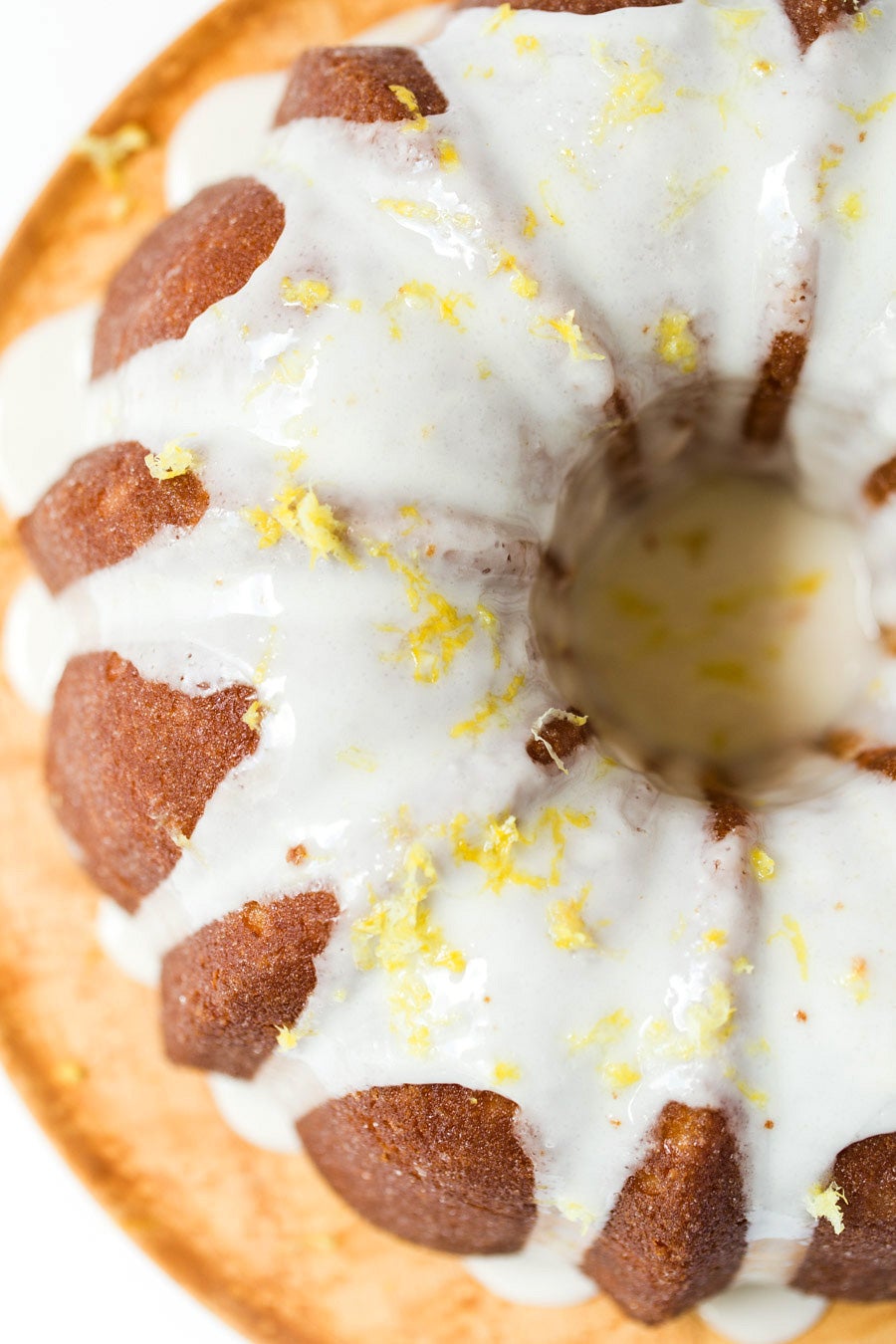 Drizzle it artfully over the completely cool cake. Add a touch more lemon zest, if desired!
You can also store this cake for later. Wrap it well and keep it at room temperature for several days. Or freeze the cake for longer storage.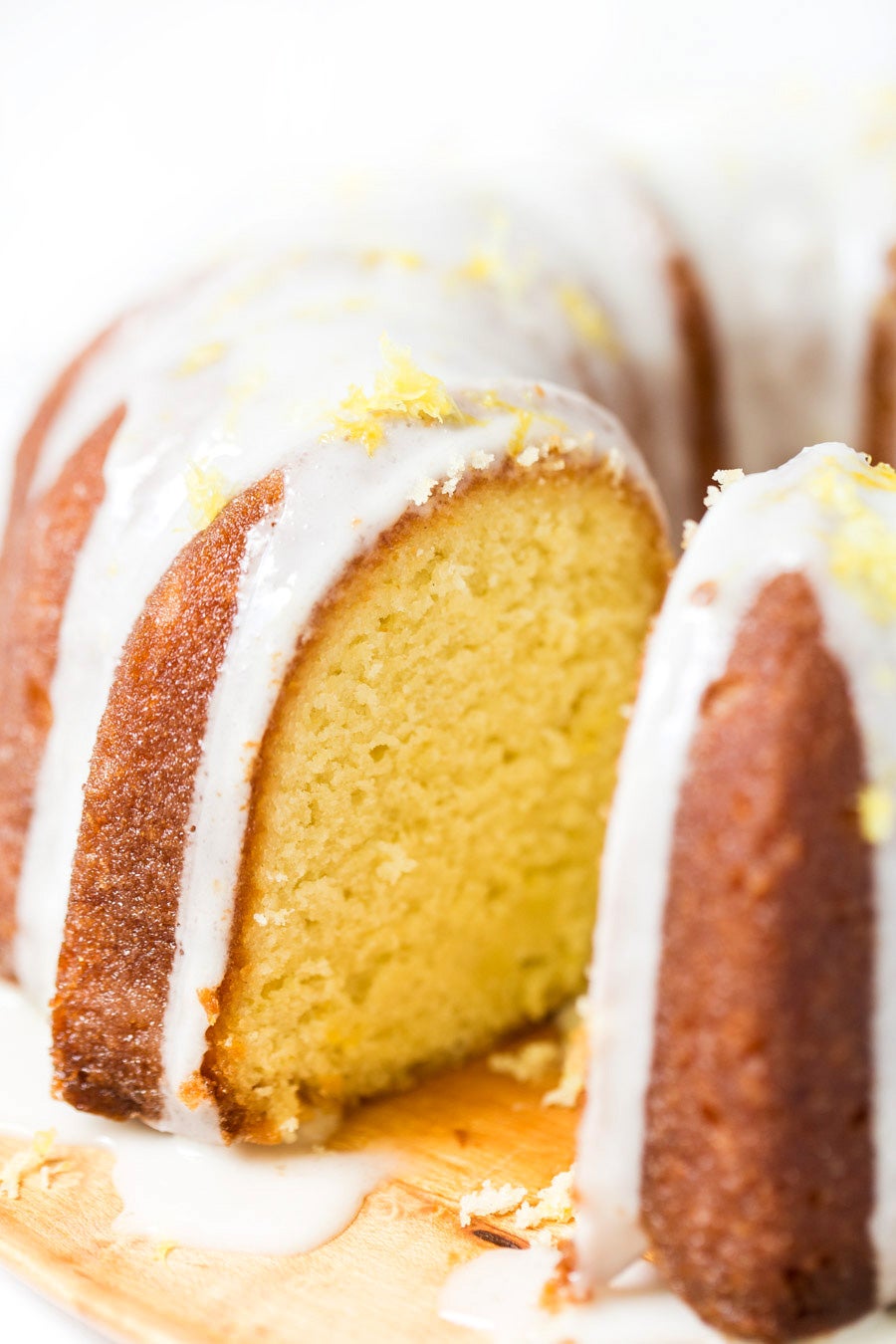 We hope you give this Gluten-Free Lemon Bundt Cake a try!
Please bake, taste, and review the recipe here.
Jump to Comments