So, what can you really get done in less than 90 minutes today? You could clean out your sock drawer.  You could call your best friend and  commiserate for 90  minutes about how her husband and kids never clean their sock drawers, or ditch the socks altogether and...
...make homemade jam  plus scones, pastry cream, and whipped cream to create amazing scone parfaits for dessert tonight.
A scone parfait with homemade jam? Sock it to me!
For making this jam, you'll need a bread machine with a jam cycle. If you don't have a bread machine, it's fine to make a standard stovetop jam, then pick up at the scone part of this post.
You probably know by now how much we love our bread machines here in the test kitchen. We just received a shipment of four new Zojirushi machines: two for Sue Gray, one for Susan Reid, and one for Dr. Andrea. PJ already has hers and I borrow Sue's extra when I need it. There's something very comforting about the dub-dub-dub of the kneading cycle keeping a heartbeat in our busy kitchen.
Making jam in the machine really is as easy as dumping in the ingredients, setting the cycle, and walking away for just over an hour. Seriously, the clock's a tickin', so let's jump right in.
Choose your fruit
Frozen fruits have come a long way, often being packed the same day as picking so they stay bright and sweet.
Place 2 cups strawberries, fresh or frozen, in a large bowl.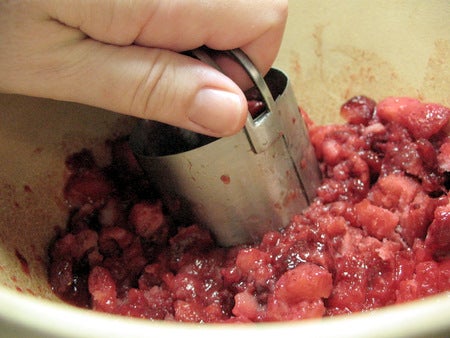 Using a pastry blender, potato masher or, in this case, a biscuit cutter, cut and mash the berries into small pieces. It's really up to you how large you leave the pieces of berry. If you like a chunkier jam, leave them bigger.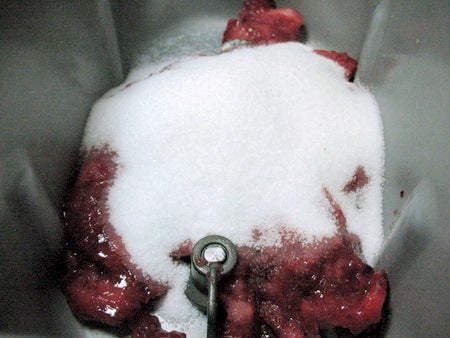 Transfer the berries to the pan of your bread machine. Add 3/4 cup (149g) sugar.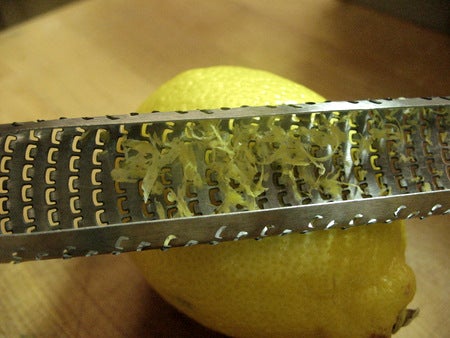 Fresh lemon zest will bring bright flavor to your jam. You need just a little bit, so turn your zester upside down as you scrape the lemon. This way you can monitor how much zest you have.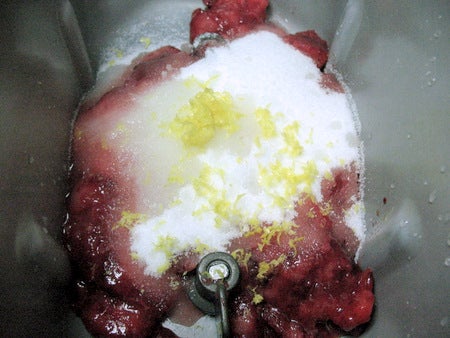 Add about 1/2 teaspoon of zest and 1 tablespoon of fresh lemon juice to the sugar and fruit.
Select the jam cycle and start 'er up.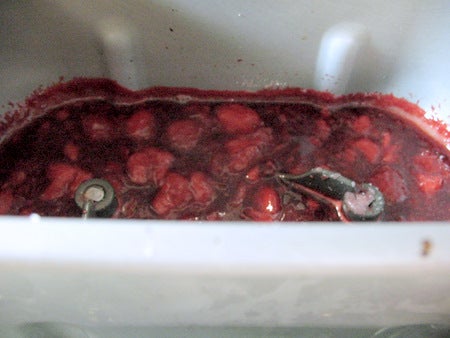 The jam cycle on my Zo is 1 hour, 20 minutes. About 30 minutes into the cycle, I took a peek. You can see that the level of the fruit and liquid has already gone down.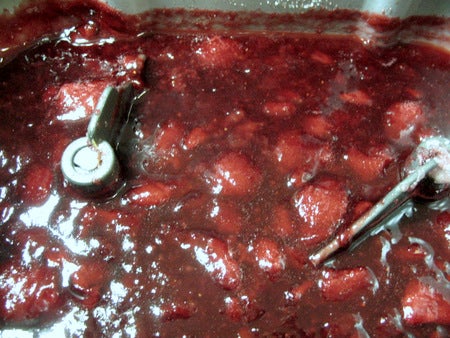 Here we are at the end of the cycle. The level of the jam is reduced even farther, the fruit is nicely softened, and the aroma is enough to drive a gal insane.
Beware though, the jam cycle runs very hot and this sugary sweet concoction will burn. Take care in removing the pan, and in spooning out the jam.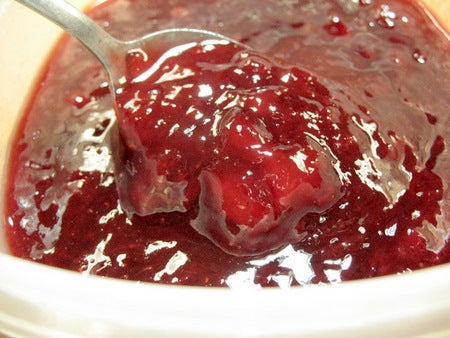 Isn't that beautiful?
The jam will be on the thinner side when it's hot, but thickens nicely in the fridge over a few hours.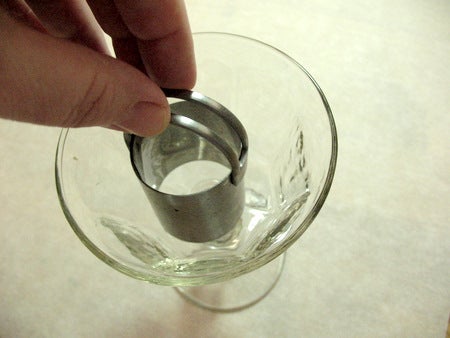 Your homemade jam will be a delight on toast and in sandwiches, but I really wanted to jazz it up a bit, so we're making scone parfaits.
Choose pretty dishes with higher sides to hold the parfaits. I wanted my scones to fit the bottom of the dish, so I sampled different round cutters. This one is too small.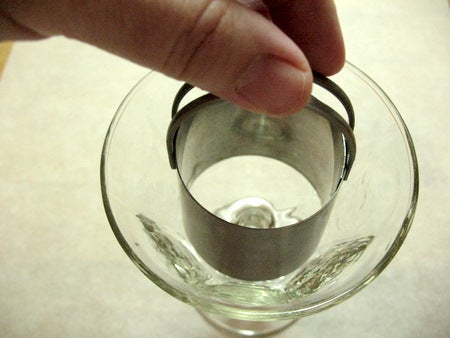 Ah, much better. Now for the scones.
Make your favorite scones
Scones truly are not difficult to make from scratch but every now and then you want a special treat without too much effort. For me, it's our Cream Tea scone mix. It's so soothing, each bite slightly sweet but not cloying, a perfect foil for all the different toppings you can think of... like homemade jam, perhaps?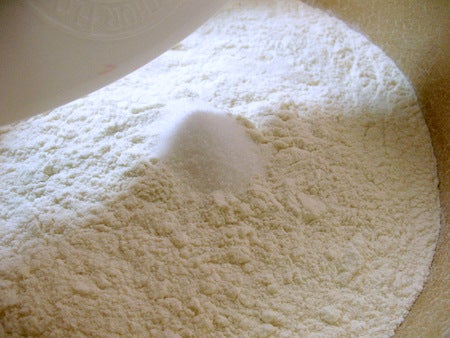 Pour the mix into a medium-sized mixing bowl and add 1/2 teaspoon salt.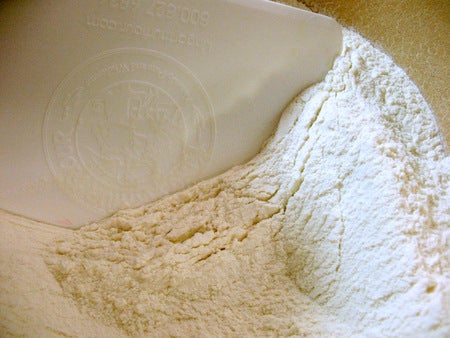 Mix the two together thoroughly; no salty pockets, please.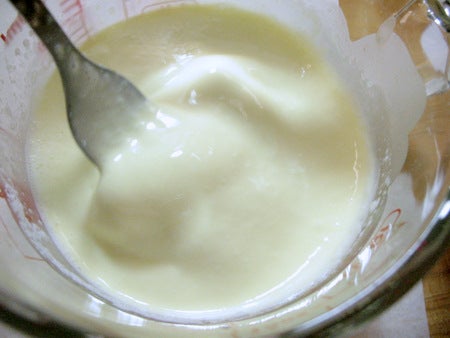 Measure 1 cup (227g) of heavy cream and add 2 large eggs. This will give you the richest scones.
I've made these with half & half, 2% milk, even 1% milk. The scones will still come out fine; just keep in mind that the lower you go in fat content, the less tender and fine-textured the scones will be.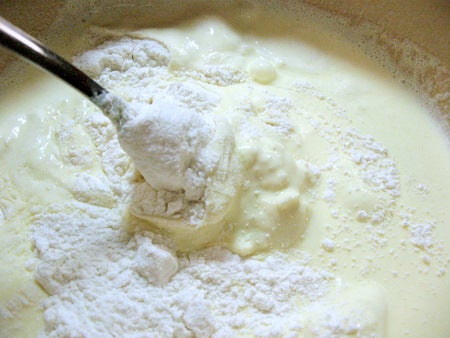 Add the liquid to the dry mix and gently blend until evenly moistened.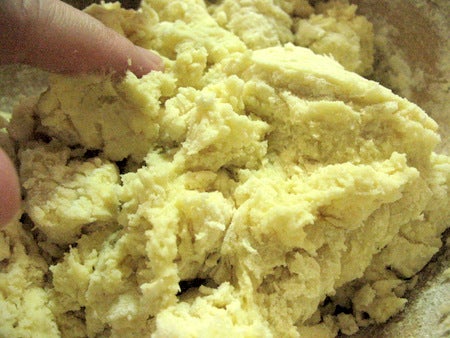 The scone dough should be slightly sticky to the touch at this point. If it seems a bit dry, go ahead and add a tablespoon of extra cream or milk.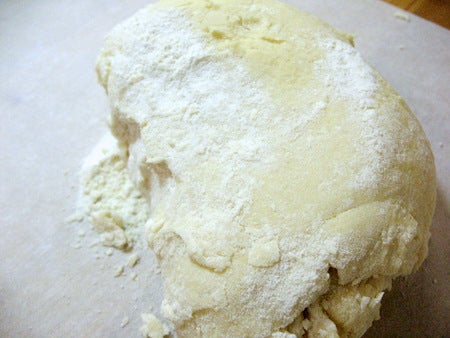 Turn the dough out onto a lightly floured surface or a piece of parchment. Knead about 8 to 10 turns until all the dry bits of flour are incorporated.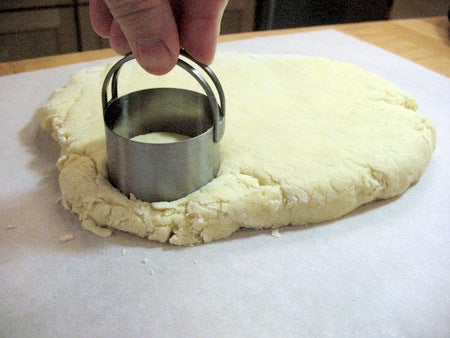 Gently pat the dough into a rough oval, about 3/4" thick.  Use your biscuit cutter to stamp out several rounds.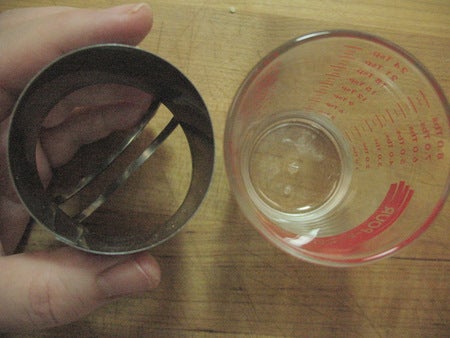 Hey, while we're talking biscuit cutters, why can't you just use a juice glass or such, like Grandma did?
If you look at the edges of the biscuit cutter they're thin and sharp, great for cutting right through layers of dough with little friction and little squashing of layers.
The measuring cup/juice glass has a much thicker, rounded rim. It's pretty hard to push easily through the dough and definitely squashes the layers as you cut.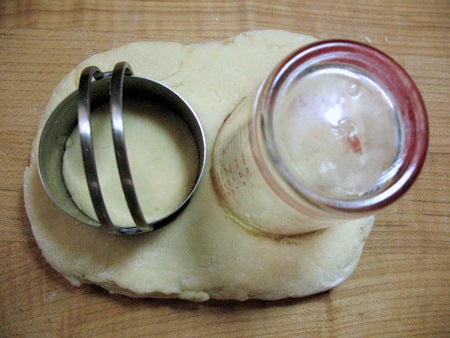 Let's run a little test. Biscuit cutter on the left, glass on the right.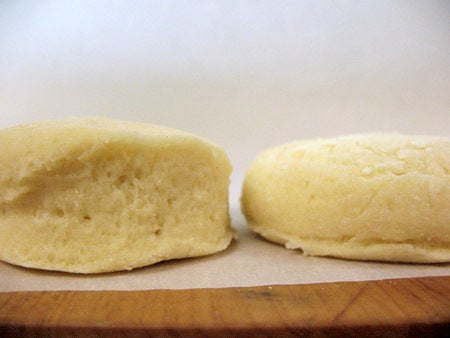 Whoa! That's quite a difference. You can definitely see how the rounded glass has compressed the layers and sealed the edge of the scone. It's going to have a hard time rising well in the oven without those nice open edges.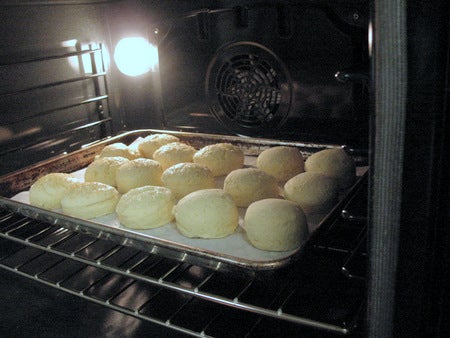 Oh, look! It's the inside of Susan's new oven! So big, bright, and clean. I swear the windows are straight out of the Boston Aquarium, they're so large. We've been having a great time just standing and watching things bake.
Bake the scones at 400°F for about 14 to 18 minutes, or until light golden brown.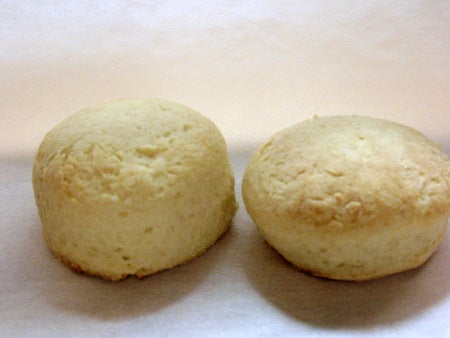 Here are our two test biscuits. The biscuit cutter scone on the left is a full 1/4" higher than the glass scone on the right. Score a point for using biscuit cutters.
Assemble you berry sweet treat
While the scones are baking gather some whipped cream, vanilla pudding or pastry cream filling, and your homemade jam. It's parfait time!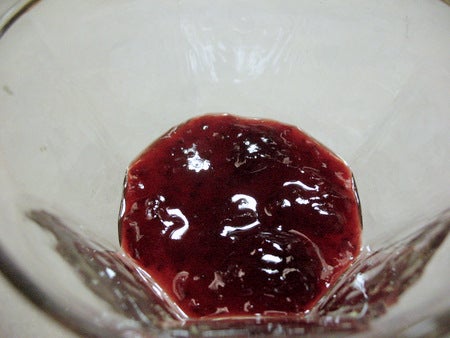 First, a good sized spoonful of jam in the bottom of the glass.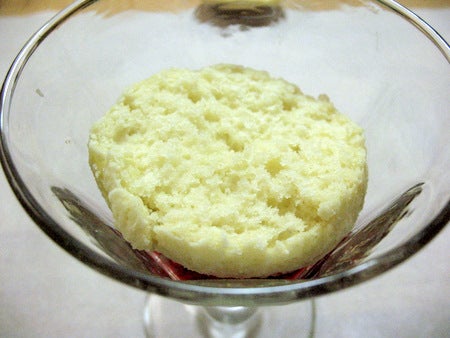 Next, split a scone in half and add the bottom portion to the glass.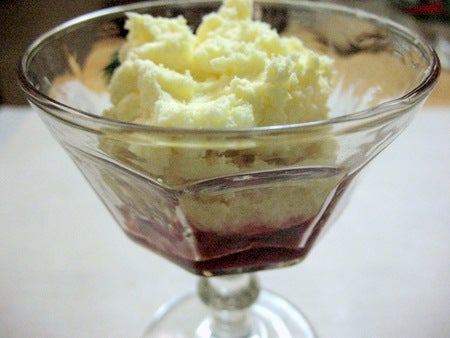 Add some tasty pastry cream or vanilla pudding. If you make your pudding with heavy cream and extra vanilla, it really mimics pastry cream very well.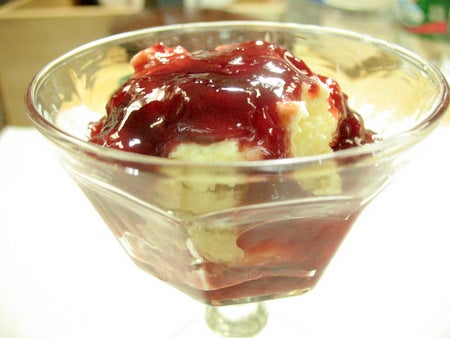 More jam, please. Each time I see this jam I'm so impressed by its deep, jewel-like color. When I remember it's fresh and homemade, I'm even more impressed.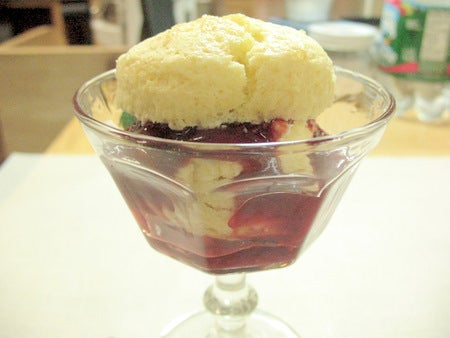 Top with the other half of the scone. We're nearly done, but one final touch will put this parfait up into the clouds of great desserts.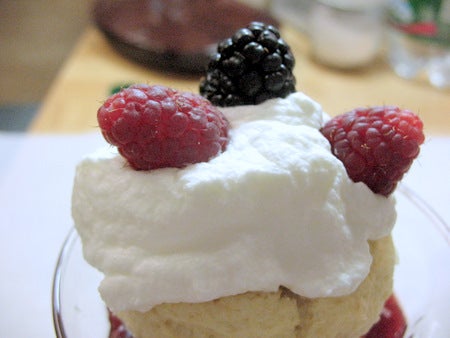 There, a dollop of freshly whipped cream and some juicy berries.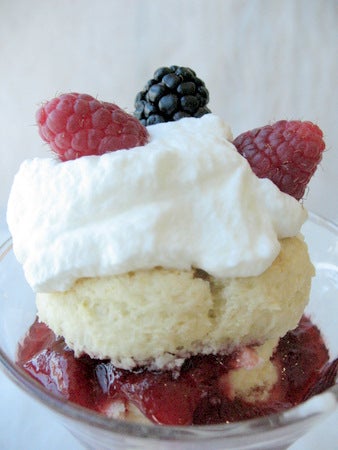 Stand back and admire the goodness. Once you've taken in all the layers of sweet jam, warm scone, and two kinds of cream, you can pick up your spoon and salute a job well done.
Don't forget to give your Zo an extra pat on the lid for jammin' to a new beat and helping put amazing fresh jam on the table in under 90 minutes. Enjoy!
Jump to Comments