On days when Susan Reid, Andréa, and I are all in the test kitchen, the conversations are peppered with movie and TV quotes. Both famous and infamous, such bon mots as " Damnit Jim, I'm a doctor!" and "You'll shoot your eye out, kid" fly as fast as our whisks.
Lose a kitchen tool and you're likely to ask...
"Honey, where is my super suit?  Where..   is..  my..   super suit?!" Of course, your teammates have to answer "Why do you need to know?"
Star Trek, A Christmas Story and The Incredibles are just a few of our favorites. We also love Futurama, The Princess Bride (Andréa affectionately calls the warehouse The Pit of Despair) and The Simpsons. Even PJ will throw out the occasional D'oh!
Yes sir, we do love us some silly movie quotes. In recent years we've decided some of the best have come from animated movies. Eddie Murphy's performance in Shrek is rife with quotable moments.
I'm personally very fond of saying, "And in the morning, I'm making waffles." And "Ain't nobody don't like parfait."  Which brings me to today's recipe, Chocolate Mint Torte. Don't see the brain leap?
Ogres, onions, parfait, layers, torte, layers; get it? *sigh* Guess I'll just have to stick with food writing and leave the quips to others.  Anyway, I'm a big fan of layered desserts, they just make me feel like I'm getting more bang for my buck and I can take as many or as few layers in each bite as I like.
This torte features three layers that blend in harmonious goodness. A light chocolate cake, a rich chocolate ganache, and airy mint "mousse." At once rich and fluffy, sumptuous and refreshing, the cool mint enhances the chocolate and makes each bite a bounty of flavor.
Let's make a Chocolate Mint Torte.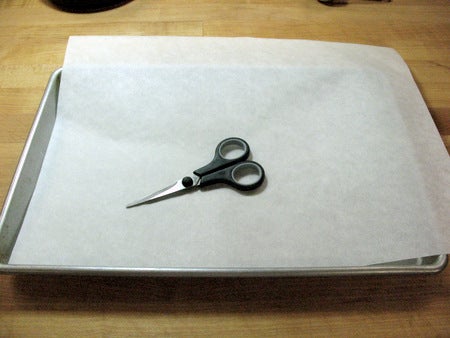 You'll need to trim your parchment paper to fit a  10" x  15" jelly roll pan. You can use a half sheet pan; however, the layers of cake will be much thinner.
Spritz the pan with cooking spray, add the parchment and spritz again. It's the belt and suspenders approach to easy releasing cakes.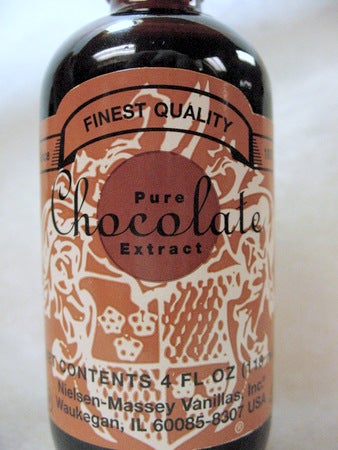 Mmm, chocolate extract. Just as vanilla extract gives a lovely flavor to yellow cakes, chocolate extract makes your chocolate cakes that much more chocolate-y. It's an ingredient I don't use every day, but when I do I notice a pleasant difference in my chocolate baked goods.
Try putting this on your list when you have a few pennies left over from recycling your bottles, or as a treat for yourself for vacuuming the living room.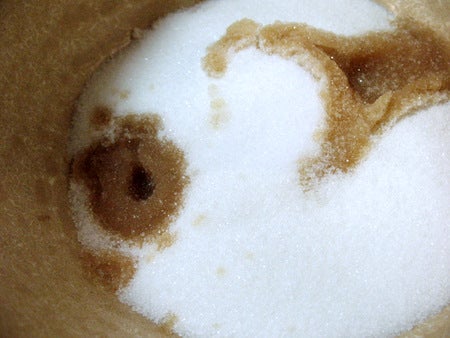 In a small bowl, mix:
¾ cup granulated sugar
½ teaspoon salt
1 teaspoon vanilla extract
1 teaspoon chocolate extract
You can see the chocolate extract on the left is darker than the vanilla amoeba shape on the right.
Oh woe, what to do if you don't have chocolate extract? Use all vanilla. It will still taste amazing.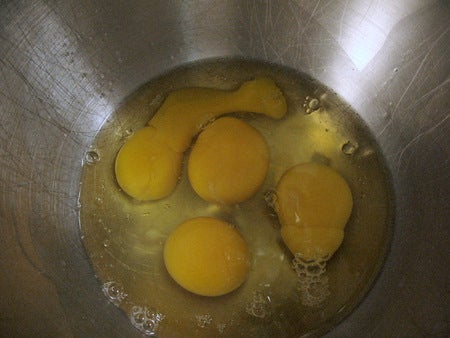 Put 4 large room-temperature eggs in the bowl of your stand mixer. It's important that the eggs are on the warm side to create a nice foam. Cold eggs just don't whip up as well.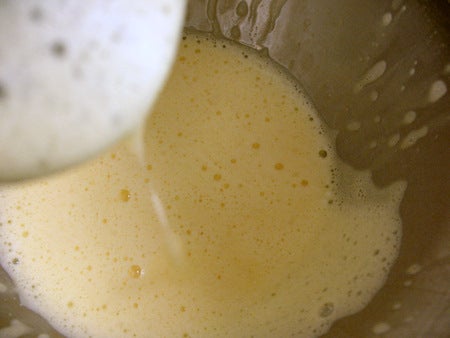 Using the whisk attachment, beat the eggs until they begin to foam. Add in the sugar/salt/extract mixture.  Continue beating. You're looking for a thick foam. As you can see, this foam is too thin and drips right off of a spoon.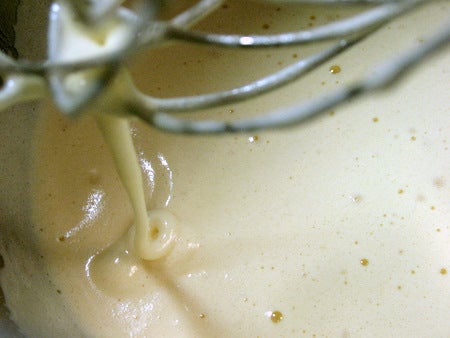 Ah, that's better. This foam is thick and makes a trail in the batter as it drips from the whisk.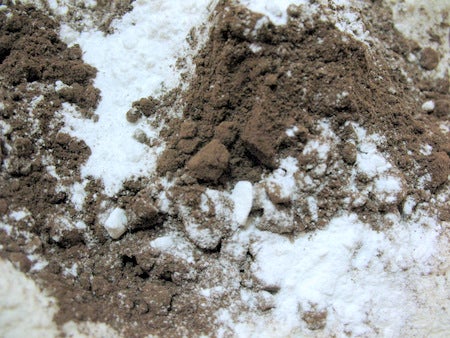 Wipe out the bowl you used for sugar and put in:
2/3 cup King Arthur Unbleached All Purpose Flour
1/3 cup Dutch-process cocoa
1 ¼ teaspoons baking powder
This cake is very light in texture, so it's a good idea to sift the dry ingredients together.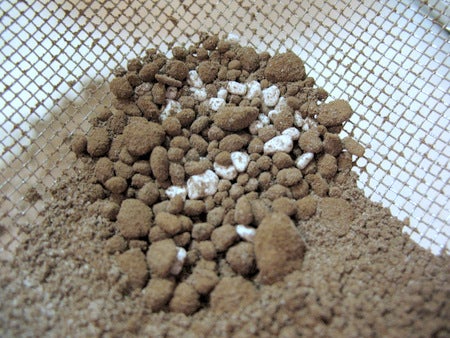 Wow, look at all those lumps. Press them through the sieve with the back of a spoon or your fingers.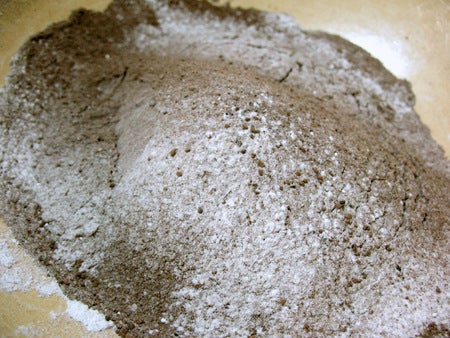 Much better; soft and lump-free.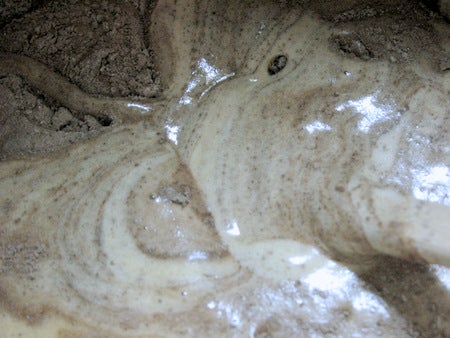 Gently fold the flour mixture into the beaten eggs. Try to maintain as much of the foam as you can.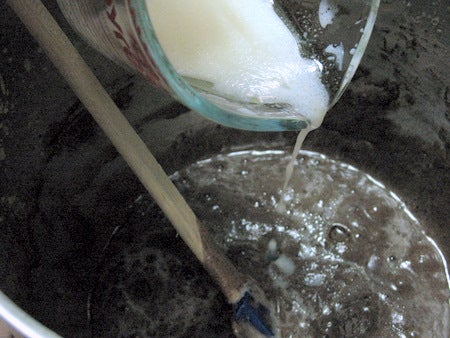 Whisk together the  1/4  cup oil and 6 tablespoons buttermilk and add to the batter. Again, fold gently to incorporate.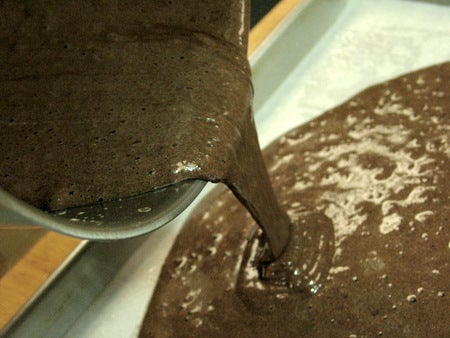 P0ur the batter into the prepared pan and spread evenly to the edges and corners.  Bake for 10 to 12 minutes.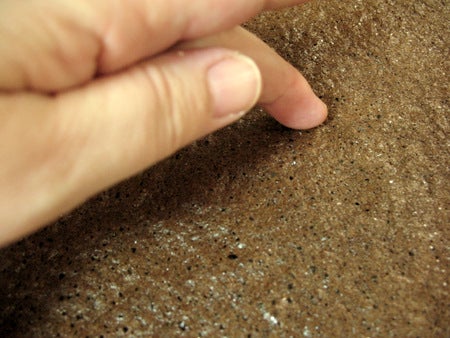 When done, the cake will spring back in the center when touched lightly.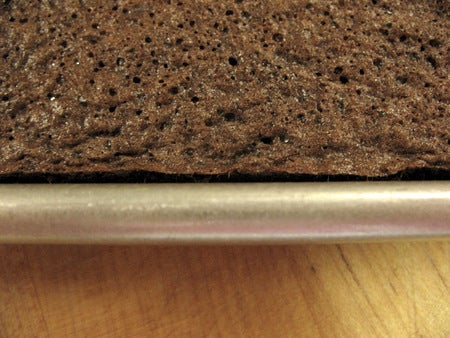 The edges of the cake will also begin to pull away from the side of the pan. Remove from the oven.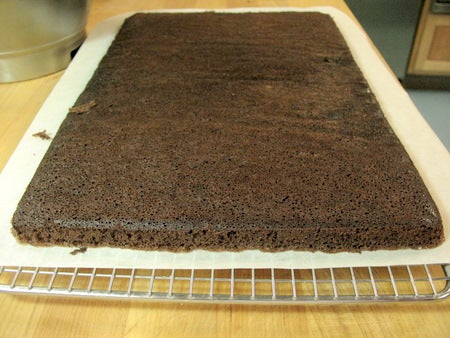 Place a piece of parchment paper over a cooling rack to protect the top of the cake and turn out the cake to cool.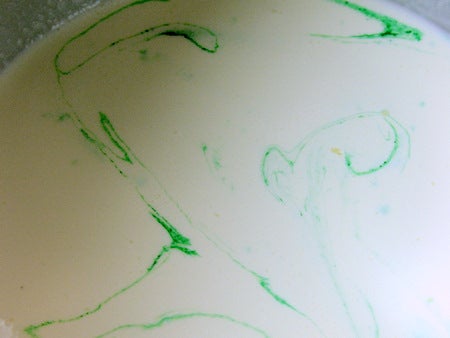 Once the cake is cool, prepare the mint mousse filling. To your stand mixer bowl add:
2 cups heavy or whipping cream
4 tablespoon whipped cream stabilizer *
1/3 cup sugar
3 drops peppermint oil**
2-3 drops green food coloring
*Don't have stabilizer? Use 4 teaspoons Instant ClearJel instead.
**1/2 teaspoon peppermint extract can be used instead.
While you can try this without any stabilizers in the cream, you won't get the light airiness that makes the mousse filling so special.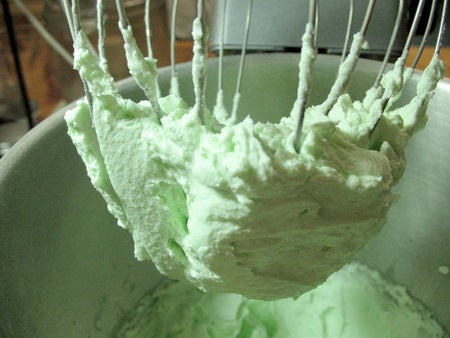 Whip on high speed until thick. The mousse will stay light and airy but will hold its shape.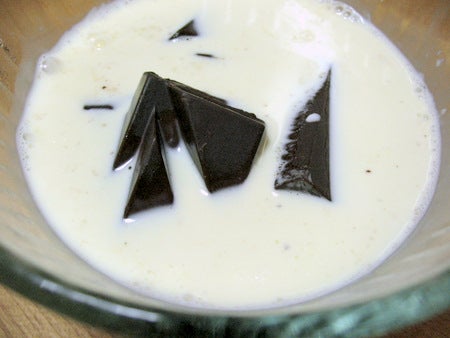 For the ganache, put 6 ounces of chopped chocolate in a bowl. Pour over 6 ounces of very hot cream.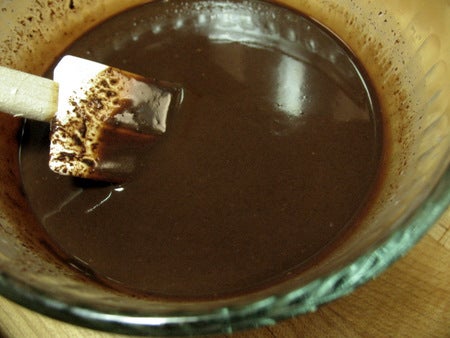 Stir the ganache until very smooth. Place in the freezer until it's the consistency of thick pudding.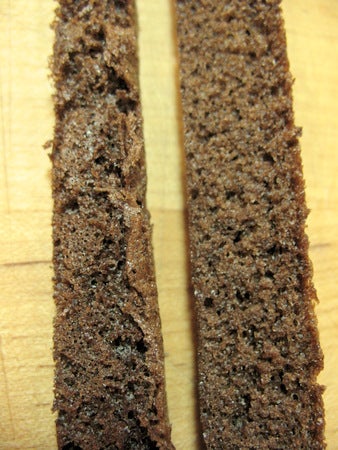 Let's assemble the torte. Trim the cake on all four sides. The strip on the left is the untrimmed, rough edge. The strip on the right is trimmed and makes for a much nicer presentation.
Divide the cake crosswise into four equal portions.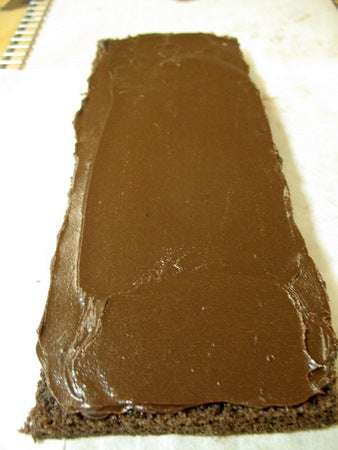 Spread 1/4th of the ganache over 3 sections of the cake. Reserve the fourth slab of cake for the top of the torte, and the last of the ganache for topping.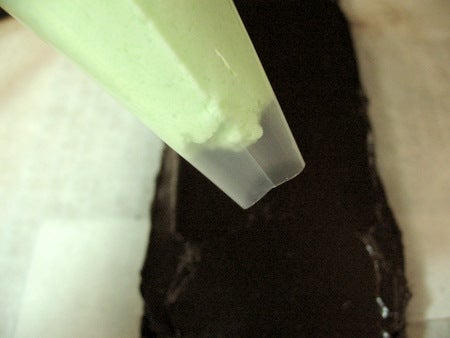 Fill a disposable pastry bag with mint mousse. Cut a fairly large hole in the end for piping.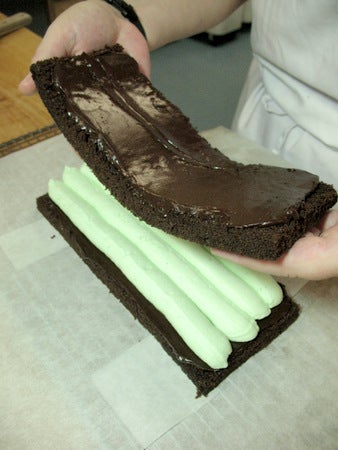 Pipe four generous lines of mousse down each ganached layer. You'll use about 1/3 of the mousse for each layer.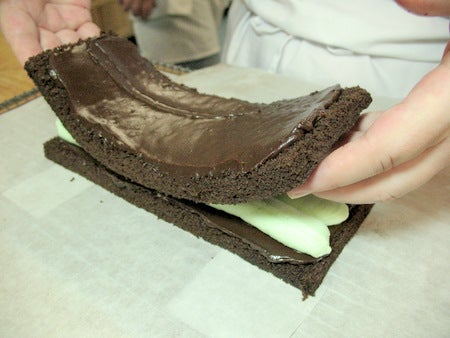 You can spread and pipe each layer before stacking, or spread with ganache and stack before piping.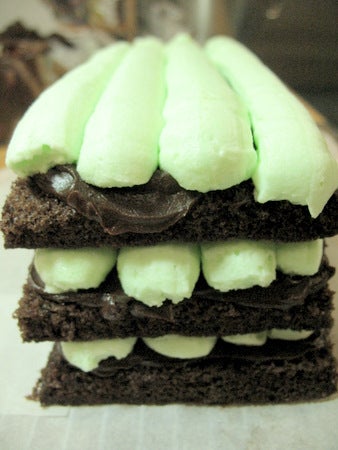 A tall tower of tantalizing tastes!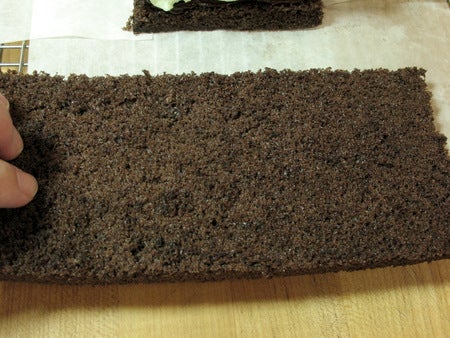 Using the last slab of cake, place it atop the torte and press the whole torte down gently.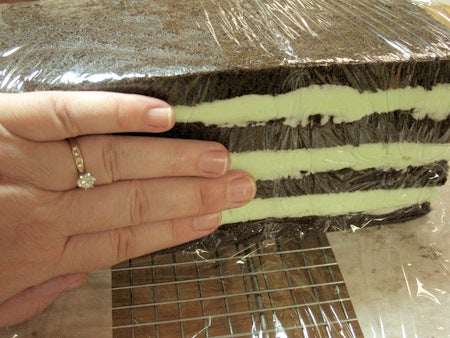 Wrap the entire torte in freezer or plastic wrap. Use your fingers to smooth ganache and mousse into all the nooks and crannies around the torte.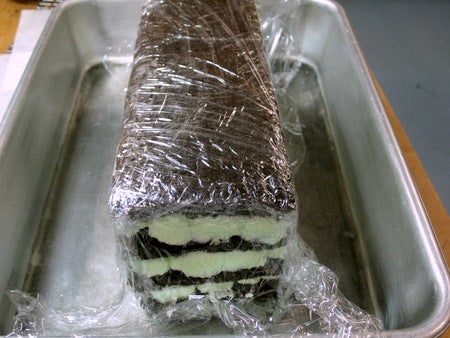 Freeze the torte for a minimum of 2 hours, or for up to 2 days.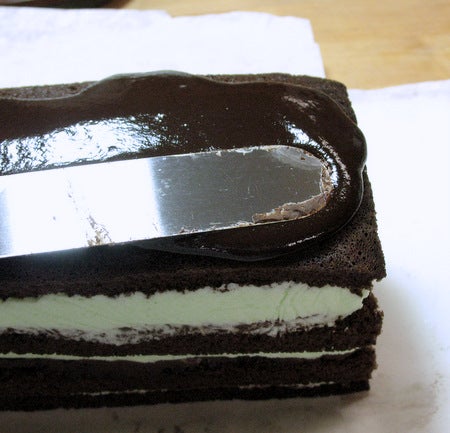 When ready to serve, melt the reserved ganache and spread over the top of the torte, allowing some to drip decoratively down the sides.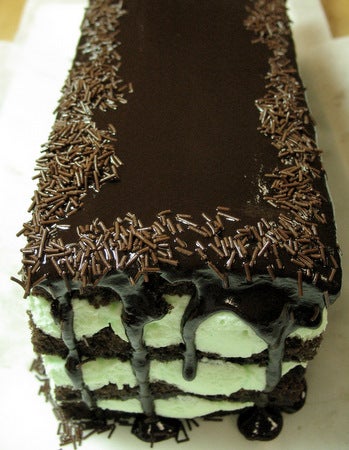 You can gild the lily with a some pure chocolate sprinkles if you like.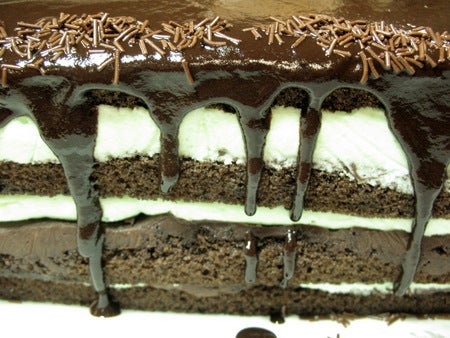 My oh my, the layers of goodness seem to go on forever.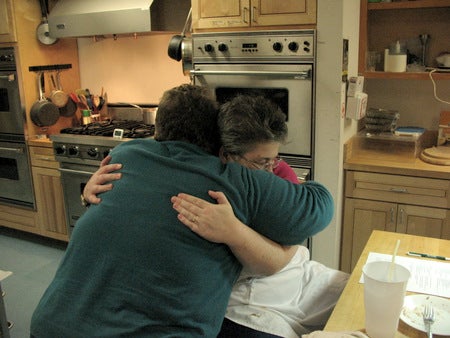 Tracy, our email coordinator and Halley's right-hand gal, had been having a bad day. One slice of torte and she came straight to the kitchen with hugs and thank you's. I smiled for a week knowing that something I baked could make someone so happy.
In the words of Eddie Murphy's Donkey once again, "I'm a believer."
Please bake, rate, and review our recipe for Chocolate Mint Torte.