Holiday baking traditions: German Lebkuchen
The ideal winter treat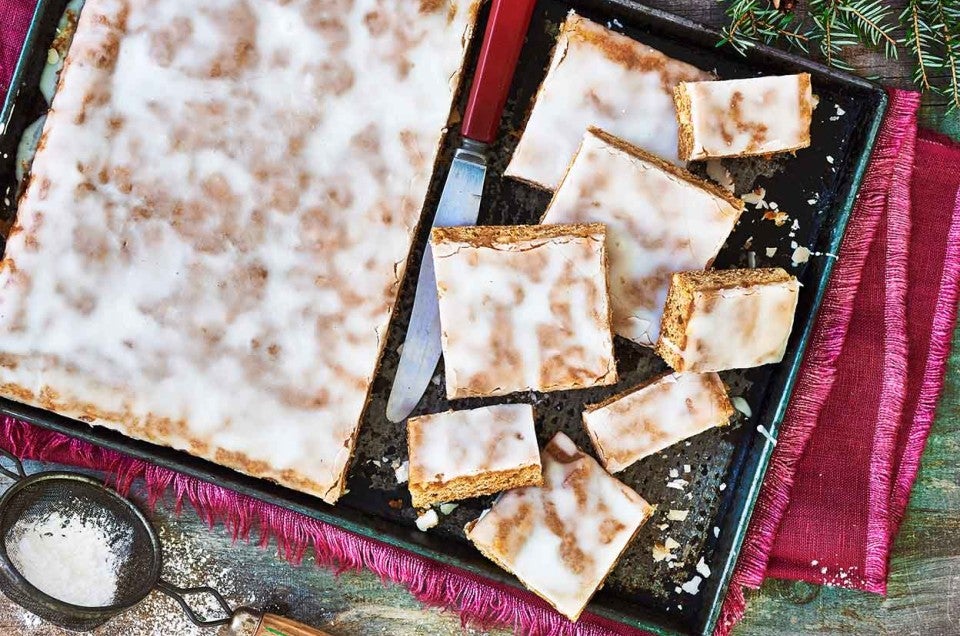 Welcome to our special holiday series of blog posts, Holiday Baking Traditions. We're very excited to bring you our versions of several cultural and regional holiday favorite recipes, the ones that families and friends turn to year after year.
These are the recipes that have to be on the table for the holiday meal, the ones that are eagerly awaited all season long. They speak to our ethnic upbringings, our traditions to pass on to the new generation. Some have crossed cultures over the years; some are less well known, but all are rich in history, meaningful to our community of bakers... and, above all, amazing and delicious!
Today we're baking Lebkuchen, which are native to Nuremberg, Germany and enjoyed as traditional holiday fare in that country.
Out of all of the Holiday Baking Traditions recipes this year, I found Lebkuchen to be the most daunting to approach. It certainly wasn't the most technically challenging; in fact, it's very simple to put together. No, this recipe for me was the first to bring up the  comment we knew we would get from readers more than any other...
"That's NOT how my family makes it!"  Sometimes this is followed by sympathy, a bit of pity for the uninformed heathen who doesn't know any better.
Sometimes the comment is followed by a how-dare-you-ruin-100-years-of-tradition speech.
In the best case, the comment is followed by a wonderful recipe and shared family story, a real outreaching of spirit and community. We WELCOME all of these comments, honestly we do. Bring on the recipes, bring on the history, bring on the personal family stories.
Sure, you can even bring on the tirades; just keep 'em civil! It's OK to disagree, so long as we do it agreeably.
Thanks so much for joining us for this special holiday journey. Let's begin our trip with Lebkuchen, a German favorite: spicy bar cookies with the snap of ginger and the tang of orange and lemon.
Stir the honey and brown sugar together in a medium-sized saucepan over medium heat.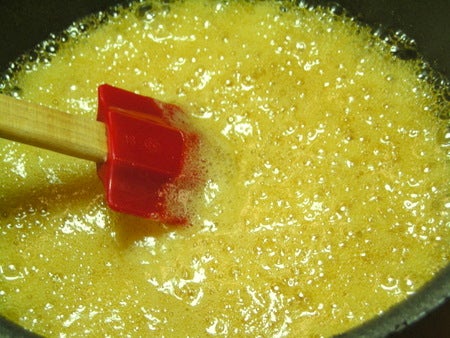 Bring the honey/sugar mixture to a boil. Remove from the heat, transfer to a large bowl, and allow to cool until just lukewarm. If you can stick your finger in the mixture and it feels just barely warm, you're good to go.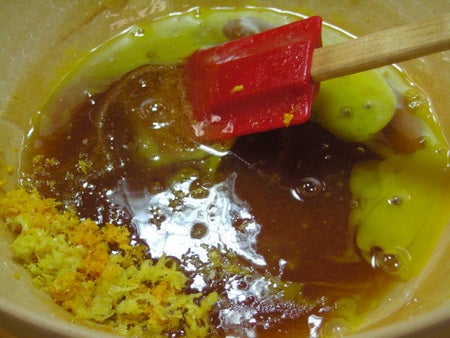 When cooled, beat the honey mixture with the egg and grated citrus rinds. If you're using orange and lemon oils instead, add them now. If you're using candied diced peel, add that when you add the flour.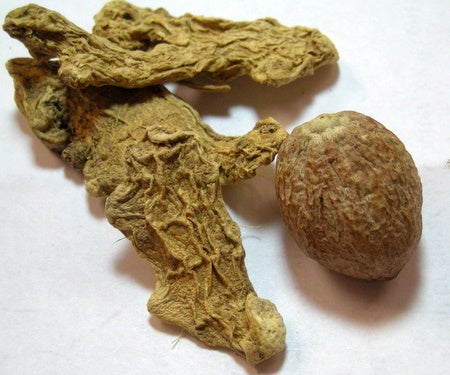 Dried ginger root (left) and whole nutmeg (right) are deeper and more robust in flavor than pre-ground spices. If you have them, definitely use them in this recipe; they'll make the spice mixture sing. Simply grate them with a Microplane or spice grater as you would grate hard cheese.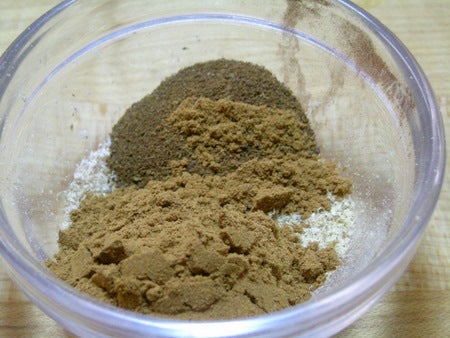 Don't be daunted by the amount of spice in this recipe. These bars are meant to invigorate the senses and mind on cold winter days.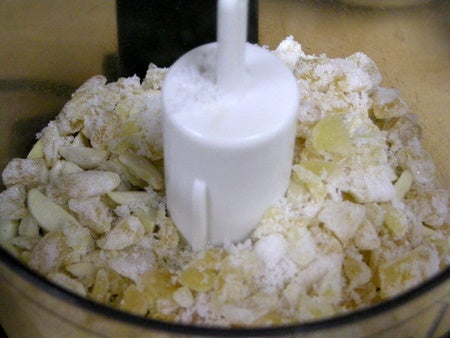 To save time and dishes you can grind the crystallized ginger and nuts together in a food processor. The nuts will also keep the ginger from becoming too sticky to work with.
If you don't have a food processor, you can use a chef's knife to mince the two together.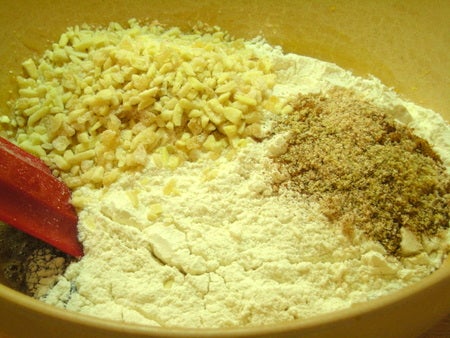 Combine the flour, spices, nuts, and ginger with the honey mixture. If you're using candied diced peel instead of grated peel, it would be added now as well.
I'm a big fan of candied peel in this recipe. I like the chewy bits of citrus, and the slight bitterness of the peel. It's what keeps me coming back for just one more bite.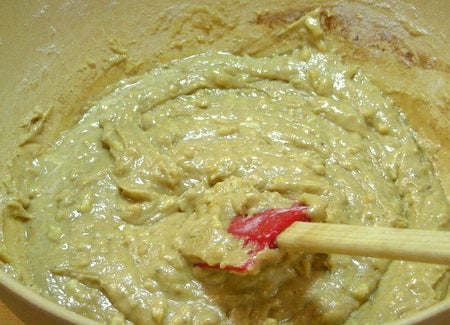 Stir until the mixture is well combined and no flour is left unincorporated. It will be thick and sticky, and will smell divine!
Cover the bowl with plastic wrap and chill overnight.
Next day, preheat the oven to 350°F and lightly grease a 9" x 13" pan. For easy cutting, you can also line the pan with parchment if desired.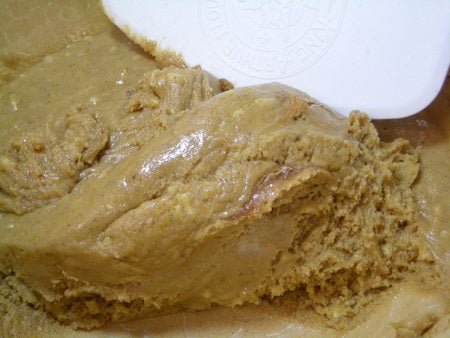 Remove the dough from the bowl. It will be very thick and still slightly sticky, very similar to bread dough at this point.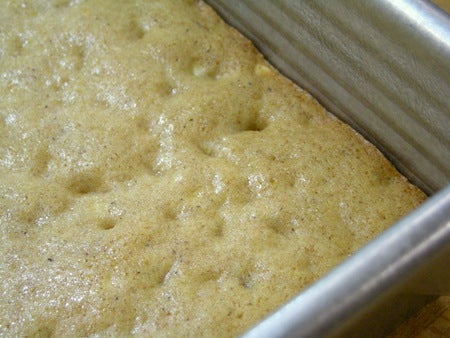 Gently roll and pat the dough to a rectangle slightly smaller than 9" x 13". Lift the dough and place it in the pan, gently patting all the way to the edges. Be careful not to press down hard, or the edges will be tough.
Bake the bars at 350°F for 20 to 25 minutes. A cake tester inserted into the center will come out clean.
Remove the pan from the oven, and immediately make the glaze. Better yet, make the glaze while the bars are baking; you want to glaze them while they're hot.
Combine the confectioners' sugar with the liquid of your choice. I used brandy and boiled cider, but apple juice or cider would work just as well.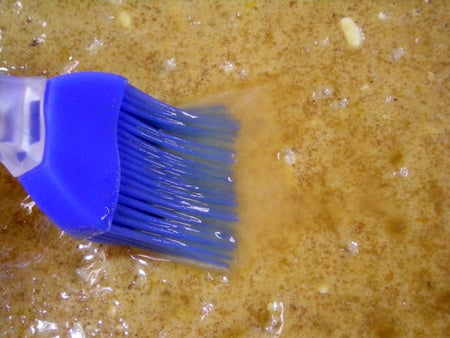 Brush the glaze over the warm bars. Let the first layer sink in a bit before applying another. Be sure to use all of the glaze; it's key to the bars' texture and taste.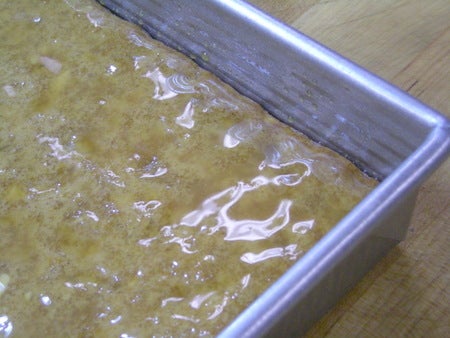 Allow the bars to cool completely before cutting into small squares, about 2" x 2". The glaze will firm up and become a shatter of sugar with every bite.
It's hard to resist these bars with their sweet, spicy, gingery goodness scenting the whole house. IF you have any leftovers, store them at room temperature for several days; they'll improve with age.
We hope you've enjoyed our first foray into Holiday Baking Traditions. Please share your comments, ideas, stories, and recipes below, in comments. Happy baking!
Please bake, rate, and review our recipe for Lebkuchen.
Jump to Comments