Banana bread.
It's SO '50s.
So... home ec.
So GOOD.
And even better with chocolate. Really.
Bananas and chocolate? Well, think banana split. And chocolate-covered frozen bananas.
Trail mix with chocolate chips and dried bananas. And...
Banana chocolate chip muffins.
While unexpected, the marriage of bananas and chocolate is really quite spectacular. As is another fruit/veggie/chocolate combo: pumpkin bread with chocolate chips. Which just happens to be one of our top-rated recipes.
If you're a fan of classic banana bread, moist and dense and baked in a loaf pan, try our 100% Whole Wheat Banana Bread. This recipe graced the back of our whole wheat flour bag for many months, and gets superior customer reviews.
As does our Guaranteed Banana Bread recipe, with its "secret ingredient."
C'mon, you didn't seriously think I'd give away the secret right here, did you? Click to the recipe to find out what makes it extra-special.
And finally, Banana Chocolate Chip Muffins. With cinnamon chips, and nuts. And butter-rum or coconut flavor.
Now, THAT'S banana bread with attitude! Let's do it.
Preheat the oven to 350°F. Lightly grease 12 to 14 standard muffin cups. You'll use the larger number of cups if you include the full amount of all three add-ins: chocolate chips, walnuts, and cinnamon chips.
Next, the banana. Hopefully you have nice, ripe bananas like this one. The riper the banana (mottled brown, even black), the stronger the flavor.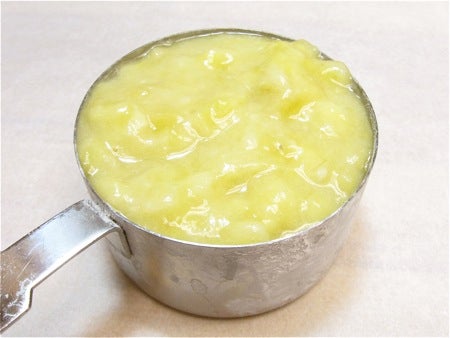 You'll need 1 cup (227g) mashed banana, about 2 medium or 1 1/2 large bananas. Mash with a potato masher, or simply beat in the same bowl you'll use to put together the recipe.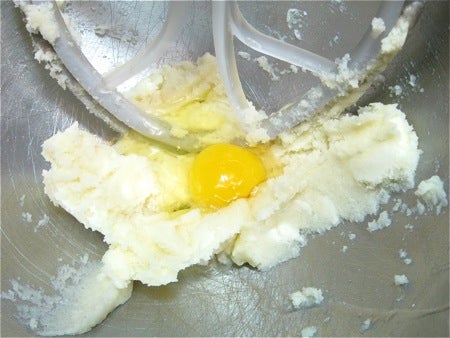 Next, beat together 8 tablespoons (113g) butter and 2/3 cup (131g) sugar till smooth. Add 1 large egg.
At this point, you can also add 1/8 to 1/4 teaspoon butter rum flavor or coconut flavor, if you like.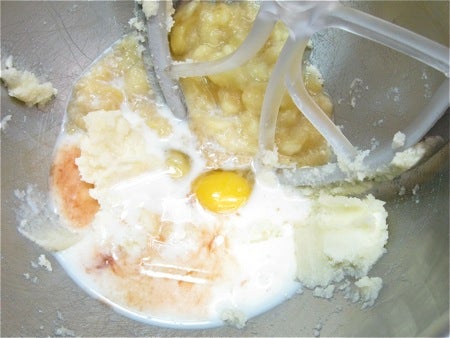 Add the 1 cup mashed banana, and 1/3 cup (74g) milk.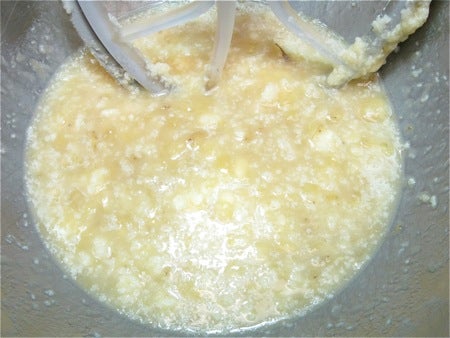 Beat to combine. You'll make a curdled-looking batter; don't bother trying to beat it smooth.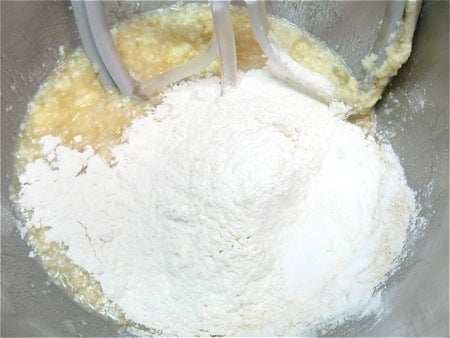 Add the following:
1 1/2 teaspoons baking powder
1/2 teaspoon baking soda
1/2 teaspoon salt
1 cup (120g)  King Arthur Unbleached All-Purpose Flour
1 cup (113g) King Arthur Premium Whole Wheat Flour or King Arthur 100% White Whole Wheat Flour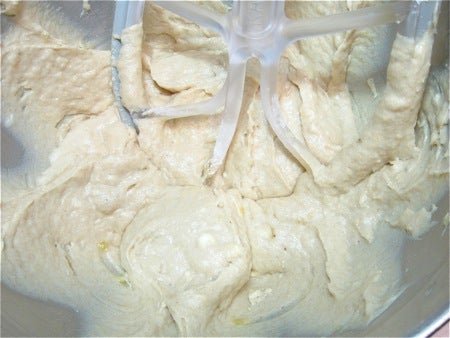 Beat to combine. It'll still be a bit lumpy, mostly from the banana; that's OK.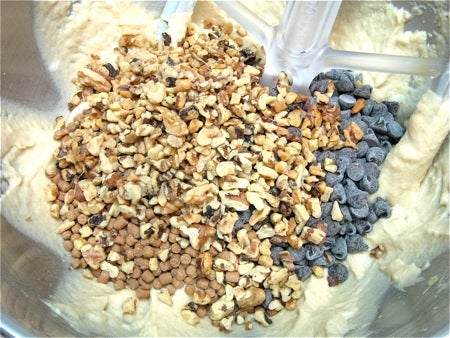 Add the following to the batter:
3/4 cup (128g) chocolate chips
1 cup (113g) chopped walnuts, pre-toasted in a 350°F oven for 8 minutes, if desired
1 cup (170g) cinnamon chips, optional but tasty
Can you add just one, or two, of these ingredients? Yes.
Can you omit all of them? Yes.
Freedom of choice: it's the American way!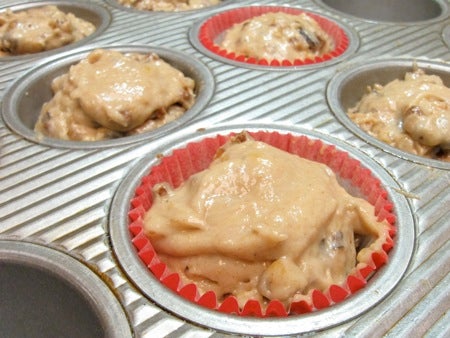 Heap the thick batter into the prepared muffin cups, mounding them quite full; a muffin scoop works well here.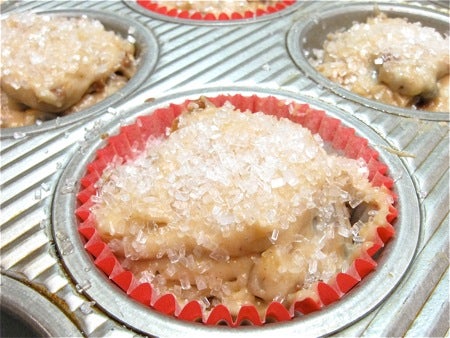 Sprinkle the tops of the muffins with coarse white sparkling sugar, if desired.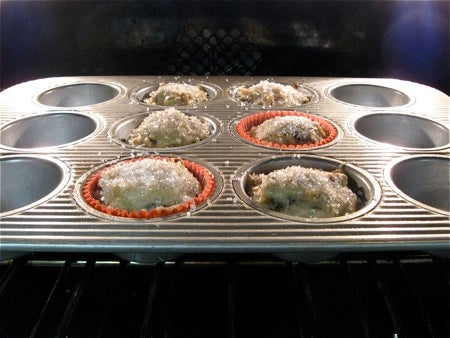 Bake the muffins for 20 to 23 minutes...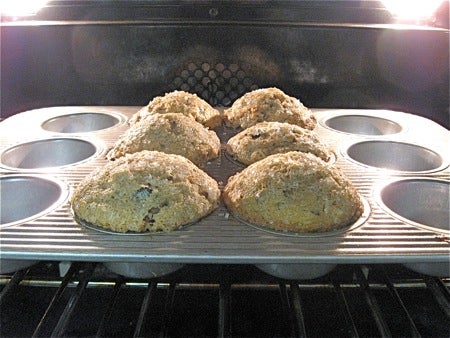 ...until a cake tester inserted into the center of one of the middle muffins in the pan comes out clean.
Hey, wait a minute – how come there are only 6 muffins baking here?
Because I was doing an experiment: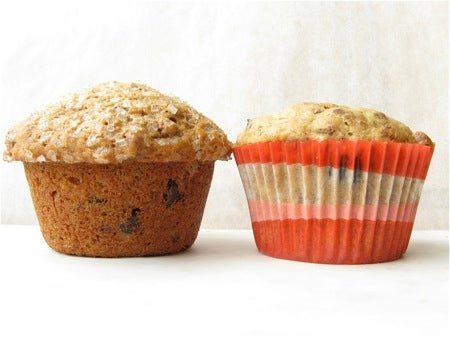 On the left: a muffin made from batter that rested before baking. On the right: baked immediately, without a rest.
Letting the batter rest for 30 minutes before baking results in a slightly taller, more peaked muffin.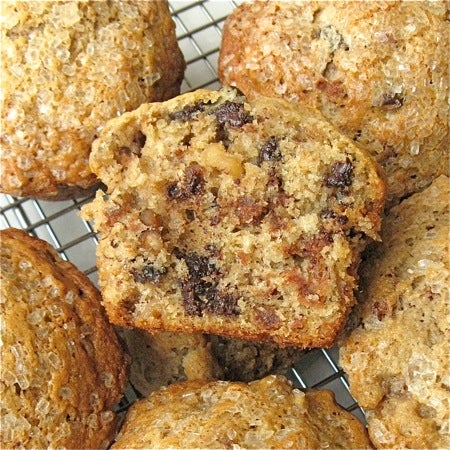 Transfer the muffins to a rack to cool completely. Looking good, aren't they?
By the way, this is a 5-star recipe, as ranked by our readers. Take a look at the full recipe – Banana Chocolate Chip Muffins – and add your own review!
Jump to Comments