And the word of the day is...
WISCONSIN!
Land of cows, corn, and cheeseheads.
And, most important, the Wisconsin State Fair – an event I vow I'm going to attend sometime before I lay down my whisk and go off to that Great Salad Bar in the Sky.
I mean, how can you be a foodie and resist this come-on, straight from the Fair's Web site:
"Corn-on-the-cob basted in butter and lightly salted, a savory steak sandwich, a pork chop on a stick, an oozing grilled Wisconsin cheese sandwich fresh off the grill, deliciously sweet maple cotton candy, ginormous fried cheese curds, a tasty buffalo burrito, and, of course, the light, airy, creamy deliciousness of the Fair's Cream Puffs created to perfection by the Wisconsin Baker's Association...all of these delectable selections and hundreds more are served up over the best 11-days of summer at the Wisconsin State Fair."
Delving deeper, and opening a copy of the Fair's menu, I also found chocolate cow pops, apple pie on a stick, frozen bananas, and "deep-fried PB & J."
I'm SO there.
At least, I wish I was. Vermont actually looks quite a bit like Wisconsin, albeit with steeper hills. So the ambiance is right; but Vermont's state fair just doesn't hold a candle to Wisconsin's, food-wise.
The Vermont State Fair's Web site doesn't mention food AT ALL. And nosing around on a couple of travel sites offering customer reviews of the Fair, the main comment seemed to be "eat elsewhere."
Although Roxy's fries and the Mt. St. Joseph booth's sausage and peppers did get a couple of good plugs.
Maybe it's because I'm a Wisconsin native, but the Dairy State's food just speaks to me. As does anything Wisconsin. I learned not only to pronounce, but to spell Oconomowoc REALLY FAST when I was about 7 years old. (Next best accomplishment: pronouncing and spelling Passagassawakeag, a river I used to cross frequently when I lived in Maine.)
So when we first started carrying "Wisconsin bowls," years and years and YEARS ago, I had to buy a set. Made in Sheboygan – how could I resist?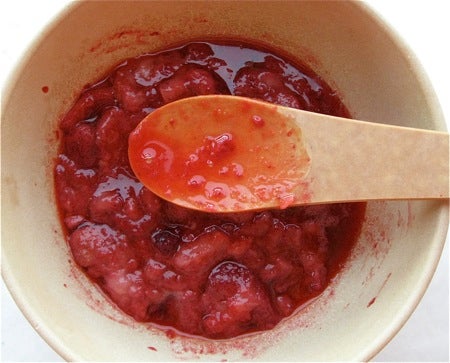 These have become my mixing bowl of choice in the test kitchen. They're sturdy, yet lightweight; who wants to lug a bowl that's heavy even before you fill it with cookie dough? And unlike stoneware or glass, you don't have to worry about dropping them. Which I do, frequently, on our rubberized linoleum floor
BOUNCE!
OK, I've gotten a little distracted here. Must be the heat... yes, it's still in the high 80s, going on 3 weeks of wickedly hot weather. Thus my attraction to this cake recipe that doesn't involve an oven.
Unbaked cake? Nope. Cake "baked" in an electric skillet, where a bottom layer of sugar, butter and fruit bubbles up over cake batter dolloped on top.
And guess where I got the idea for this recipe?
From the Norske Nook, a restaurant/coffee shop in Osseo, Wisconsin.
You can take the cheesehead out of the state, but...
So, on to the recipe. First, decide what kind of fruit you're going to use. I chose a 16-ounce bag of frozen strawberries; raspberries, peaches, or blueberries would be equally good, if you're harvesting your fruit from the frozen food aisle at the supermarket.
Can you use fresh fruit? Sure. I usually feel fresh berries are best eaten on cereal or out of hand, rather than baked – at least from a monetary point of view. But if you have an abundance of fresh berries, ripe peaches, or whatever, go for it.
Thaw the fruit, if it's frozen. Chop it coarsely, and let it sit for awhile, to release its juices.
While the fruit is resting, prepare your skillet.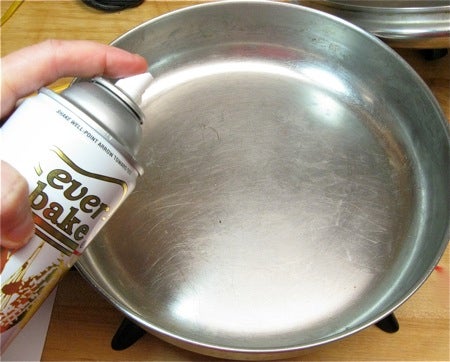 First, spray your 9" or 10" electric skillet with non-stick vegetable oil spray. We use Everbake in the test kitchen; it doesn't leave sticky residue on your pans.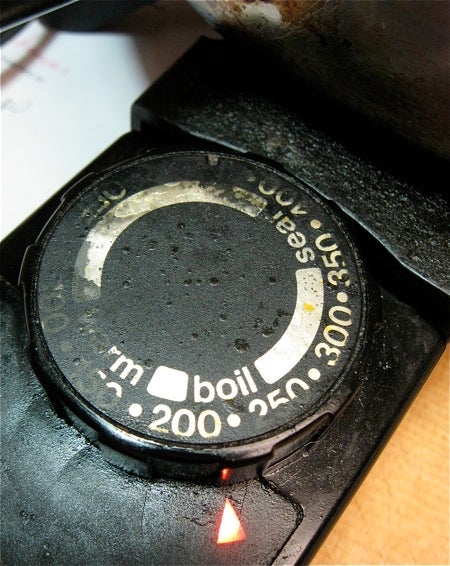 Preheat your skillet to 275°F. Note: This recipe requires that your skillet have a lid. If it doesn't you'll have to fashion a cover out of aluminum foil.
Also, don't worry; eventually I realized this was at 225°F, not 275°F, and nudged it up.
Yes, this is an old skillet; I've probably had it for 25 years. It's missing one leg, but I can't bear to give it up. You know how it is with old kitchen friends...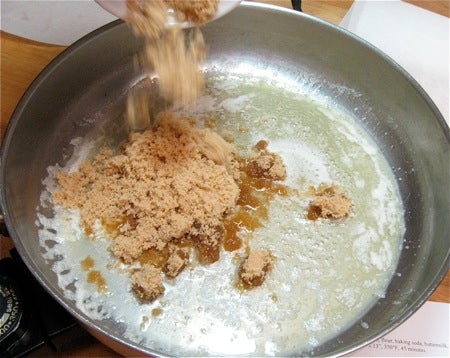 Melt 1/4 cup butter in the skillet, and sprinkle with 3/4 cup brown sugar.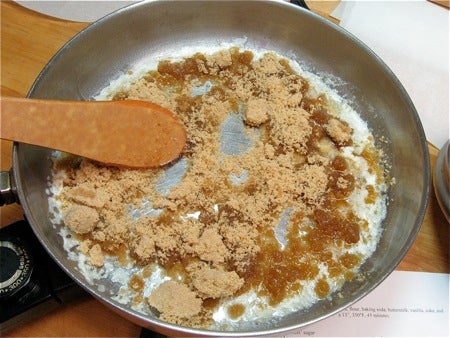 Spread the sugar evenly over the butter.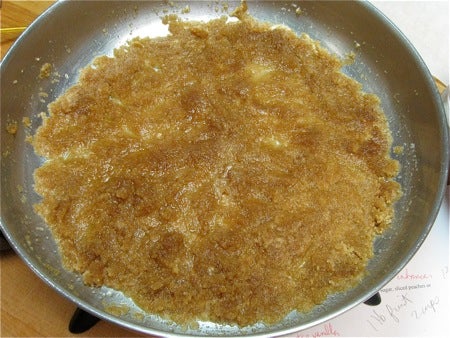 Press it down with the back of a spoon to make an even layer, then turn the skillet to low.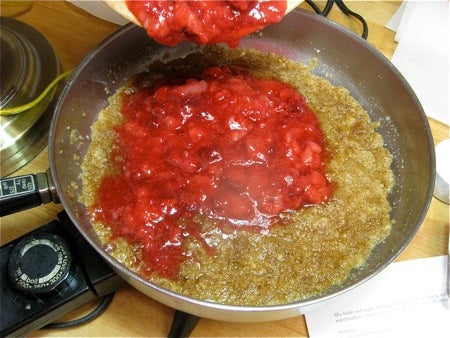 Top with the fruit.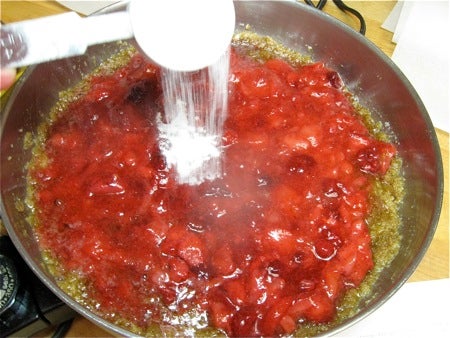 Sprinkle with 1/4 cup Pie Filling Enhancer, if desired.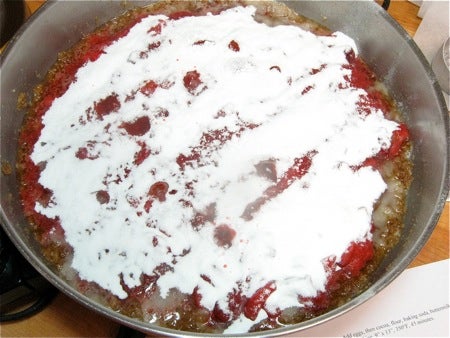 Pie Filling Enhancer will make the syrup that bubbles up around the cake thicker.
Don't have it? Not a deal-breaker. Continue with the recipe.
Next, we'll make the cake batter.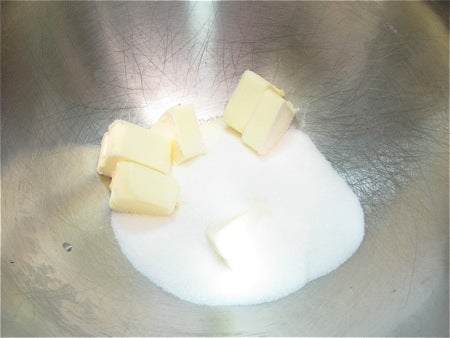 Put 1/2 cup sugar and 1/2 cup butter in a bowl.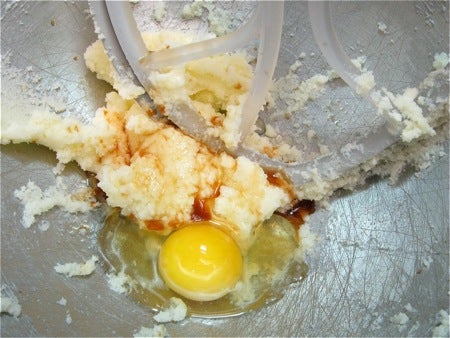 Beat till well combined.
Add the following:
1 large egg
1 teaspoon vanilla
1/2 teaspoon salt
1 1/2 teaspoons baking powder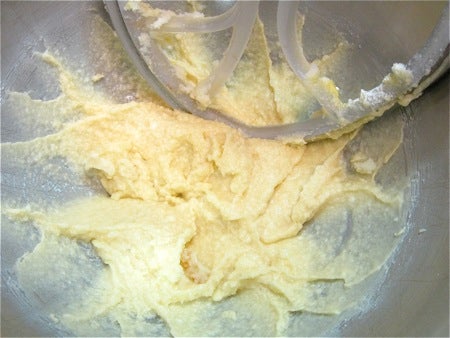 Beat till combined. The mixture will look slightly curdled; that's OK.
Turn your skillet back on; we want it heated up to 275°F by the time the cake batter's ready.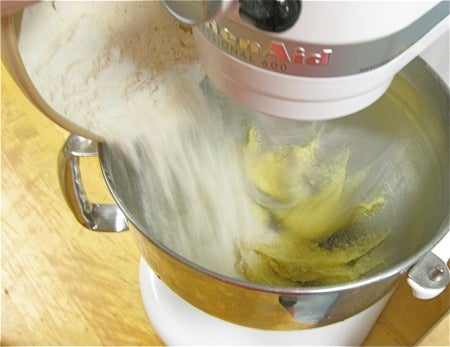 Gently beat in 1 1/2 cups King Arthur Unbleached All-Purpose Flour...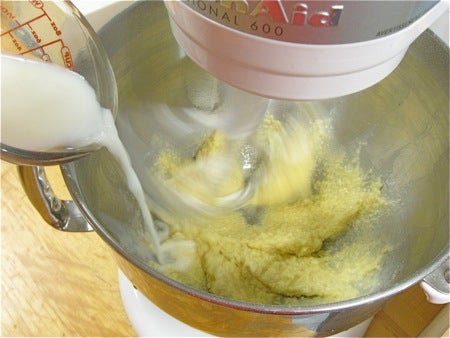 ...alternately with 3/4 cup milk.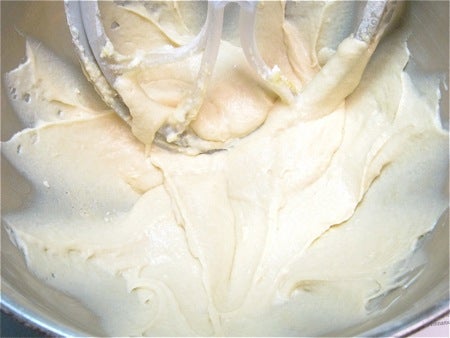 The batter will be smooth and thick.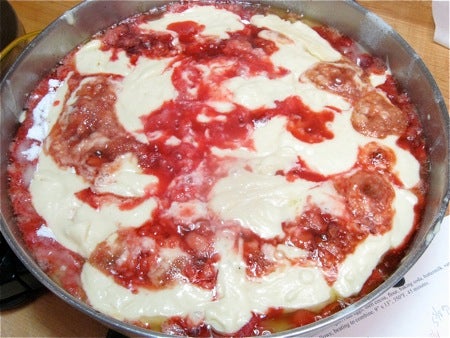 Dollop the cake batter atop the fruit, spreading it out as best you can. Don't be too particular about making it perfectly smooth; the dessert will bake up unevenly anyway, so don't fuss.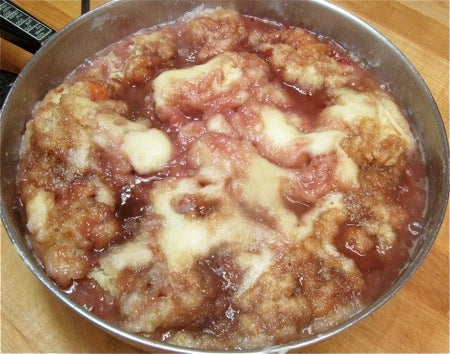 Put the lid on the skillet, and bake the dessert for 25 to 35 minutes, till the cake is set and the fruit is bubbly.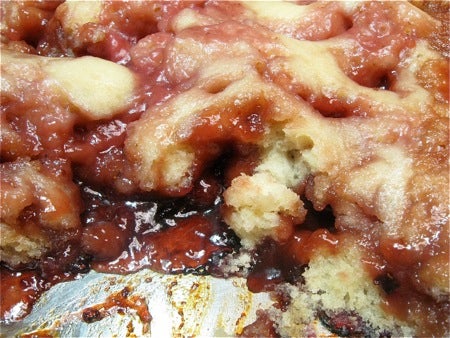 Check the cake frequently, to make sure the bottom isn't burning; remove the lid, and use a spoon or spatula to poke through the cake to the skillet. Notice how the bottom was starting to get quite dark here; if it looks like this, lower the heat.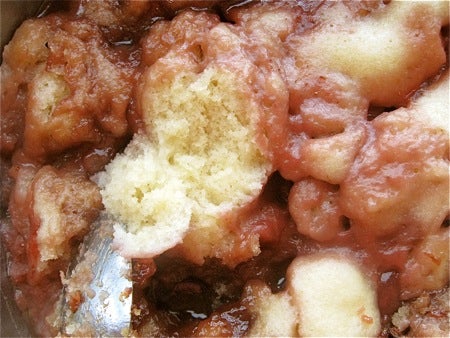 When the cake tests done — a toothpick or cake tester inserted into one of the pieces of cake comes out clean — turn off the skillet. You can also test by poking open one of the larger pieces of cake with the tip of a knife.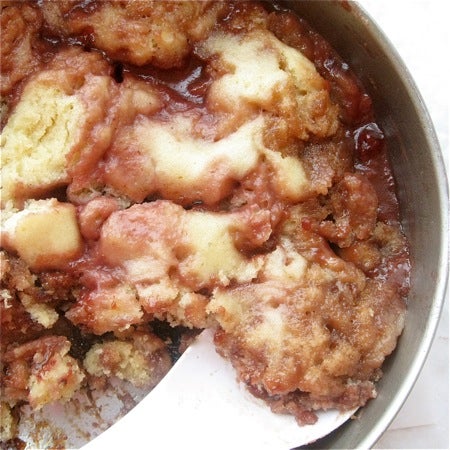 Use a large spoon or spatula to scoop servings into bowls.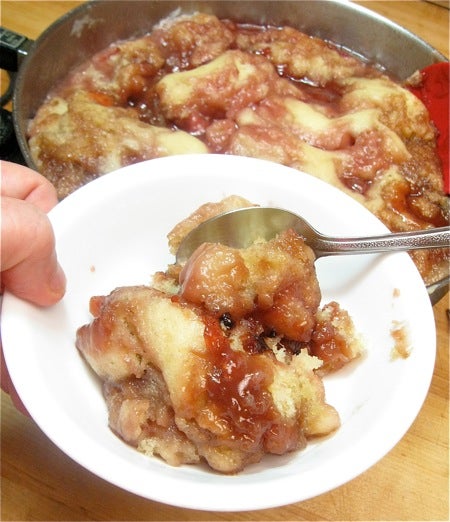 Now admittedly, this isn't the handsomest of desserts.
But warm cake with warm berries, prepared on the stovetop – no oven required? Works for me.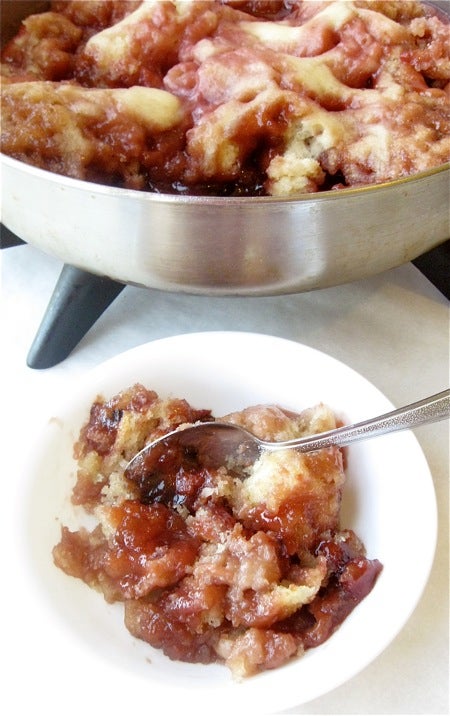 Serve warm, with ice cream or whipped cream, if desired. Or with a drizzle of plain heavy cream, Wisconsin's favorite all-purpose dessert sauce/glaze/topping.
Read, rate, and review (please) our recipe for Summertime Skillet Cake.
Jump to Comments