Baking with zucchini
Our best recipes and tips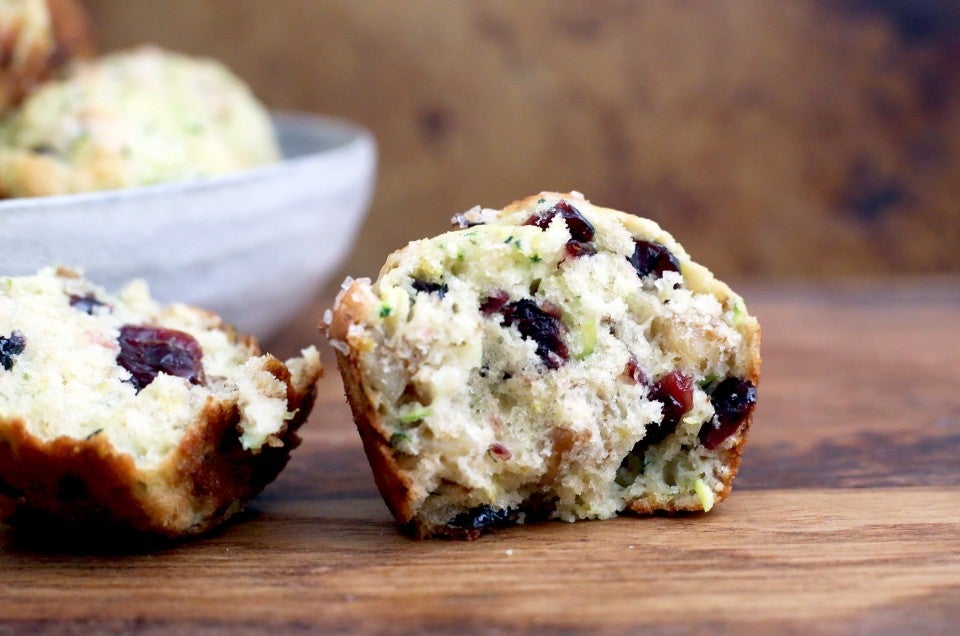 The approaching end of summer means the arrival of prime zucchini season. While gardeners often wring their hands over the overflowing harvest, wondering what to do with it all, we bakers are thrilled! To celebrate it, let's walk through some tips for baking with zucchini, as well as three of our go-to recipes to put it to use.
Now is the brief time to rush to make those  — and a slew of our other favorite recipes — ones we pull out every August. Zucchini muffins scented with lemon and studded with cranberries and walnuts, moist loaves of whole wheat zucchini bread crammed with dark chocolate chips, classic chocolate brownies made with zucchini for an extra-fudgy texture … the list goes on.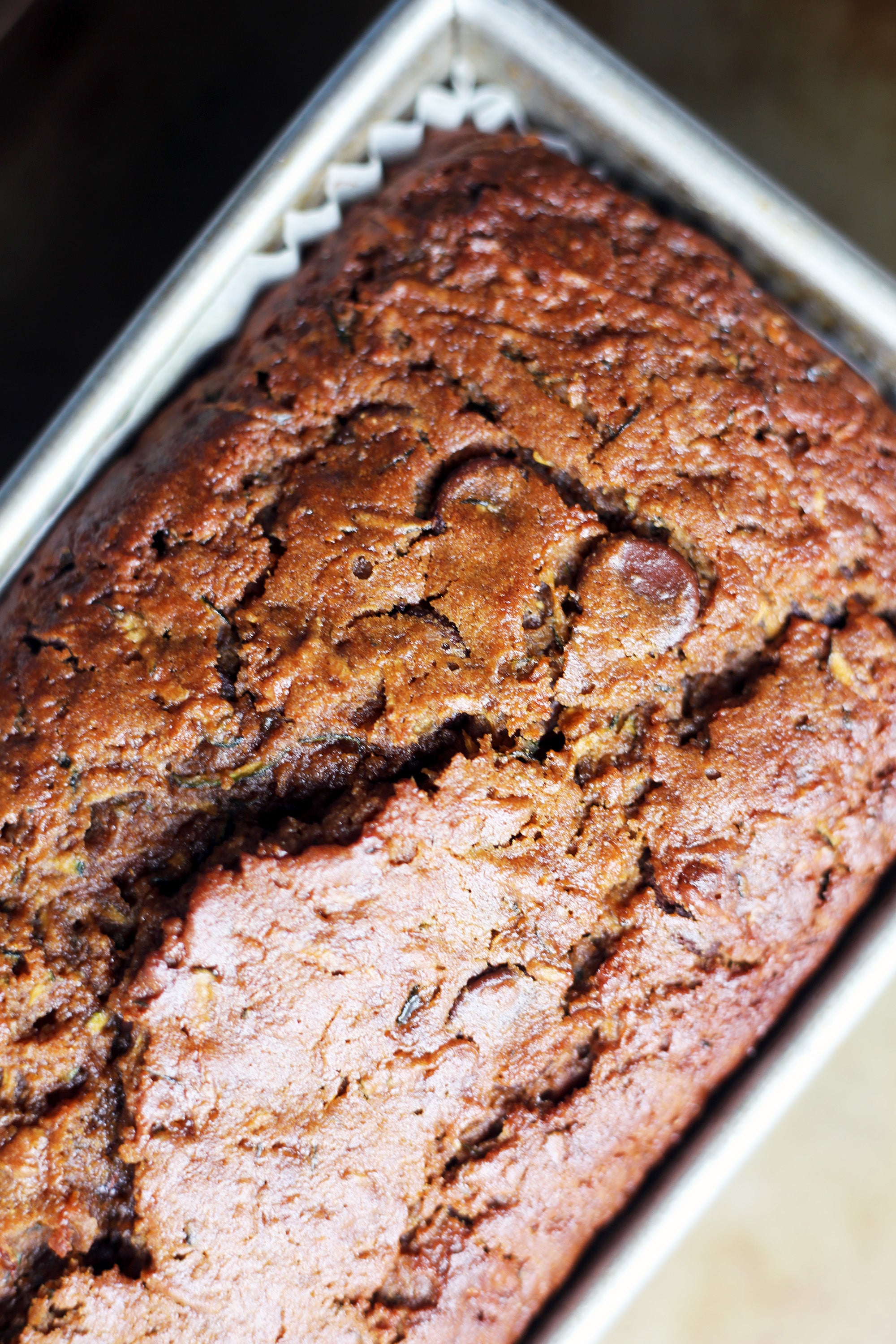 When zucchini is in season, there's so much to bake with it. Over the years, we've honed the classic zucchini favorites (muffins, quick bread, and scones) and experimented with adding zucchini in less expected places (chocolate chip cookies, brownies, and chocolate cake).
In baking, consider zucchini as an ingredient similar to bananas or applesauce. It adds a wonderful texture and moistness to baked goods, and helps bulk up cakes and breads and muffins with a boost of nutrition, too!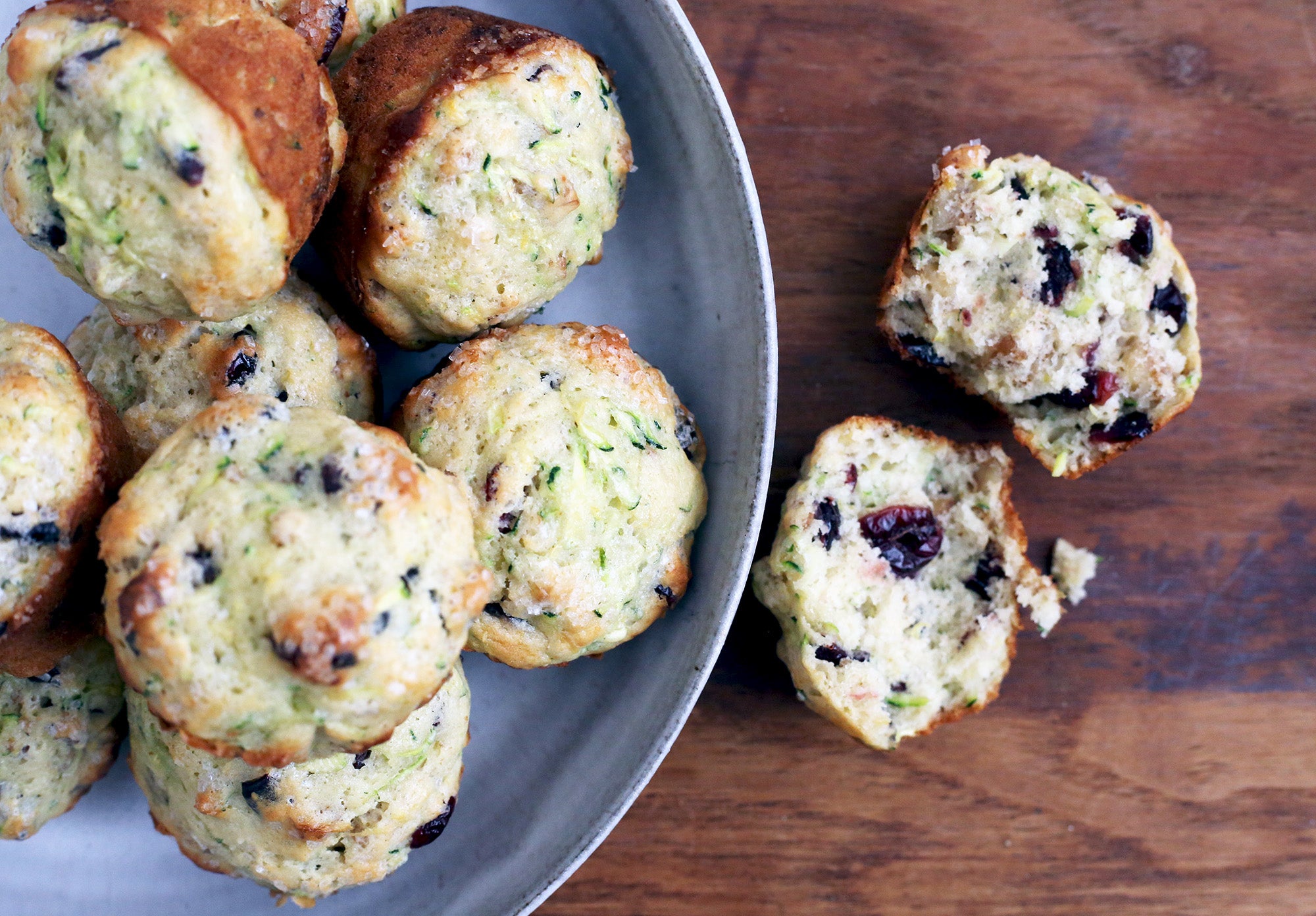 Zucchini has such a mild flavor that it pairs beautifully with everything from cinnamon to chocolate. Some of our favorite recipes — like our Zucchini Lemon Muffins — are written to let the earthy, almost-sweet flavor of zucchini shine. Others — like our Chocolate Zucchini Cake — rely on zucchini for adding volume and creating a tender crumb, but not any flavor at all.
As you head to the market this week, fill your bags with as much zucchini as you can carry, and put it use in a few of our favorite recipes. Before we dive into the delicious inspiration, let's talk a bit about the best ways to select and prep your zucchini for baking.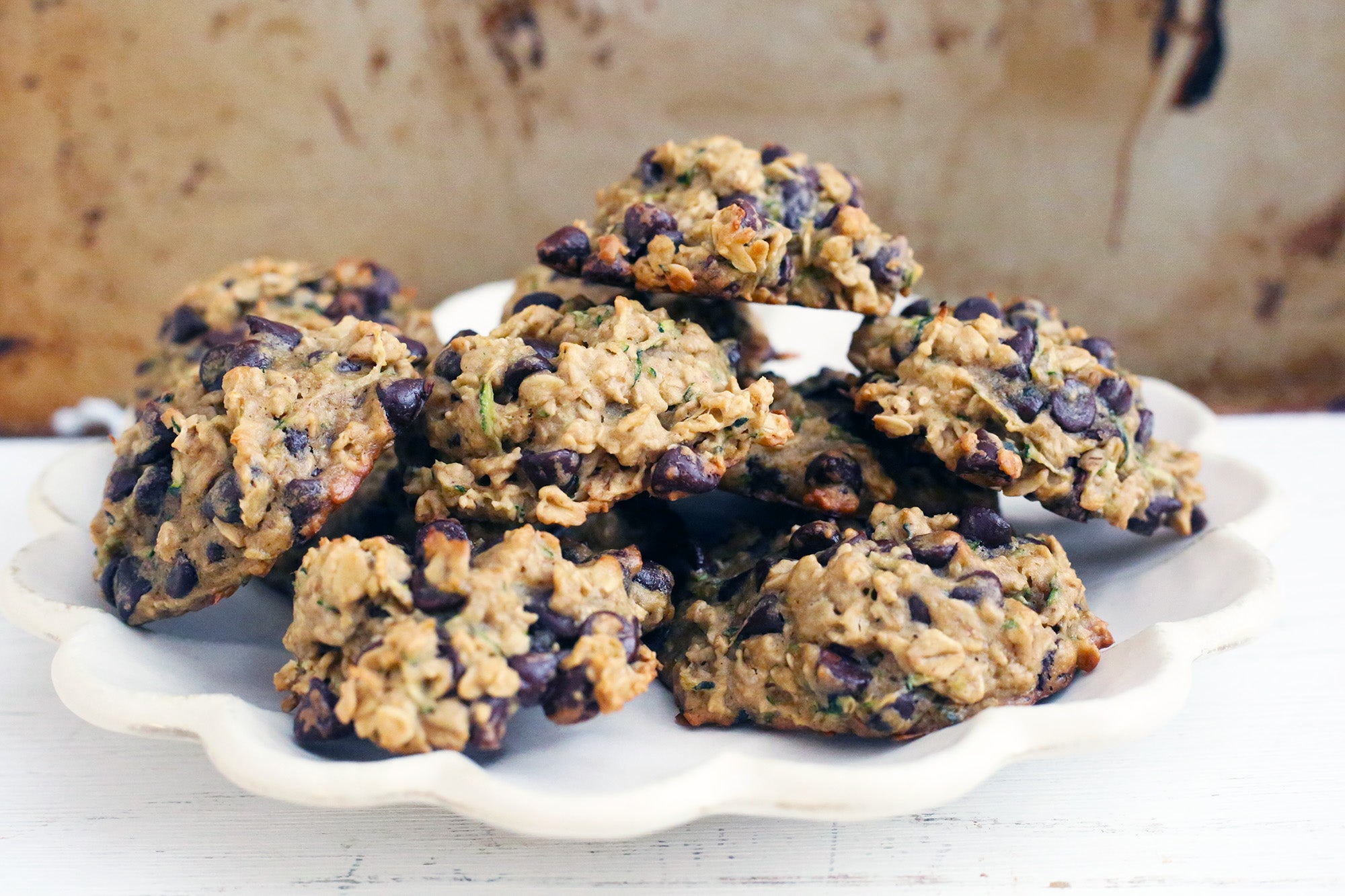 Selecting zucchini
Ideally, you always want to bake with peak-season produce, so try and shop for zucchini right around the end of August when it's at its very best. 
Sight: When choosing zucchini, look for ones with a firm, almost shiny exterior.
Sound: If you tap it, it shouldn't sound or feel hollow — that's usually the sign of a too-old zucchini.
Size: While zucchini comes in all sizes, you don't want to pick ones that are too large — that usually indicates they've been picked too late and will be less firm inside, with a Styrofoam-like texture.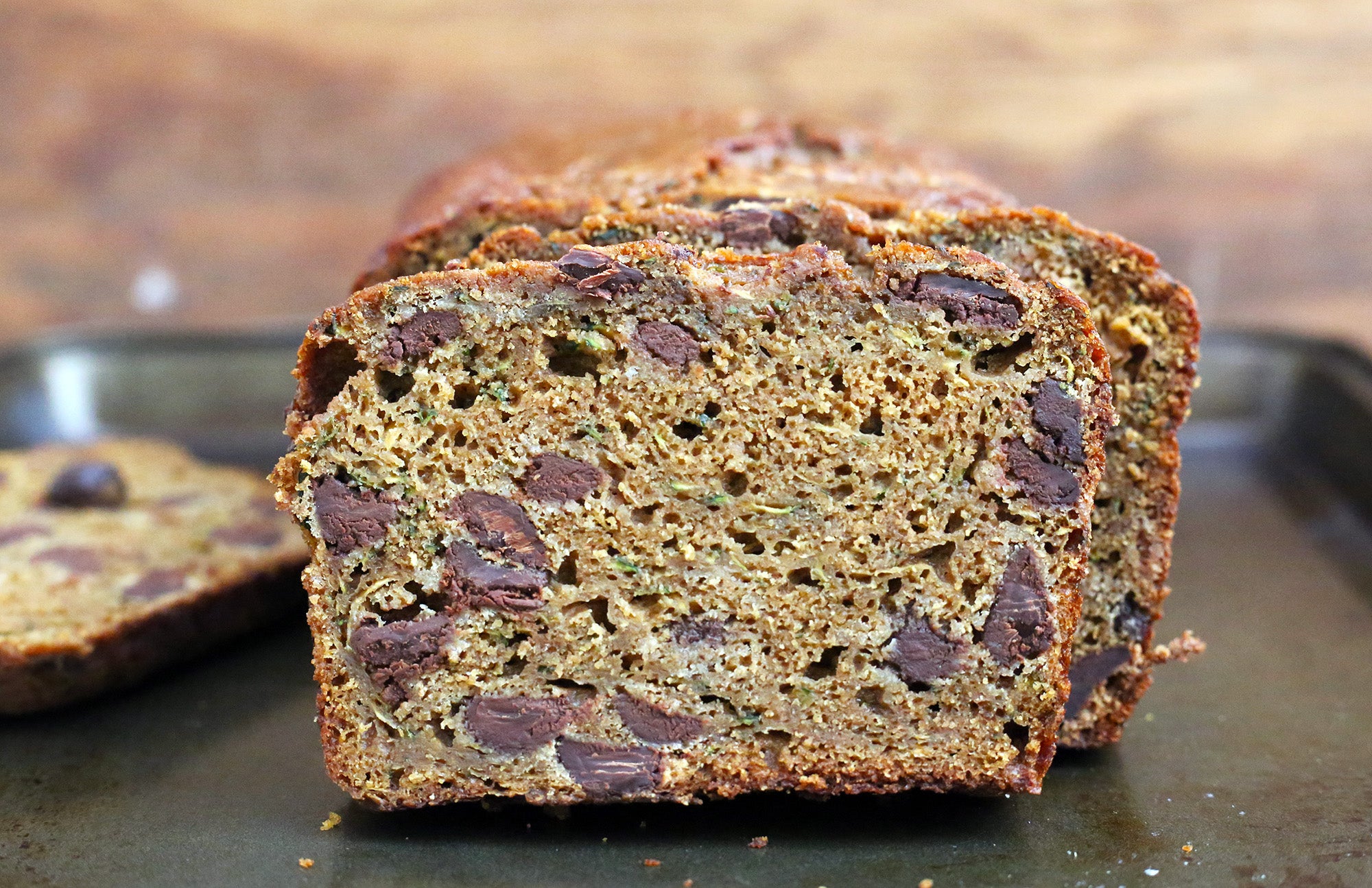 Prepping zucchini
Once you've picked up your zucchini, it's time to prep. Wash your produce well if you don't plan to peel it. In general, we recommend leaving your zucchini unpeeled: most of the fiber and nutrition is in the green exterior, and lots of the flavor, too. 
However, some people prefer peeling zucchini to avoid any green flecks in the final baked goods (although with chocolate recipes, you won't notice anyway!) or to avoid the texture of the peel. It's entirely up to you! But know that it adds extra work to peel your zucchini, and is rarely very noticeable in most zucchini recipes.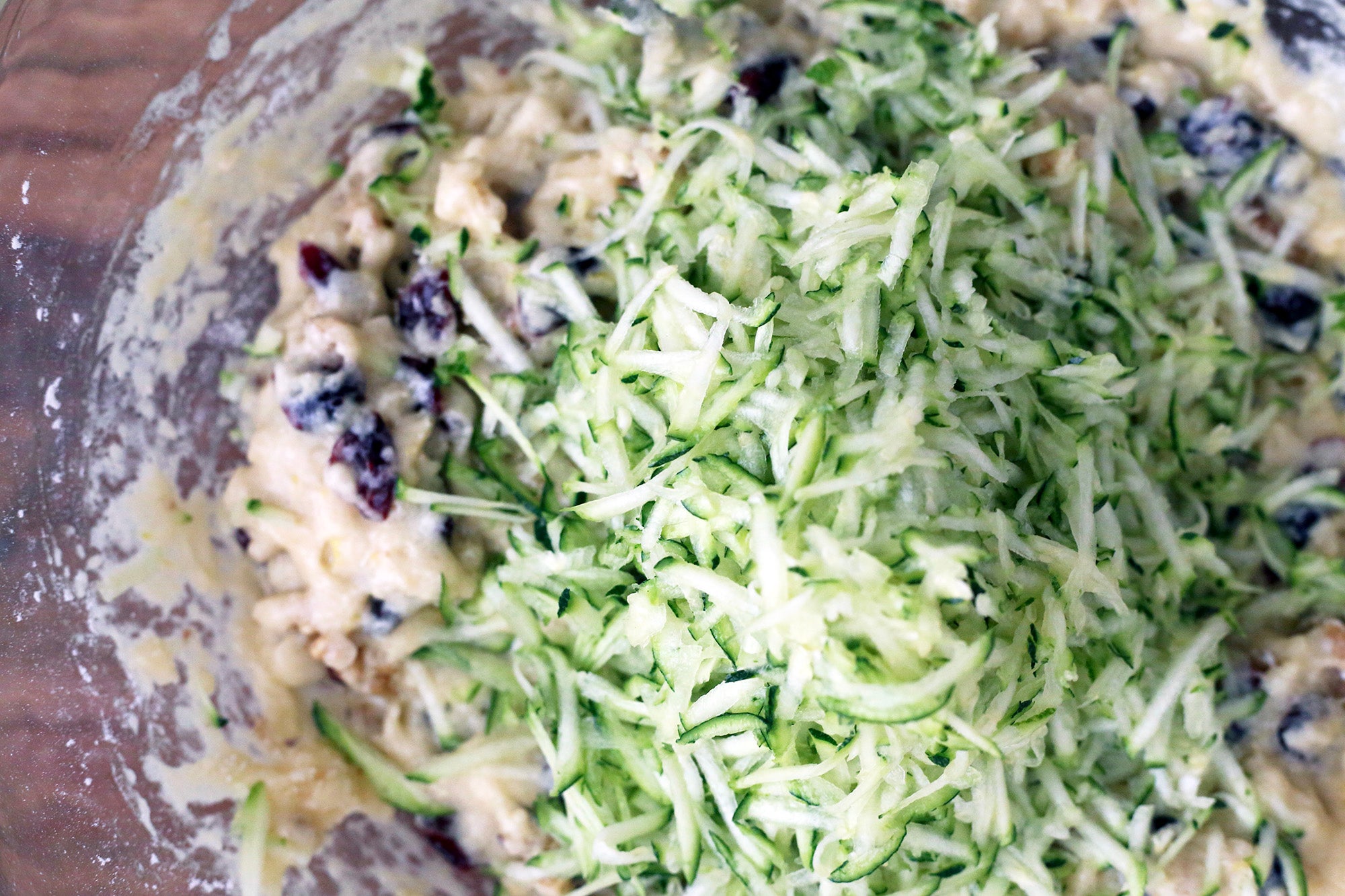 Most of our zucchini recipes call for grated or shredded zucchini. You can use a box grater for this, or food processor fitted with a disc for grating. A spiralizer is also a great tool for prepping zucchini quickly. Just be sure to chop up the zucchini ribbons into smaller pieces, if you go that route. In a pinch, you can always finely chop your zucchini by hand with a knife! 
Zucchini has high water content, like apples or eggplant. Seasoned cooks and bakers know that when prepping eggplant or apples, it helps to find a way to draw out the water, either by grating apples and squeezing as much water out as you can, or salting the eggplant and letting it sit as it gives off water. 
If you've ever wondered if you should try and squeeze out some of the water from your shredded zucchini before adding it to batter or dough, the answer (happily) is no!
Zucchini recipes are written to accommodate their water content. The amount of dry ingredients properly balances the zucchini — in fact, it's that water content that helps create such lusciously moist quick breads and tender muffins. 
So don't squeeze the water — it'll lead to overly dry baked goods. Luckily, this just means less prep work for us bakers!
Weighing zucchini
You'll notice that our recipes all offer weights for the quantity of zucchini. These weights are a great approximation of the quantity of zucchini to use, but don't sweat it too much. Unlike ingredients such as baking soda or butter, which require precision for the success of your baked goods, you just want roughly the right amount of zucchini.
Our Ingredient Weight Chart lists 1 cup of zucchini as weighing anywhere between 121 and 150 grams. This is because recipes vary in whether they call for loosely packed or more firmly packed zucchini. So, try and aim for something in that realm, unless your recipe is very specific about the amount.
A little more or a little less? This won't make or break your recipe.
Best zucchini recipes
Now that you're schooled in Zucchini 101, let's bake. We've got a tantalizing array of zucchini recipes to choose from on our website.
There's something for everyone, from an elegant frosted chocolate cake to buttery scones perfect for weekend breakfasts. 
But to help you narrow it down, here are three of our favorites that we turn to again and again.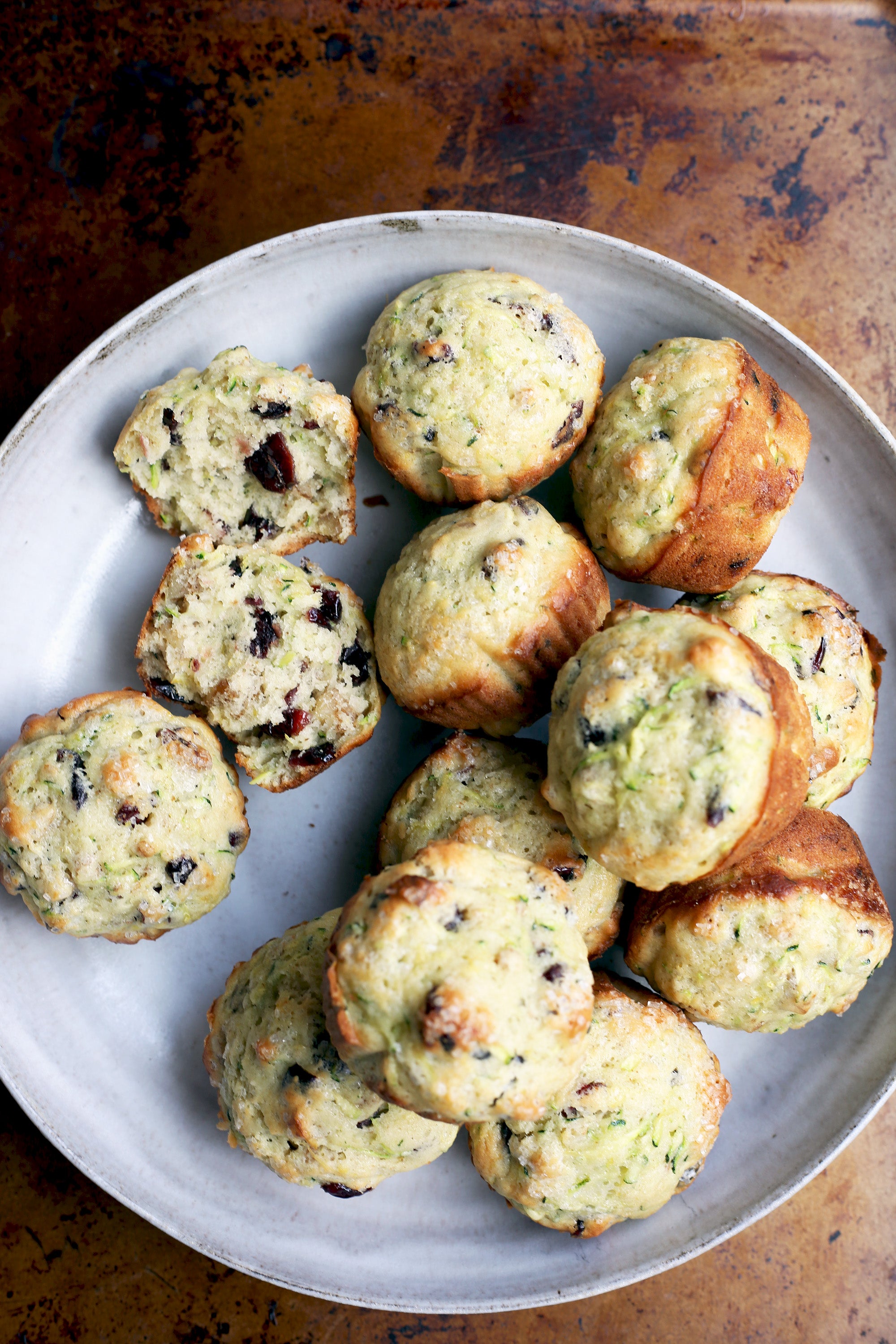 First up, Zucchini Lemon Muffins. These muffins are a perfect zucchini recipe, as they highlight the flavor of the zucchini itself. A generous dose of lemon zest brightens up the muffins, and tangy, chewy cranberries add a burst of tart sweetness. They've got walnuts, for a toasty flavor and some crunch. The end result? A muffin that's beautifully colorful and packed with good flavors and textures.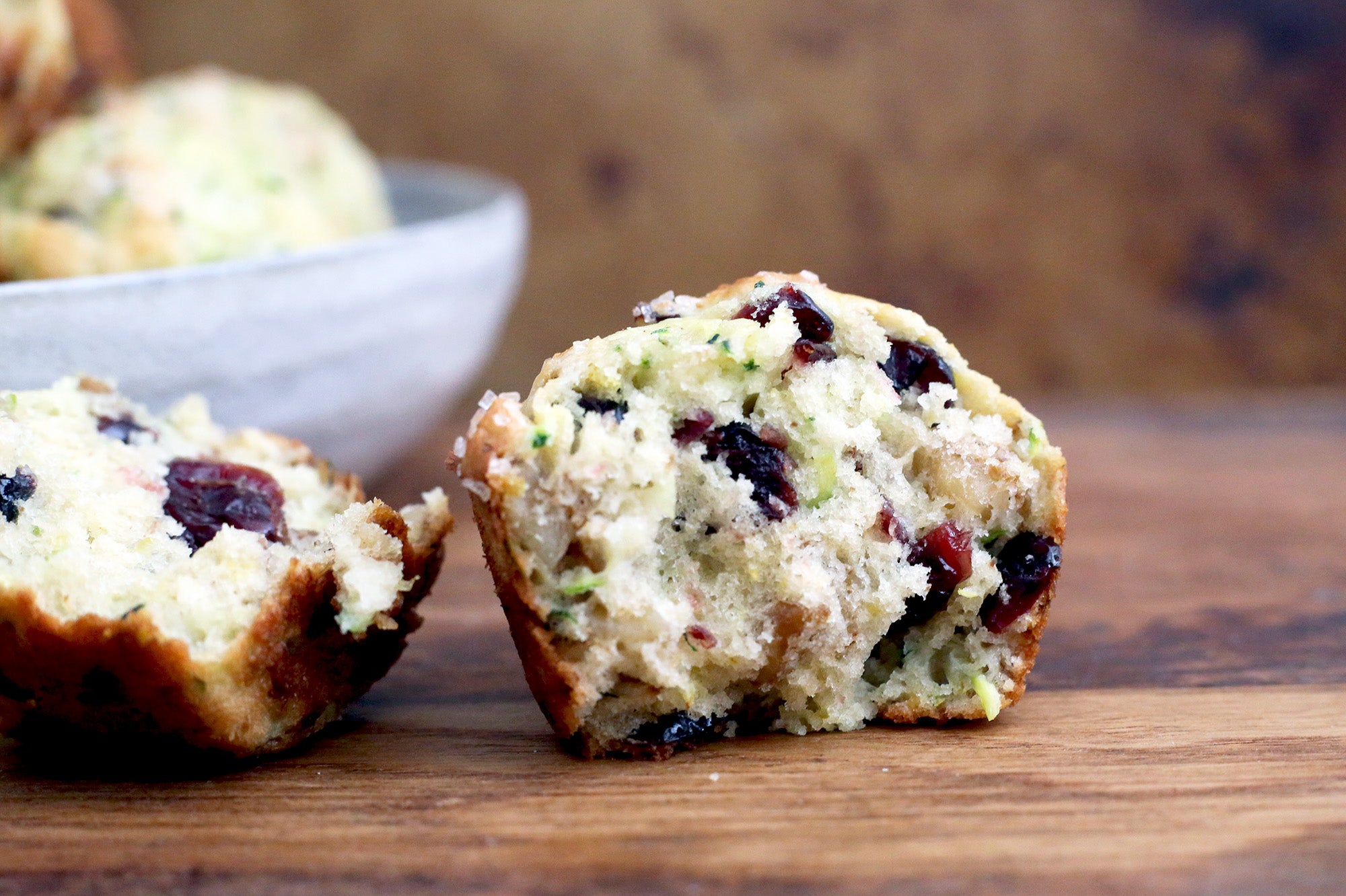 Pro tip: Don't skip sprinkling the optional sparkling sugar over the tops before baking. It gives a lovely finishing touch! If you don't have sparkling sugar, try turbinado sugar instead.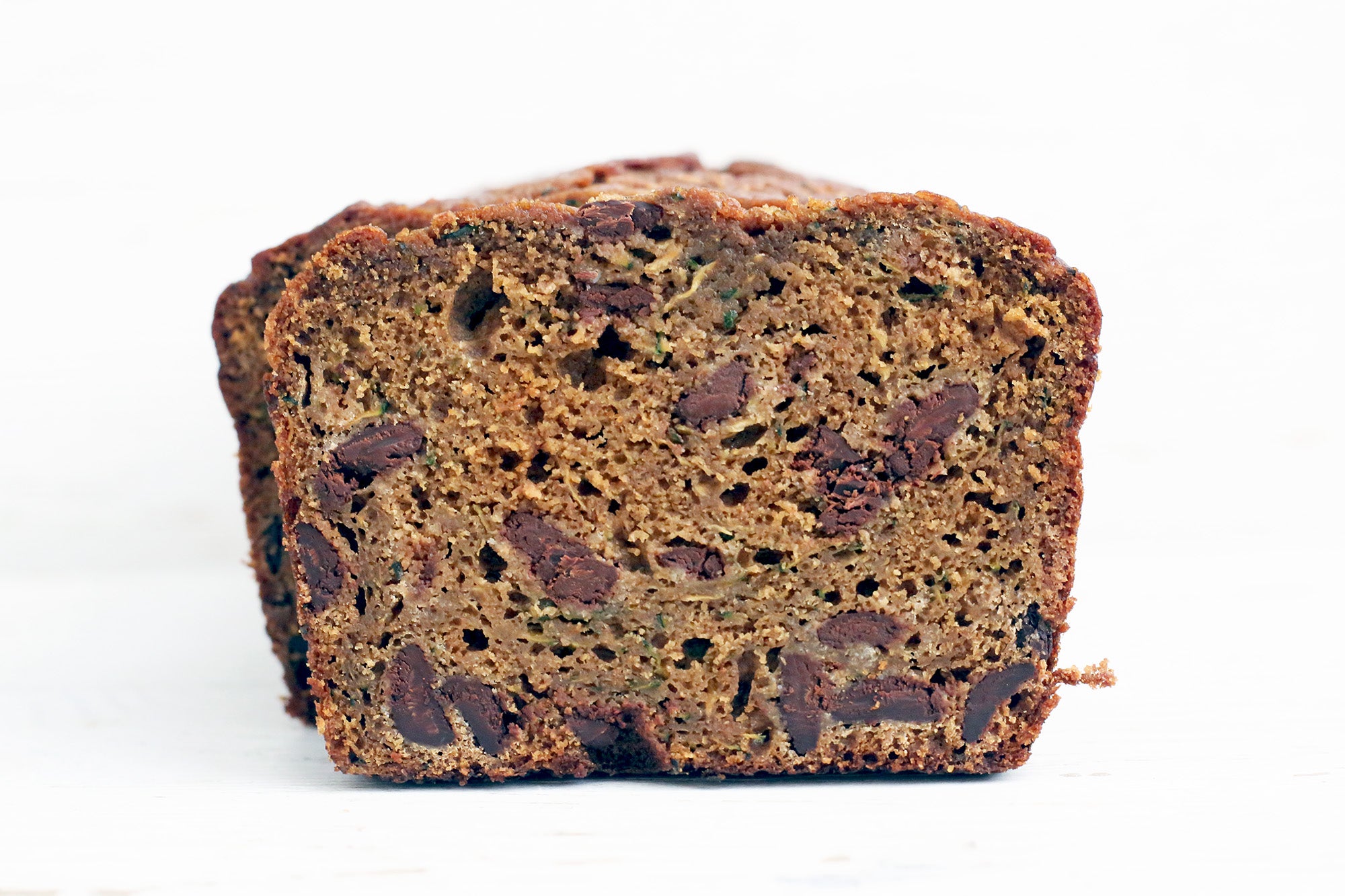 Next, 100% Whole Wheat Zucchini Chocolate Chip Bread. Don't let the wholesome title of this loaf fool you: this bread is all about the chocolate. As moist and dense as the very best banana bread, each slice is packed with chunks of chocolate (use whatever type you like, be it bittersweet, semisweet, milk, or a mix of all three). Molasses (or honey), vegetable oil, and brown sugar are all key ingredients — in addition to the zucchini — that give this loaf its incredible texture. 
Bonus: It keeps for days, and freezes extremely well for up to three months.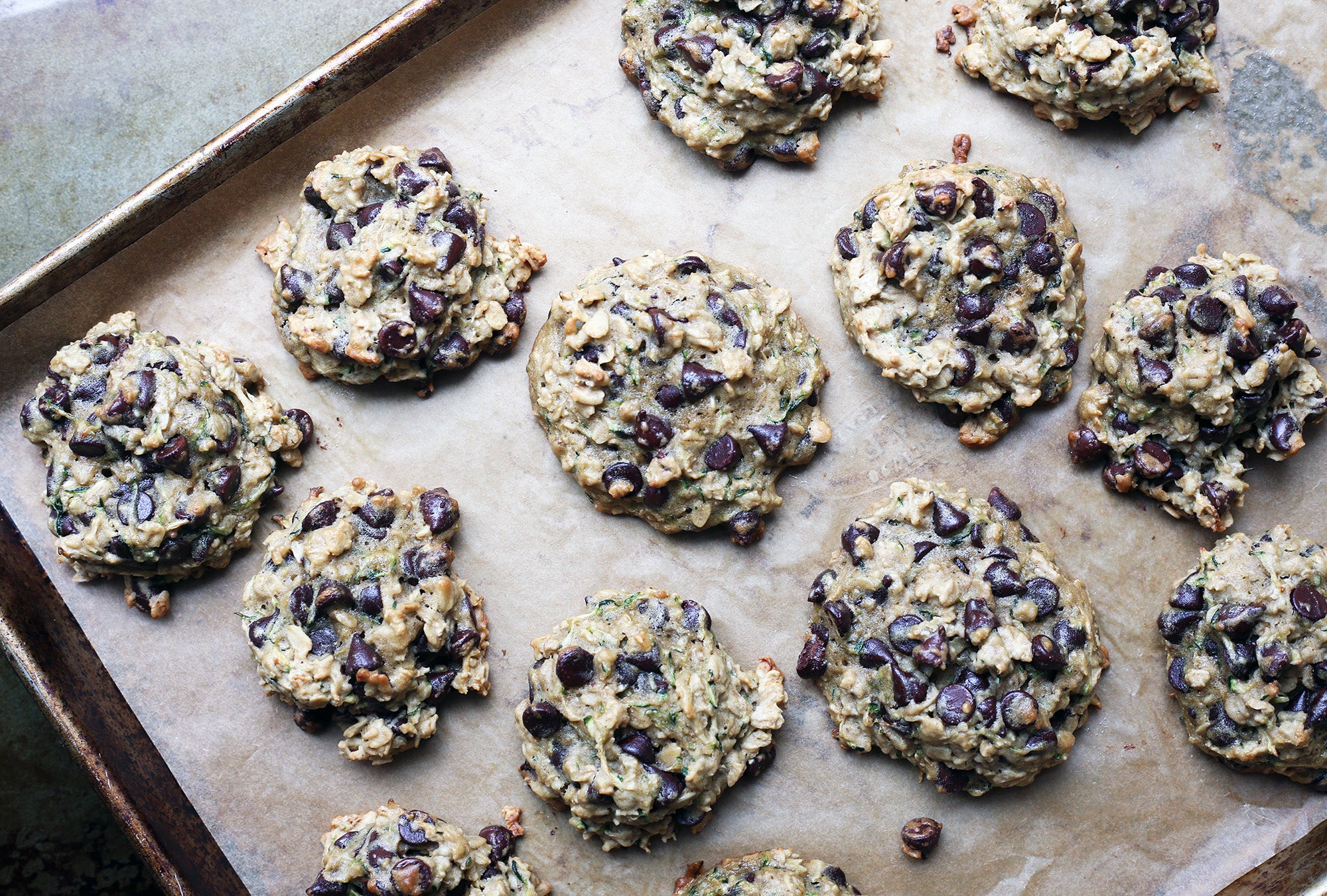 Last, a surprise twist to your zucchini adventure: Zucchini Oatmeal Chocolate Chip Cookies! Imagine a perfect oatmeal cookie, full of chocolate chips and warm spices. Now imagine one with a light and cakey texture, moist on the inside with golden edges of toasted oats. That's what this zucchini recipe is all about. The zucchini gives volume to the batter, so they bake up more cake-like than chewy, but still pleasantly dense as a good cookie should be.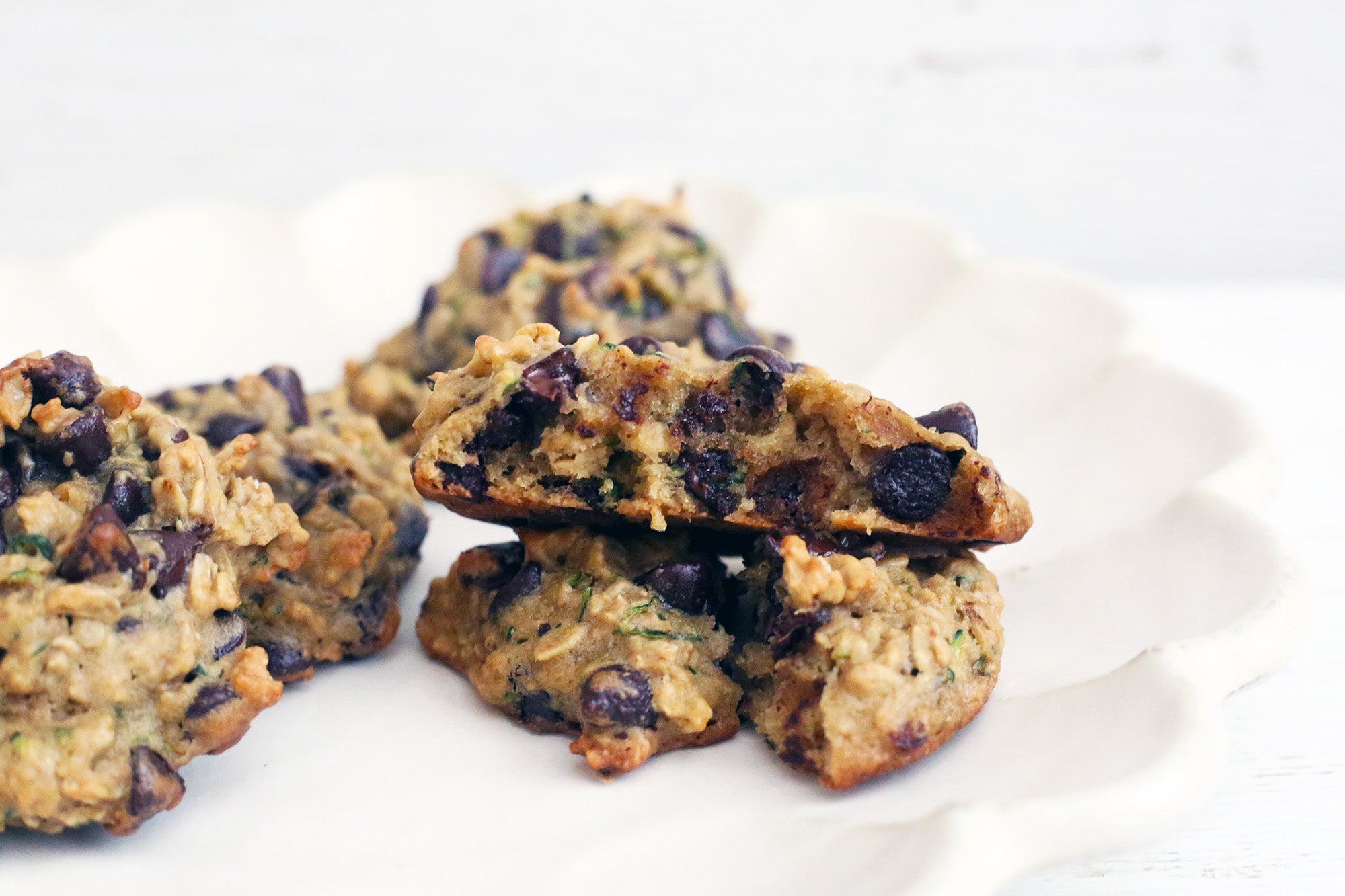 If you like, you can purée the zucchini before adding it to the batter. If you go that route, the zucchini won't be discernible at all in the final result. Just purée it along with the egg, oil, and vanilla, then add those all together to your dough. If you choose to use shredded zucchini, you'll have a "bumpier" appearance and some zucchini flecks, which is a beauty to behold in its own right!
Now that you're hungry for zucchini, go gather as much as your arms (and market totes!) can carry. Try one of our recipes and let us know what you think in the comments below, or tell us your favorite recipes to bake!
Jump to Comments