WOW. It's too hot to bake.
Not only that, it's too hot to fuss.
But - what about our daily bread?
Fuss-free, no-knead, quick-baking focaccia to the rescue!
The East Coast has been blasted by a serious heat wave this week, and it's reached all the way up here to northern New England. We're experiencing Florida-like weather - without the AC. Temperatures have been in the mid- to high-90s since Monday, with suffocating humidity.
And, since this prolonged hot weather only happens once every few years, frugal New Englanders don't buy air conditioners; they just wait it out. And talk about the weather.
My Web teammate Tracy says, "When it's this hot, there's NO cooler spot on your pillow." Many of us have taken to sleeping in the cellar where, if we're lucky, the temperature might be in the low 80s – as opposed to the stuffy 90s of most upstairs bedrooms.
Or my kitchen at home, which happens to be on the top floor where all the heat rises and collects. Sure, it's nice and cozy in the winter, but right now? BLECHH.
Still, I have to have my bread...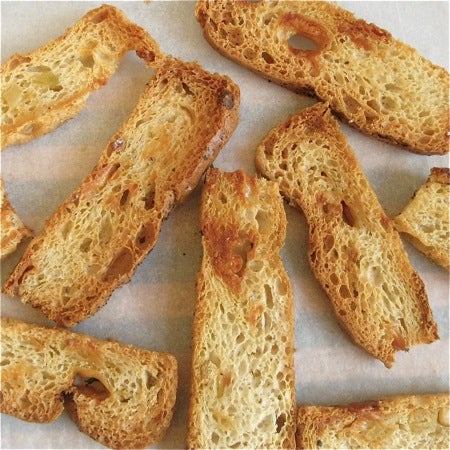 ...and my crunchy nibbles to enjoy with a glass of mint limeade, out on the deck at about 10 p.m., when it finally cools down to the upper 70s.
Relief is on the way; thunderstorms and cooler temperatures are predicted for tomorrow. So I'll be back to my usual array of sandwich loaves and ciabatta.
But I won't forget this easy flatbread. No-knead? No-fuss? No problem! Even when the world around you is melting...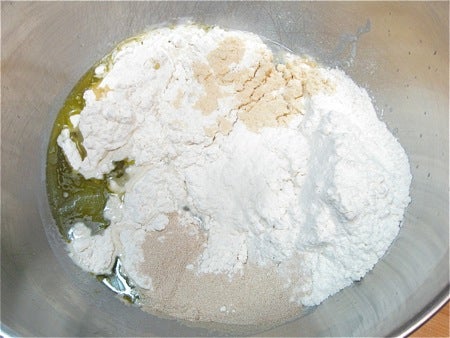 Put the following ingredients in a bowl:
1 1/2 cups (340g) lukewarm water
3 tablespoons (35g) olive oil (plus additional for drizzling into the pan)
1 1/4 teaspoons salt
3 1/2 cups (418g) King Arthur Unbleached All-Purpose Flour
1 tablespoon instant yeast
4 teaspoons Pizza Dough Flavor, optional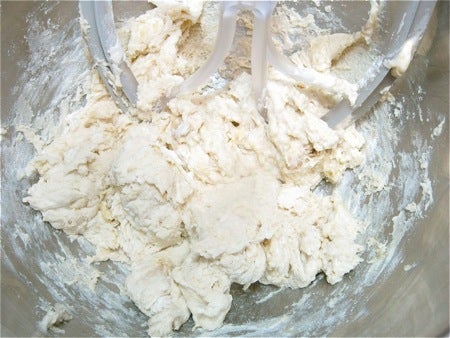 Beat at high speed with an electric mixer for 60 seconds. This is what it'll look like after about 15 seconds.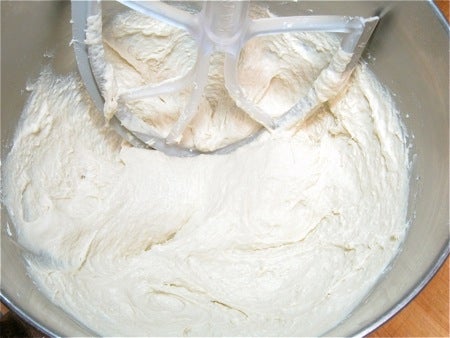 After 60 seconds, it should be nice and smooth.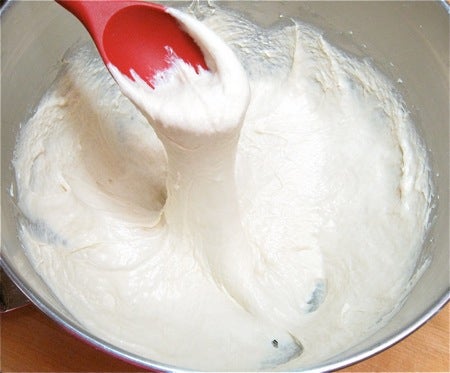 And the gluten will be nicely developed. See the stretch? It's this elasticity that captures and holds CO2 from the fermenting yeast, causing your bread to rise.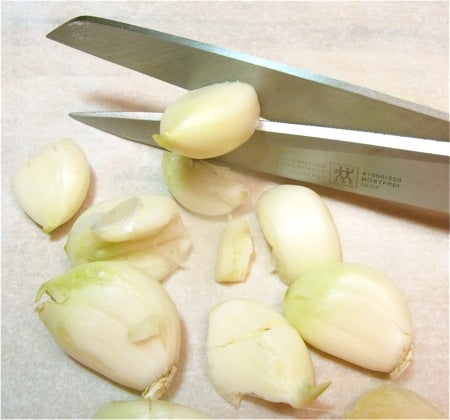 Next, prepare your filling. Peel some garlic cloves. How many? We used 8 here. Use fewer if you're not a garlic fan. In fact, leave the garlic out entirely, if you like.
A pair of scissors does a good job chopping the garlic coarsely.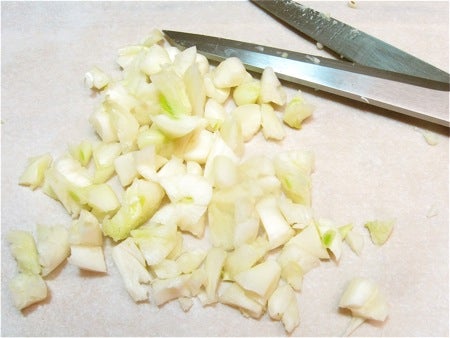 We like to leave the garlic in fairly large chunks.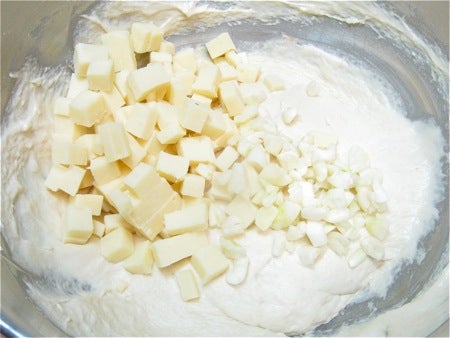 Next, add 8 ounces of cheese, which you've cut in chunks. I used sharp cheddar here, but choose your own favorite.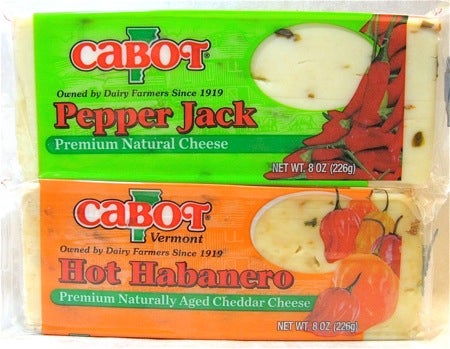 Hot enough for you?
If you love spicy foods, try Cabot's Hot Habanero cheese. For less heat, their Pepper Jack is a great choice.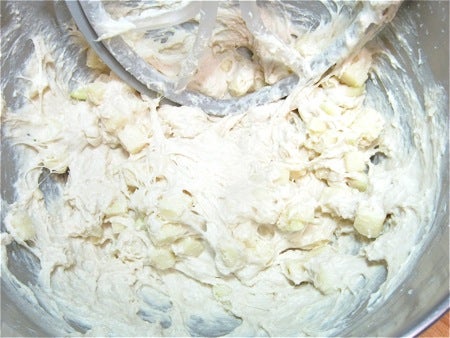 Beat gently, just till the cheese and chopped garlic are distributed evenly throughout the dough.
Lightly grease a 9" x 13" pan, and drizzle 1 to 2 tablespoons olive oil in the bottom.
Scoop the sticky batter into the prepared pan.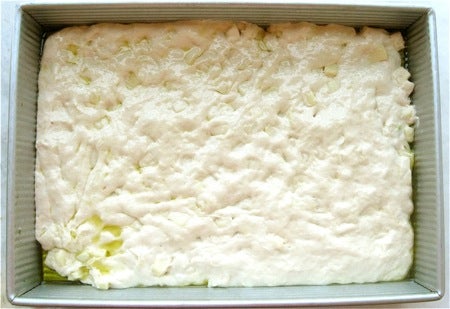 Push it into the corners of the pan.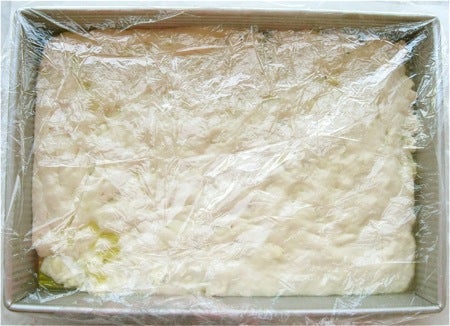 Cover the pan, and let the dough rise at room temperature for 60 minutes, till it's become puffy.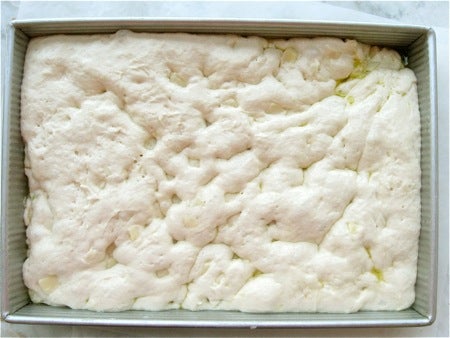 Like this.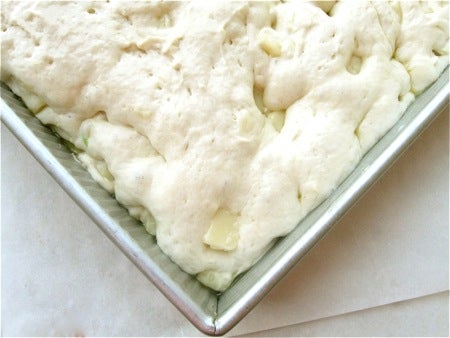 It looks like a big soft pillow, doesn't it?
I've always wondered what would happen if you made a huge amount of dough and put it in a bathtub to rise. If you got in, would you rise with the dough? I think it's a matter of weight and surface area, but I was never a great physics student...
Towards the end of the rising time, preheat the oven to 375°F.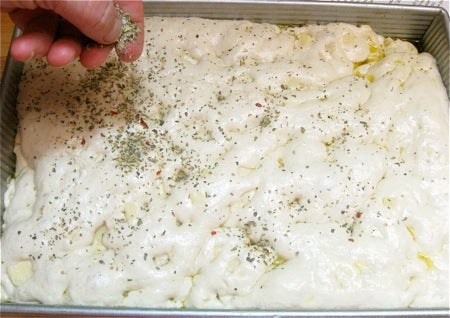 Sprinkle the risen dough with pizza seasoning.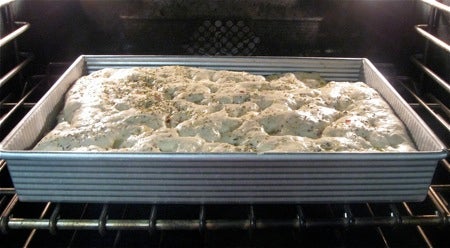 Bake the bread for 35 to 40 minutes.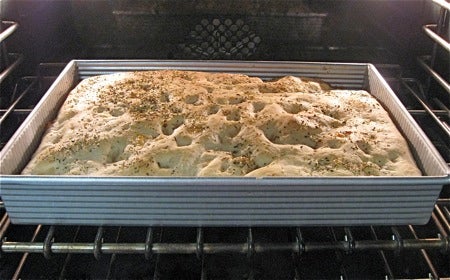 When it's golden brown, it's done.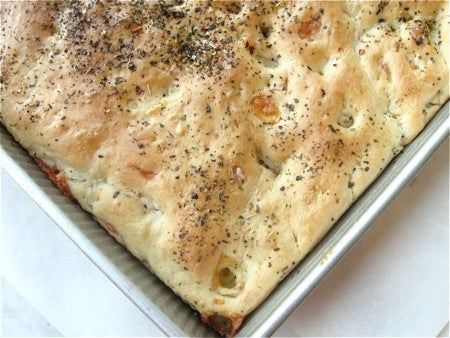 Remove it from the oven.
After a minute or so, turn it out of the pan onto a rack to cool.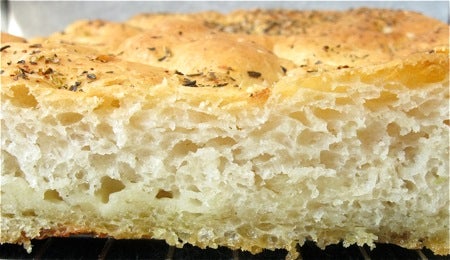 See that layer of olive oil at the bottom? It makes the crust delightfully crunchy, like a Pizza Hut pizza.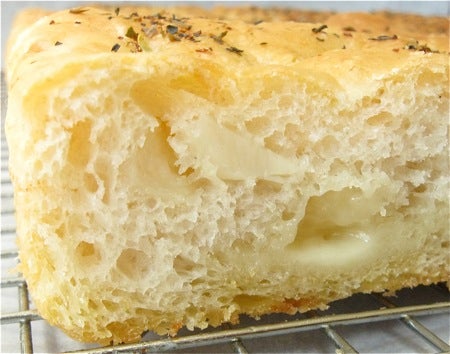 And the melting cheese and chunks of garlic are just heavenly.
Now, once you've enjoyed your bread warm, you can take the leftovers and make them into crunchy bread sticks.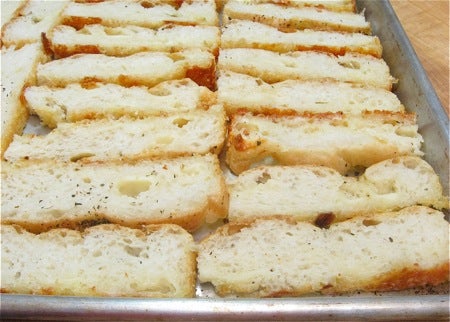 Cut the bread crosswise, into two 6 1/2"-wide pieces. Cut 1/2"-wide strips, and lay them on an ungreased baking sheet.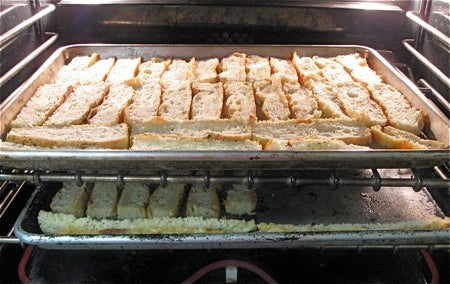 Bake in a preheated oven, anywhere from 350°F to 400°F, for 20 to 30 minutes or so, till the sticks are golden and crunchy.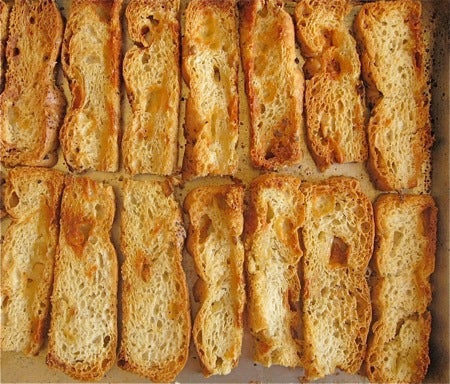 Like this.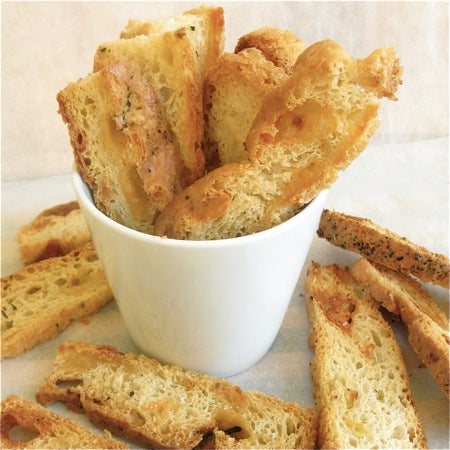 Great nibbles with drinks!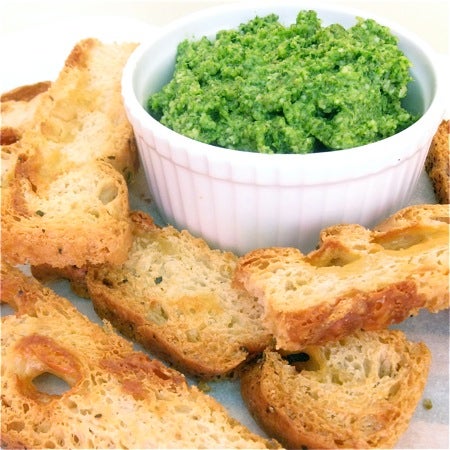 Pesto is a lovely accompaniment.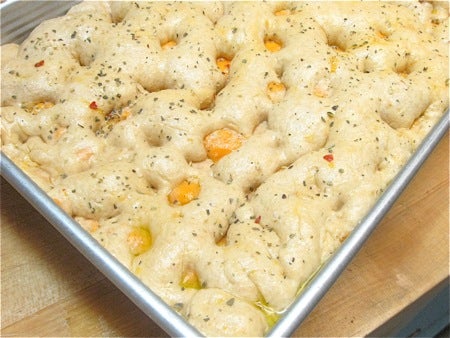 And guess what? You can substitute King Arthur White Whole Wheat Flour for the all-purpose, and make a wonderfully light 100% whole-grain loaf. Here I've used "Buffalo cheese" from our local supermarket's deli counter.
No, not buffalo milk mozzarella. Buffalo, as in "buffalo chicken," as in spicy.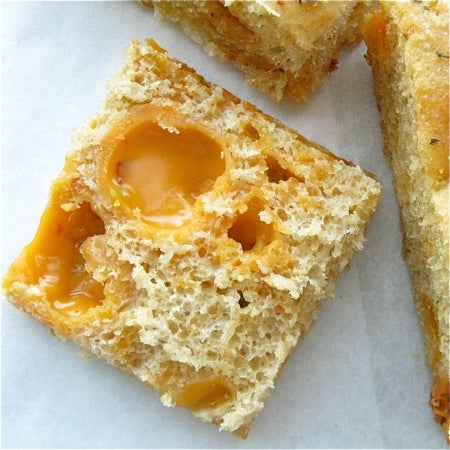 So I figured it would be kinda spicy.
WOW. Was it EVER spicy!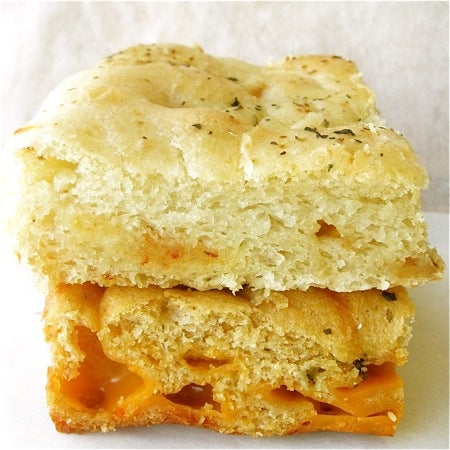 Bread made from whole wheat on the bottom, and made from all-purpose flour on the top. Only the color is different; both rose equally. YEE-HAW!
Read, rate, and review (please) our recipe for No-Knead Garlic-Cheese Flatbread.
Jump to Comments