What does this...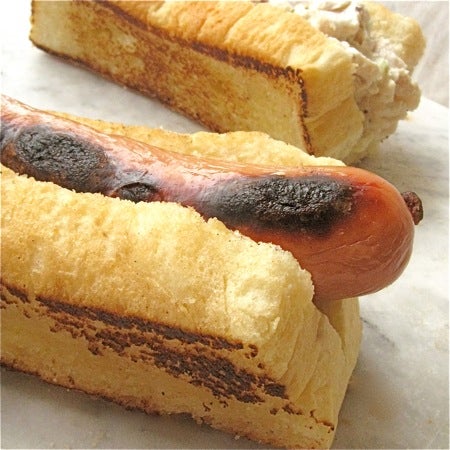 Have in common with this?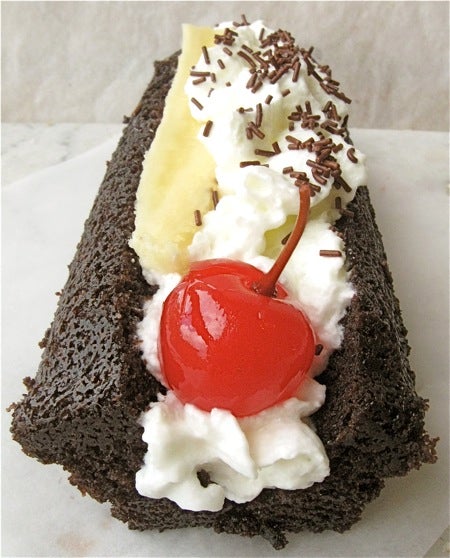 Stumped?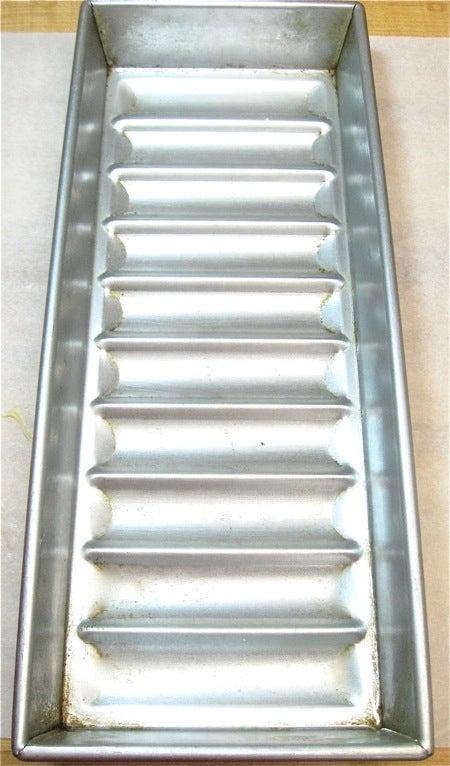 They're both baked in this interesting pan.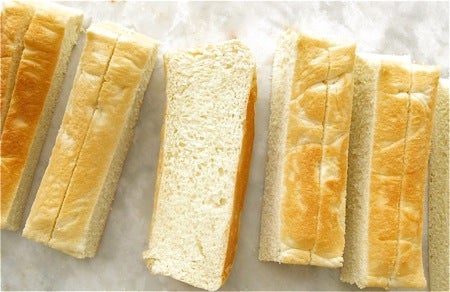 Our New England hotdog bun pan bakes those classic "whitewall" buns - you know, the kind Howard Johnson's used to spread with butter, slap on the grill, and fill with fried clams or a grilled hotdog.
But that's not all this pan does. As we discovered this week, it also makes cake buns – perfect for filling with fruit and whipped cream, or ice cream and sauce, or... name your favorite sweet indulgence.
OK, we can't have dessert till after supper. So let's hop right into a recipe for New England Hotdog Buns.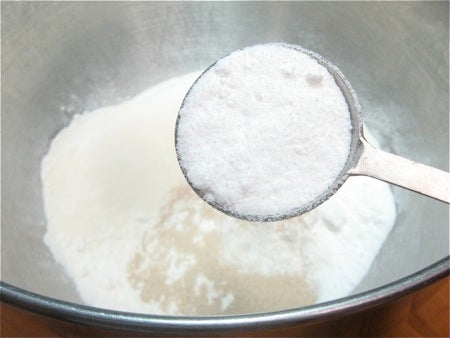 Put the following in a mixing bowl:
3 cups (361g) King Arthur Unbleached All-Purpose Flour
2 teaspoons instant yeast
2 tablespoons sugar (25g) or non-diastatic malt powder
1/4 cup (28g) Baker's Special Dry Milk or nonfat dry milk
1/4 cup (43g) potato flour or 2/3 cup (43g) dried potato flakes
2 tablespoons (14g) King Arthur Cake Enhancer, optional, for enhanced freshness
1 1/2 teaspoons salt
So what's that white powder in the picture? Our new Cake Enhancer, which we've recently discovered not only makes cakes moist and tender – it does the same thing for soft buns and breads.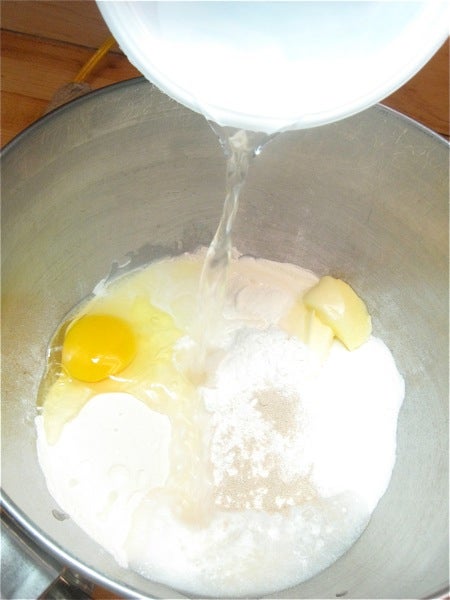 Add the following to the dry ingredients:
2 tablespoons (28g) soft butter
1 large egg
7/8 cup to 1 1/8 cups (198g to 255g) lukewarm water*
*Use the greater amount in winter or in a dry climate; the lesser amount in summer or a humid climate. At this time of year (early summer), you'd probably want to start with 7/8 cup, increasing to 1 cup if the dough seems too stiff and dry.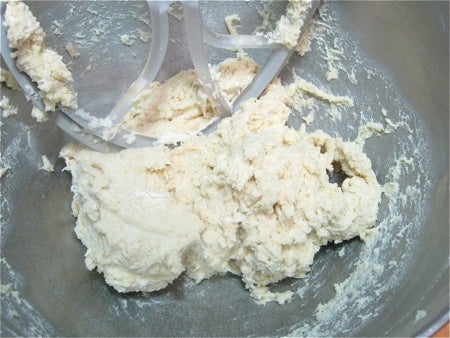 Beat till the ingredients come together to form a rough dough.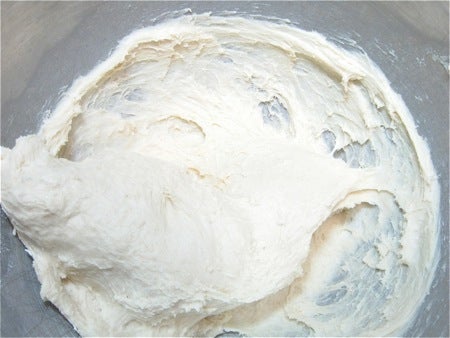 Then knead to make a soft, smooth dough.
I used 1 cup of water here; in retrospect, I should have used 7/8 cup.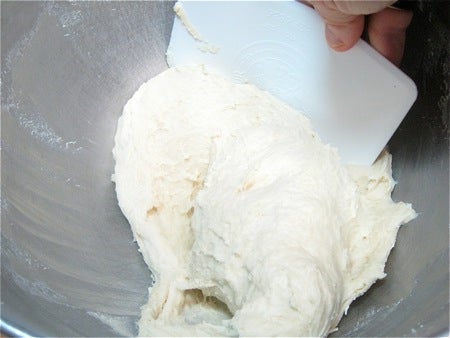 But that's OK; I'll just scrape the sticky dough off the sides of the bowl, knead it a bit more...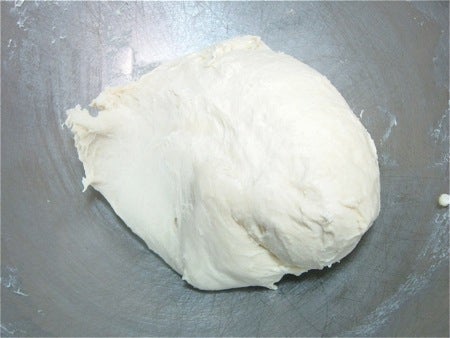 And Bob's your uncle! A nice, smooth dough.
(But I still should have gone with the 7/8 cup water, at this time of the year...)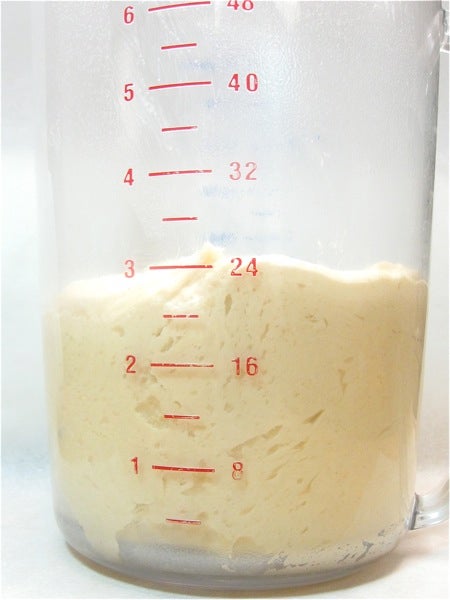 Into my handy-dandy measuring cup, so I can track the dough as it rises...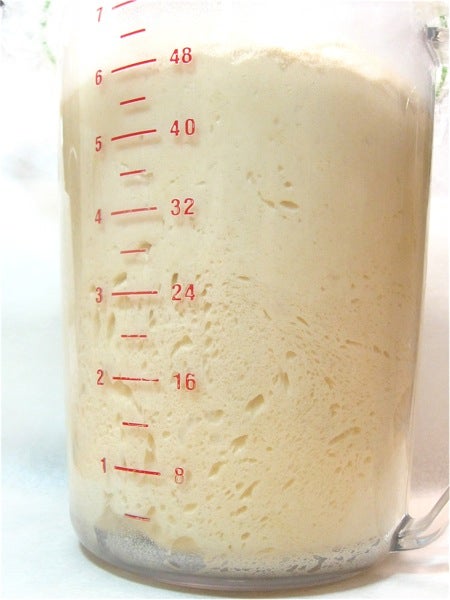 ...and 90 minutes later, shazam! Look at that dough go!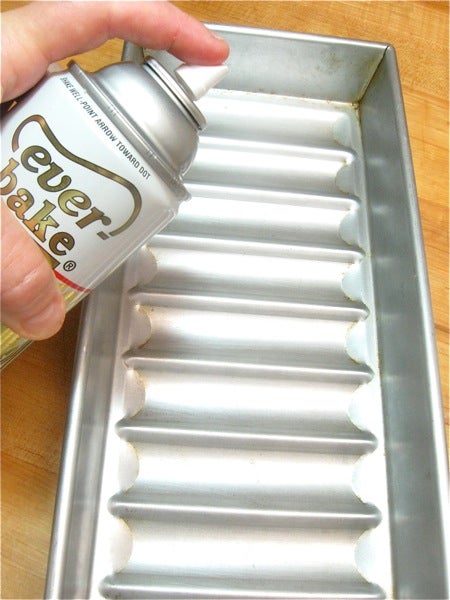 Next, grease your hotdog bun pan.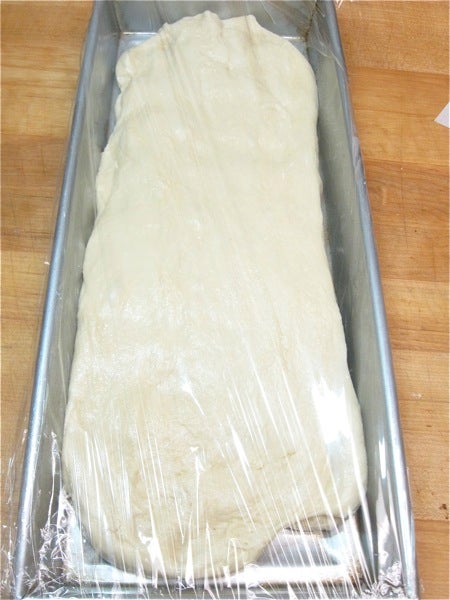 Gently deflate the dough, and press it into the pan. You probably won't be able to press it all the way to the ends; that's OK.
Cover the pan, and walk away.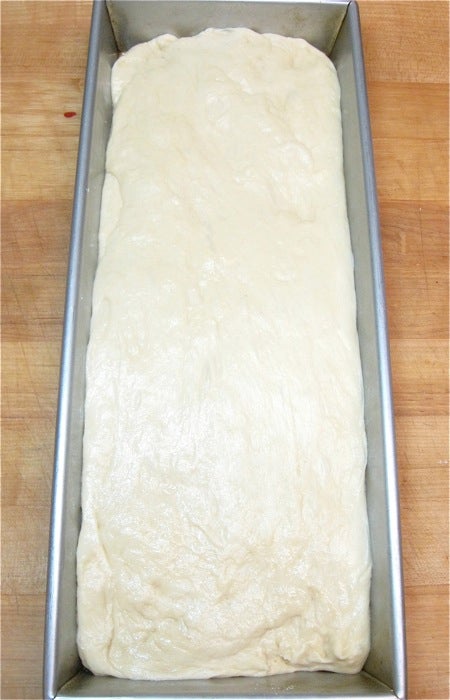 Fifteen minutes later, come back. You'll be able to press the dough right to the ends easily.
How come? Because you've given the gluten a chance to relax.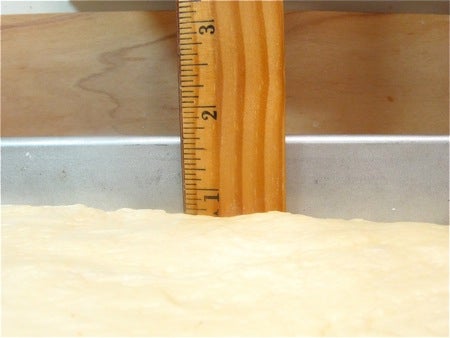 Now, how much are we going to let this dough rise, to ensure the buns fill the pan, yet don't overflow?
Our goal is to let the dough rise till it's about 1/2" from the rim of the pan.
Cover the pan with lightly greased plastic wrap, and let the dough rise for 45 to 60 minutes.
While the dough is rising, preheat your oven to 375°F.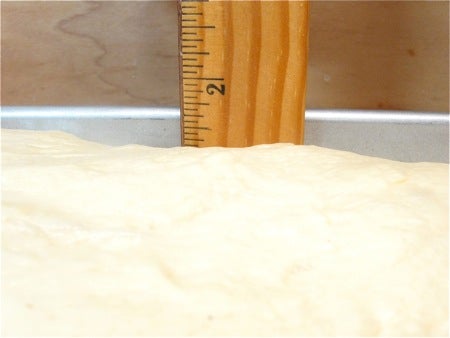 Whoops - let it go a bit too long. Well, let's see what happens.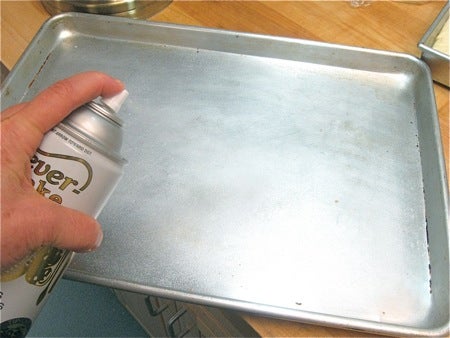 Grease a baking sheet, one that's large enough to cover the hotdog bun pan. A half-sheet pan works well.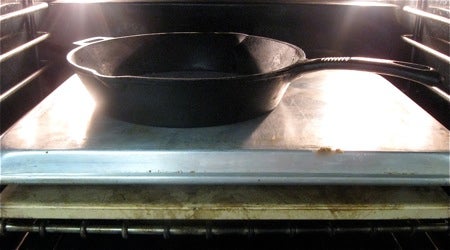 Put the pan over the hotdog bun pan, to provide a roof for the rising buns. Weigh it down with something oven-safe and heavy – like the cast-iron skillet I've used here.
Bake the buns for 18 minutes.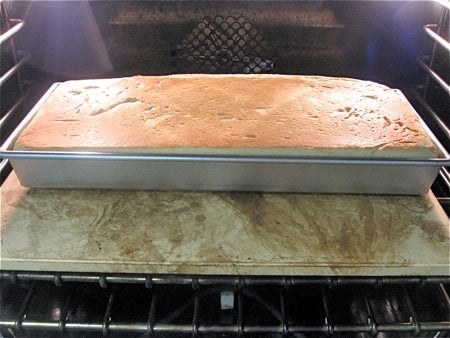 Remove the weight and pan. Nice! Notice on the right, how the buns have risen a tiny bit over the rim of the pan. Better they should have stayed level, but this isn't a deal-breaker...
Test the interior of the buns with an instant-read thermometer; they should be at least 190°F. If not, bake a bit longer.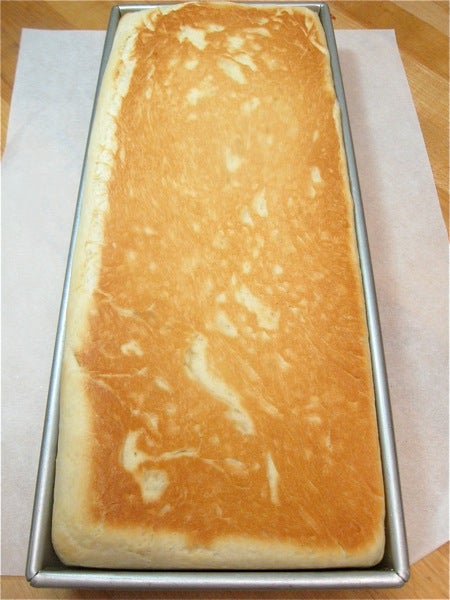 Remove the buns from the oven...
...and turn them out onto a rack.
Allow them to cool completely.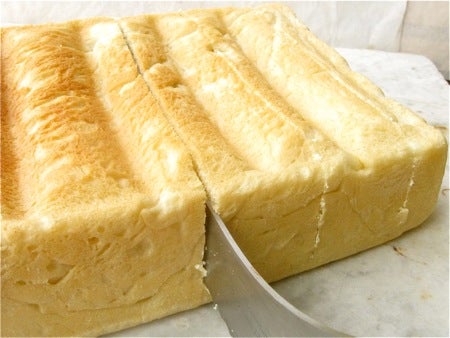 Now, pay attention, class. You're going to slice each bun down the center, but not all the way.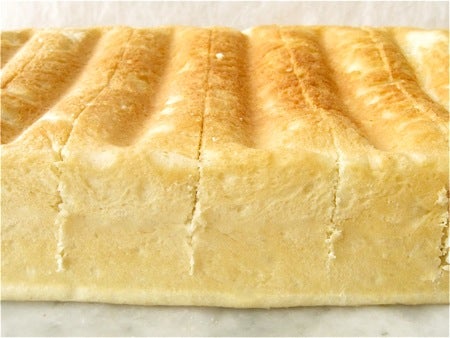 Leave a "hinge" at the bottom.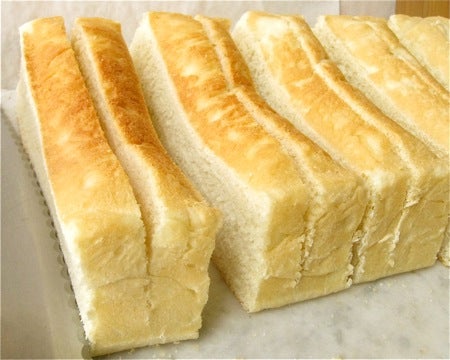 Next, slice into individual buns. See how this works? You're getting the picture here, right?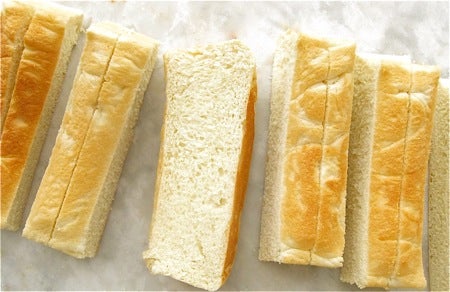 Buns, ready to butter and grill!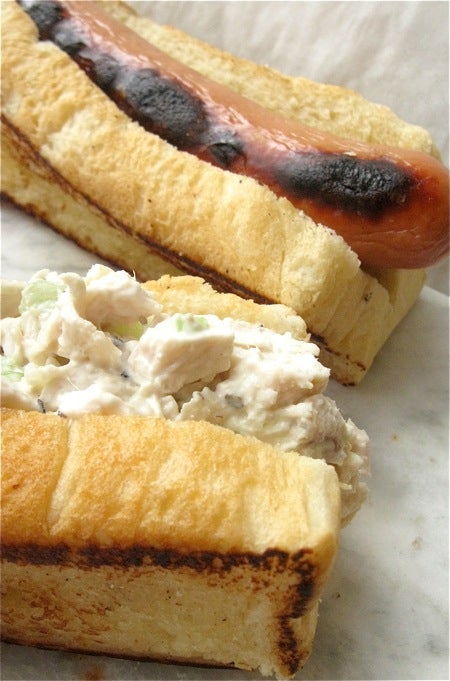 Like this. Perfect for hotdogs, chicken salad... or our New England favorite, lobster salad.
So, why didn't I photograph lobster salad in the bun? King Arthur is an employee-owned company; we watch our spending VERY carefully, and prop lobster was too expensive. Use your imagination, OK?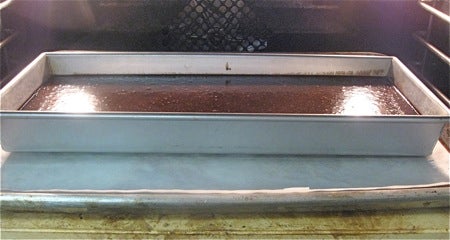 Next up: cake buns!
So, I'm thinking I should choose a cake recipe that's good for a 9" x 13" pan - but not one that's going to fill the pan too full.
I measure the hotdog bun pan - 5 cups of cake batter would be perfect.
I make the batter for my favorite fudge cake, and measure it - holy mackerel, 5 cups exactly!
Pour it into the greased pan. Put it in a preheated 350°F oven.
Bake for 33 minutes.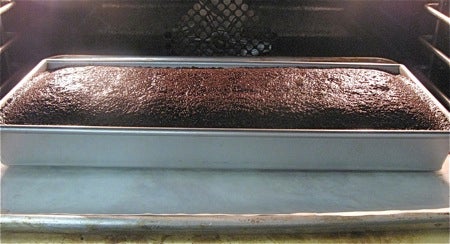 Ah, perfect!
Cool; slice into "buns."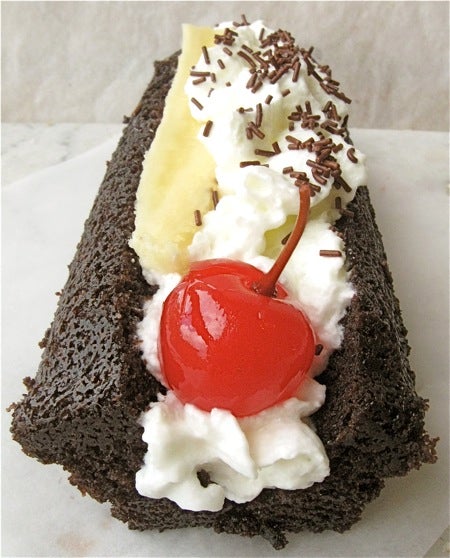 Add a sliced banana, whipped cream, chocolate sprinkles, and a cherry (of course).
Trust me, I had to fend off my test kitchen colleagues, customer service reps, and anyone who catches a glimpse of these "portable banana splits" on their way to being photographed!
Read, rate, and review (please) our recipe for New England Hotdog Buns.
P.S. Can you bake these buns without this pan? No, not exactly. But you can certainly divide the dough into 10 pieces, shape them into logs, let rise, and bake, for traditional side-split hotdog buns. OR - try in a 9" x 13" pan, with a weighted pan on top.
Hey, this just in: MJ tested our gluten-free bread mix in the hotdog bun pan (photo above). Score! Betting our GF sandwich bread recipe would work, too...
Jump to Comments