Three-Cheese Semolina Bread
It's all about the cheese. And bread.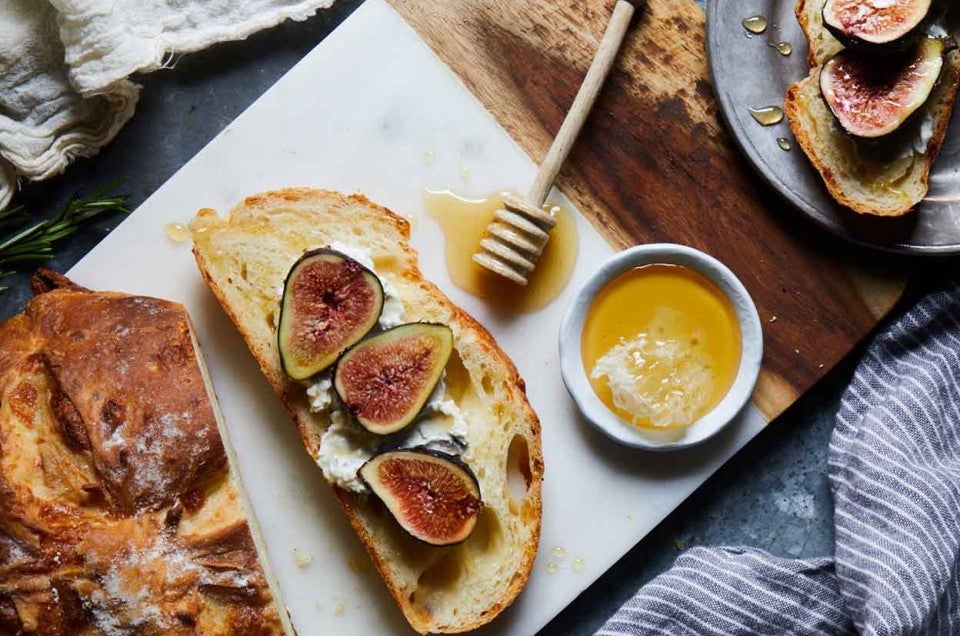 Ah, the goal of every non-professional (but wannabe) artisan bread baker: major holes riddling the interior of your crusty/chewy bread.
Am I right?
How many of us have carefully autolysed, calculated kneading friction, proofed at exactly 78°F, retarded, slashed at a 45° angle, steamed, listened to our bread "sing," and finally – with breath held, and fingers crossed – made that first diagonal cut to see, in all its splendor, the interior of our perfect baguette?
Or, more likely, our very tasty but not-QUITE-perfect baguette – one with a fine, even texture. No holes.
"Darn! I was sure 86% hydration was the answer. Where did I go wrong?"
Which is when I always step in with helpful advice. Something like "Try, try again." Or "Life is imperfect. Live with it." Or "It tastes good, right? So what are you worried about?"
I understand the artisan bread quest; I've been on it myself – for about 35 years. It's an enjoyable journey, one with unexpected twists and turns, satisfying successes (sometimes)... and the occasional flop-er-oo that even the birds will barely eat.
Baking yeast bread is something I never tire of. And also never get ultra-serious about.
Hey, the holes aren't big big enough? Great; this loaf's perfect for crostini. Funny shape? Croutons. Didn't rise AT ALL (did I really forget the second day's yeast)? Bread crumbs.
One particular ingredient I've learned to love over the years is semolina. This golden, granular sibling of durum flour adds a mellow hue to any bread, and its high gluten content yields a great rise.
So when I see a recipe calling for semolina – I jump on it.
Serendipitously, I recently saw a bakery ad for "three cheese semolina bread." Semolina AND cheese – one of my favorite food groups? I'm there.
I didn't even bother to read the description in the ad, because my mind immediately went to the three perfect cheeses for this Italian-style bread: Parmesan, for its assertively nutty taste. Asiago, for its crumbly texture and depth of flavor. And provolone, for its smooth meltability. Even better - smoked provolone.
I made Sue's easy no-knead bread dough; added the chunked cheese; patted the dough into a stoneware baker; covered it, and let it rise. Hmmm, NICE rise.
Baked it. Carefully lifted off the cover, to see... beautifully risen, golden bread.
Took it out of the oven. Carefully turned it onto a rack. Let it cool. Yes, let it cool - difficult as it is to wait.
Took my serrated knife, cut a slice, and... Bob's your uncle! Big holes.
Now, I know these holes were made by melting chunks of cheese, not by any particular skill on my part. They're a shortcut. False victory, some would say.
But they're my holes, and I'm sticking with them.
Who wouldn't? They're full of melting cheese.
Take a short detour from your bread quest, and join me in baking this easy Three-Cheese Semolina Bread.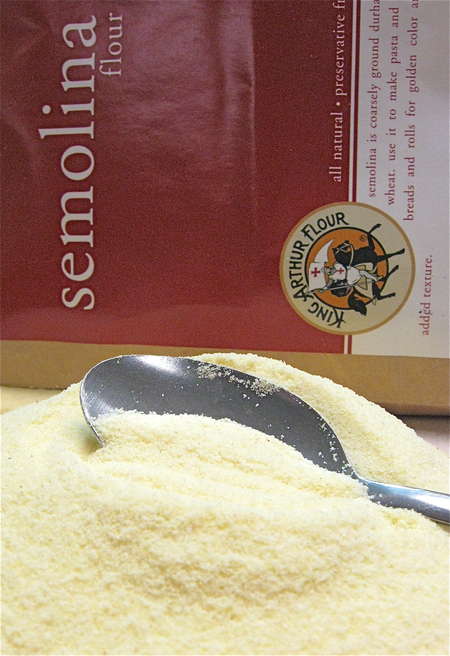 So what IS semolina, exactly?
Well, for one thing, it's just plain semolina – not semolina flour. Technically speaking, there's no such thing as semolina flour. Yes, it's called semolina flour in the picture above; but that's because many of our customers search for "semolina flour," and we want to meet their needs. "Semolina flour" and "semolina" are the same product, different names.
Durum wheat is high-protein wheat grown in America's Northern Plains – think North Dakota and Montana. It's a hard, rather than soft wheat (durum is Latin for hard). Thus it's great for high-rising yeast breads, and totally inappropriate for biscuits, pancakes, or other "softer" treats.
When durum wheat is ground into flour, it's called durum flour, a key ingredient in pasta.
When it's ground a bit coarser – think cornmeal – it's called semolina. Again, often used in pasta. And absolutely delicious in bread and pizza, where it adds the faintest hint of gold, and the tiniest bit of crunch.
So let's take our golden semolina, and bake this lusty Three-Cheese Bread.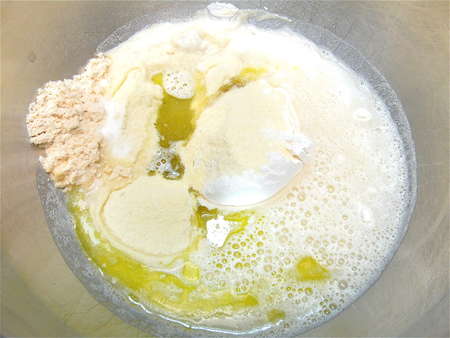 Put the following ingredients in a mixing bowl, or the bowl of your stand mixer:
2 cups (241g) King Arthur Unbleached All-Purpose Flour
1 cup (163g) semolina
2 teaspoons instant yeast
1 1/4 teaspoons salt
1 tablespoon Pizza Dough Flavor, optional
2 tablespoons (25g) garlic oil or olive oil
1 to 1 1/8 cups (227g to 255g) lukewarm water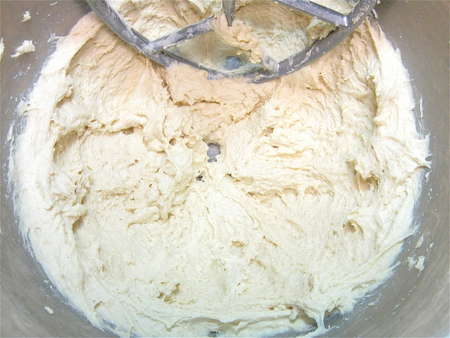 Beat on medium speed of an electric mixer for several minutes.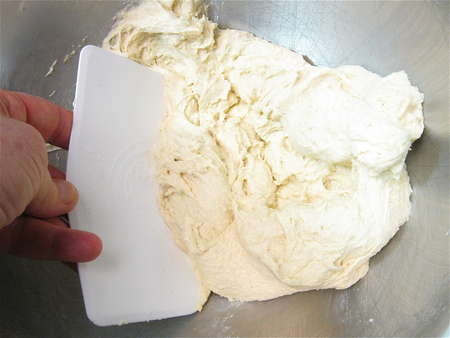 Scrape down the sides of the bowl.
Switch to a dough hook, and knead for about 5 minutes, till you've made a soft, smooth dough. It may or may not clear the sides of the bowl; either way is just fine.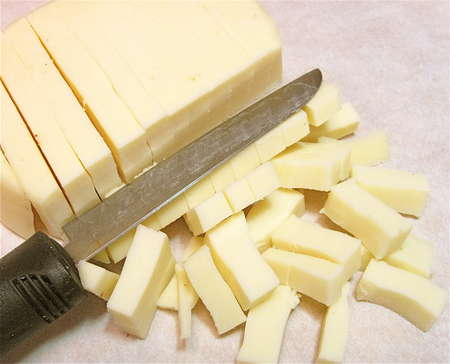 While the dough is kneading, prepare your cheeses. You'll need 4 ounces (1/4 pound) each of Parmesan; Asiago (mild or aged); and provolone (plain or smoked).
Cut the provolone into 3/8" to 1/2" logs or cubes.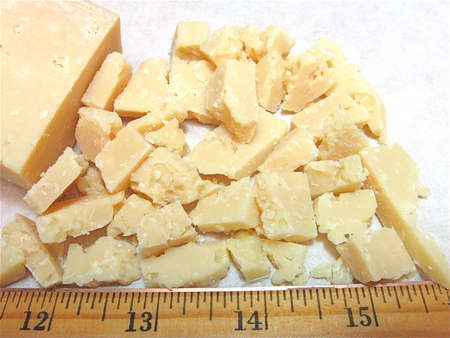 The Asiago is more crumbly, and probably won't cut as cleanly. Just cut/break it into irregular 1/2" or so pieces.
Grate the Parmesan; you'll have about 1 cup.
Do you HAVE to use provolone, Asiago, and Parmesan? No, of course not. Use whatever cheeses you like.
One caveat: they should be sharp, so that their flavor can shine through. Mozzarella, Muenster, and Velveeta probably aren't your best choices.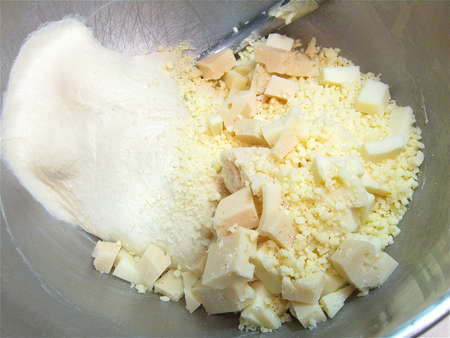 Add the cheeses to the dough.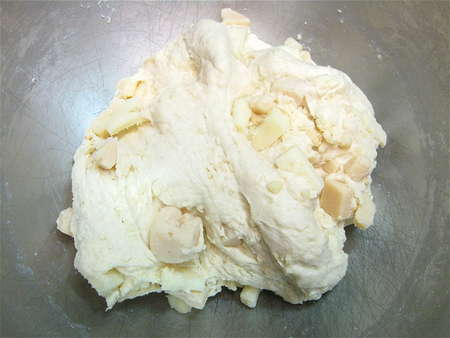 Knead and mix till well combined.
Put the soft dough in a lightly greased bowl or 8-cup measure.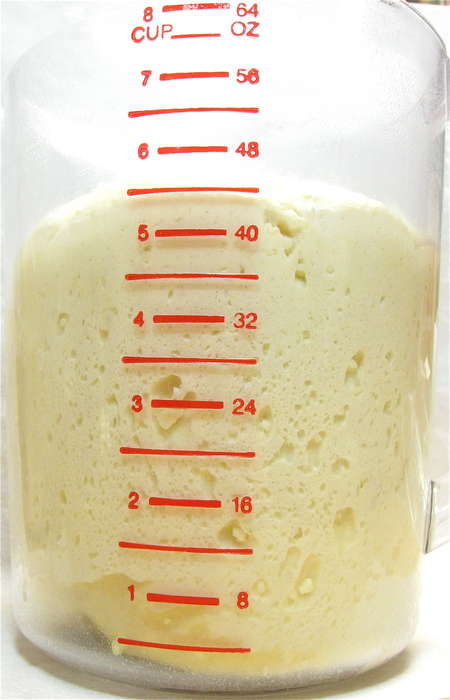 Cover and let rise for about 2 hours, till quite puffy.
Lightly grease a 14" to 15" covered stoneware baker. Or lightly grease a baking sheet, or line with parchment. Sprinkle semolina into the pan, or onto the baking sheet.
Gently deflate the dough, and place it on a lightly greased work surface. A kneading/rolling mat makes cleanup simple.
To make two loaves on a baking sheet, divide the dough in half, and shape each half into a 14" tapered log, like a baguette. Cover and let rise.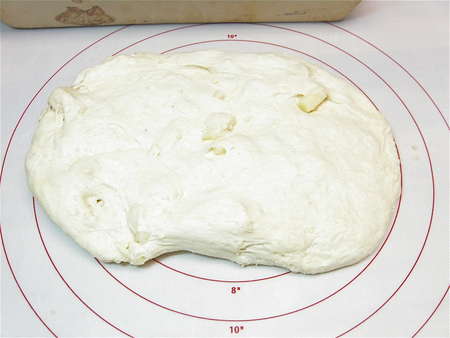 To bake in a long lidded baker, flatten the dough into a rough rectangle.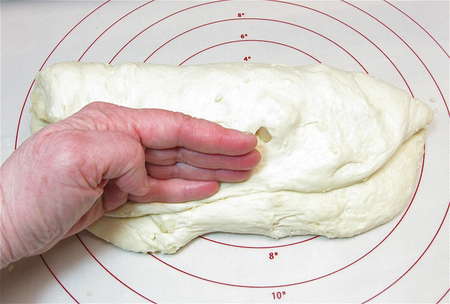 Fold it lengthwise, and seal the edge with the heel of your hand.
Flatten it out again...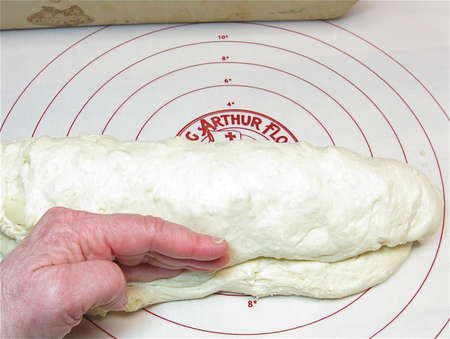 ...and fold again. This builds the loaf's structure, and is the classic method for shaping baguettes.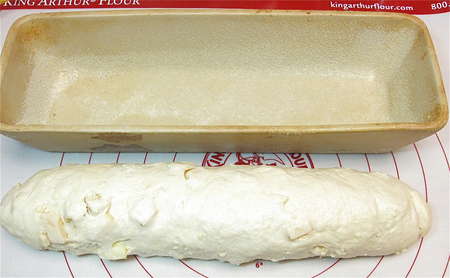 The  loaf should be the same size as the baker – about 13" long.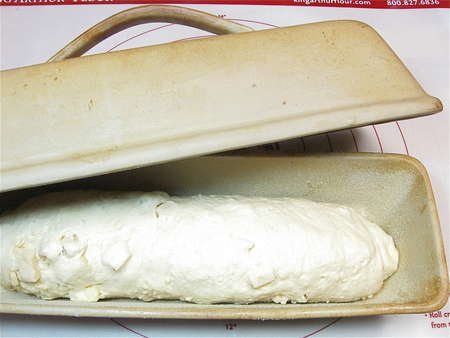 Cover the stoneware baker with its lid, and let the bread rise for about an hour.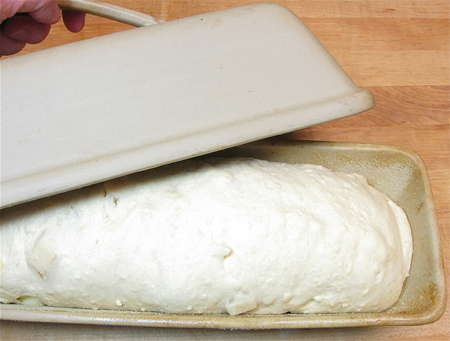 It'll be noticeably puffy. If it's not, let it rise longer, till it shows some life.
Towards the end of the rising time, preheat the oven to 425°F.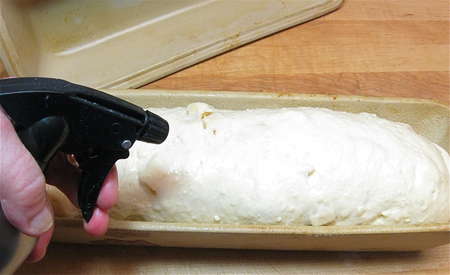 Spray the loaf with water...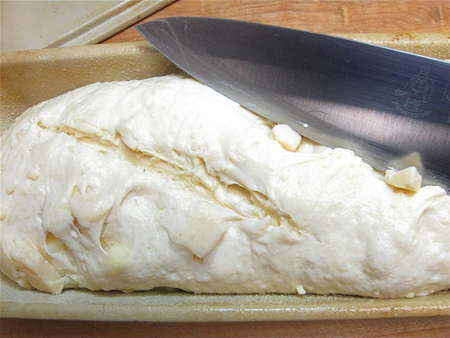 ...and use a sharp knife to make three diagonal slashes in each loaf.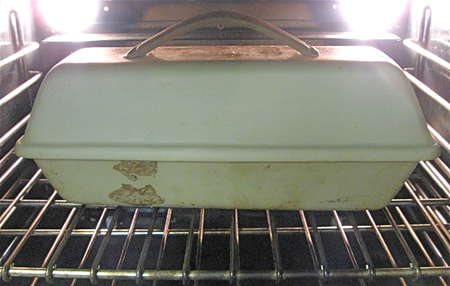 Replace the lid on the pan. Bake the bread for 30 minutes.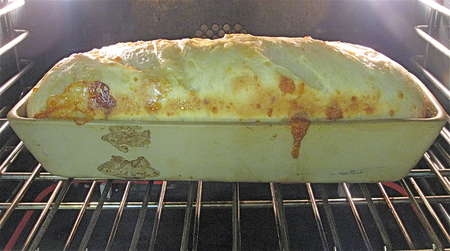 Remove the cover...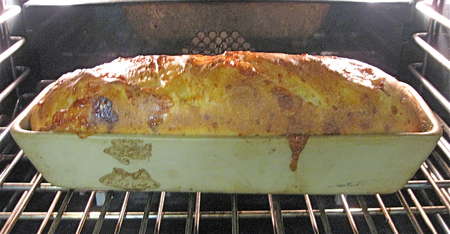 ...and bake for an additional 10 minutes, till the bread is golden brown.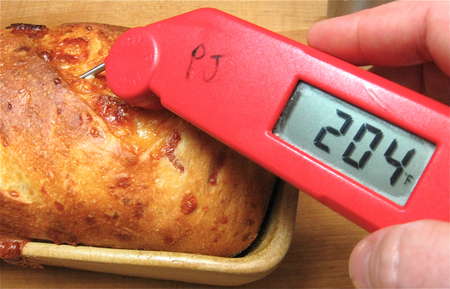 An instant-read thermometer inserted into the center will registers about 190°F to 200°F.
Or 204°F. Don't worry, all good.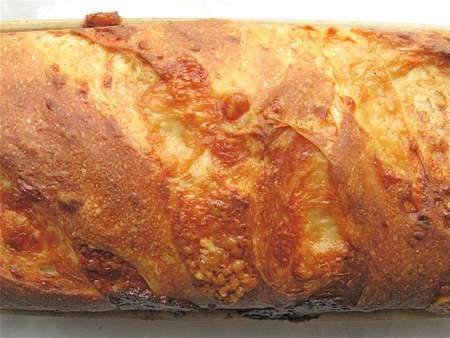 Enjoy the aroma of hot, melted cheese.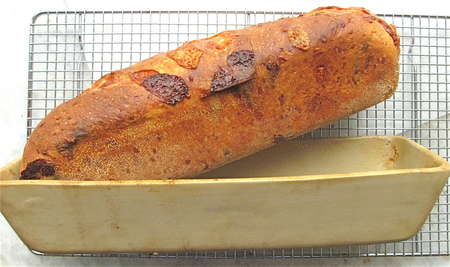 Remove the bread from the pan. The easiest way to do this is to place the pan on its side on a cooling rack, and simply pull it away from the bread.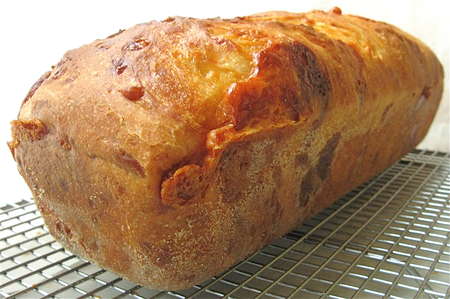 Let the bread cool before slicing. Pretty please, with a cherry on top?
Ah, that moment every bread baker waits for – cutting a slice to see the interior.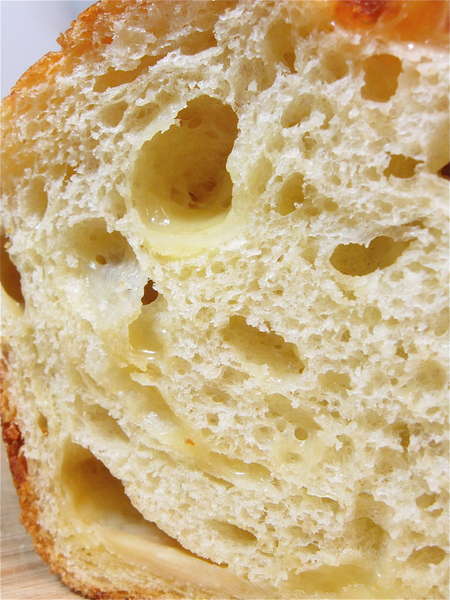 Oh, yes... melting pockets of cheese.
Enjoy warm. Or at room temperature.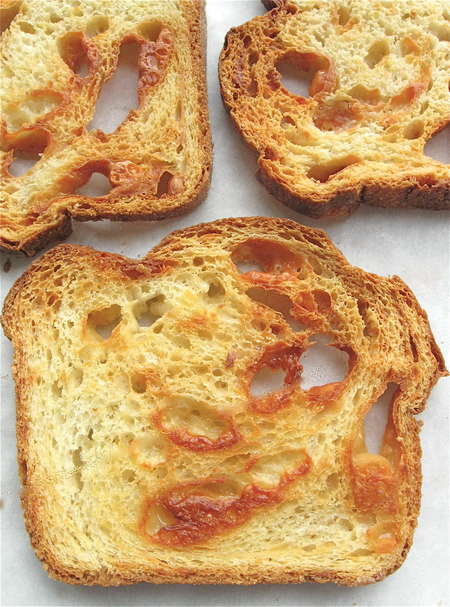 Or toasted.
Or oven-toasted, once it's a few days old. Slice. Lay on a baking sheet. Brush or spray with olive oil, if desired. Bake in a preheated 350°F oven till starting to brown.
How long? Don't know, I forgot to write it down. Just keep your eye on it; experience tells me this will take about 15 to 20 minutes.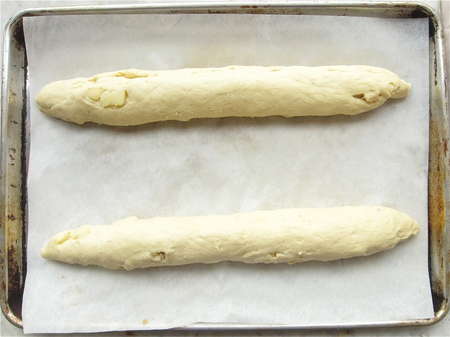 Back to those baguettes. Here they are, risen and ready to go into the oven.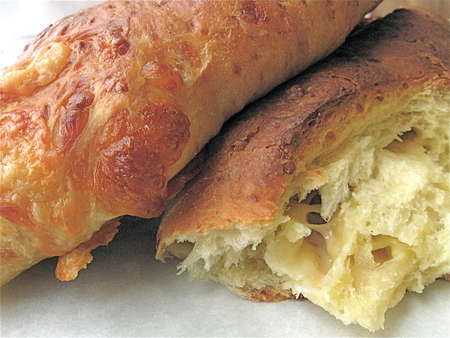 And here they are, cooled and ready to rip into.
Looks like SOMEONE already started ripping!
Yes, that's melted cheese you see. Nothing finer.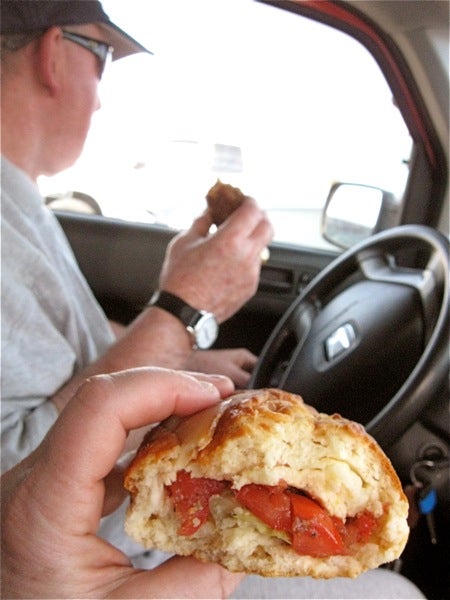 And once those long loaves cool down, they're perfect for sandwiches. I stuffed one with smoked provolone, lettuce, and marinated tomatoes for a road trip to Maine recently. Took one bite, and I could have sworn I was enjoying a BLT...
Read, rate, and review (please)  our recipe for Three-Cheese Semolina Bread.
So when this blog originally appeared, "Mondofresh" commented as follows:
I'm going to regret this, but here goes…
Here in Portland, OR one recipe I've developed to cheer people up on a rainy day is to make a loaf similar to above, with two minor tweaks. I use super-sharp cheddar and I add a can of canned smoked chipotles in adobo sauce (fine dice). The result is something that my family calls volcano bread. It is a cheesy, spicy mess and we love it. Super good fresh but also very good after a day or two, toasted with frijoles and/or eggs.
Tips:
* make sure to let the cheese come up to room temperature
* dice cheese to 1/2″ cubes
* after adding chilis (with sauce) add flour to make dough less sticky. I don't use a formula, just eyeball it.
I've not found this recipe anywhere else but feel compelled to share it with this blog I love so much. Enjoy!
How could I not take Mondo up on this?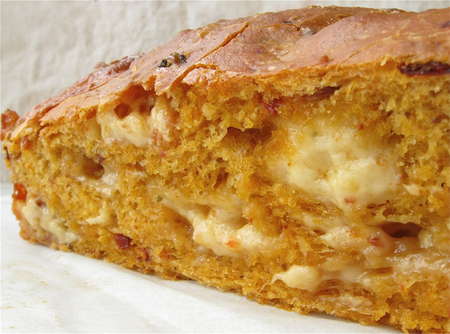 Read it and weep - because your eyes will definitely be watering when you taste this SUPER-spicy bread!
First, get a 7-ounce can of chipotle chiles in adobo sauce. Mondo says "fine dice;" all I could find was the whole ones.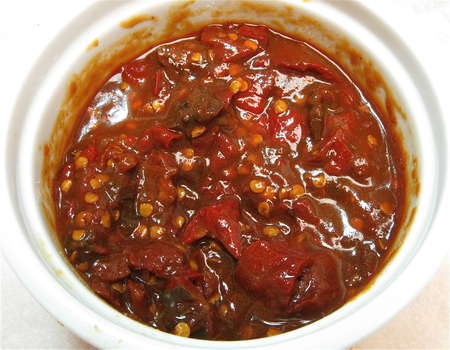 So I simply used a pair of scissors to cut the whole chiles into chunks. They're very soft, and cut easily.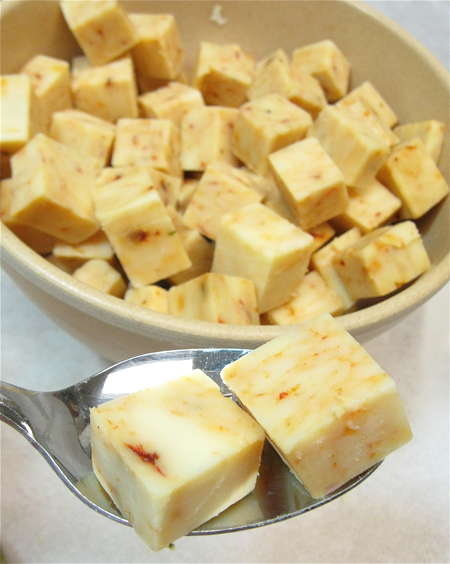 Next, cut 10 to 12 ounces of sharp cheddar cheese into 1/2" cubes. I'm using Cabot chipotle cheddar here.
Can you ever have too much of a good thing? Not when it's chipotle.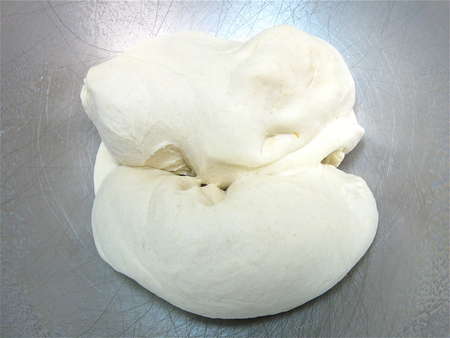 Mix up the three-cheese dough, using the lesser amount of water (1 cup). The dough will be a bit stiff.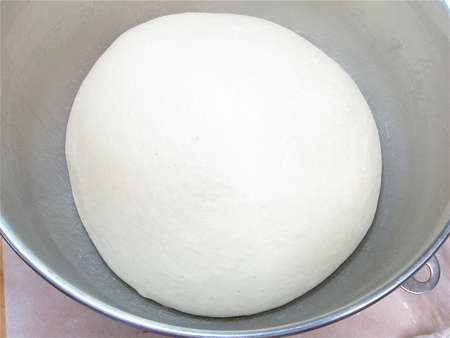 Let it rise for 1 1/2 to 2 hours, till it's nice and puffy.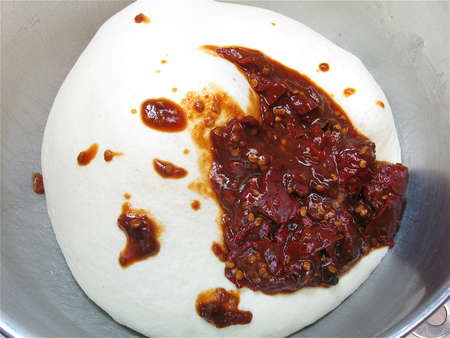 Add the chiles. PLOP.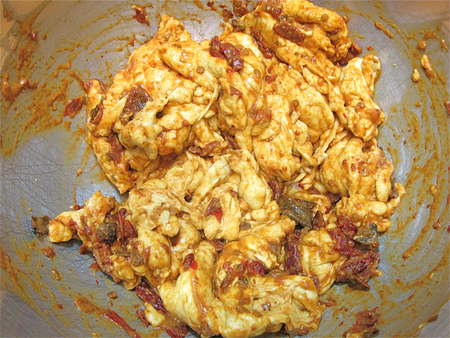 Mix in. EWWWWWWW. Slimy mess. As Mondo said, add some flour.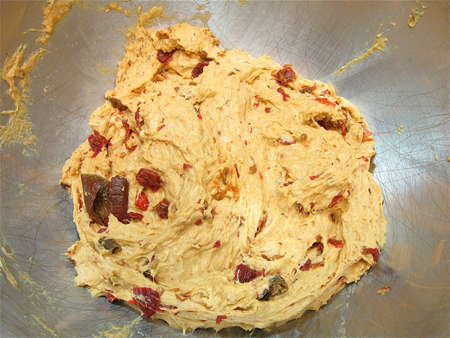 Mixing in an additional 1/3 cup flour makes a nice, soft (not slimy/wet) dough.
OK, let's cut to the chase here.
Knead in the cheese.
Divide the dough in half, round each half into a rough ball, and place each ball in a greased 8" cake pan. I figured this soft dough could use  the support of a pan.
Can you use a 9" x 5" pan? Probably... The 13" long covered stoneware baker used in the three-cheese bread recipe? Yes. Two 9" round pans? Yes, but your bread will be flatter. This is basically a 3-cup-flour recipe with a generous couple of cups of add-ins; use common sense in your pan selection.
Cover the pans, let the bread rise for about an hour, till it flattens out, fills the pan, and starts to dome.
Bake in a preheated 400°F oven for 25 to 30 minutes, till it's starting to brown, and an instant-read thermometer inserted into the center registers at least 200°F.
Remove from the oven, and turn out onto a rack.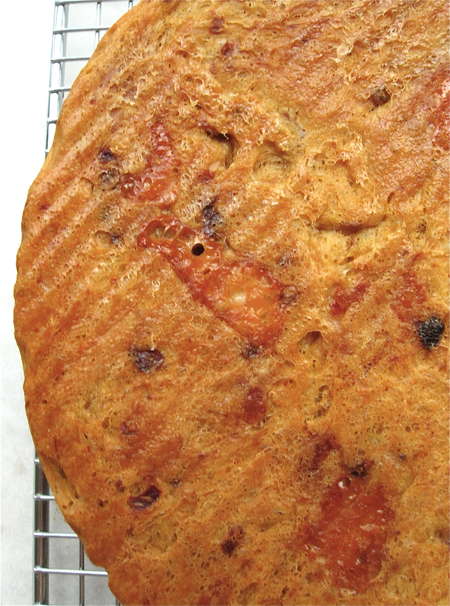 Chipotles!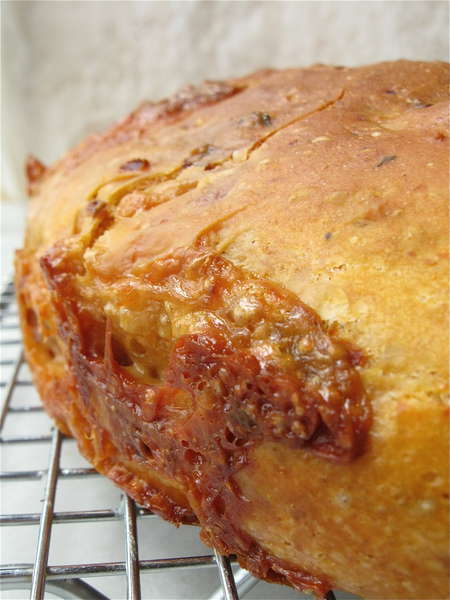 Cheese oozing onto the crust!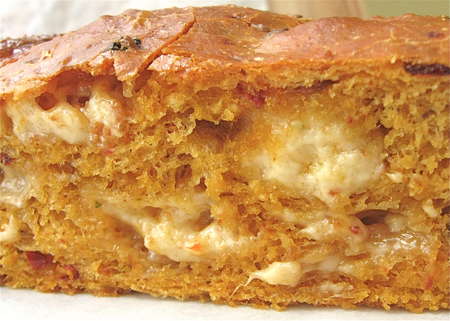 Cheese oozing inside!
Everyone who tasted this bread said yes, it was REALLY hot – but enjoyably so.
Clearly you wouldn't serve this to someone who doesn't like spicy food.
But for lovers of bread, cheese, and heat, this "volcano bread" is, as Mondo says, is a "cheesy, spicy mess" – a DELICIOUS cheesy, spicy mess. Thanks, Mondofresh!
Do you have any twists you like to make this recipe with? Or any iterations you'd like to try? Let us know about them in the comments, below! 
Jump to Comments