How to make Neapolitan-style pizza at home
The key: our new '00' Pizza Flour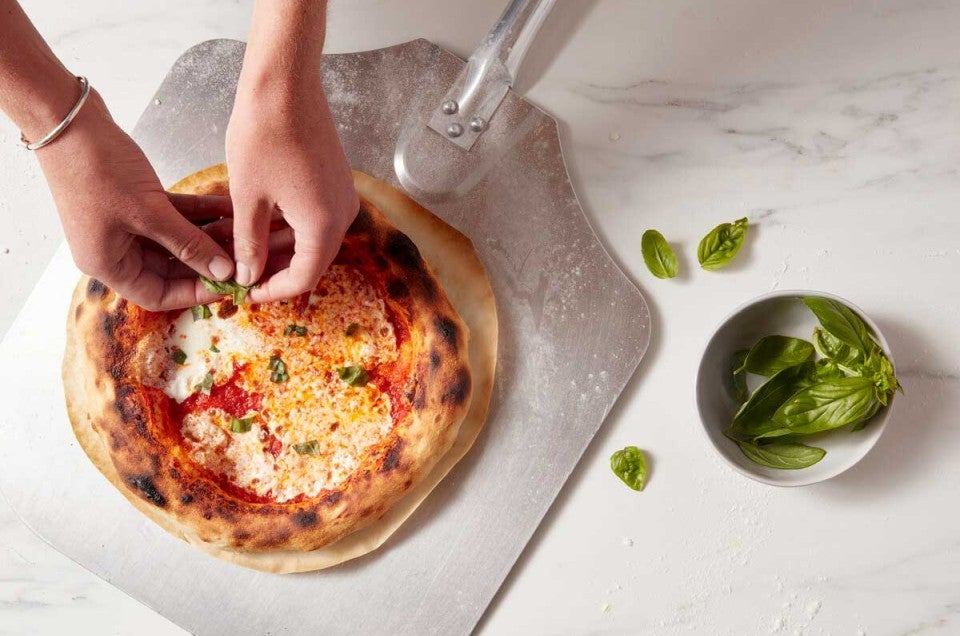 Close your eyes and think of pizza. What do you picture?
Pizza comes in all shapes and sizes, and your mind could be conjuring anything from Chicago-Style Deep Dish to Thin-Crust. Or maybe you're picturing our 2020 Recipe of the Year, Crispy Cheesy Pan Pizza, with its gloriously cheesy layer of toppings atop a thick, pillowy crust. 
Odds are you might be thinking about one of the most classic pizza styles there is: Neapolitan Pizza, a quintessential Italian pizza with a crispy, chewy crust burnished with bubbles.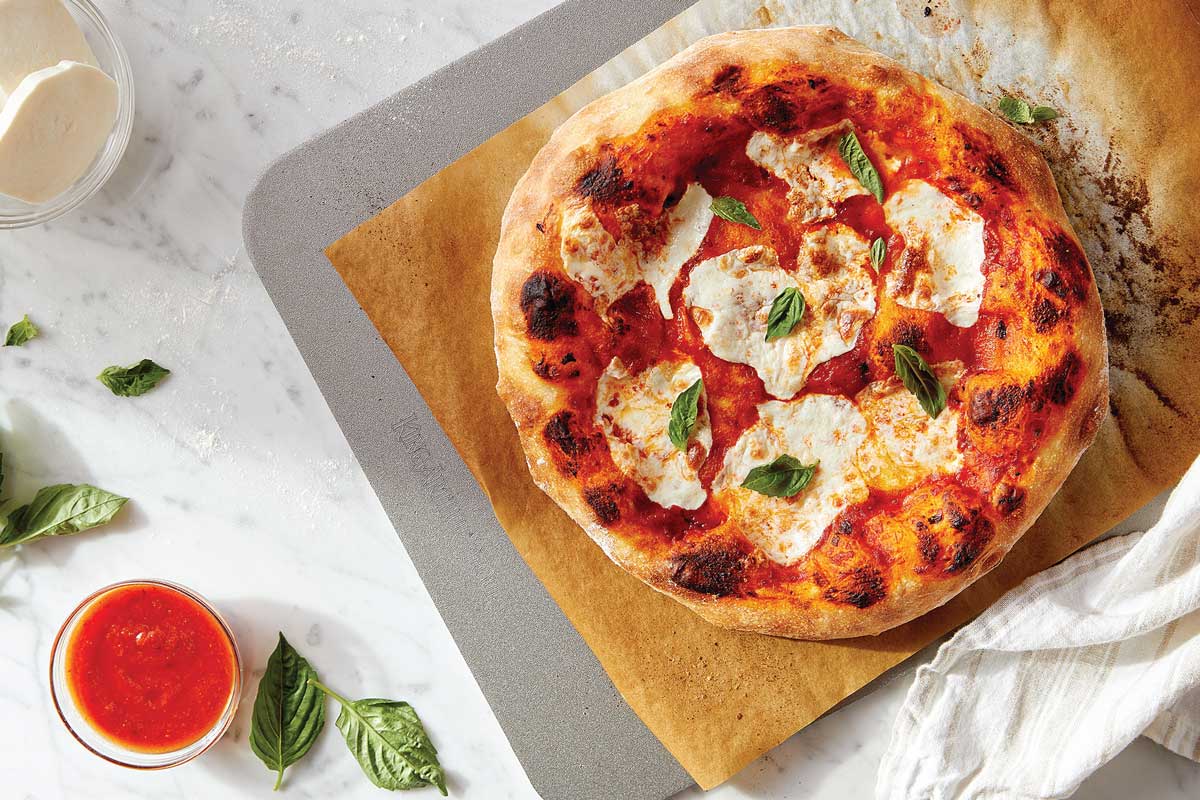 Neapolitan pizza is kind of a big deal — so much so, in fact, that there's a whole organization, The True Neapolitan Pizza Association, devoted to this style. And according to their guidelines, it must be exclusively prepared in a wood-fired oven. 
Except … most of us don't have a special pizza oven just lying around the house. Not to worry, though — we've got you covered. With our new '00' Pizza Flour, you can recreate classic Neapolitan-style pizza right in your regular old home oven. Weekly pizza night just got upgraded. 
The key to at-home Neapolitan-style pizza: '00' Pizza Flour 
Pizza is all about the crust. And the crust is all about the flour. 
To capture the uniquely crispy-chewy texture of Neapolitan pizza at home, you'll need to turn to '00' Pizza Flour. It's milled from a proprietary blend of hard and soft wheat to '00' standards, formulated specifically to produce a crispy crust and a chewy interior crumb without the need for a special pizza oven. 
What does '00' mean? Is it the same as Italian-Style Flour?
Numbers on a flour bag? Sure! Unlike the United States, the European standard for flours is on a numerical scale. It ranges from 2 (coarse, whole grain) to 00 (extra fine, white flour). Neapolitan pizza is made with flour milled to '00' standards, which is exactly how we've prepared our flour. 
Meanwhile, our Italian-Style Flour is a softer, lower-protein flour, perfect for fluffy focaccia. '00' is similar but different; it has a higher protein level that creates a chewy, yet airy, Neapolitan-style pizza crust.
Why is '00' pizza flour good for Neapolitan-style pizza?
Because it's made from a blend of hard and soft wheat, this flour delivers the ideal combination of chew and crunch. The hard wheat creates chewiness and strength so the dough can be stretched thin. The soft wheat provides extra starch, which gives the dough the perfect crisp (but not hard!) crunch.
With a moderately high protein content and extra-fine mill, '00' Pizza Flour also has a silky smooth texture that yields an easy-to-stretch dough. As a result, even novice home bakers can form this dough into a classic artisan shape with a thin interior and thick exterior crust. 
How to make Neapolitan-style pizza at home 
So … how exactly do we make this pizza? Start with: 
First thing to know — you should plan to mix the pizza dough the day before you want to eat pizza, as it needs at least 12 hours to rise. 
Baker's tip: If you want something a little quicker, try Weeknight Neapolitan-Style Pizza, which takes just under 3 hours from start to finish and also uses '00' Pizza Flour. 
Mix the dry ingredients in a medium bowl, then add the water. Stir until just combined for a cohesive dough — it'll look rough, but that's OK.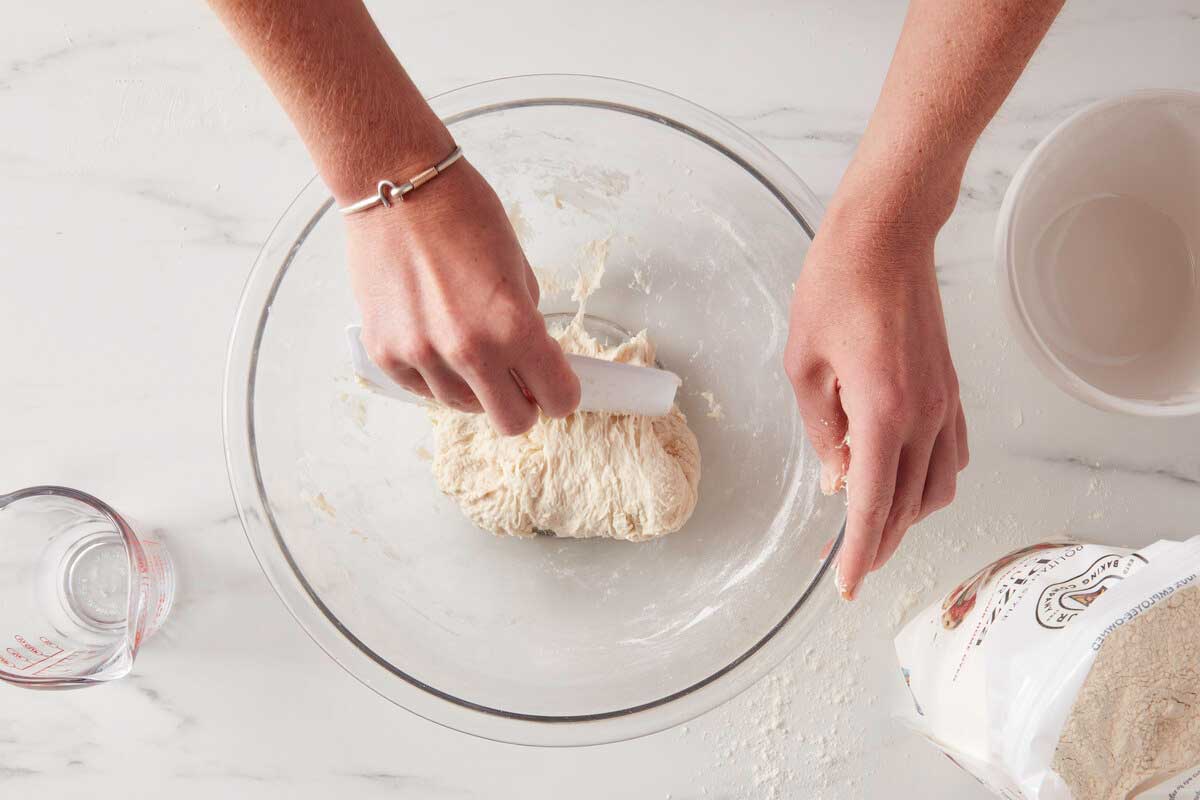 Then … take a pretty long break. Cover the bowl and allow the dough to rise at room temperature overnight, for at least 12 hours and up to 24 hours. This long rise helps the crust develop flavor. The addition of sugar, which isn't typically included in authentic Neapolitan pizza, helps feed the yeast during this long ferment and ensures a crisp, golden crust when baking. 
Get ready to bake
Start by placing a rack in the center of your oven and preheating to 500°F to 550°F (if your oven goes to 550°F) with a baking steel or stone inside. Be careful here — you'll want at least 8" of space between the rack and the broiler, or else the top of your pizza will burn before the bottom has baked through. Not ideal! Also, keep your oven at the required temperature for at least 30 minutes before baking, so the steel or stone can fully preheat.
By the way, if you don't have a baking steel or pizza stone, don't give up on your pizza dreams. You can bake this pie on a dark baking sheet and it'll still turn out tasty (like most things covered in cheese). You can also bake it right on the grill using parchment paper! 
Stretch and fold the dough
Once it's done rising, divide the dough in half and transfer one half to a well-floured surface. This dough is pretty sticky, so make sure the surface and your hands are well-floured — it'll make life a whole lot easier. Stretch and fold the dough by holding onto it at both ends, then pulling one end away from the other and folding it back onto itself. Repeat this on the other side.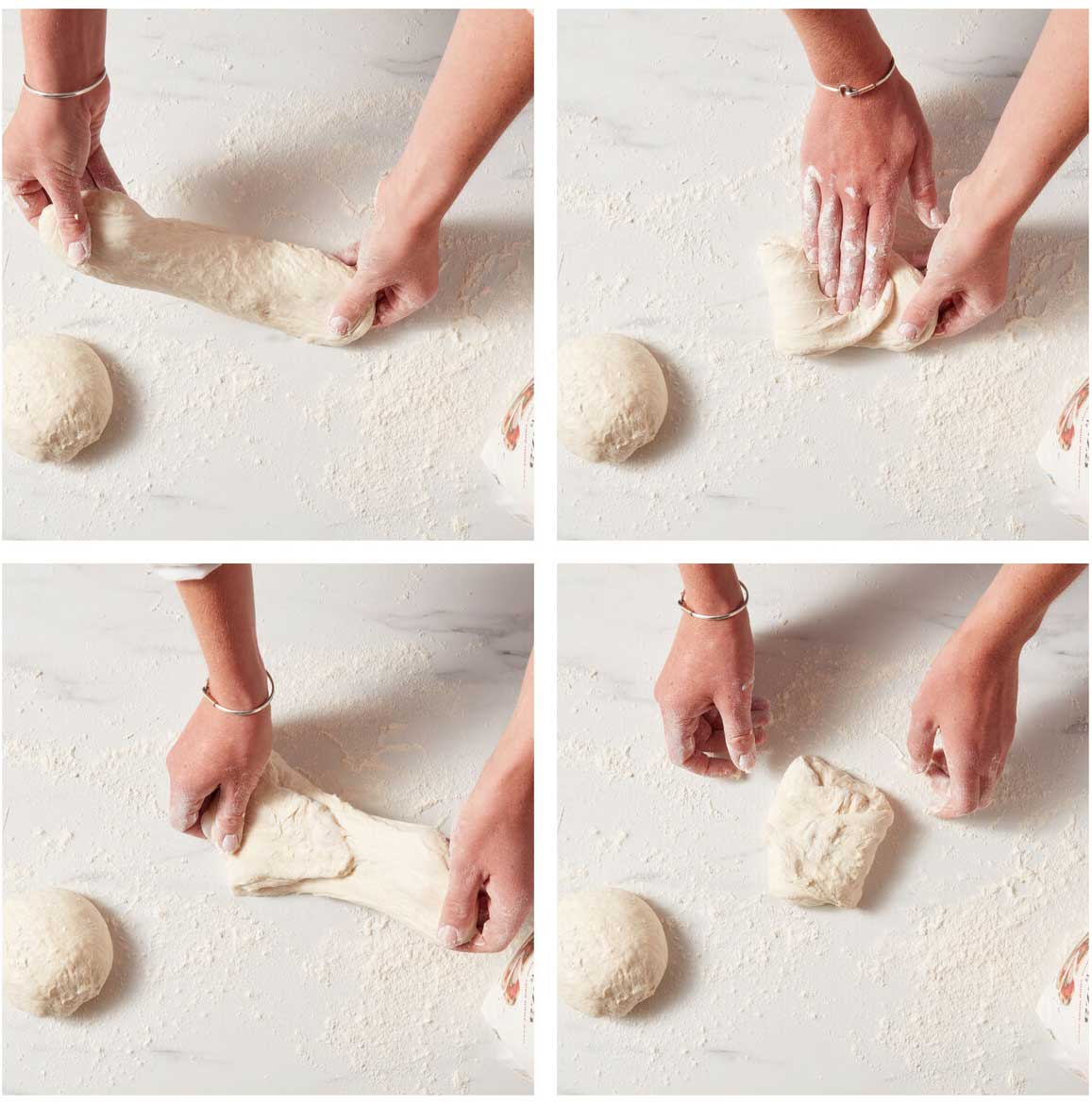 Turn the dough 90º then do the whole process again on the other side of the dough (the one that hasn't been stretched and folded). 
Next, pull the ends of the dough towards the middle, almost like you're forming a little pouch of dough, and turn it over. Use your fingers to pull the dough under itself, forming a smooth, round ball with the seams tucked into the bottom.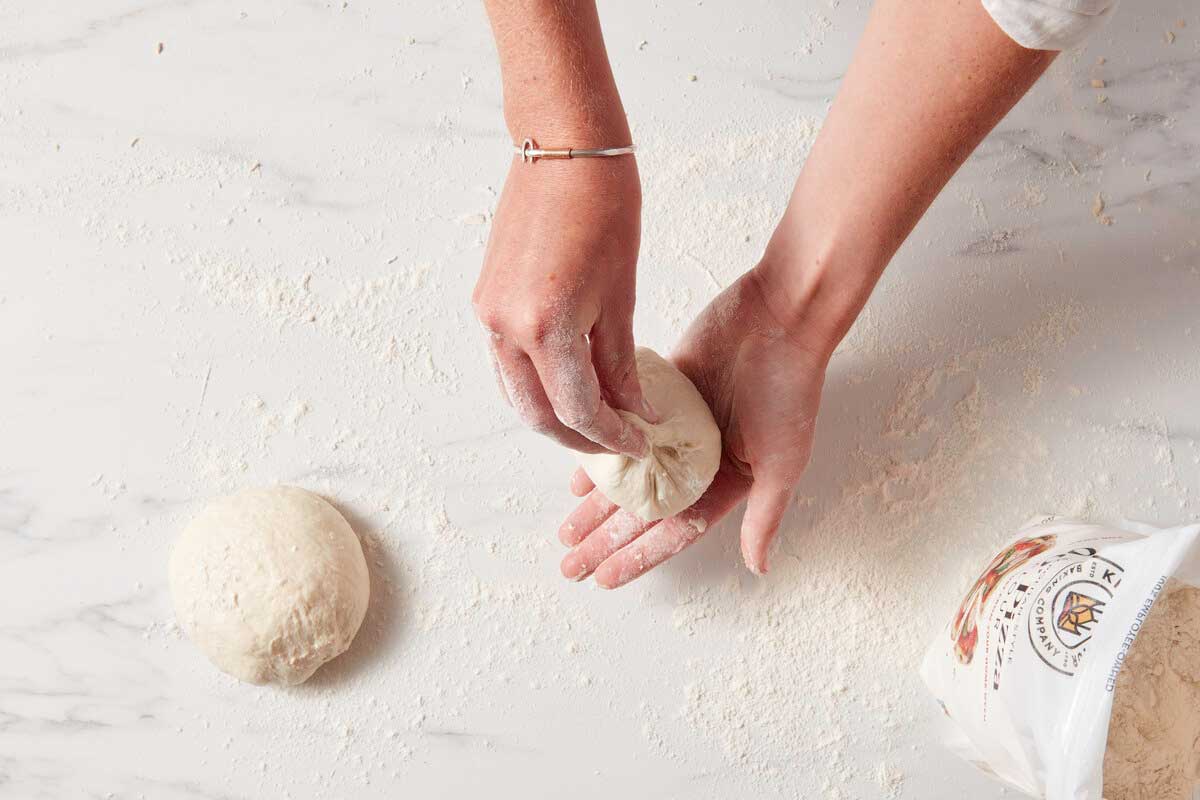 Repeat all the stretch-and-folding with the second piece of dough to make another smooth ball, and place each ball seam-side down into its own floured bowl. Cover the bowls and allow the dough to rise for 45 minutes to an hour. 
While the dough rises, go ahead and prepare your peel, if you're using one. If you've got a wooden peel, generously flour it so it's completely coated. If you're using a metal peel, or if this is your first homemade pizza, I suggest placing a piece of parchment on your peel instead of using flour. And if you're baking on a dark pan instead of a pizza stone, line your pan with parchment. 
A quick note on parchment paper here: it's important to use high-quality, thick parchment because we'll be baking at such a high temperature. Make sure to check the label to see if it can withstand 500°F. (A lot of brands can't withstand this heat and will simply burn.)
Time to get shaping
Flour your work surface, then scoop the risen dough onto it, seam-side down. If your dough feels wet, use a generous dusting of flour on top; for drier dough, use slightly less flour.
Use your fingertips to gently press down on the dough. One important step: be careful not to touch the outer edge of the crust! Leaving the circumference untouched here results in a beautiful bubbly baked outer crust. Trust us.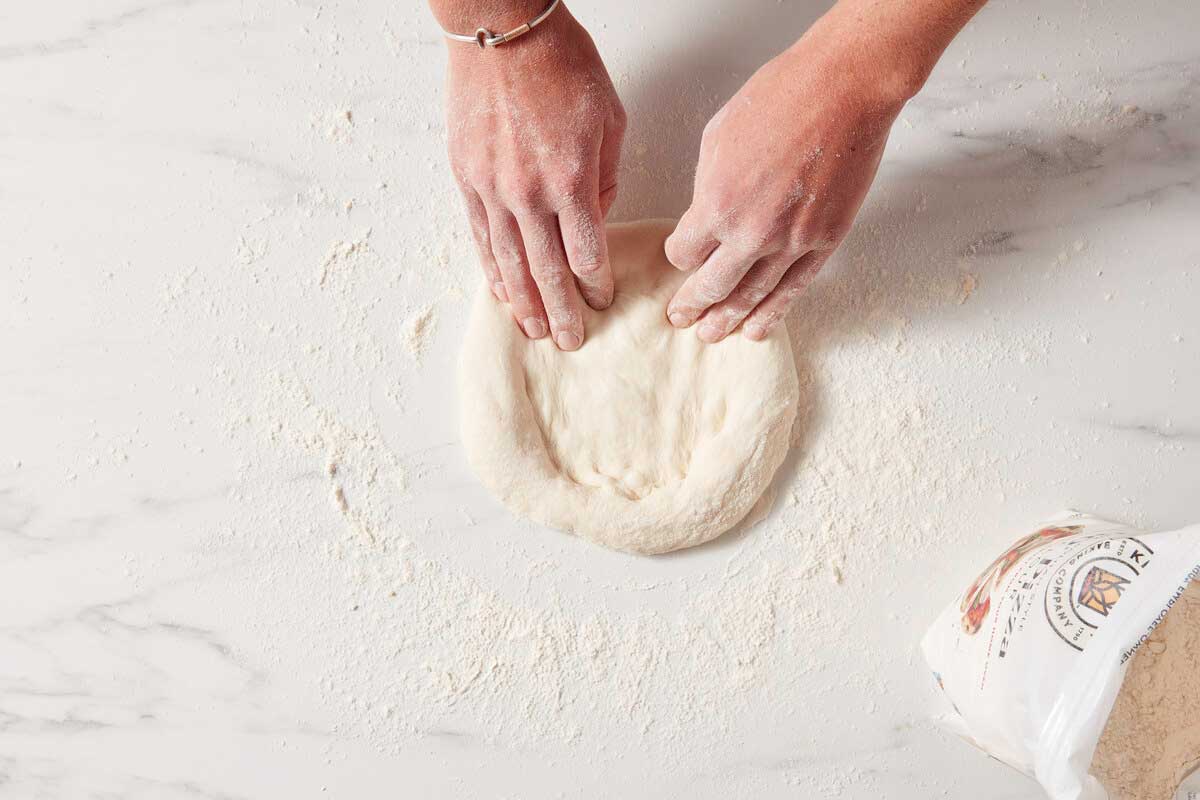 Still being careful not to touch the edge of the crust, lift the pizza and use your knuckles to gently stretch the dough into a 10" to 12" circle. To ensure the dough doesn't tear or stick, I keep my hands well-floured for this. 
Gently move the dough in a circle with both hands, allowing gravity to perform the stretch — now is not the time to rush things. Pulling will stretch the center more than the edges, so let the dough gradually stretch into shape, mostly from gravity. If your dough is difficult to stretch, rest it for 5 to 10 minutes so the gluten can relax, then try again. 
This is my favorite part of the recipe — stretching pizza dough makes me feel like an old-school pizza master (goals!).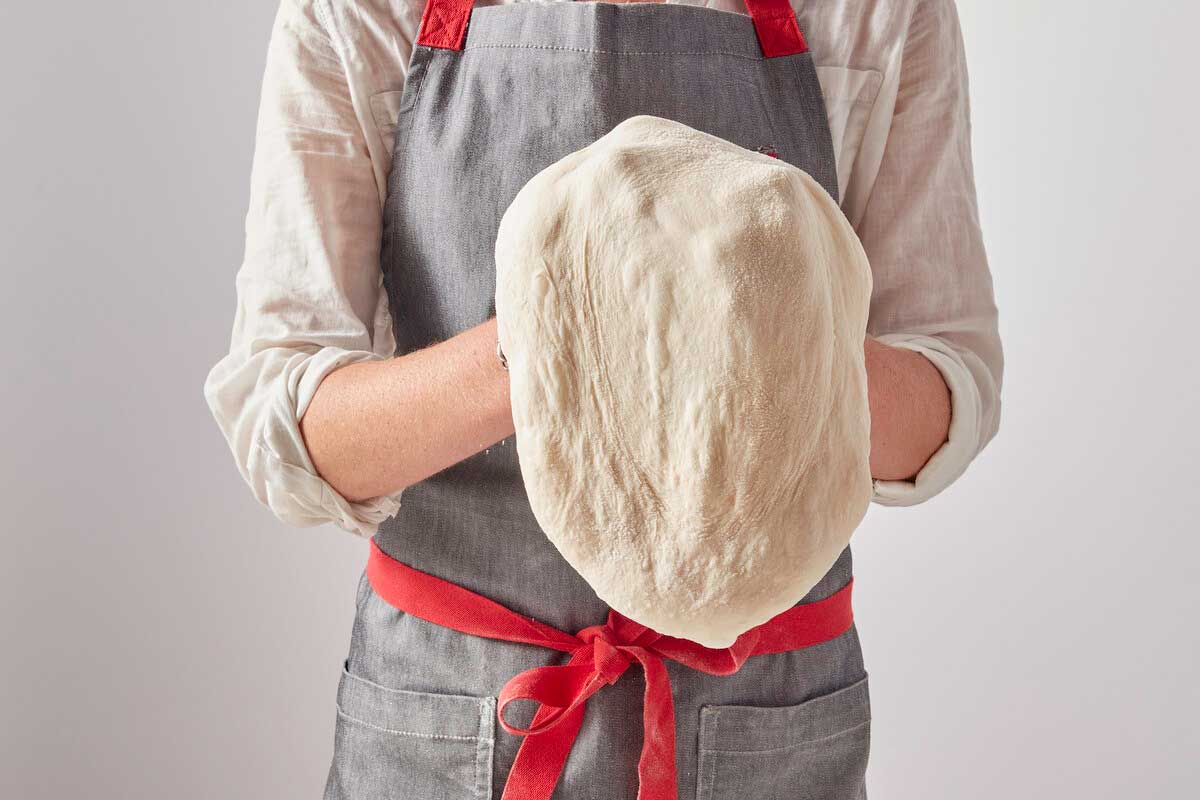 Move the dough to the floured peel (or floured parchment) and adjust it so none is hanging off the edge. The last thing you want is for the dough to stick to the peel, so make sure it's well-floured!
If you're using parchment, trim the excess around the dough to prevent it from burning. Since the oven is so hot, make sure to trim the paper flush with the dough so it won't burn (a mistake I've definitely made before). 
Now for the toppings
Use a light hand to sauce the dough (don't want it bogged down in tomato sauce), then top with the cheese of your choosing and any other toppings that suit your fancy. If you want to keep things authentic, use sliced buffalo mozzarella and San Marzano tomatoes, with basil to garnish after baking. And while it may not be classic, I personally love to use pesto on my pizza.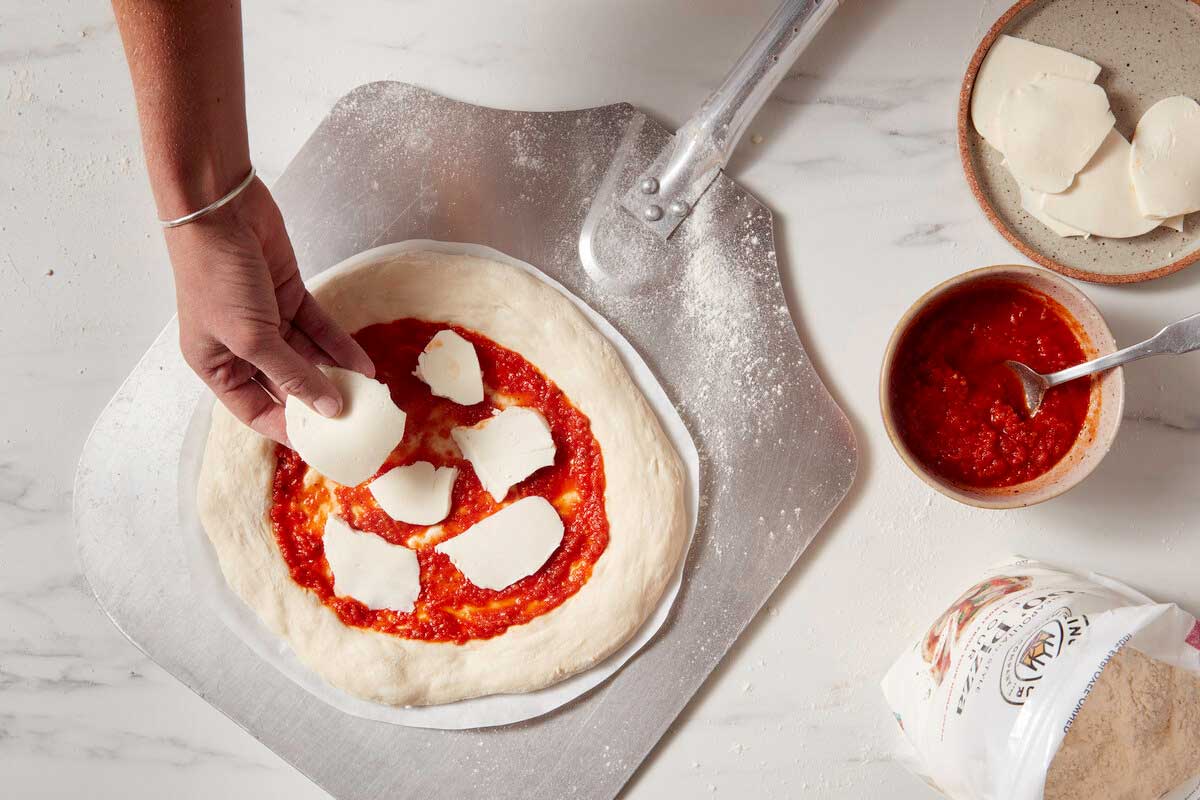 Turn on the top broiler in your oven, and transfer the pie to your preheated steel or stone. (If you only have a bottom broiler, don't use it, as there's not enough clearance. Not to worry, though; even if you can't use a broiler you can simply bake your pie for a few minutes longer, and with a steel or stone it will turn out just fine.)
If you're using a wooden peel, jiggle the uncooked pizza back and forth until it moves easily on the peel before quickly transferring it to the steel. If you're using parchment, gently slide the pizza and parchment onto the steel or stone. 
Bake the pizza for approximately 6 minutes on the steel or 7 minutes on the stone (give or take), until bubbly and charred around the edges. If baking on a dark pan, you may want to give it a few minutes longer to bake. Remove the pizza from the oven, and top it with fresh basil leaves, if desired.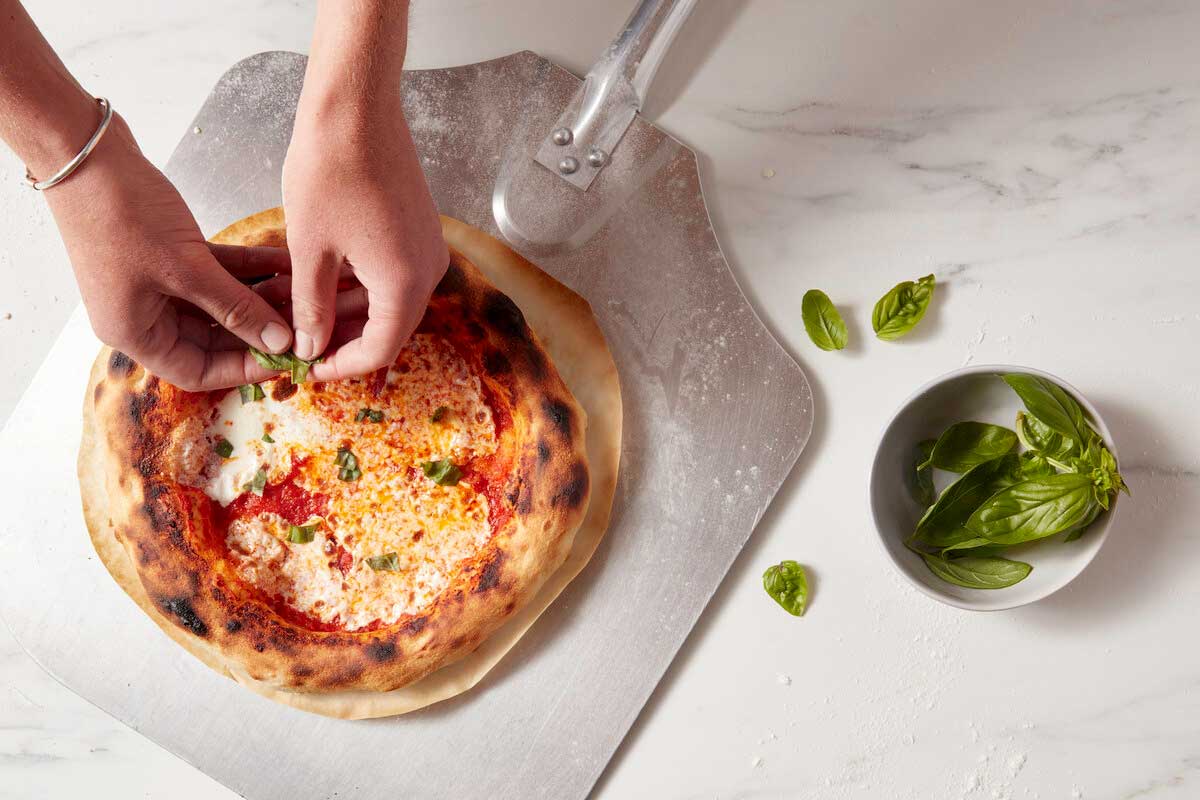 Finish off by repeating with the remaining dough and toppings.
Neapolitan-style pizza is now possible at home 
As someone who dreams of special baking equipment like a pizza oven but knows some of it's not in my cards (yet!), I thought artisan, Neapolitan-style pizza was something I would always have to buy. Until now! Turns out an ingredient like '00' Pizza Flour is all it takes to recreate that oh-so-special style in a regular old kitchen. And it's a lot easier to fit in the cupboard than a pizza oven.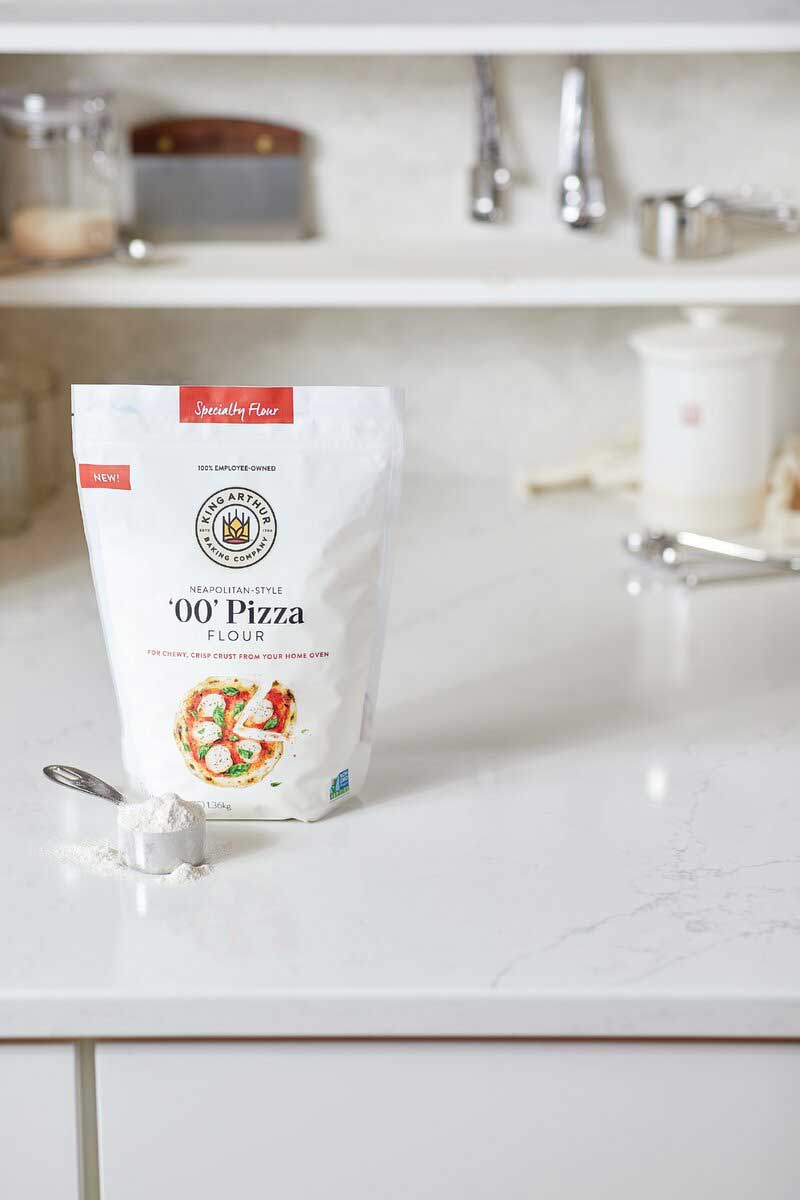 If you're ready to start pizza-making, you can order our '00' Pizza Flour through our online shop, and maybe pick up a few other handy tools to make your pie. It's also available in select supermarkets nationwide; you can consult our product locator for exact locations.