Cheddar Cheese Pull-Apart Bread
A St. Patrick's Day celebration: beyond corned beef.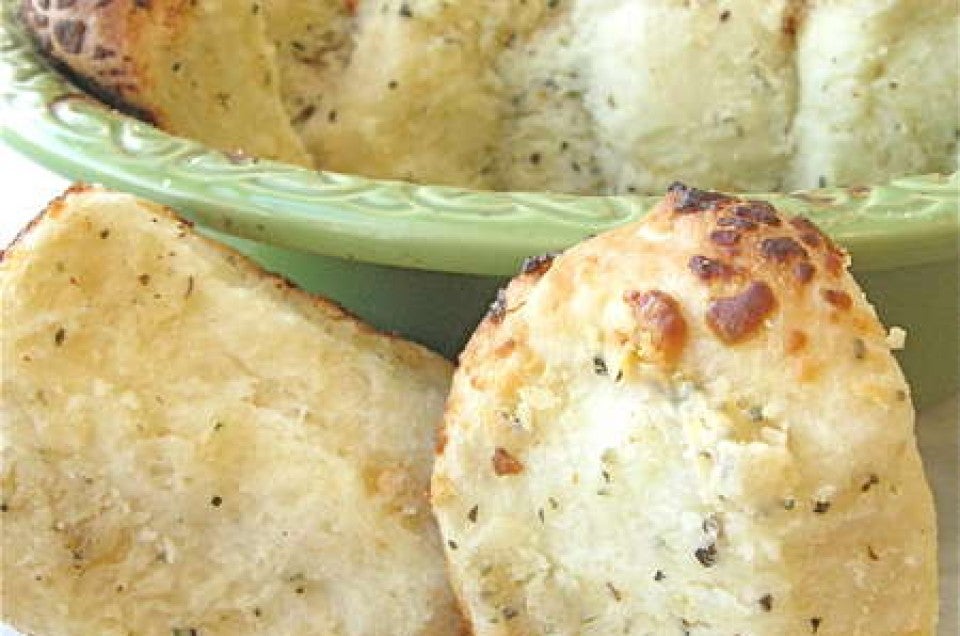 St. Patrick's Day: it's all about the green.
Green clothing, shamrocks, corned beef and (green) cabbage, green beer... Yes, green beer; if you've never sampled it, you've never been in Boston or New York on March 17.
But surely there's more to Irish food than green cuisine.
Indeed there is. There's Irish butter and cheese. Kerrygold, to be exact.
Kerrygold is the international brand of the Irish Dairy Board, a cooperative created by  a number of small Irish farms and creameries to market their products around the world. Their Dubliner is one of my favorite cheeses of all time... and it's affordable. You can find it in supermarkets and in club stores, where it's just slightly more expensive than good-quality domestic cheddars.
I'm a big fan of Cabot cheese, and recommend it often in this space. But I'm Irish, by heritage; and with St. Pat's Day in the offing, I couldn't resist the opportunity to give the Emerald Isle a plug.
Next week I'll be posting the requisite green-colored treat (pistachio shortbread, to be exact), something you can bake and bring to the office as a visual salute to the holiday. But today, we're heading in a different direction: cheese, highlighted in a savory cheese- and herb-scented pull-apart bread.
This bread relies on Vermont cheddar cheese powder, to be sure. But you can always choose to add a touch o' the green cuisine by gilding the top of the loaf with a shower of freshly shredded Dubliner. And serving it with a pint of Guinness.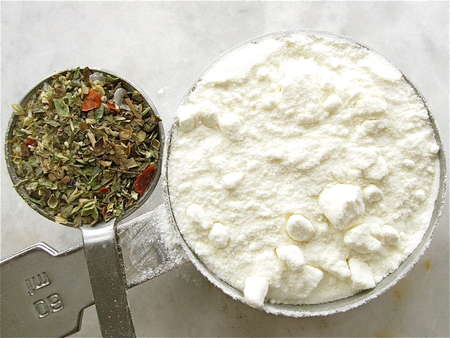 Let's start with a simple white bread dough. We'll cut it in pieces, coat each piece with butter, then roll in a blend of pizza seasoning and Vermont cheese powder.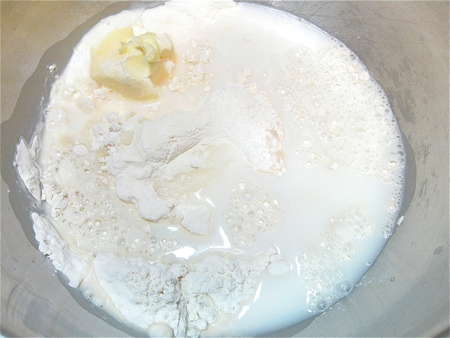 Here's one of my favorite recipes for white bread dough, perfect for a sandwich loaf or dinner rolls.
Place the following in a mixing bowl:
3 1/2 cups (418g) King Arthur Unbleached All-Purpose Flour
2 teaspoons instant yeast
2 tablespoons (21g) potato flour or 1/4 cup (21g) instant potato flakes
3 tablespoons (21g) Baker's Special Dry Milk or nonfat dry milk
1 tablespoon (12g) sugar
1 1/4 teaspoons (8g) salt
4 tablespoons (57g) soft butter
2/3 cup (152g) lukewarm water
1/2 cup (113g) lukewarm milk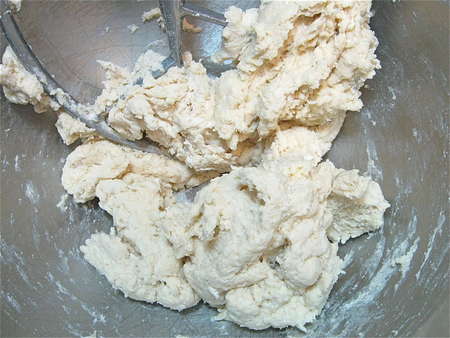 Mix to combine.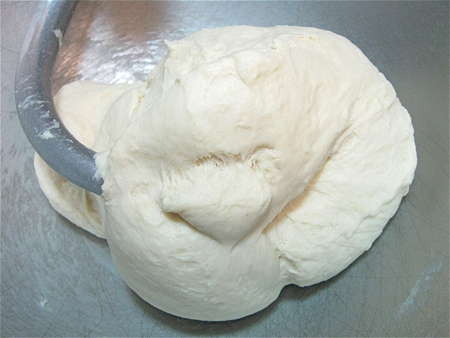 Knead — using your hands, a stand mixer, or a bread machine set on the dough cycle — to make a soft, smooth dough.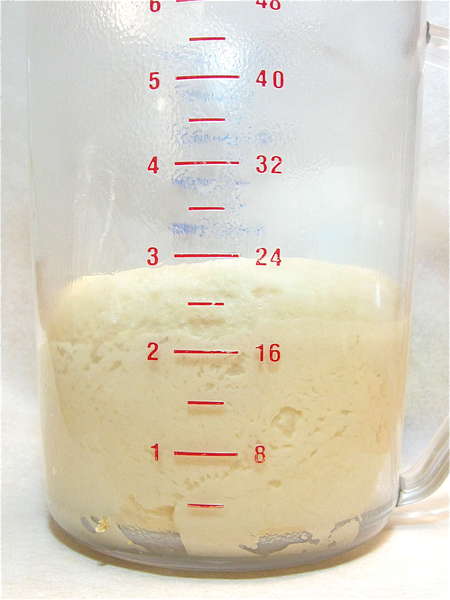 Place the dough in a lightly greased container — an 8-cup measure works well here — and allow the dough to rise till it's puffy, though not necessarily doubled in size.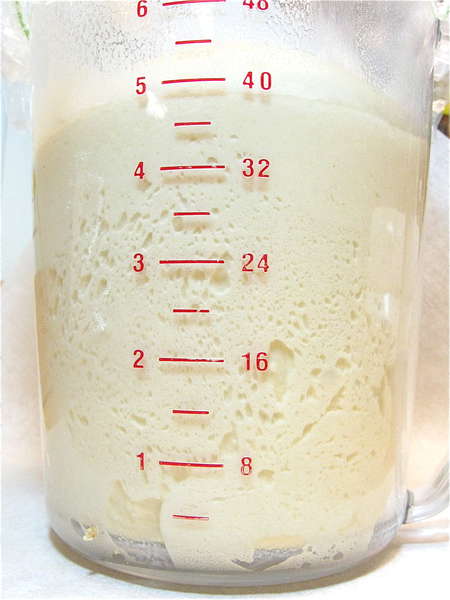 This will take about 60 to 90 minutes.
See what I mean about the 8-cup measure? It's neat to see the bubbles and air pockets created by the growing yeast.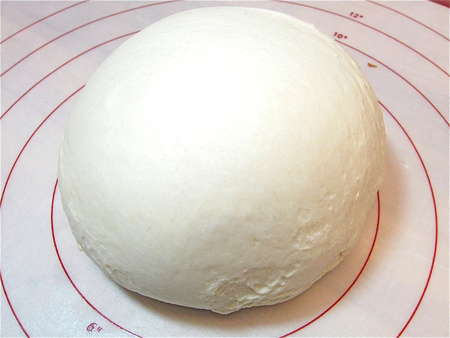 Gently deflate the dough, and transfer it to a lightly greased work surface.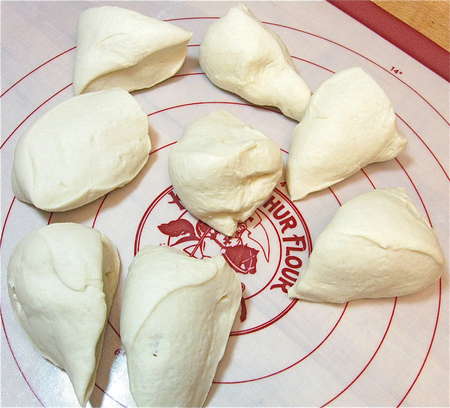 Divide the dough into 32 pieces, by dividing in half, then in halves again, etc.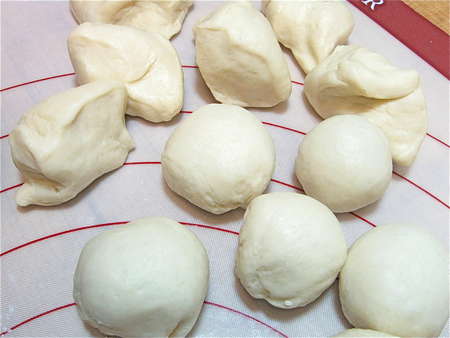 Don't worry about making them exactly even. And if you want to shape them into balls, don't worry about making them perfectly round...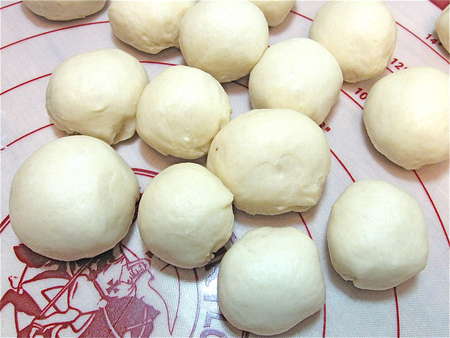 ...unless you're totally into perfection.
These are good enough for me!
To make the coating, whisk together the following:
1/3 cup (143g) Vermont cheese powder
3 tablespoons (21g) cornstarch
2 teaspoons Pizza Seasoning (or the dried herbs of your choice, optional)
Put 4 tablespoons (57g) melted butter in a small bowl. Dip each ball in the butter...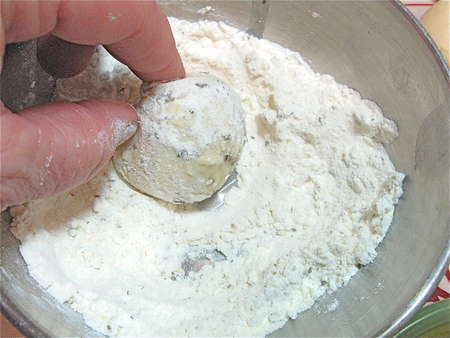 ...then the coating.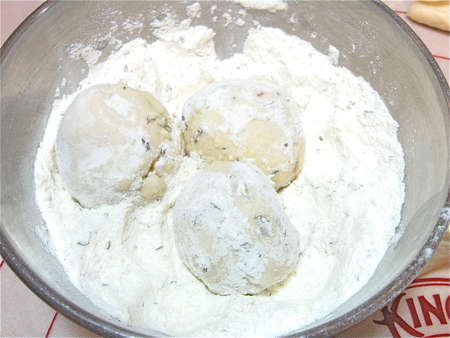 You can put several buttered balls of dough at a time into the coating, then shake the bowl to coat them with the cheese powder.
Lightly grease a 9" deep casserole dish, or use a 9" x 2" cake pan. Pour a generous layer of olive oil in the bottom of the pan, to coat.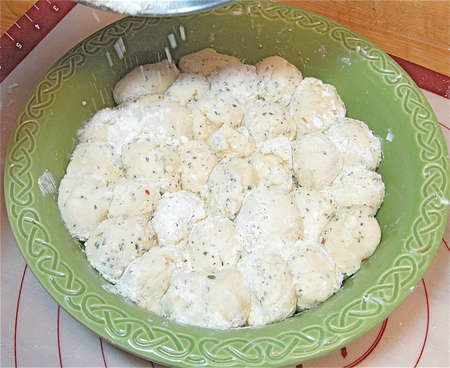 Crowd the dough balls into the pan in a single layer.
Sprinkle any leftover topping over the dough.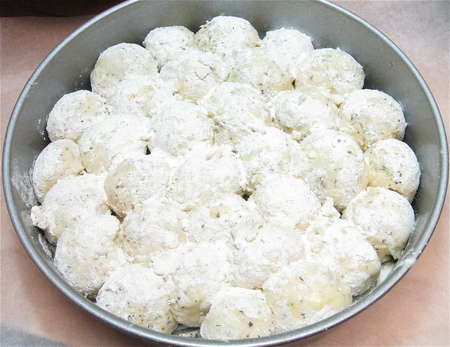 Here's what it'll look like in a 9" round cake pan; make sure the pan is at least 2" deep.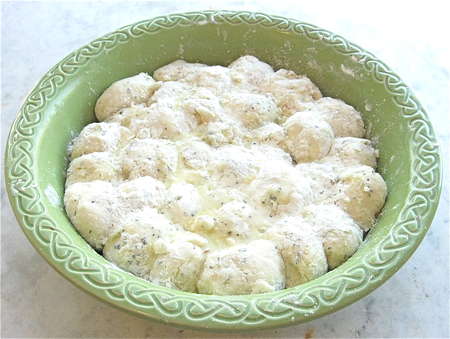 Cover the pan, and set the dough aside to rise till quite puffy, about 60 to 90 minutes.
Towards the end of the rising time, preheat the oven to 350°F.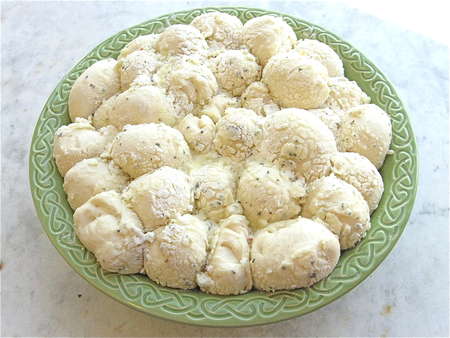 The dough will become quite puffy, rising up over the rim of the pan.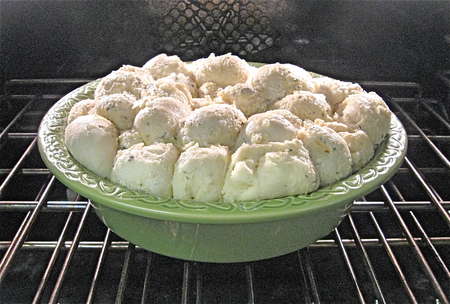 Bake the bread for 15 minutes. Tent it lightly with foil, and bake for an additional 20 minutes...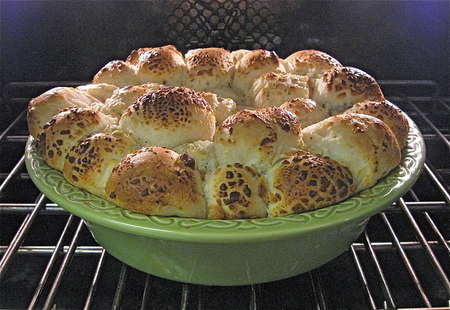 ...till the bread underneath the foil is golden brown.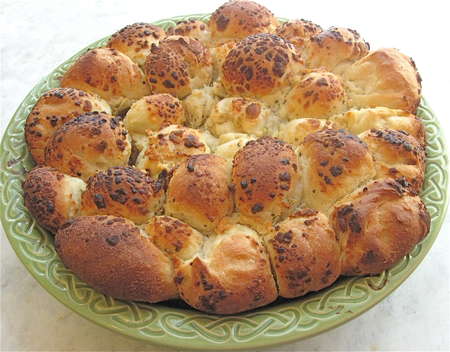 Remove from the oven.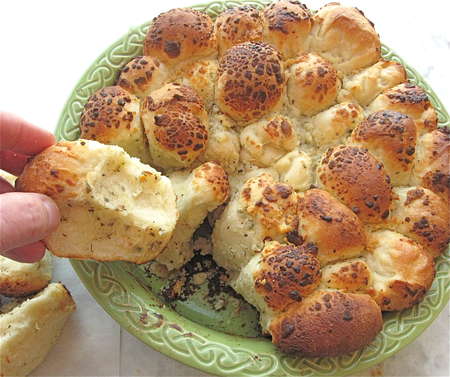 Put the hot bread in the middle of the table. Invite people to pull pieces off the loaf. This is actually a great ice-breaker for an informal gathering; it gets folks oohing, and ahhing, and relaxing with one another.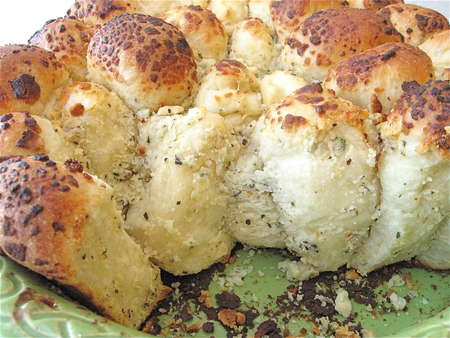 If you're uncomfortable with the bottom of the buns being quite deeply browned, dip the dough balls in the butter and cheese coating, rather than rolling them in it. That way, the bottoms will be bare, rather than coated; and they'll brown more gently.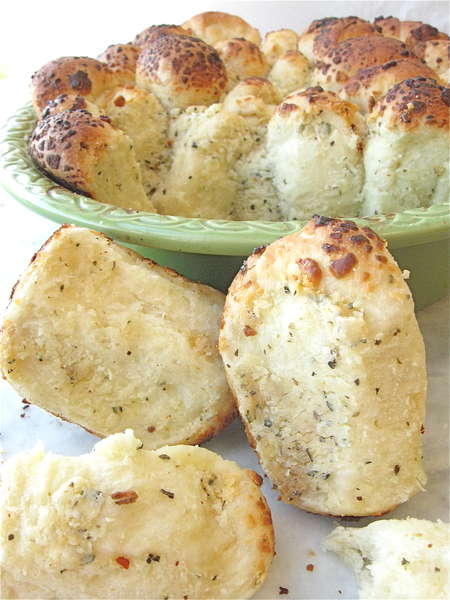 Hot, cheese-y, herb-y... Perfect for sharing on a chilly late-winter day.
Like March 17. Happy St. Patrick's Day, from my half-Irish heart to yours!
Read, rate, and review (please) our recipe for Cheddar Cheese Pull-Apart Bread.
Jump to Comments