Chocolate Decadence Minis: one-bite wonders
Classic chocolate lava cake, in miniature form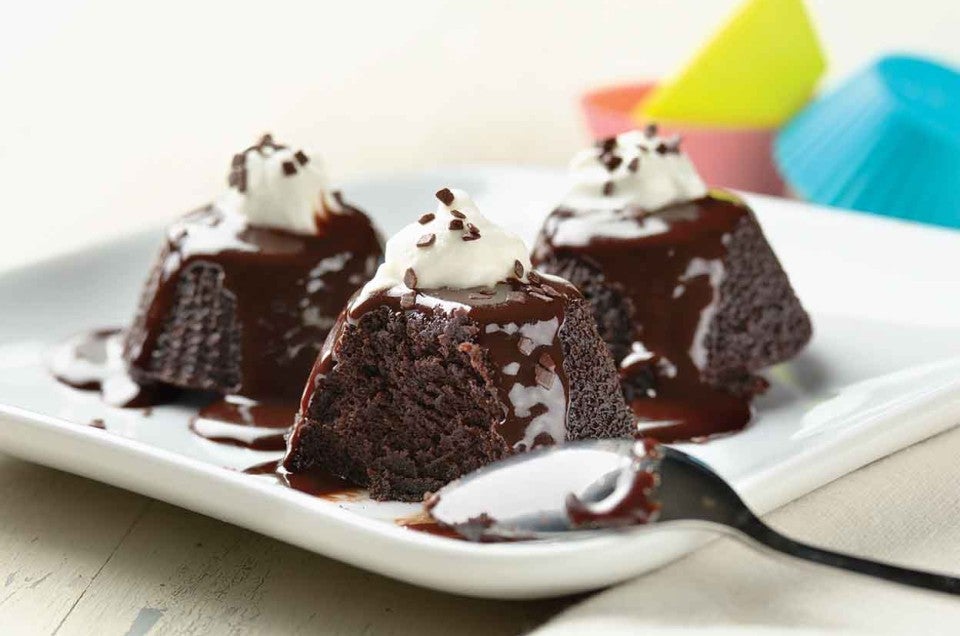 Do you like melted chocolate?
And chocolate cake?
How about melted chocolate inside chocolate cake?
Want to make this dessert the EASY way?
No, not with a mix; with a simple technique. Read on...
Chocolate lava cakes were all the rage a few years ago, but they can be tricky to master. If you over-bake them for even 60 seconds,  the "lava" disappears, morphed into the cake it was always meant to be.
So I was thinking, how about just forgetting the unbaked batter thing, and simply adding solid chocolate to the center of an unbaked mini cake?
Yes, MINI cake. Isn't it fun eating a little two-bite cake, instead of a monster double-layer slab? And then you can justify eating another, because they're just so tiny and cute.
And then you reach for that third cake... But hey, it still doesn't add up to a WHOLE SLICE, right?
OK, before I succeed in talking you out of these melting marvels, let's dive in: Chocolate Decadence Minis.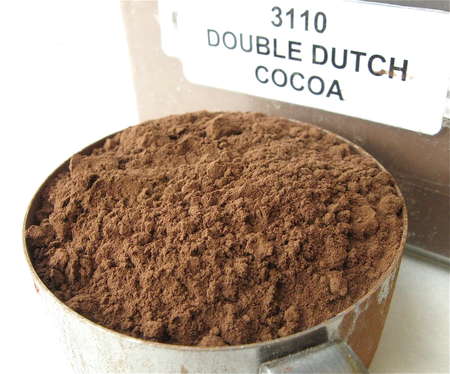 I swear by our Double Dutch Cocoa, a perfect blend of two Dutch-process cocoas; one lightly Dutched, the other more heavily.
So, what IS "Dutching," exactly? Cocoa tends to be acidic; and that acid tends to overpower cocoa's other more subtle flavors. Dutching is an alkalizing process that lowers cocoa's acidity, yielding a product with richer, smoother flavor, one that makes darker-colored, more "chocolate-y" looking baked goods.
If you're shopping for supermarket cocoa, Hershey offers "Special Dark," a blend of Dutch-process and unsweetened baking cocoas that replaces their earlier 100% Dutch-process "European-style" cocoa. Unfortunately, it's gotten very mixed reviews, with many foodies saying it doesn't match the quality of the discontinued European-style.
Did I mention I LOVE our Double Dutch?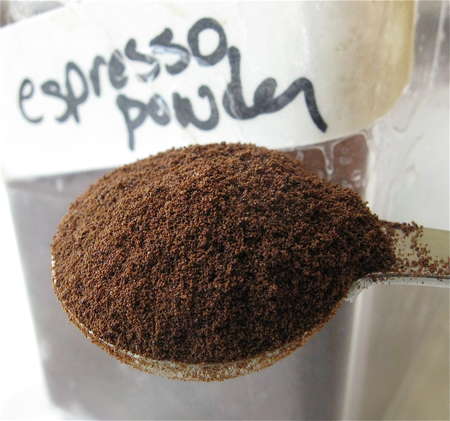 Ditto our espresso powder, chocolate's best friend. Use just a touch to heighten the flavor of chocolate, without adding any mocha or coffee notes.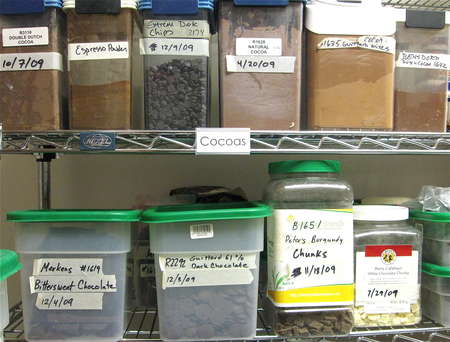 Next: solid chocolate to melt inside the baking cakes. Which shall I choose?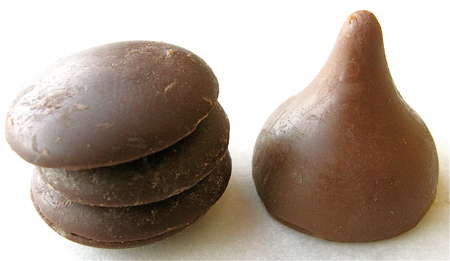 One that can be smoothly stacked to mirror the size of a Hershey's Kiss. that would be Guittard Onyx wafers.  A stack of four makes a sweet little bundle to tuck inside your mini cake.
OK, enough chit-chat. Let's bake Chocolate Decadence Minis.
First, preheat your oven to 400°F. Grease a 20- or 24-cup mini muffin pan.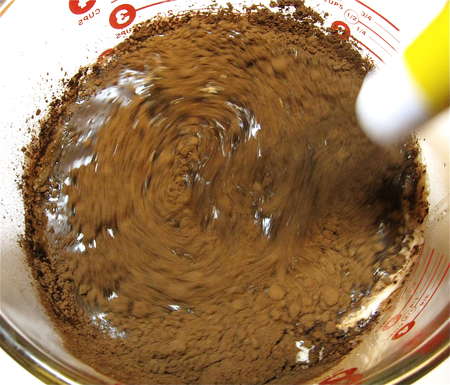 Melt 8 tablespoons (113g) butter, and stir in 1/4 cup (21g) Dutch-process cocoa powder, 1/2 teaspoon espresso powder, and 1/2 cup (113g) hot water.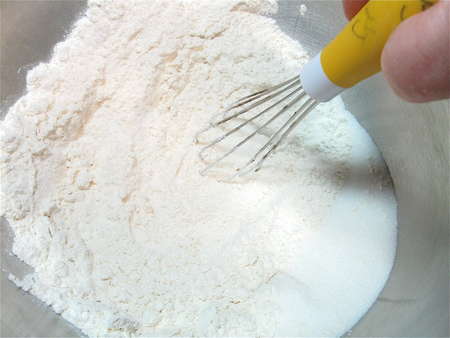 In a separate bowl, whisk together:
1 cup (120g) King Arthur Unbleached All-Purpose Flour
1 cup (198g) sugar
1/2 teaspoon baking soda
1/4 teaspoon salt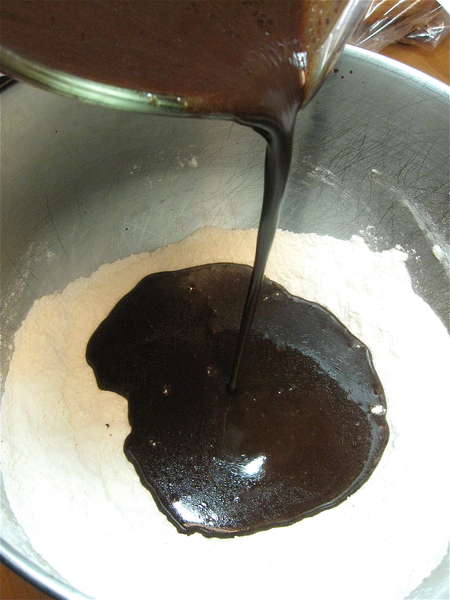 Pour the cocoa mixture over the dry ingredients.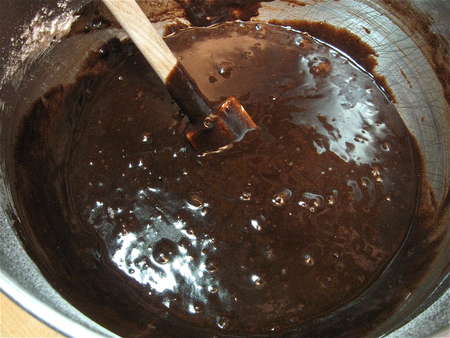 Stir to blend.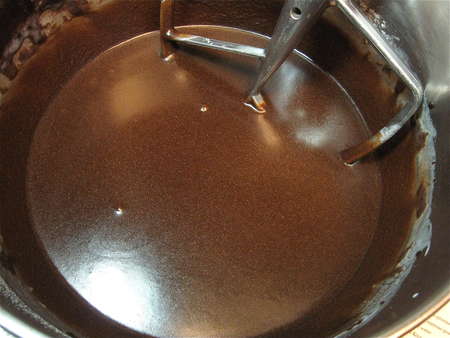 Beat in the following:
1/4 cup (57g) buttermilk, plain yogurt, or sour cream; low-fat is fine
1 large egg
1 teaspoon vanilla extract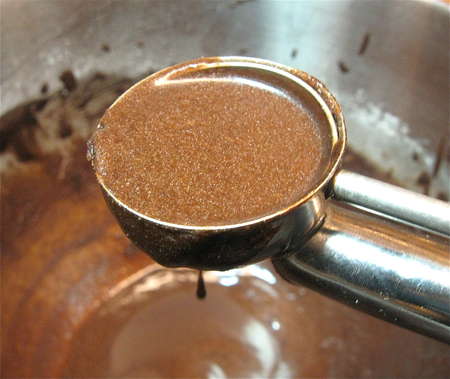 Scoop a scant 4 teaspoons batter; a tablespoon cookie scoop works well here.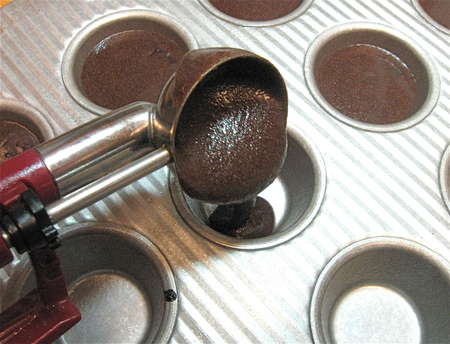 Fill each muffin cup about 3/4 full.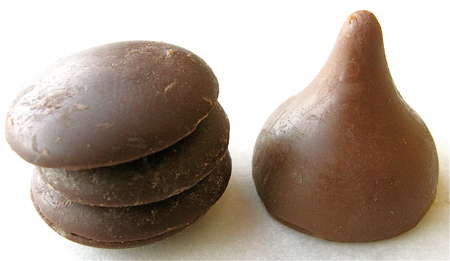 Submerge several nuggets of your favorite solid chocolate — about enough to equal the size of a Hershey's Kiss (right) — in the center of each. Note: Hershey's Kisses won't melt inside the cakes; pick a more "meltable" chocolate, like Guittard Onyx wafers.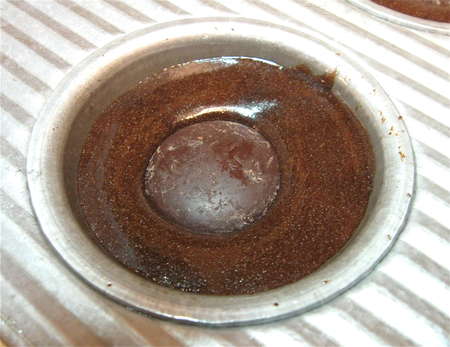 At first, I plopped four wafers into the batter horizontally.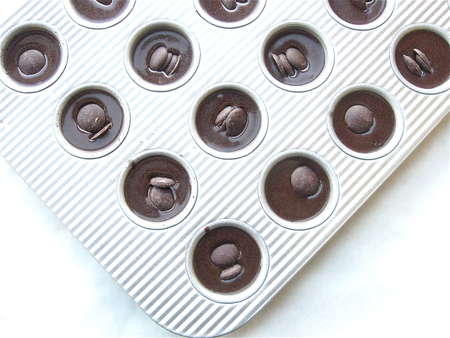 Then I tried them on end. Which method works best? We shall see...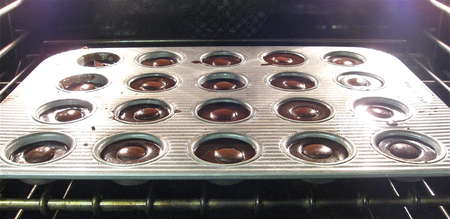 Bake the cakes for 10 minutes.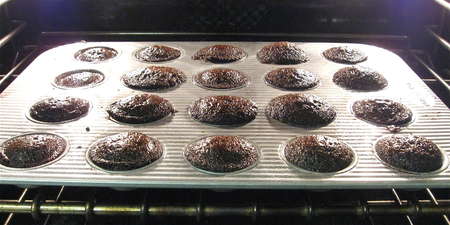 They'll puff up nicely.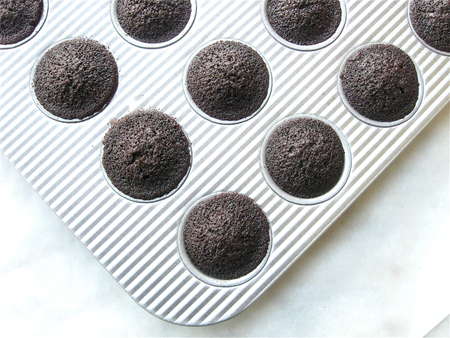 Remove them from the oven.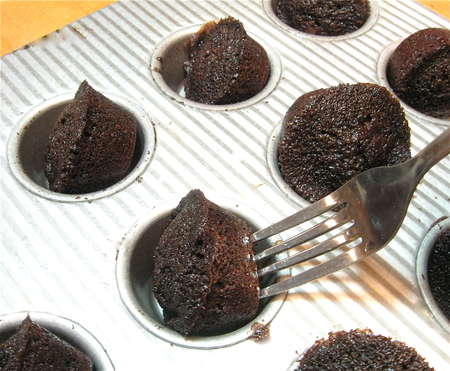 Gently nudge them out of the pan.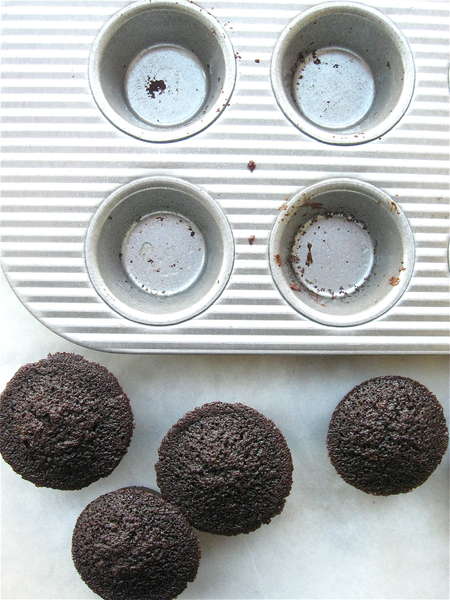 This USA Pan is a pleasure to use; notice how cleanly it releases the cakes.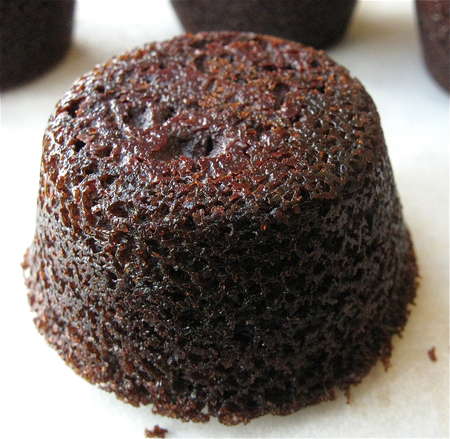 Serve immediately. Upside-down works best, so the chocolate disks (which have sunk to the bottom) are now on top...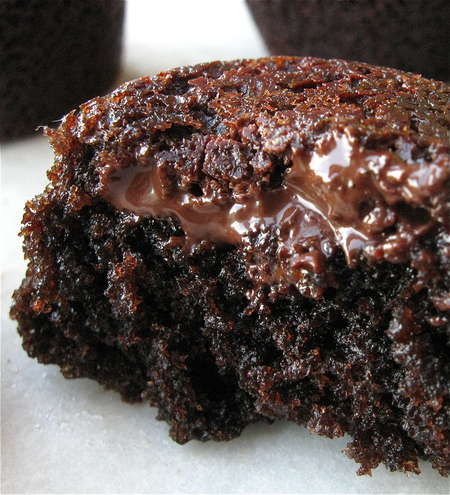 ... anxious to reveal themselves in all their melting glory.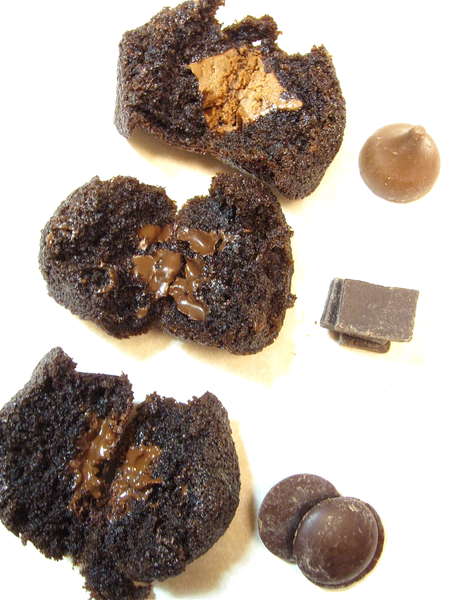 Here's a test of three different chocolates: Onyx wafers (bottom); Burgundy chunks (middle); and a Hershey's Kiss (top). The Kiss softened, but didn't melt, unlike the other two chocolates.
Even though I usually choose Burgundy chunks, in this recipe I liked the Onyx wafers best. They're bittersweet chocolate, while Burgundy chunks are semisweet. And since the cake itself is rather sweet and mild, the bittersweet offers a nice contrast in flavor.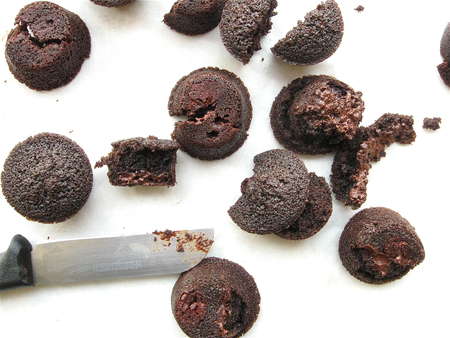 And what about the horizontal vs. vertical stacking of the Onyx wafers? Well, after much examination (and numerous taste tests, of course), I deduced the vertically stacked wafers created a nicer "pool" of melted chocolate.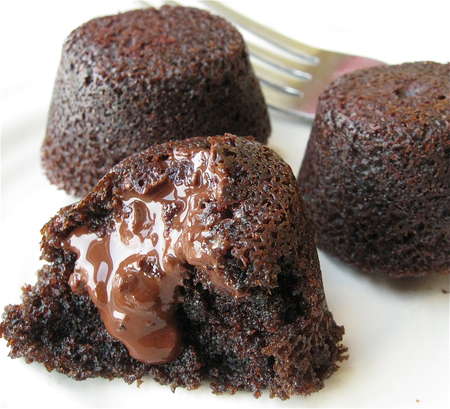 Ready to impress your dinner guests? Put three mini cakes on each plate. Add whipped cream if you like. Serve fairly quickly; the chocolate will start to solidify after about 30 minutes. If you do let them go too long, a quick zap in the microwave gets that chocolate flowing again.
These freeze and reheat beautifully. When they're entirely cool, wrap in plastic and freeze (for up to 6 weeks or so). To serve, remove however many you want; and heat in the microwave very briefly, maybe 10-15 seconds. The cake will taste fresh-baked, the chocolate will be lava-like, and your audience will be suitably impressed.
Read, rate, and review (please) our recipe for Chocolate Decadence Minis.
Jump to Comments