When is a waffle not a weekend breakfast treat?
When it's a sugar waffle. A crisp/crunchy, waffle-pocket cookie, a cookie touched with malt for darkly delicious flavor.
The Liège waffle, a distant cousin of this cookie, is the most popular waffle in Belgium. Featuring large, crunchy chunks of sugar that caramelize on the outside of the waffle as it bakes, these ubiquitous treats are vintage street food.
Without access to those mega sugar chunks, we Americans need to approach this treat from our own angle: with coarse white sugar. And with a typical American waffle batter, one leavened with baking powder rather than yeast, and baked in a flat iron, not the Belgian-style deep-pocket iron.
Speaking of which, did you know you can bake other types of cookie batter in a waffle iron, too? I've done brownie batter that way, making a chewy/crisp brownie perfect for those who love most the brownie's crusty edges, rather than its soft heart.
And I've tried chocolate chip cookie dough, too. If you time it just right, you get a wonderfully chewy cookie; a bit too long in the iron, and you get a wonderfully chewy cookie with scorched chips.
Making cookies in a waffle iron is definitely one of those "wonder if this will work?" deals, but it's a lot of fun experimenting. Peanut butter? Snickerdoodles? Molasses? Next time you're making cookies, get that waffle iron out of the cupboard and bake up a bit of the dough. I'll look forward to hearing your results.
But back to our crunchy sugar waffles. Before we get started, let's review some ingredients.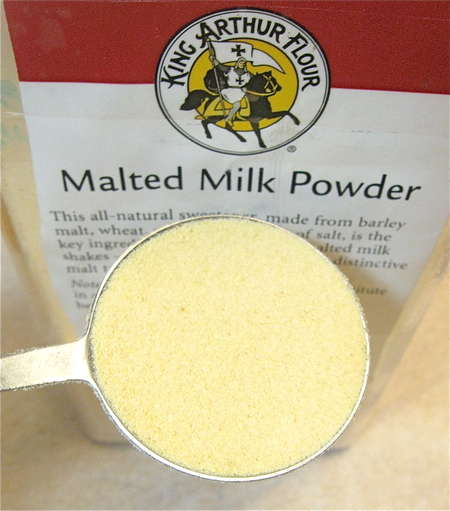 You might be under the impression that malted milk is chocolate.
Not so. This powdered sweetener, the key ingredient in old-fashioned malted milkshakes, is made from barley malt, wheat, milk, and a touch of salt: no chocolate in sight. Using a few tablespoons in waffle or pancake batter adds classic "diner-style" flavor.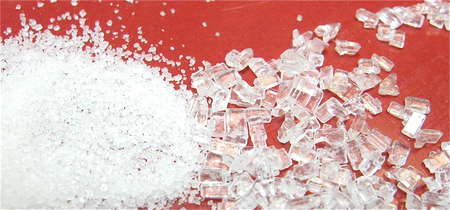 Here's the secret to sugar waffles: coarse white sparkling sugar. That's regular granulated on the left; coarse white on the right. What a difference, huh? This is definitely something to keep in your pantry for sprinkling atop scones, muffins, and cookies.
And providing the sweet crunch in sugar waffles.
OK, let's get started. The first thing you want to do is heat a regular American-style waffle iron. Not Belgian-style; not deep-pocket; just one of those old-fashioned irons that makes flat waffles.
A heart iron is nice, if you have one; but you can certainly make square waffle cookies, too.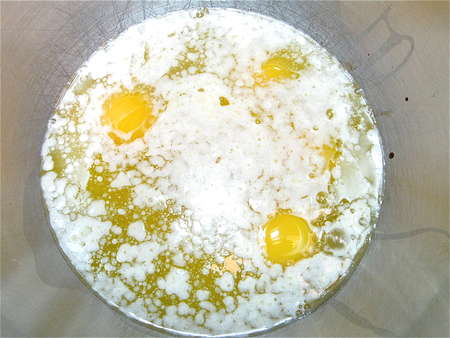 Combine the following:
12 tablespoons (170g) butter, melted and cooled to room temperature
4 large eggs
3/4 cup (149g) granulated sugar
1 tablespoon (14g) vanilla extract OR 2 teaspoons vanilla extract + 1/4 teaspoon vanilla-butternut flavor (or the extra-strong flavor of your choice)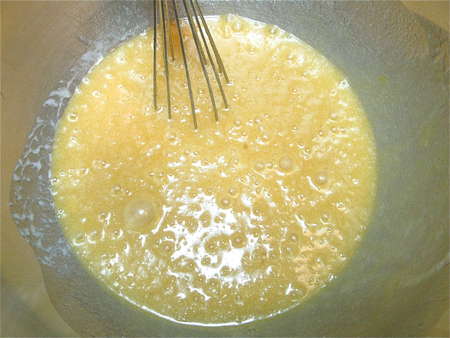 Whisk till blended.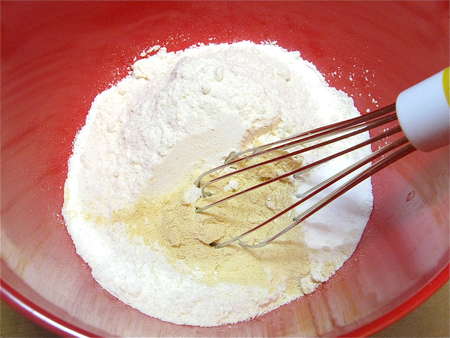 In a separate bowl, whisk together the following:
1 1/2 cups (177g) King Arthur Unbleached All-Purpose Flour
2 tablespoons (14g) malted milk powder (optional)
1 1/2 teaspoons baking powder
1/2 teaspoon salt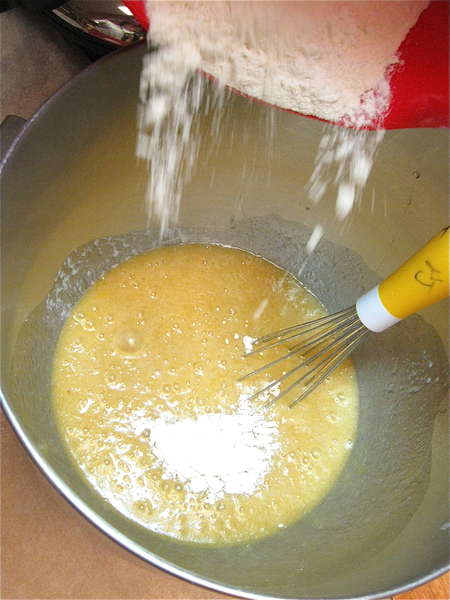 Add the dry ingredients to the liquid ingredients.
Whisk to combine.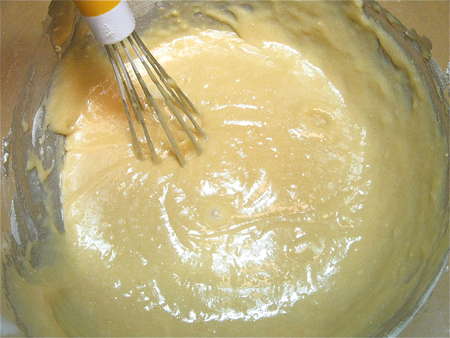 No need to beat; just stir till everything is cohesive. A few lumps are OK.
Add 1/2 cup (99g) coarse white sparkling sugar (you can also use 1/2 cup pearl sugar instead). Is there a substitute for this? Not really; you need the coarseness of the crystals for these cookie/waffles' crunchy texture.
In a pinch, you might try substituting Demerara sugar, which isn't quite as crunchy as coarse white sugar. No guarantees, but I'm guessing it'll add the desired crunchiness.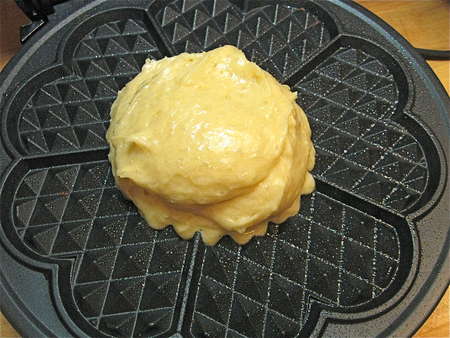 Pour a scant half-cup of batter onto your preheated, lightly greased waffle iron.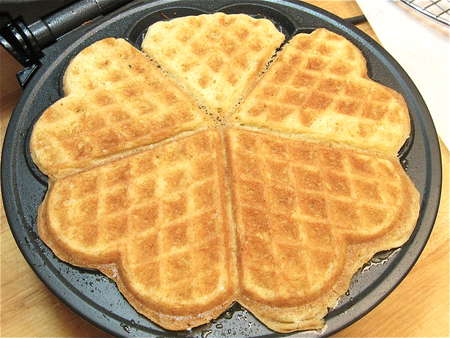 Bake the waffle until it's a deep golden brown. This one was a bit underdone. It takes 8 to 12 minutes in our test kitchen waffle iron, depending on just how brown you like them. Don't underbake; they won't be crisp when they cool.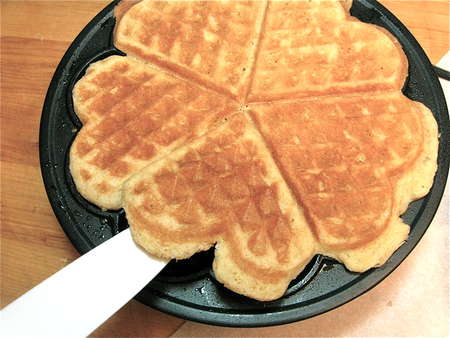 Open the waffle iron, and use a flat knife, a spatula, or a couple of forks to transfer the waffle — which will be quite tender — to a rack to cool.
The waffles will be very delicate until they cool, so expect a few to tear.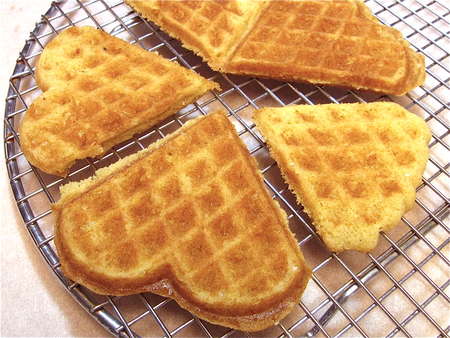 When the waffles are cool enough to handle, use a pair of scissors to cut them into pieces. Allow the waffles to cool completely, for maximum crispness.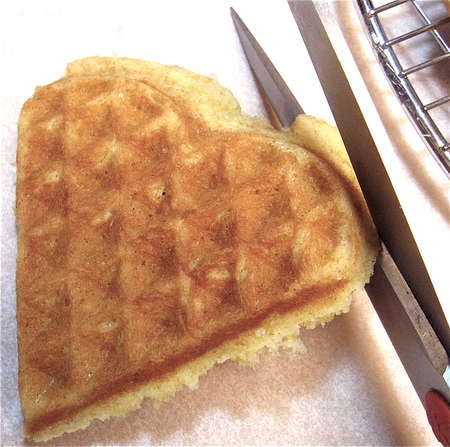 The scissors also works well to trim any rough edges.
See the difference? Waffle on the left, rough; waffle on the right, manicured.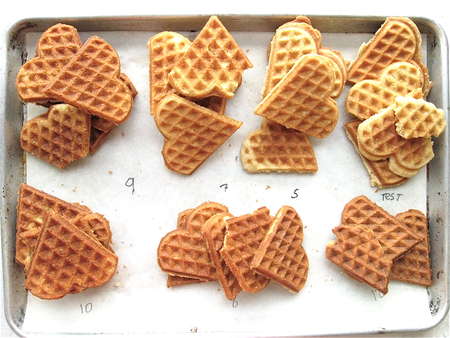 Here's my experiment with cooking the waffles different amounts of time. As I mentioned, 8 to 12 minutes resulted in the right amount of both rich flavor, and crispness/crunch.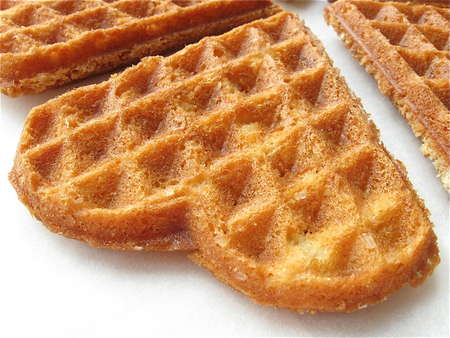 You may be just barely able to see the coarse sugar here.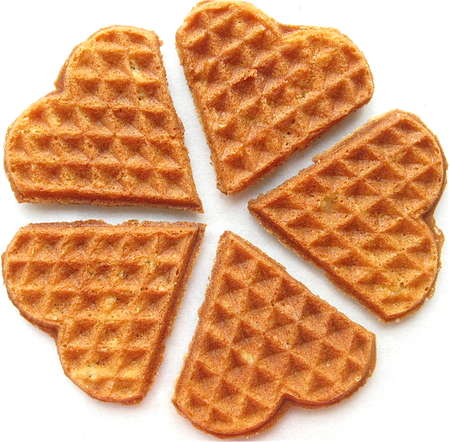 Cool completely, and serve.
Remember, these are cookies, not breakfast waffles. You need to wait for them to cool, so they can crisp up. Once they're cool, they store nicely at room temperature for several weeks; just keep them tightly wrapped, to preserve their crispness.
Read, rate, and review (please) our recipe for Sugar Waffles.
Jump to Comments