Drake's Funny Bones. Ben & Jerry's Chubby Hubby. Reese's Pieces. Twix PB. Peanut M&Ms.
Peanut Blossoms. Magic in the Middles. Peanut Butter Fudge.
Oh, and let's not forget "The Chocolate Peanut Butter Gallery, dedicated to the world's two best ingredients" Web site. (Sorry, you'll have to Google that one yourself.)
You see where I'm going here? If you're all over it, like I am – read on.
Chocolate and peanut butter go together like... well, like chocolate and peanut butter. It's an unlikely combination, but there are those of us – indeed, legions of us – who love it.
Is it simply the happy marriage of two childhood favorites?
No, because otherwise we'd be lusting after Cheez-Whiz and grape jelly.
Is it their complementary textures – creamy, and creamy? Their assertive flavors? I AM NUT, YOU ARE CHOCOLATE. HEAR US ROAR.
Or are they simply a good-looking couple? They've got that classy black-and-gold thing going, big-time.
Whatever the reason, chocolate and peanut butter, two of the New World's finest native products, have been playing happily together for decades. George Washington Carver invented "modern" peanut butter in the 1880s. Forty years later, the H.B. Reese Candy Company offered peanut butter filling dipped in Hershey's chocolate: the first peanut butter cups.
Then there are Buckeye candies, peanut butter balls dipped in chocolate (a.k.a. Ohio's unofficial state dessert). They're the inspiration for this towering, multi-layered, ganache-drizzled cake:
Buckeye Peanut Butter-Fudge Cake.
Read it and eat!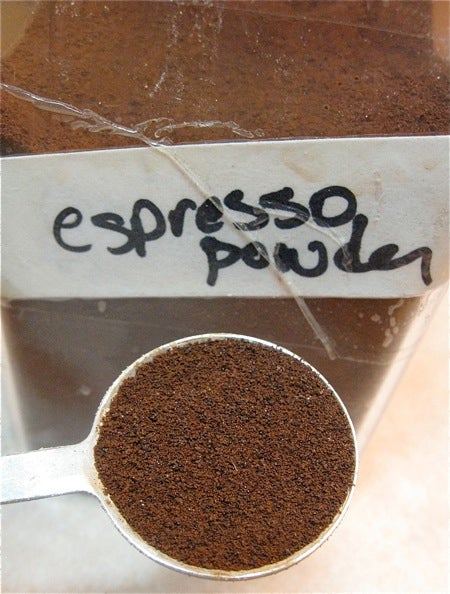 Here it is again, star of stage, screen, and bowls of batter everywhere – espresso powder! No, it doesn't make your treats taste like coffee (unless you add enough). It just absolutely enhances the flavor of chocolate.
OK, let's jump in. First, turn your oven on to 350°F, so it can preheat while you make the cake batter.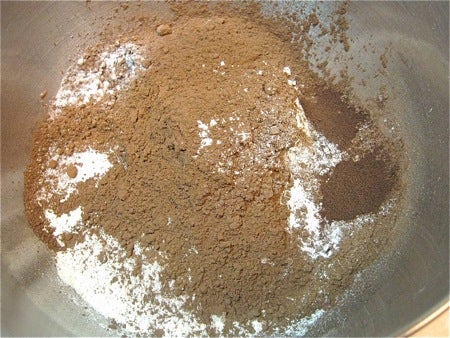 Put the following ingredients in a mixing bowl:
2 cups granulated sugar
2 cups (8 1/2 ounces) King Arthur Unbleached All-Purpose Flour
2 tablespoons Instant ClearJel or cornstarch
3/4 cup Double Dutch Dark Cocoa or Dutch-Process cocoa
2 teaspoons baking powder
2 teaspoons espresso powder
1/2 teaspoon baking soda
1 teaspoon salt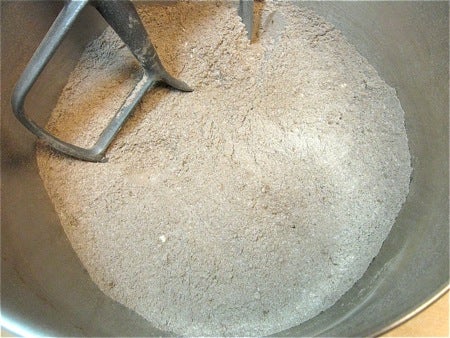 Stir to combine.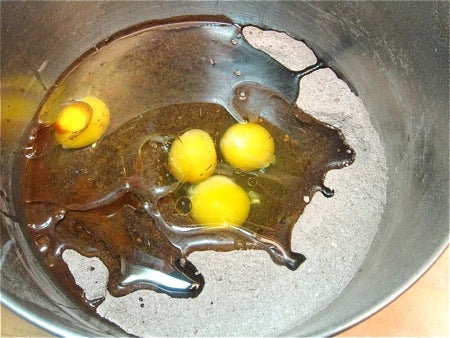 Add 4 large eggs, 3/4 cup vegetable oil, and 2 teaspoons vanilla extract.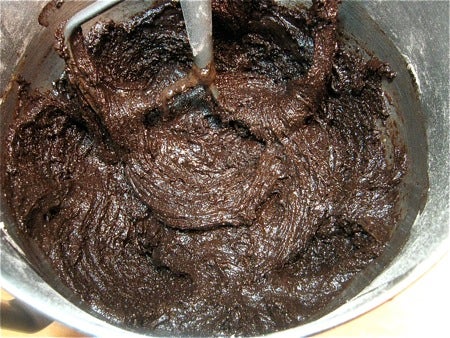 Beat till well combined; the mixture will be fairly thick.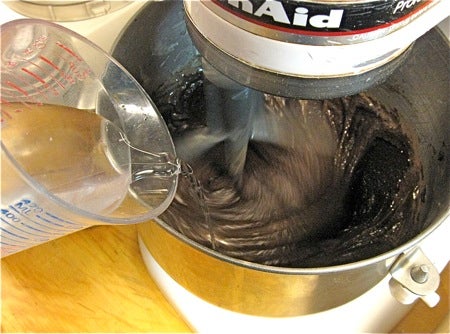 Next, add 1 1/4 cups cold water, beating until smooth. As you can imagine, this has the potential to be a messy project. To avoid  chocolate splashes, add water gradually, draping a dish towel over the top of the mixer, if necessary.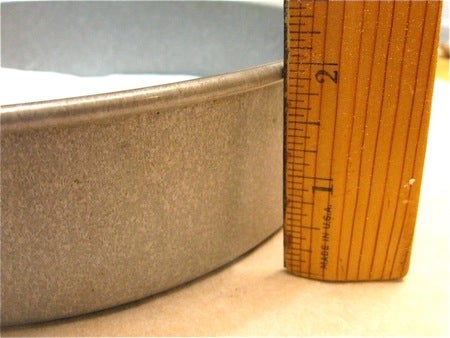 Get out two 8" x 2" round cake pans. Note: These pans need to be at least 2" tall; if you have non-standard, shorter 8" pans, substitute 9" round pans.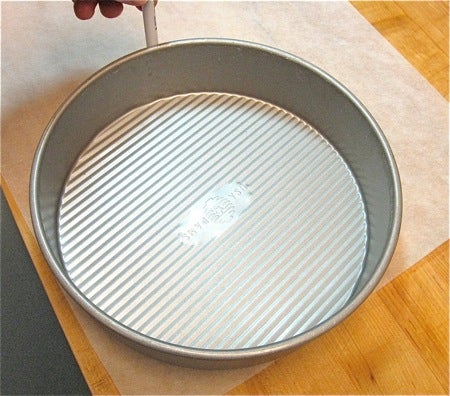 I do tend to use parchment for cakes, out of habit. It's a good little insurance policy. So, take a sheet of parchment, and lay the pan on top. Draw around with a marker, then cut out a round. Or, even easier – use pre-cut parchment rounds.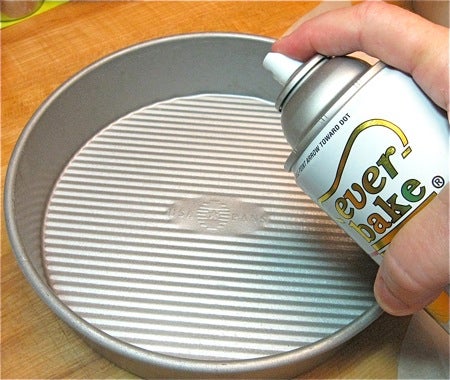 Spray the pans with EverBake or your favorite non-stick spray. Then line with parchment, and spray the parchment.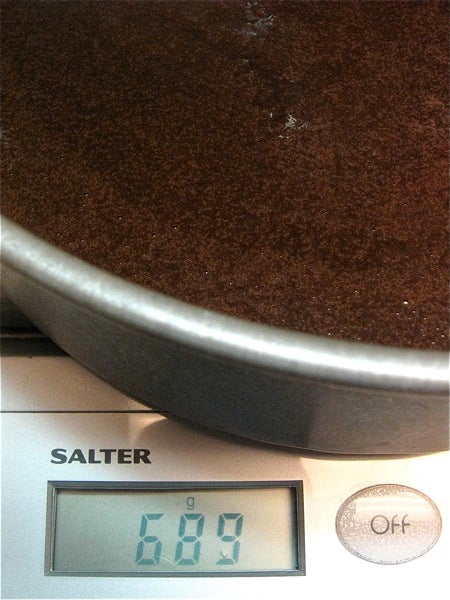 Divide the batter between the two pans. If you have a scale, you'll put about 689g in each; that's about 24 3/8 ounces, in American measurements.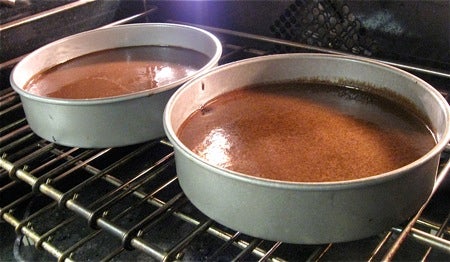 Into the 350°F oven they go.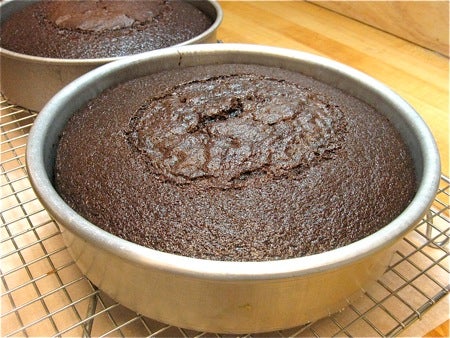 Bake the cakes for 35 to 38 minutes (a bit less if you use a 9" pan), or until a cake tester inserted into the center comes out clean.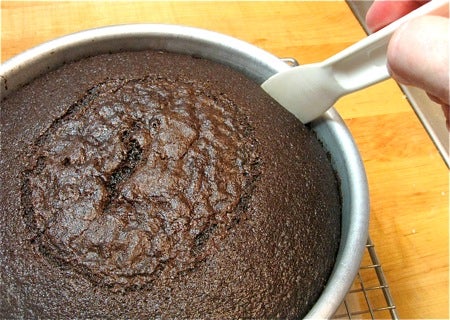 Cool the cakes in the pan for 15 minutes, then loosen their edges with a thin nylon spatula, or table knife.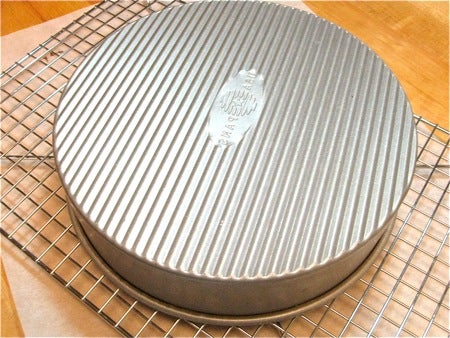 Turn over onto a rack...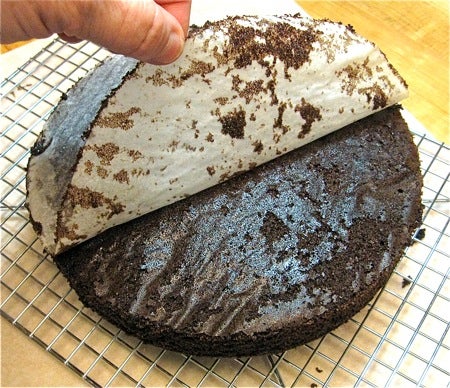 ...lift off the pan, and peel off the parchment. Repeat with the other layer.
Let the cakes cool completely; or at least till they're just barely warm.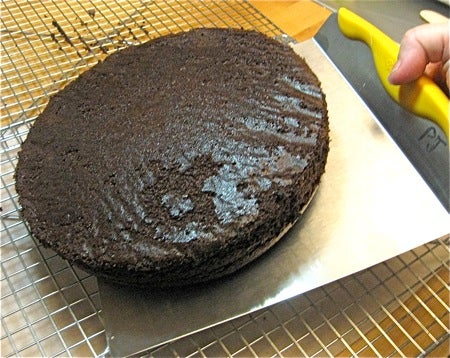 Pick up one layer (a giant spatula is always a help)...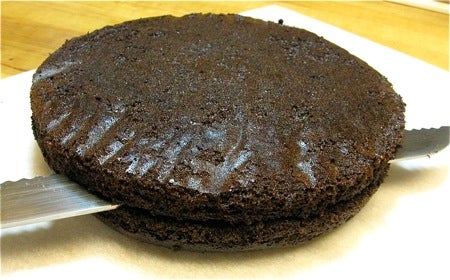 ...and transfer it to a piece of parchment or waxed paper or foil – just something so it's not sitting right on your counter. Use a long serrated knife to cut the cake in half around its circumference.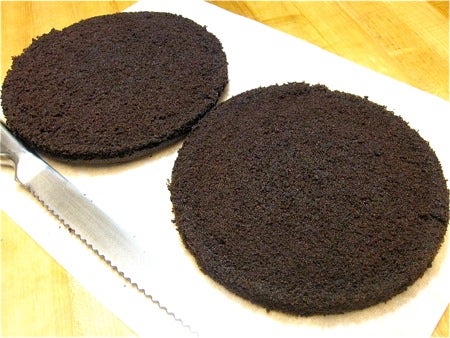 Now your single layer has become two.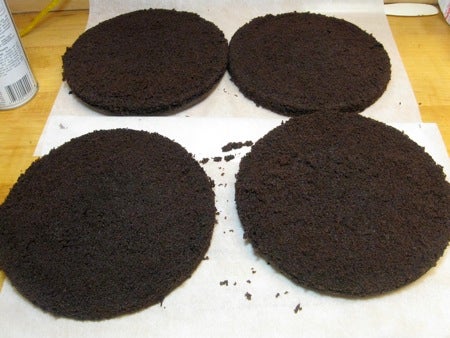 And your two layers, four.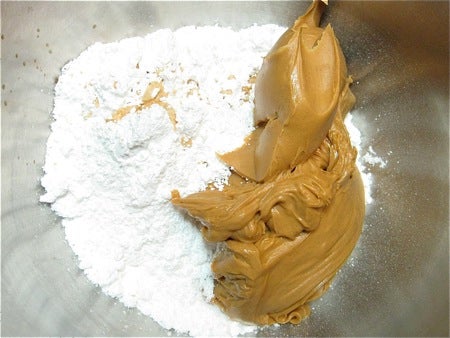 Time to make the peanut butter filling. Put the following in a mixing bowl:
4 cups (1-lb. box) confectioners' sugar
1 1/2 cups peanut butter
2 teaspoons vanilla extract
Note: I haven't tested this with "simply ground peanuts" peanut butter, just the regular Skippy-type.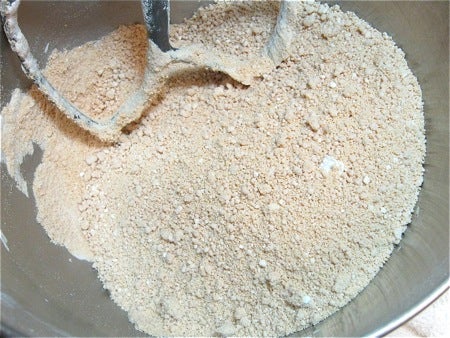 Mix till well combined.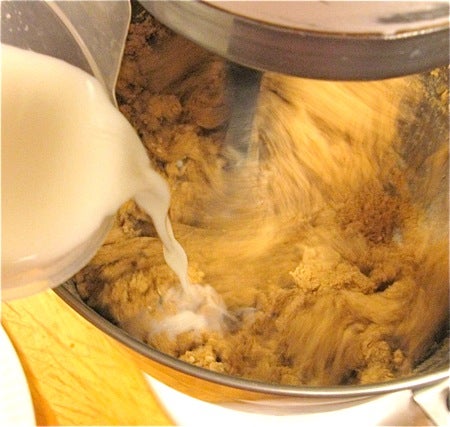 Gradually add 3/4 cup milk. Again, watch out for splashes, this time of the peanut-butter variety.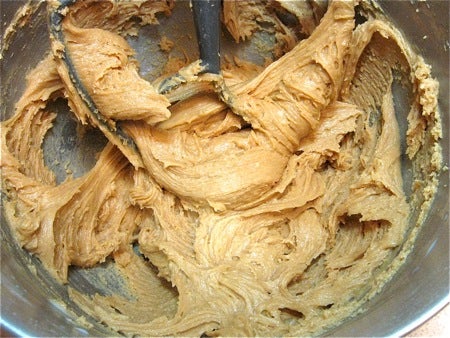 The filling should look like this. And should taste like heaven.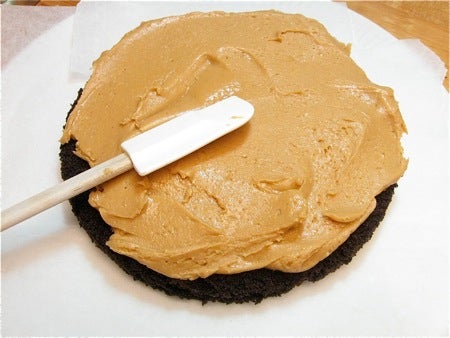 Put one layer on a serving plate. Spread about 1/3 of the filling (about 290g, a generous 10 ounces) on top.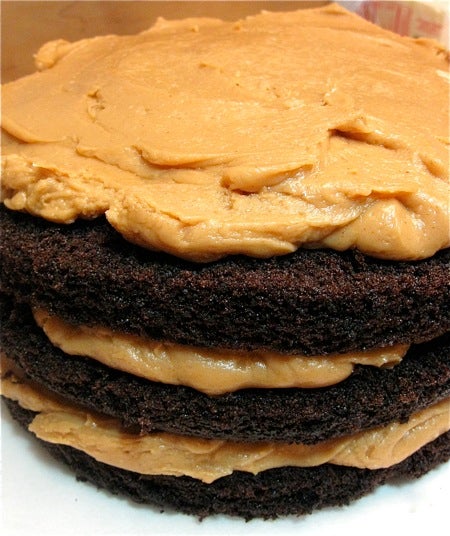 Repeat with the remaining layers, then put the final layer on top.
It helps to anchor the layers with some bamboo skewers. Or clean broom straws, like I've used here.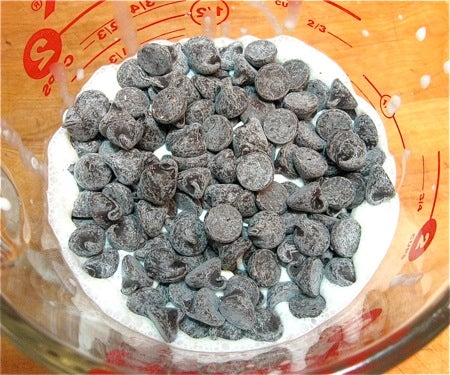 Next – the icing.  Put the following in a microwave-safe bowl or measuring cup:
1 1/3 cups (8 ounces) chocolate chips or chopped semisweet chocolate
1/2 cup heavy or whipping cream
2 tablespoons light corn syrup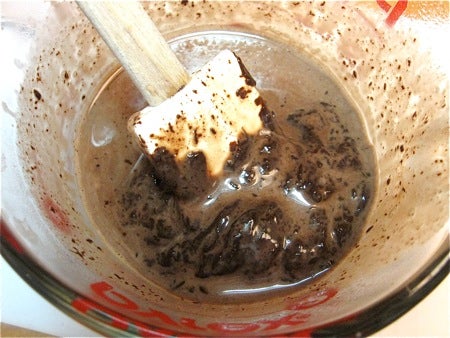 Heat in the microwave till the cream is hot and the chocolate soft. Then stir...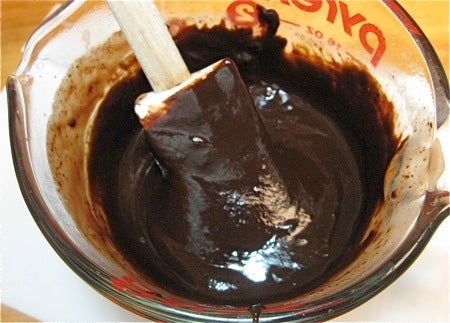 ...and stir, till the mixture is completely combined. Don't get nervous; at first it seems like a gloppy mess that'll never come together. But it will. It does.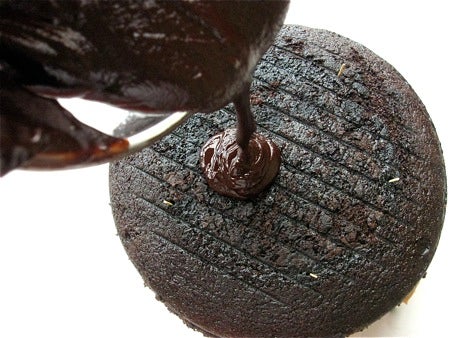 Pour the ganache (yes, that's what you've just made, ganache) atop the cake. Those creases are actually from the cooling rack, not the pan.
Spread the ganache atop the cake...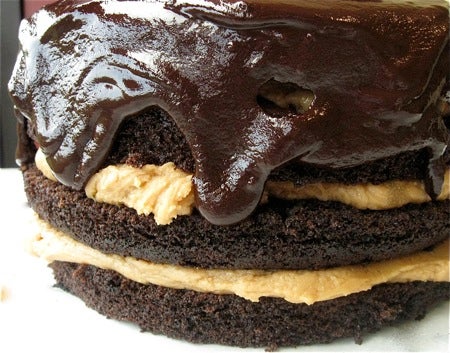 ...and encourage it to dribble down the sides.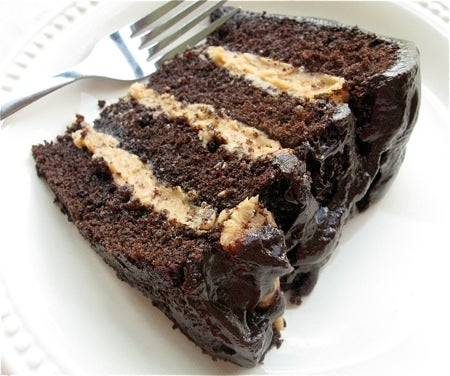 Give it some time to set – a couple of hours is good – then serve, to rounds of applause and the lusty singing of "Happy Birthday," if apropos. Be sure not to serve anyone a piece with the bamboo skewer still intact.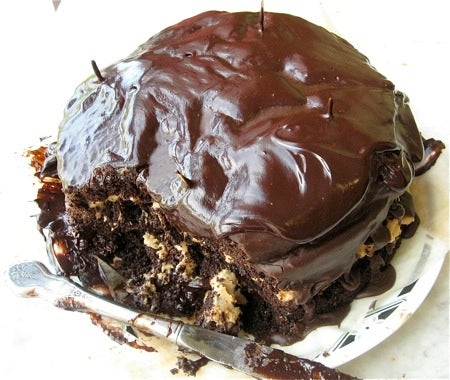 Uhhhh.... yeah, this is what we do in the test kitchen. I didn't like how the first attempt at icing poured. So I made another batch, and poured it right over the first. Then my Web mates started getting into it. I just HAD to take a picture. How's THAT for a glamour shot?!
Read, rate, and review (please!) our recipe for Buckeye Peanut Butter Fudge Cake.
Buy vs. Bake
Buy: Expresso Italian Villa, Charlottesville, VA: slice of Chocolate Peanut Butter Buckeye Cake – rich, moist chocolate cake with a creamy peanut butter filling and a thick, chocolate ganache topping, $4.25
Bake at home: Buckeye Peanut Butter-Fudge Cake, 2" slice (1/12 of cake), 87¢
Jump to Comments