"What's the secret ingredient?"
We've all asked that question, haven't we, when tasting something that really tickles our fancy. Maybe it's a bowl of chili with the faint but delightful flavor of... what? Or a coffeecake with an aromatic, kind of vanilla, barely-there citrus, Creamsicle-type taste... what IS that flavor?
We've been featuring "secret ingredients" on our Baker's Catalogue home page recently, and this week it was my turn to pick. Eureka! the recipe I was doing just happens to use TWO "secret" ingredients. Read on...
There's a great recipe for an ethereally light, crunchy sugar cookie on our recipe site. These Vanilla Dream cookies earn a 5-star rating from readers: "This was a very easy recipe and it is incredibly crisp and flavorful. I love crisp cookies and vanilla so it was perfect," says Valerie.
Indeed, crisp/crunchy is the defining element of these rather plain looking, cream-colored cookies. It's surprisingly difficult to make the "perfect" sugar cookie, since everyone's idea of perfect is different, harking back to Mom, Grandma, or early experiences with Archway. Some like their sugar cookies totally soft; some "bendy;" some crisp, and some crunchy (yes, there's a difference). Some folks—mainly old-line New Englanders—even like their sugar cookies rock-hard, the better to dunk in a cup of tea or coffee.
Our King Arthur Flour Cookie Companion offers a whole chapter devoted to sugar cookies. So if you're a sugar cookie "apprecianado," run on down to your local library and check it out. But if you're a casual fan, and looking for a great all-purpose sugar cookie for your arsenal of sweets, Vanilla Dreams are a good place to start.
I made the Dreams a couple of weeks ago for a party. Despite my decorative twist of imprinting them with a spiral design on top (courtesy of the food pusher tool from our test kitchen Cuisinart), they were just too darned plain-looking.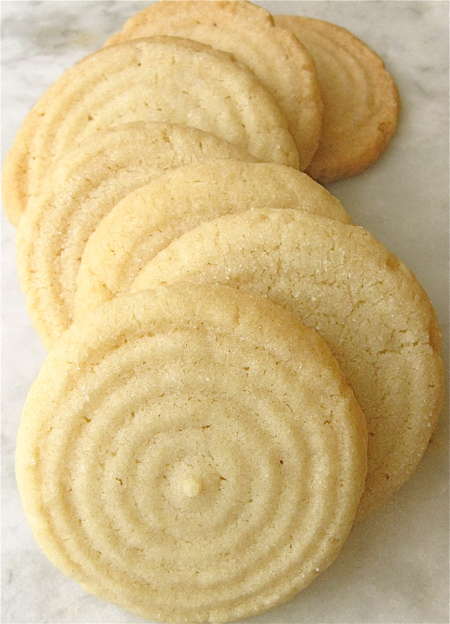 Inspiration and a desire for chocolate hit concurrently. What if I drizzled melted chocolate on top? Nah, it would obliterate that nice design. Well, how about dipping their edges? Nope; I know from experience I wouldn't do a clean enough job. What's left? Ah-HA! Coat their bottoms with chocolate, so that on the plate, half would show a nice, spiral-design top; and half, their chocolate bottoms.
But something still wasn't right. I could see the chocolate looking sparse, or not setting up right, or… How about coating with chocolate, then dipping in crushed nuts? Yes, that's it. The nuts would fancy things up, plus help keep any soft chocolate from messing up the surrounding cookies.
The result? A Pepperidge Farms Geneva Cookie clone. Crisp/crunchy sugar cookie, brushed with dark chocolate, dipped in crushed nuts. And as for those secret ingredients, here they are: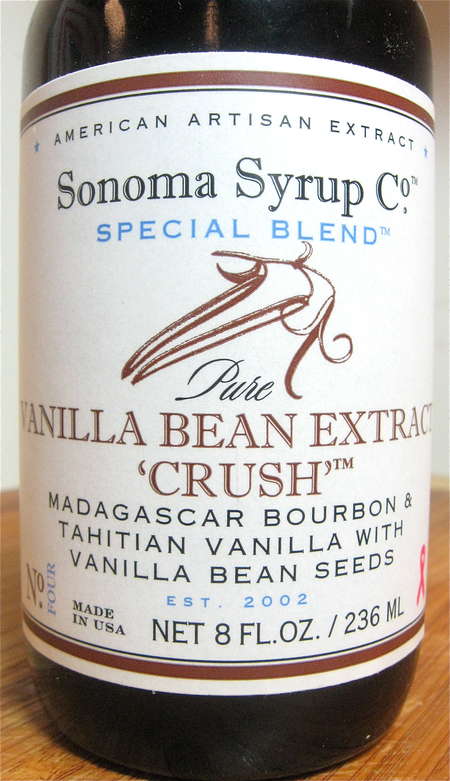 Sonoma Vanilla Crush, vanilla extract laced with vanilla seeds. One whiff of this, and you'll remember just why vanilla is the world's most popular baking flavor. This is the most aromatic vanilla I've ever had the pleasure of using. As "Eve in Idaho" notes in a comment on an earlier blog, "To anyone who uses vanilla extract… throw it out and replace it with Vanilla Bean Crush... I am having an absolutely fabulous experience with it. Won't ever go back to the store version again."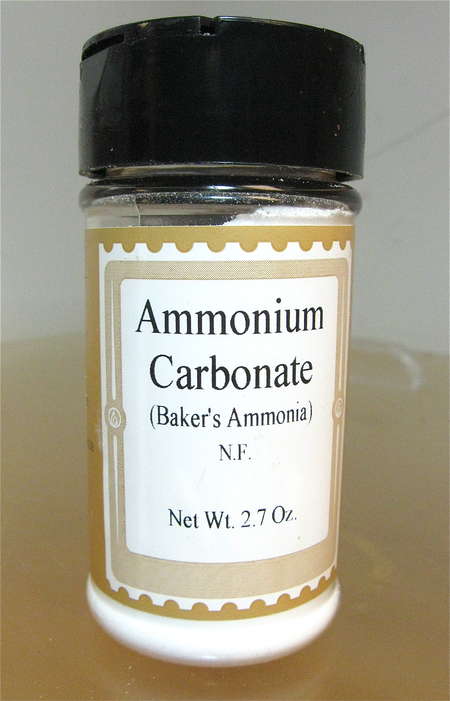 And here's what makes these Vanilla Dreams so ethereally light and crunchy: baker's ammonia, a.k.a. ammonium carbonate. While you can use baking powder in its stead, your cookies won't have quite the light crunch.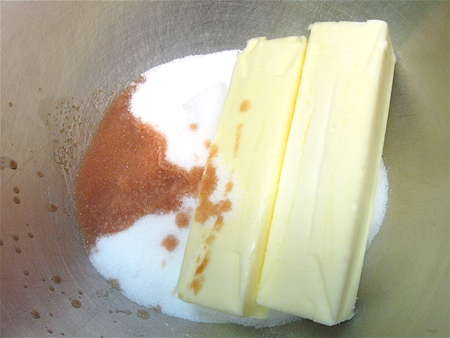 Butter and vanilla take center stage in these simple cookies. Start by combining those two key ingredients with salt, sugar, and baker's ammonia (or baking powder).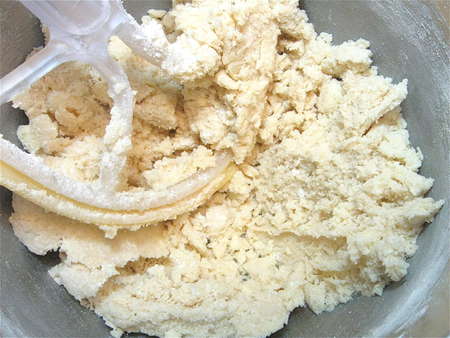 Mix till well combined.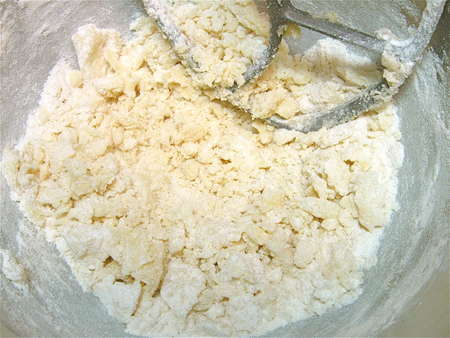 Mix in the flour. The dough will be VERY crumbly at first. Just keep mixing...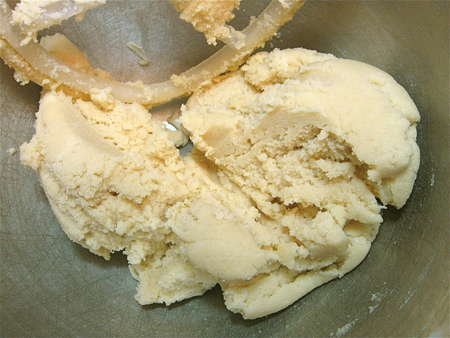 And eventually the dough will come together. It'll be quite stiff.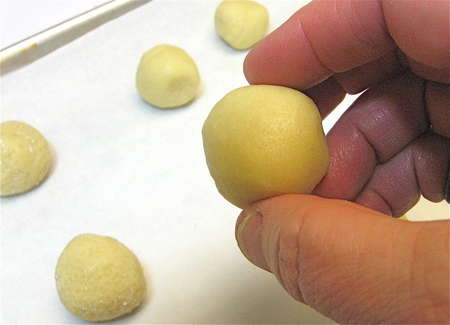 Roll the dough into balls, and roll in granulated sugar or coarse white sparkling sugar, if desired.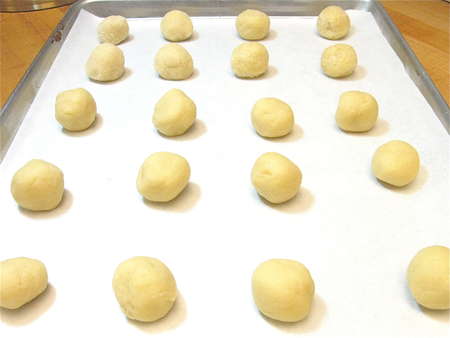 Space evenly on a lightly greased or parchment-lined baking sheet.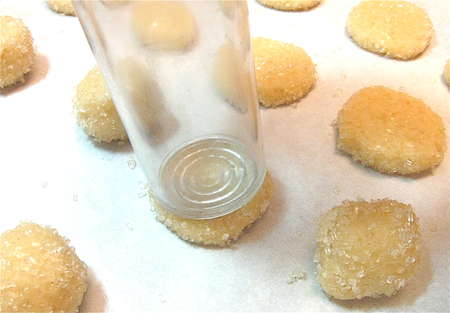 Flatten each ball to about 3/8" thick. As I said, the pusher tool of a food processor makes a good flattener, though the flat bottom of a glass or measuring cup also works well.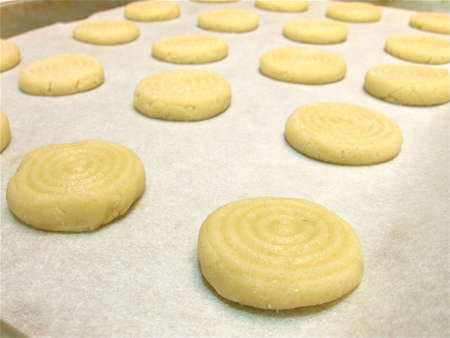 Here they are, ready to bake (sans the sugar coating; I don't use it when I'm going to dip them in chocolate).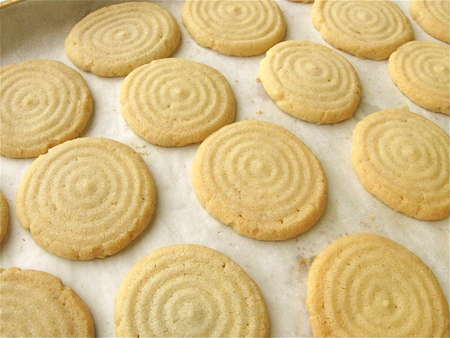 And here they are baked: don't let them get too brown, or they'll be hard.
Now, you can serve them just like this; or take them to the next level.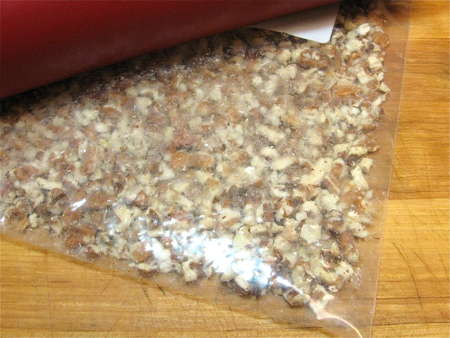 First, crush some nuts. Here I'm using a zip-top bag and rolling pin. Walnuts or pecans (as I use here) are both good choices, as are almonds. Hazelnuts would be fine, too. Peanuts? Well, kind of plebeian, but if you like the chocolate-peanut combo, go for it.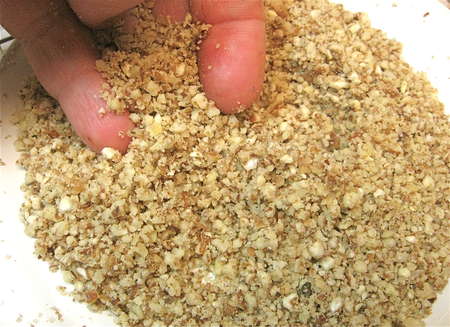 The nuts should be crushed, but not pasty/oily.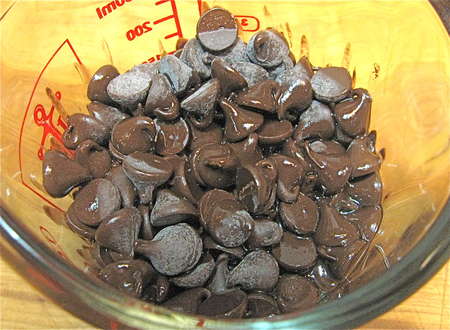 Combine chocolate chips with a bit of vegetable oil and heat in the microwave till the chips are very soft.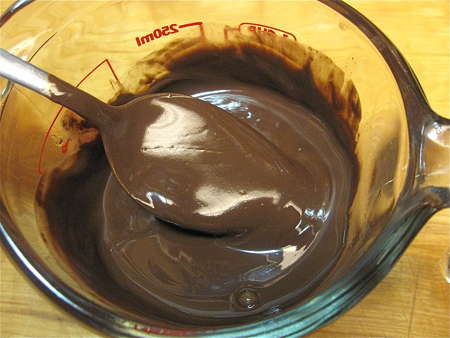 Stir till smooth.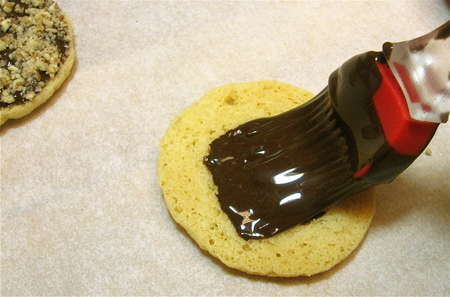 Use a heatproof pastry brush to paint the bottom of each cookie with melted chocolate.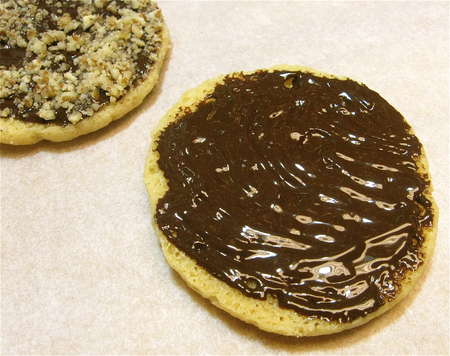 Like this.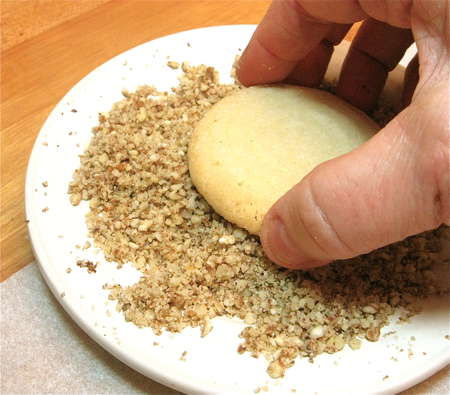 Dip in the nuts, pressing down gently to coat...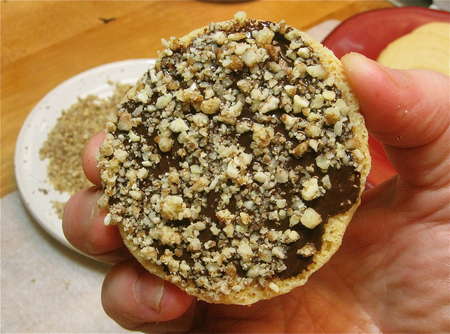 ...like this.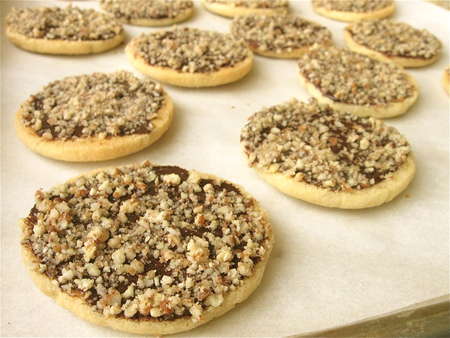 Place chocolate-side-up to set. If you're in a hurry, refrigerate briefly, to set the chocolate.
Jump to Comments