I was sitting and staring at my computer screen yesterday, zoned out, and all of a sudden two words appeared in my head clear as day: garlic knots.
"Garlic knots!" I actually spoke the magic words aloud.
"Garlic knots? What's that?" asked Halley.
Halley, our Web project manager, sits across from me. She keeps me on track when I start to wander towards the far boundaries of Baking World. I might be ruminating dreamily about what would happen if you rolled out dough and sprinkled it with diced onion and rolled it up and sliced it like a cinnamon bun… Wouldn't that be an awesome hamburger roll?
All of a sudden, I'm snapped out of my reverie.
"PJ, where are you on that list of guaranteed recipes?" That's Halley's nice way of saying "Get a move on, girl!"
"Oh, uh, almost done. Really. They'll be done tomorrow, I promise." I fumble my answer like a butter-fingered fullback, and get back to work. Dream time will have to wait.
But garlic knots… well, for whatever reason, they got Halley's attention.
Halley is a budding yeast bread baker. She's worked her way through whole wheat bread, cinnamon bread, sticky buns, and is an expert at white dinner rolls. She asked if garlic knots used the same dough as dinner rolls. I said, yeah, almost…
"So maybe I could make them," she ventured.
"You sure could. They're easy, honest," I reassured her. I explained that you usually find them at pizzerias, but they're simple to make at home. And, like nearly all yeast breads, much, MUCH less expensive.
"Well, why don't you do a blog on them, then?" That's Halley: Woman of Action. And like so many of you, she likes the step-by-step photos.
Uh… yeah, why not?
So, several hours later, this blog post was born. I made the knots. They're incredibly garlicky. I mean, over-the-top, DON'T-breathe-on-me garlicky. Halley took a bite.
"Wow. These are awesome. So… garlicky."
And buttery. And soft. And just plain… awesome.
Why I thought of garlic knots yesterday, I have no clue. Perhaps they were an idea whose time had suddenly come. But without Halley, they would have remained just that: an idea. So, I guess that's what project managers are for, huh? Making dreams come true… within budget, and right on schedule.

I usually grab my King Arthur Flour Unbleached (11.7% protein), but when I'm making soft rolls, I sometimes turn to Pastry Flour Blend instead. At 10.3% protein, it's drifting down towards the pastry flour/Italian flour level. These lower-protein flours are perfect for stuff that doesn't have to rise quite as high as a loaf—e.g., pizza, breadsticks, rolls, etc. Pastry Flour Blend makes a soft, rather than chewy bread.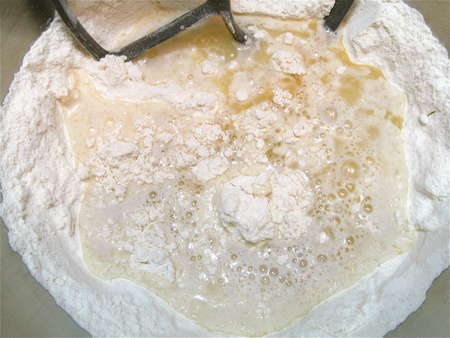 This is what we call a straight dough: no overnight starter involved. Simply combine all of the ingredients...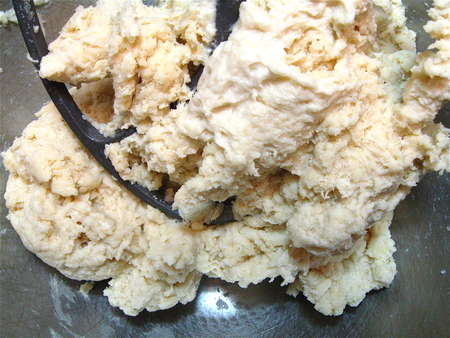 ...and mix till a rough dough forms. At this point, squeeze some in your fingers and see what it feels like. It should be cohesive, but not totally stick-to-the-bowl, gluey/sticky/wet.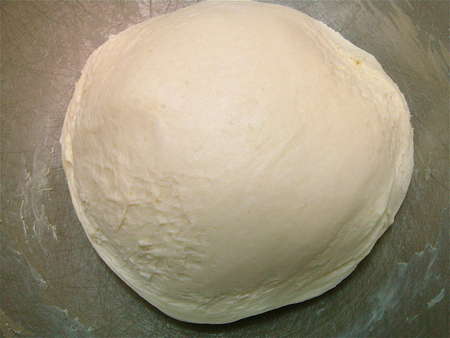 Knead the dough till it's smooth. I used my KitchenAid stand mixer; a bread machine will also do a fine job. If you love kneading by hand, go for it. Your goal is dough that looks like this.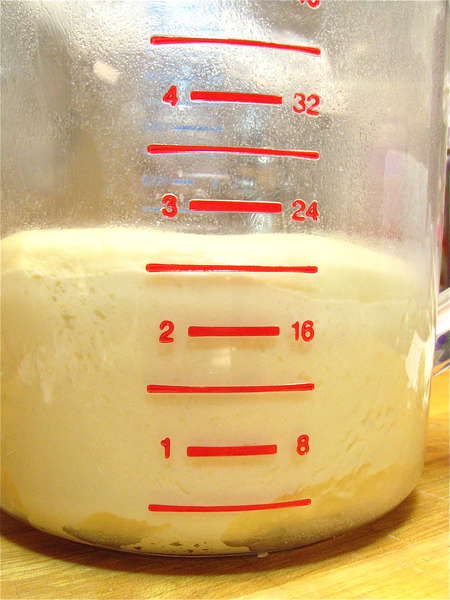 Place it in your favorite dough-rising container...
...and let it rise till it's doubled, or at least very puffy. This took a little over an hour for me, but then, there's a lot of yeast floating around the test kitchen here. If you seldom bake yeast bread, your rising time may be longer.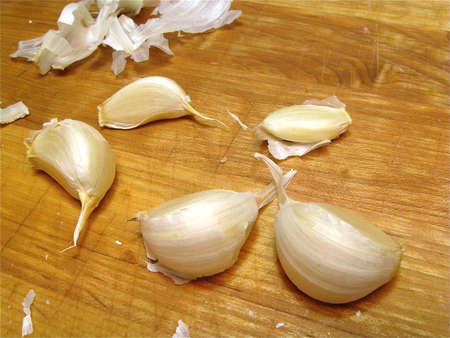 While the dough is rising, prepare the garlic butter. First, separate some cloves. I love garlic, so I use a lot.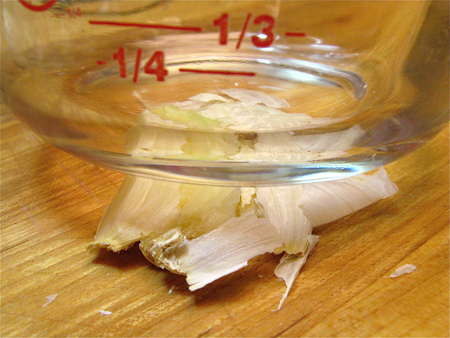 To peel the garlic easily, crush it with the flat side of a knife, the bottom of a measuring cup, or some other strong surface.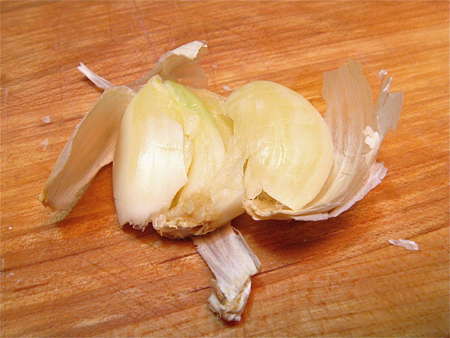 Voilà! Just grab the clove and pick it up; the skin will stay behind.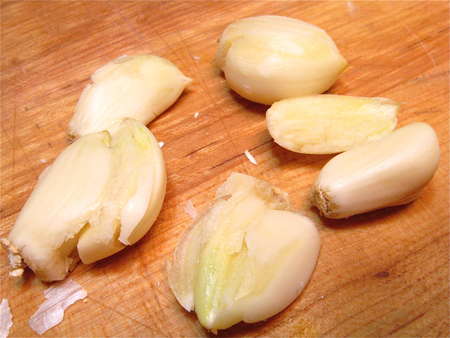 And there you have it: six peeled garlic cloves.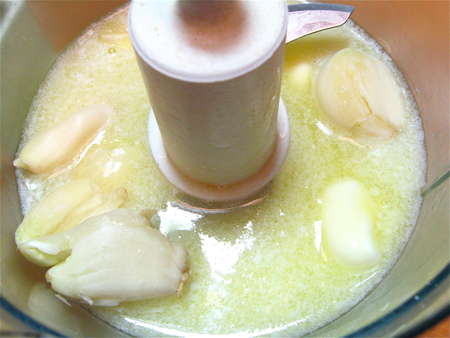 Next you need to chop the garlic. Easiest way: in a mini food processor, with the melted butter. Or with a garlic press or pair of scissors, if you don't have a mini processor.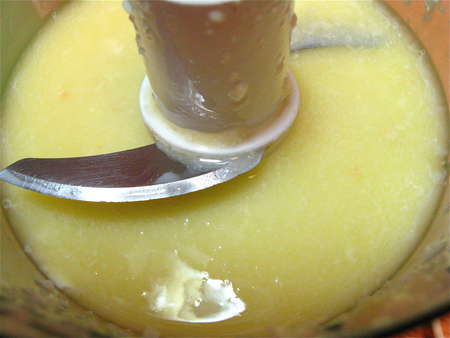 Ah, garlic butter!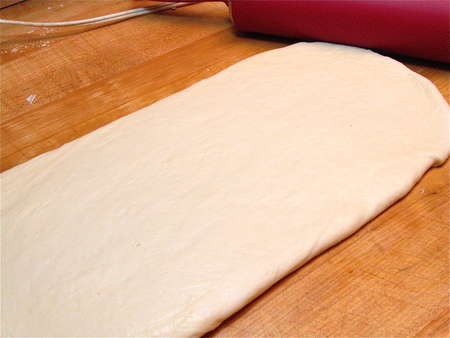 Roll the dough into a 16" strip, about 8" wide.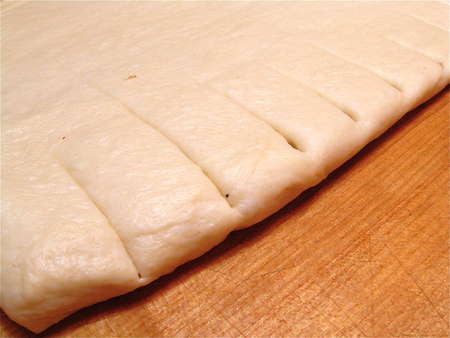 Notch the long side of the dough in 1" intervals.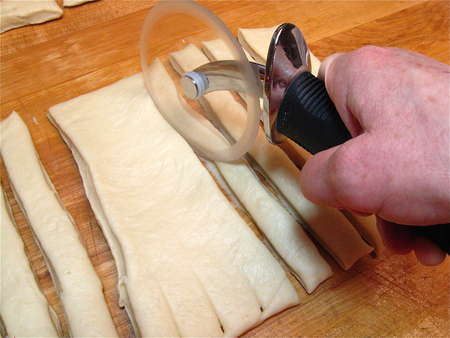 Use a knife, a bench knife, or a rolling pizza wheel to cut the dough into strips.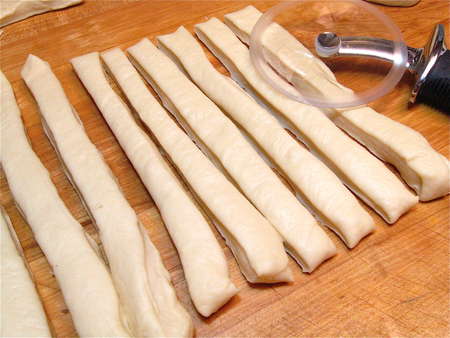 Like this. Isn't this easier than dividing the dough into 16 balls, then having to roll them out?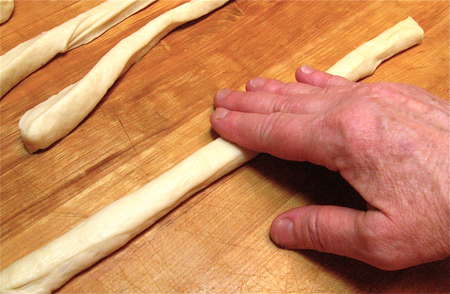 A few gentle back-and-forths under your cupped fingers is all it takes to round off the strips and lengthen them a bit, to about 11". Lower-protein flour doesn't "fight back" like a higher-protein flour would.
Next, tie each strip of dough into a knot. Watch closely now, sports fans..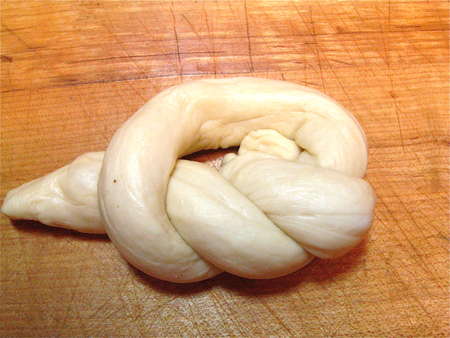 Take the end of the knot that's lying on top (the end on the right in the previous picture), and tuck it underneath and into the center.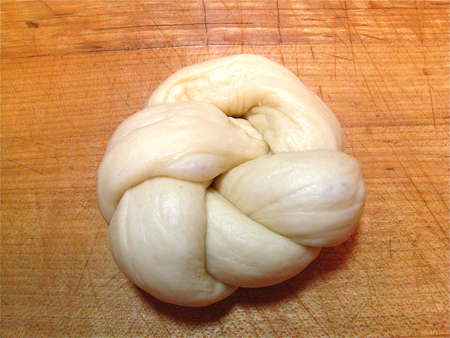 Then take the end that's lying underneath, and bring it over the top, tucking it into the center and squeezing it to the other end.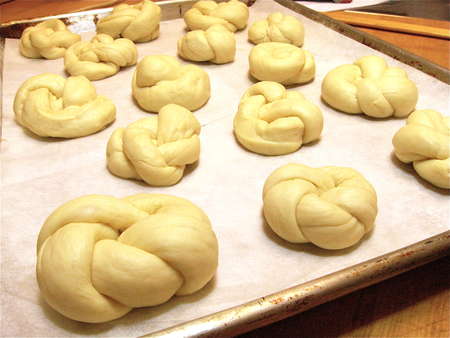 You wouldn't believe how long it took me to figure out this simple knot. I had to resort to asking Susan, my fellow blogger and real live CIA-trained chef, to come show me how to do it. Several times. And then I had to practice. The last few I did were actually pretty good; you can see them in the foreground here. The others are unsuccessfully trying to hide in the background. As I've said MANY times, I simply don't have that Martha Stewart gene.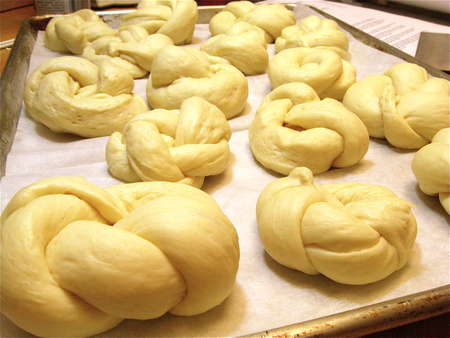 Cover the rolls, and let them rise till they're very puffy, probably another hour or so.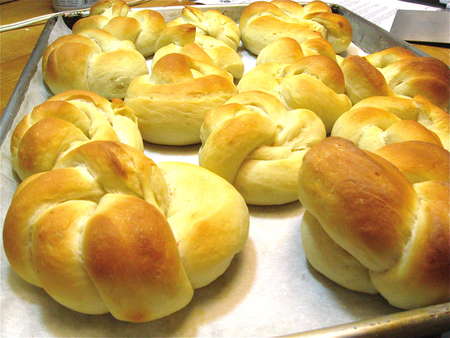 Then bake for about 17 minutes in a 350°F oven. Just till they're light golden brown, and feel set. You don't want these to darken too much; they're supposed to be soft.
Brush with the garlic butter (which you've reheated briefly in the microwave, if it's solidified). Be sure to dredge the chopped garlic up from the bottom.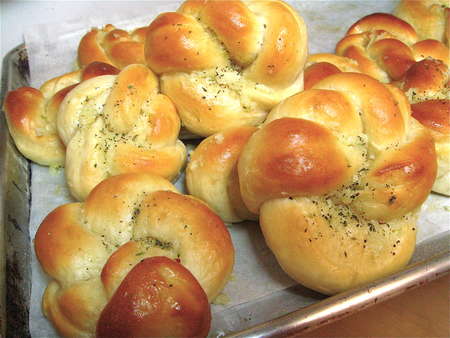 Sprinkle with a little pizza seasoning or Italian seasoning, and there you have it: 16 soft, garlic butter-drenched, luscious garlic knots. I gave half of these to Halley to bring home. She said they disappeared immediately. Hey, Halley—bet I know what YOU'RE baking this weekend!
Read our complete recipe for Soft Garlic Knots.
Jump to Comments