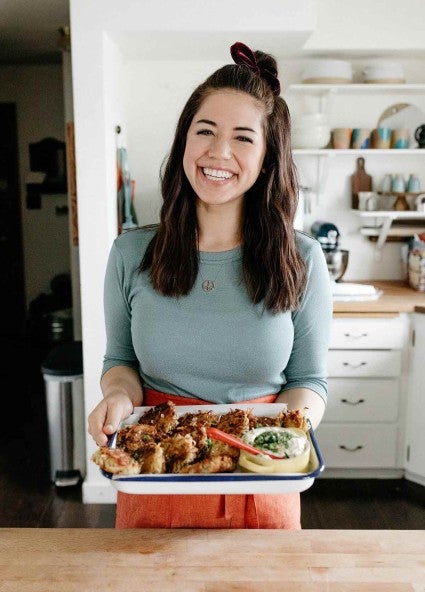 About Molly Yeh
Contributor
Food blogger and best-selling cookbook author Molly Yeh describes herself as being "wildly in love with food." She's the star of Food Network's series Girl Meets Farm. Her memoir, Molly On The Range: Recipes and Stories from an Unlikely Life on a Farm, brought Molly into the spotlight and made bakers and cooks around the country fall in love with her whimsical, down-to-earth approach to being in the kitchen. Her cookbook was selected by the New York Times as one of the fall's top releases of 2016 and was the winner of the International Association of Culinary Professionals (IACP), "Judge's Award." The book was also selected by NPR as one of their "Great Reads of 2016." In March 2018, Molly followed the release with Yogurt by Short Stack Editions, featuring recipes highlighting yogurt in both sweet and savory ways.
She is also the creator of the lifestyle food blog, www.mynameisyeh.com, which has been recognized by Saveur and Yahoo as "Food Blog of the Year." Molly has been featured by the New York Times, Food & Wine, Bon Appetit, and New York Magazine, and has contributed to Vanity Fair, Saveur, Condé Nast Traveler, Food52, and The Jewish Daily Forward. She was named to Forbes' 30 under 30 list for 2017 and Apartment Therapy's 10 under 40 list.
Molly graduated from Juilliard where she studied percussion and has performed with orchestras around the world, in off-Broadway theatre, and as the glockenspielist for the pop-band San Fermin. She lives on a farm on the North Dakota-Minnesota border with her fifth-generation farmer husband, their little flock of chickens, and her children.