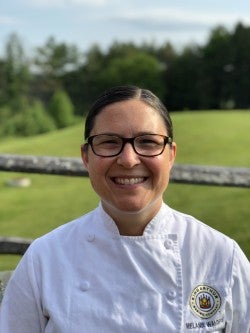 About Melanie Wanders
Employee-owner 2011
An Ohio native, Melanie grew up perched on a stool next to the stove watching in awe as her mother whipped up everything from eclairs to soufflés to serve at her neighborhood's gourmet club. With tape recorder in hand, she'd interview her mom about the process, asking about the ingredients and techniques she was employing to make each recipe. Then, Melanie would head into the kitchen to experiment on her own.  
After working at a country club and organic bakery in high school, Melanie went on to receive her Culinary Arts and Restaurant Management degrees from the Culinary Institute of America in Hyde Park, NY. She interned at Alice Water's Chez Panisse in Berkeley, CA before taking over ganache production at L.A. Burdick Chocolates in Walpole, NH. She gathered experience producing European chocolates and pastries at Stadt-Café Conditorei Wanders in Kleve, Germany before returning to the United States to become a chef instructor and Culinary Program Manager at a cooking school in Durham, NC. Along with her husband, Wilhelm, Melanie opened Chocolaterie Wanders in metropolitan DC producing artisan chocolates and pastries for hotels and boutique shops. 
Melanie joined King Arthur in 2011 as a Customer Support Baker on the Bakers Hotline, eventually becoming a Team Leader in the department. Her entry into the Baking School lead to her to teaching pastry classes as well as writing pastry curriculum. With an eye toward helping students master classic techniques, she developed and taught single and multi-day pastry class offerings to include Pastry Principles, Pie, Cookie, and Chocolate Workshops, Classic European Cakes, and Laminated and French Pastry Intensives. Melanie's love of writing also afforded her the opportunity to contribute to our newest book, The King Arthur Baking School: Lessons and Recipes for Every Baker. 
In her quest to understand the science behind cooking and baking, Melanie joined the test kitchen Research and Development Team, where she currently focuses on ingredient testing and product development. 
Recipes by Melanie Wanders