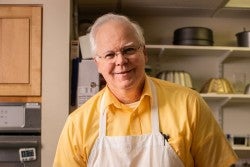 About Frank Tegethoff
Employee-owner since 2001
While pursuing an undergraduate degree in Philosophy at St. Mary's University, San Antonio TX, Frank began cooking for retreats and summer camps, and had the opportunity to spend a couple of years working the counter at the oldest tortilleria in San Antonio (Sanitary Tortilla). After graduation, and a few restaurant gigs later, Frank had learned enough about the instability of working in a hot kitchen and made the big move to the pastry department. Upon completing a two-year apprenticeship in Pastry, Chocolate, and Ice Cream, he joined the Ritz-Carlton Hotel Co. For the next decade he crisscrossed the country either opening or leading the department at hotels in, St. Louis, Naples, San Francisco, Cleveland and Half Moon Bay. 
Frank joined King Arthur as lead pastry chef of our new bakery. Since then, Frank's skills have taken him throughout the company with stints in manufacturing, the Baker's Hotline, travelling across the US with our Baking Demonstrations Team, eventually landing in our test kitchen, and joining the Innovation team. His breadth of knowledge around baking, from the fields where our wheat is grown to troubleshooting specific recipes have made, Frank is the resource for our customers and employee-owners alike. Additionally, over the years Frank has served on the King Arthur ESOP Committee, the DEI team, and is a founding member of PRISM, King Arthur's LGBTQ+ group of queer EOs and allies. 
Frank's favorite flours (it's just too close to call) are our masa harina and self-rising. His favorite King Arthur recipes are Tortilla de Maiz and Crunchy Sugar Cookies.