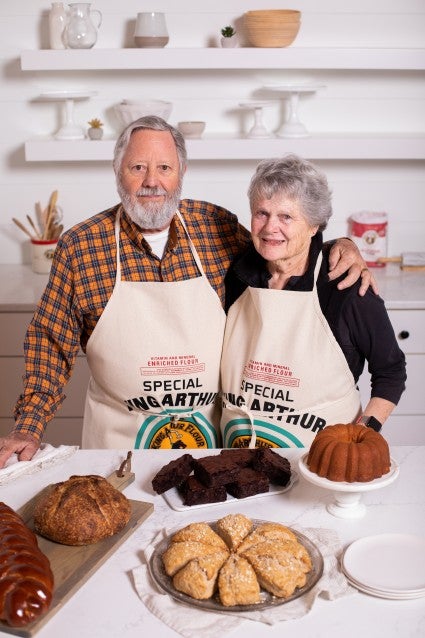 About Brinna Sands
Employee-owner from 1976 to 2006
Brinna Sands is King Arthur's original voice. She and her husband, Frank, were the company's longtime owners, leading King Arthur for decades before eventually selling the company to its employees in 2006. 
The King Arthur Flour 200th Anniversary Cookbook, the company's encyclopedic baking book published in 1990, was both Brinna's brainchild and a real labor of love. She developed, tested, and tweaked every recipe in the book, then linked them all together with a winning combination of science, anecdotes, and tips born of her vast baking experience. 
Aside from her talent as a baker and writer, Brinna had a long-term vision: that King Arthur would transition from a small regional flour company to a worldwide resource for home bakers. Brinna and Frank launched the Baker's Catalogue in 1990, quickly followed by The Baking Sheet, a bi-monthly print newsletter whose subscribers were treated to everything from recipes and tips to travelogues and detailed (yet accessible) articles on baking science. Through it all, Brinna's warm, supportive voice was a constant; she was a true friend in the kitchen. 
During her final years with King Arthur, Brinna guided the creation of the company's flagship campus in Norwich, Vermont, including the store, bakery & café, and Baking School The launch of the school was especially important to her as a longtime devoted educator. Brinna wrapped up her active career at King Arthur by writing parts of The King Arthur Flour Baker's Companion, the cookbook that was honored by the James Beard Foundation as its Cookbook of the Year in 2004.