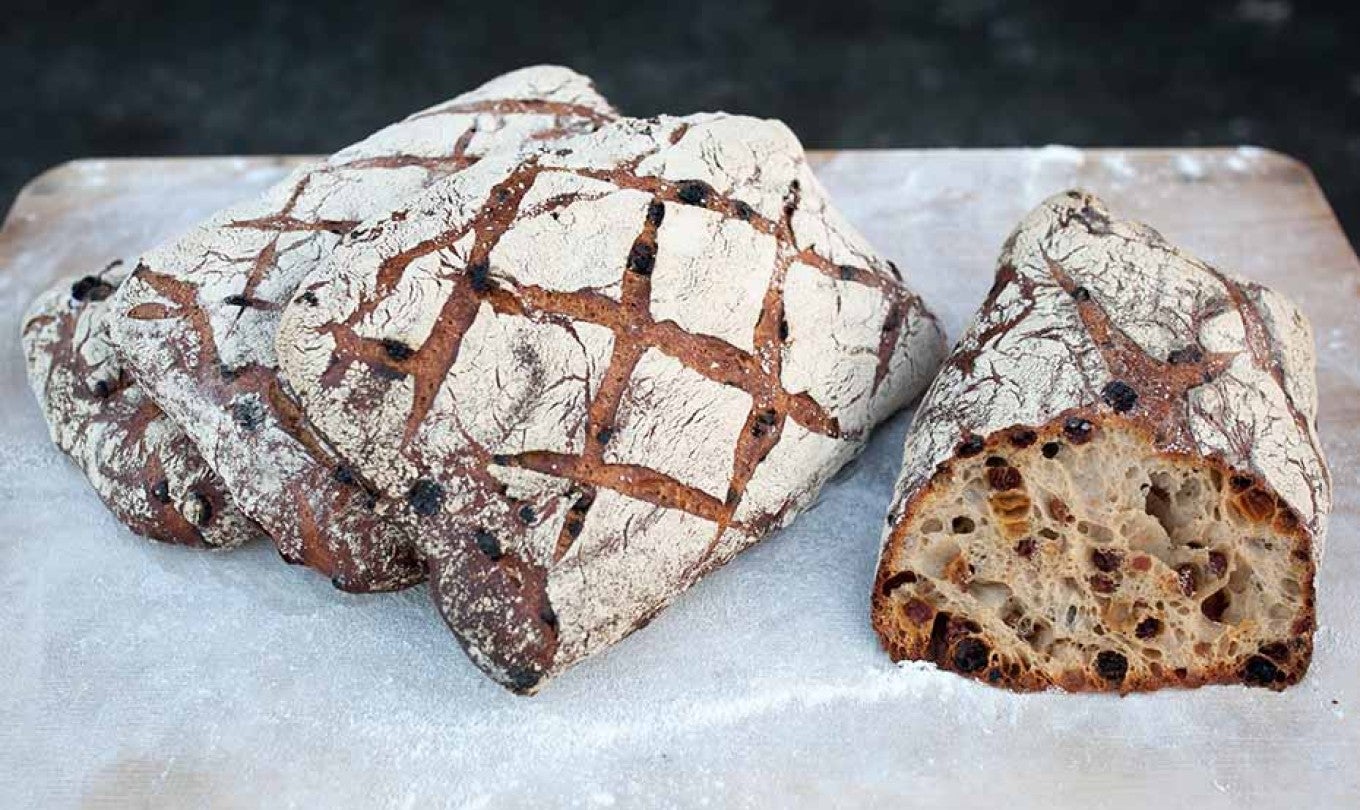 Sprouted Grain Pain Rustique
|   | METRIC | BAKER'S % |
| --- | --- | --- |
| King Arthur Sir Galahad Flour | 2.052kg | 55% |
| King Arthur Sir Lancelot Flour | 0.560kg | 15% |
| King Arthur 100% Sprouted Wheat Flour | 0.858kg | 23% |
| King Arthur Sprouted Ancient Grains | 0.261kg | 7% |
| Water | 2.985kg | 80% |
| Yeast (fresh) | 0.007kg | 0.2% |
| Salt | 0.075kg | 2% |
| Golden and Dark Raisins (soaked) | 1.119kg | 30% |
| White Starter | 0.082kg | 2.2% |
| TOTAL YIELD | 8kg | 214.4% |
LIQUID LEVAIN Mix until smooth with water at 60°F, leave at cool room temperature for 12-15 hours.
MIXING Mix on first speed for 10 minutes.
DESIRED DOUGH TEMPERATURE 73°F-78°F
FIRST FERMENTATION 3 hours 15 minutes.
FOLDING 4 folds first 2 hours, then let rest for 75 minutes.
DIVIDING + SHAPING Divide into 500g pieces, turn our onto a heavily floured table and shape into rectangles in the style of Ciabatta.
PROOFING Place on floured linen, floured side down, 50-60 minutes at room temperature.
SCORING Criss cross on floured side.
BAKING Bake at 480°F for 35-40 minutes.
LIQUID LEVAIN

|   | METRIC | BAKER'S % |
| --- | --- | --- |
| King Arthur Sir Galahad Flour | 0.410kg | 100% |
| Water | 0.410kg | 100% |
| Culture | 0.082kg | 20% |
| TOTAL YIELD | 0.903kg | 220% |
FINAL DOUGH

|   | METRIC |
| --- | --- |
| King Arthur Sir Galahad Flour | 1.642kg |
| King Arthur Sir Lancelot Flour | 0.560kg |
| King Arthur 100% Sprouted Wheat Flour | 0.858kg |
| King Arthur Sprouted Ancient Grains | 0.261kg |
| Water | 2.575kg |
| Yeast (fresh) | 0.007kg |
| Salt | 0.075kg |
| Golden and Dark Raisins (soaked) | 1.119kg |
| White Starter | 0.903kg |
| TOTAL YIELD | 8kg |