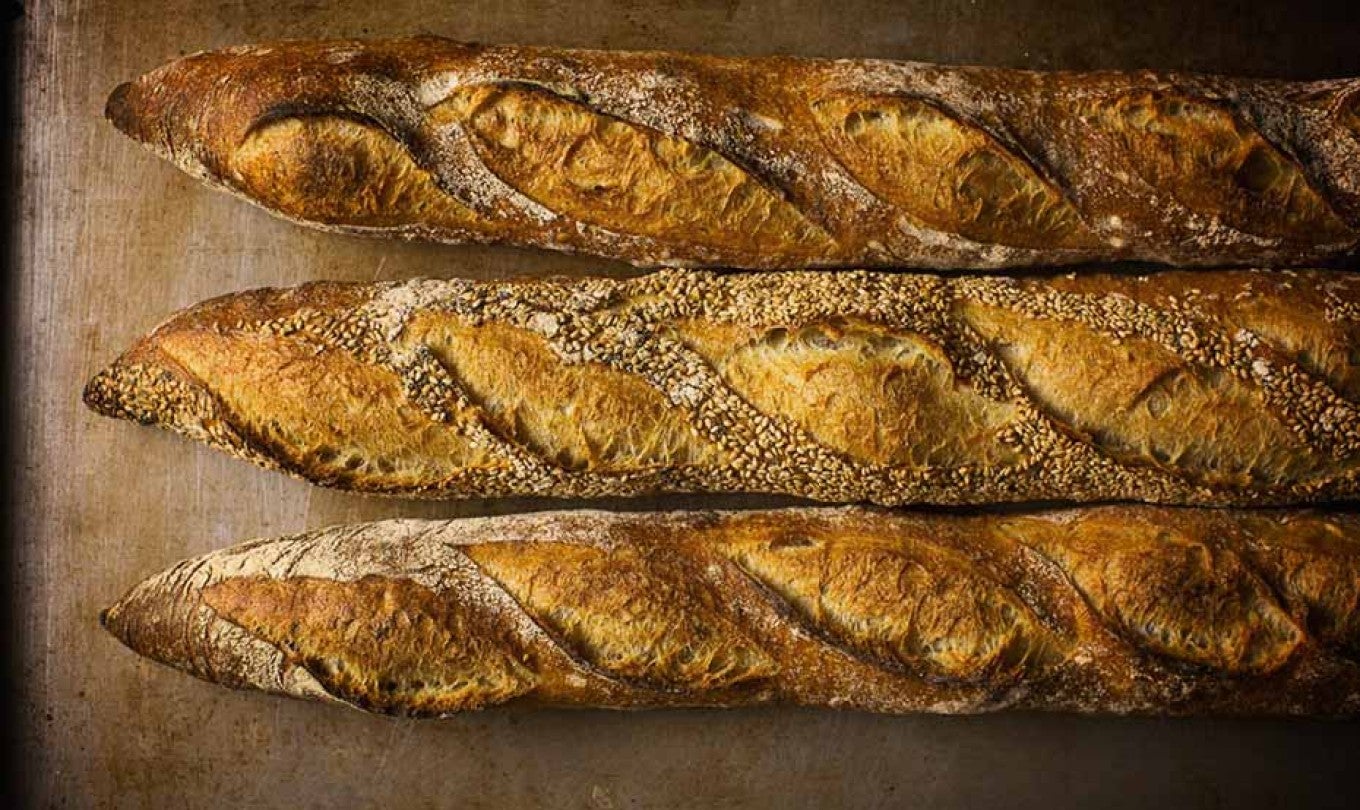 |   | METRIC | BAKER'S % |
| --- | --- | --- |
| King Arthur Sir Galahad Flour | 9kg | 90% |
| High Extraction Flour | 1kg | 10% |
| Water | 7.3kg | 73% |
| Salt | 0.2kg | 2% |
| Yeast | 0.02kg | .2% |
| Starter | 0.333kg | 3.33% |
| TOTAL YIELD | 17.853kg | 178.53% |
Prefermented flour = 15%
LIQUID LEVAIN Mix ingredients until incorporated. Cover and let rest 12-15 hours at room temperature.
FINAL DOUGH Mix 10 minutes in first speed. Mix 6 minutes in second speed.
DESIRED DOUGH TEMPERATURE 75°F
BULK FERMENTATION 3 hours and 15 minutes with three folds at 45 minute intervals.
Divide 450 g and pre-shape in cylinders. Rest 20 minutes. Shape as baguettes. Proof 45-60 minutes.
Bake at 480°F with steam, about 23 minutes.
LIQUID LEVAIN

|   | METRIC | BAKER'S % |
| --- | --- | --- |
| King Arthur Sir Galahad Flour | 1.665kg | 100% |
| Water | 1.665kg | 100% |
| Starter | 0.333kg | 20% |
| TOTAL YIELD | 3.663kg | 220% |
FINAL DOUGH

|   | METRIC |
| --- | --- |
| King Arthur Sir Galahad Flour | 7.335kg |
| High Extraction Flour | 1kg |
| Water | 5.635kg |
| Salt | 0.2kg |
| Yeast | 0.02kg |
| Liquid Levain | 3.663kg |
| TOTAL YIELD | 17.853kg |