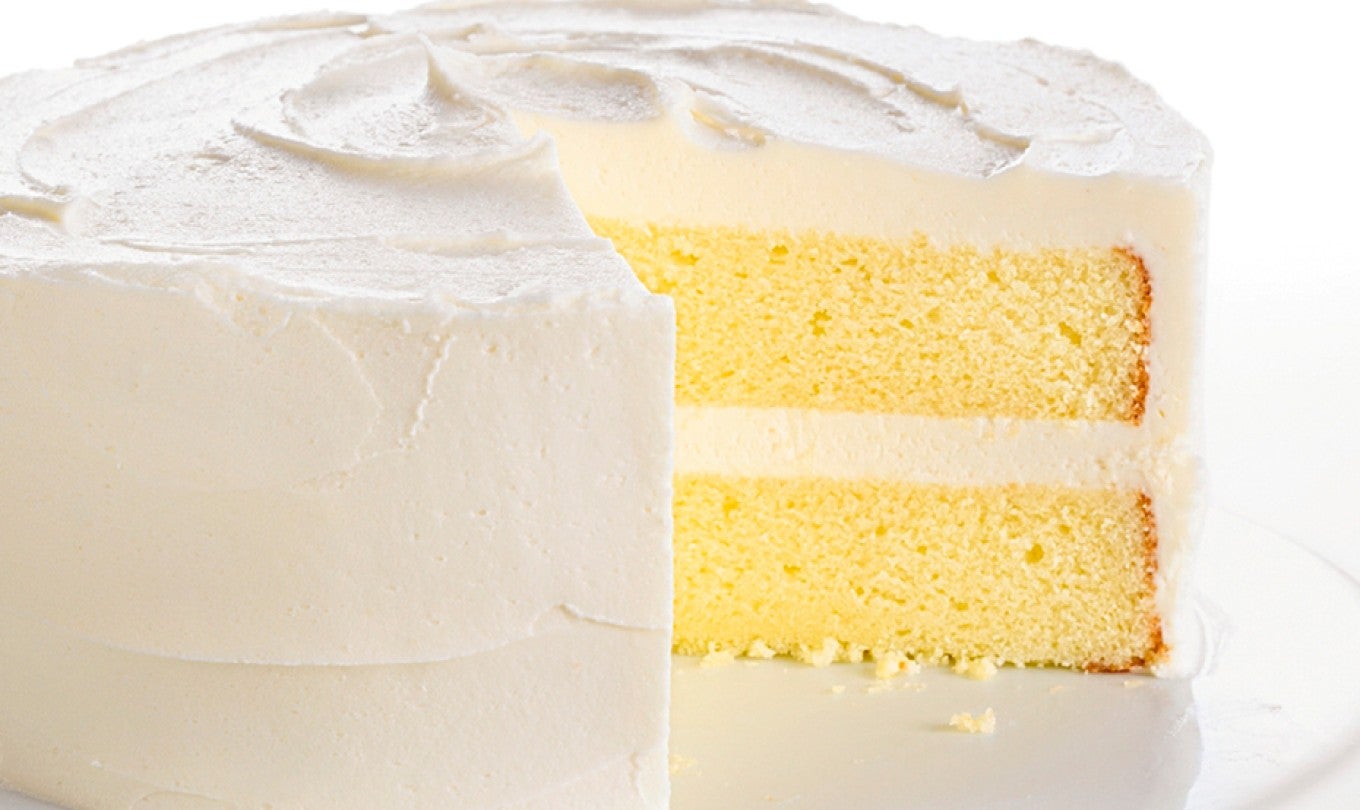 The perfect cake, period. Pair your favorite frosting or filling with this tender, moist golden cake. Ideal for cupcakes, sheet cakes, or classic layer cakes.
YOU'LL NEED
OUNCES
GRAMS
BAKER'S %
 
1 LB 6 OZ OF MIX
5 LBS OF MIX
25 LBS OF MIX
50 LBS OF MIX
2 cups King Arthur Flour Gluten-Free
Yellow Cake Mix
11
312
100
 
1 lb, 6 oz
5 lbs
25 lbs
50 lbs
1/4 cup butter, soft
2
57
18
 
4 oz
14 oz
4 lbs, 8 oz
9 lbs
1 tablespoon vegetable oil
0.875
25
8
 
1.75 oz
6.4 oz
2 lbs
4 lbs
2 large eggs
3.5
100
32
 
7 oz
1 lb, 10 oz
8 lbs
16 lbs
1/3 cup milk
2.7
76
24
 
5.4 oz
1 lb, 3 oz
6 lbs
12 lbs
Directions
1. Preheat oven to 350°F. Grease bottoms (but not sides) of pan(s); or cupcake papers in muffin pan(s).
2. Use an electric mixer to beat butter and oil together, then blend in half the mix. Using lowest speed, add eggs one at a time, mixing until blended. Continuing to use lowest speed, add 1/2 of the milk at a time, alternating with 1/2 of the dry mix. Mix just until smooth.
3. Bake layers for 30-35 minutes, 9" x 13" cake for 28-32 minutes, or cupcakes for 20-25 minutes.
4. Cool in pan for 10 minutes, then turn out onto rack to cool completely.
Yields
11 ounces of mix bakes one 8"-9" round pan or 12cupcakes
1 lb, 6 oz of mix bakes one 9" x 13" pan or 2 dozen cupcakes
5 pounds of mix bakes seven to eight 8"-9" round pans or 7-8 dozen cupcakes
25 pounds of mix bakes thirty-five to thirty-six 8"-9" round pans or 35-36 dozen cupcakes
50 pounds of mix bakes seventy to seventy-two 8"-9" round pans or 70-72 dozen cupcakes
Tips from our Bakers
To make non-dairy: Use vegan buttery sticks and rice, soy, or almond milk.
After each addition of ingredients, beat on low or medium low speed, just until the ingredients are thoroughly combined; there's no need to beat lots of air into this cake. Overbeating can make the cake over-rise while baking and then fall while cooling.
The cake has to bake past the point that a toothpick comes out clean—it has to feel firm in the middle and be golden brown. It is helpful to have a thermometer to check that the internal temperature is really 212°F.
For a Bundt-style cake, prepare as directed, using your favorite 10 cup capacity pan. Bake for 45-48 minutes (an instant read thermometer should read about 205°F). Cool in the pan for 10 minutes before turning out onto to rack to cool completely.
King Arthur Flour recommends the GFCO's Certified Gluten-Free Food Service Training and Management program for professional gluten-free baking instruction. For more information, please visit GFFoodService.org.