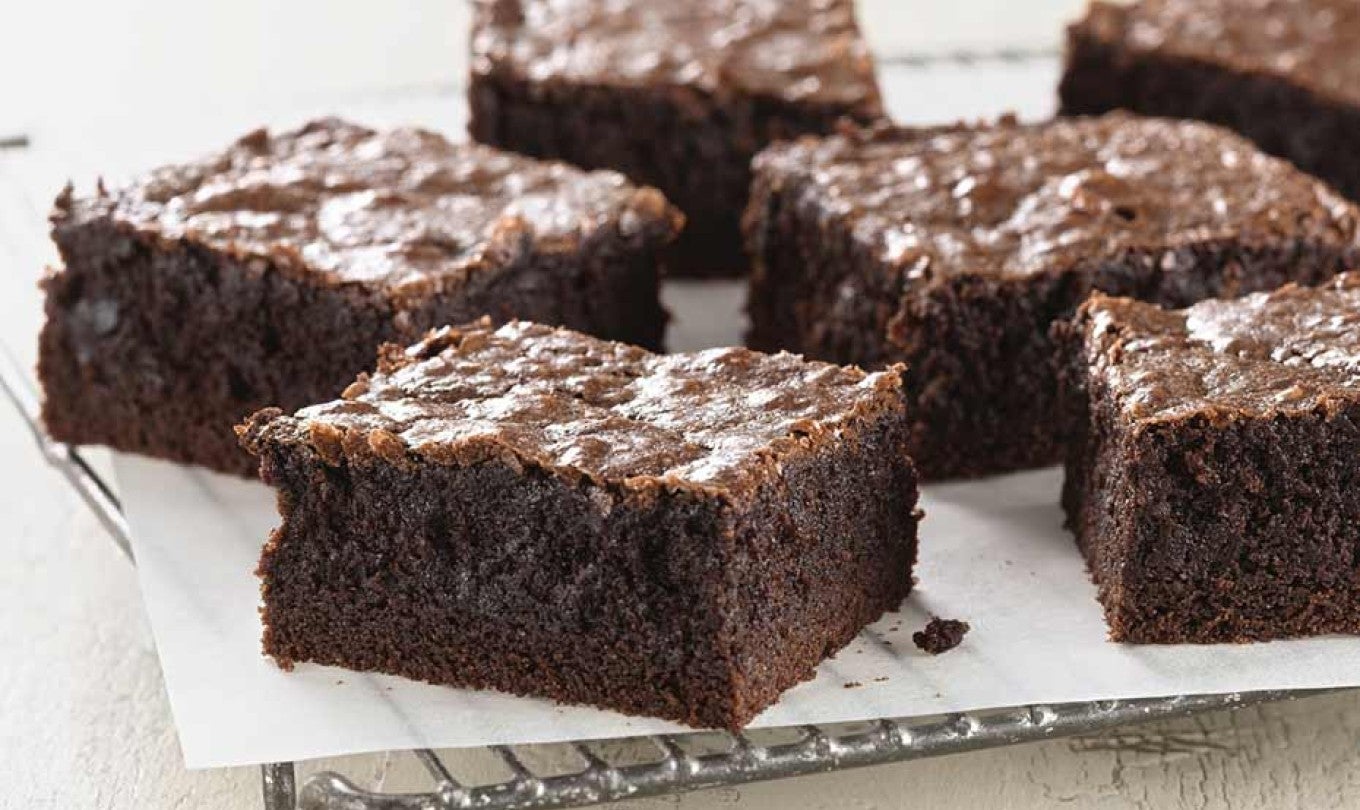 Indulge in rich, decadent chocolate bliss. Our mix makes the ultimate brownie, fudgy and intense with exceptional flavor, that will please every chocolate lover.
We've worked hard to ensure that brownies made from our mix will stay fresher longer than brownies made from other mixes.
YOU'LL NEED
OUNCES
GRAMS
BAKER'S %
 
2 LBS, 11 OZ OF MIX
5 LBS OF MIX
25 LBS OF MIX
50 LBS OF MIX
2 3/4 cups King Arthur Flour
Gluten-Free Brownie Mix
17
482
100
 
2 lbs, 11 oz
5 lbs
25 lbs
50 lbs
1/2 cup butter, melted /
1/2 cup vegetable oil
4 / 3.5
113 / 99
23.5 / 20.6
 
10 oz / 9 oz
1 lb, 3 oz / 1 lb
5 lbs, 14 oz /
5 lbs, 2 oz
11 lbs, 12 oz /
10 lbs, 5 oz
2 tablespoons water
1
28
5.9
 
2.5 oz
5 oz
1 lb, 8 oz
2 lbs, 15 oz
2 large eggs*
3.5
100
20.7
 
9 oz
1 lb, 1 oz
5 lbs, 3 oz
10 lbs, 6 oz
Directions
Preheat oven to 350°F (325°F if using glass or dark metal pan(s)). Grease pan(s) or line with parchment.
Whisk together butter or oil, water, and eggs. Add mix and stir until well combined.
Spread batter evenly in prepared pan(s).
Bake for 35-40 minutes, until set for 8" square, 9" round, and half-sheet pan (add 5 minutes for glass pan). A cake tester inserted into center will come out with a few moist crumbs clinging to it.
Remove from oven and let cool at least 15 minutes before cutting.
We do not recommend using egg substitutes with this mix.
Yields
17 ounces of mix bakes one 8" square or 9" round pan
2 pounds, 11 ounces of mix bakes 1 half-sheet-pan
5 pounds of mix bakes four to five 8" square or 9" round pans or 2 half-sheet pans
25 pounds of mix bakes twenty-one to twenty-three 8" square or 9" round pans or 9 half-sheet-pans
50 pounds of mix bakes forty-five to forty-six 8" square or 9" round pans or 18 half-sheet pans
Tips from our Bakers
To make more cake-like brownies: If you prefer a less fudgy brownie, substitute 10 tablespoons melted butter + 3 large eggs for the butter or oil, water, and eggs called for. Mix and bake as directed.
Tips for success with your gluten-free brownie mix: Baking times can vary considerably, depending on the pan used.

In darker pans, including our corrugated King Arthur Flour/USA pans, bake for 30 to 35 minutes.
In lighter-colored pans, bake for 35 to 40 minutes.
For glass pans, decrease the oven temperature to 325°F, and bake for 40 to 45 minutes.

When done, the brownies' internal temperature should register 214°F to 218°F on an instant-read thermometer. A toothpick inserted in the center may come out with a few moist crumbs clinging to it; it doesn't have to be absolutely clean.
King Arthur Flour recommends the GFCO's Certified Gluten-Free Food Service Training and Management program for professional gluten-free baking instruction. For more information, please visit GFFoodService.org.