For stollen everyone wants, add chocolate
Forging new territory with holiday traditions.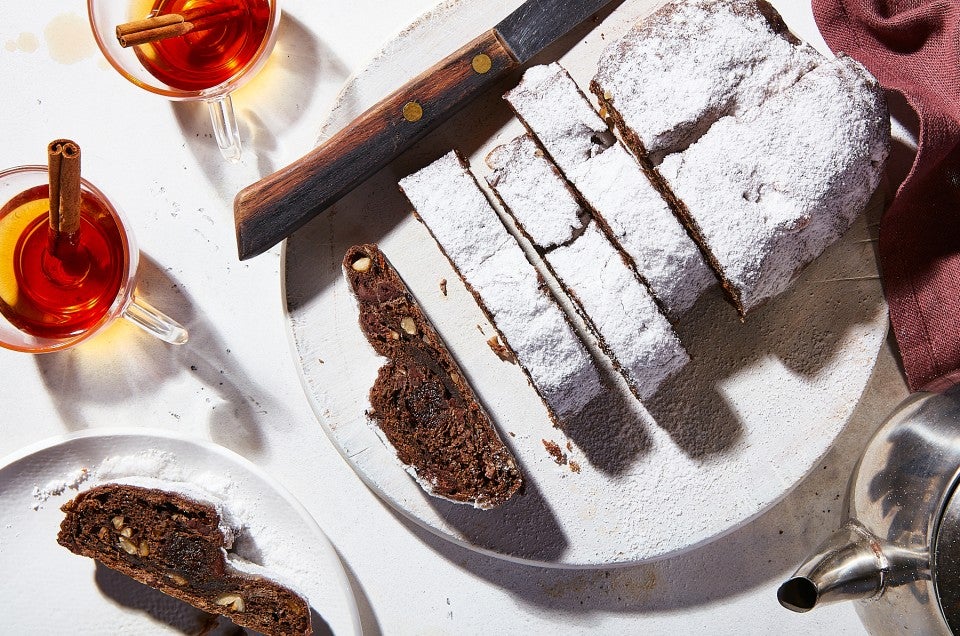 From holiday favorites to weekly bakes, my calendar year ticks to a cadence of carbohydrates. Black-eyed peas and cornbread ring in the new year. Apple turnovers and galettes announce fall. Banana cream pie means I'm getting older. At my house, you can see more through an oven's window than baked goods. Looking inside, the day, date, and time of year can be told in meals, celebrations, and baking traditions.  
But sometimes the bakes that define these moments begin to feel a little stale, like Grandma's stuffing or plain sugar cookies. I'm thinking about this because, after 15 years of making traditional German stollen for the holidays, I need a change.  
Not that there's anything wrong with candied citrus, raisins, and almond paste in a buttery dough. I'd go as far as to declare stollen my favorite holiday bread. When made with care it's a celebration of tender crumb, warm seasonal spices, and rum-soaked add-ins. (If stollen conjures images of stodgy packaged loaves that arrive on market shelves just as Halloween candy exits, trust me that I'm talking about something entirely different.). But even as much as I look forward to it, this year, I need a little fresh air. 
Change doesn't always come easily to bakers or eaters. People want their favorites. If Bennison's Bakery took a year off from making paczki, Chicagoans would run Jory Downer out of town; if my middle child doesn't get cinnamon rolls for her birthday, the earth might stop turning.  
Embracing change
But sometimes we need things to evolve. Small changes can renew our commitment to traditions, breathing new life — or in some cases, offering CPR — to familiar favorites.  
A good example of this is renowned baker Roy Swartzapel and his panettone. Roy is famous for making panettone that both honors tradition and also innovates. Roy treats panettone (a naturally leavened bread rich with butter and eggs) with flavors, inclusions, and methods that celebrate an evolving tradition. Varieties formerly limited to candied fruit and nuts have grown to include a dried raspberry, white chocolate, and pistachio loaf, and a version with pumpkin, maple syrup, and pecans; as they say about Japanese kaiseki, "one eye to tradition, one eye to innovation." 
Stollen with a chocolate upgrade
But what about that stollen? Those of you who've followed our #BakeoftheWeek recipes know that I'm bending everything toward chocolate these days. I wrote about my chocolate version of our Japanese milk bread and included tips and suggestions for making many doughs chocolate. So, with one eye looking at the traditional form and flavors of stollen, and the other thinking about how I might mix it up, I started planning.
To keep this holiday bread a true stollen, I needed to retain some of the traditional characteristics: the shape, nut-paste filling, classic butter and sugar crust, and decadent levels of inclusions. Without these, it wouldn't be stollen. 
But even leaving those things unchanged, stollen offers ample room for modifications. I wanted to move away from the stodgier versions so to lighten the dough and crumb,  I switched to a brioche-style mixing method, adding the butter after the base dough was developed. This change improved dough strength, enabling a higher rise and more open, tender crumb.
For flavor, I tested versions ranging from dried strawberry with pistachio and white chocolate to a gingersnap loaf studded with candied ginger, but eventually decided on chocolate and roasted hazelnuts infused with orange zest and filled with homemade chocolate-hazelnut paste. 
For me, this version hits all the notes. The richness of chocolate with the nutty crunch of hazelnuts, the decadence of the chocolate-hazelnut paste filling, and the sugared crust which propels it from basic holiday bread all the way to a confection worth gifting. Even after weeks of test bakes and multiple iterations, I still look forward to filling the entire house with the aroma of citrus and toasted hazelnuts. And I'm excited to wrap, label, and distribute them to friends and family, too. The balance that I'm looking for — the dance between honoring what's come before me and forging new traditions — continues to evolve. Can we add a kale salad to the holiday meal? Can we make our pie crust with non-dairy butter this year? Can we use a good sourdough loaf for stuffing bread?  
Standing back just a little, watching my kids enjoy a slice of chocolate-hazelnut stollen with a cup of tea, reminds me where the center is. The meal, the cookies, what I see in the oven, and yes, even the stollen is in flux. The tradition that carries the memories, that honors the moment, that truly marks time, is the gathering itself. So let's pause, however briefly, take a bite, and enjoy it. 
Cover photo by Rick Holbrook
Jump to Comments