We're excited to welcome writer and baker Pooja Makhijani back to the King Arthur blog. Below, she writes about the deep roots of South Asian naan and shares how to make this classic flatbread at home. 
* * *
Flatbreads are an important staple in South Asian cuisine. One of the most familiar South Asian flatbreads are naan, which are leavened and typically made of maida, a refined wheat flour.
The origins of this popular bread are contested, but most food historians agree that naan, which means "bread" in Persian, has Central Asian roots and were introduced to South Asia through trade and conquest. (Which means you shouldn't be redundant and call them "naan bread"!) Naan were popularized by the subcontinent's Moghul rulers in the 16th century; naan and keema (minced meat) or kebab (grilled meat) were a favorite breakfast in Delhi's imperial court. 
Possibly owing to their royal associations, naan are not eaten regularly in South Asian homes. Naan are special, rare — even celebratory. (Unleavened, whole wheat skillet breads, such as roti and chapati, are more representative of the South Asian hearth.) Unlike these more everyday staples, naan are leavened, traditionally with wild yeast. Naan are also cooked in a tandoor, a large clay oven layered with glowing charcoal that reaches extremely high temperatures. While skewers of meat, poultry, or fish broil inside the tandoor, teardrop-shaped naan are stuck to its walls to bake. 
Making naan at home 
I've made naan at home dozens of times and, during the pandemic, I shared an early iteration of this recipe in a virtual "naan-along" baking session with friends. It was a fun opportunity for me to share my recipe with others, some of whom who had their own recipes and others who had never made naan before. Most participants were pleasantly surprised as to how easy these are to make.
Yes, purists will balk — are these really naan if they're not made in a tandoor? — but I think these naan are as close to restaurant-quality as is possible in the home kitchen. The bread flour gives the naan "chew"; the yogurt imparts a slight tang; and the use of a cast iron pan gives the bread its distinctive char and smokiness. (Cast iron pans get very hot, plus they retain heat much better than stainless steel or nonstick skillets, making them the ideal stand-in for the tandoor.) 
These flatbread have a crisp exterior and a pillowy core, and are best paired with rich, aromatic grilled meats and curries, such as saag seekh kebab, skewers of ground lamb with spinach and spices, or malai kofta, deep-fried paneer dumplings cooked in creamy, tomato-based gravy. 
Tips for homemade naan
While making naan, it's best to use your hands to stretch the dough into round, oblong, or teardrop shapes. As with pizza crust, a rolling pin will push out all the gas and leave you with a flat, thick, tough bread. Meanwhile, the higher-protein bread flour creates a strong dough that makes it easier to shape without tearing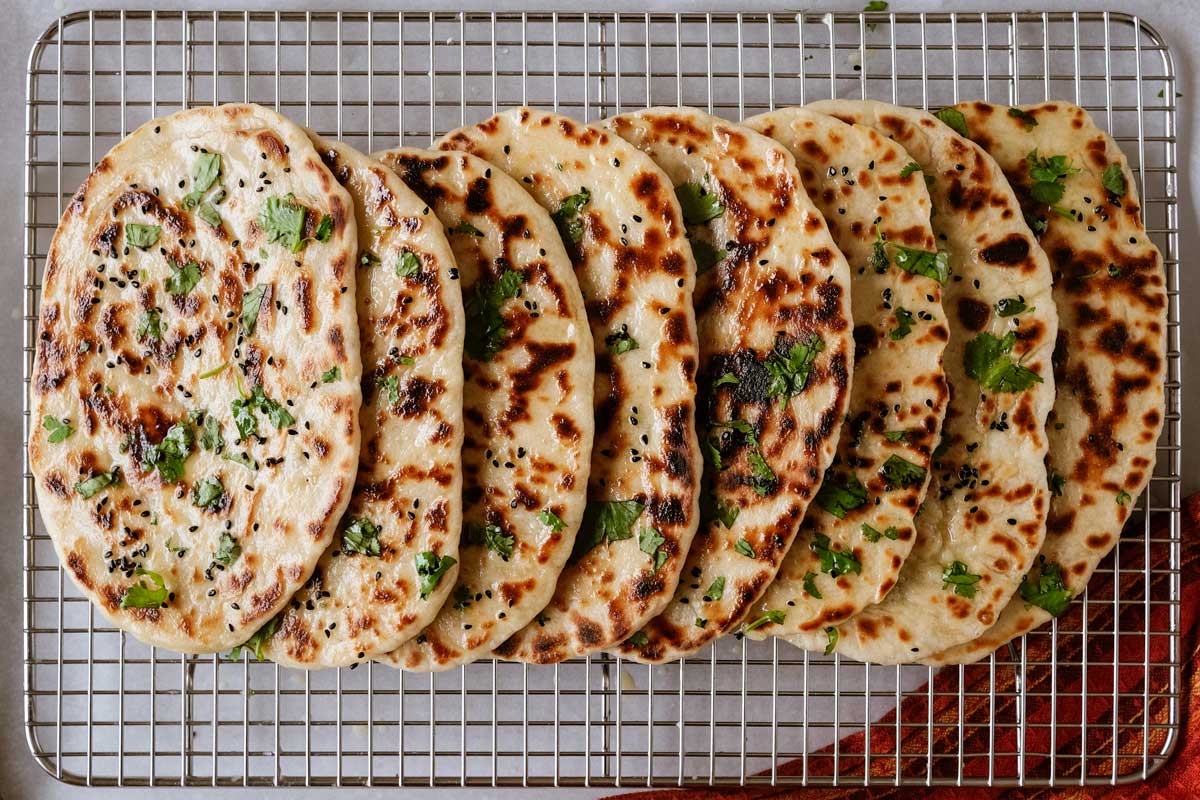 A tip on when to flip while cooking: When small, airy bubbles appear all over the surface, flip the naan over. Cook on the other side until the bubbles are charred. Then, flip it back over and cook until there are no doughy bits remaining. 
And finally, use ghee instead of butter, if possible, as this clarified butter imparts an unmistakable nuttiness to the bread. You can buy ghee, but it's simple to make it yourself at home. 
How to make ghee
To make ghee, melt 16 tablespoons (227g) unsalted butter in a heavy-bottomed saucepan over medium heat. As the butter begins to release moisture, a thin layer of white foam will form on its edges, and the butter will begin to cackle. Allow it to simmer until the cackling sound stops and the foam subsides, about 10 minutes; this means the butter is all milk solids (and no moisture).
Now watch carefully: As soon as the solids turn brown — within a few minutes — turn off the heat and allow the brown residue to settle. When the ghee is cool to the touch, strain the clear liquid through cheesecloth into a jar.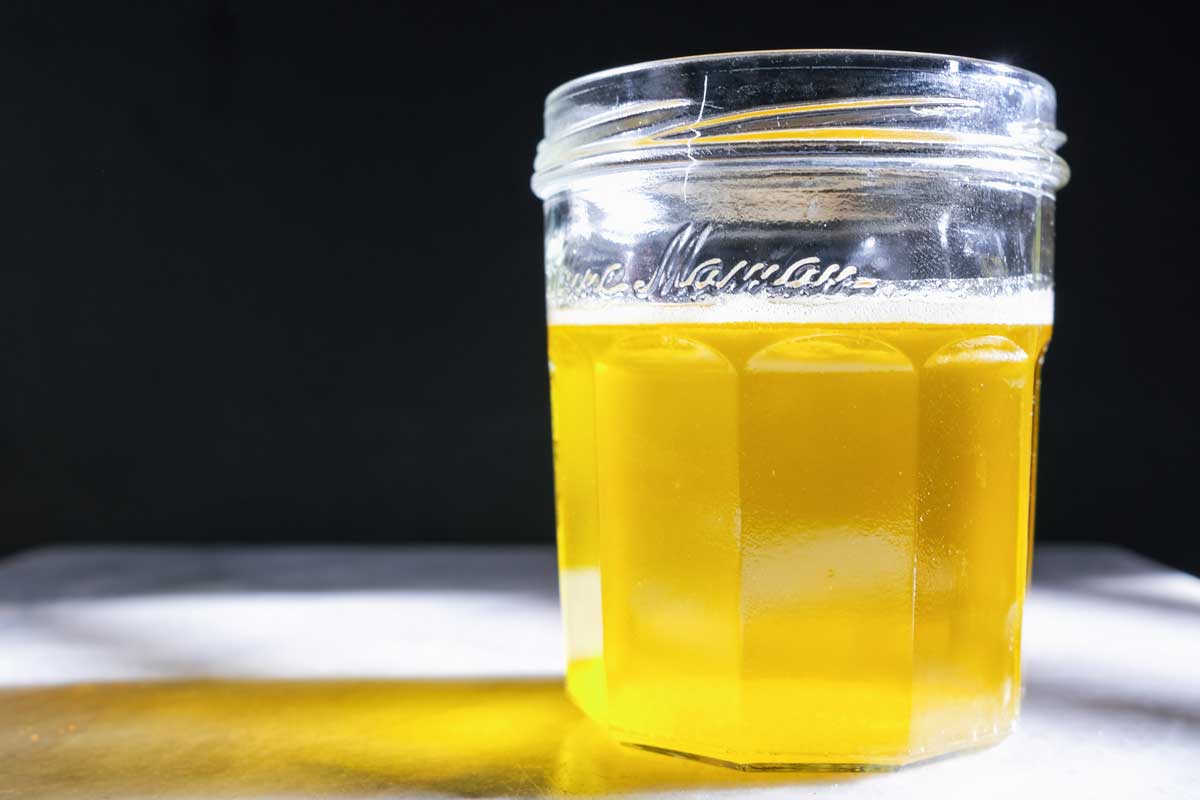 Once the ghee has cooled completely, cover the jar tightly. Ghee can be stored in the refrigerator for up to four months. 
The wide, wonderful world of naan
While ghee naan and garlic naan are well-known, there are many other varieties of naan. Naan can be sprinkled with nigella, poppy, or anise seeds, or brushed with tomato sauce or even saffron milk. Garlic naan are my absolute favorite; Peshawari naan, which are sweet and filled with desiccated coconut, sultanas or raisins, and almonds, are a close second.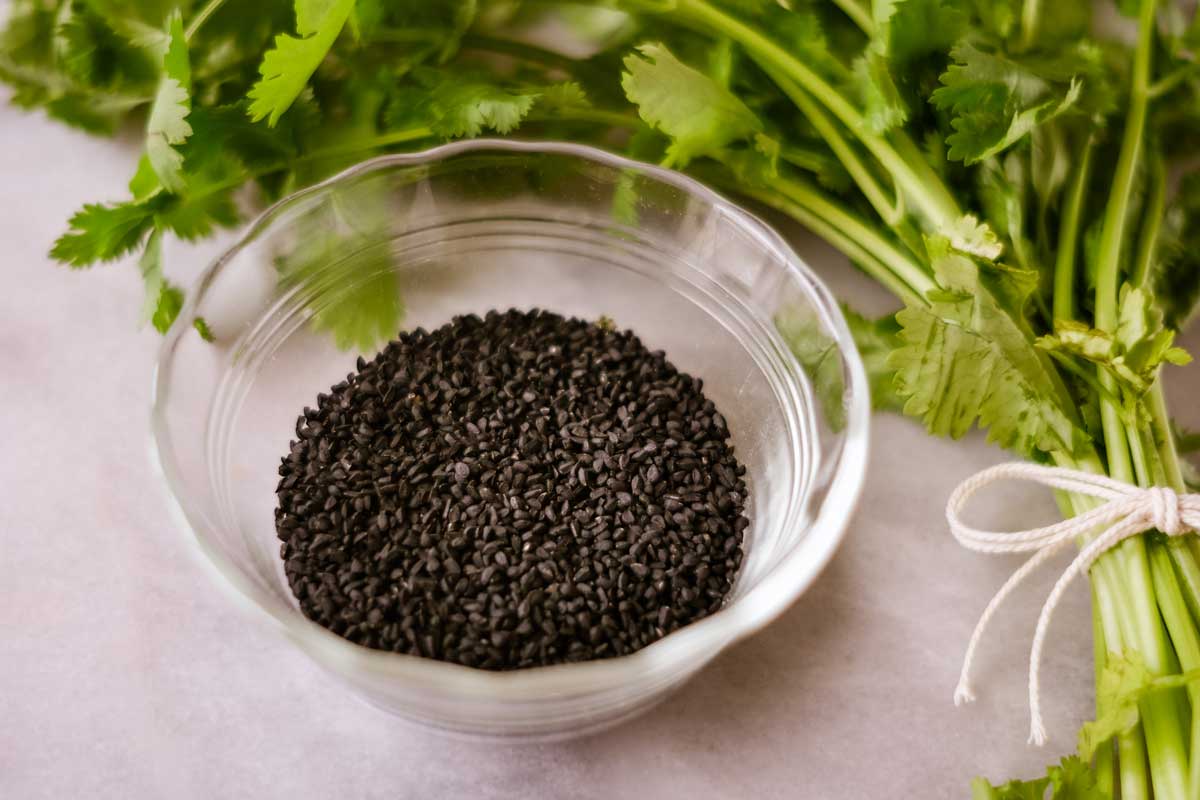 To make garlic naan: Mince 5 to 6 cloves of garlic, and sprinkle a teaspoon on each rolled-out dough circle, pressing it in firmly before cooking as directed.
To make Peshawari naan: Finely chop together, by hand or in a food processor: 1/4 cup (36g) almonds, 3/4 cup (112g) raisins, and 1/2 cup (43g) unsweetened dessicated coconut. Stretch each ball into a 5" round. Place 2 tablespoons of the almond-raisin-coconut filling onto the center of each round. Pull the dough over the filling, pinching the two opposite edges together tightly to seal. Gently roll or hand-stretch each ball into a 6" to 8" round before cooking as directed. Brush naan with melted ghee or butter and sprinkle with sesame seeds, if desired.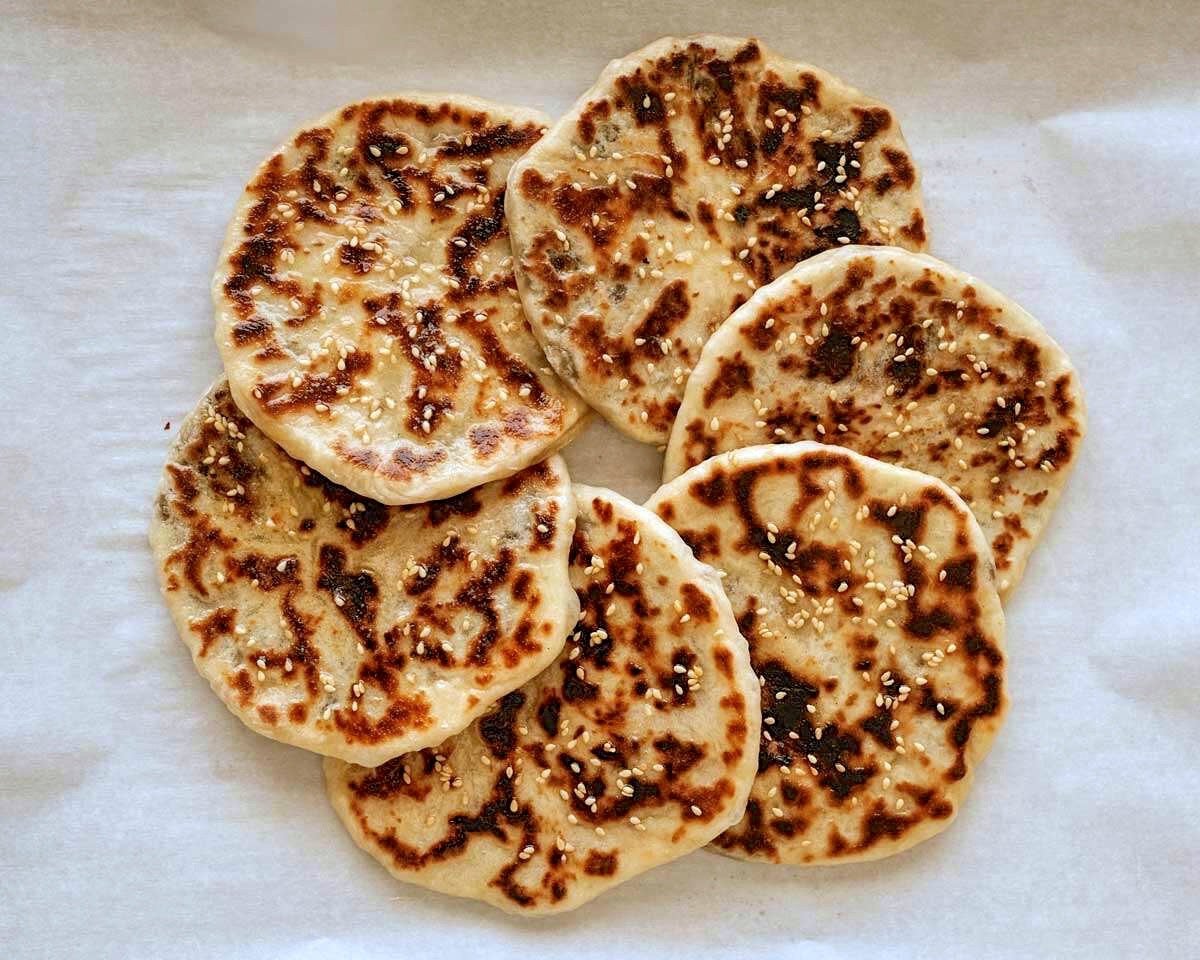 Give my naan recipe a try, and I promise you won't reach for store-bought or takeout naan anymore! Your kitchen will be filled with the delicious aroma of piping hot fresh bread, which can be worth it alone. And I hope they provide an entry point into the encyclopedic world of South Asian breads, which is endlessly rich for experimentation. 
Jump to Comments