We've all experienced periodic runs on different pantry staples: I recall vanilla extract, cocoa powder, and canned pumpkin all being in limited supply at some point.
But if you're a dedicated bread baker, nothing in memory has been as devastating as the current shortage of flour. Not being able to bake bread feels like not seeing your very best friend: it leaves a big hole in your life that nothing seems able to fill.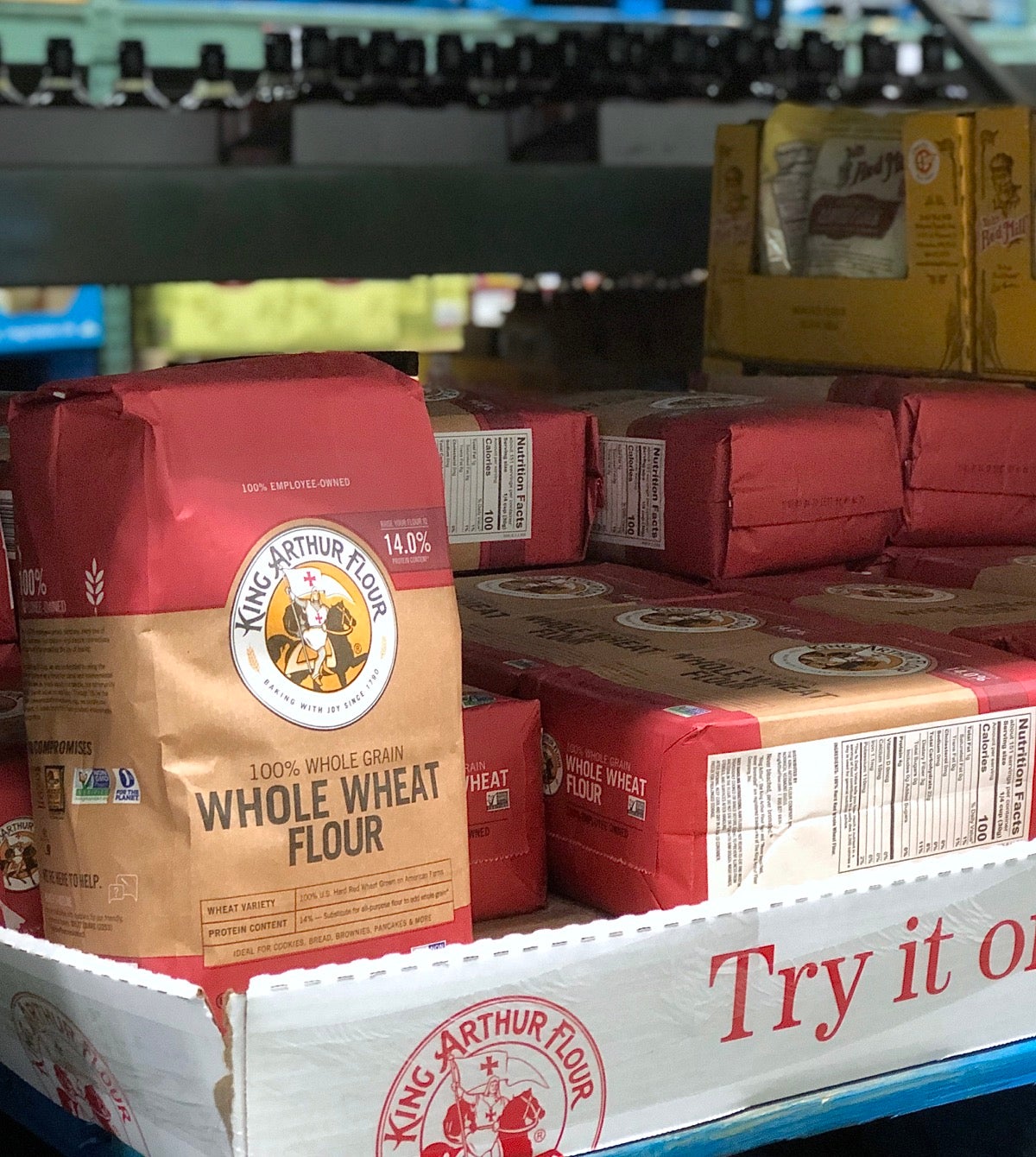 Maybe during the peak of the flour outage you thought, "I need flour, any flour — I don't care what kind." So instead of your usual all-purpose, you snagged a bag of whole wheat. Or you grabbed the only flour on the shelf: self-rising, thinking you'd figure out what to do with it once you got home.
Now you're home. How do you make bread with self-rising flour — or that pastry flour blend you found in the back of your cupboard? Can you make a soft, sliceable loaf with 100% whole wheat flour? And what about that semolina you bought to make pasta — can that be turned into sandwich bread?
Whatever flour you're able to find on your carefully planned trip to the store, grab it: you can make bread, and it'll turn out just fine. 
While you can't substitute any flour you like for all-purpose or bread flour in your favorite bread recipe, thankfully there are recipes out there created specifically for other types of flour beyond "the Big Two."
So if you've managed to get your hands on whole wheat flour, pastry flour blend, self-rising flour, gluten-free flour, or semolina, take heart: you can bake bread using one or more of the following recipes. 
And if you happen to be among the lucky bakers who's managed to nab some all-purpose or bread flour, read on: I've got recipe suggestions for you, too.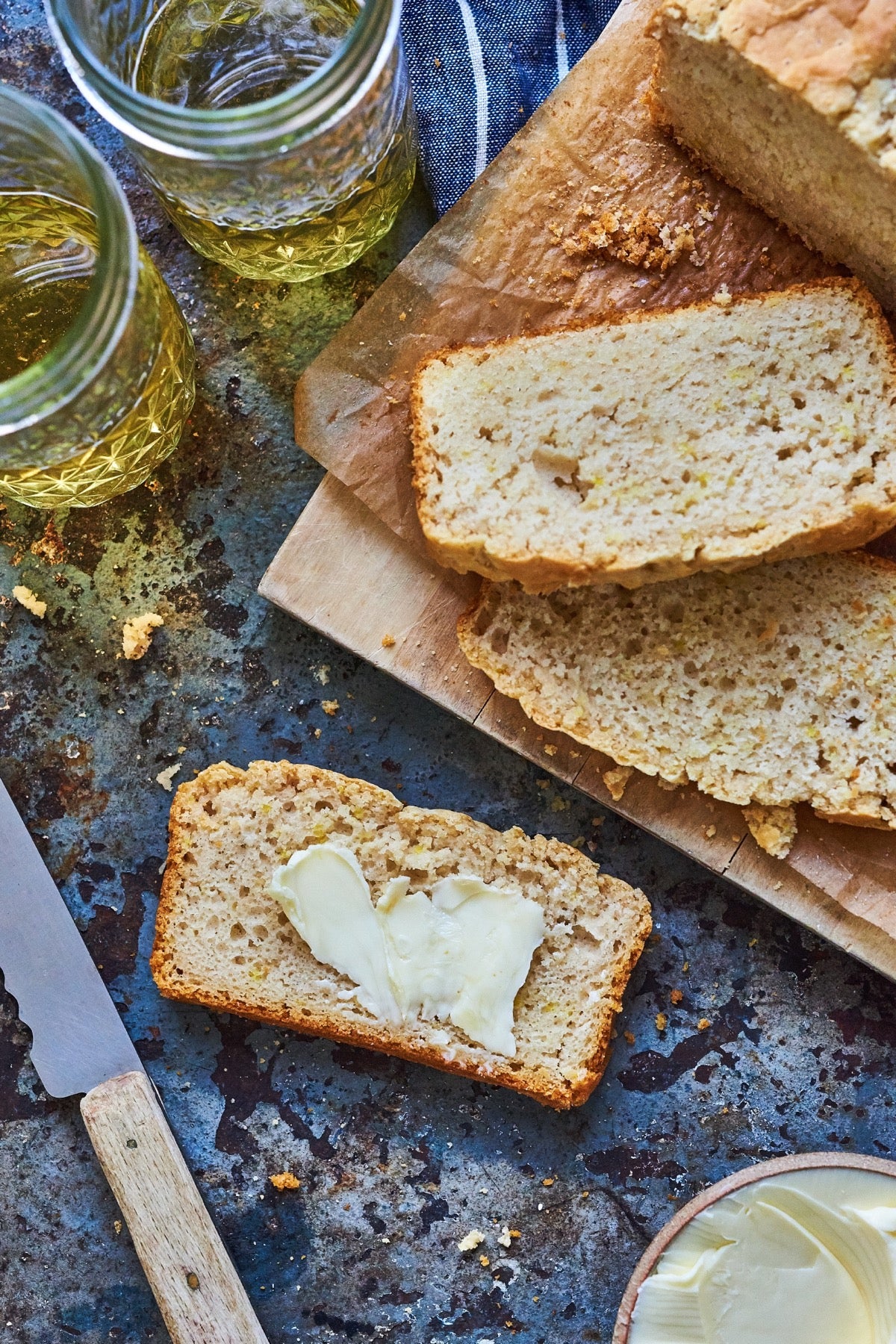 All I have is self-rising flour
You're in luck! With just four ingredients — self-rising flour, sugar, butter, and beer, no yeast required! — our Classic Beer Bread recipe is a simple, quick way to turn self-rising flour into a chewy, moist, flavorful loaf of bread.
And beer bread's a blank slate for add-ins: stir in grated or chunked cheese, chopped nuts or seeds, some fresh diced jalapeño or a bit of canned chipotle pepper (with some of its rich sauce); there's no limit to the variations you can try. Stout (or another dark beer) will give the bread its own signature flavor; if you're not into beer, either use a lighter brew, or substitute seltzer water.
What else? Once you've run through all the flavor possibilities with the classic loaf, try our two-ingredient Never-Fail Biscuits: cream and self-rising flour are all you need to make these ultra-tender, high-rising biscuits.
And if you're a fan of thin-crust pizza, give St. Louis-Style Pizza a whirl. Its cracker-like crust, made with self-rising flour, olive oil, and water, awaits any of your favorite pizza toppings.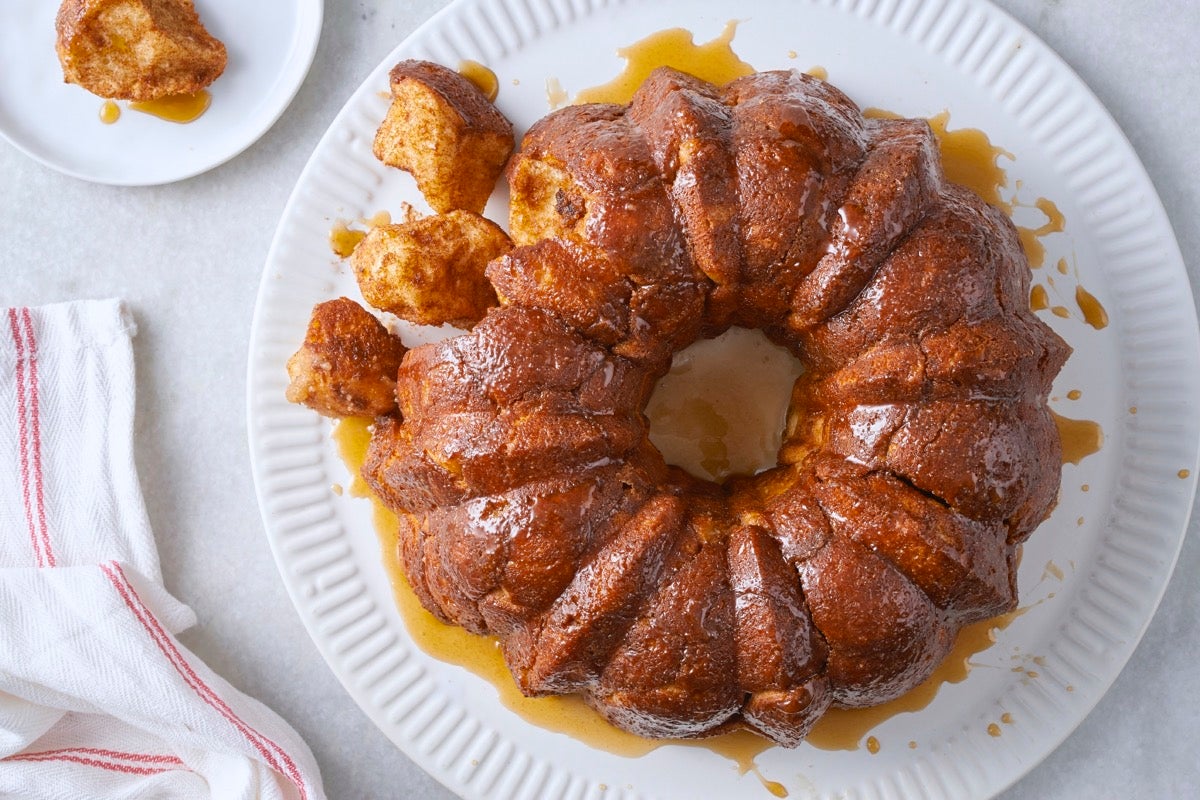 All I have is pastry flour blend
Pastry flour, typically a low 8% protein, is great for delicate pastries but is a tough sell for yeast bread. The lower a flour's protein, the less gluten it can form; and gluten is what allows bread to maintain its structure as it rises. 
Enter Pastry Flour Blend, pastry flour whose protein level (10.3%) is high enough to support a certain degree of high-rising structure, yet still low enough to make tender pastries. If you've got a bag of our blend stashed away and thought it was only good for biscuits and pie crust, think again: this silky flour makes wonderful pull-apart pan bread, like our Cinna-Bites.
Balls of dough are dipped in milk and cinnamon-sugar, then layered in a tube or Bundt pan. Once baked and turned out of the pan, it's easy to pluck off and enjoy the hot, buttery-sugary pieces. Bonus: This is a family-friendly recipe. Have kids roll the dough into balls, dip them in milk, and toss with cinnamon-sugar before piling them into the pan.
What else? Try awesome Soft Garlic Knots, as good as anything you'll pick up at the pizzeria. And Portuguese Muffins (think English muffins, but slightly sweeter); they make superior breakfast sandwiches.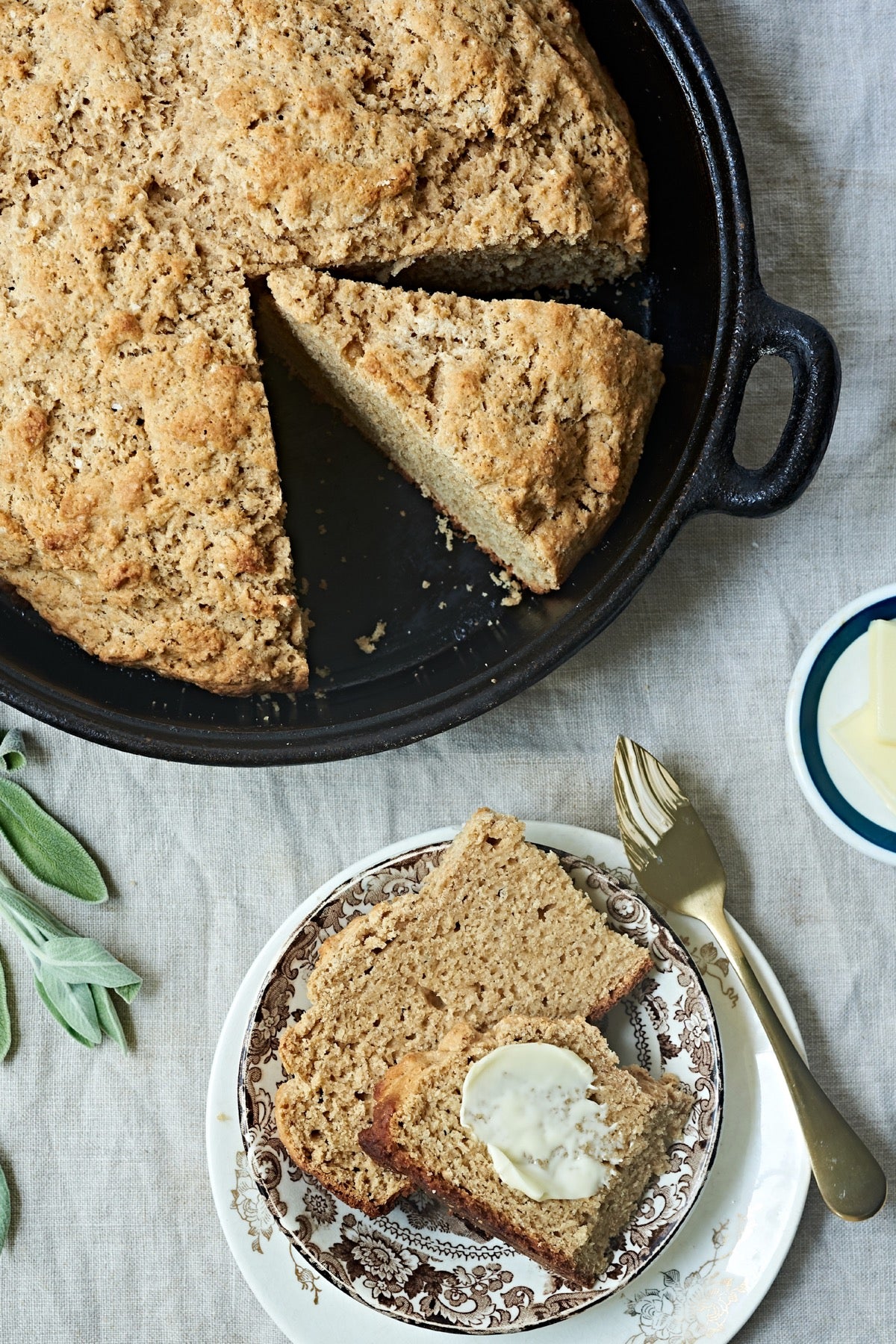 All I have is red whole wheat flour
Milled from red wheat, this is the most commonly available whole wheat flour on the market — and the flour dedicated whole wheat fans prefer. With its distinctive whole-grain flavor and deep color, it makes a wonderful loaf of Irish Buttermilk Brown Bread, Ireland's everyday bread. Spread with sweet butter, it's perfect with a cup of hot tea; and equally at home toasted with marmalade, or made into a hearty meat-and-cheese sandwich. Try Kerrygold's Dubliner cheddar with smoked ham. You're welcome.
What else? If you've got a sourdough starter in the house, give it a couple of meals with your whole wheat flour and use it in Whole Wheat Sourdough Loaf, a delicious sandwich and toasting loaf. And for something quite different: Buttermilk Scallion Flatbreads, simple whole wheat rounds enhanced with sliced scallions. Serve them like Indian naan alongside your favorite stew or stir-fry.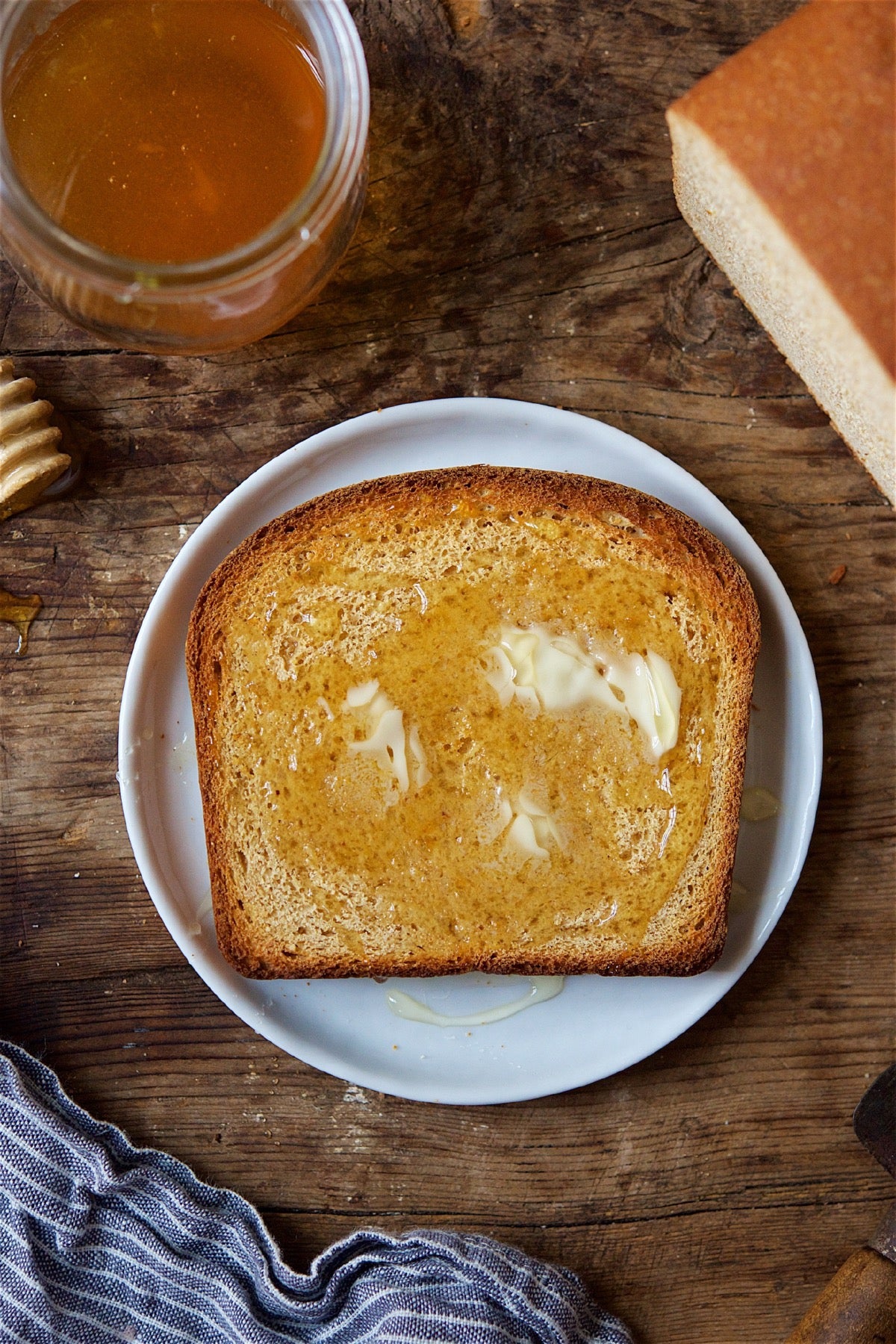 All I have is white whole wheat flour
Thank goodness you picked up some white whole wheat flour for our Whole-Grain Banana Bread, right? You stashed it in the freezer and forgot about it — and now this lighter-colored, milder-flavored whole wheat flour is about to provide your family with a great loaf of sandwich bread.
Classic 100% Whole Wheat Bread, minimally sweetened with a touch of honey, is a moist, tender sandwich bread. The perfect base for all your favorite fillings, from PB&J to ham and cheese, it also makes superior toast. Smash an avocado on top, add a fried egg, and you'll be ready for whatever the day brings.
What else? If your bread machine has been hidden away in a dark corner, haul it out: 100% Whole Wheat Bread for the Bread Machine mirrors the loaf described above — but it's made start to finish in your bread machine.
For those of you just getting started with yeast baking and uncertain of your kneading skills, try this No-Knead 100% Whole Wheat Bread. Just beat ingredients into a stiff batter, scoop into a loaf pan, let rise, and bake. What could be easier?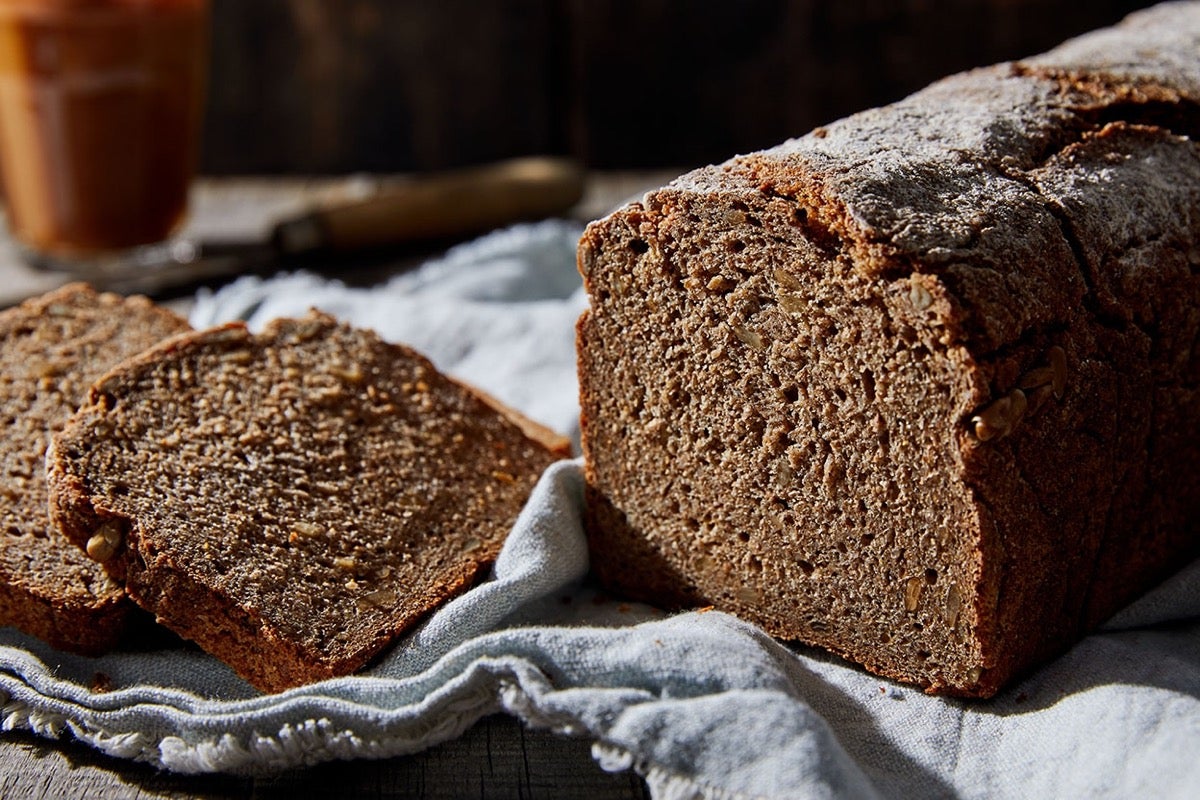 All I have is rye (or pumpernickel) flour
You might think you can't make a good loaf of bread without using any wheat flour; after all, the gluten in wheat is key to bread's structure. But this loaf of 100% rye bread proves your supposition wrong. Vollkornbrot is a dark, moist, hearty loaf, perfect for thin-slicing and layering with cheese and smoked meat, or salmon and crisp cucumber slices. A simple smear of butter is equally satisfying.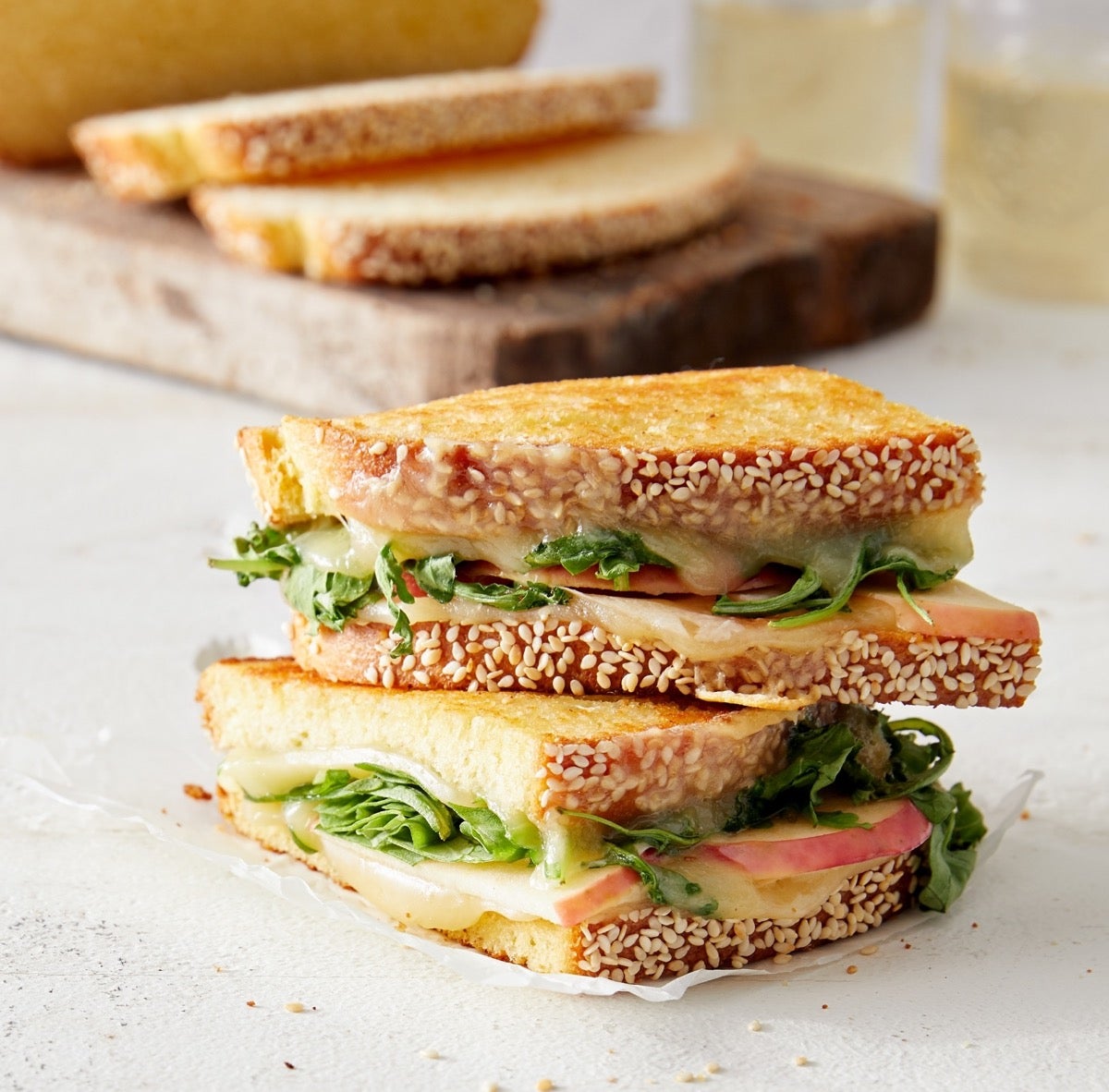 All I have is semolina
Everyone knows semolina makes perfect pasta. But did you know it can also be baked into a high-rising loaf of bread? Milled from high-protein durum wheat, golden semolina and yellow cornmeal join forces in this Semolina Sandwich Bread. With its soft, fine-grained crumb and crunchy sesame seed crust, you'll find yourself making this yummy bread even when you've got your all-purpose flour back!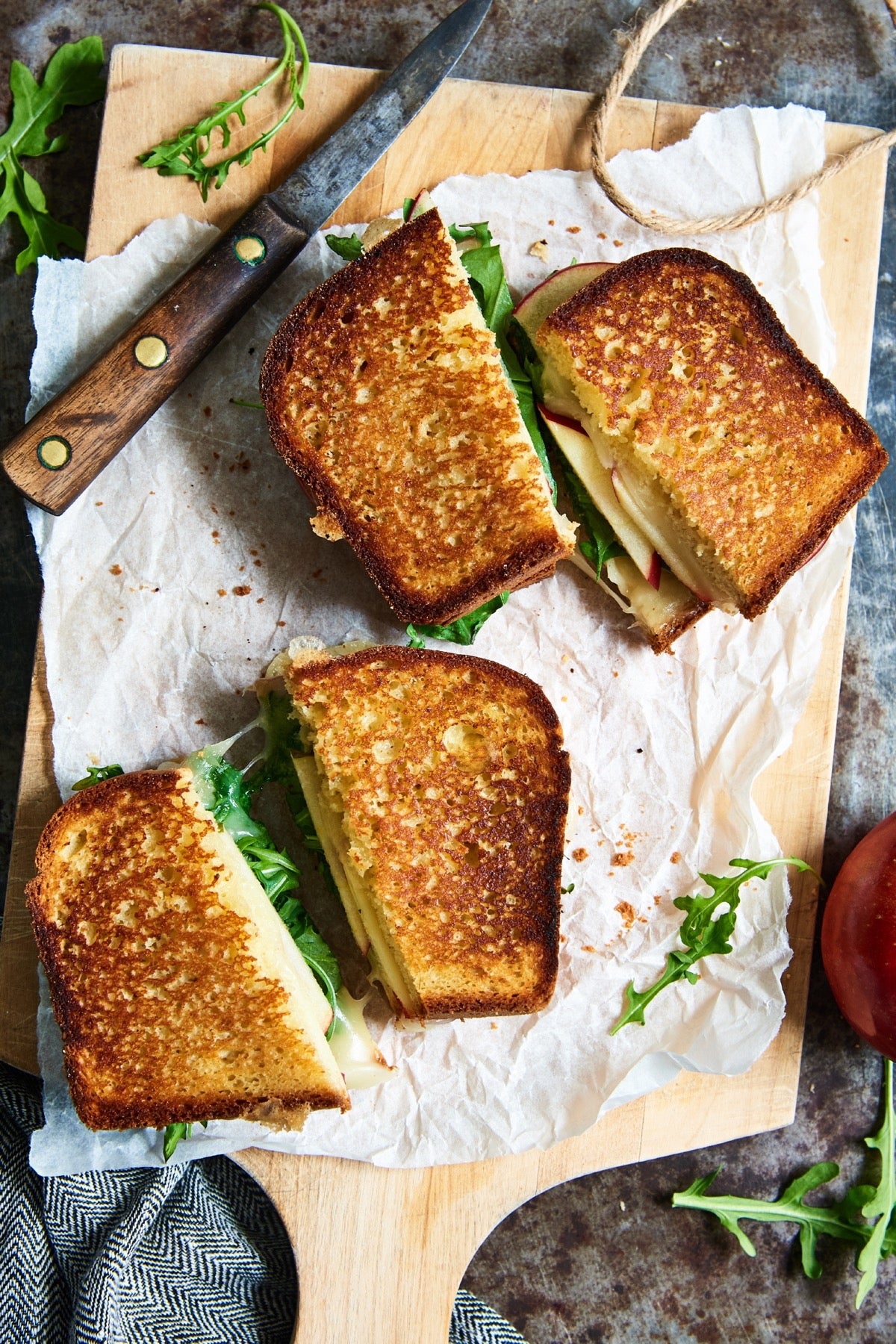 All I have is gluten-free flour
If you're baking gluten-free on a regular basis, you're probably already baking with our gluten-free all-purpose or Measure for Measure flours. Even if you only bake gluten-free on an occasional basis, however — for an aunt, say, or friend — you might have a supply of one of these gluten-free flours on hand. If so — you're golden!
Is Gluten-Free All-Purpose Flour in your cupboard? Make Gluten-Free Sandwich Bread. Have a bag of Gluten-Free Measure for Measure Flour on hand? You're ready to make Gluten-Free Toasting and Sandwich Bread.
Be aware that neither of these loaves will start out as a normal-feeling yeast dough; gluten-free loaves are typically made from more of a thick batter than a kneadable dough. But don't panic; follow the directions and you'll end up with satisfying sandwich bread.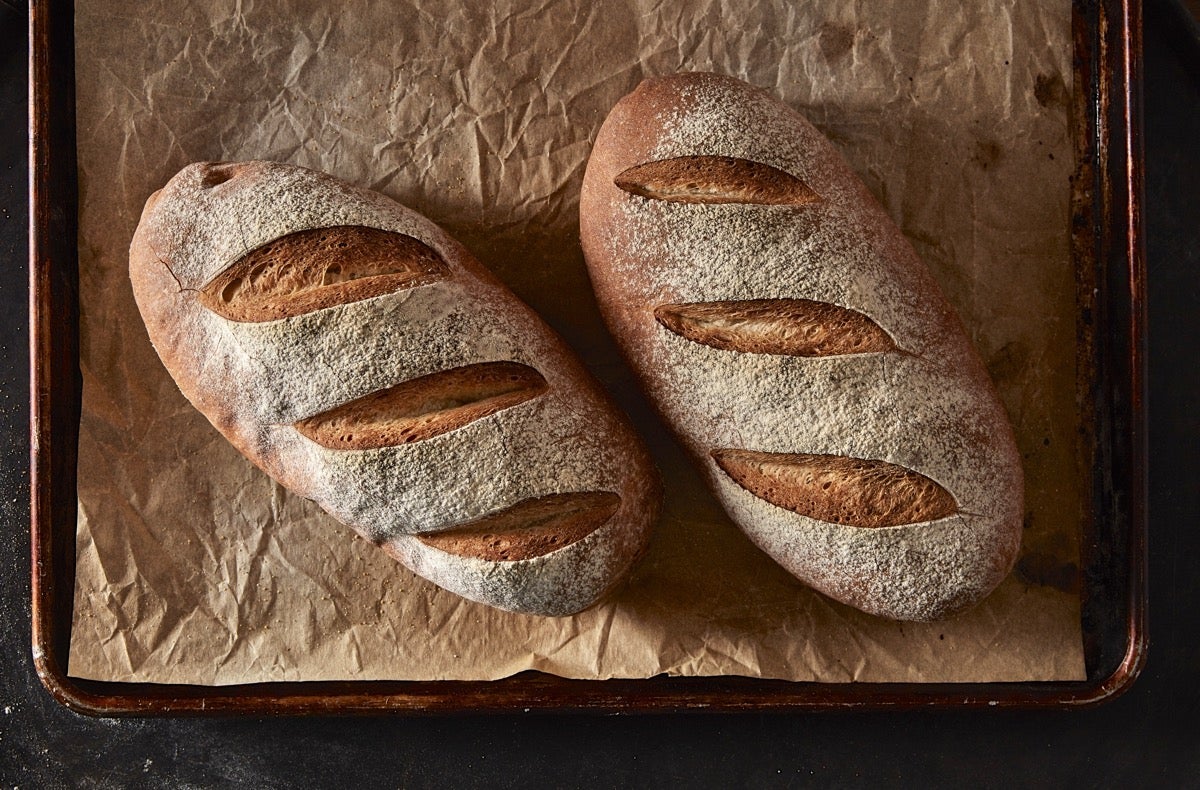 All I have is bread flour
Wow, lucky you! Bread flour has an abundance of protein — which means lots of structure-building gluten, making it a great choice for all types of bread from soft dinner rolls to crusty baguettes. So break out your bread flour and explore the nearly 100 bread recipes on our site that call for it. 
Where to begin? Here's a recipe that's great for beginners, or really any of you who just want a simple recipe for crusty bread with a soft, fine-grained interior. The Easiest Loaf of Bread You'll Ever Bake uses just five everyday ingredients and is truly easy. The resulting loaf is ideal for sandwiches, toast, garlic bread, French toast — really, any way you choose to enjoy bread.
What else? One of my very favorite recipes ever uses bread flour: Hot Buttered Soft Pretzels. Their name says it all; a quick and easy yeast dough is shaped into pretzels, sprinkled with coarse white salt, and baked. The resulting soft, fist-sized pretzels are then drenched in melted butter. Truly — the hot bread experience doesn't get any better than this.  
Unless you're talking Gruyère-Stuffed Crusty Loaves — equal to soft pretzels in the comfort-food arena! Yeast dough is patted flat, sprinkled with cheese (use cheddar or any favorite cheese in the absence of Gruyère), rolled up, and sliced into large buns (or small loaves). During baking, melted cheese bubbles from the top of the loaves. Think the yeast bread version of a decadent chocolate lava cake.
But wait, there's more! If you've found a recipe using all-purpose flour that you'd love to make — but you're out of all-purpose — see our blog post covering how to substitute bread flour for all-purpose flour.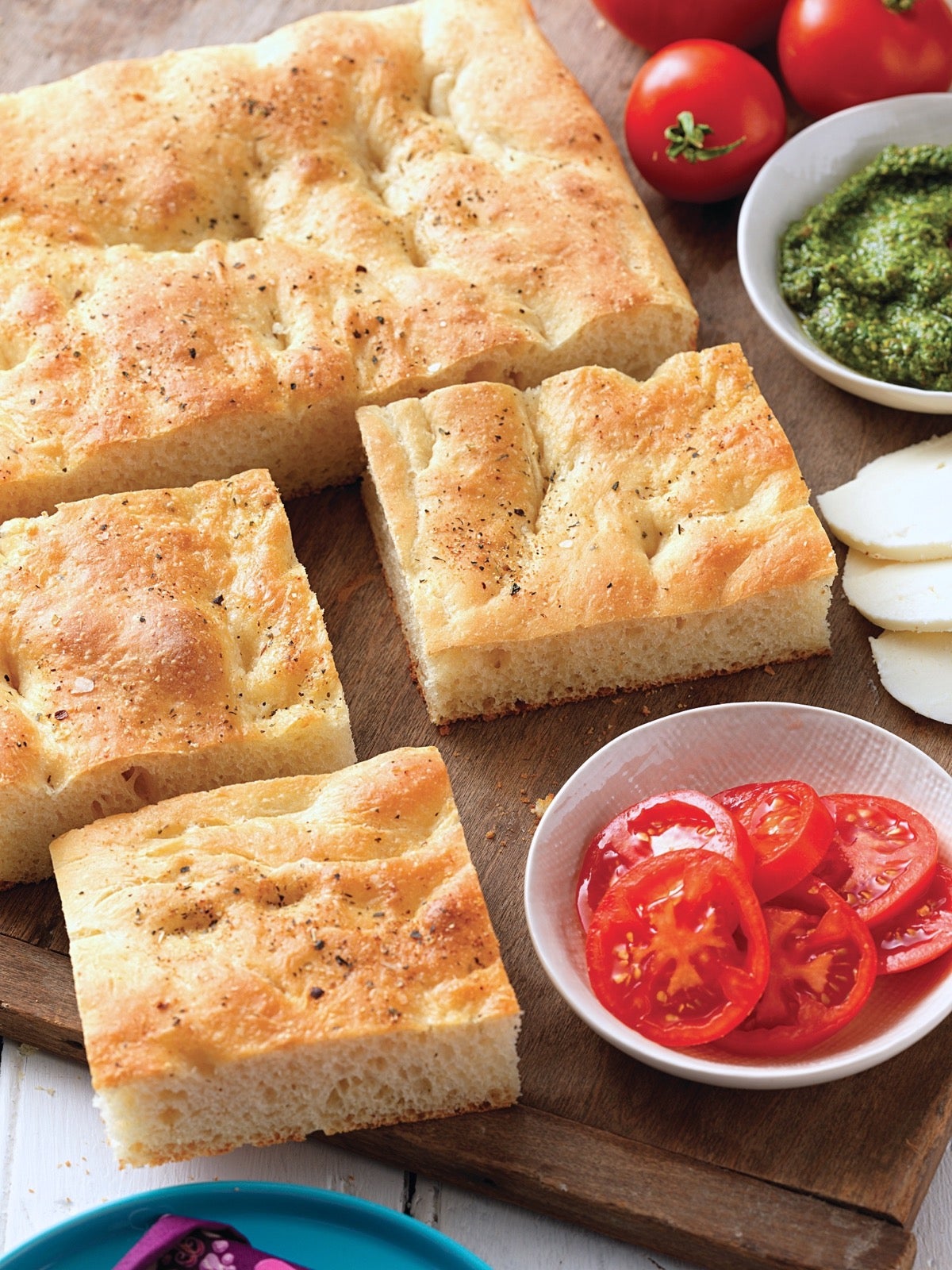 All I have is all-purpose flour 
Breathe a sigh of relief; there are so many bread recipes available for you, you won't know where to start! Let me help — here are some of my favorite options.
Blitz Bread: No-Fuss Focaccia: It'll take you just over 5 minutes to prepare the no-knead dough for this easy bread. Scoop it into a 9" x 13" pan, let it rise for an hour, then bake for 30 minutes. Bingo! A soft, chewy, pillowy sheet of bread, ready to split and fill or simply dip in herb-scented olive oil and enjoy "au jus."
What else? King Arthur's Classic White Sandwich Bread: The name says it all. Did you grow up with Pepperidge Farm sliced white sandwich bread? Beloved by those of us who considered ourselves sandwich connoisseurs, it was the higher-end answer to notorious "air bread." Our recipe brings those same Pepperidge Farm attributes to the table: lightly flavored with both milk and butter, it's sturdy enough for sandwiches yet soft enough for toddlers.
No-Knead Crusty White Bread: At some point we all want to make artisan bread, a loaf with assertive crust and chew. This is that bread. All you do is stir together flour, water, yeast, and salt in a big bowl, then refrigerate until you're ready to bake. Scoop out a handful of dough, plop it onto a pan, let it rise, then bake into a loaf so crusty and flavorful you won't believe you didn't buy it at the bakery!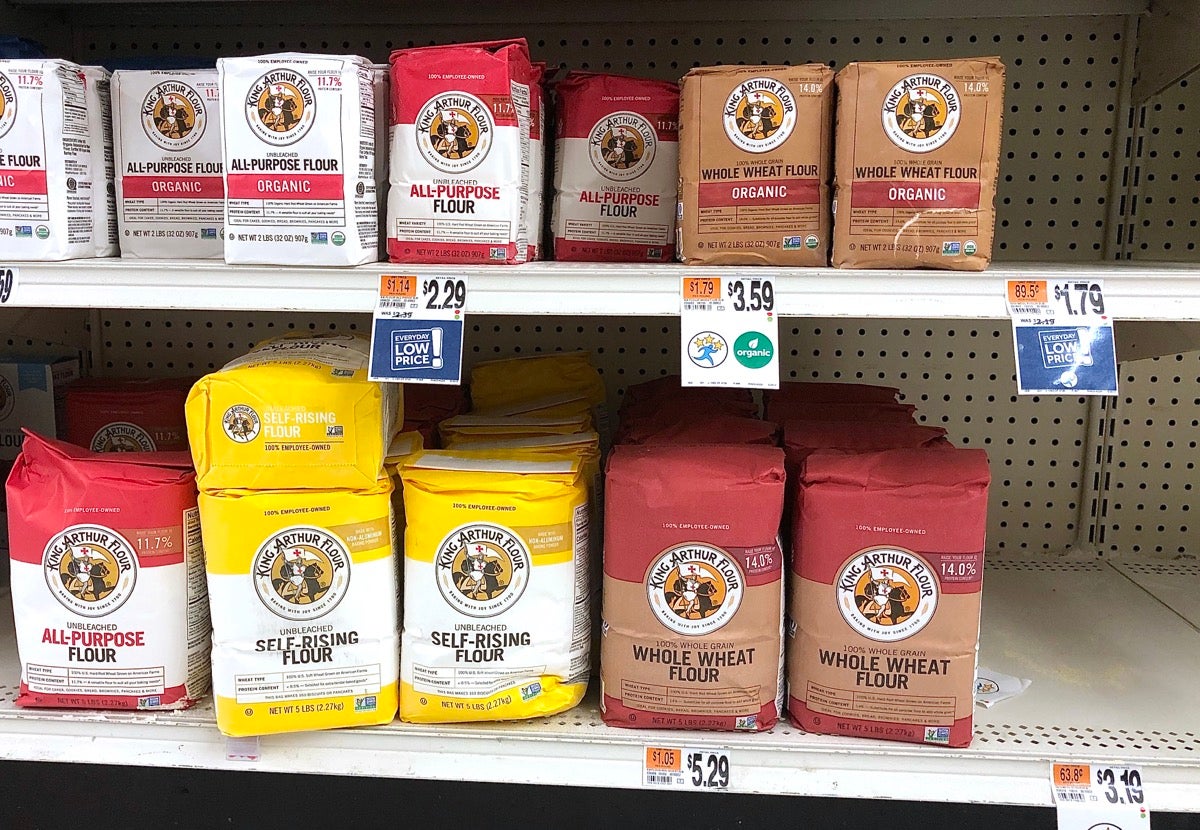 Ready ... set ... bake bread!
Your supermarket's flour shelves will be changing every day as manufacturers and mills ramp up their efforts to restock. Within the past 2 weeks King Arthur has put a million bags of flour onto trucks bound for retail stores nationwide. 
In the meantime, whatever flour you're able to find on your carefully planned trip to the store, grab it: you can make bread, and it'll turn out just fine. 
Unique times call for unique resources — like our Homebound Baking Guide, where we're broadcasting videos from employee-owners, sharing recipes, offering tips, and answering your baking questions.
Jump to Comments