With so many slam-dunk delicious chocolate chip cookie recipes out there, why would you ever tinker with proven success and bake this iconic American treat using almond flour?
There are several good answers to this question. Almond flour's loaded with health benefits: it's low in carbohydrates, and filled with good-for-you fiber and healthy fats. And almond flour is an acceptable ingredient for those following gluten-free, grain-free, paleo, or keto diets.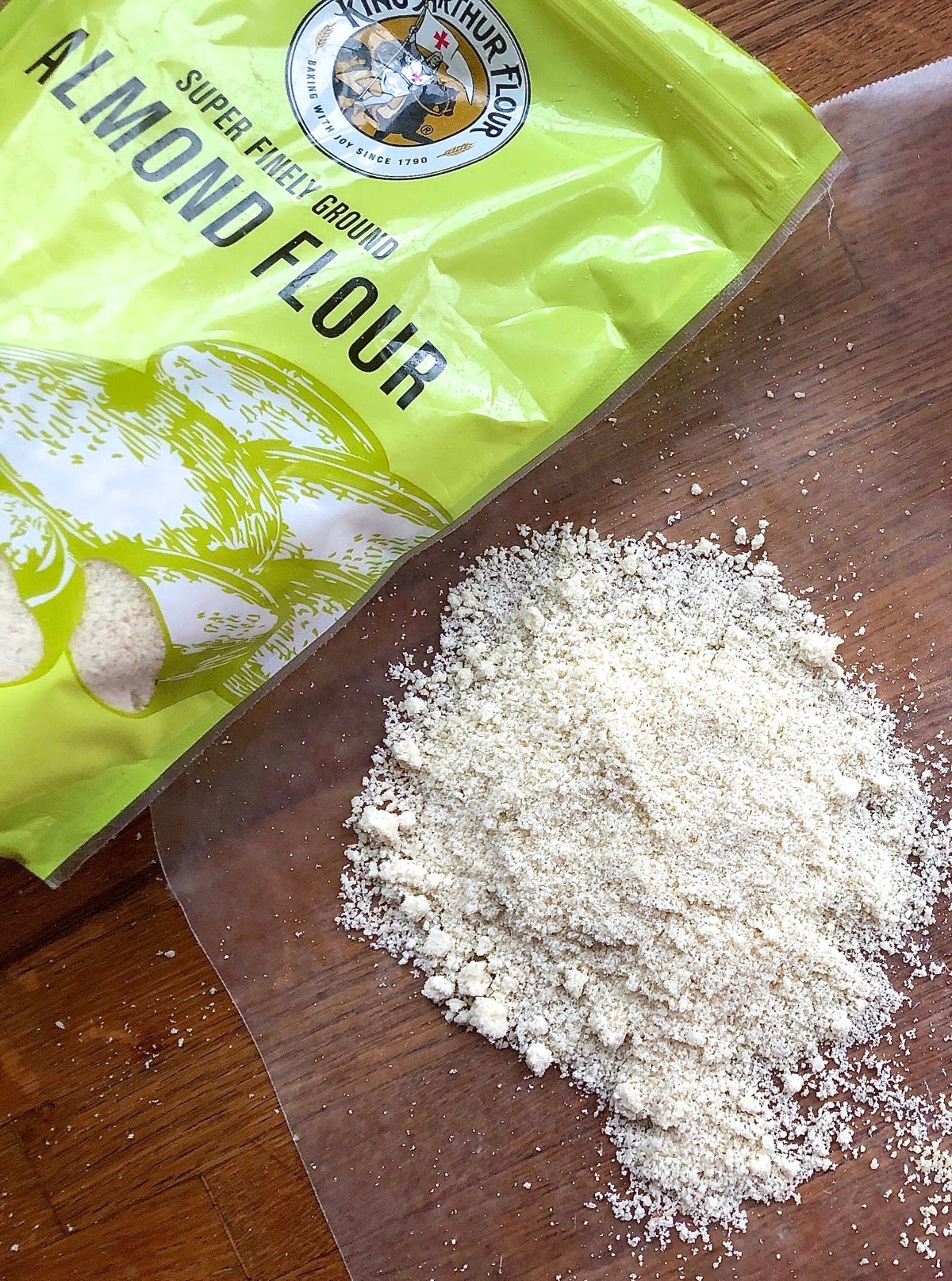 Beyond that, though, almond flour is just plain tasty. It adds wonderfully nutty flavor (a little bit sweet, a tad toasty) to everything from muffins and cake to pie crust, pastries, and cookies — including chocolate chip cookies.
Not only that, almond flour lends tender texture to baked goods. Since it's gluten-free, there's no gluten to potentially become overworked and tough (which can sometimes happen with wheat-based flours). And even when almond flour's not the star of the show but simply substituted for some of the wheat flour in a recipe, it lowers overall gluten content. Plus almond flour adds its own fat, a natural tenderizer that also extends shelf life.
Tastes wonderful; increases tenderness; improves keeping quality. What's not to like about baking with almond flour?
Almond flour does have a downside; you wouldn't want to use it 100% in recipes that require sturdy structure for a high rise (e.g., yeast bread). But think of it this way: the "flatter" your baked good (pancakes, cookies), the greater percentage of almond flour you can try — right up to 100%, as we do here in these Gluten-Free Almond Flour Chocolate Chip Cookies.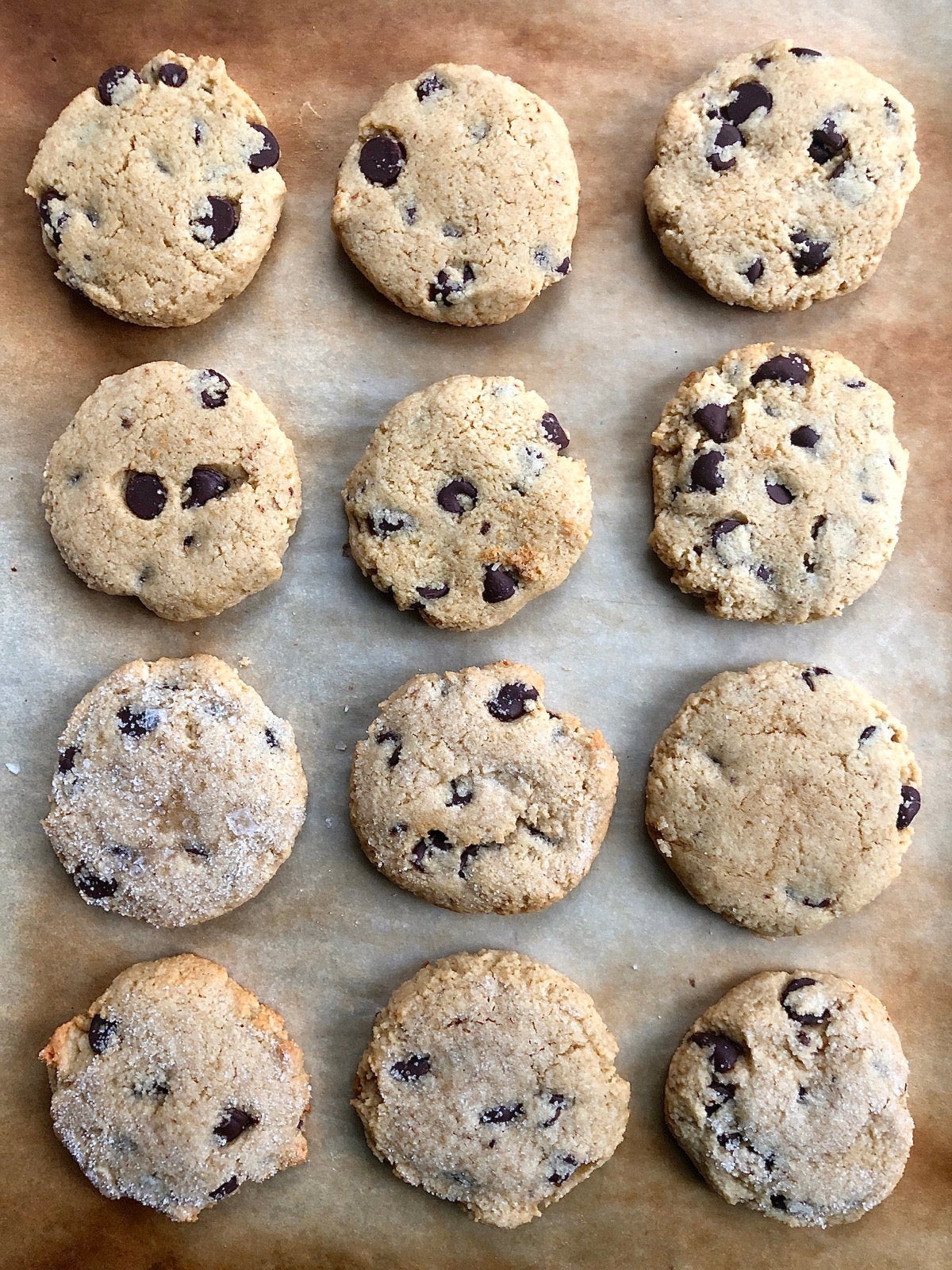 If your idea of the perfect chocolate chip cookie is one that's soft enough to nearly melt in your mouth, yet has a nice bit of chew, and the perfect balance of chips to dough, then you'll love these cookies. The fact that they're special-diet friendly is an added bonus. Bring chocolate chip cookies to the office or on your family hike without disappointing your gluten-free co-worker or paleo cousin? You can do that!
Here's what you need for these simple one-bowl cookies:
1/4 cup (53g) brown sugar, light or dark
1/2 teaspoon baking soda
1/4 teaspoon salt
2 tablespoons (28g) butter, at room temperature
2 teaspoons vanilla extract
1/4 teaspoon almond extract, optional
1 large egg
2 cups (191g) almond flour 
1/2 cup (85g) chocolate chips
Preheat the oven to 350°F. Lightly grease a baking sheet, or line it with parchment.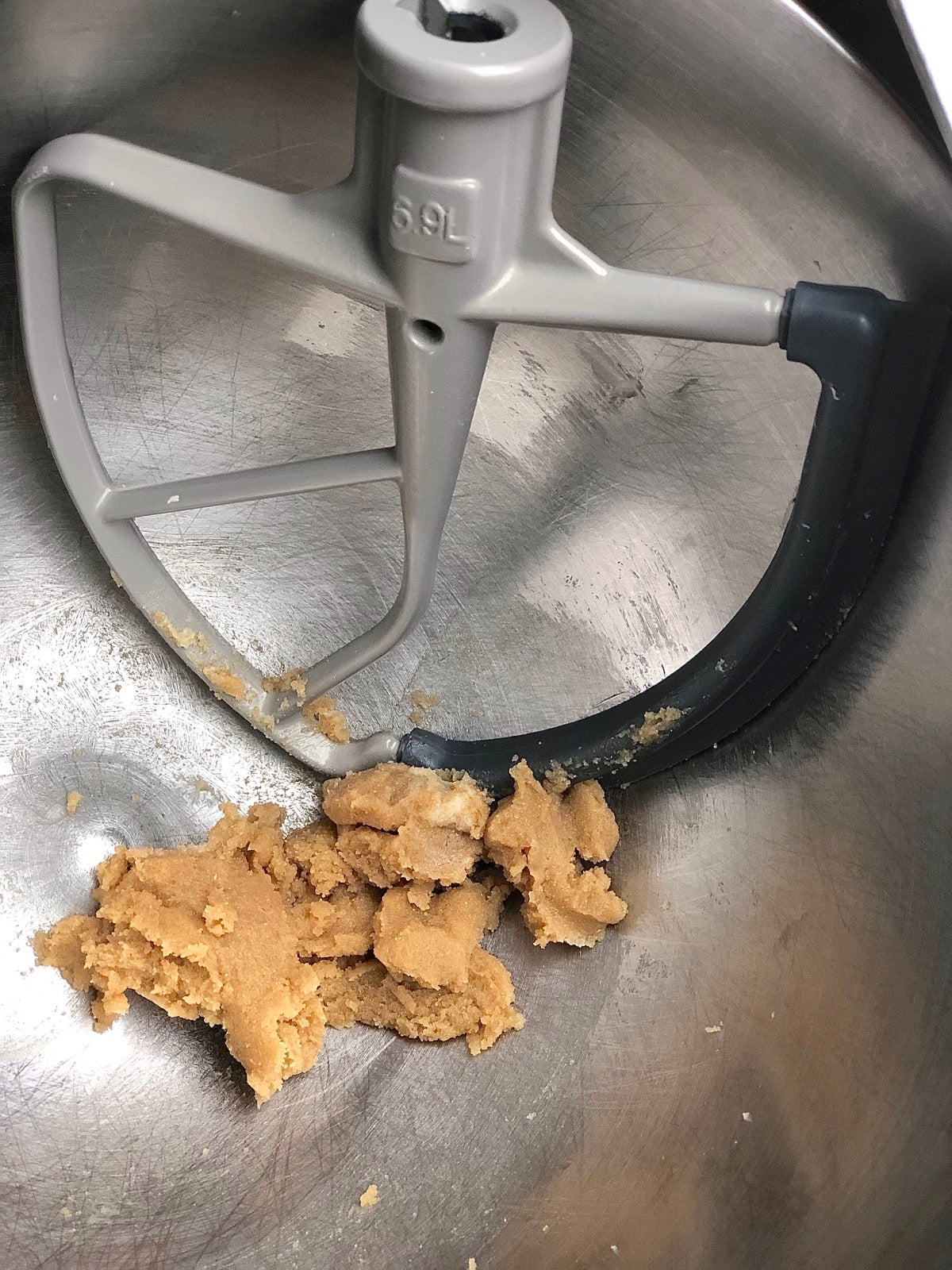 Combine the brown sugar, baking soda, salt, and butter, and mix until smooth.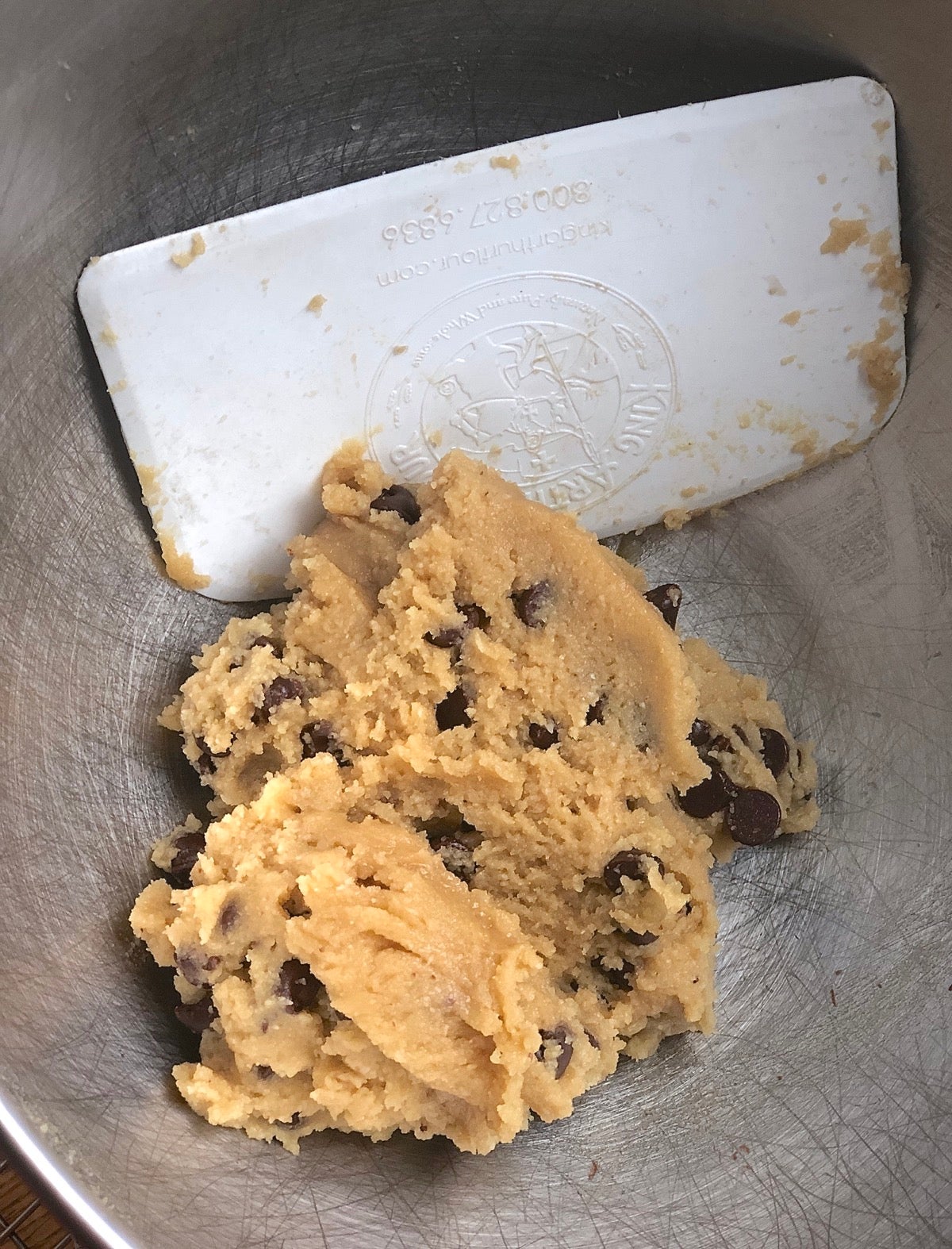 Mix in the vanilla and almond extracts, egg, and almond flour, stirring to combine. Scrape the bottom and sides of the bowl, then mix for 1 minute at medium speed. Stir in the chocolate chips.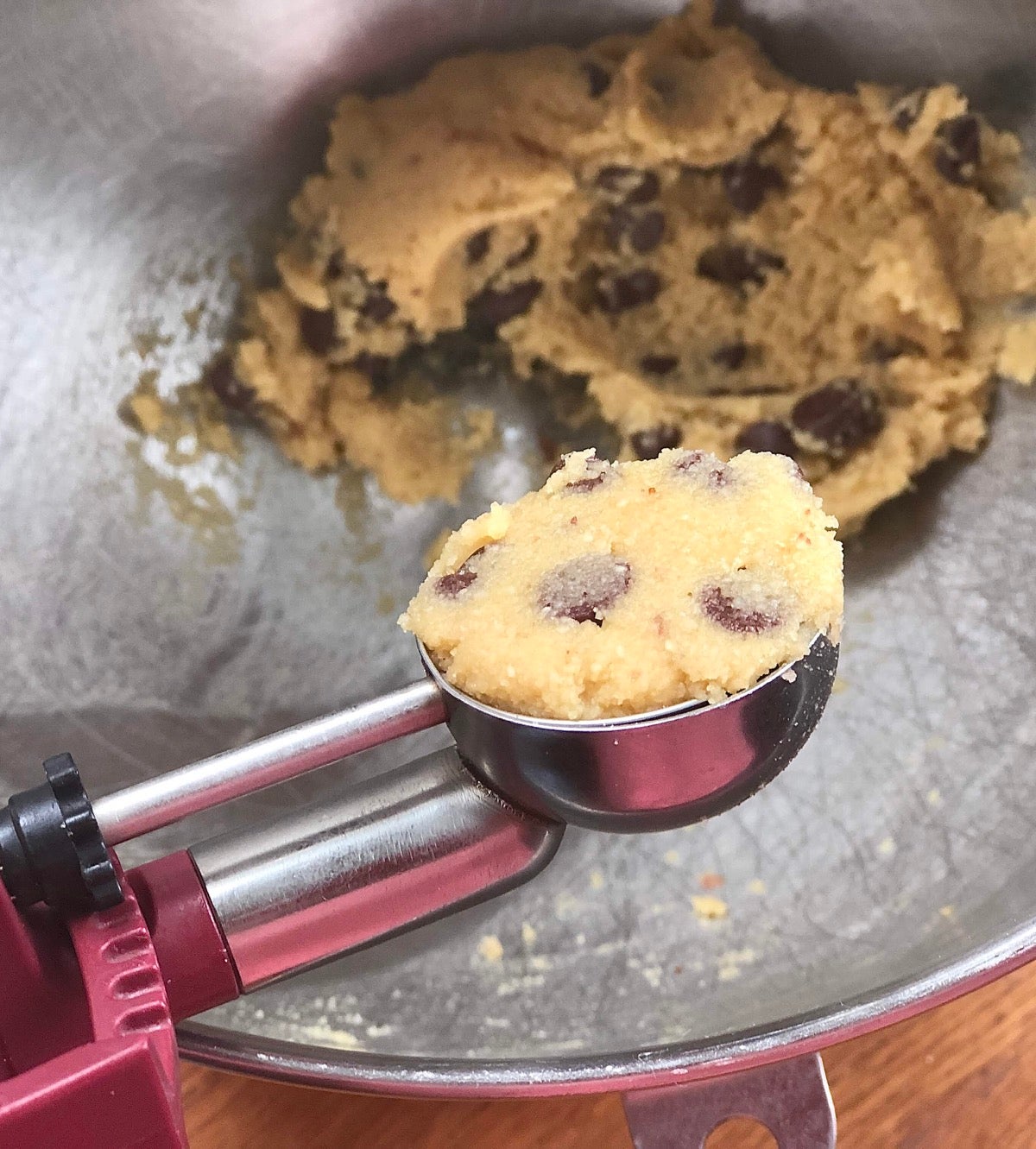 Scoop the dough by the tablespoonful onto the prepared baking sheet; a level tablespoon cookie scoop works well here.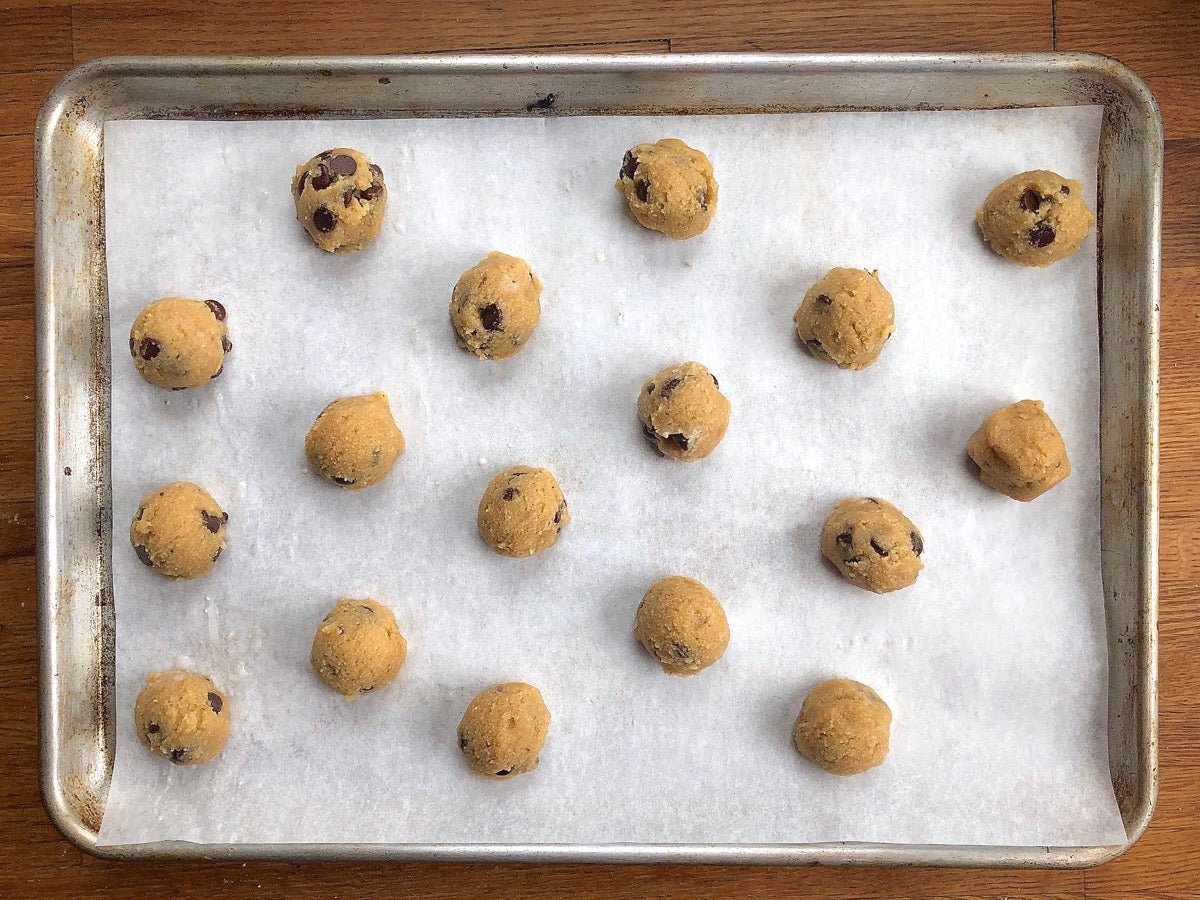 You can place them fairly close together (about 1 1/2" apart) on the baking sheet; they won't spread much.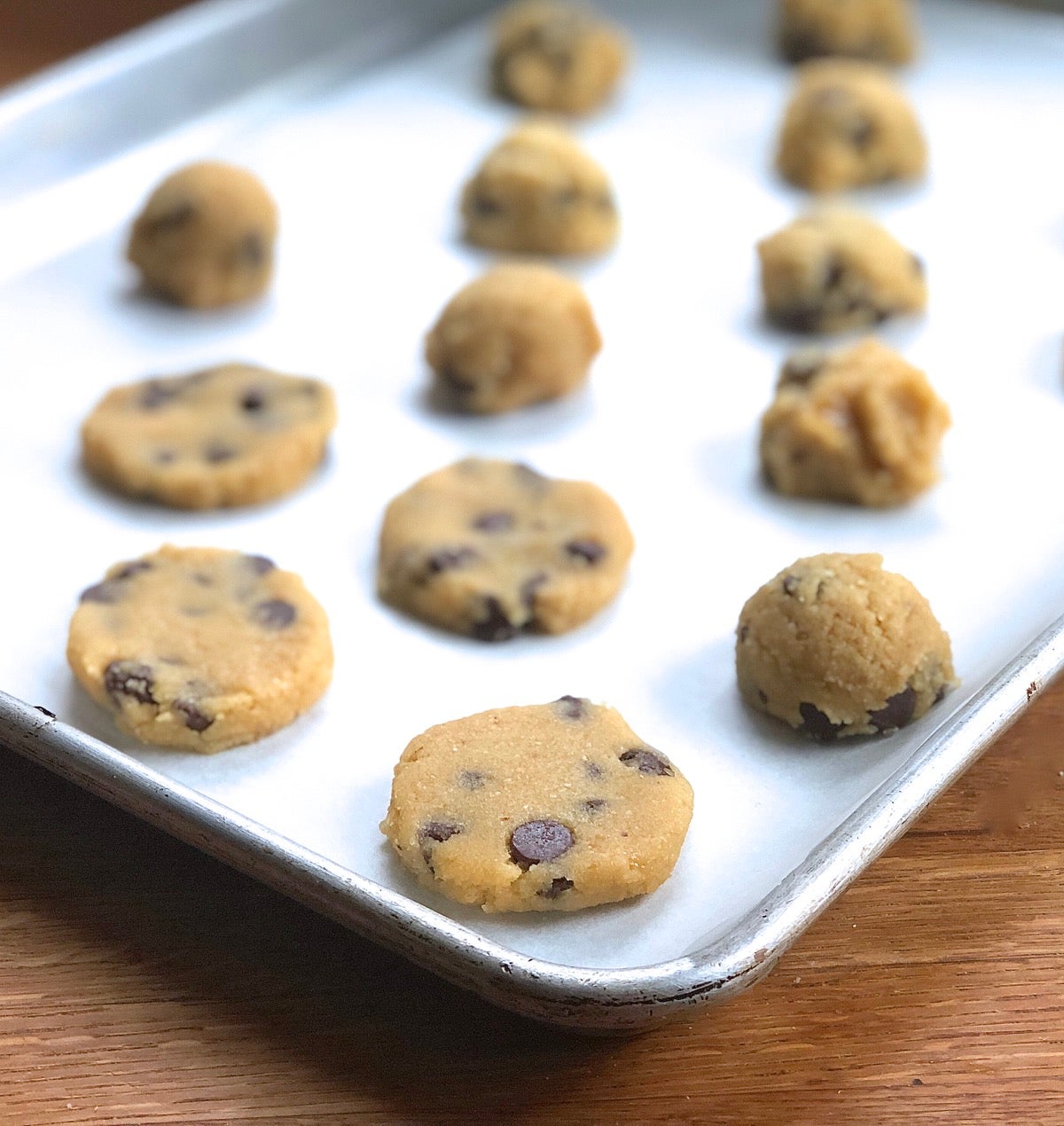 Gently flatten the cookies to about 3/8" thick, about 2" diameter. Now they're a bit closer together — which is OK spread-wise, so long as there's still at least 1" between them.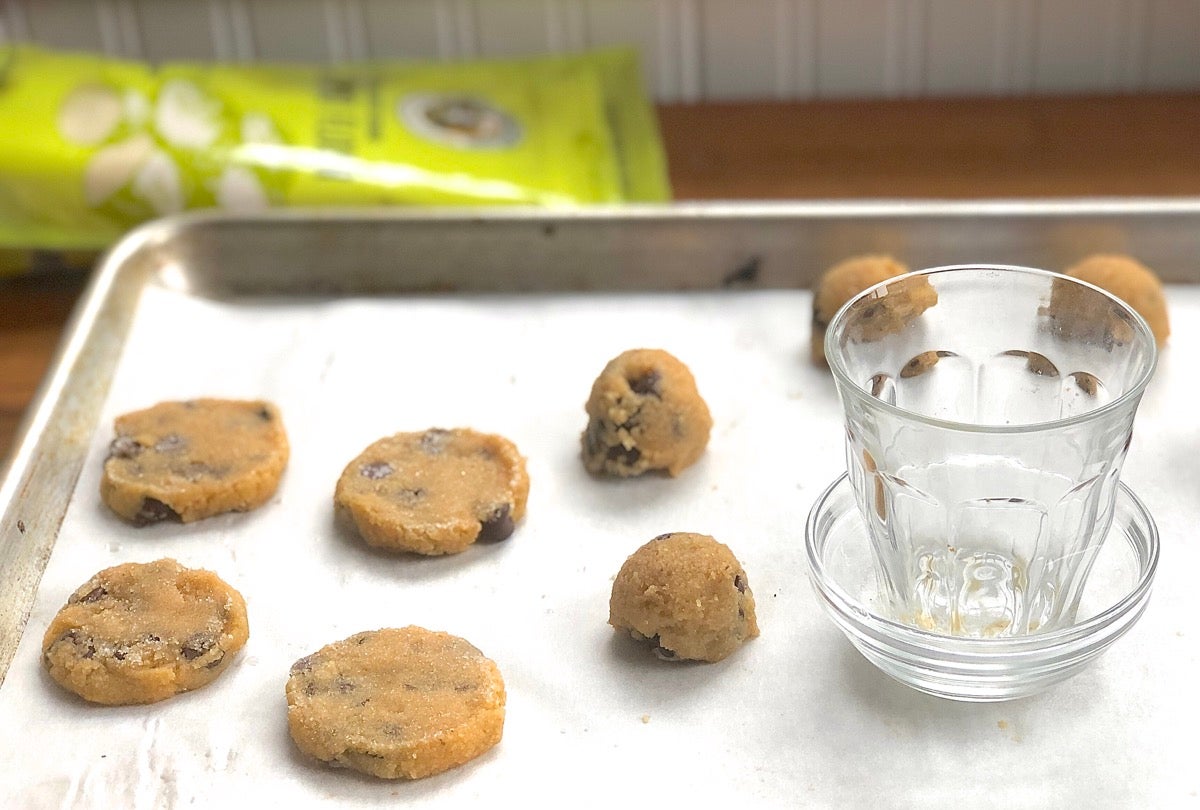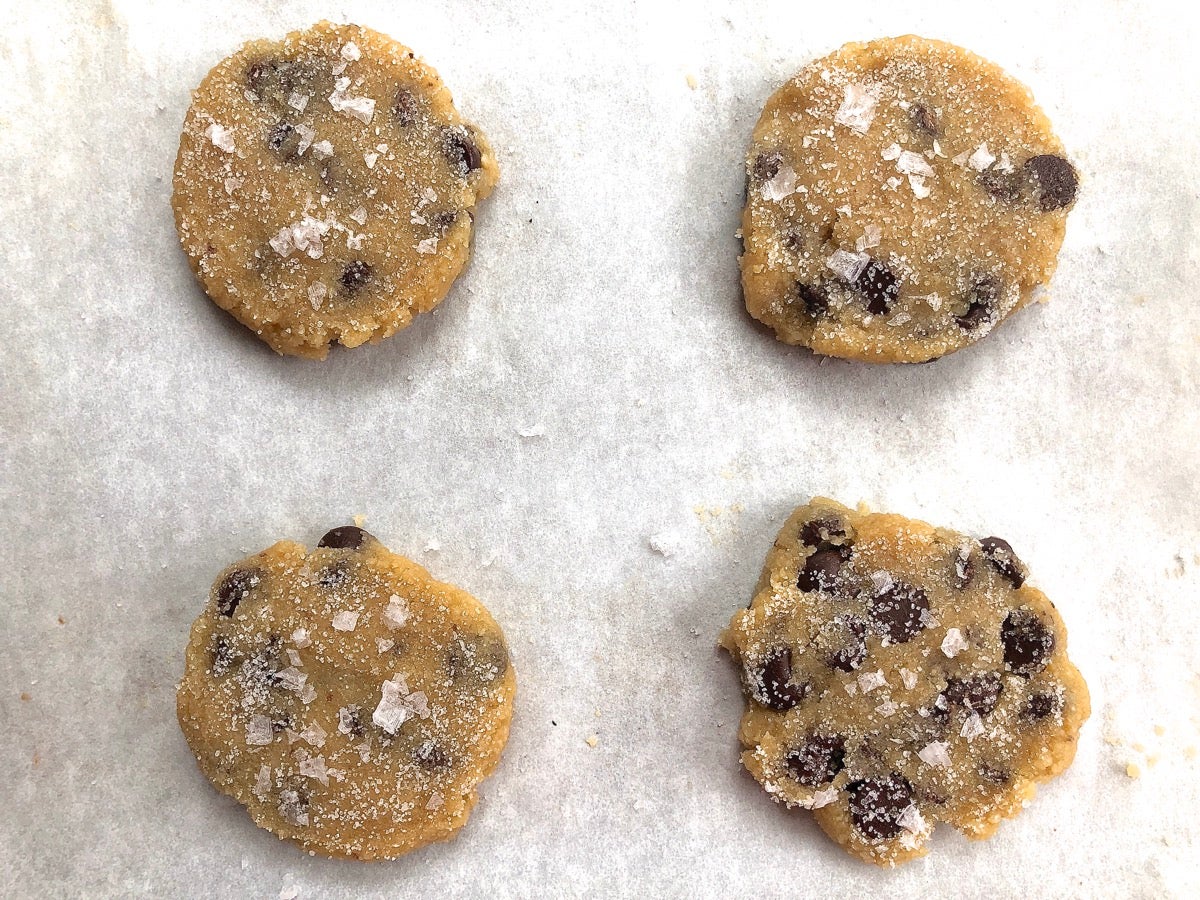 Bake the cookies for 9 to 12 minutes, until their edges are starting to gently brown. You don't want to overbake these cookies; they'll be dry.
Remove the cookies from the oven. Allow them to cool on the pan for 2 minutes, then carefully transfer them to a rack to cool completely. Store well-wrapped at room temperature for several days; freeze for longer storage.
One aspect of these cookies that's provoked a bit of dissension among you bakers posting reviews is their sweetness. For some, they're just sweet enough; for others, the sweetness is just too understated.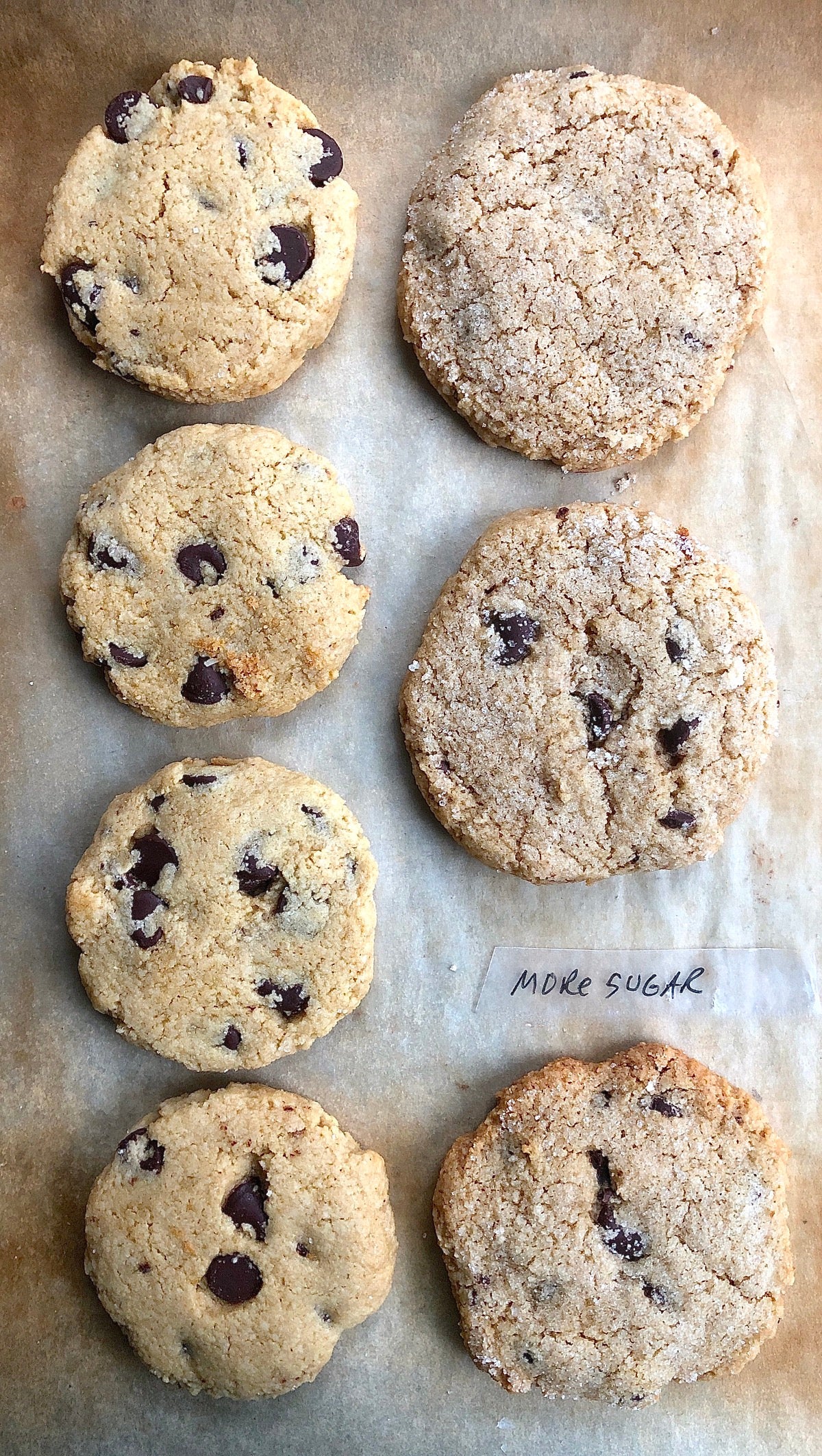 If you fall in the latter camp, try this: increase the brown sugar to 1/2 cup (106g). And to help temper the added sweetness, increase the salt to 1/2 teaspoon. Bake as directed.
I hope these cookies inspire you to try not only baking with almond flour, but with other different flours as well. While tempting to stick to all-purpose all the time, widening your flour horizons will almost certainly add to your repertoire of favorite recipes.
Jump to Comments