Almond Flour Brownies
The gluten-free, grain-free, hassle-free brownie everyone can love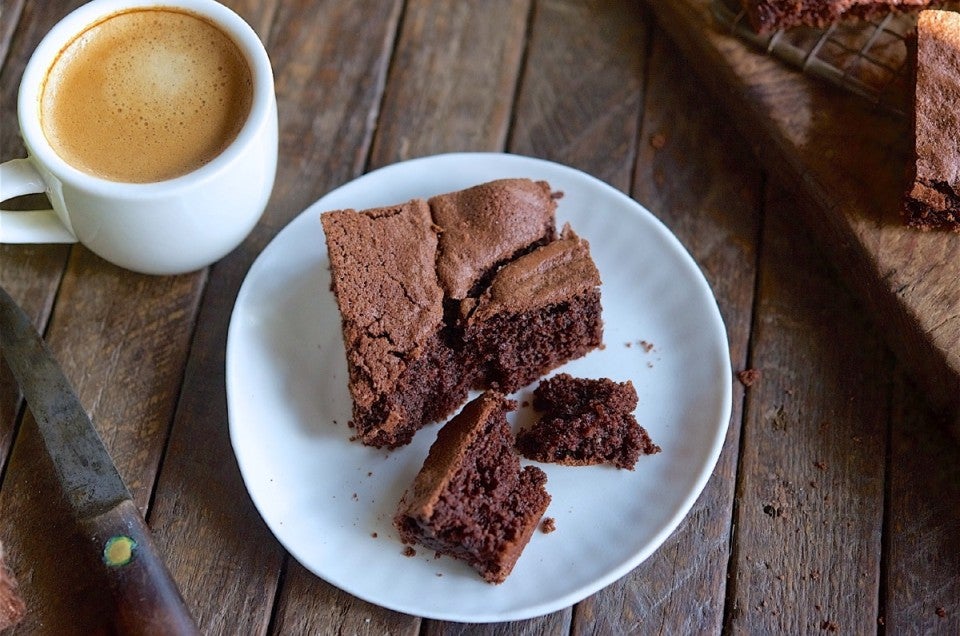 Anxious about making dessert for an unfamiliar crowd? It can be a challenge these days, baking something that A) tastes great, B) won't take half your day and a counter full of ingredients to prepare, and C) can be enjoyed by nearly everyone, including many of those on special diets. If you find your head spinning trying to pack all of those features into one delicious dessert, take a deep breath — and bookmark this recipe for Almond Flour Brownies.
Almost all brownies are delicious. Most brownies are easy to make. Many brownie recipes use only a few simple ingredients. Some brownie recipes require just a single bowl.
This brownie fulfills all of those requirements — plus the resulting deep-dark, fudgy brownies can be enjoyed by those on both gluten-free and grain-free diets. What's the deal?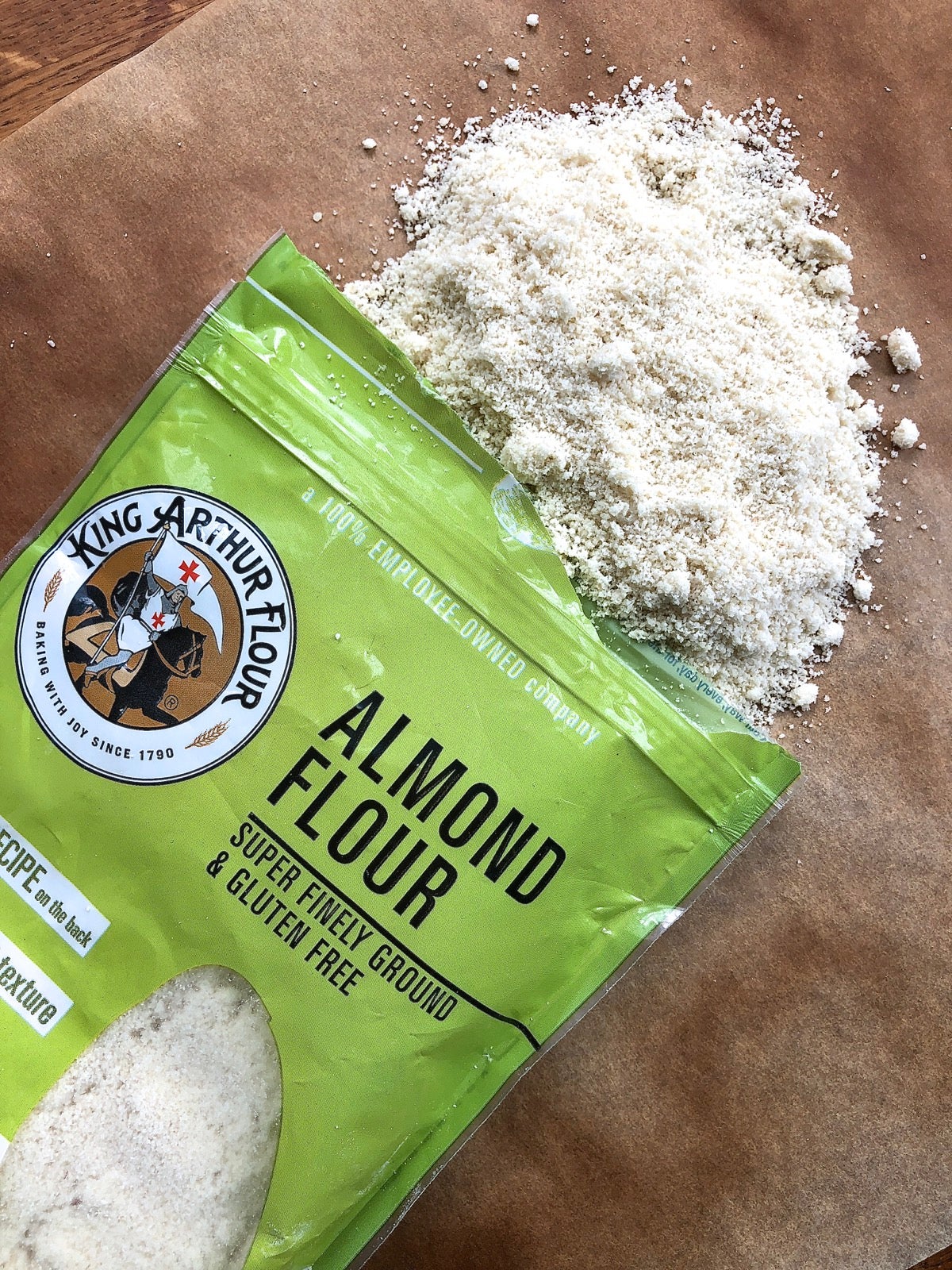 Almond flour: the gluten-free community's favorite baking staple.
We've done the tests: Almond flour can stand in for one-fourth to one-third of the all-purpose flour in both sweet and savory recipes, adding both flavor and richness. Still, that doesn't help those people avoiding gluten or grains completely.
The only hint that these tender, moist brownies are made with almond flour rather than all-purpose flour is a very slight graininess from the ground almonds. It's not unpleasant (any more than the "sandy" texture of shortbread is unwelcome); it's just different than brownies made with all-purpose flour. In addition, letting the brownies rest overnight softens their graininess.
Let's follow the recipe and see how quick and easy these brownies really are.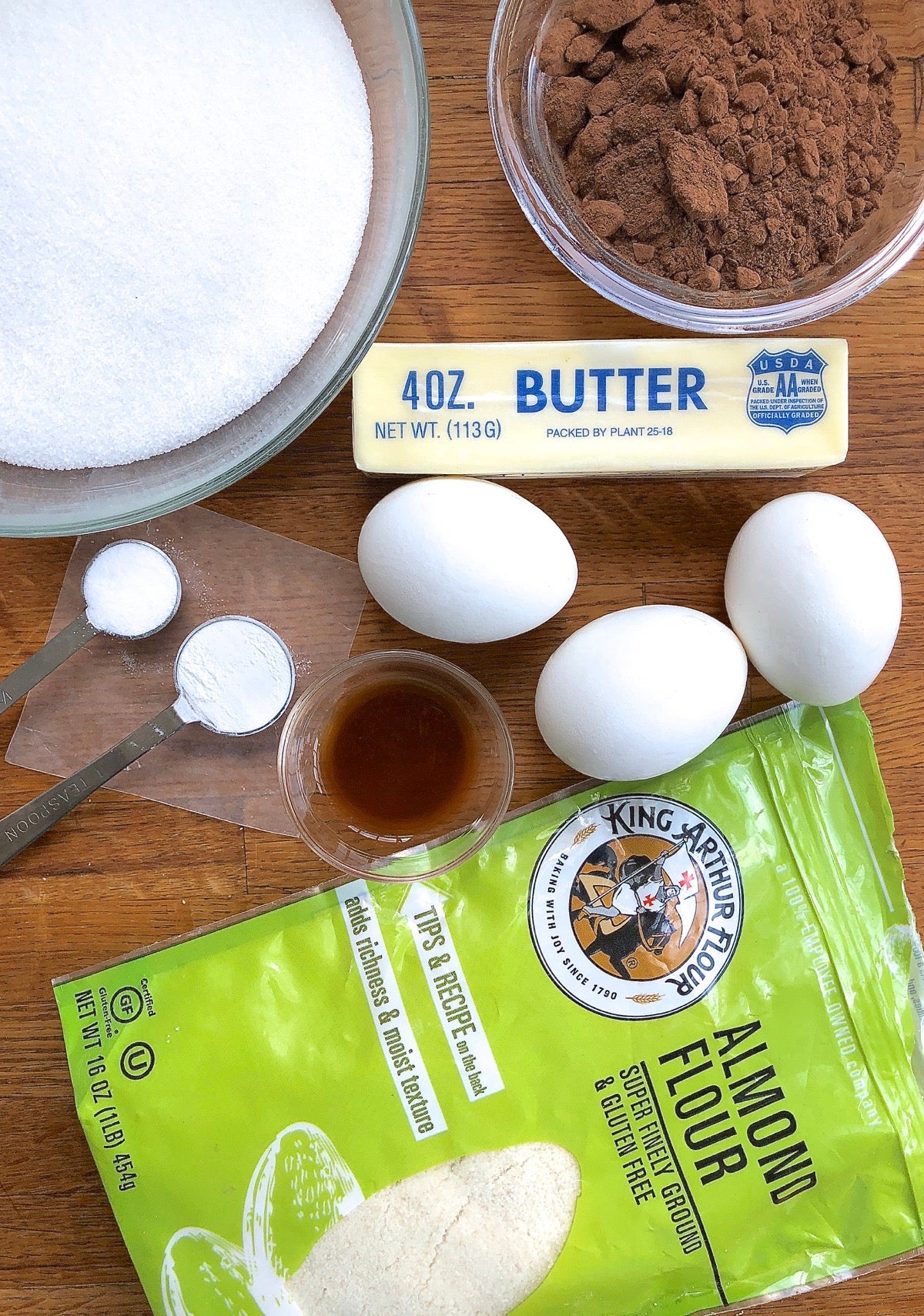 Eight ingredients (seven of them pantry staples) are all you need. Yes, you'll probably need to purchase almond flour; but it stores beautifully in the freezer, so no worries about keeping it fresh until next time you need it.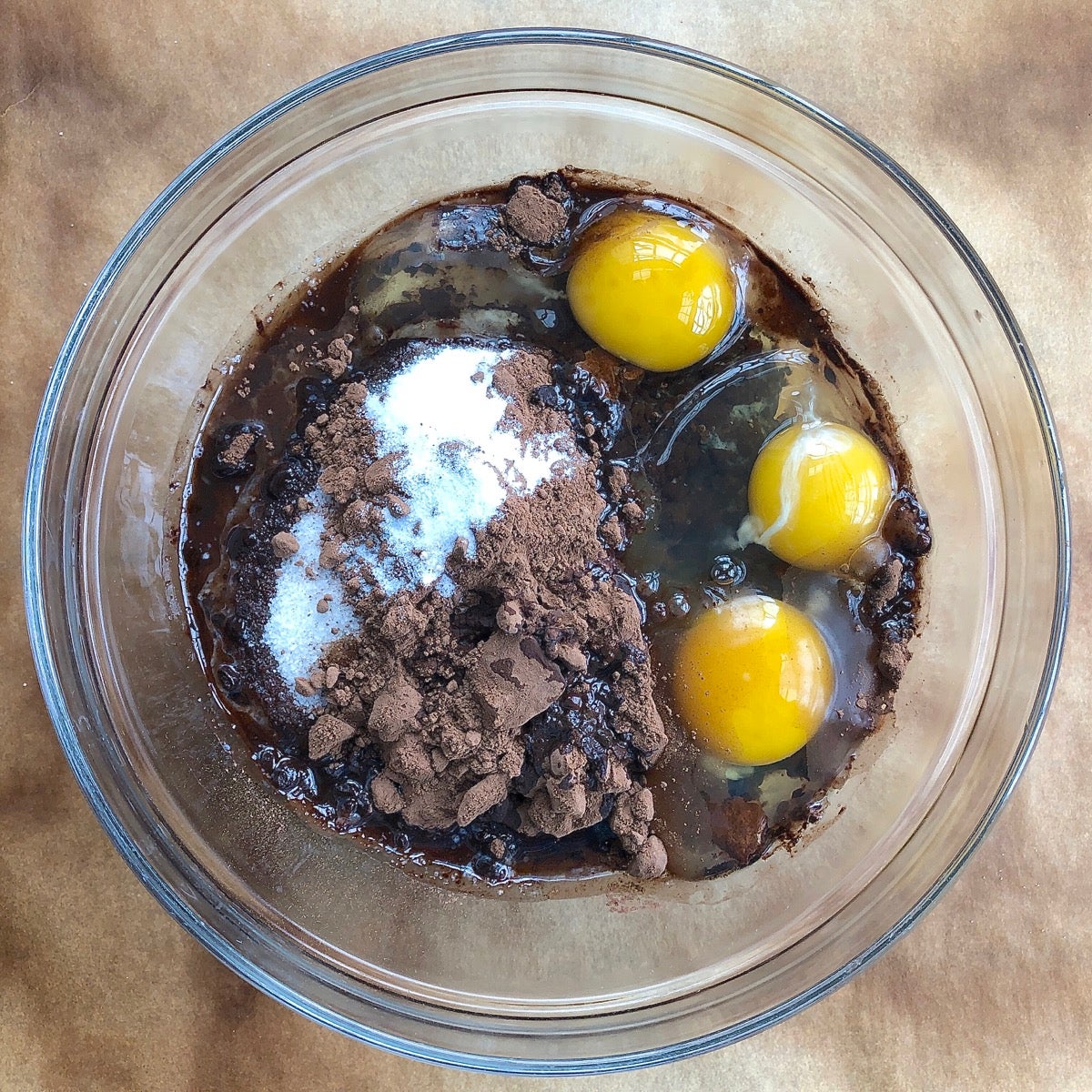 Stir together the batter
Relax! You won't need your KitchenAid. There's no melting chocolate in a saucepan or whisking ingredients together separately; one bowl and a spoon is all that's required.
First, preheat your oven to 350°F. Give it enough time to warm up; this is such a simple recipe you'll probably have the brownie batter ready well before the oven is up to temperature.
Place the following in a medium-sized mixing bowl:
5 tablespoons (71g) melted butter
1 3/4 cups (347g) sugar
1/2 teaspoon salt
1 teaspoon vanilla extract
3/4 cup (64g) cocoa powder, Dutch-process or natural; sifted if particularly lumpy
3 large eggs
Note: If you're baking for someone on a strict gluten-free/grain-free diet, make sure all of the ingredients you choose are certified gluten-free/grain-free.
Stir everything together with a spoon, whisk, or spatula.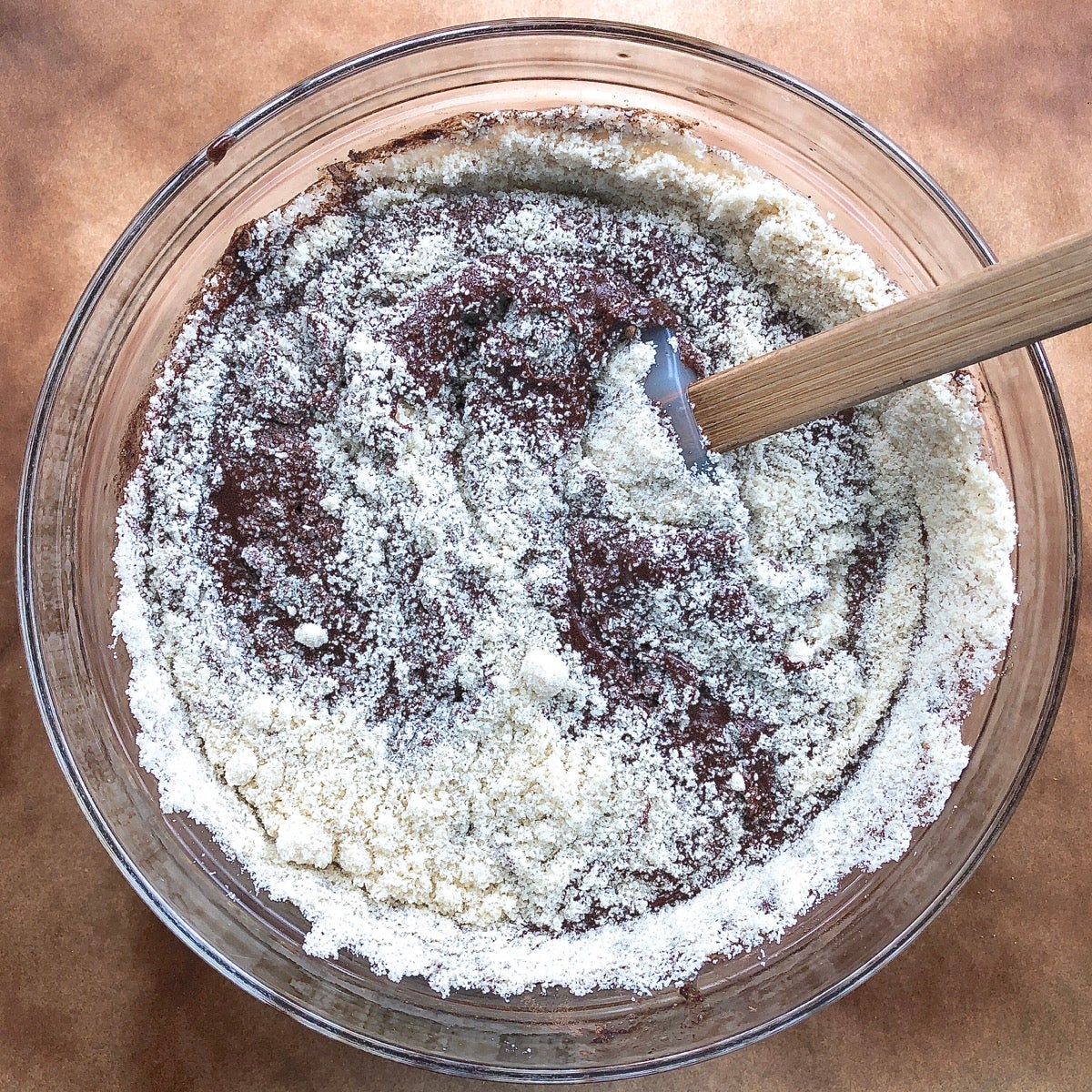 Mix in 1 1/2 cups (145g) almond flour and 1 teaspoon baking powder.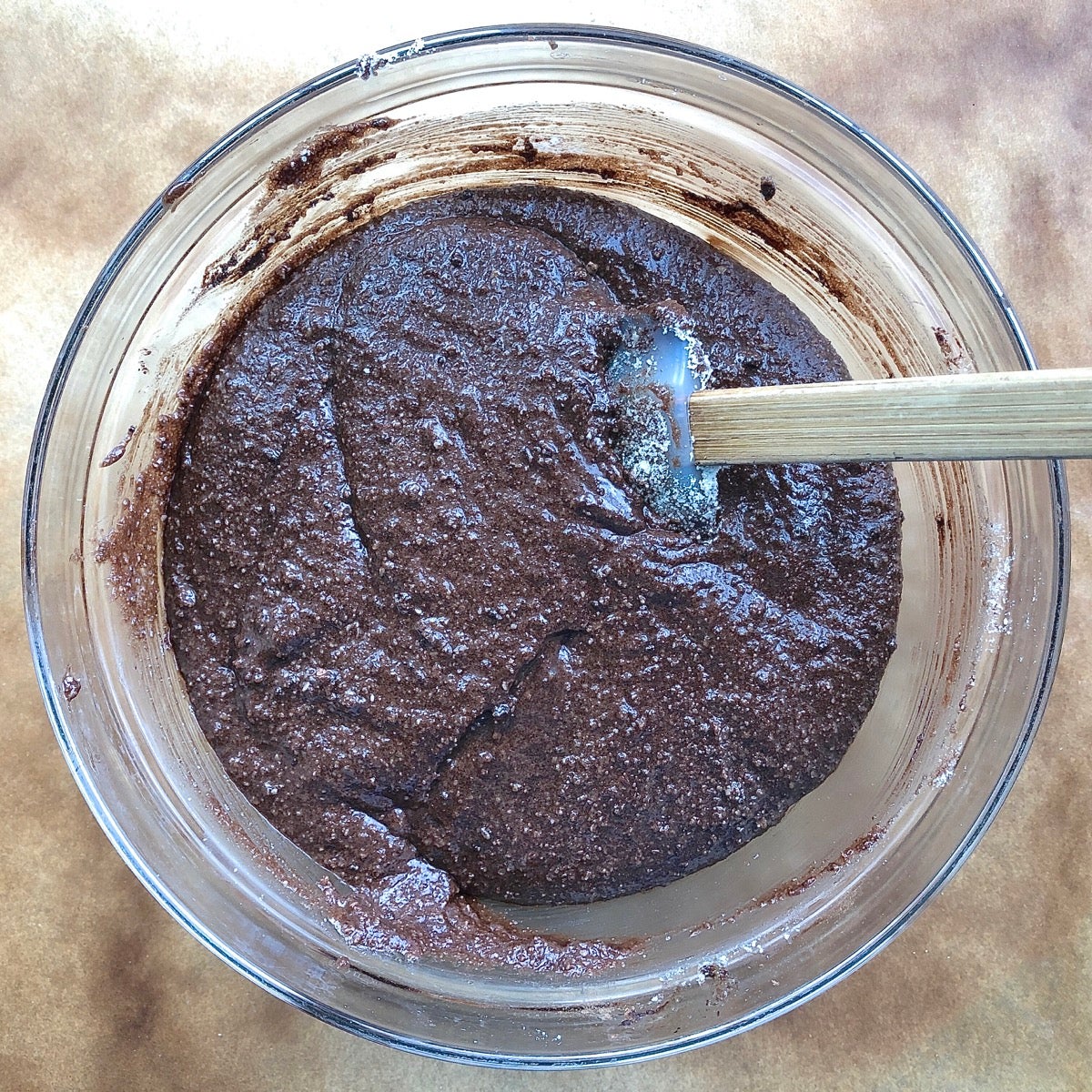 The batter will be thick and fairly smooth, showing only a slight graininess from the almond flour.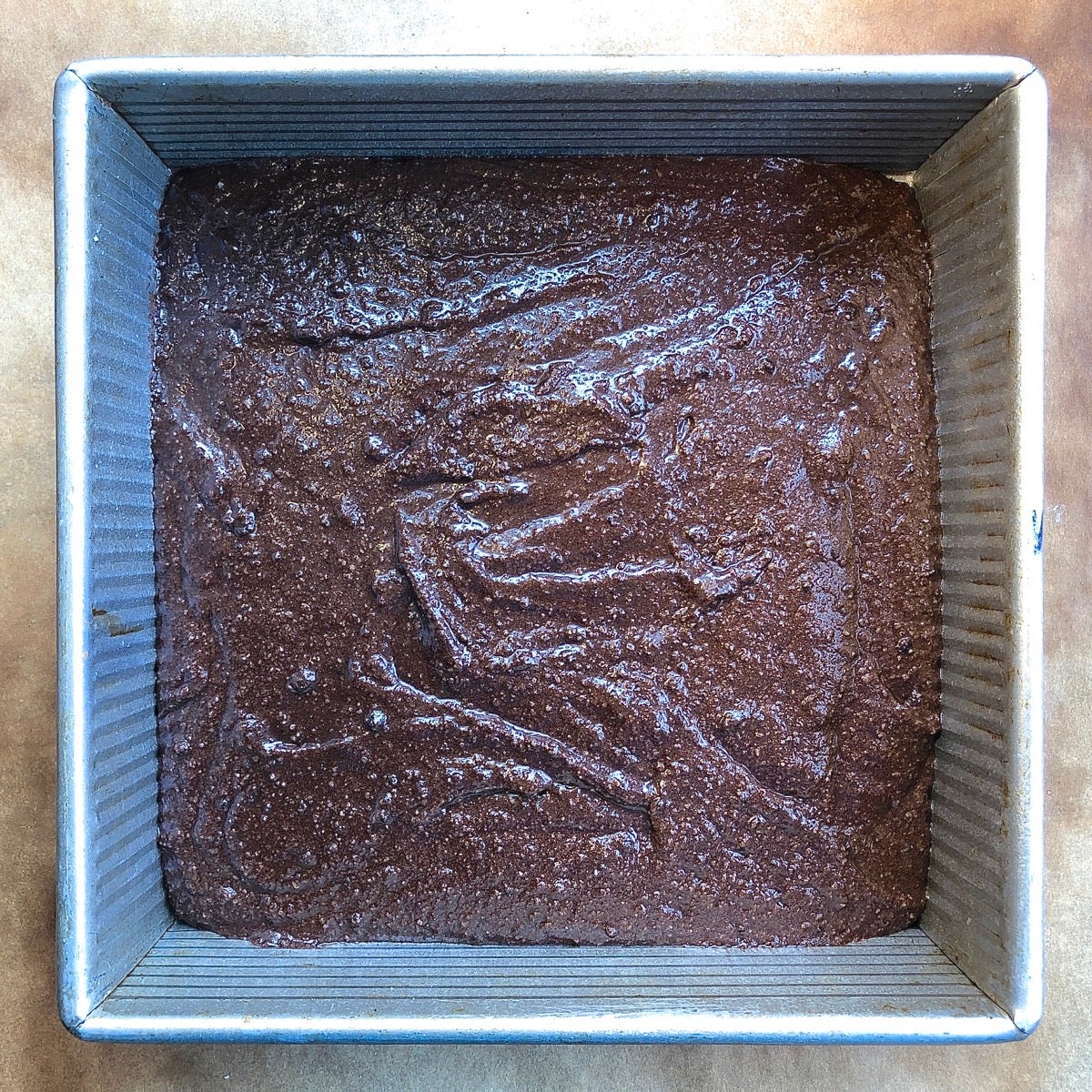 Spread the batter in a pan
Scoop the batter into a lightly greased 8" square or 9" round pan; either will work just fine.
Did you know these two different pans have the same capacity? What other size pans are interchangeable? Discover more about alternative pan sizes.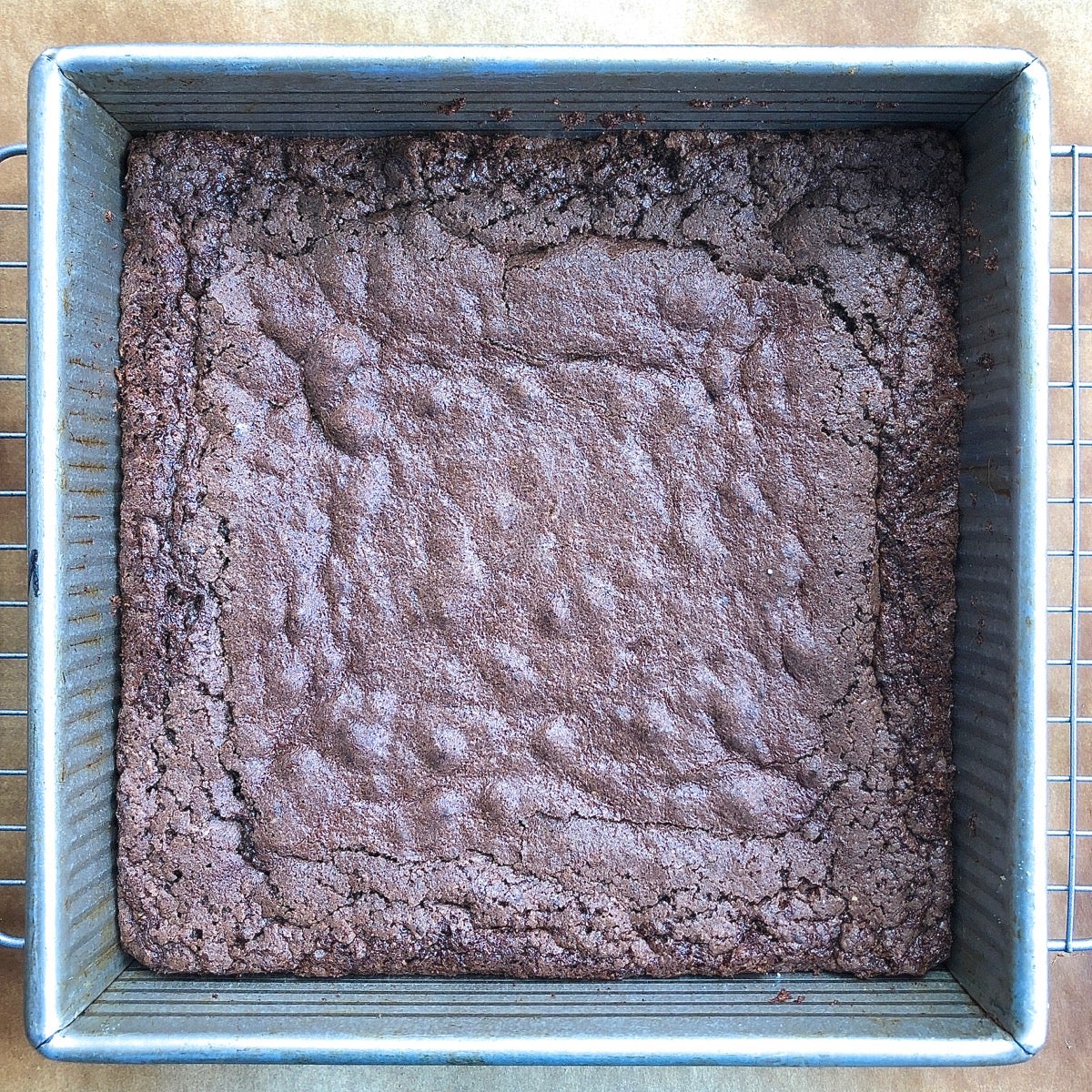 Bake the brownies
They'll need about 33 to 38 minutes in the oven. When done, the top of the brownies should look set. And when you shake the pan slightly, their center shouldn't jiggle.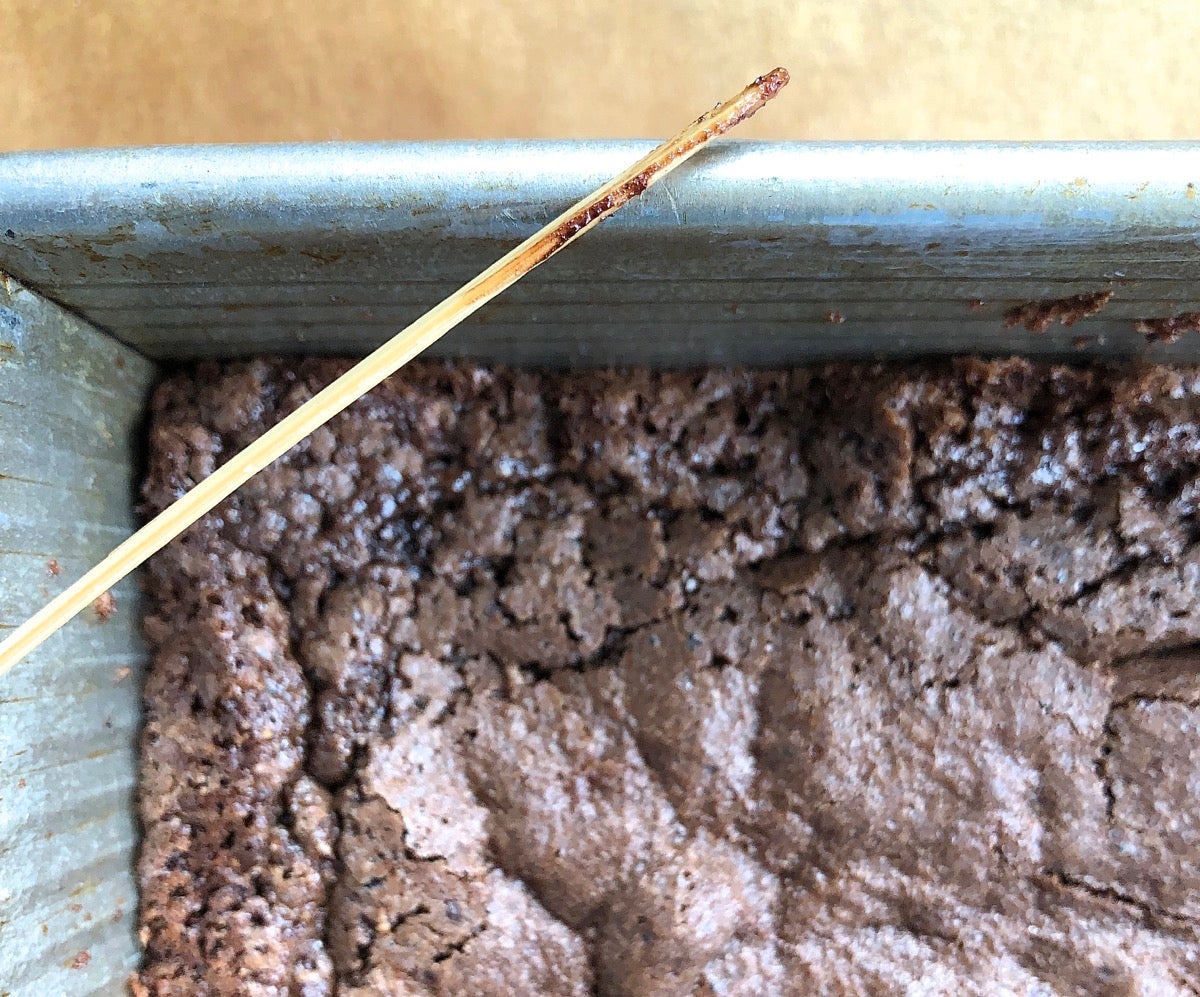 A toothpick or thin skewer inserted into the center of the brownies should emerge clean or nearly so, showing perhaps a few wet crumbs or a tiny smear of chocolate.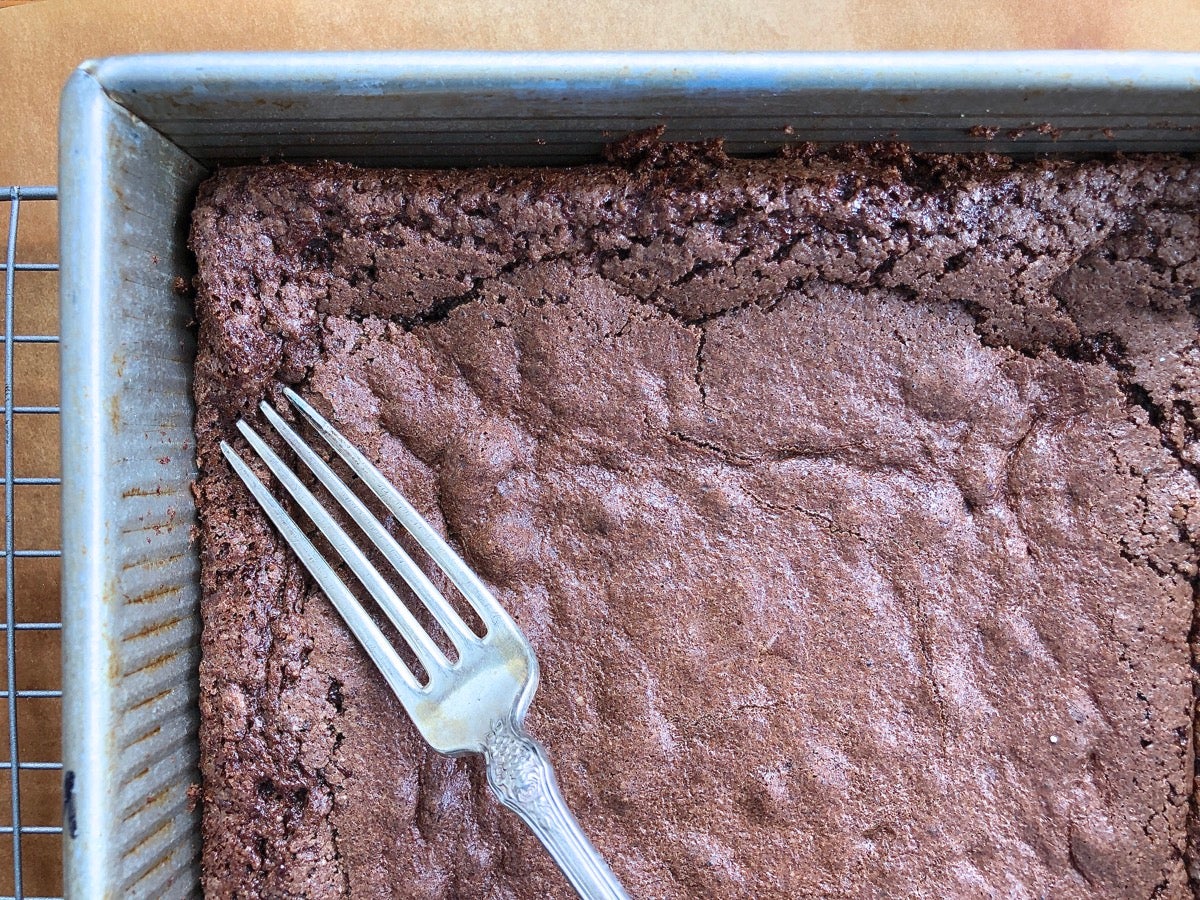 Remove the pan from the oven. If the brownies have puffed up around the edge (and you don't care for that "look"), gently flatten them with a fork; this will give them a smoother profile when cut.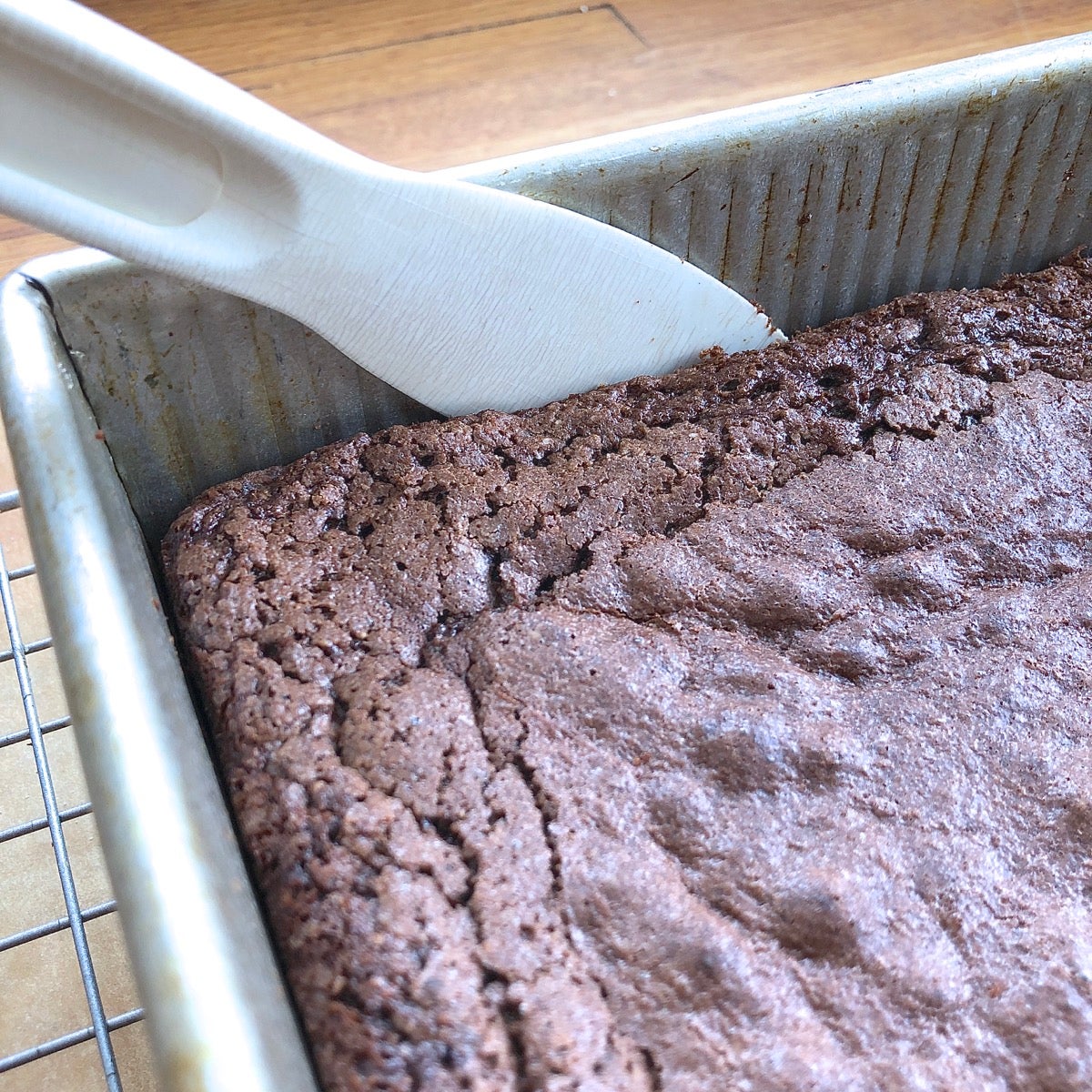 Run a heatproof spatula around the edge of the pan to loosen the brownies before they cool and set.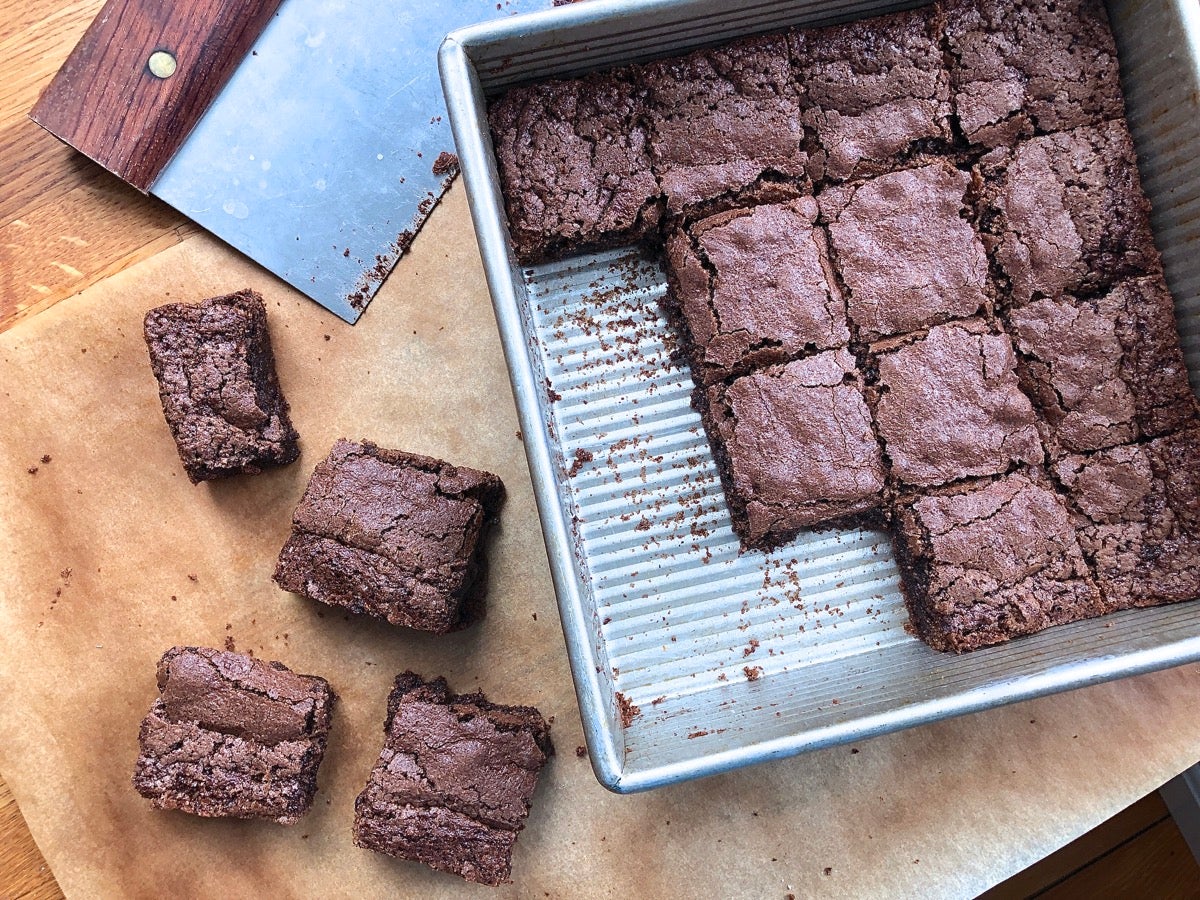 Cool, cut, and enjoy
Once the brownies are cool, cut them into squares (or wedges, if you've used a round pan). To eliminate the sticky drag of a knife, use a bench knife to press straight down into the pan; it's the perfect tool for this task.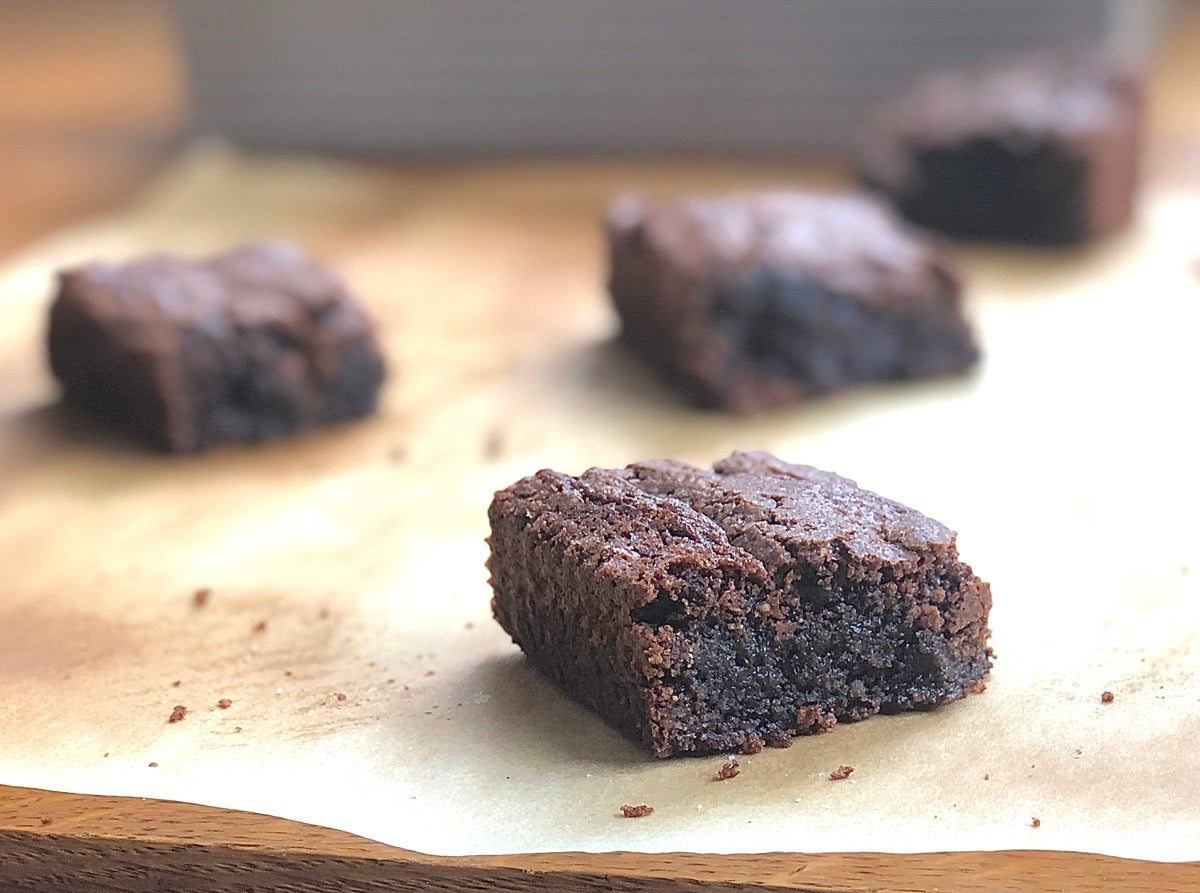 I told you these were fudgy, yes? Not wet or gooey, just nicely moist, with a lighter-colored, delicate crust on top.
So there you have it: a new brownie recipe that's simple, delicious, and appropriate for anyone avoiding gluten and grains. What's not to love?
What else can you bake with almond flour? Check out our 100+ almond flour recipes.
Jump to Comments