Baking Dutch baby pancakes
A spectacular entertaining recipe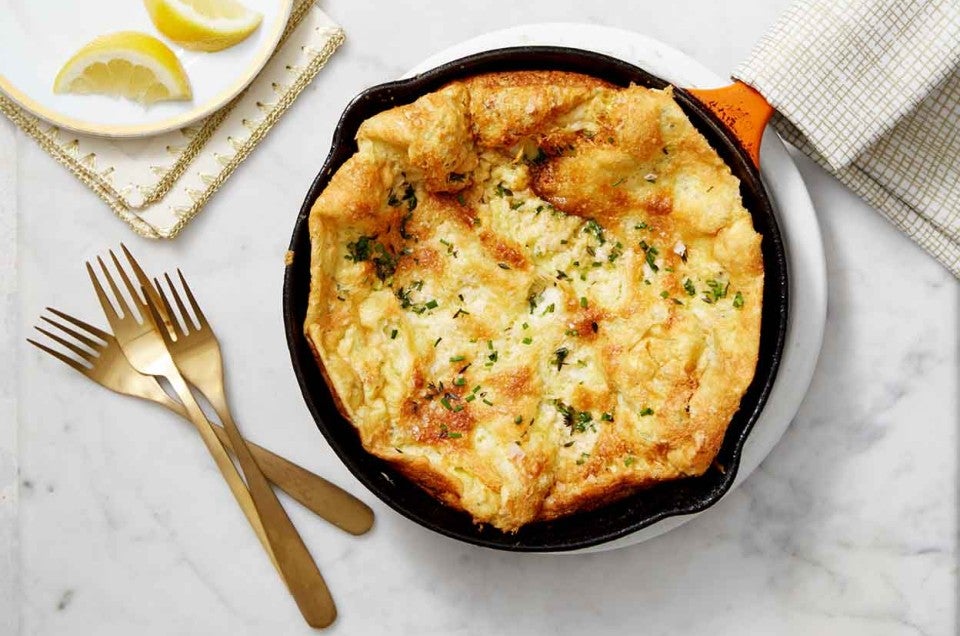 Pancakes: a familiar, beloved breakfast staple. Most people feel comfortable customizing such a simple, straightforward dish. You can make them sweet (with chocolate or fruit or maple syrup). You can make them savory and eat them for dinner. They're a blank canvas! But despite their many charms, pancakes aren't known for their elegance. If I say "dinner party dish," you probably don't think "pancakes!" — unless you're feeding a crowd of 5-year-olds.
Enter the Dutch baby: the pancake's sophisticated cousin. The Dutch baby is what you'd get if the pancake grew up, went to college, and jetted off to study abroad in Europe. Also known as German pancakes, they're like a cross between a pancake and a clafoutis, with an eggy texture similar to Yorkshire pudding and puffy, soufflé-like edges.
The simple ingredient list looks almost identical to pancakes: eggs, flour, milk, and butter. But instead of using a leavener like baking powder as basic pancakes do, Dutch babies use lots of eggs (eight!) and are baked in a skillet in a hot oven; both of these factors cause them to puff majestically.
Dutch babies are excellent for breakfast, just like pancakes. But their simplicity and stunning appearance make them a wonderful option for dinner parties or the star of a weeknight meal. Instead of having to stand at the stove, constantly pouring batter and flipping (and messing up plenty, if you're like me!), Dutch babies don't require any work after you mix the batter.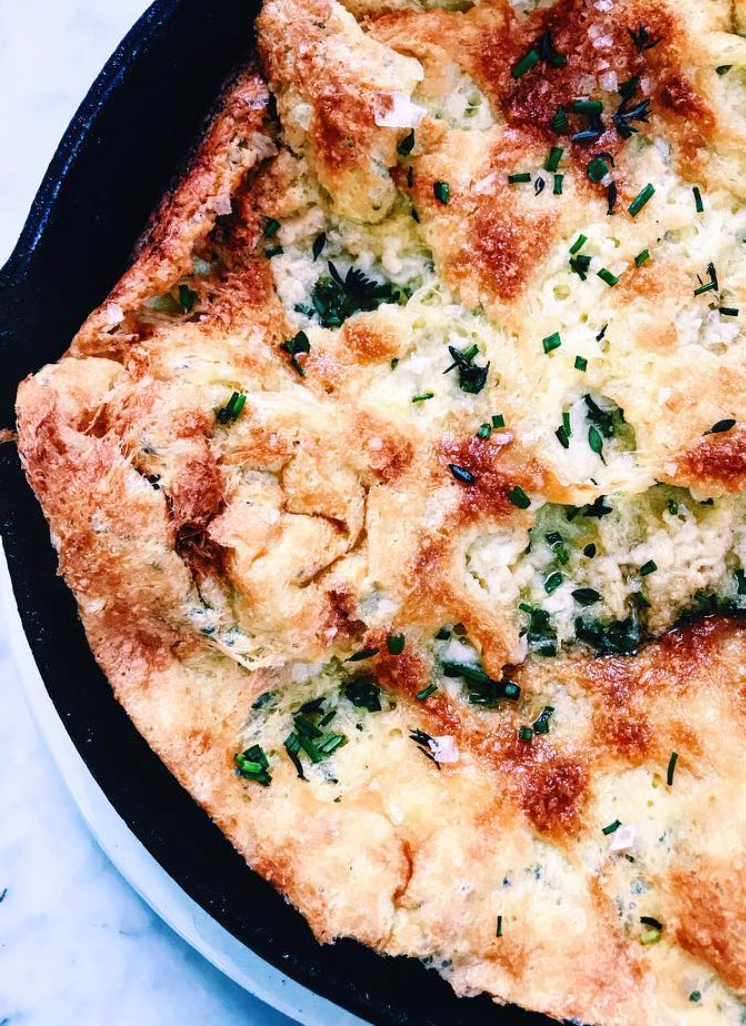 Make one in a large 12" skillet and it easily feeds four people for dinner. Make two, and serve them for a crowd! Or, halve the recipe and bake in a 9" skillet for a nice meal for two.
Just like pancakes, you can make them sweet or savory. If you want to go sweet, try this excellent lemon recipe. But I strongly recommend you try this herbed Parmesan savory version. The recipe comes from food writer and author Melissa Clark, who generously shared it with us in the fall 2018 issue of Sift magazine.
Melissa relies on this recipe as one of her go-to entertaining dishes.
As she puts it, the pancake is "golden, crunchy, and covered in a salty, frico-like layer of baked Parmesan" and tastes like "a giant gougère-style cheese puff meets Yorkshire pudding, with a crisp outer crust and a soft, cheesy, custardy interior."
Melissa makes it for dinner and brunch for guests, and loves it with a cold gin martini. (Who are we to argue?!)
Here's how to do it: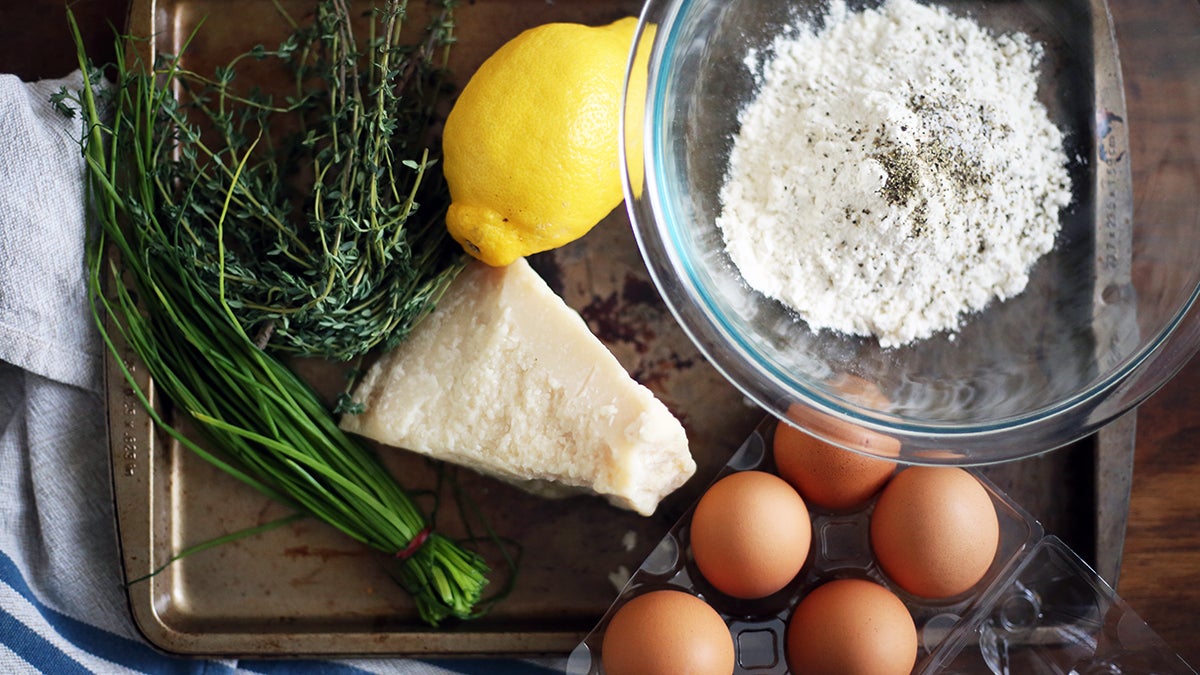 Baking Dutch baby pancakes
Gather together your ingredients:
1 cup + 2 tablespoons (128g) King Arthur Unbleached All-Purpose Flour
1/2 teaspoon kosher salt or 3/8 teaspoon table salt
1/2 teaspoon freshly ground black pepper
8 large eggs
3/4 cup (170g) whole milk
2 tablespoons finely chopped fresh thyme
2 tablespoons minced fresh chives
4 tablespoons (57g) unsalted butter
3/4 cup (85g) grated Parmesan cheese
flaky sea salt, for garnish
Preheat your oven to 425°F.
In a large bowl, whisk together the flour, salt, and pepper.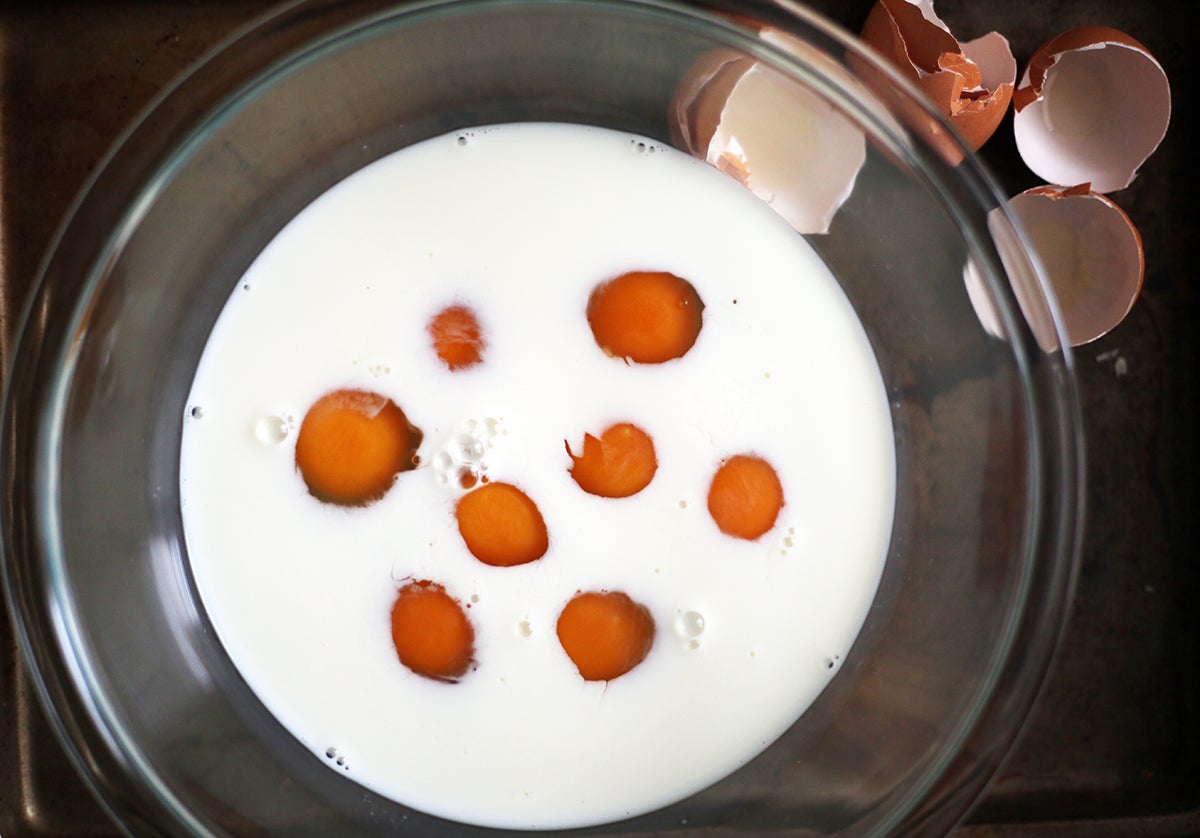 In a separate bowl, whisk together the eggs and milk.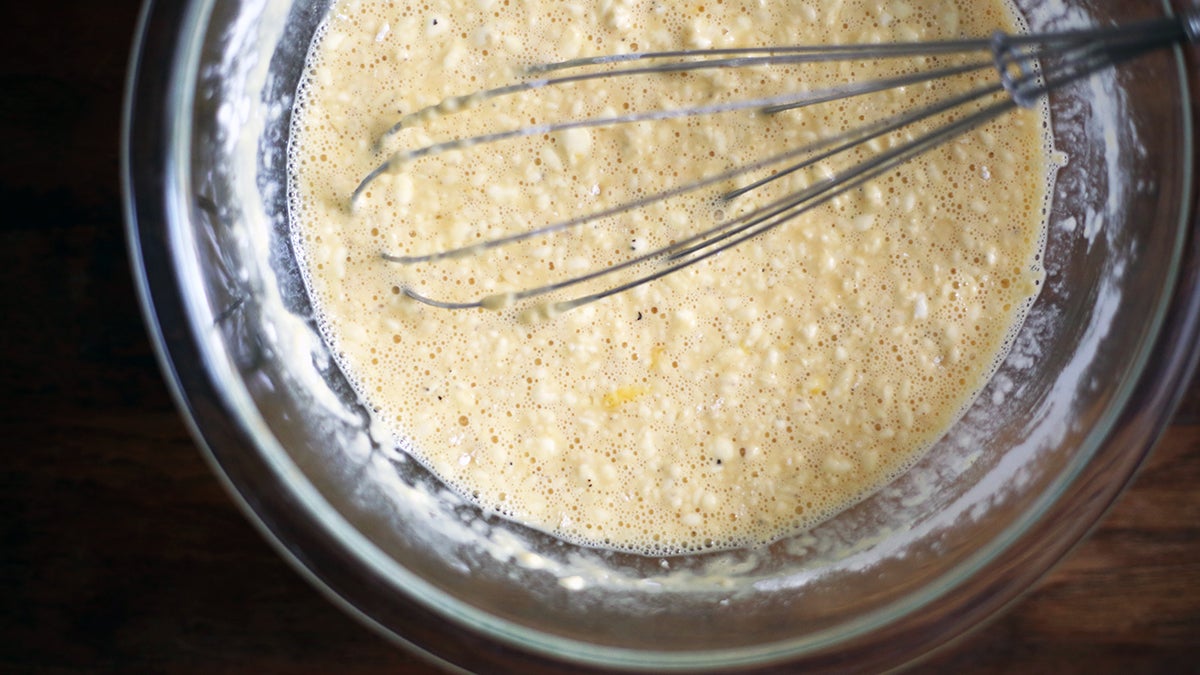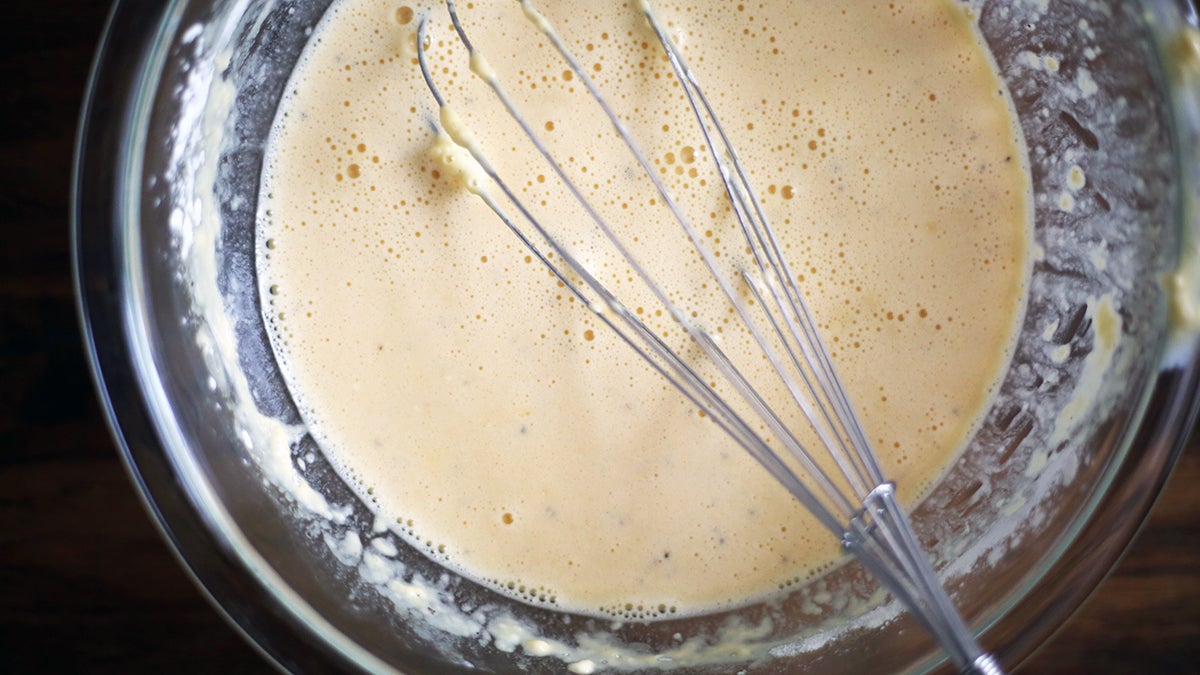 Whisk the liquid ingredients into the dry ingredients. If your mixture is lumpy, like mine was, give it a quick whirl in the blender and it'll smooth out like a charm.
Stir in the herbs. The recipe calls for thyme and chives, but another great addition is tarragon.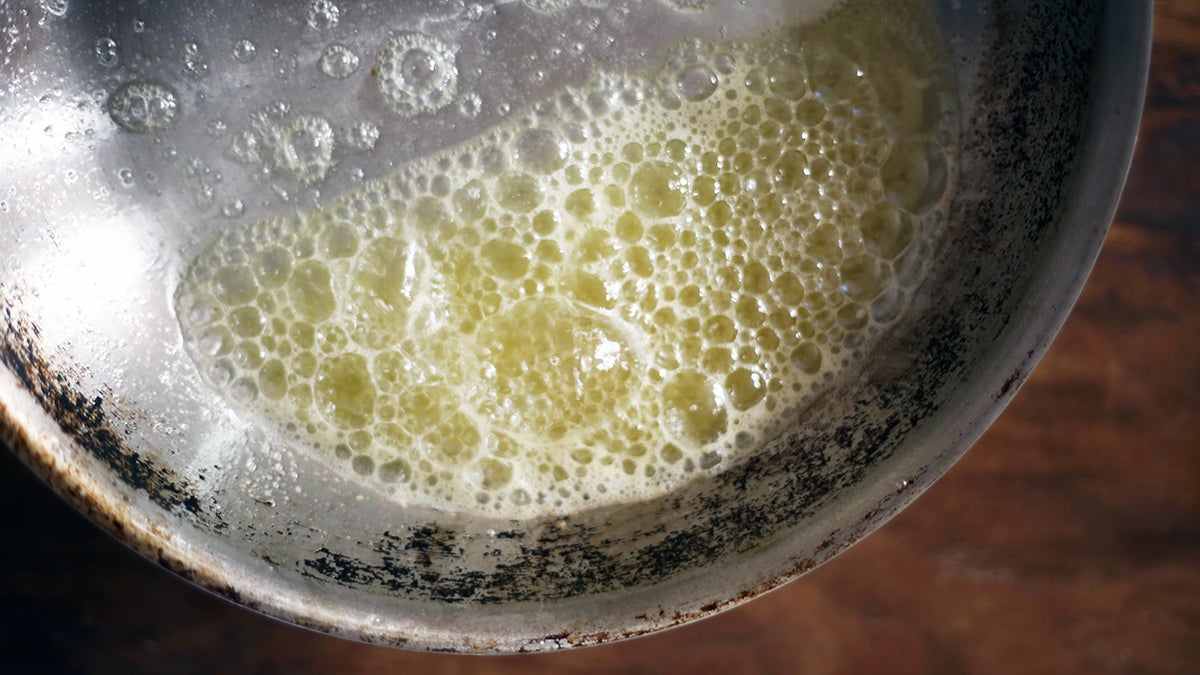 Melt the butter in a 12" skillet over medium heat. Continue to cook the butter, swirling the pan occasionally, until it smells nutty and browns slightly.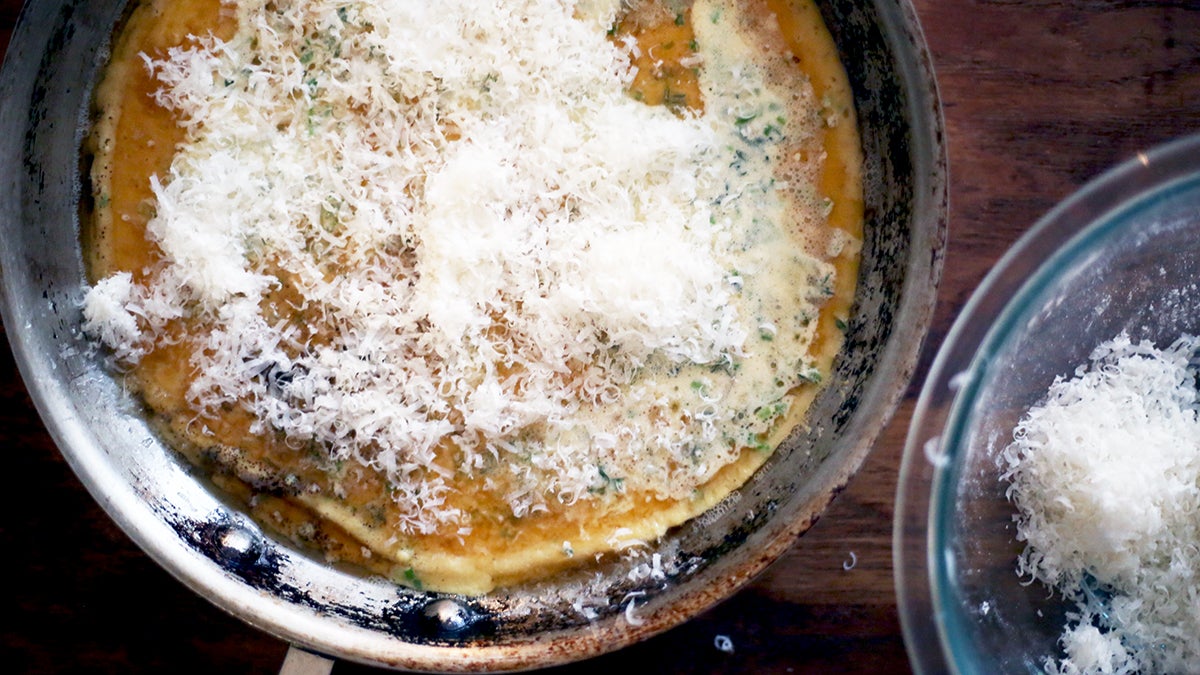 Pour the batter into the pan with the butter. Sprinkle the cheese and flaky salt in an even layer on top.
Place the pan in the oven and bake for 20 to 25 minutes. The longer baking time will yield a drier and more golden pancake.
Carefully remove from the oven (the pan handle is hot!) and serve immediately.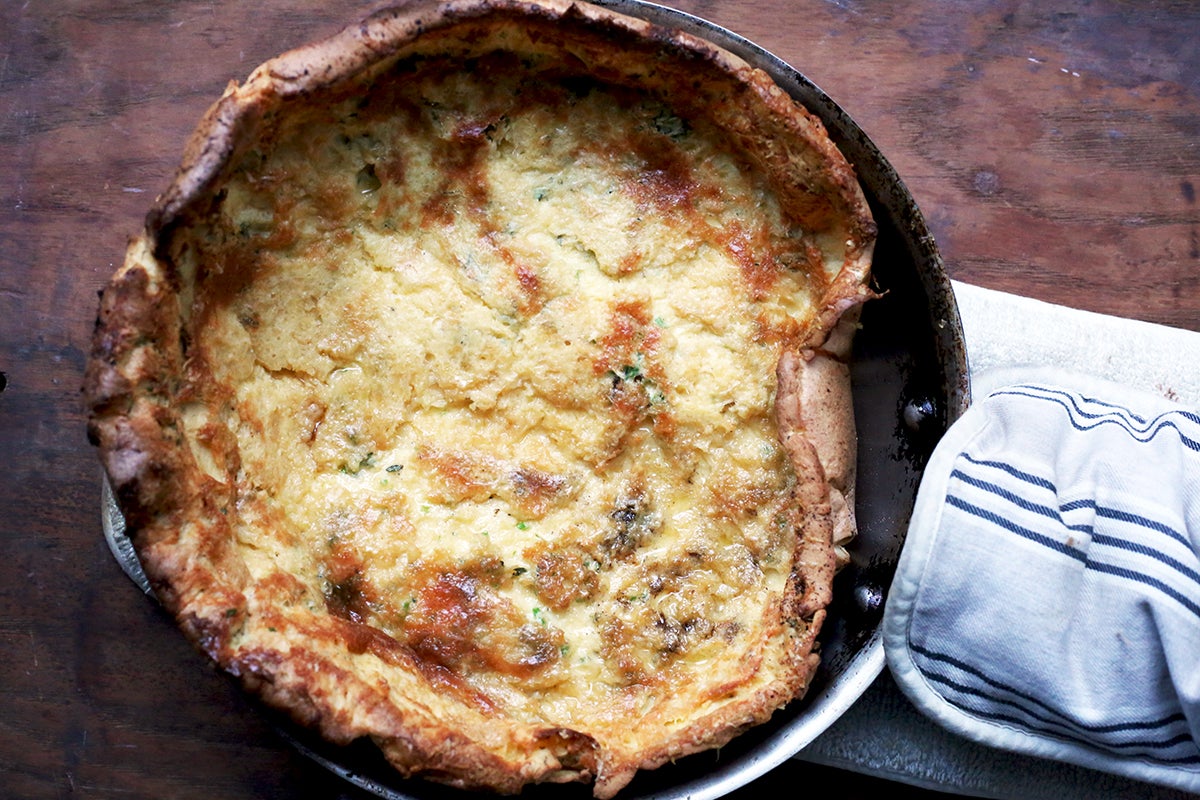 Making a Dutch baby feels pretty close to being a magician. Watching it transform from plain batter to a steaming hot pancake with a pleasingly rumpled surface like an unmade bed will thrill any baker.
If this recipe inspires you, check out our roundup of sweet and savory pancakes for dinner — from crispy Zucchini-Cheese Pancakes to these protein-packed Quinoa Pancakes.
Jump to Comments