Cinnamon rolls are a fantastic project for any baker (and any enthusiastic eater!). Of all the yeasted doughs to bake, cinnamon rolls are some of the simplest and most user-friendly. And with one little secret weapon — borrowed from your bathroom cabinet — you can make more precise, uniform rolls with ease.
Most cinnamon roll doughs, like our popular Cinna-Buns and Soft Cinnamon Rolls, are enriched with butter and eggs, like a brioche. This dough has four great selling points.
First, it's very pliable and easy to roll out; it doesn't snap back like pizza or cracker dough can.
Second, it's much more tender than many sandwich-type loaves, so you don't need as much elbow grease to knead it.
Third, it's not sticky or overly buttery, so you don't even need extra flour to roll it out.
And of course, the most important quality of all: it's absolutely delicious! My favorite recipe calls for nothing more than cinnamon sugar and butter in the filling. As it bakes, the filling melts into a spiced, caramelized swirl of sugar inside each tender roll.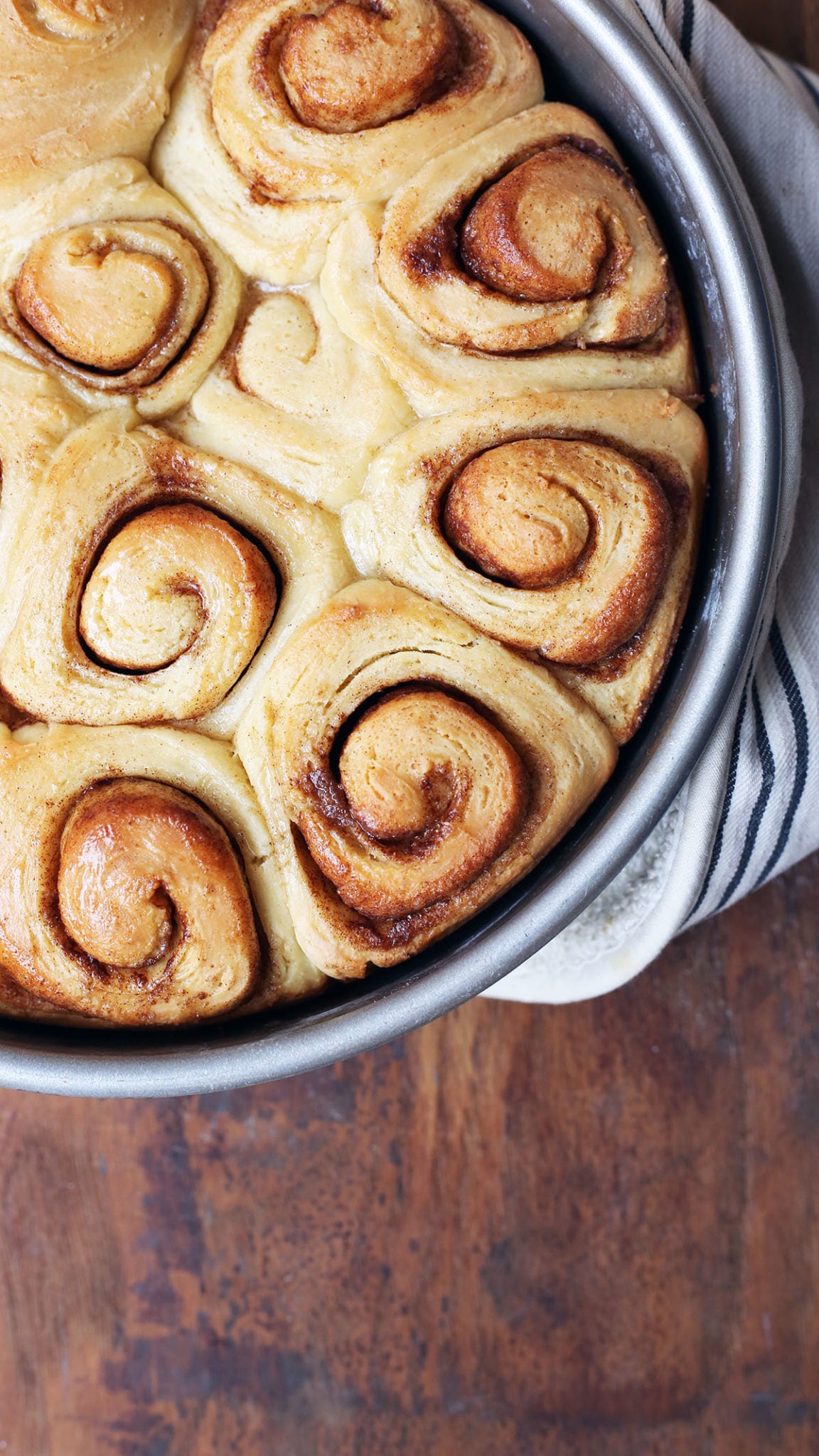 A smart tip
We have all sorts of resources (from turning them gluten-free to making them softer) to teach you more about rolls, but today we're going to talk about one excellent tool for making rolls: dental floss.
Dental floss is the best and neatest way to slice your rolls. It's better than a sharp knife, a serrated knife, or any other tool we've tried. Dental floss slides cleanly through the dough, cutting it into slices without smooshing and tearing. If you use a knife, you have to press down on the dough, which alters the shape. Dental floss keeps the shape intact.
This is a trick I swear by. I tell every baker and friend about it; every person who tries it has raved over the difference one little trick can make. When your dentist says "floss daily," they probably aren't referring to baking cinnamon rolls. But, I'll take it as a directive to do exactly that!
Be sure to use unflavored floss! If mint-flavored waxed floss is all you have, go ahead and use it, but plain is ideal to avoid any mint taste on your dough.
Slicing cinnamon rolls with floss
Here's how to do it: First, you'll make your dough and let it rise for almost two hours. It should become quite puffy, but may not double in size.

You can check to see if it's ready by pressing a finger into the dough. When it's risen properly, your fingerprint should remain in the dough but spring back slightly.
Press the dough out into a rectangle. A rolling pin is helpful here, but the dough is soft enough that you don't need it. I always roll my own out onto a rolling mat. It keeps counters tidy and clean-up to a minimum!
Spread the butter across the dough, then sprinkle it with cinnamon sugar.
Gently roll it up starting from the long edge closest to you.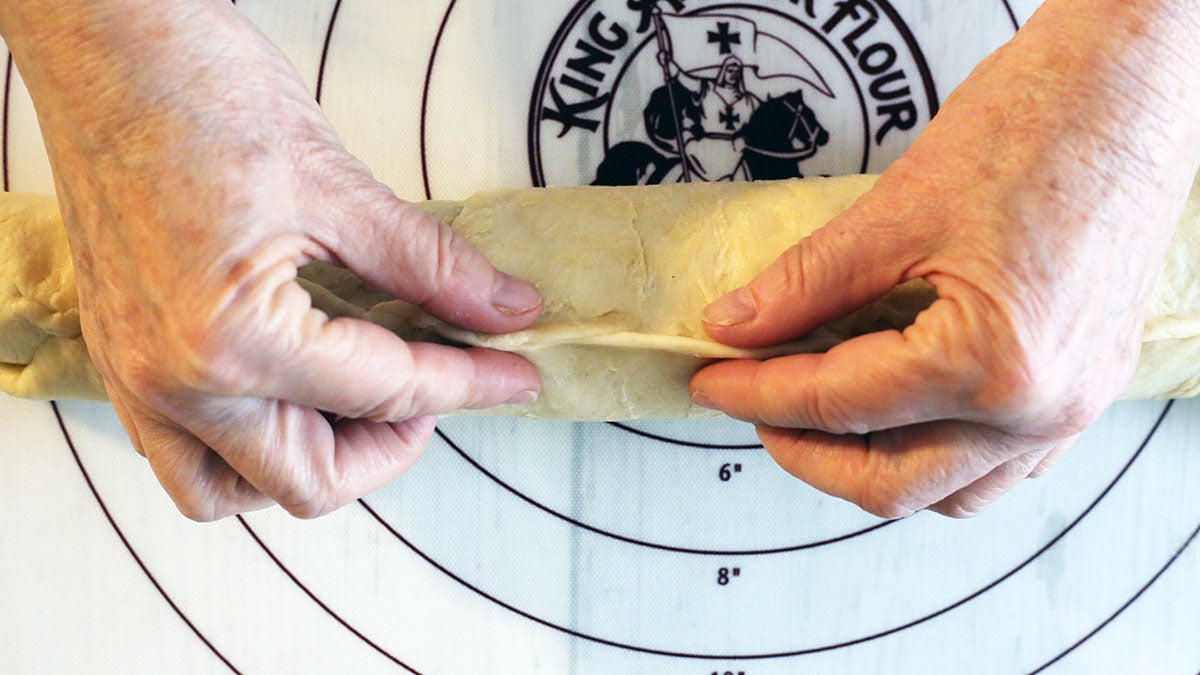 Pinch the seam closed tightly.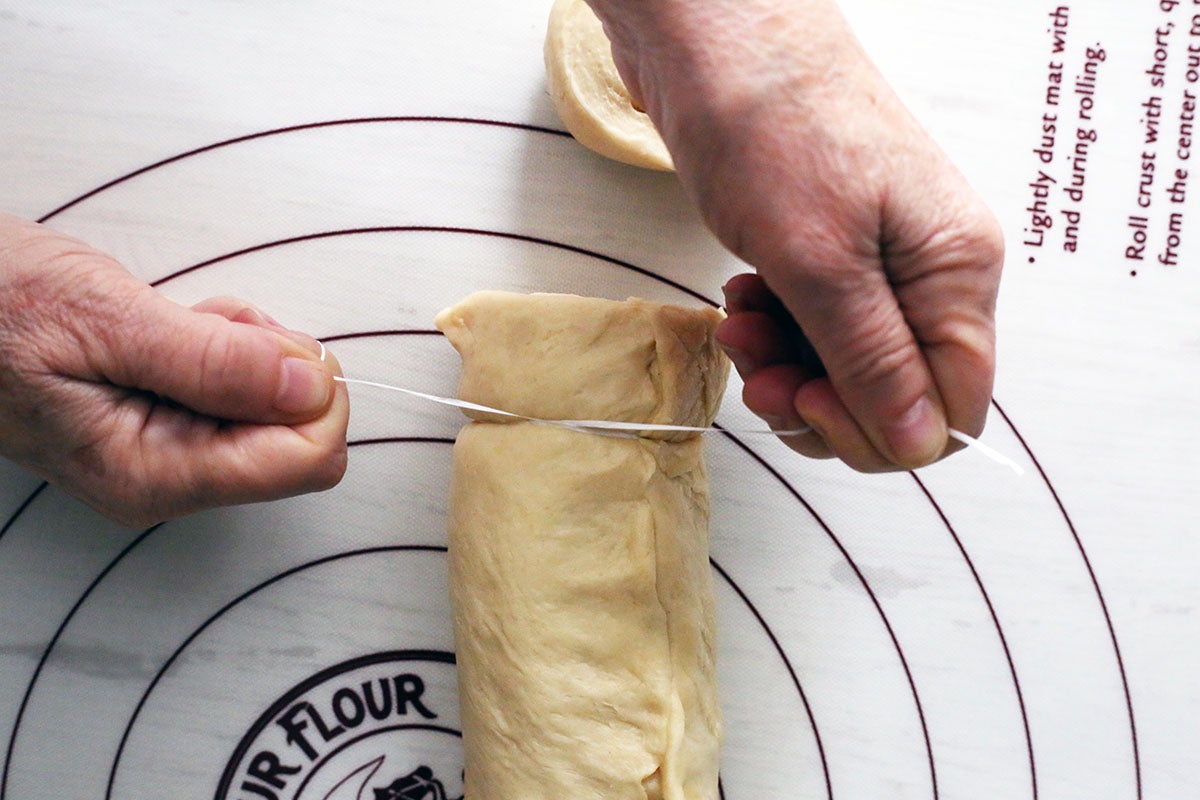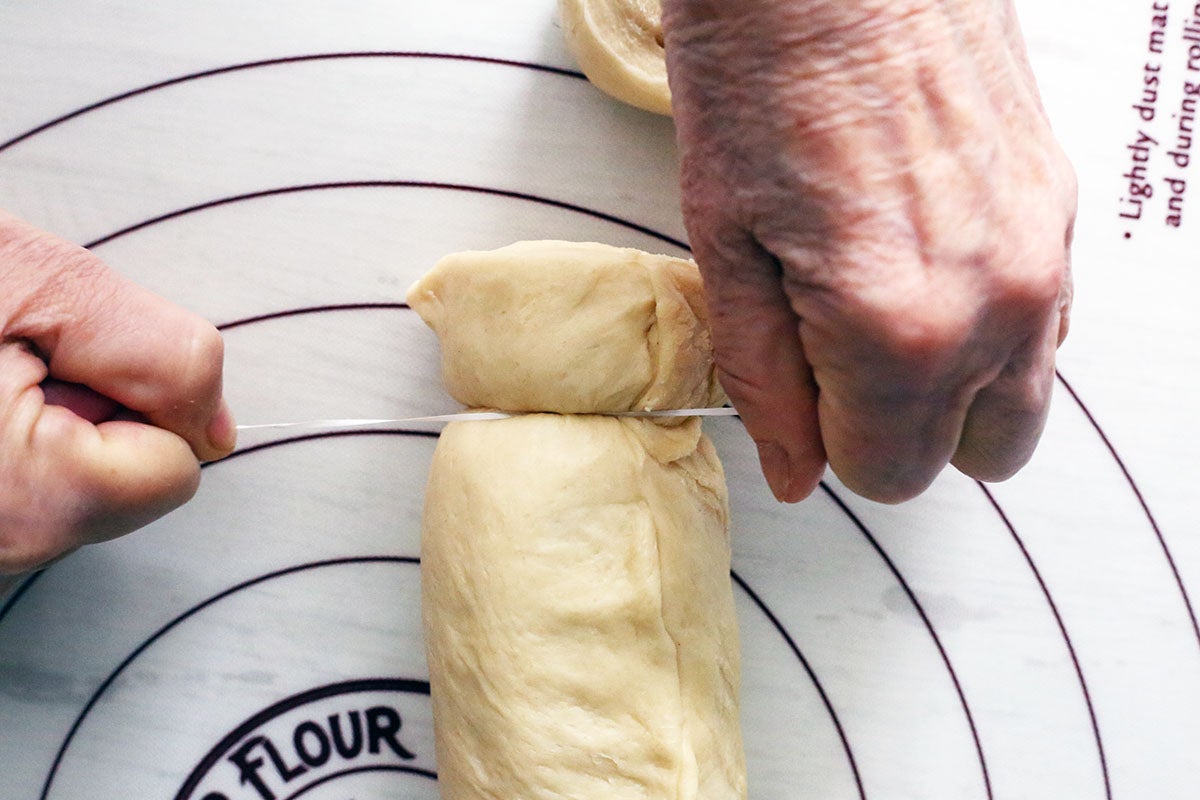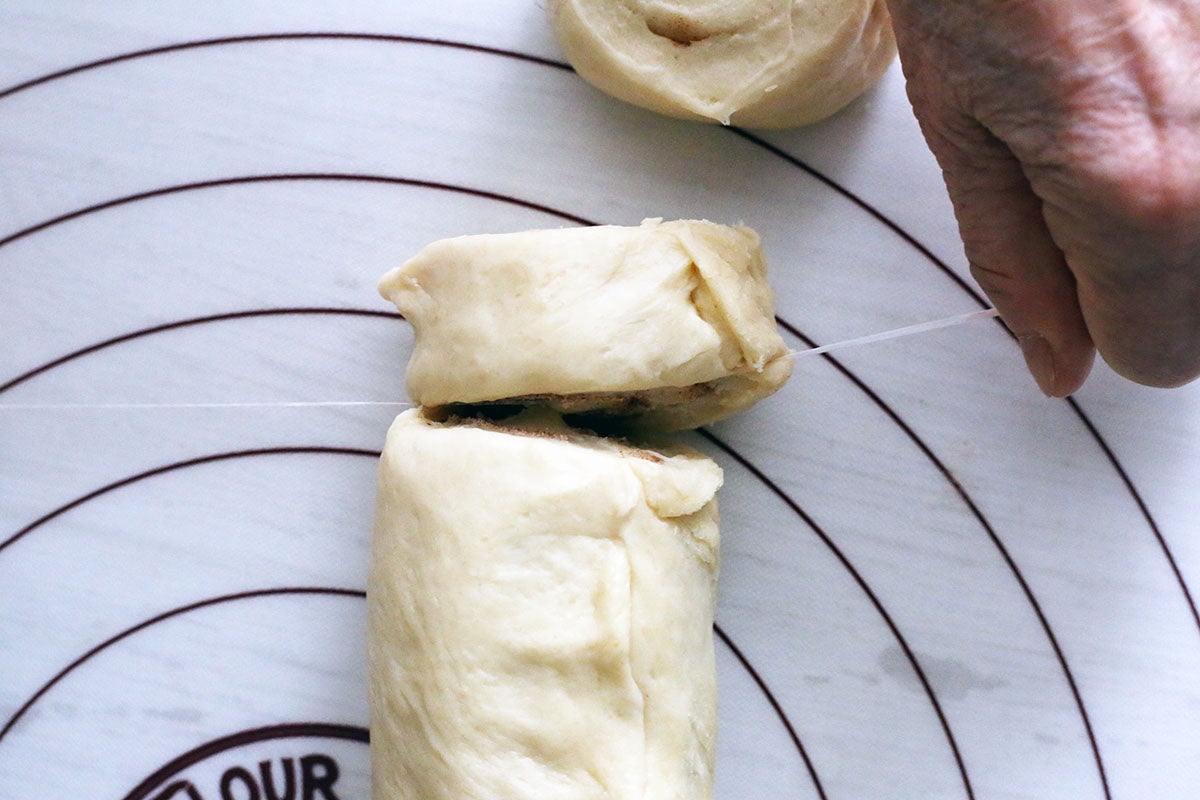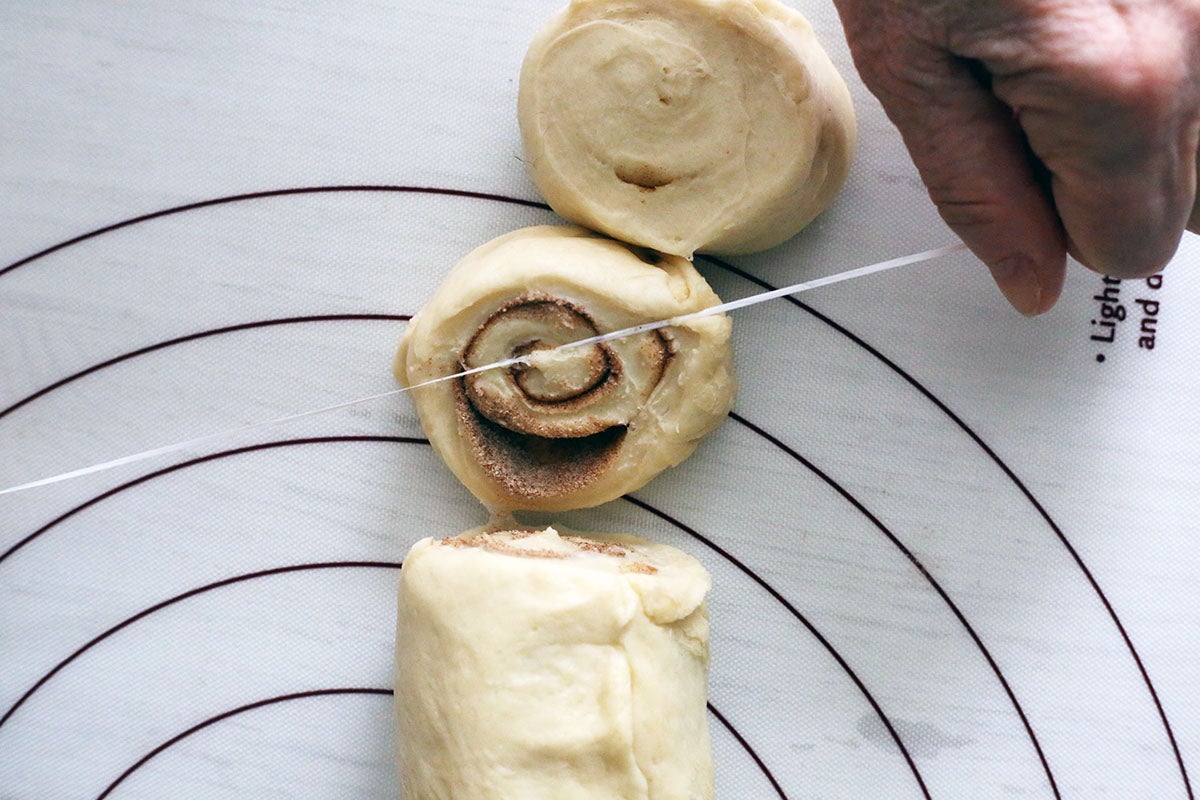 Now, it's time to floss! Slide a long piece of dental floss under the dough. Wrap it around the top. Pull tightly in opposite directions to pull the floss through the roll. Repeat, slicing at about 2" intervals.
Place your rolls in a round cake pan, cover with plastic wrap or a damp tea towel, and let them rise until noticeably puffy. This should take about 45 minutes.
While the rolls rise, preheat your oven. Check your recipe; some will bake lower for longer (350°F for about 25 minutes) and some hotter for less time (400°F for about 15 minutes). They're ready when they're a dark golden brown color on the top.
Remove them from the oven. If you're frosting them, let them cool fully before topping them. If you're not topping them, brush them with melted butter while still warm.
More inspiration
Our Cinna-Buns recipe calls for a traditional filling of butter and cinnamon sugar. But you can switch it up. Change the spices (cardamom and nutmeg are excellent), add some citrus zest, or sprinkle nuts and chopped chocolate over the dough. Make babka-style rolls by spreading the dough with chocolate hazelnut spread.
Try the Cinna-Buns recipe I used here, or start with one of our top-rated picks, like these Soft Cinnamon Rolls or Favorite Sticky Buns. Grab your floss and get baking!
Jump to Comments