How to make sticky buns
Perfecting the ultimate sticky topping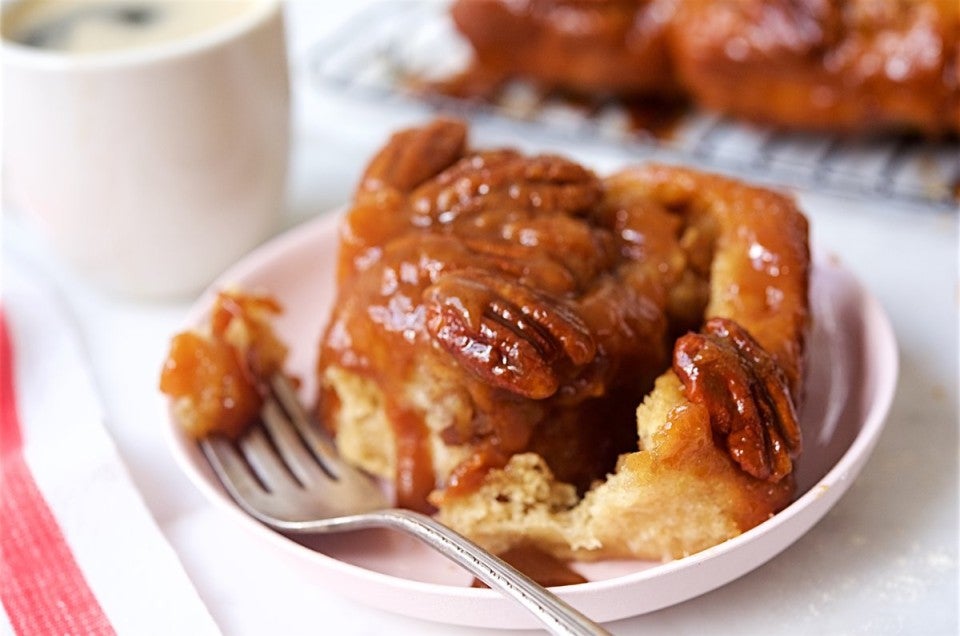 There's something special about sticky buns — the way you can unravel them like a present that's made just for you. The sweet filling is tucked inside soft swirls of dough. And the best part? That finger-licking, ooey-gooey topping. Learning how to make sticky buns and that delightful, sticky topping is definitely worth the time.
The key to maximum, sticky deliciousness is making a topping that's just the right thickness. It should stick to your fingers slightly but still melt in your mouth. You should be able to pour it into the bottom of your pan in a gorgeous, caramel-colored ribbon. The nuts should sink gently into the luscious layer of brown sugar and butter, like your head on a pillow.
Alright, enough dreaming about caramel pillows. Let's learn how to make sticky buns and this mouth-watering topping!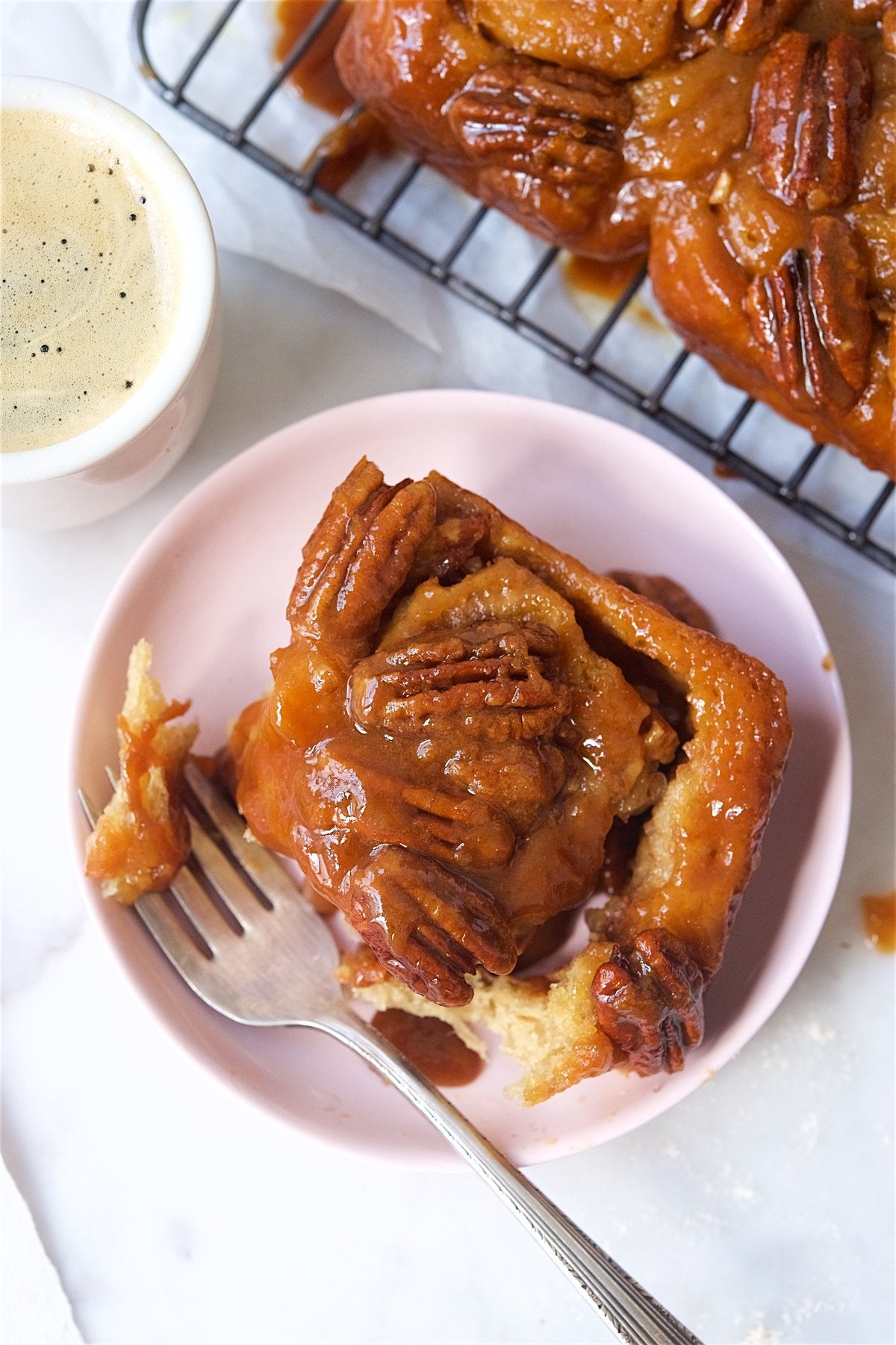 Wholeheartedly delicious: Whole Grain Sticky Buns
The best sticky buns start with the right recipe. While we have a number of fabulous sticky bun recipes, currently I'm obsessed with our Whole Grain Sticky Buns.
Sticky buns may seem like an unlikely place to find whole grains. But let me tell you, after one bite you'll agree that whole wheat flour belongs in this morning treat.
And not just any whole wheat flour — white whole wheat flour is the secret to this tender dough. This flour is still 100% whole grain; it's simply milled from white wheat berries instead of red wheat berries. It's milder in flavor and lighter in color than its traditional counterpart. The slight earthiness mellows out the sweetness of the topping in these sticky buns. Bottom line: it's a perfect pairing.
We use the Whole Grain Sticky Bun recipe as our base for finding failproof ways to make a thick, sticky topping.
Before we can get to unlocking the secrets of the topping, let's make the tender whole wheat dough.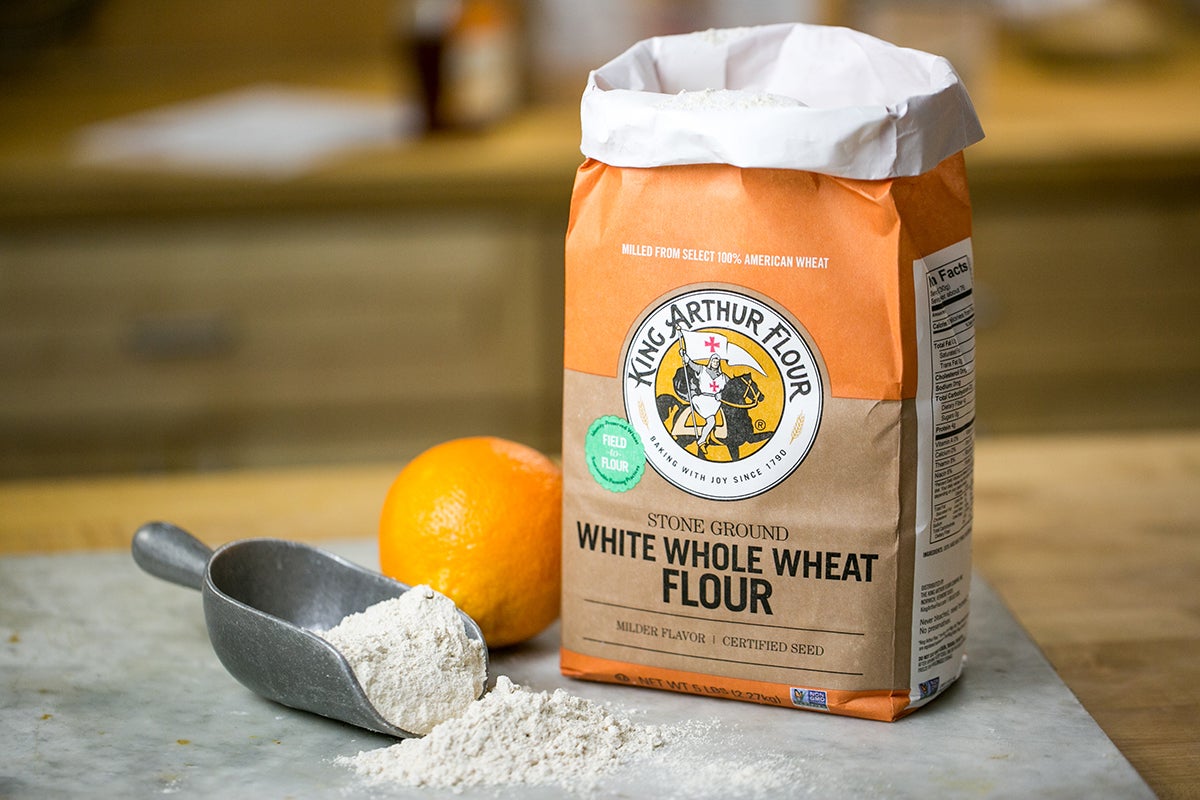 Start with the dough
Begin by gathering your ingredients:
2 cups (8 ounces) King Arthur White Whole Wheat Flour or sprouted wheat flour
4 1/2 teaspoons potato flour, optional; for moist texture
2 tablespoons Baker's Special Dry Milk or nonfat dry milk
3/4 teaspoon salt
2 teaspoons instant yeast
2 tablespoons butter, softened
1 large egg
2 tablespoons honey
1/2 cup + 2 tablespoons lukewarm water
I positively love baking by weight and sometimes even travel with my scale. (True fact!) I recommend weighing all your ingredients if possible, especially flour. Otherwise, it's easy to compact flour into a measuring cup if scooping right from the bag. Using too much flour results in dry, heavy baked goods that rise less than desired.
If you bake by volume, check out our video about how to measure flour properly. The fluff, sprinkle, sweep method will ensure you end up with light cups of flour (4 ounces per cup for whole wheat flour, white or traditional). As a result, your dough will be tender and soft.
Once you measure the ingredients, combine them in the bowl of a stand mixer or the bucket of your bread machine. Select the dough cycle if you opt to use a bread machine.
If you prefer to knead by hand, more power to you. Combine the ingredients in a large bowl and knead for about 5 to 8 minutes. (Check out this video for a refresher on how to knead bread dough.)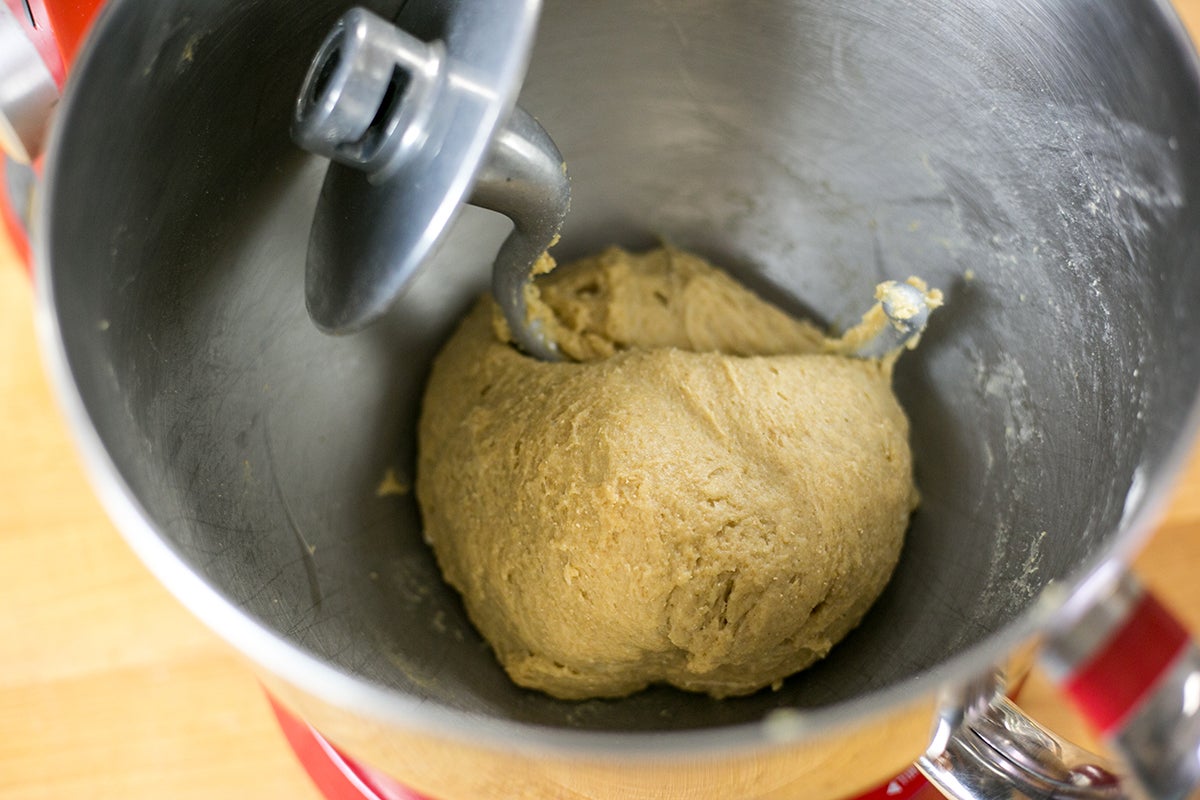 Regardless of the method you use, the dough should pull away from the sides of the bowl when it's fully kneaded. It should feel soft and supple.
Add additional flour or water by the tablespoonful if it seems too wet or dry. The dough should be just slightly tacky to the touch.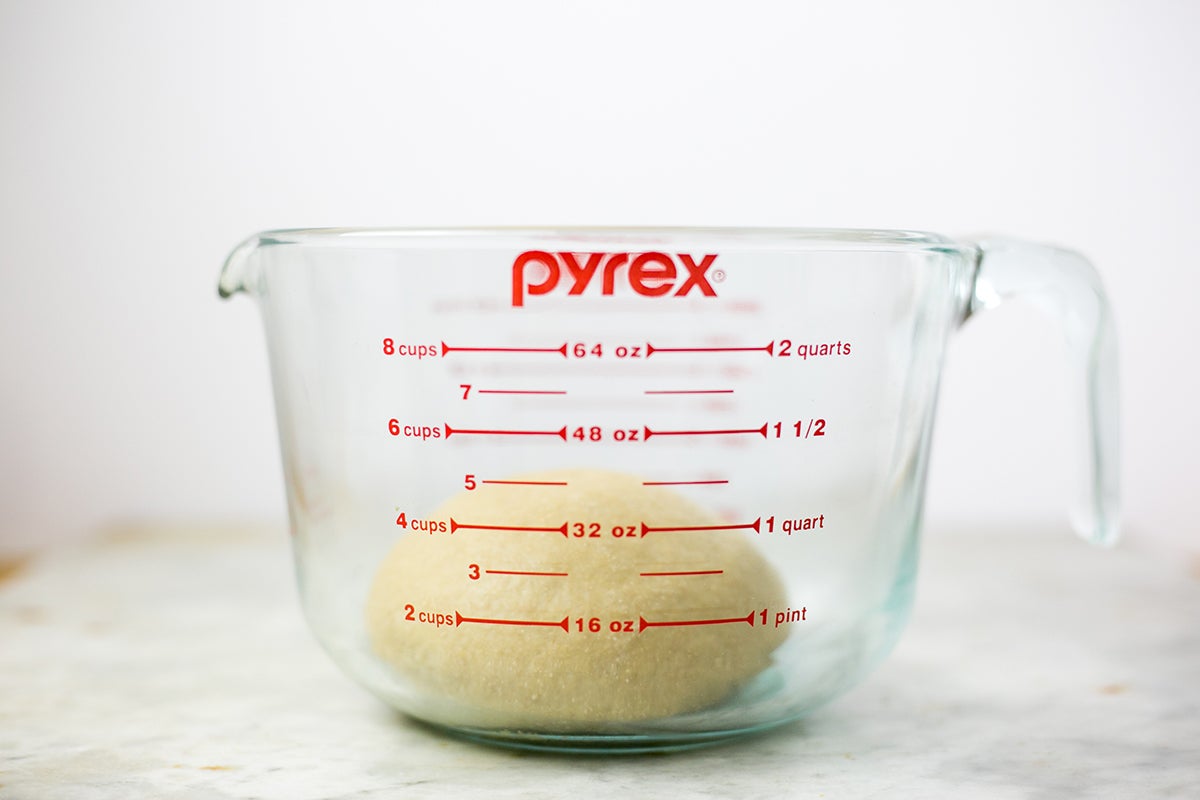 Cover the dough and allow it to rise for 1 to 2 hours, or until puffy.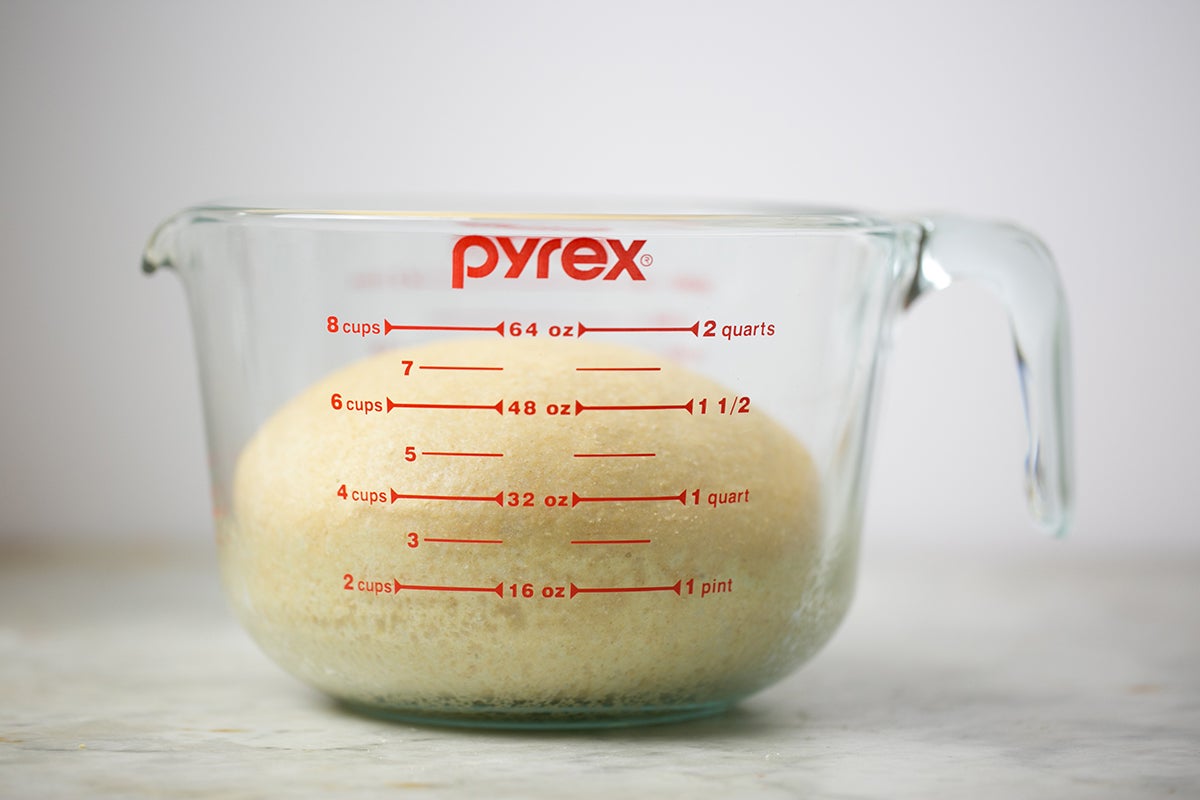 It might not fully double in size during this time, but it should look visibly expanded at the end of the rise.
Make the topping
While the dough is resting, you have some work to do! It's time to make the topping. Gather these ingredients:
1/4 cup (4 tablespoons) butter
1/4 cup whole milk
3 tablespoons honey
1/2 cup brown sugar
1/8 teaspoon salt
1/8 to 1/4 teaspoon grated orange rind (zest), optional
1/2 cup whole pecans
Set a saucepan that's at least 4" deep over medium heat and add the butter. (It can be cold from the fridge or room temperature to start.)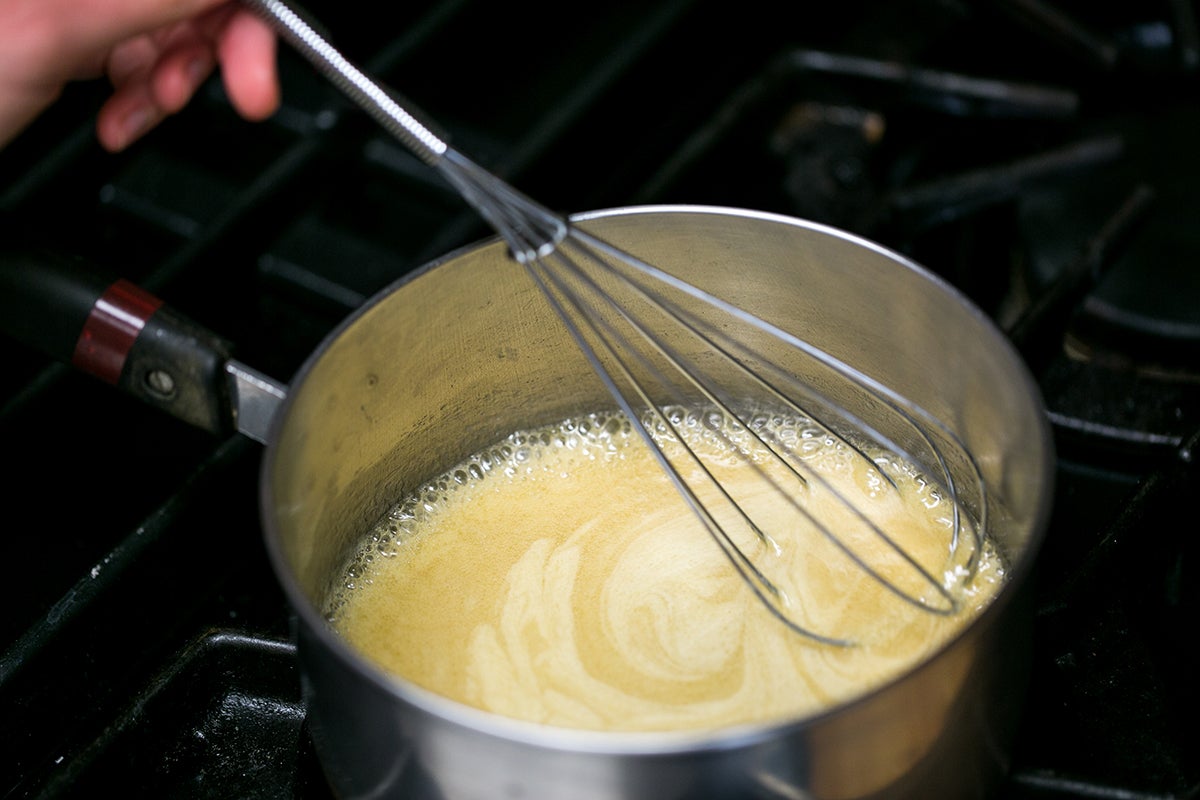 Heat the butter until it's melted, then stir in the remaining topping ingredients, except the pecans. Bring the mixture to a boil, stirring constantly.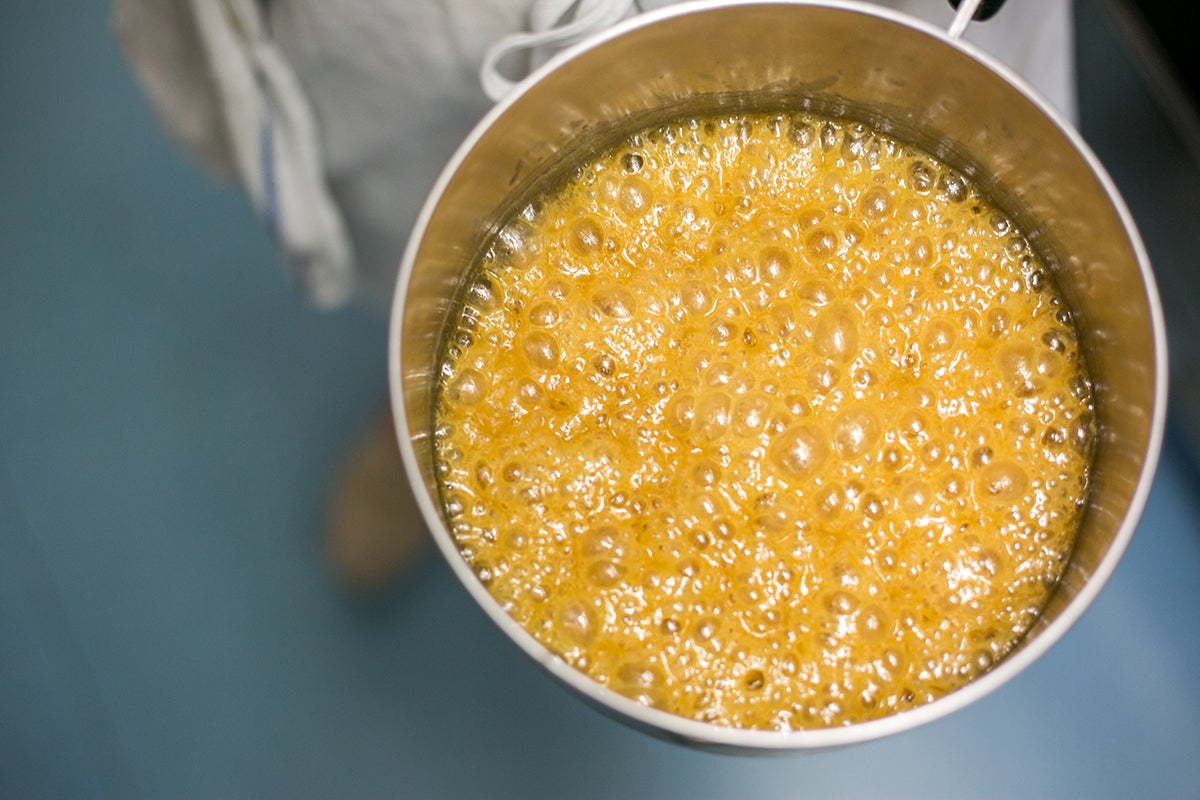 Turn the heat to low and continue to boil the topping until it's glossy and slightly thickened, 3 to 4 minutes longer. The topping should look slightly thinner than maple syrup.
This much cooking produces a topping that keeps the sticky buns incredibly moist and isn't overly sticky. The color will be quintessentially caramel: golden and delicious.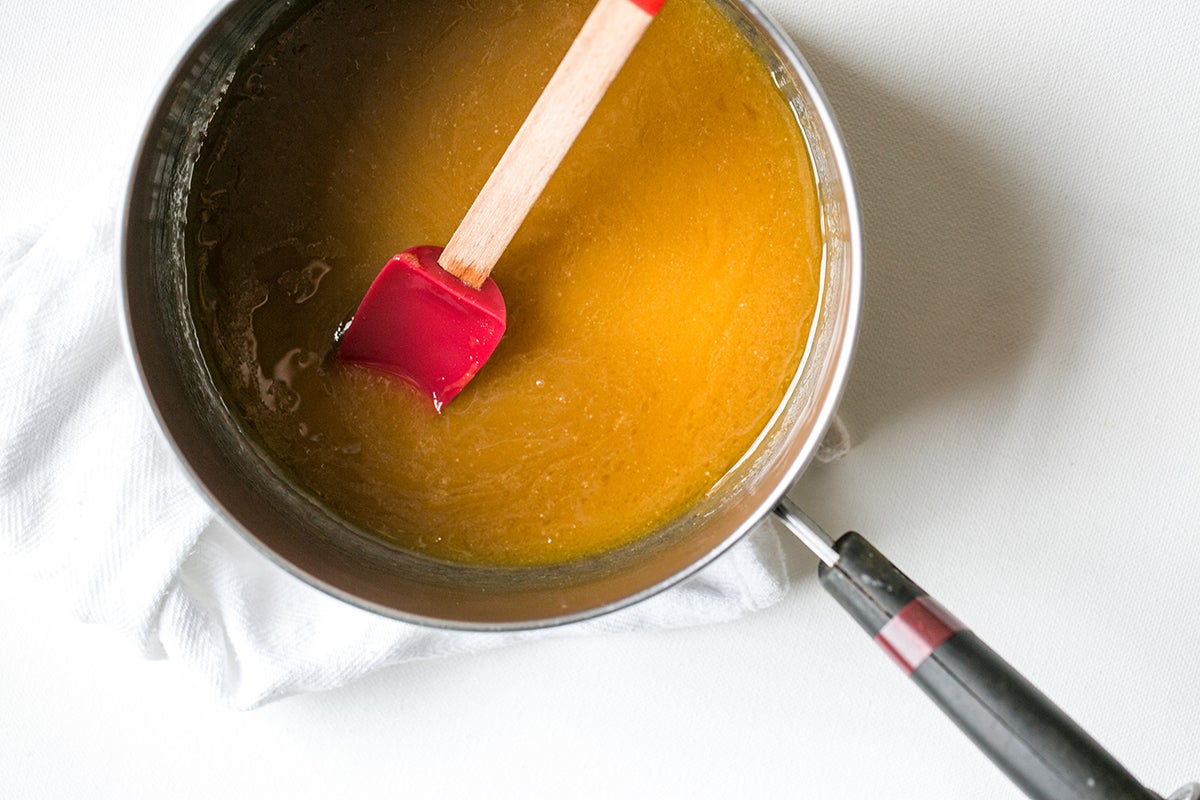 Ensure the perfect thickness
Now remember that pillow-like layer of caramel topping we talked about? If you're looking to make sticky bun topping that's a bit thicker and more like caramel, there are a few different ways to achieve it.
Here are four techniques you can use to ensure a thick, sticky topping:
Technique #1: Cook the topping longer
 
If you're looking to make even stickier sticky buns, cook the topping ingredients over heat for 6 to 7 minutes after it comes to a boil (instead of just 3 to 4 minutes). The topping will look similar to maple syrup cold from the fridge when you reach the right consistency: thick, viscous, and amber in color.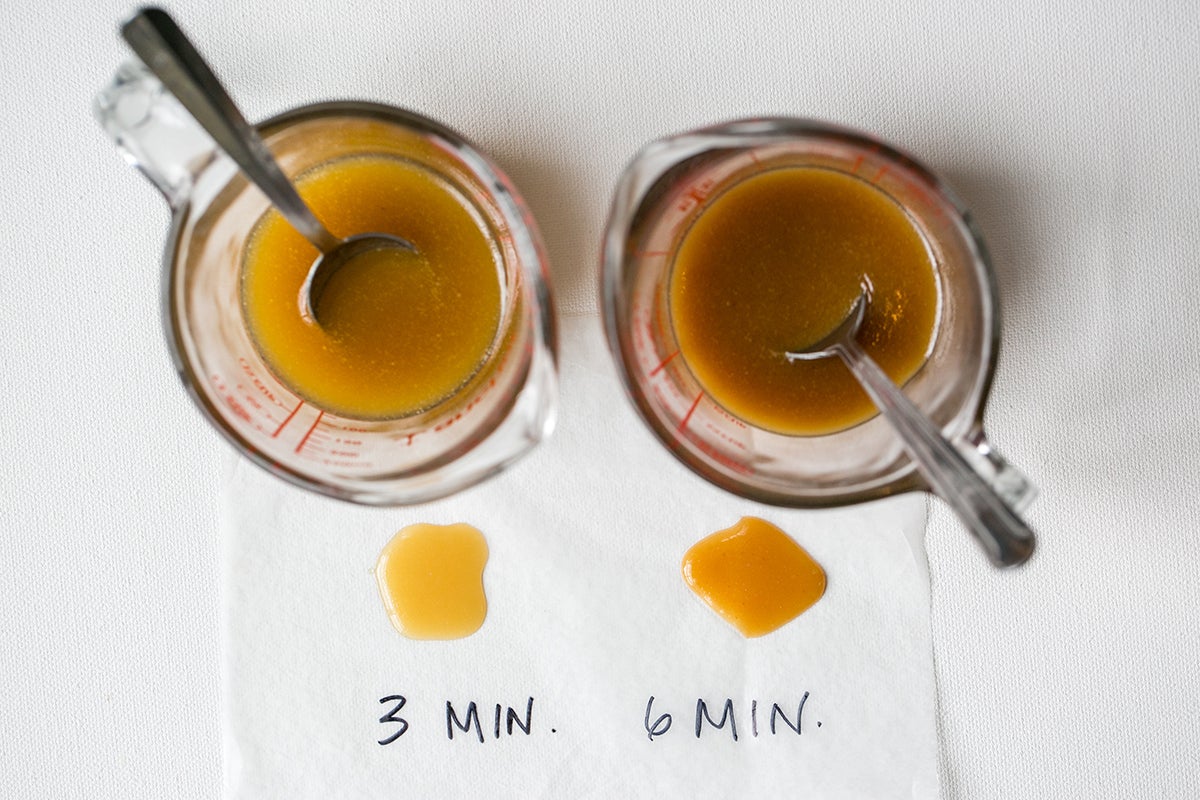 Decide how long you want to cook your topping based on how sticky you want your caramel to be. The topping cooked for 6 minutes is much stickier. It's not pull-dental-work-out-of-your-mouth-sticky, but it's definitely got more pull to it than the 3-minute version.
The more you cook the topping, the stickier it'll become as the water evaporates and the sugar concentrates. I don't recommend cooking your topping longer than 8 minutes or else your caramel may become quite hard during baking.
Six minutes is just right for a thick, sticky topping.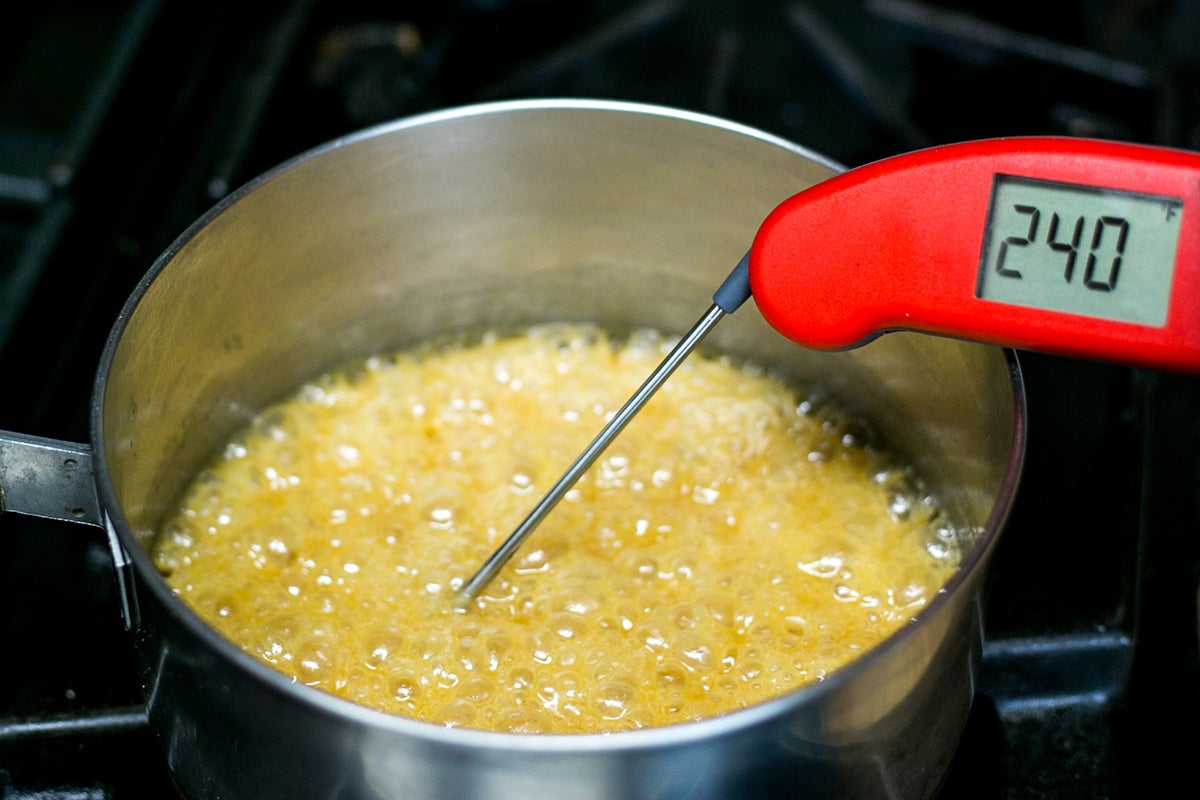 Technique #2: Boil to a specific temperature
 
For those of you bakers who prefer to gauge doneness by temperature instead of the time on the clock, we pull out our instant-read thermometers.
Sticky topping that cooks for about 3 to 4 minutes reaches a temperature of 235°F. At this temperature, it's thin and golden in color. It runs off a spoon like warm maple syrup.
If you extend that cooking time and heat the sticky topping for 6 minutes, it'll reach about 240°F. It turns light caramel at the temperature and becomes more viscous.
We test as high as 245°F, which takes about 8 minutes on the stove. This is that ultra-sticky topping that might even have a bit of crunch to it once it bakes. It's deep caramel in color and just a bit too intensely sticky for most sticky bun eaters.
Boil the topping ingredients to 240°F for a perfectly sticky consistency.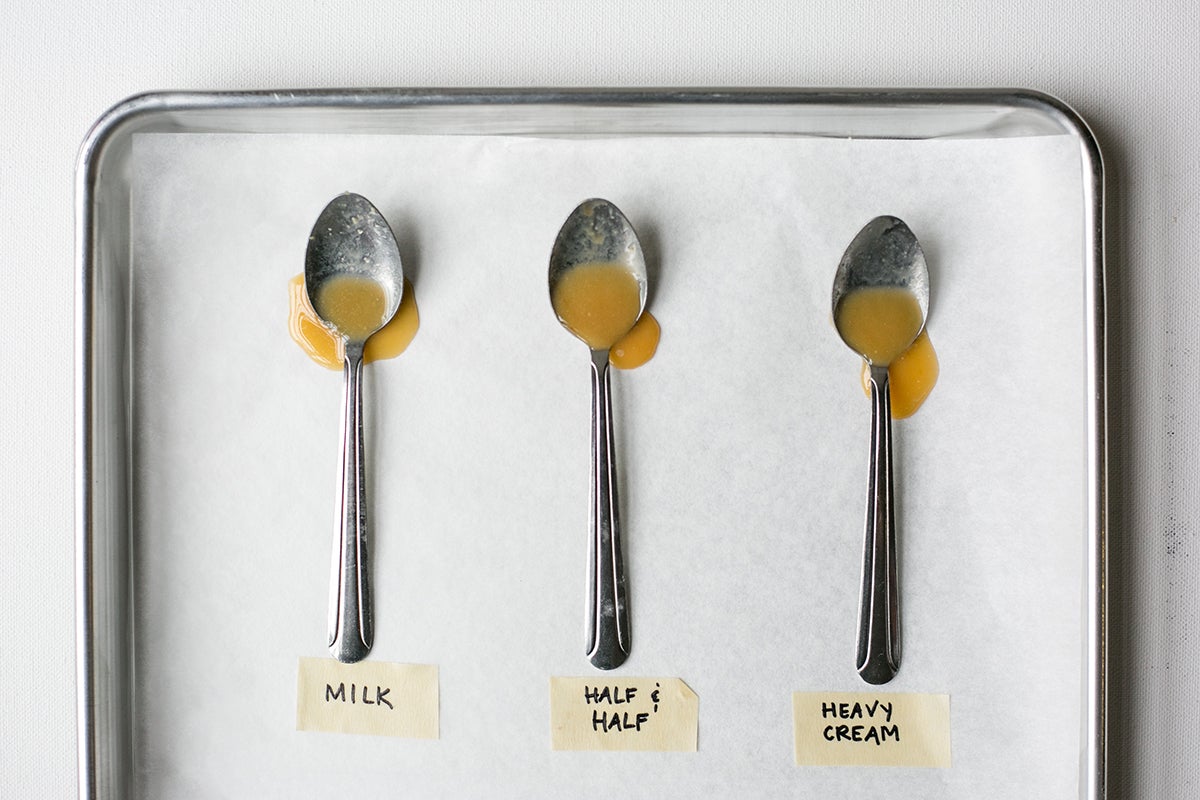 Technique #3: Substitute heavy cream instead of milk
 
If you're eager to go the extra mile and make a seriously rich and luscious topping, you can tweak the ingredients in the recipe slightly.
Instead of whole milk, substitute heavy cream 1:1. Heavy cream has a higher fat content than whole milk. This gives the topping a creamier mouthfeel and thicker consistency.
Basically, you'll feel like royalty when you eat a sticky bun that uses heavy cream in the topping.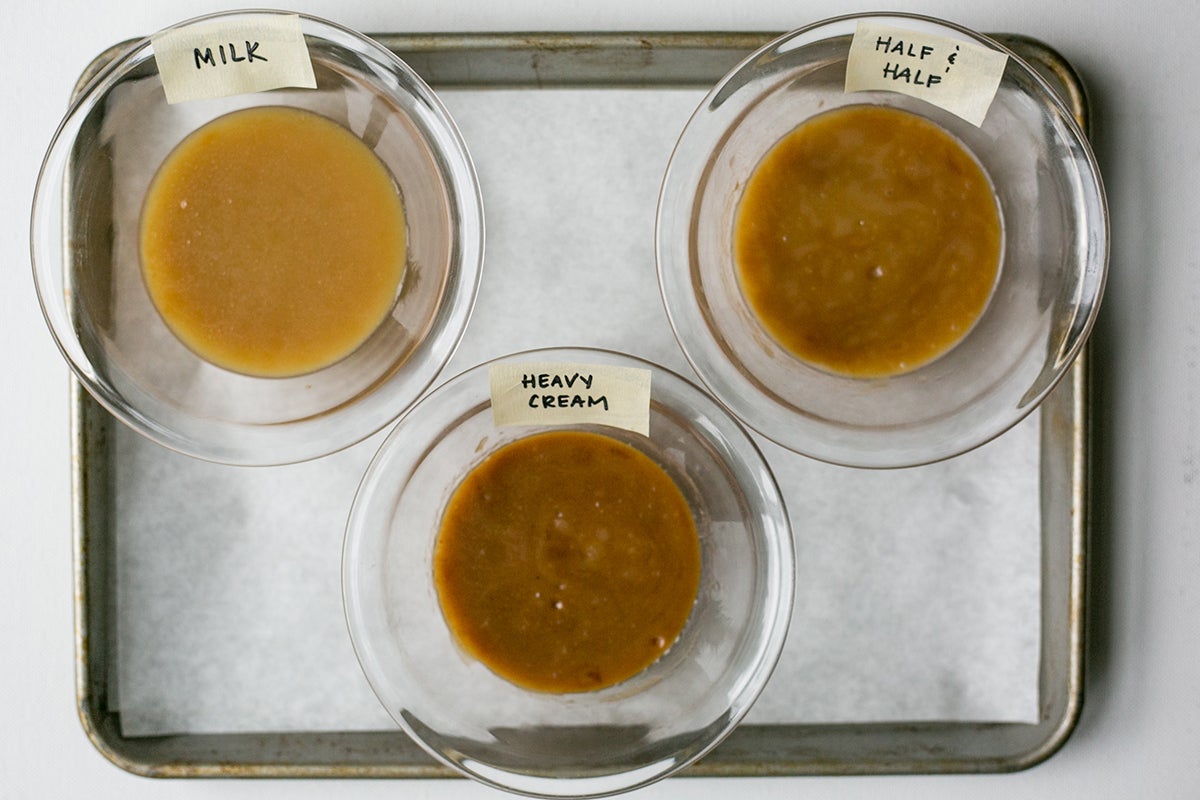 If you're looking for a medium amount of stickiness and luxuriousness, use half & half instead of whole milk. Choose the dairy ingredient based on what kind of thickness you're looking for in the topping.
Use heavy cream to make a super-rich, thick topping or half & half for a slightly thinner but still sticky consistency.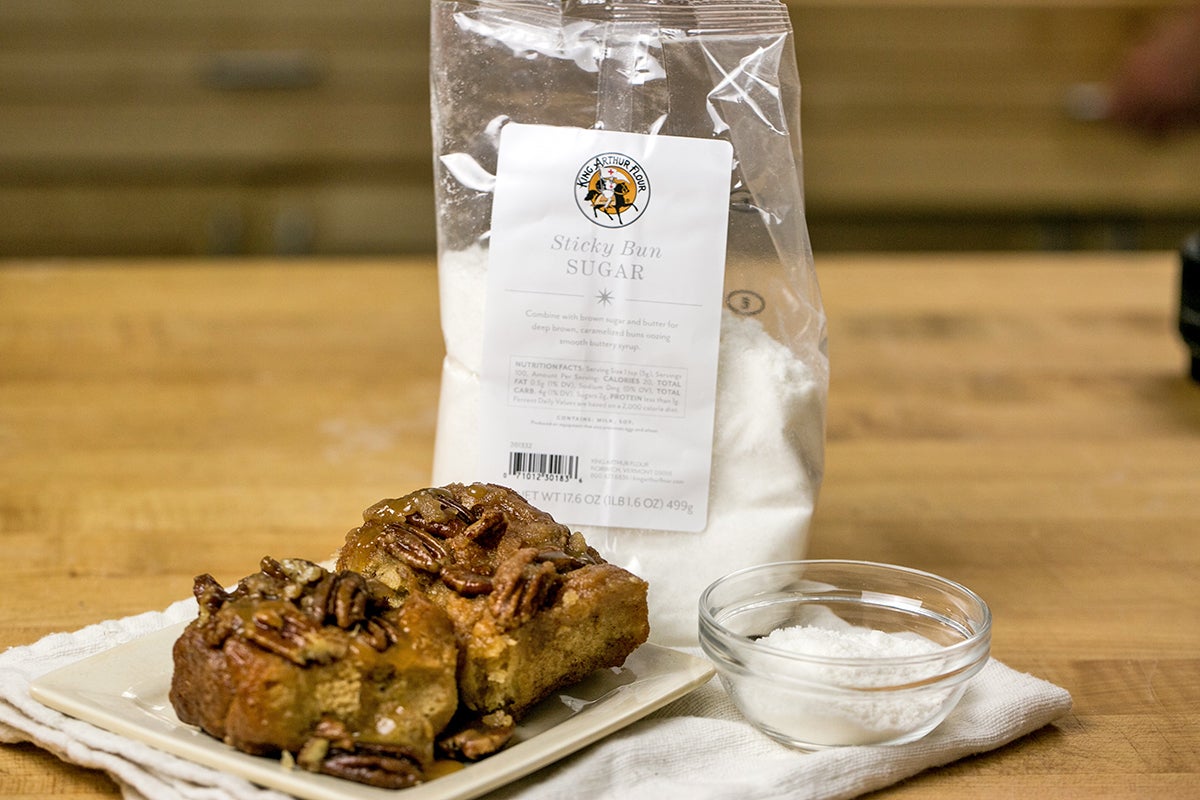 We save the most reliable technique for making a sticky topping for last: use Sticky Bun Sugar!
This is the ingredient that professional bakers use to take their sticky buns over the top. It makes them incredibly delicious. Sticky Bun Sugar is a combination of sugar, glucose syrup, sunflower oil, honey, lecithin, cream, and natural flavors.
Just combine it with brown sugar and butter and sprinkle over melted butter in the bottom of your pan: no stovetop cooking required! In the oven, it magically transforms into the best sticky bun topping ever.
The finished buns have caramelized edges and are coated in a rich, buttery syrup.
Use 6 tablespoons of melted butter and 1/2 cup each of brown sugar and Sticky Bun Sugar to make a quick, ultra-sticky topping.
Mix up the filling
Once you make the perfectly thick topping, it's time to finish those sticky buns. Pour the still-warm topping into a lightly greased 8" square pan and sprinkle the pecans evenly on top. Then prepare the filling using these ingredients:
1/4 cup (4 tablespoons) butter, softened
1/4 cup brown sugar
1/2 teaspoon cinnamon
1/4 teaspoon nutmeg
pinch of salt
1/3 cup chopped pecans
Combine all the ingredients except the chopped pecans in the bowl of your stand mixer. You can also use a large bowl and a handheld electric mixer if you prefer.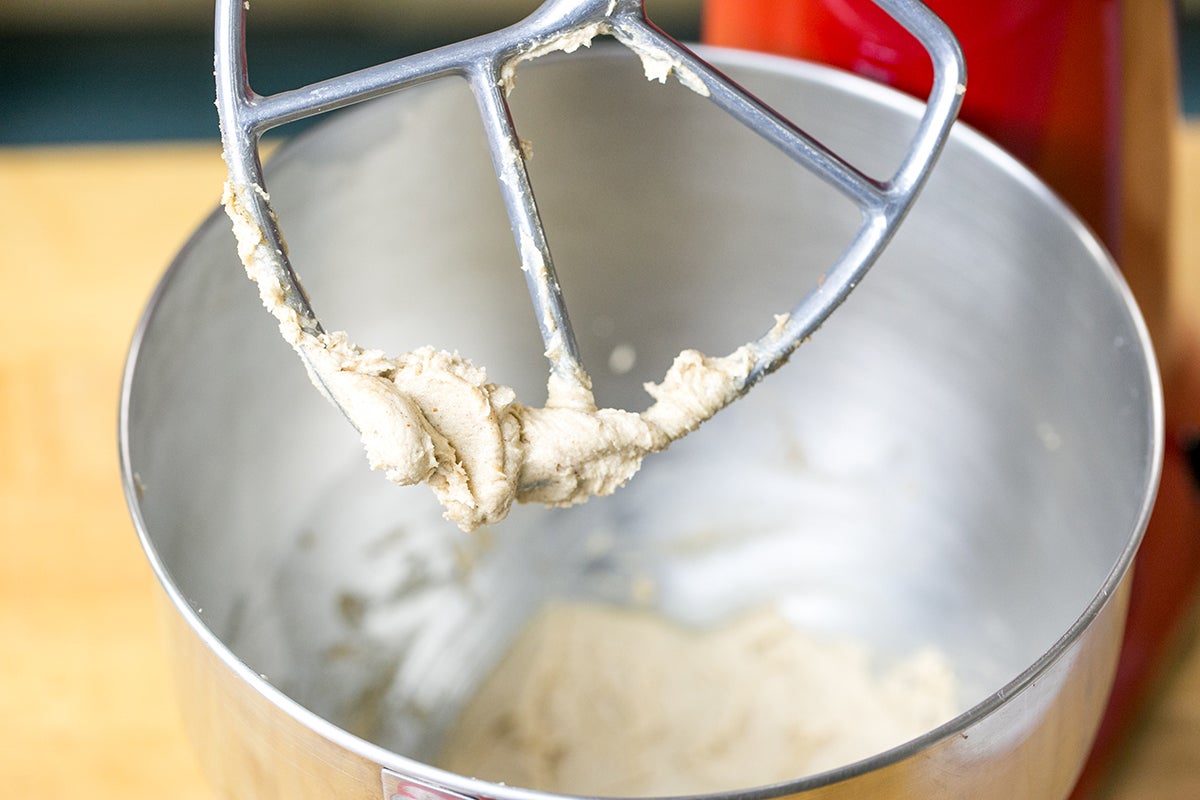 Stir to combine the ingredients, then beat the filling on high speed for 3 minutes. When it's thoroughly beaten, the filling should be light and fluffy, light cream in color, and be easily spreadable.
Assemble the buns
You're almost there! It's time to gently deflate the dough on a lightly floured work surface. Roll or pat it into a rectangle that's roughly 9" x 12".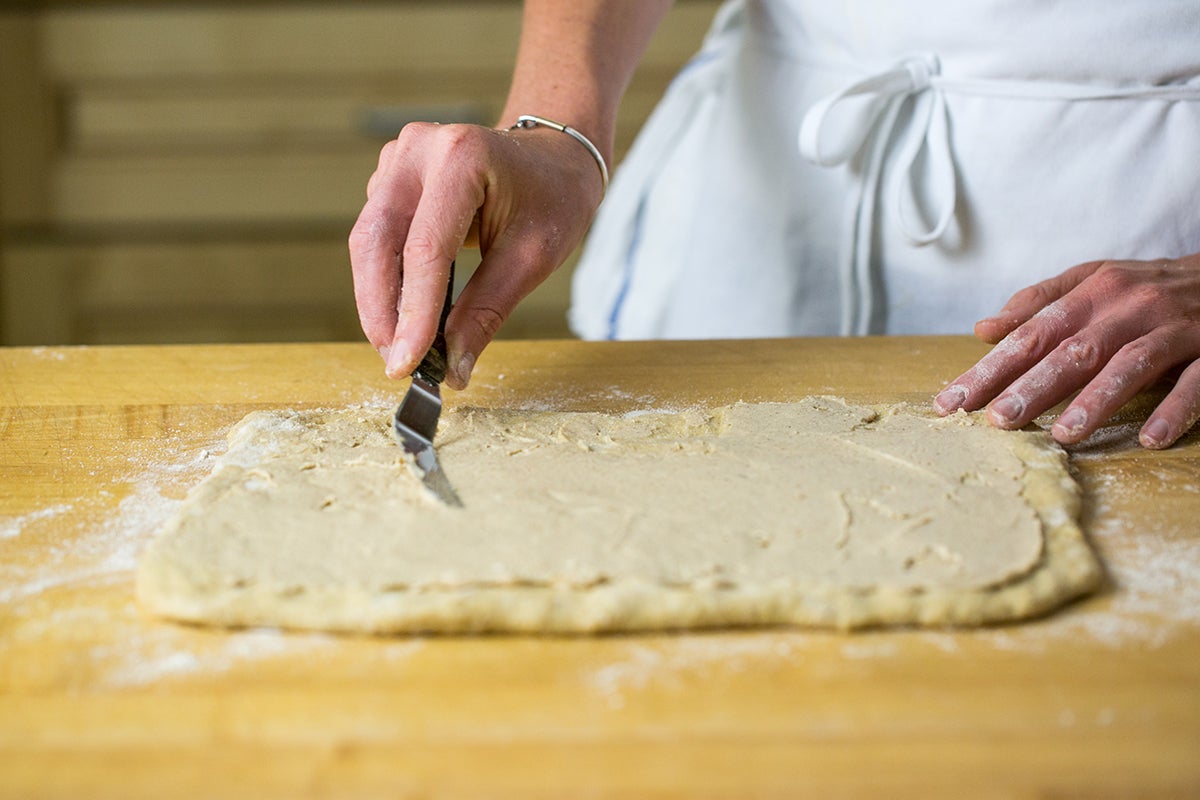 Next, sprinkle the chopped pecans over the filling. Then you're ready to roll.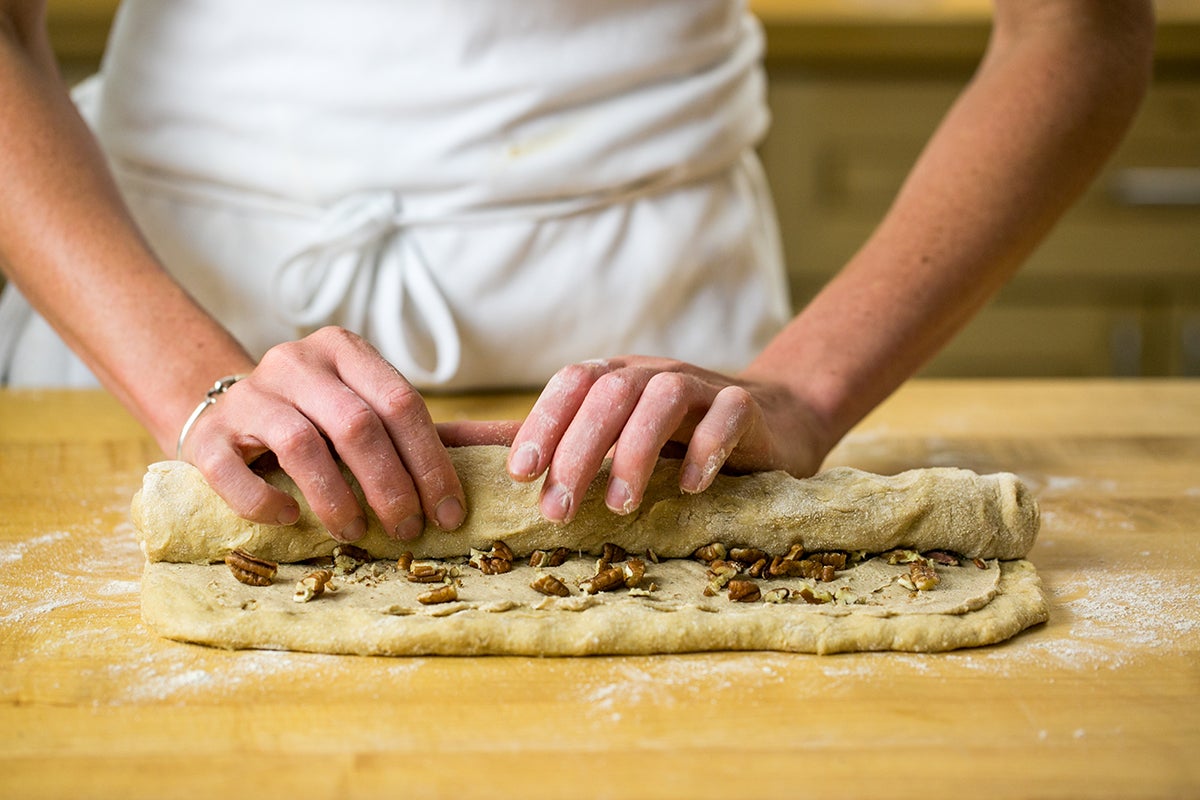 Starting with the filling-covered edge, roll the dough into a log. I find it easiest to roll the log away from myself, pulling it taut as I go. (Don't be overzealous in your rolling though; sticky buns rolled up too tightly will pop in the center during baking. Just give it good couple of tuck-ins as you roll.)
Once you're all rolled up, pinch to seal the seam shut.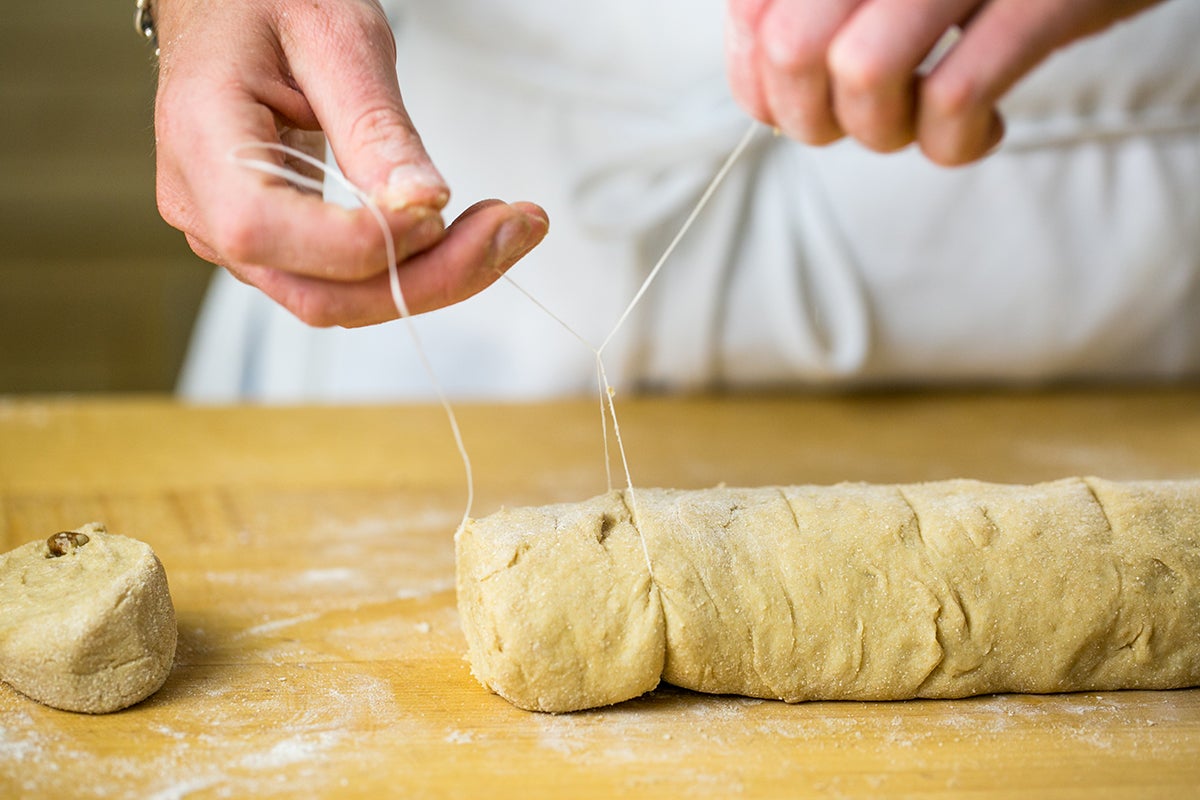 Slice the log into 9 equal pieces. (Tip: Use unflavored dental floss to tie a loop around the log and then pull it tight directly over the spot where you want to slice. The floss will cut through the dough like a breeze without squashing the log like a knife might.)
Place the buns into the prepared pan, leaving about 1/4" to 1/2" in between them. Don't worry — they won't fill the pan completely.
Cover the pan, and let the buns rise for 45 minutes to 1 hour. They should be noticeably puffy. This time you get to rest while the dough rests too!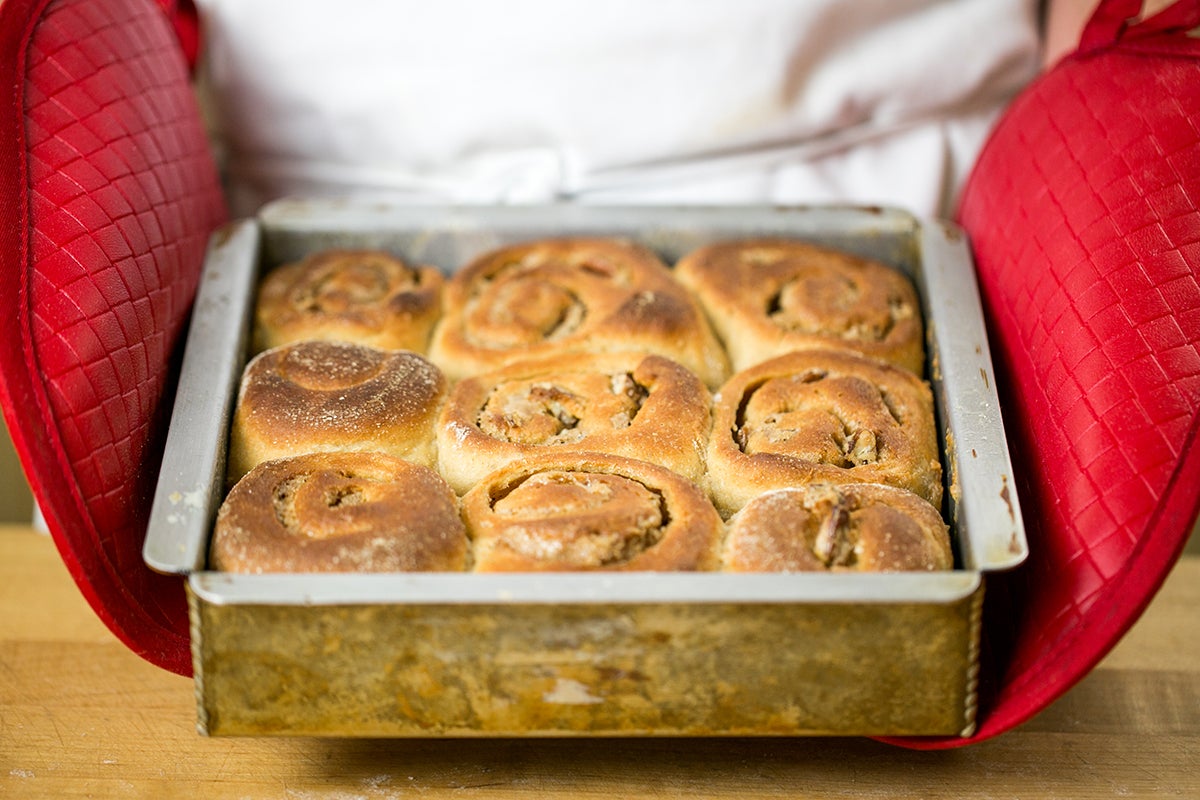 Bake the buns
You're just one final step away from mastering how to make sticky buns: baking them. Near the end of the rising time preheat the oven to 350°F.
Bake the buns for 26 to 30 minutes, tenting them with foil towards the end if they appear to be browning too quickly. If you have your thermometer still handy from making the topping, you can also use it to test the buns for doneness. They should reach at least 190°F when they're done baking.
The finished buns will be a deep golden brown and the filling will be bubbling up around the edges of the pan.
Remove the buns from the oven and allow them to cool in the pan for 5 minutes.
Loosen the buns from the edges of the pan then carefully (the caramel is VERY hot!) turn the buns out onto a serving plate, scraping any extra topping and nuts from the pan back onto the buns.
Anyone who tastes this treat will realize you know how to make sticky buns like a pro, complete with the ultra-sticky topping.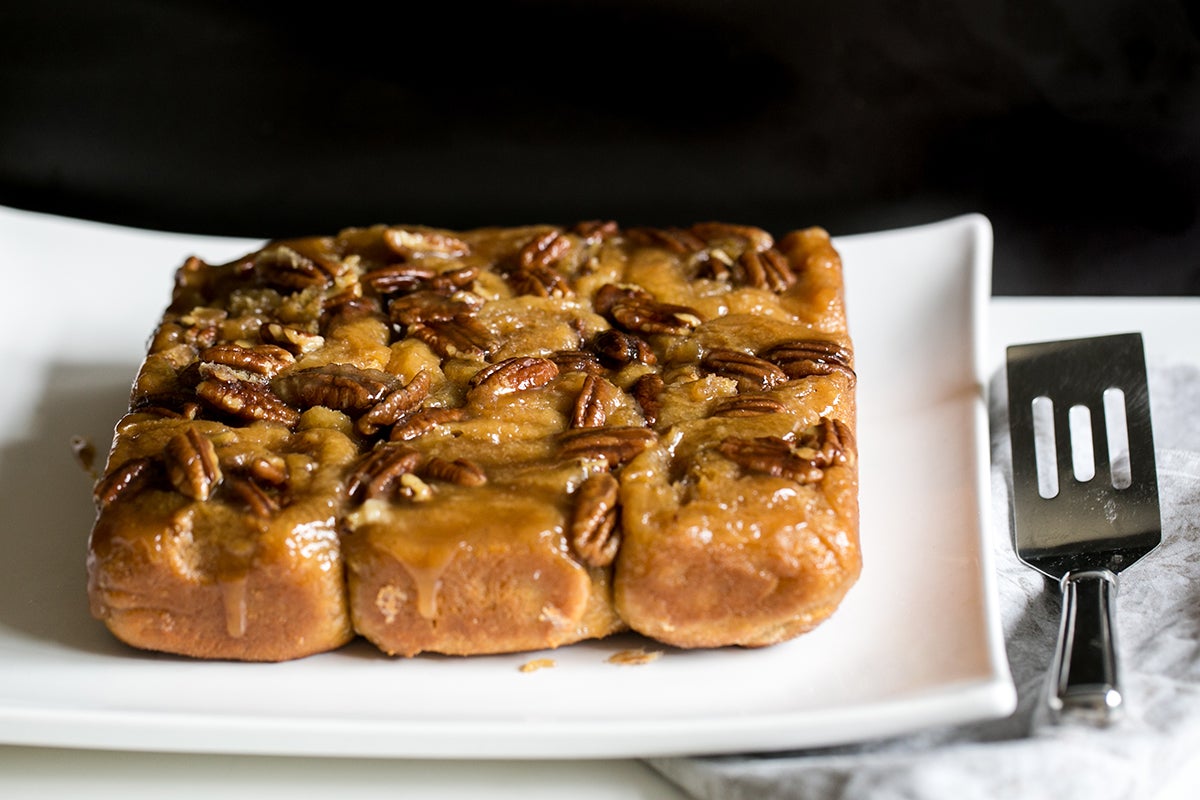 How to bake sticky buns: Bake the Bag and beyond
If you like baking with white whole wheat flour or you're eager to use it more often in your baking, join us while we Bake the Bag! Sign up to receive nine weeks worth of crave-worthy recipes delivered right to your inbox.
Start with one 5-pound bag of white whole wheat flour, and by the end of your baking, you'll have made your way through the full bag. Then you'll be left with a full arsenal of whole grain recipes that you'll be eager to bake again and again.
These Whole Grain Sticky Buns are my favorite recipe in our Bake the Bag series — what's yours? We hope you'll share your experience baking the bag in the comments, below.
Thanks to Anne Mientka and Liz Neily for taking the photographs for this post.
Jump to Comments