Do you ever wonder how to make your favorite recipes dairy-free? Let us show you the way by making some of our most well-loved desserts without dairy. In this post we explore how to make dairy-free cake, as well as cupcakes, frosting, and a few other special treats. Note: For the sake of this post, eggs are not considered dairy ingredients. If you're looking to bake without eggs, check out these vegan recipes.
Special occasions call for cake. It can be simple or decadent, but most importantly it should be something that everyone can enjoy. The best part about celebrating with cake is sharing it with others! That's why it's valuable to know how to make delicious dairy-free cakes, so dietary restrictions don't hold up the party.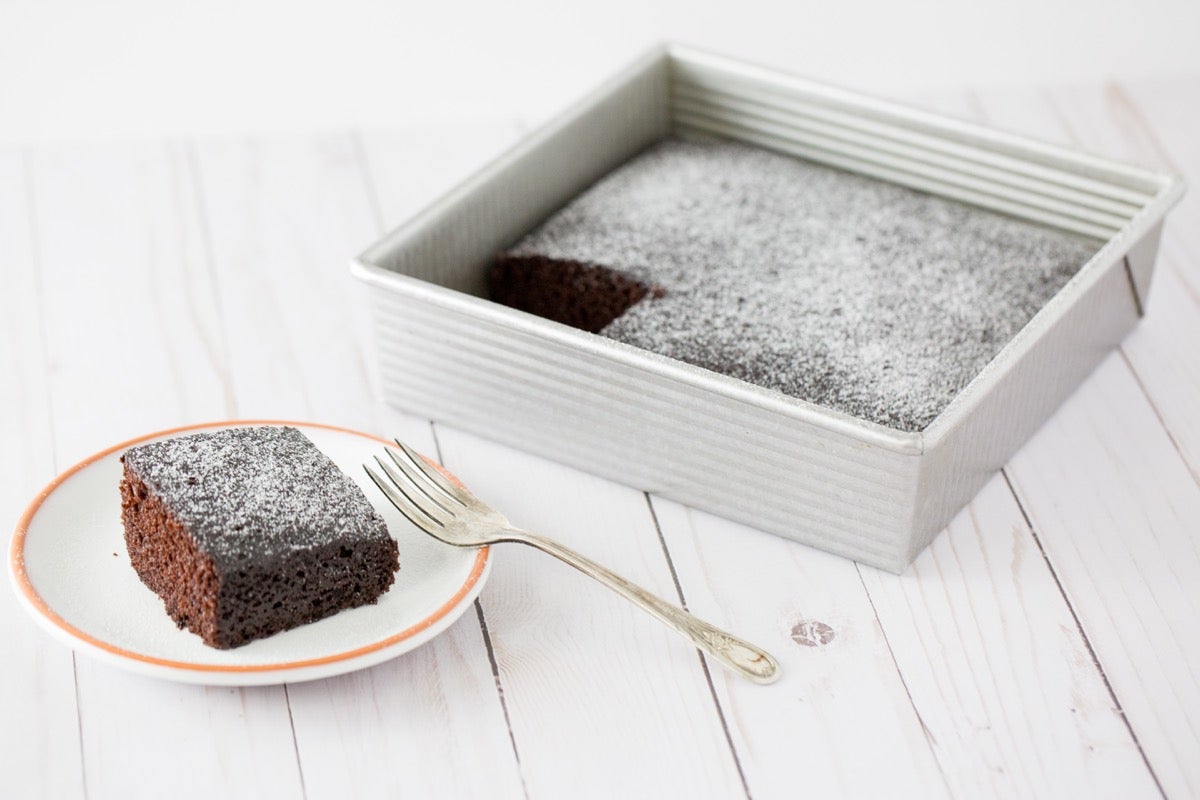 Before we take a deep dive into substitution tips, let's enjoy a moment of appreciation. Have you ever realized that some fantastic cake recipes — Cake Pan Cake! — are 100% dairy-free? It's very possible that your standby cake recipe is already dairy-free. In that case, skip down to where we talk about frostings so you can top off your cake with style (while also avoiding dairy).
But if your favorite cake recipe starts by beating butter and sugar together, or calls for a block of cream cheese, read on! You'll be able to make a delicious dairy-free cake in no time.
Types of cake
When it comes to types of cake, there are more than a baker's dozen. Each kind uses a unique process to incorporate the ingredients. For the sake of making dairy-free versions, we're going to break them down into four categories.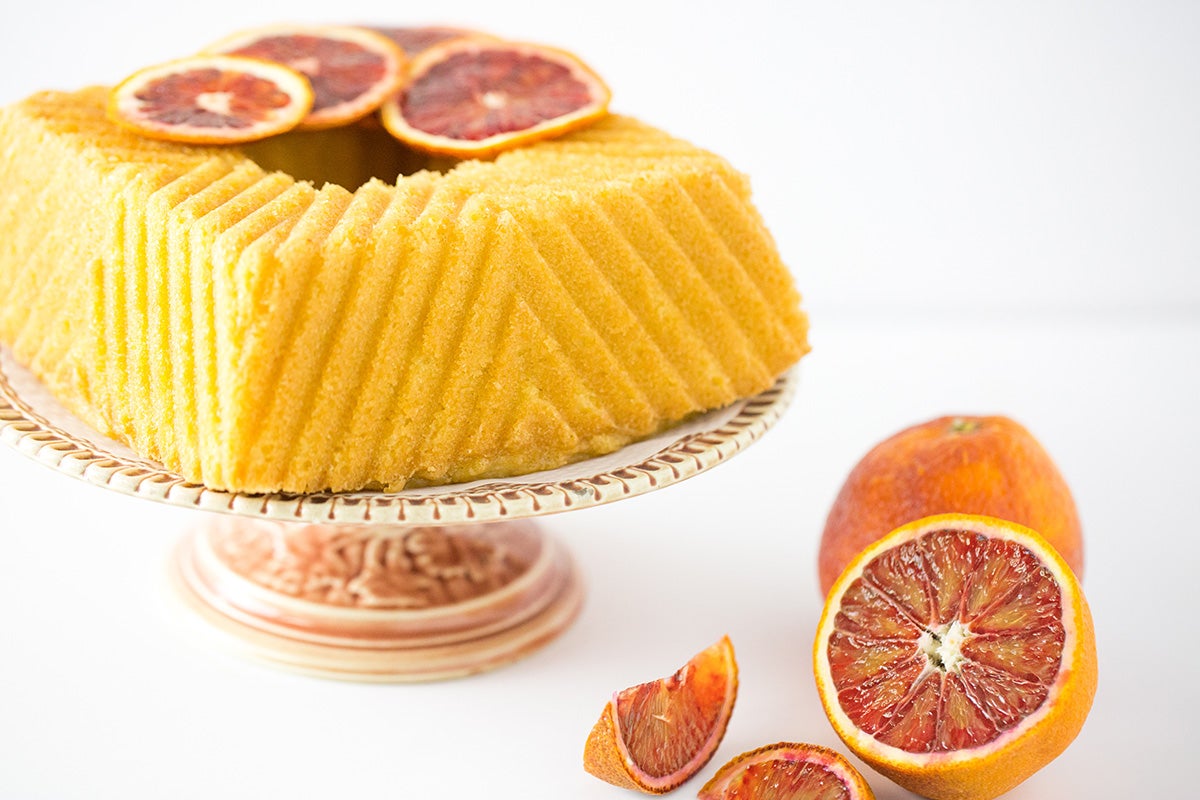 Blended cakes
The ingredients in these cakes are simply stirred together. Sometimes the wet and dry ingredients are mixed separately and then combined, but it's still pretty straightforward.
These cakes are typically made with oil instead of butter, often making them dairy-free! This category includes one of my favorite oil-based cakes, Olive Oil Bundt Cake, but there are other more traditional choices too, like Fudge Birthday Cake.
Some of these blended cakes call for liquid to be added to the batter. Often it's coffee or another flavorful liquid (beer!), but sometimes it's milk. The swap here is simple: use your favorite unflavored, unsweetened non-dairy milk instead. If all you have on hand is sweetened milk you can use it, but expect a slightly sweeter final product (or reduce the sugar in your recipe by a few teaspoons).
I like using almond milk because of its creamy flavor, but soy, rice, cashew, and coconut milk are all suitable choices too.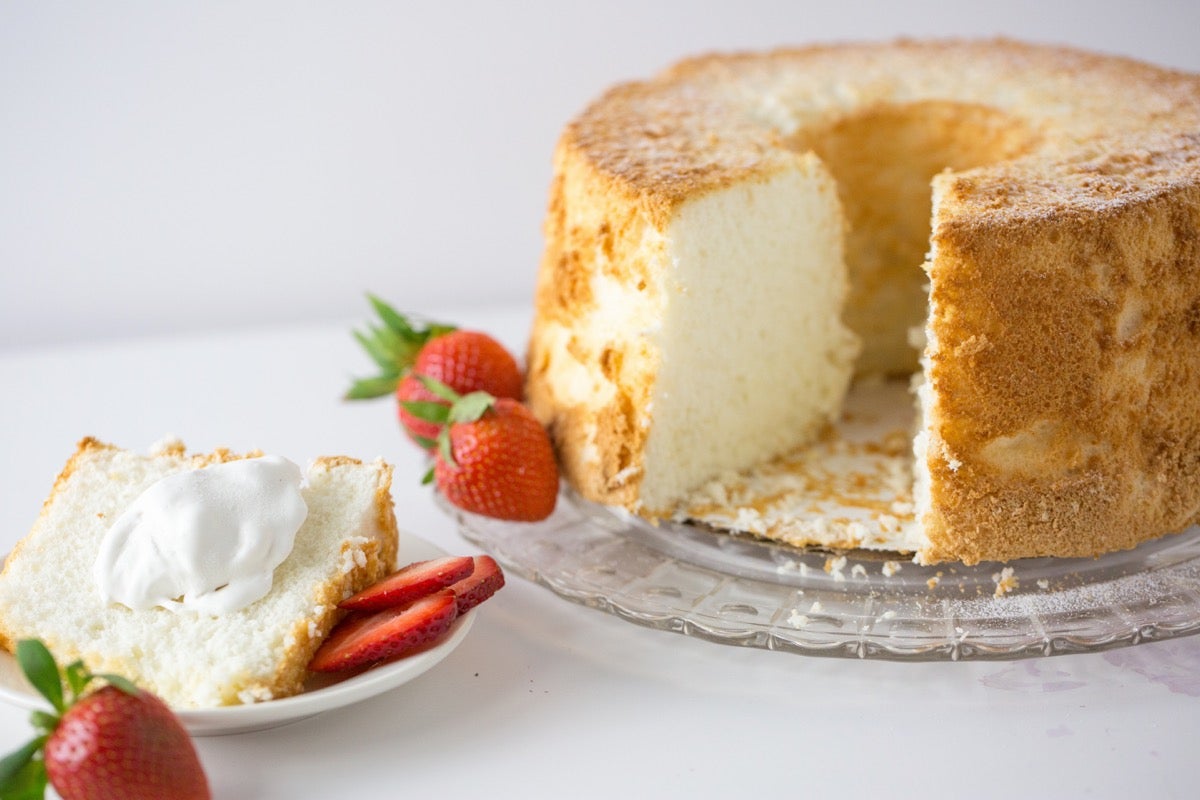 Foam cakes
These delicate cakes get their structure from beating together eggs (either whole eggs or the whites and yolks separately) rather than butter and sugar. Some kinds of foam cake don't call for any dairy ingredients at all. Angel Food Cake, as well as some sponge and chiffon cakes are naturally dairy-free. Bake away!
However, milk is sometimes called for in the batter of foam cakes. Case in point: Chef Zeb's Hot Milk Cake.
Same substitution rules apply here: Pull out that dairy-free milk and make the swap.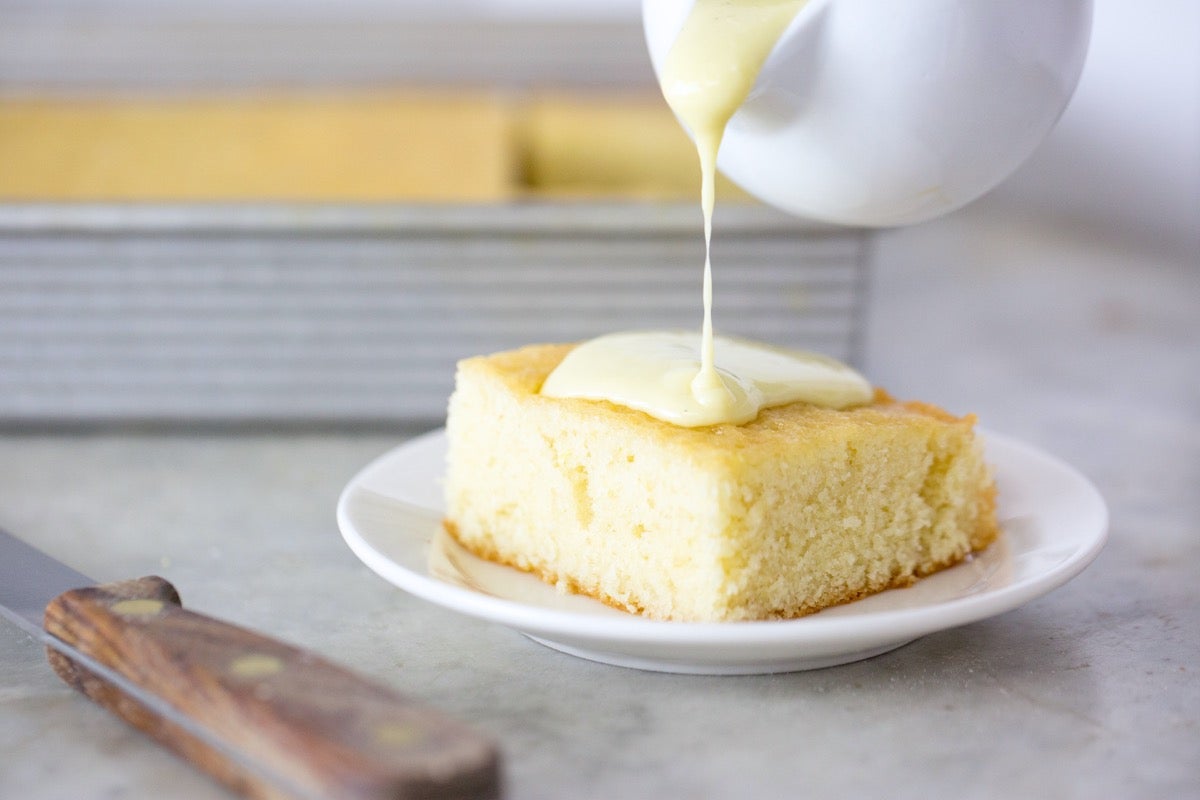 No cakes are off limits if you're willing to make just a few changes, even if there's milk right in the name. This Hot Milk (dairy-free) Cake is scrumptious.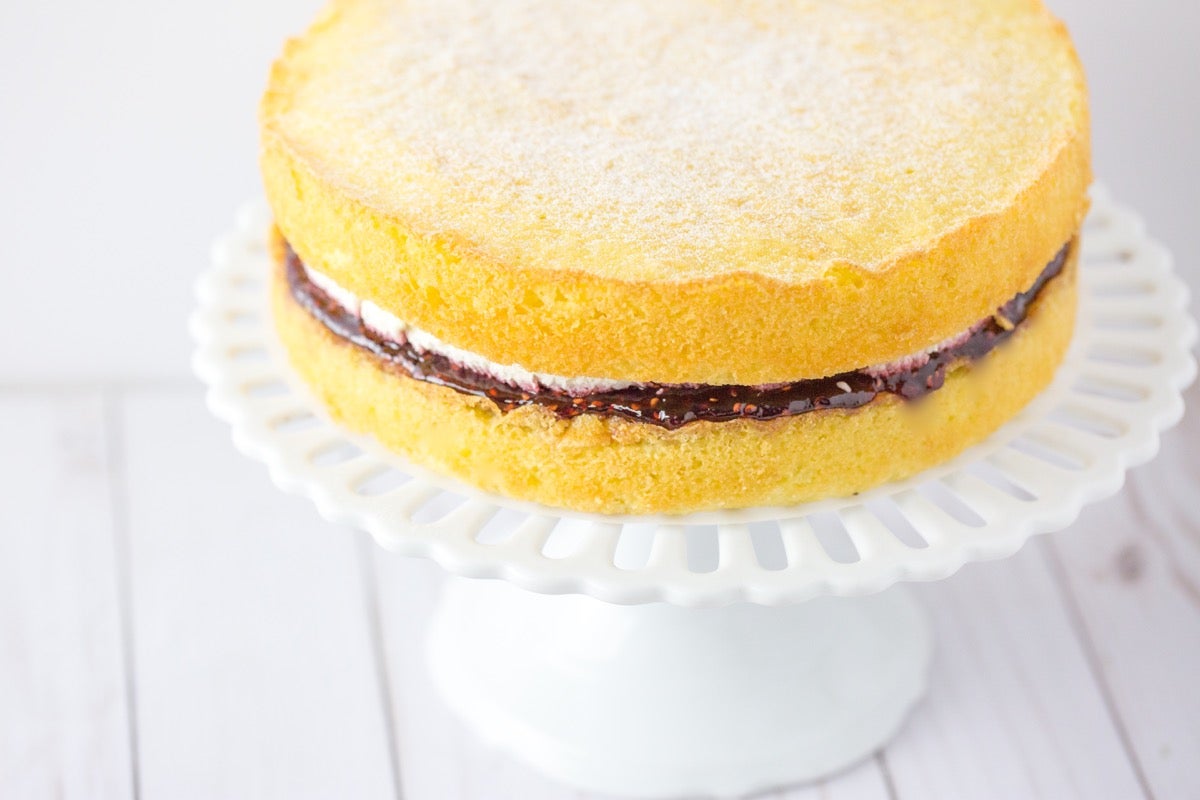 Creamed and paste cakes
The base of these cakes is a solid fat, usually butter. The fat is mixed with either the sugar (as in creamed cakes) or with the dry ingredients (like with paste cakes). Both methods produce cakes that are fluffy and typically have a fine crumb. (Think the ideal birthday cake or a Victoria Sandwich Cake.)
There are a number of dairy-free solid fats that you can choose from when making a dairy-free cake. You can use vegan butter, vegetable shortening (preferably butter-flavored), or even coconut oil.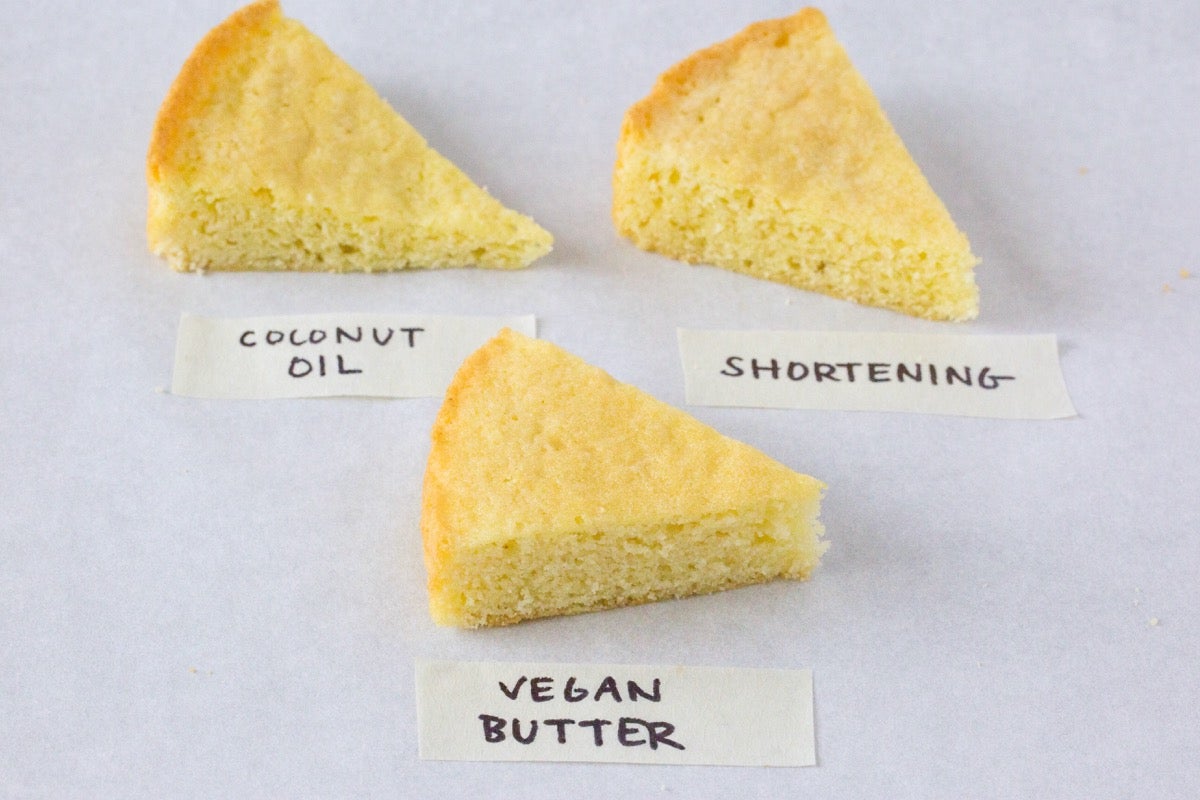 Vegan butter and shortening both produce a nicely structured cake. Coconut oil doesn't cream quite as successfully as either of these options, but you're welcome to experiment if you love using coconut oil in your kitchen. Just be sure to use it in its solid, room temperature form.
The flavor of the cake made with vegan butter was most similar to a dairy-based cake. We recommend using vegan butter as it provides the most consistent, delicious results.
(Don't forget to use your dairy-free milk in these recipes as well, if necessary.)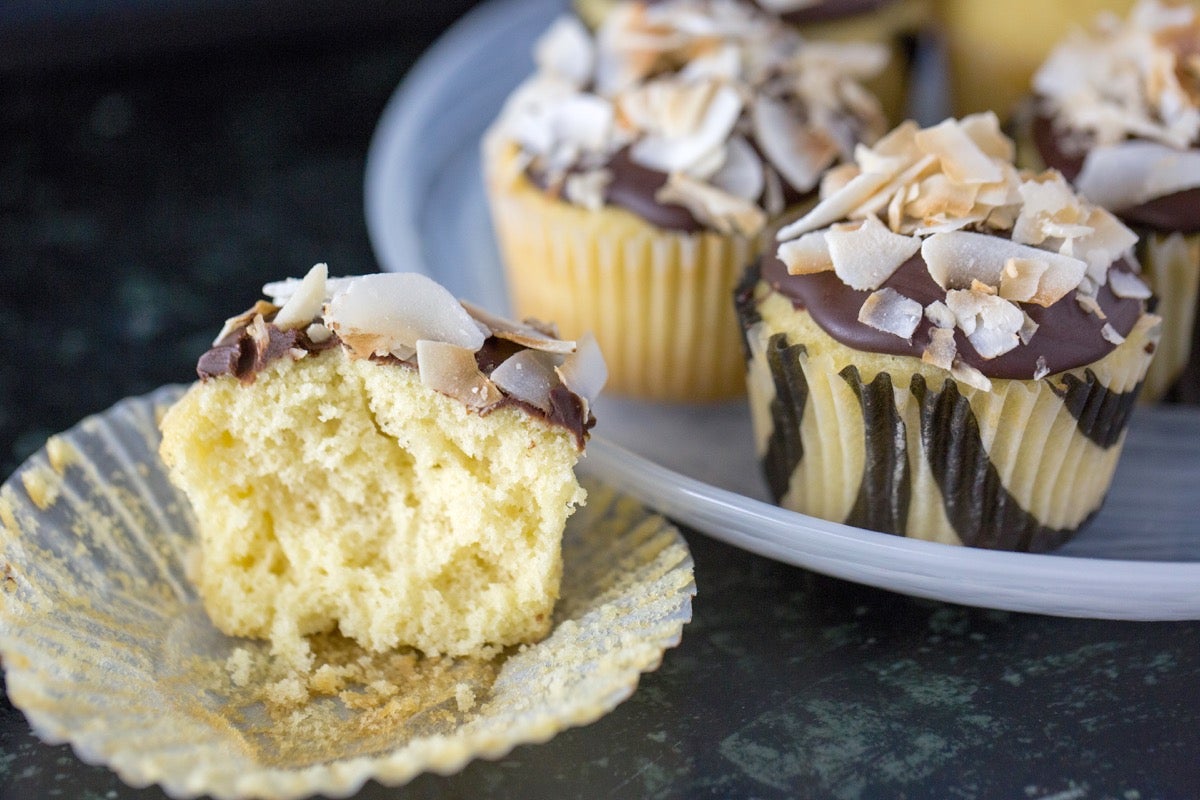 Most cupcakes are also made from either blended, foam, or creamed/paste cake batters. The same dairy-free cake tips apply when you're making cupcakes. Just think of them as miniature cakes — which is exactly what they are!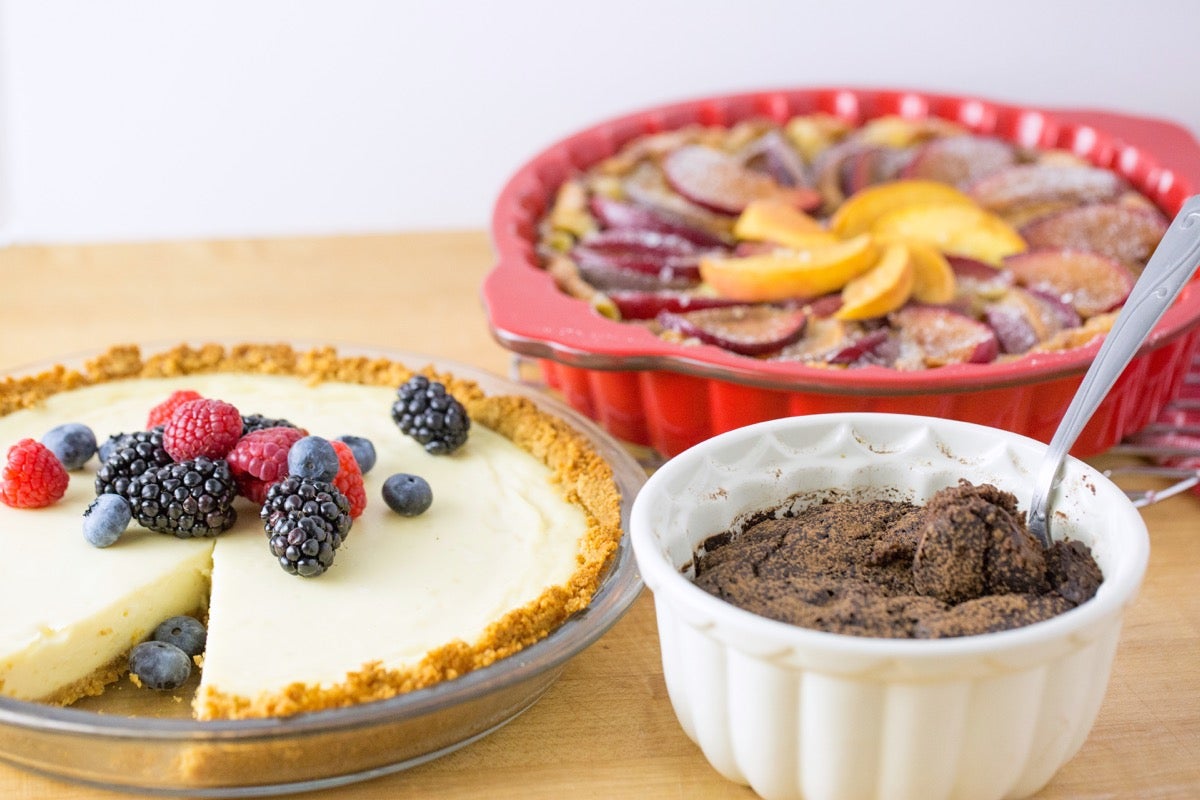 Dairy-free cake: special cases
There are a handful of cakes that don't fit into the three categories above. We'll call these special cases. Some might be trickier than others (we're looking at you, cheesecake) to convert to dairy-free, but you can make practically any dessert without dairy if you know how to substitute ingredients successfully.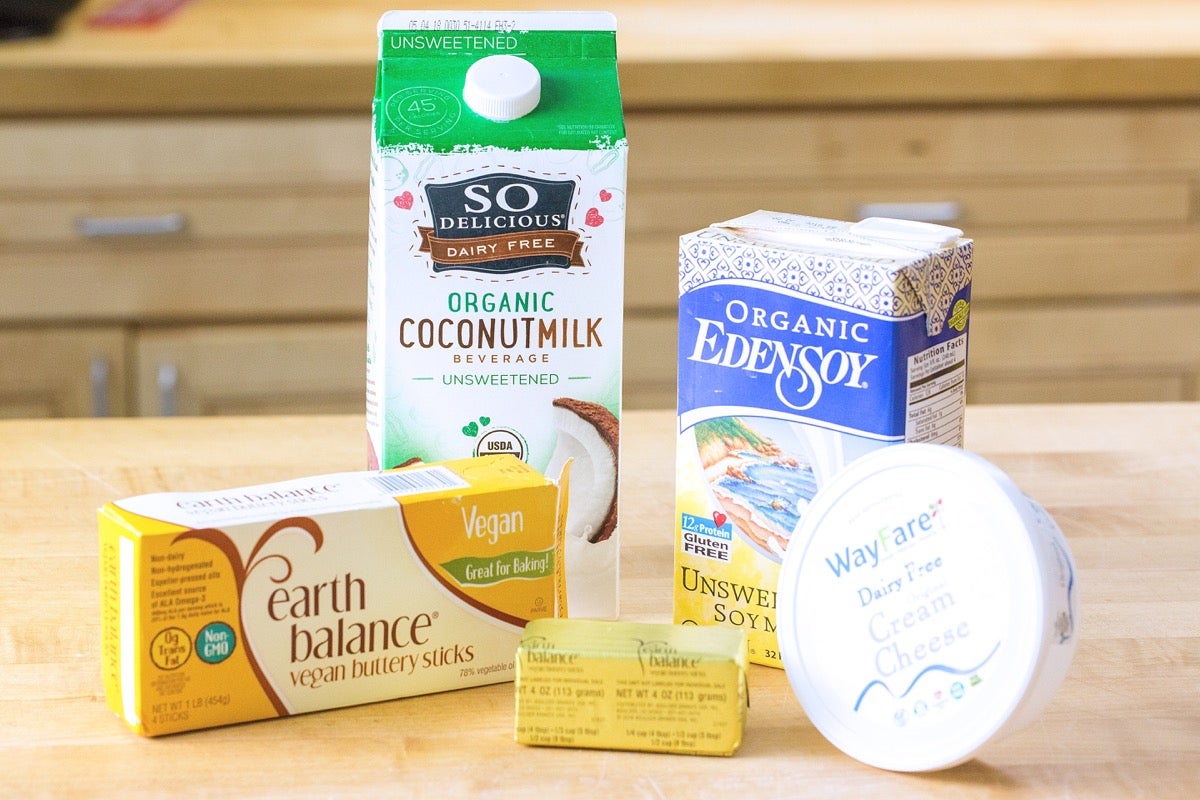 Treat each cake as an individual case, and see if you can find a non-dairy equivalent of the dairy ingredients in the recipe. Read our other posts about dairy-free baking to learn about some of the dairy-free ingredients we've had success with in the past.
And if you're still not sure how to make a dairy-free cake, give our Baker's Hotline a call: 855-371-BAKE(2253). Our hotline folks are substitution pros.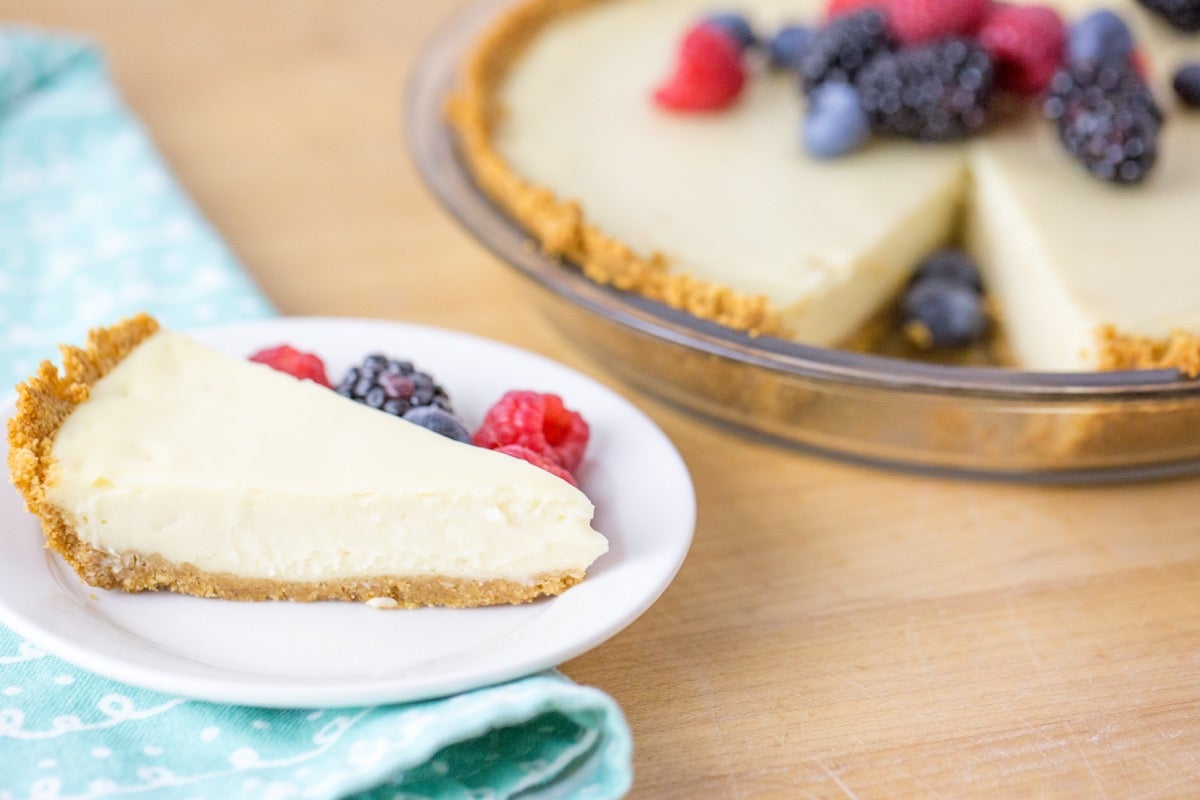 We tackled some of these special-case cakes for you, to give you an idea of what substitutions we found successful in the test kitchen.
Use these special-case examples as a launching pad to dive into your favorite recipe.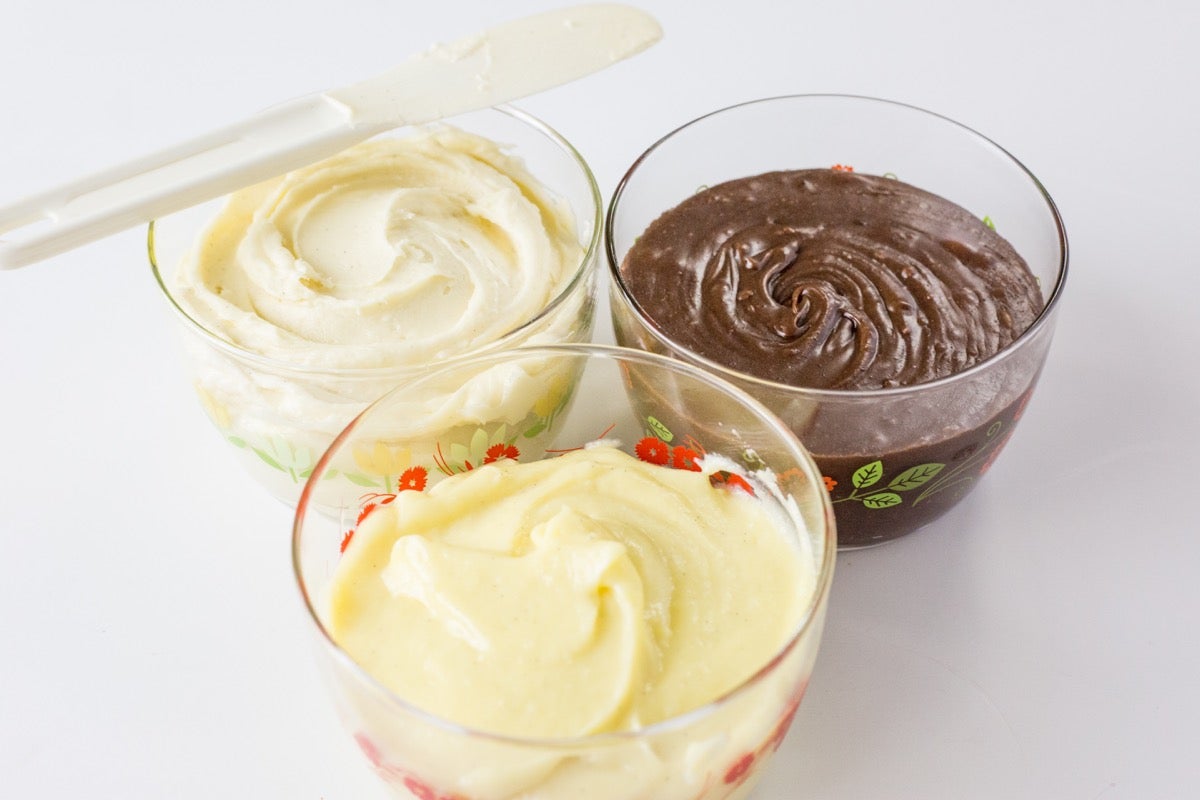 Dairy-free frosting
Now that you've made your delicious dairy-free cake, it's time to gild the lily. There are surprisingly a lot of delicious dairy-free options when it comes to frosting.
If you're not into scouting the grocery stores for alternative ingredients, choose from a handful of recipes that are naturally dairy-free. Egg white-based Seven-Minute Frosting is a fantastic choice. Or you can top off your cake with a simple glaze. (Use the same liquid in the glaze that you used to make the cake: coffee, water, dairy-free milk, etc.)
You can also make chocolate glaze from dark chocolate (which is usually dairy-free) and water, or opt for a peanut butter-almond milk frosting instead.
Not ready to give up your buttercream just yet? Use vegan butter or butter-flavored shortening in lieu of butter in your frosting. You can make our Quick Buttercream Frosting, or even Italian or Swiss Buttercream if you're looking for something a bit fancier and fluffier to top off your dairy-free cake.
Two of my favorite frostings are Fudge Frosting and Cream Cheese Frosting. Here you'll need to use a combination of dairy-free alternatives: vegan butter as well as non-dairy yogurt and cream cheese. Don't worry, they still turn out delicious when made with dairy-free ingredients.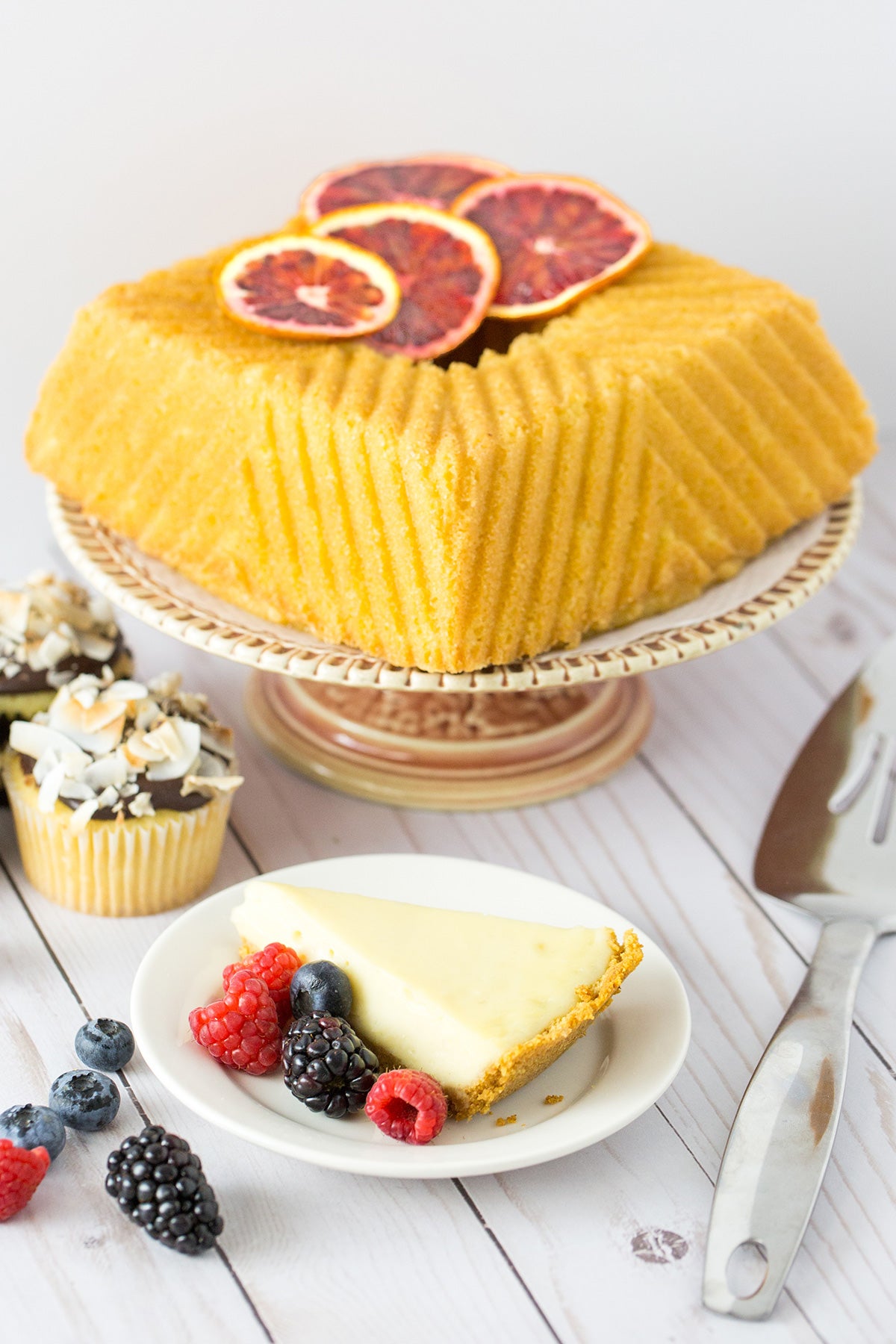 Dairy-free cake and desserts for everyone
Dessert is best when shared with others, and we promise these dairy-free cakes are worthwhile to show off at the next special celebration. Whether it's a simple Cake Pan Cake, a time-tested Hot Milk Cake, or even a cheesecake, you can make it sans dairy.
Need to avoid gluten too? No problem. Simply follow these substitution tips and use our Gluten-Free Measure for Measure Flour to replace the all-purpose or cake flour in your recipe.
Now go on and bake a dairy-free cake! We hope you'll choose one of the well-loved recipes highlighted here. Or try converting your own recipe, and bake it for the next cake-worthy occasion. Please share some of your favorite ways to bake tender, delicious cakes, cupcakes, and frosting without using dairy in comments, below.
Thanks to Anne Mientka for taking the photos for this post.
Jump to Comments