Chocolate Caramel Almond Crunch Brownies
A brownie recipe like no other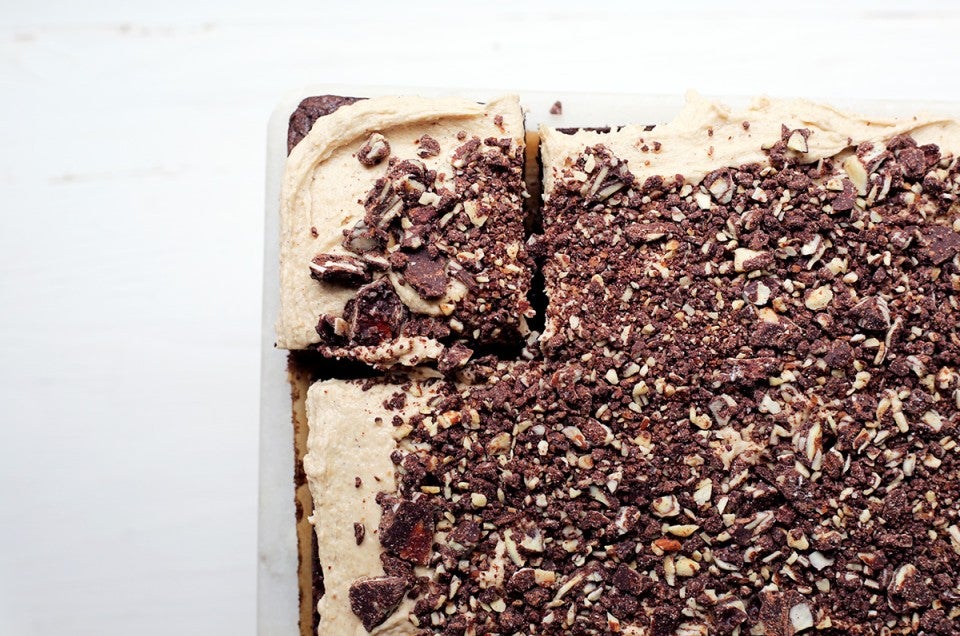 I love to spend time sifting through our recipe archives, searching for hidden gems and forgotten classics. This is how I discovered our Chocolate Caramel Almond Crunch Brownies, and I'm tremendously happy that I did. Our recipe archives house decades worth of baked goods from all manner of places like King Arthur cookbooks, the old Baking Sheet, our bakery, the test kitchen, and employees' own kitchens. They're rich in stories, but they're also rich, by which I mean packed with thousands of ideas!
Part of our mission here is to do the research to bring you the very best ones: the gems, the top-rated, the recipes that may otherwise never cross your mind. And today's recipe for Chocolate Caramel Almond Crunch Brownies checks all those boxes and then some.
At first glance, the recipe sounds over-the-top. It sounds like it'll tend towards the "decadence for novelty's sake" type of recipe. But happily, it does not.
This brownie recipe is ideal for special occasions, but also perfectly well-suited for everyday baking. It does take a bit more time than a typical one-bowl brownie recipe (if that's what you're looking for, try this quick one or use our extremely popular mix!). But the time investment is worthwhile, as the brownies are luscious and impossible to resist. (The British have a word for this exact thing: moreish, as in you keep wanting more!)
The brownies are full of contrasting texture: fudgy and moist with a creamy, fluffy frosting and a crunchy, nutty topping. Each of the three components of the recipe (brownie, frosting, and crunch topping) are excellent on their own, so you could easily make the frosting for your next layer cake or make the crunch topping to spoon over a bowl of ice cream.
Now, let's break down each part of the Chocolate Caramel Almond Crunch Brownies recipe and get to dessert!
Bake the brownies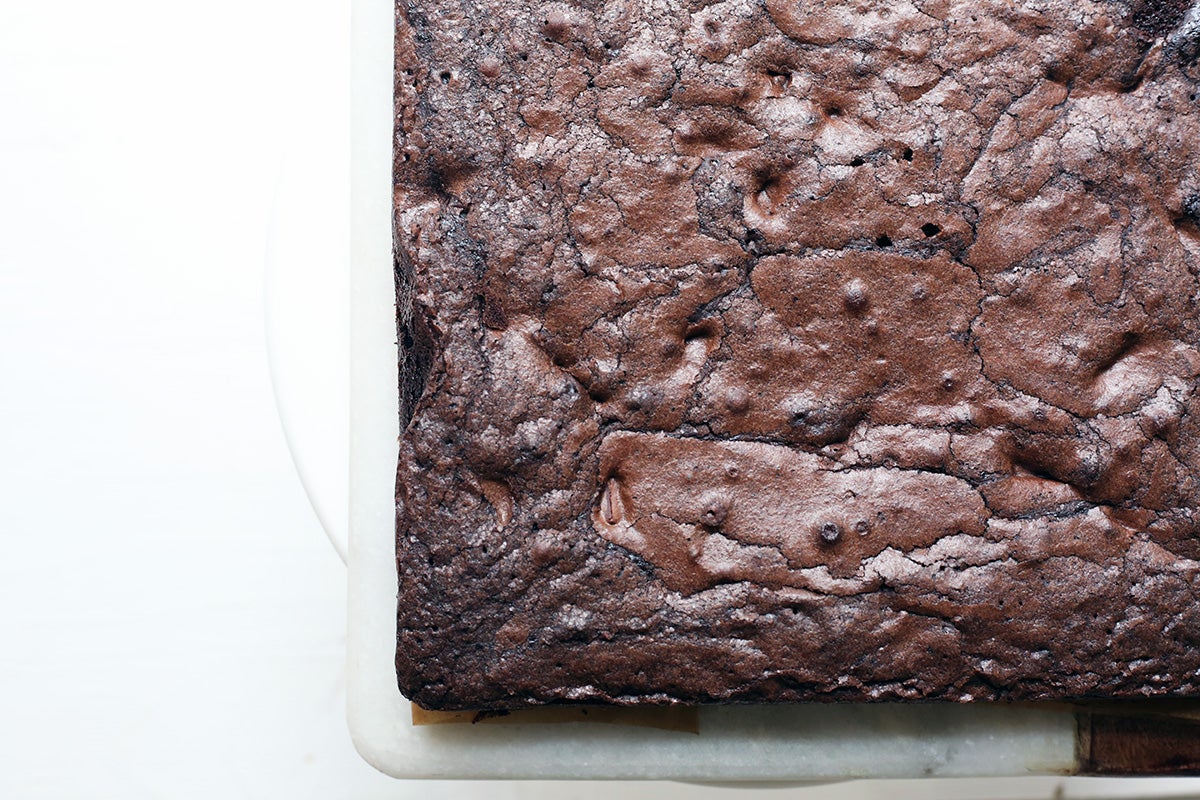 First, you'll bake a batch of brownies for the base. You can use your favorite brownie recipe, but you'll want one that makes a 9" x 13" pan of brownies. My go-to is our fudge brownie recipe. Once you bake the brownies, let them cool in the pan fully while you prepare the frosting and the topping.

Make the topping
The crunch topping needs to cool for a bit, so make it before you make the frosting. If you're wise (and take it from me!), you should double the topping recipe and keep some for snacking or spooning over ice cream or crunching up into your granola. It is so good: the combination of sweet chocolate, nutty almonds, and smoky salt is utterly delicious.
The salt helps bring out the sweetness. If you don't have smoked salt, just use regular flaked sea salt. I use Maine hickory smoked salt, which I love, but a little goes a long way.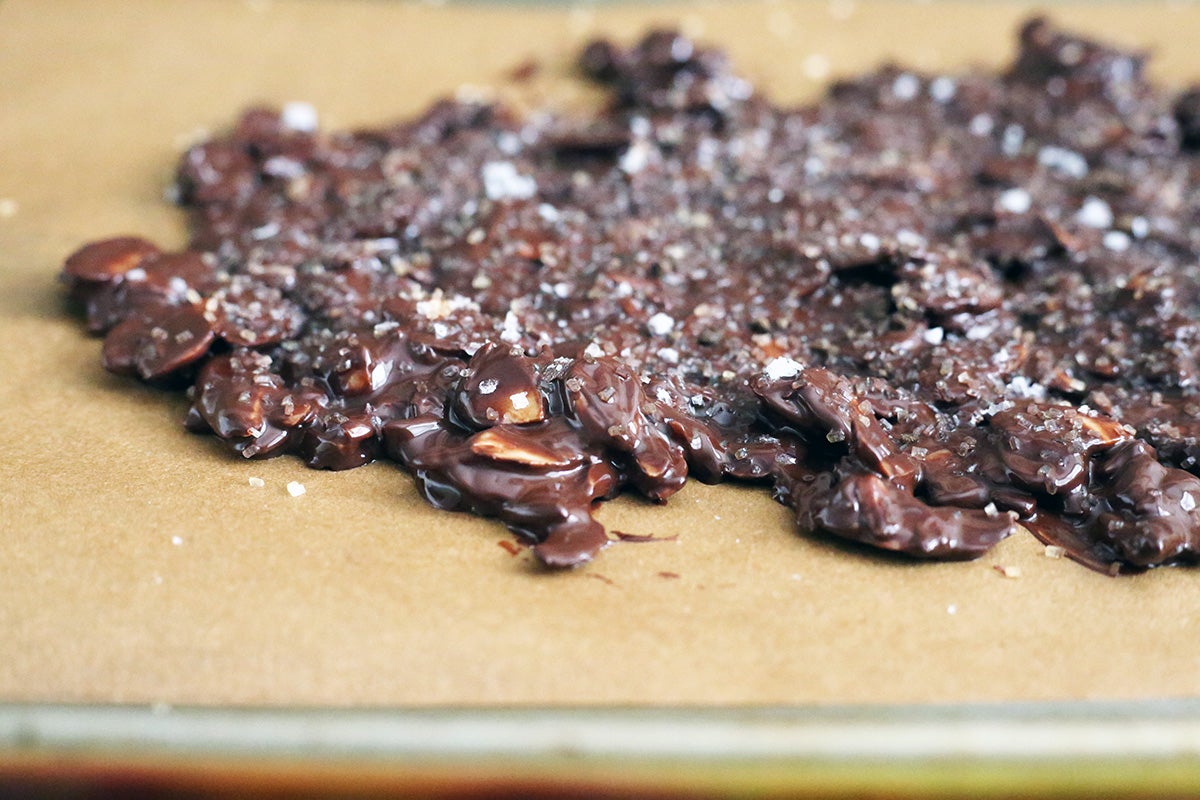 It looks fancy, but it's easy to make. Just combine melted semisweet chocolate with sliced almonds, then spread them in an even layer on a parchment-lined baking sheet to cool. Sprinkle generously with Demerara (raw) sugar and smoked sea salt (or flaked sea salt).
Don't like almonds? Use your favorite nut! Chop your nuts roughly so they aren't in big pieces.
A tip: Make sure to heat your chocolate slowly. Heating it slowly will temper the chocolate, giving it that shiny look and crisp snap once it cools.
Let it sit and it will firm up. Once cool and firm, you can chop it up into small pieces with a sharp knife, or use your hands to break it up. (I like using a knife so that it's much smaller pieces which is easier to sprinkle over the brownies.)
You can save any extra crunch topping in an airtight container for up to a week.
Make the icing
Brown butter is a baker's best secret ingredient. If you have never tried making it at home, drop everything and go do it! By simply cooking regular unsalted butter in a saucepan until the milk solids separate and brown, you transform a basic kitchen staple into a nutty, fragrant, flavorful ingredient that elevates baked goods.
If you've never tried your hand at making brown butter before, it's simple! It sounds fancier than it is. Just add your butter to your saucepan (it helps to use a lighter colored saucepan so you can see when the butter starts to change color), and melt it over medium heat, swirling the pan occasionally.
Keep cooking the butter: It will start to foam and bubble, and then the foaming will subside. Continue swirling the pan and you'll see the milk solids separate out and gather at the bottom of the pan. Cook for another minute or two, until the milk solids start to turn golden brown and smell nutty and fragrant.
As soon as the color turns golden, take the pan off the heat as the butter solids can burn quite quickly and we don't want that!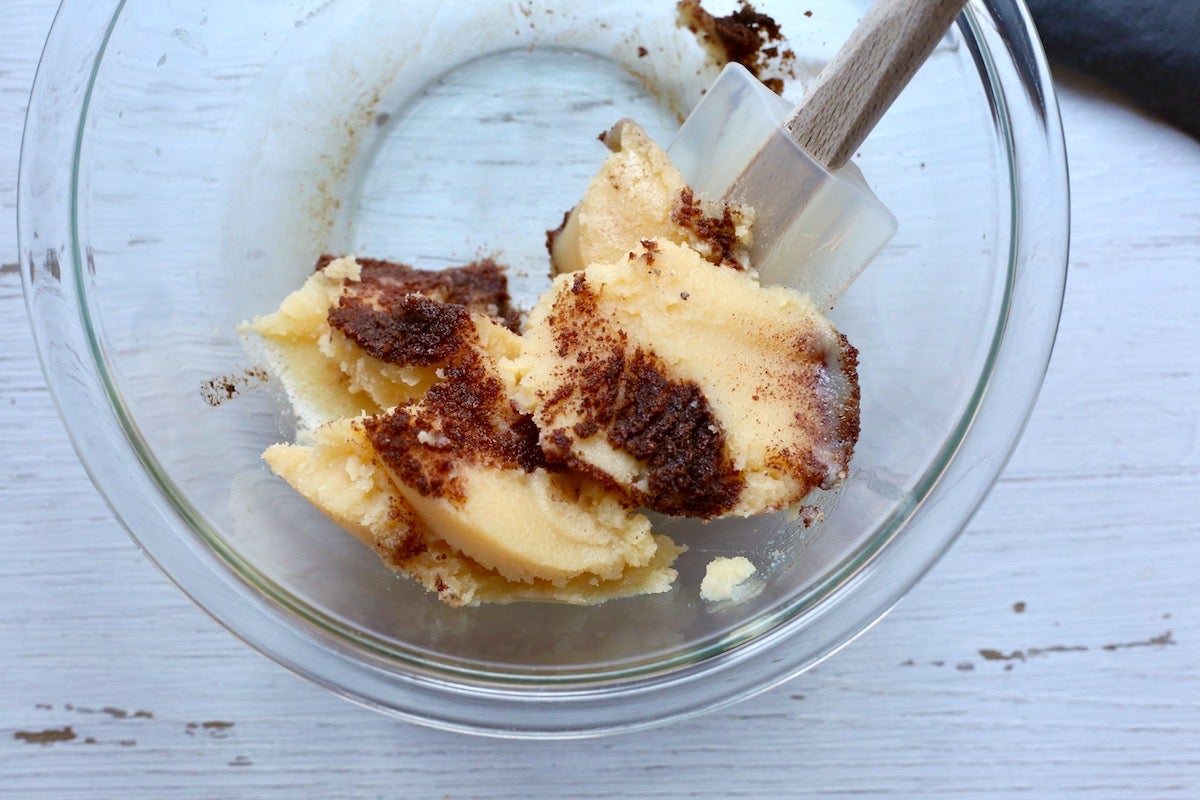 Here's a photo of cooled brown butter: You can see all the browned bits. That's what you want!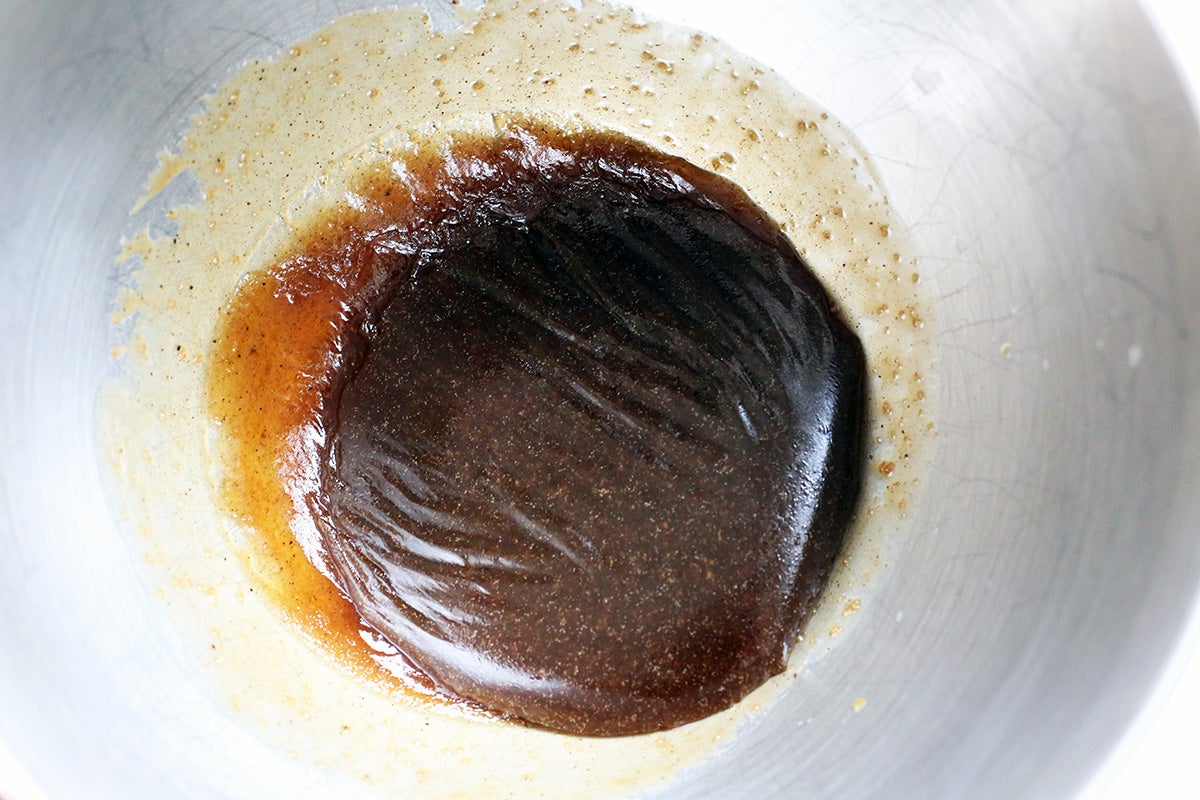 After you brown your butter, remove it from the heat and let it cool just slightly. Then add your brown sugar and salt, stirring until the sugar dissolves.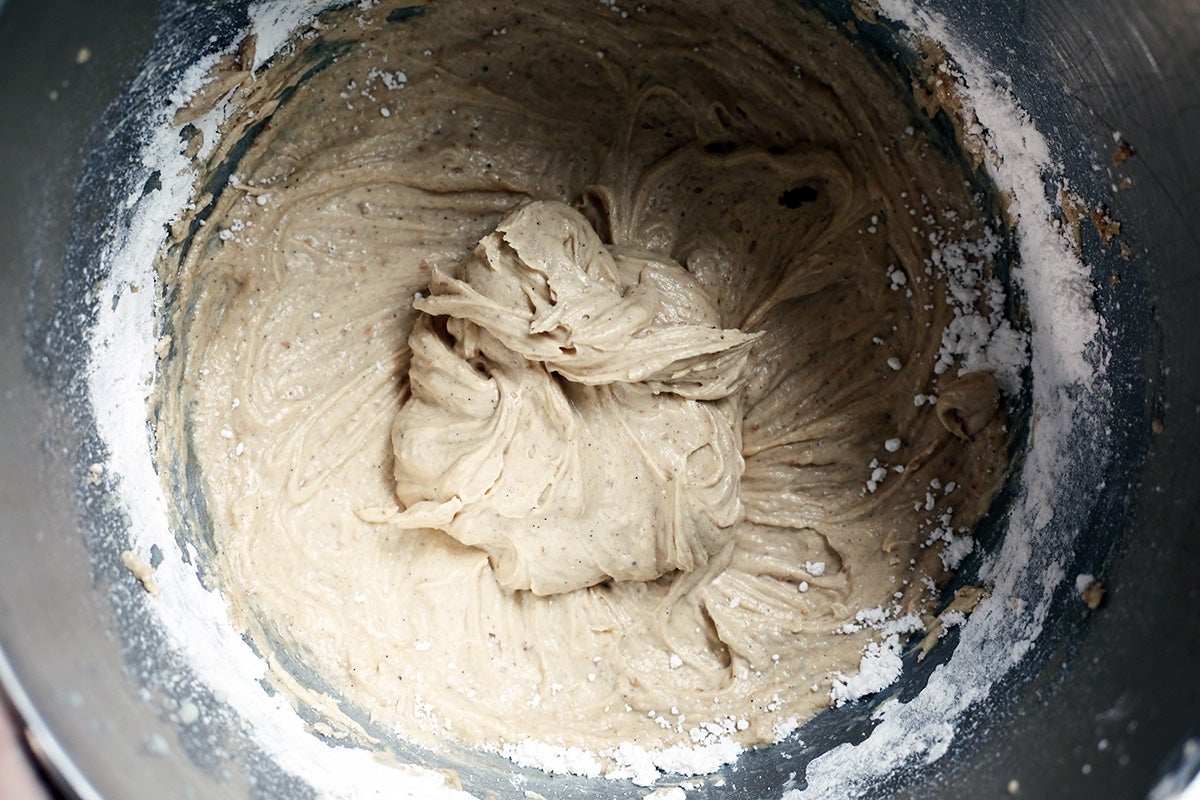 Once the sugar has dissolved, add your milk and vanilla, mixing until it forms a nice thick sauce, then let it cool before beating in confectioners' sugar until the icing turns fluffy and thick.
You can see that the finished icing has a golden caramel hue and flecks of brown butter: that's a good sign!

Assemble the brownies
Spread your icing thickly over the cooled brownies, then top with the chocolate almond crunch. Slice into squares and serve, and prepare yourself for rave reviews.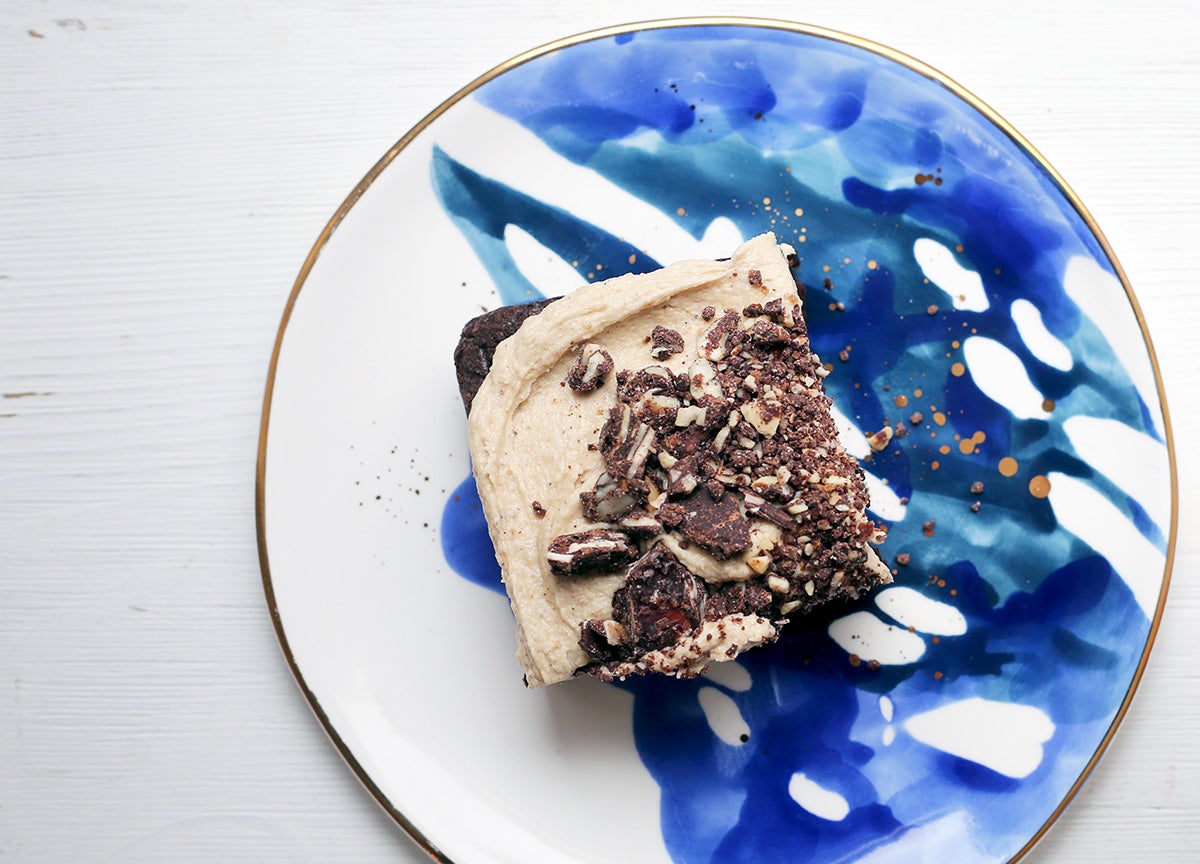 With a brownie this good, it's hard to go back to anything less elaborate, despite the time it takes. Let us know what you think of the recipe in the comments below!
Jump to Comments