When I first started baking seriously in 1996, I focused on making crusty hearth breads. It wasn't long, though, before I was I intrigued by other styles of leavened bread as well — including pain de mie, a soft and delicious sandwich bread I discovered while looking through a French baking manual.
Being an organic wood-fired hearth bread baker, I was a bit sheepish being so smitten with a soft-crusted white bread. But pain de mie won me over; it's undeniably delicious and versatile.
For years I've taught pain de mie at the King Arthur Flour Baking School, as well as in my classes at Johnson & Wales University in Providence, RI. The students love it, and my colleagues often request it for sandwiches, canapés, and rich bread crumbs.
Several years ago I became interested in baking with sprouted grains. I amended my original pain de mie formula to make this tasty variation that includes ground sprouted grains. The result is a loaf that's still soft and perfect for sandwiches, but also provides the nutrition and flavor of bread made with whole and sprouted grains.
Pain de mie is easy to make, and it doesn't require extraordinarily long fermentation times. However, you'll need to get the sprouts going a few days in advance of your bake day. Here's how to do it:
Start with 3/4 cup dried red wheat berries; or spelt, emmer, kamut or einkorn berries. Rinse the berries and cover with an inch or two or water. Allow the berries to soak for 36 hours, changing the soaking water after about 12 hours. (I often use a mesh colander inside a stainless bowl to soak the berries).
Then, leaving them in the colander, rinse the berries, shake off the excess water, and place the colander back in the empty bowl. Drape the bowl lightly with plastic, and allow the berries to sit at room temperature for 24 hours. Rinse the berries once or twice, but don't let them sit in water; you want them to remain damp, neither too wet nor too dry.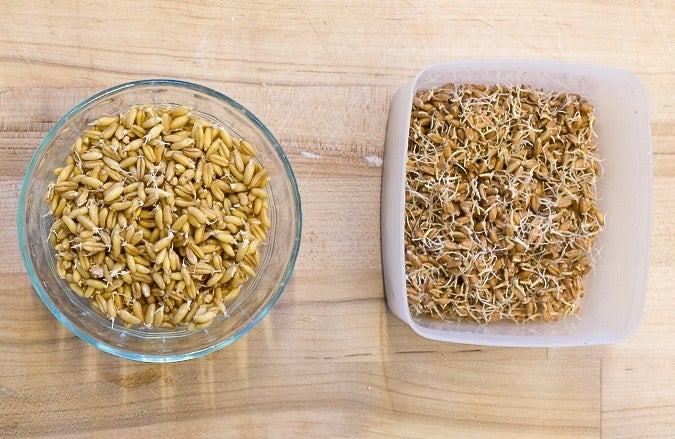 Rootlets will start to emerge from the berries after about 24 hours. Sprouts are best when the rootlet is no longer than the length of the berry, so try to catch them at just that point. Under-sprouted grain won't be as sweet and may remain a little chewy; old sprouts get starchy and less flavorful.
Now that you have your sprouts, you're ready to bake Sprouted Wheat Pain De Mie. Note that all measurements below are in grams, the most accurate way to measure and your best route to success. If you don't have a gram scale, see the online recipe for volume/American weight measurements.
288g King Arthur Unbleached All-Purpose Flour
291g King Arthur White Whole Wheat Flour
6g instant yeast
12g salt
23g sugar
24g Baker's Special Dry Milk or nonfat dry milk
395g water
104g unsalted butter
145g sprouted grain berries, ground*
wheat bran, for coating, optional
*For sprouting directions, see our Sprouted Wheat Pain de Mie recipe.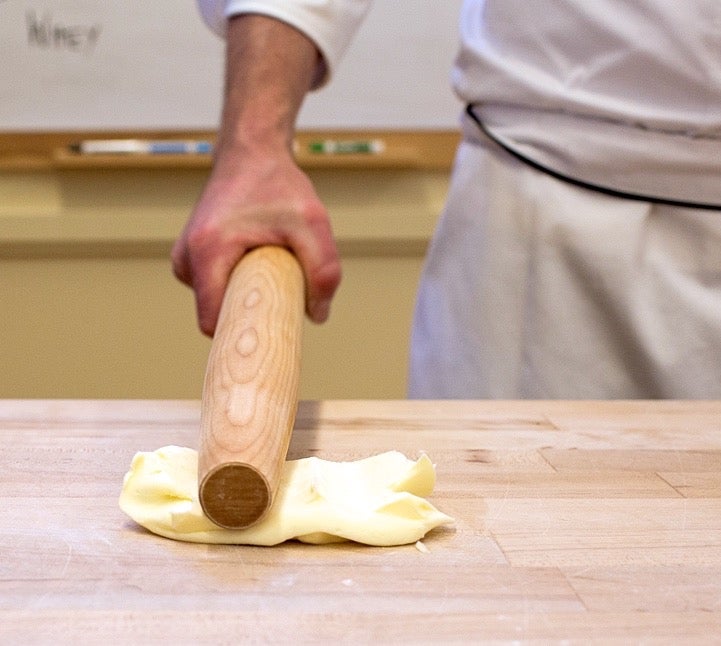 First, soften the butter by pounding it with a rolling pin, not simply by bringing it to room temperature. The butter should be "plasticized," but not warm; if it's warm it may melt and make the dough greasy. Perfectly softened butter will easily take the impression of your finger without actually feeling warm.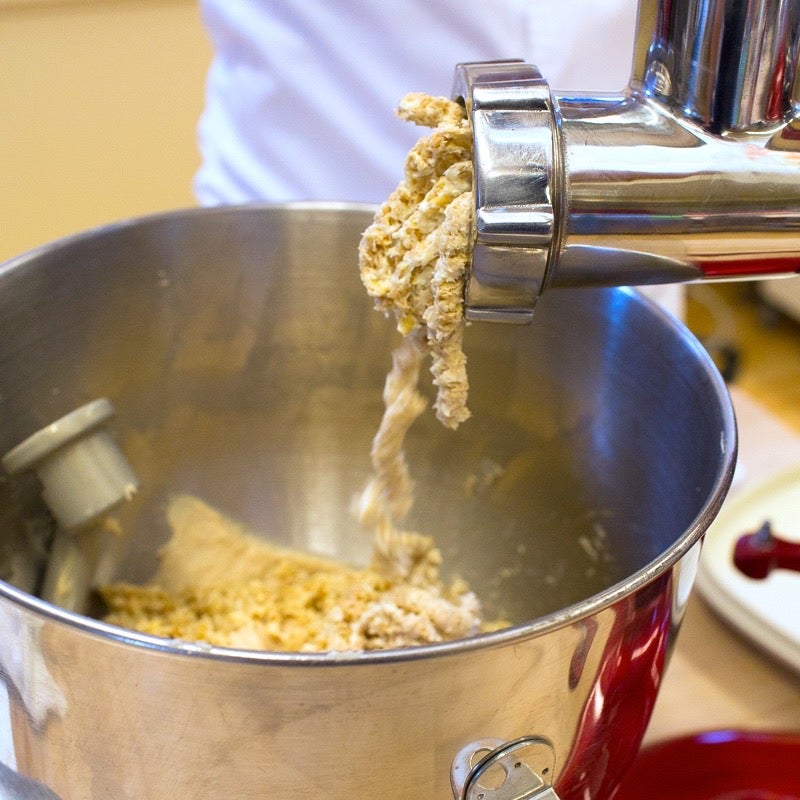 Grind the sprouts by putting them through a food mill or grinder. It's important the sprouts are fully ground; a food processor or blender will often leave some hard bits, which are unpleasant in your baked bread. If you have a stand mixer with a food grinder attachment, you can use that.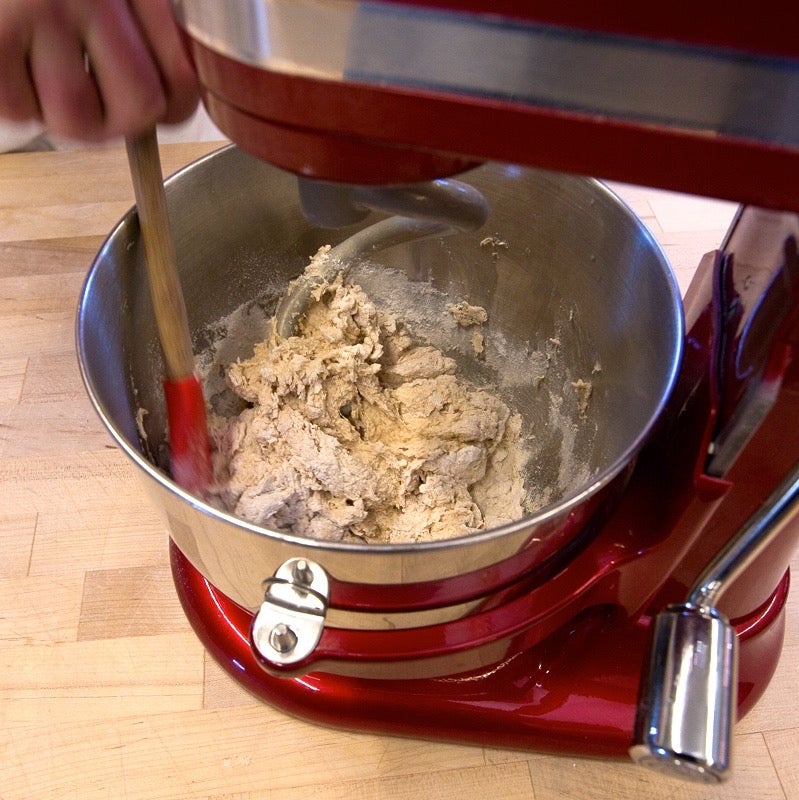 Combine all the ingredients, except the ground sprouts and butter, in the bowl of a stand mixer fitted with a dough hook. Mix on low speed for 4 minutes, until everything is well combined.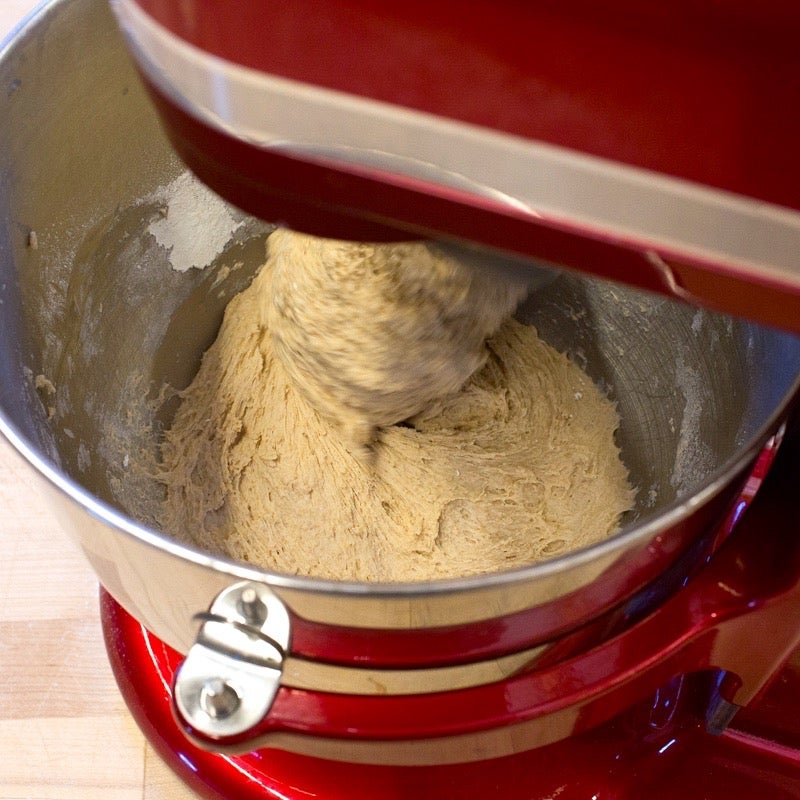 It's important to develop some dough strength before adding any butter. This is often called an intensive mix and is the same mixing method used for mixing brioche. However, pain de mie has a lower butter ratio compared to brioche so it doesn't need to be mixed as long as brioche.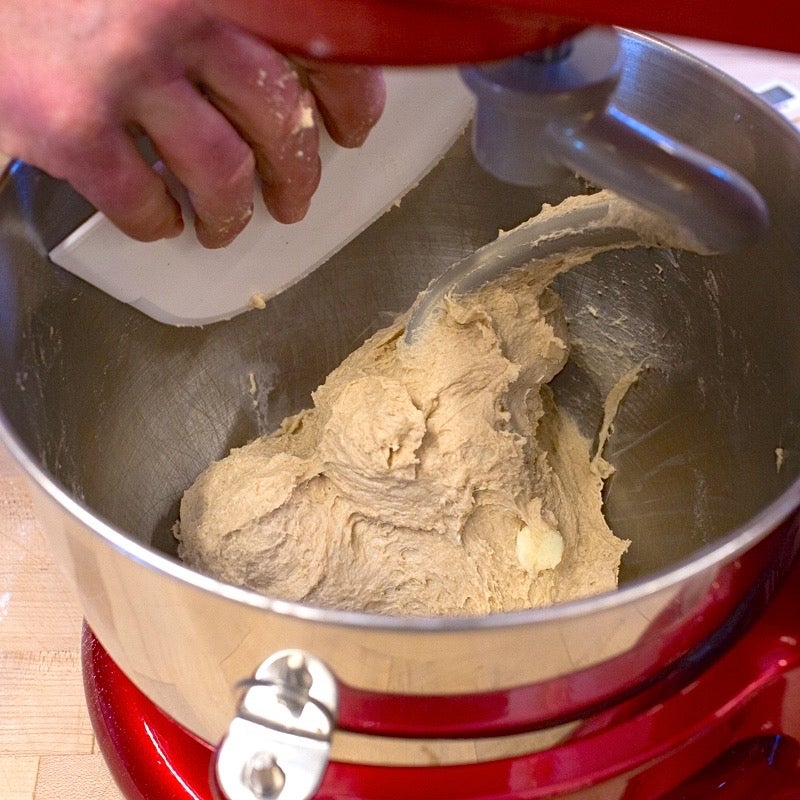 Increase the mixer speed to medium, and add half the softened butter. Mix for 1 minute. Add the remaining softened butter; mix at medium speed for 5 minutes.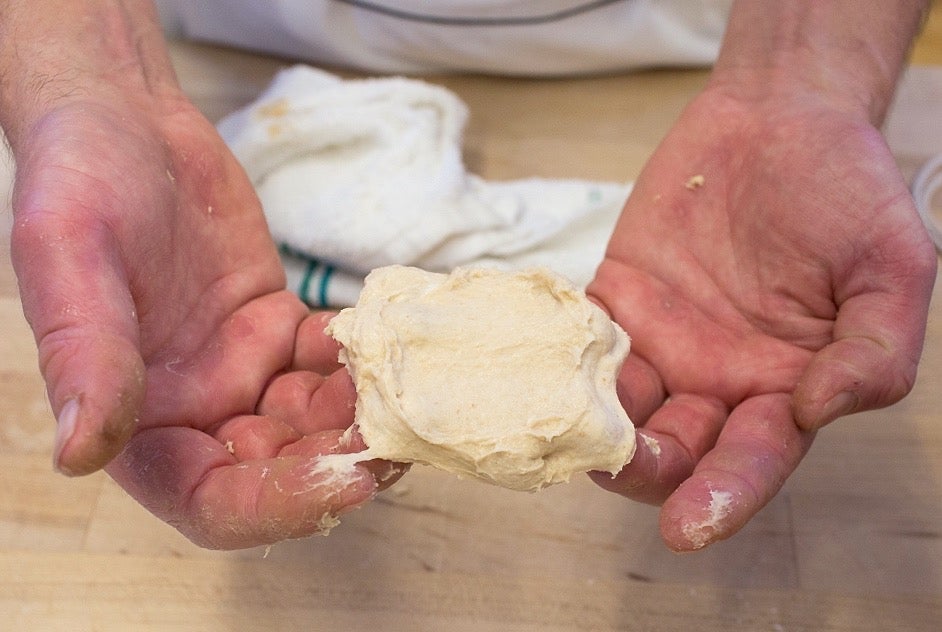 Add the ground sprouts, mixing until thoroughly incorporated.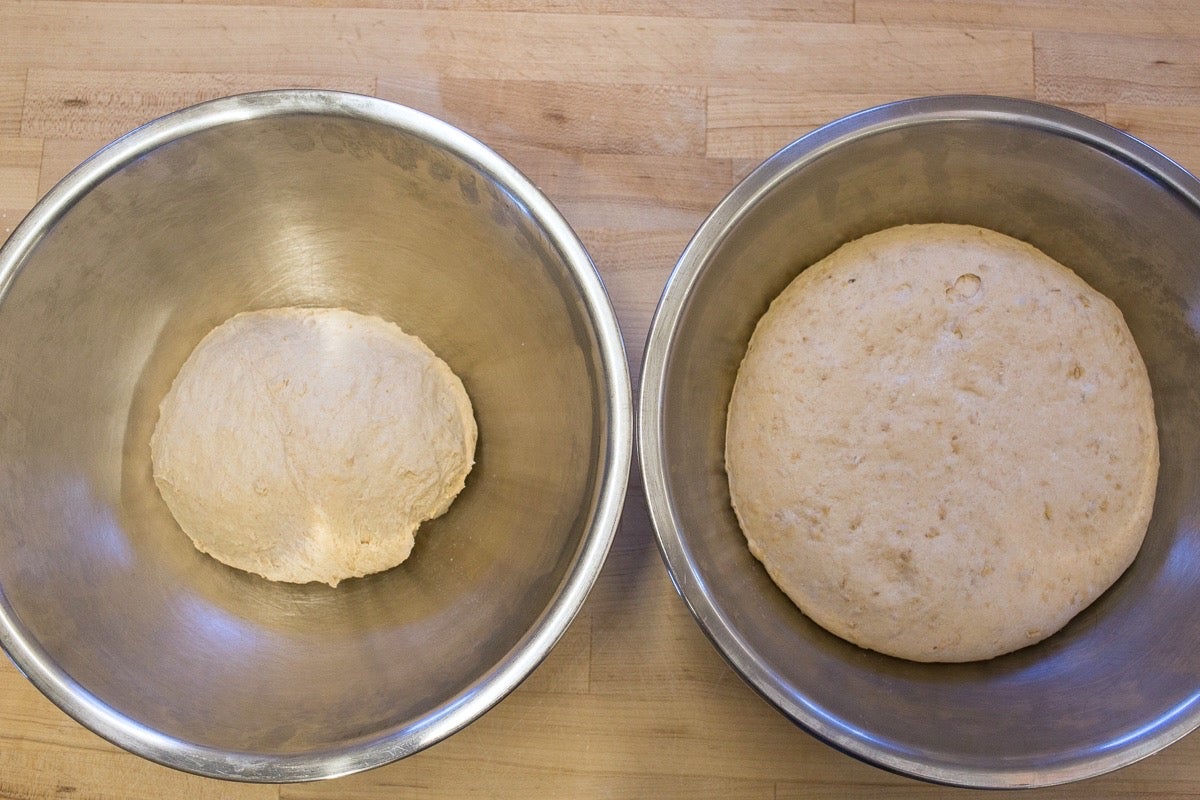 Place the dough in an ungreased container, cover, and let rise for 1 to 1 1/2 hours, until it's noticeably puffy.
Transfer dough to a very lightly floured work surface and gently deflate.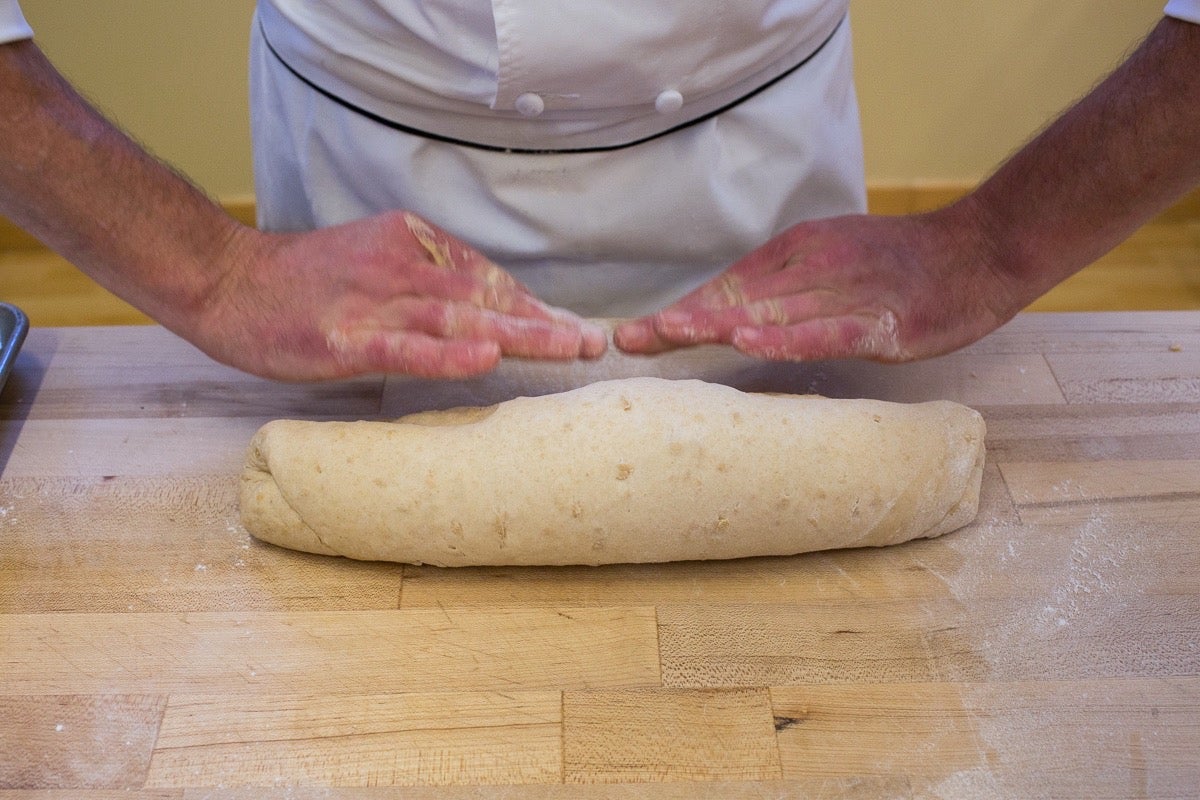 Now you're going to shape the dough into a 13" log. Fold one side over and seal with the whole length of your hand. Turn the dough 180° and repeat.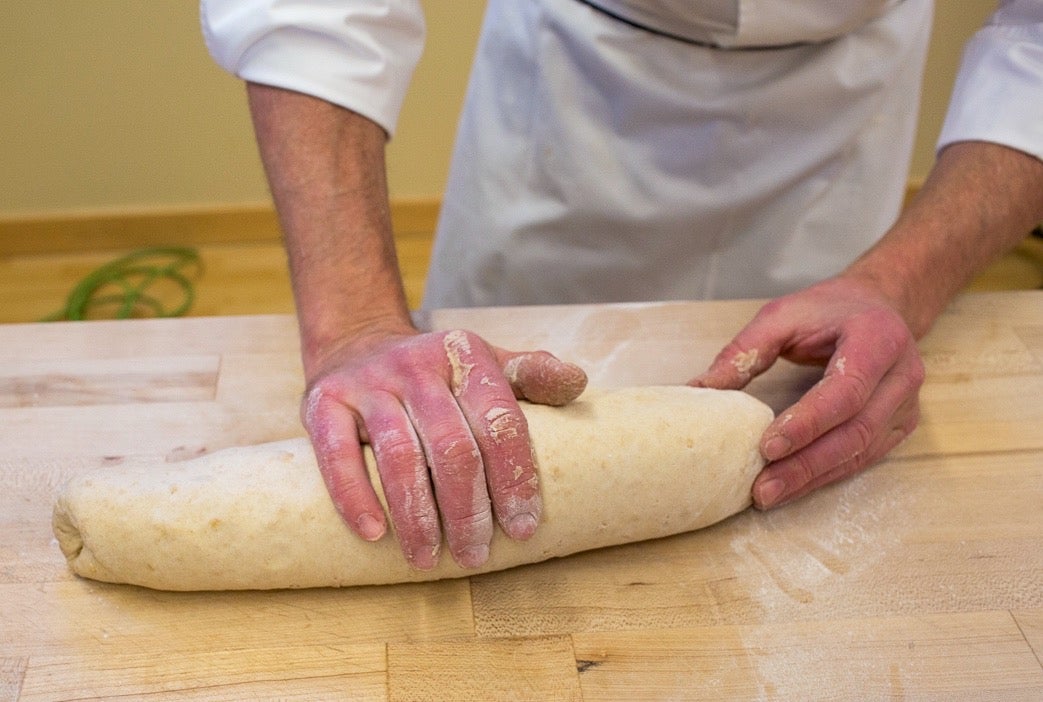 Seal the seam with the heel of your hand.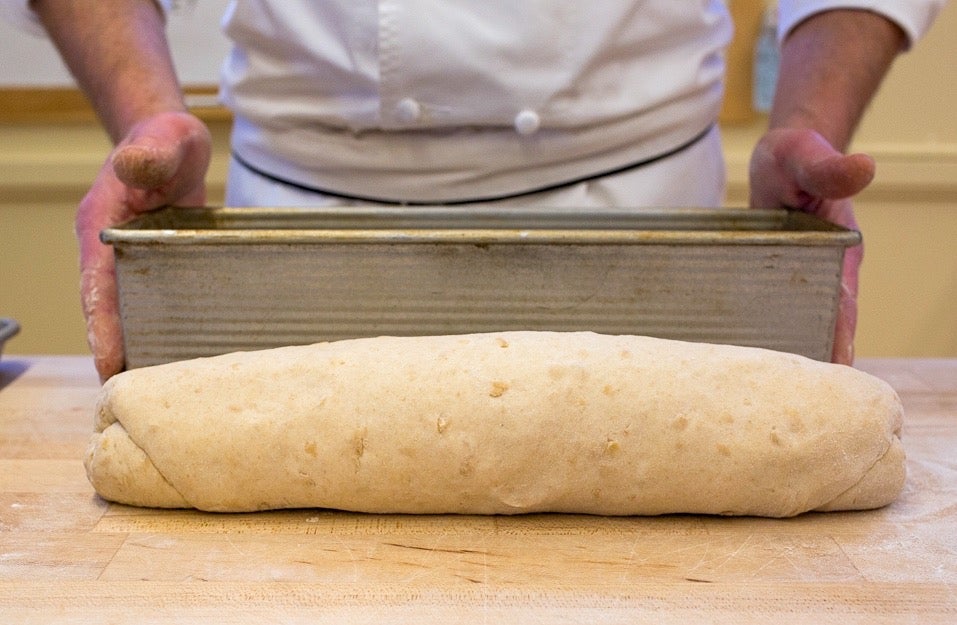 The loaf should be as long as a standard (13" x 4") lidded pain de mie pan.
Next, roll the shaped dough on a damp towel.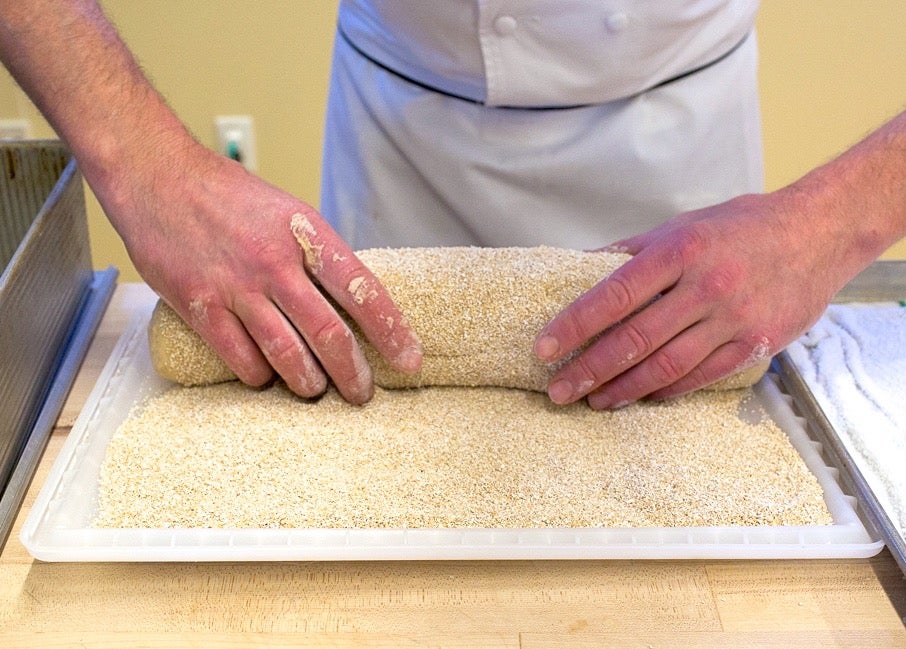 Then roll it in wheat bran. This step is optional, but gives the bread a lovely crust.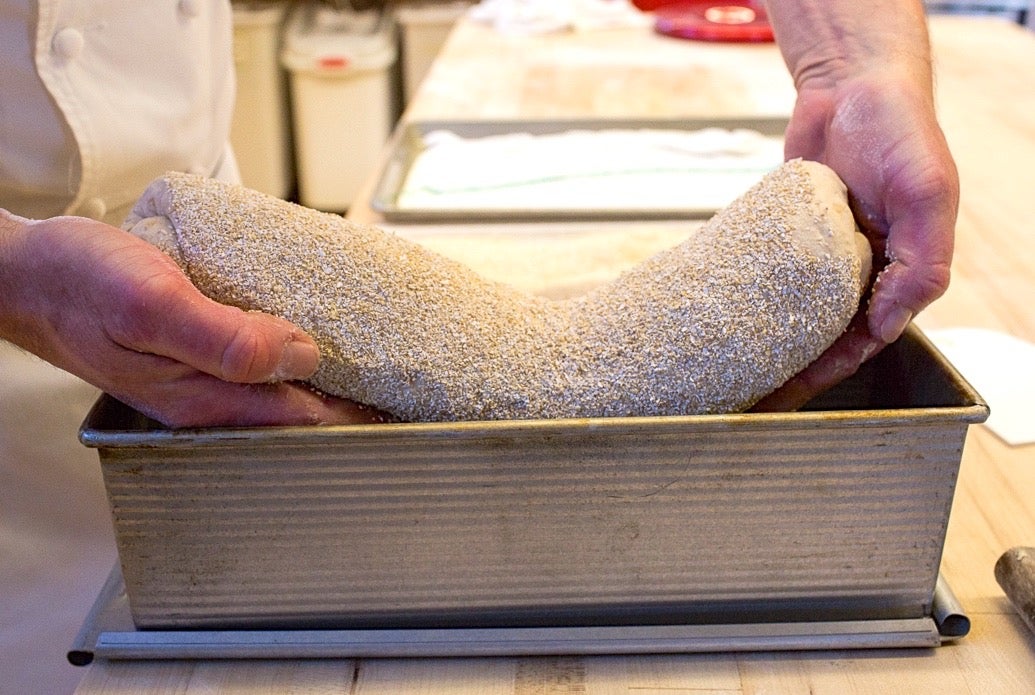 Place the log into the pain de mie pan.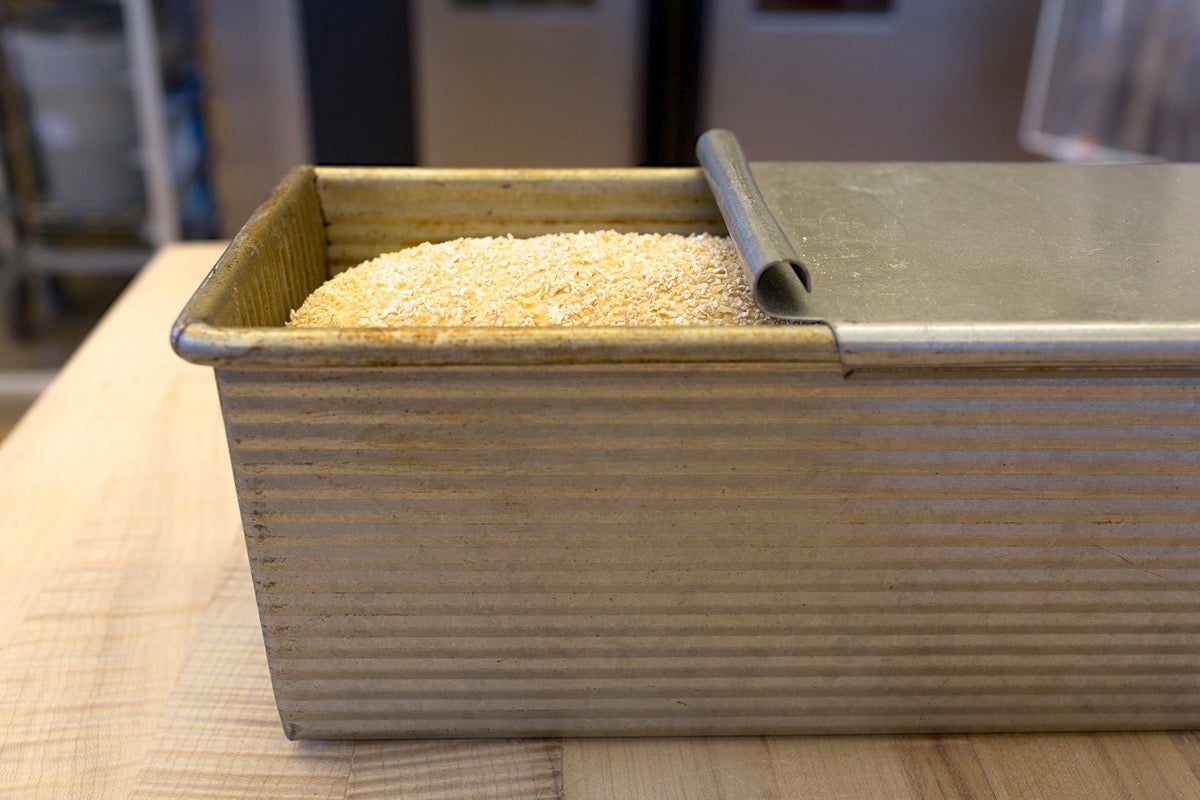 Cover the pan, and let the dough rise until it's about 1/2" from the rim of the pan, about 1 1/2 hours. The distance from the top of the pan is more important than the proofing time.
Towards the end of the rise, preheat the oven to 350°F.
Close the lid on the pan. Bake the bread for 30 minutes.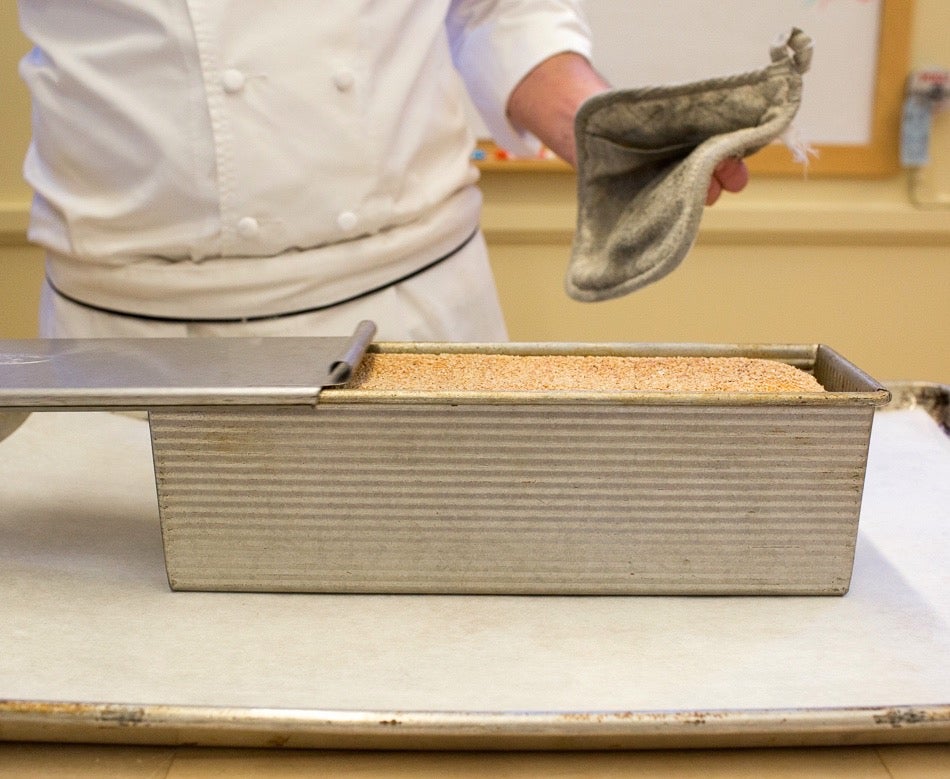 Remove the lid, and bake for an additional 10 to 15 minutes, until the bread is golden brown and its interior temperature is at least 190°F at the center.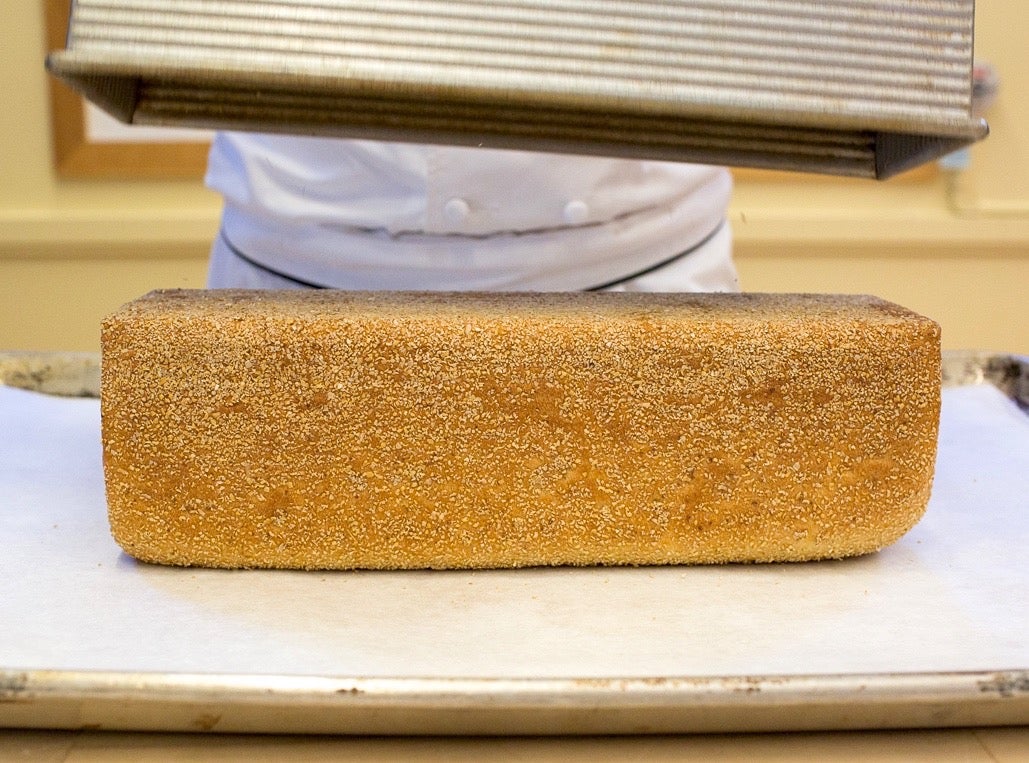 Remove the bread from the oven, and turn it out of the pan onto a baking sheet.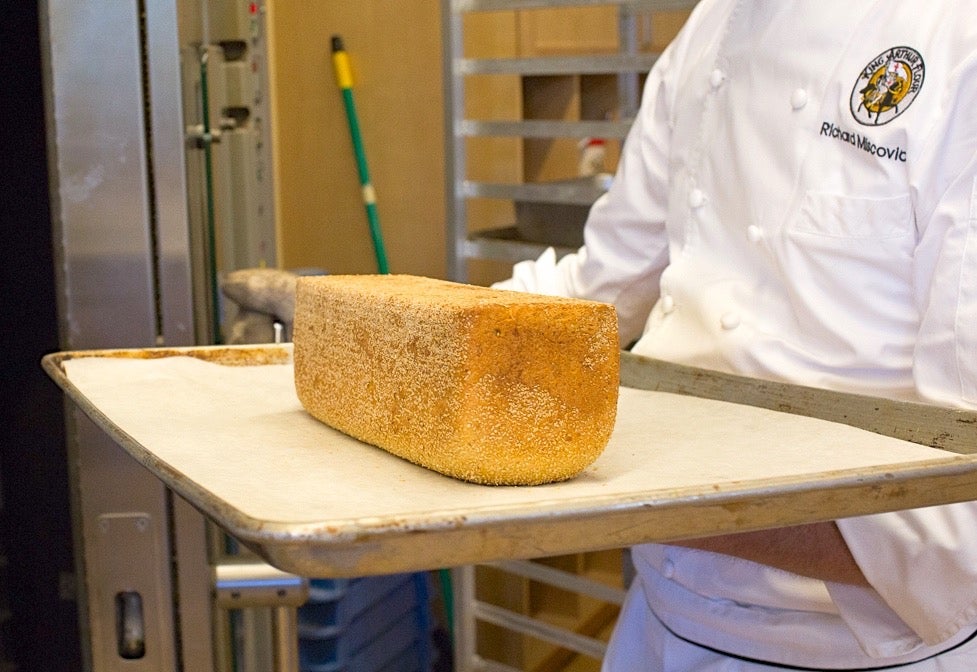 Return it to the oven and bake for an additional 3 to 5 minutes to firm up the sidewalls of the loaf.

Remove the bread from the oven, and place it on a rack to cool completely before slicing.
Now THAT'S a good-looking loaf of sandwich bread! I see an avocado, oven-roasted tomato, and herbed goat cheese sandwich in my near future. How about you — what are your favorite sandwich fillings? Let us know in the comments below. 
Jump to Comments