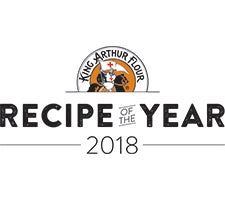 What does it take to be named King Arthur Flour's 2018 Recipe of the Year?
Like any competition, the winner needs to stand out from the crowd. And if there's a crowd of recipes any larger than that of banana bread, we haven't found it.
EVERYONE has a favorite banana bread recipe, be it your grandma's, something you learned in middle school life skills class, or the latest online celebrity version.
Bottom line: banana bread recipes are ubiquitous; heck, we have a baker's dozen of 'em on our own website alone. So how could we possibly choose just one banana bread recipe — Whole-Grain Banana Bread — as our 2018 recipe of the year?
Simple. We think this particular banana bread offers the best combination of flavor, texture, and versatility we've ever experienced.
Let's talk flavor
A full pound of bananas gives this bread assertive banana flavor — which is just as it should be. Brown sugar adds a note of caramel, while toasted walnuts and a touch of cinnamon lend depth to the bread's taste.
The ideal texture
Some banana bread is dry. Some is so moist it practically oozes. This banana bread's fine crumb holds just enough moisture to give it a soft, rich mouthfeel without edging into sogginess. And the loaf is perfectly balanced between light and heavy — nicely dense, with just the right amount of heft.
Start basic; go creative
Perhaps counterintuitively, the simplicity of this bread is exactly what lends it such versatility. The basic ingredients — flour, sweetener, fat — are endlessly interchangeable. The basic recipe calls for a 50/50 blend of all-purpose and white whole wheat flour. But it's simple to swap out the all-purpose flour for whole wheat to make a 100% whole-grain loaf; or use 100% all-purpose flour, if that's your preference. You can even make the bread gluten-free simply by using our Measure for Measure flour — no further adjustments necessary.
Trying to reduce the sugar in your diet? The sweetness of the bananas allows you to lower the recipe's added sugar by at least 25%. Don't care for brown sugar? Use granulated sugar. Or substitute honey, maple syrup, or the liquid sweetener of your choice; read on for our test kitchen tips.
Want to substitute butter for vegetable oil? How about lowering the fat in the recipe by swapping out applesauce for part of the oil — or yogurt for all of it? We've tested these substitutions, too. Thankfully, the bananas and sweetener in the bread give it enough moistness to help counteract some of the toughening effect inherent in fat reduction; see our substitution details at the end of this post.
And we haven't even started to consider mix-ins: chocolate or cinnamon chips, diced dried apricots, toffee bits… In short, this recipe is the perfect blank palette, awaiting any creative adjustments you'd care to make.
Is your own favorite banana bread recipe a winner, garnering rave reviews everywhere you take it? That's excellent; having a sure-thing recipe is every baker's goal. But even if your current recipe is a slam-dunk success, we urge you to try this one. Just as there's enough love in your heart for each of your children to receive equal portions, thus it is with humble banana bread: there's plenty of room at the top for more than one favorite recipe.
Let's stir together this simple one-bowl bread.
Preheat the oven to 350°F with a rack in the center position. Lightly grease a 9" x 5" loaf pan. If your pan is glass or stoneware, reduce the oven temperature to 325°F.
Gather your ingredients:
2 cups (454g) thoroughly mashed banana, about 4 or 5 medium bananas
1/2 cup (99g) vegetable oil
1 cup (213g) brown sugar, packed
2 large eggs
1 teaspoon vanilla extract
1 cup (120g) King Arthur Unbleached All-Purpose Flour
1 cup (113g) King Arthur White Whole Wheat Flour or Premium Whole Wheat Flour
1 teaspoon baking soda
1/2 teaspoon baking powder
3/4 teaspoon salt
1 teaspoon cinnamon, optional
1/2 cup (57g) chopped walnuts, toasted if desired; optional*
1 tablespoon (13g) sugar mixed with 1/2 teaspoon ground cinnamon, for topping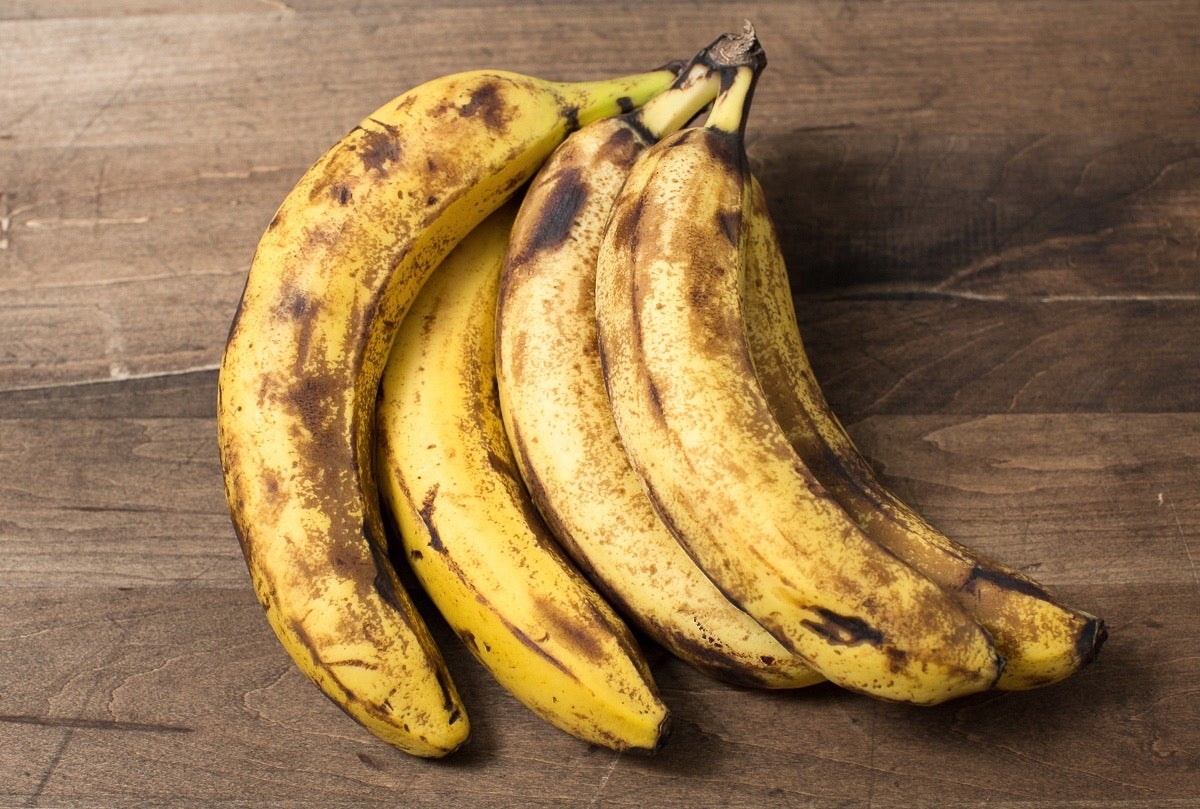 A short word about bananas: banana bread is the ideal way to use up those overripe bananas in your fruit bowl. For best flavor, bananas should be heavily streaked with brown, ranging from those pictured above to bananas that are nearly all dark brown. Check out your supermarket's outdated produce section for a good buy on too-ripe (but just perfect for banana bread) bananas.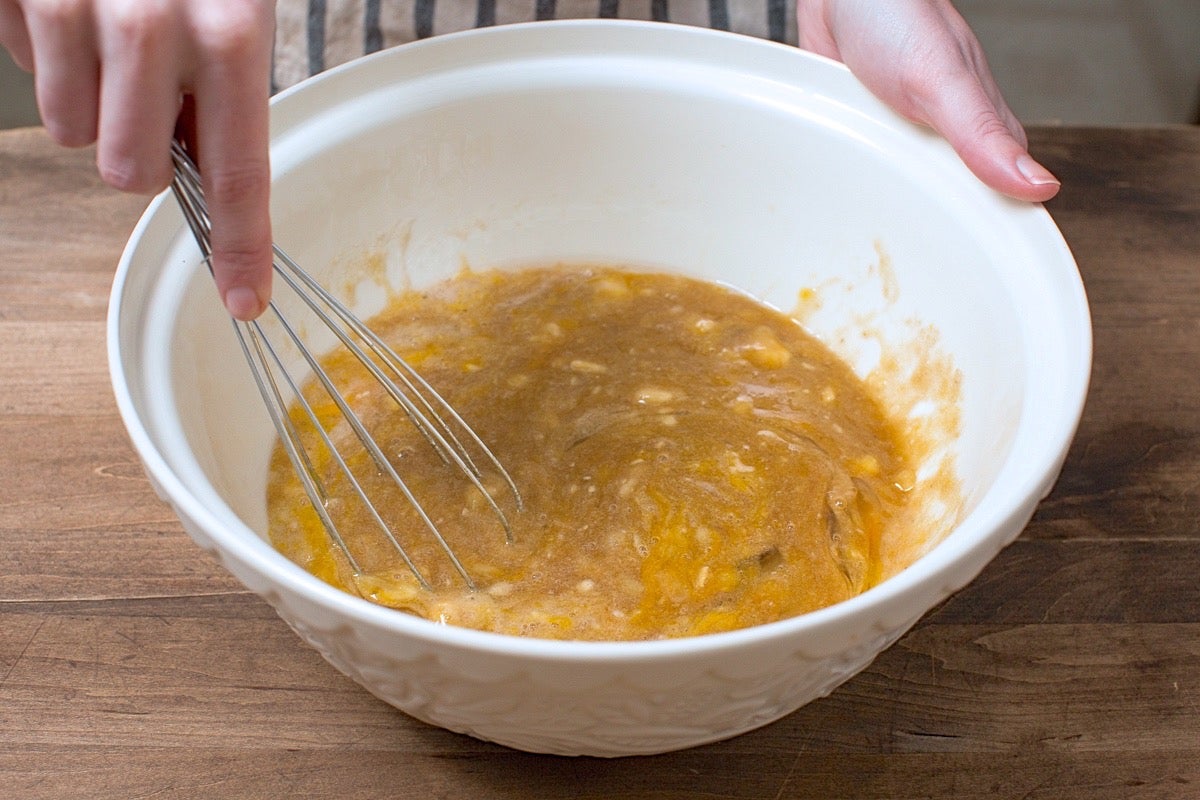 In a large bowl, stir together the mashed banana, oil, sugar, eggs, and vanilla.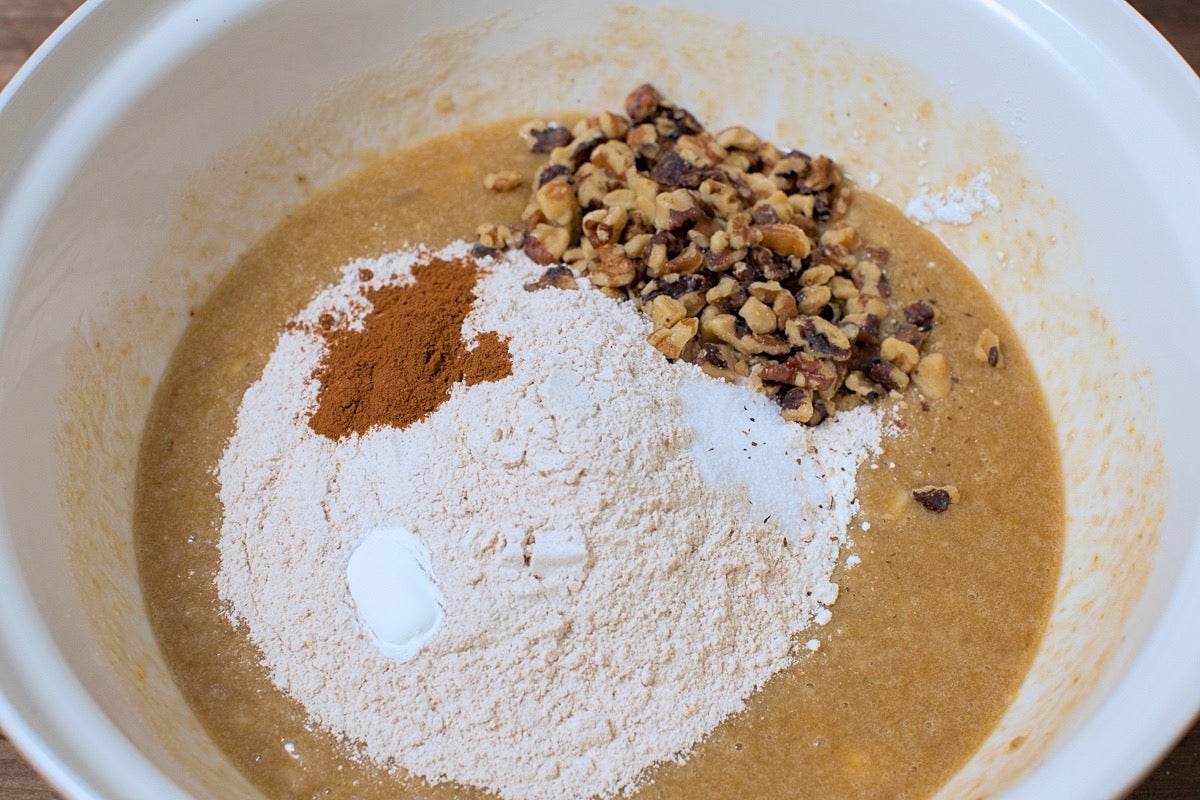 Mix in the flours, baking soda, baking powder, salt, 1 teaspoon cinnamon, and chopped walnuts. Scrape the bottom and sides of the bowl to thoroughly combine the ingredients.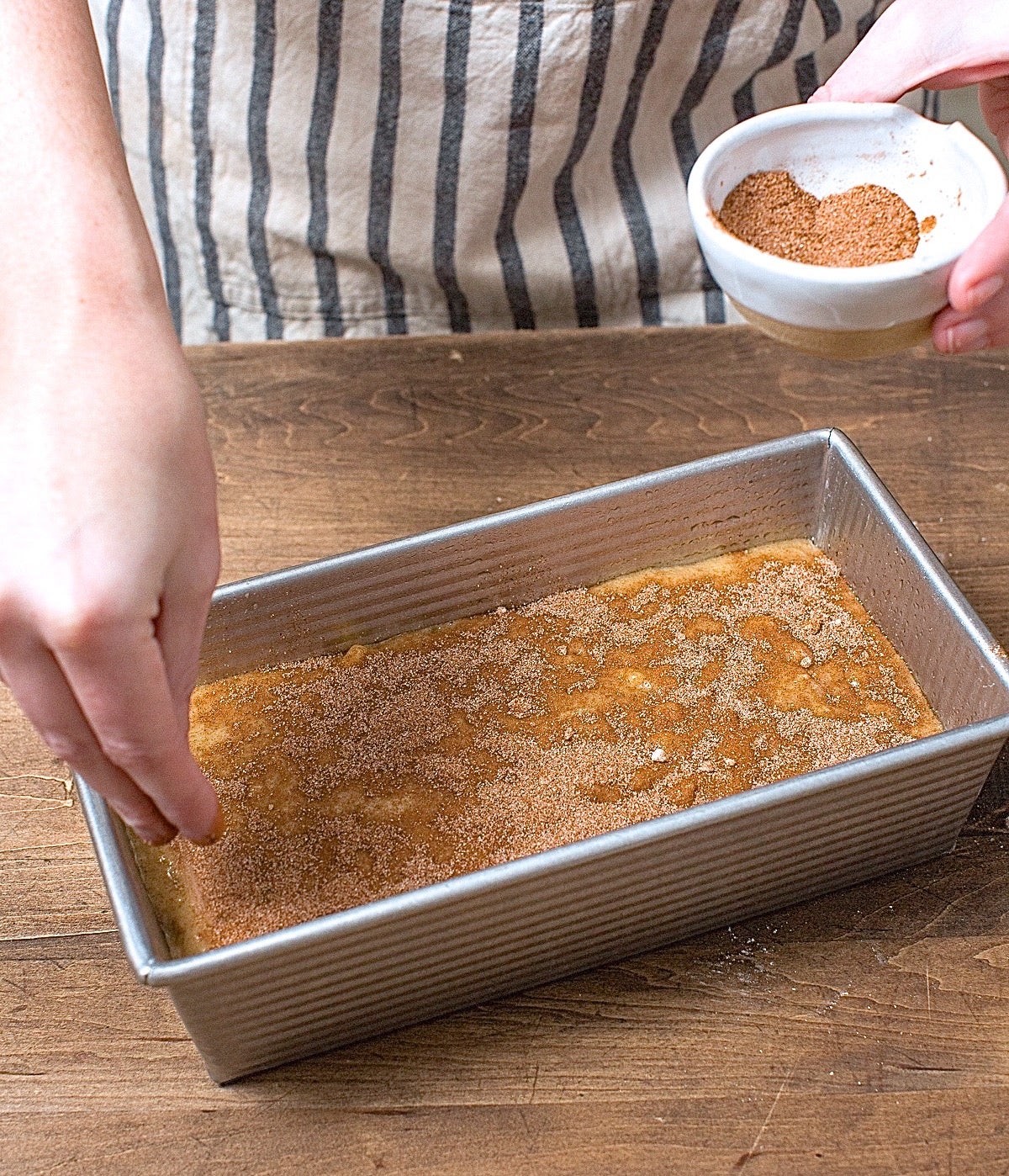 Scoop the batter into the prepared pan.
Mix together the topping —1 tablespoon sugar and 1/2 teaspoon cinnamon — and sprinkle it over the batter.
Bake the bread for about 60 to 75 minutes. If baking in a glass or stoneware pan, increase the baking time by 10 to 15 minutes (to a total of 70 to 90 minutes).
Check the bread at 45 minutes; if it appears to be browning too quickly, tent it with aluminum foil.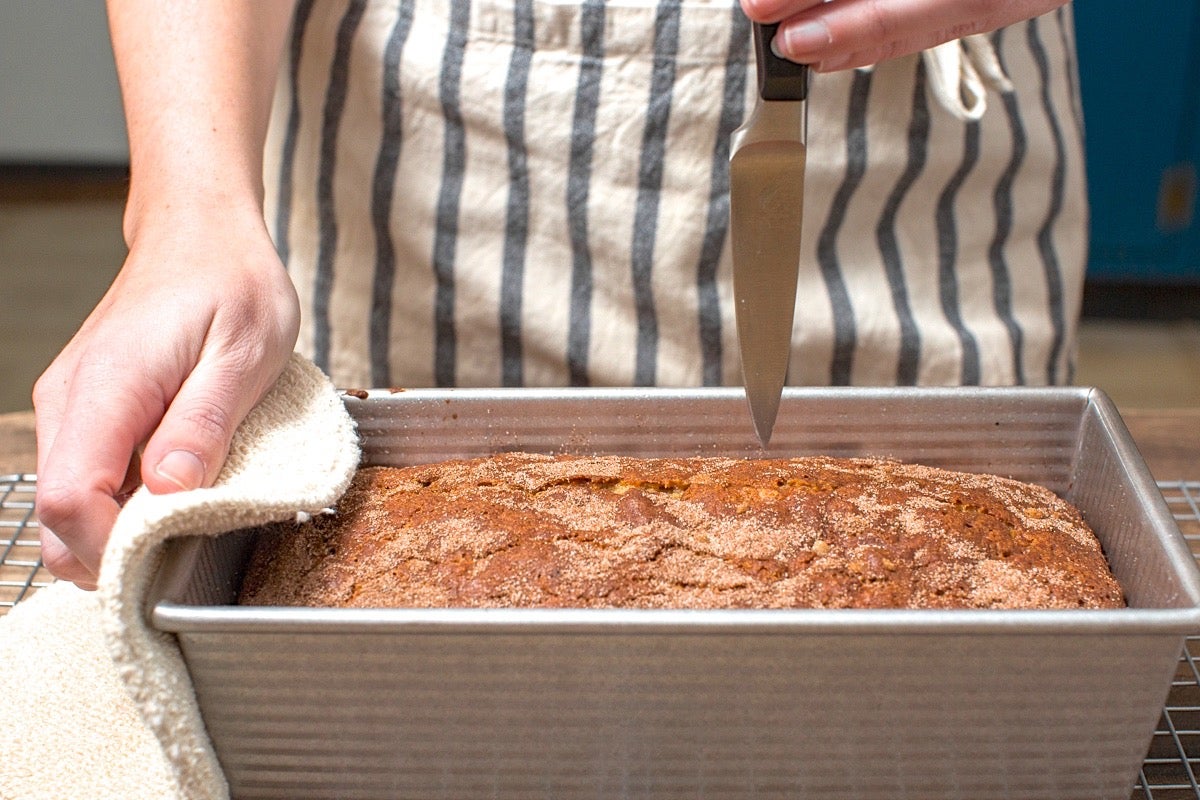 A paring knife (or other thin knife) inserted into the center of the loaf should come out clean, or with just a few moist crumbs clinging to it (but no wet batter). If you have a digital thermometer, the bread's temperature at the center should register about 205°F.
Remove the bread from the oven. Cool it in the pan for 15 minutes, then loosen the edges, and turn it out of the pan onto a rack to cool completely.
Personalize the recipe
Reduce (or change) the sugar: If you want to reduce the sugar in the recipe, start by lowering it by 25%, from 1 cup (7 ounces) to 3/4 cup (5 1/4 ounces); the bread will (obviously) be less sweet, and also a bit less tender.
We love the slightly caramelized flavor brown sugar lends this loaf, but if all you have on hand is white granulated sugar — use it: 1 cup (7 ounces), same volume amount as the brown sugar.
Or use 1/3 cup (4 ounces) liquid sweetener (honey, agave, or maple syrup) + 1/2 cup (3 3/4 ounces) brown sugar; increase the amount of all-purpose flour by 2 tablespoons (1/2 ounce) if you make this substitution.
Balance the flours to taste: If you want to try a 100% whole wheat loaf, go for it! Simply substitute 1 cup (4 ounces) whole wheat flour for the all-purpose flour listed, no further changes necessary. Want to go the other way? Substitute all-purpose flour for the whole wheat flour for a 100% all-purpose flour loaf.
Try butter: Prefer butter to vegetable oil? Substitute 2/3 cup (5 3/8 ounces) melted butter for the 1/2 cup (3 1/2 ounces) vegetable oil.
Reduce the fat: If you'd like to reduce the fat in this recipe, try any of these substitutions, which will yield a loaf very similar in texture and moistness to the original:
1/4 cup (2 ounces) applesauce for 1/4 cup (1 3/4 ounces) of the vegetable oil
1/4 cup (2 ounces) yogurt (full-fat, reduced-fat, or nonfat) for 1/4 cup (1 3/4 ounces) of the vegetable oil
1/2 cup (4 ounces) full-fat yogurt for all of the vegetable oil (3 1/2 ounces)
Want to lower the fat even further? Substitute applesauce or yogurt (full-fat, reduced-fat, or nonfat) for all of the vegetable oil. Understand that the resulting loaf's texture will be notably less tender.
Make it gluten-free: Substitute 2 cups Measure for Measure flour for the all-purpose and whole wheat flours called for in the recipe; no further substitutions or changes are necessary.
Baking at altitude? See our high-altitude baking tips.
Over the course of the coming year we'll return to this recipe many times, showing you how to bake it in an array of different pans; what (and how) to add mix-ins; how to turn the recipe into pancakes, waffles and French toast — and more. In the meantime, please share your banana bread thoughts — and what makes your recipe the best ever — in comments, below.
One final thought
For those of you wondering how anything as plain and simple as banana bread warrants being named our Recipe of the Year, Susan from Shreveport's recipe review says it better than we could:
"I'm ashamed, KAF, that I doubted you when I opened your site to your 2018 recipe of the year and - TAH DAH! - it was banana bread (yes, I was disappointed). Banana bread is okay, but it's not usually a crave-worthy treat. It's something you do to use up black bananas. I waited a few days and then decided to try it today. I knew as soon as I saw the batter that it was different. It looked more like caramel than any banana bread batter I'd ever made. Then the smell coming from the oven - OH MY! That caramel flavor from the brown sugar coupled with the sprinkle of cinnamon sugar on top is what sends this recipe over the top. This is absolutely a banana bread recipe worth gifting and it's so incredibly easy! Next time I'm going to try using all white wheat flour. Good call, KAF. Nice job."
Our previous Recipes of the Year
2017: Lemon Bundt Cake
2016: No-Knead Crusty White Bread
2015: Chocolate Chip Oatmeal Cookies
Recipe of the Centuries: Cake Pan Cake
Jump to Comments