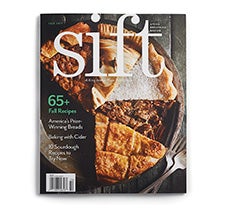 In the Fall 2017 issue of Sift magazine you'll find stories and recipes from the traditions of Appalachian cooking, handed down in the families of the Mountain South. Appalachian Stack Cake is a perfect example of a celebration cake unique to mountain baking. 
No two bakers of stack cake go about it the same way, which means there's no definitive stack-cake recipe or technique. We love this version from Appalachian writer and cookbook author Sheri Castle. She developed the recipe over three decades – and it's the one she plans to pass along to her daughter.
"There's no recipe more rooted in Appalachian culture: stack cake is an ingenious expression of traditional mountain footways," says Sheri. "Thin, sorghum-sweetened layers are married together by a fragrant filling made from dried apples. Stack cake layers are made from dough, not batter. They're thin and almost crisp, rather like excellent plate-sized gingerbread cookies. The first cook to make one almost certainly baked her cake layers one at a time, patting the dough into her skillet, baking them over a campfire or on the hearth, turning them out onto a plate, stacking and filling as she went."
Appalachian Stack Cakes require at least five layers, but Sheri says the sky's the limit: "At any height, a stack cake must sit and cure for at least two days. Given a little time, the moisture from the apples softens the layers, making the cake moist, sliceable, and delectable. Connoisseurs know that cutting into a stack cake as soon as it's assembled is a disservice to the cake and the cook, despite the oft-repeated story of guests bringing stack cake layers to mountain weddings to be assembled and cut on the spot. That's a charming anecdote that we'd like to believe, but it doesn't add up. A freshly stacked cake is no gift at all."
If you'd like to try a taste of this mountain tradition, here's a step-by-step breakdown.
For the filling, combine the following ingredients in a 2- or 3-quart saucepan.
4 to 5 cups (454g) packed dried apple nuggets or roughly chopped dried apples
1 cup (213g) brown sugar, packed
1 teaspoon cinnamon
1 teaspoon ginger
1/2 teaspoon mace
4 to 5 cups (907g to 1134g) water
Add just enough water to cover the apples. Bring to a boil over high heat, then reduce the heat to low and let simmer, stirring frequently, until...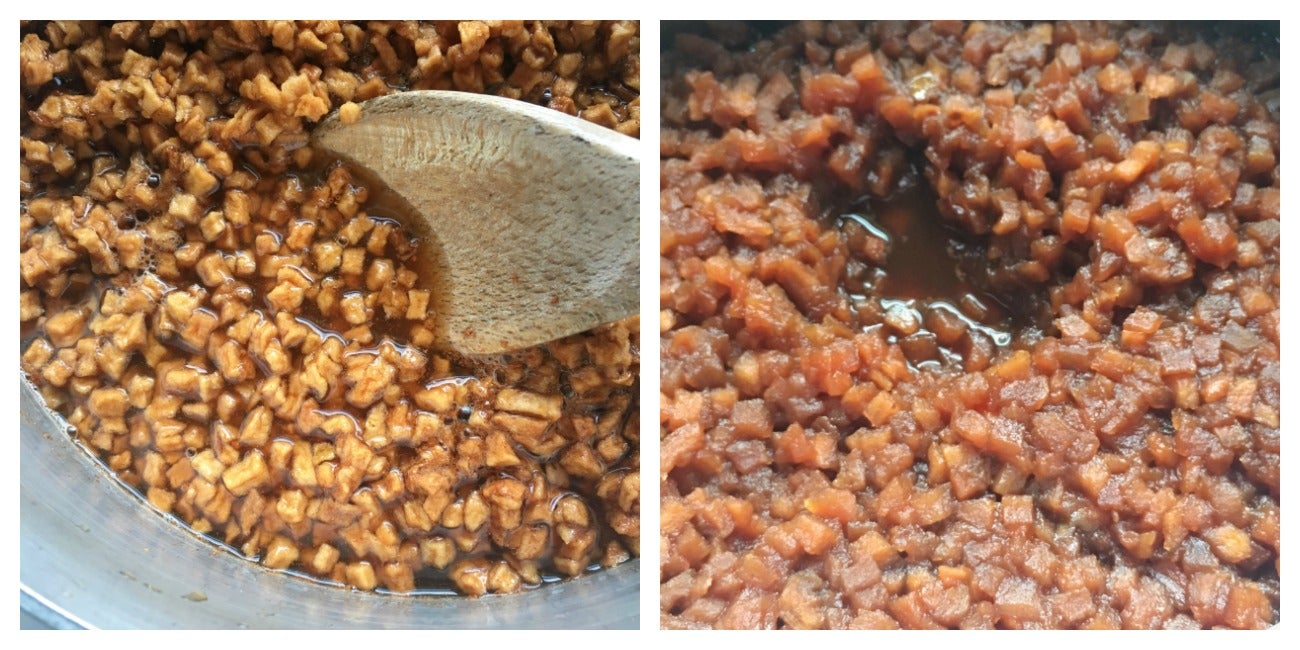 ...the apples are tender and the filling is very thick, about 1 hour. If the mixture gets dry, add more water. If it's soupy, continue to simmer until the excess liquid cooks away. Remove from the heat and use a potato masher to break up the apples into a chunky sauce. Stir in 1/4 cup (85g) boiled cider. The finished consistency should be similar to lumpy apple butter. Set the filling aside to cool.
Baking the cake layers
Preheat the oven to 350°F. Grease and flour five 9" cake pans. If you don't have that many pans, by all means bake in batches.
In a large mixing bowl, whisk together:
4 1/2 cups (539g) King Arthur Unbleached All-Purpose Flour
1/2 cup (99g) granulated sugar
1 teaspoon baking soda
1 teaspoon baking powder
1 teaspoon salt
Then add the wet ingredients:
1/2 cup (170g) sorghum syrup
1/2 cup + 2 tablespoons (142g) buttermilk
1/3 cup (60g) vegetable shortening
1 large egg

Beat on low speed until the mixture is smooth and has the consistency of cookie dough. If the dough is very dry and stiff, as you see on the left, add 2 more tablespoons of buttermilk and mix until the dough is smooth and pliable.
Divide the dough into five equal pieces; they'll weigh between 7 and 7 1/2 ounces each. Cover the pieces you aren't working with so they don't dry out. Use lightly floured hands to pat a piece of dough evenly into the bottom of each of the prepared pans. The dough should be about 3/8" thick. Lightly prick it all over with a fork.
Bake the layers until firm when lightly pressed, about 15 minutes. The layers won't rise much as they bake.

Assembling your Appalachian Stack Cake
Turn the first lukewarm layer onto a large cake plate. Immediately spread it with 1 heaping cup of the apple filling. Continue baking, stacking, and topping the warm layers. Leave the top layer bare.
Cover the cake with several layers of plastic wrap, then tea towels, or store it in an airtight cake carrier. Let the cake rest for at least two days before dusting the top with confectioners' sugar and cutting.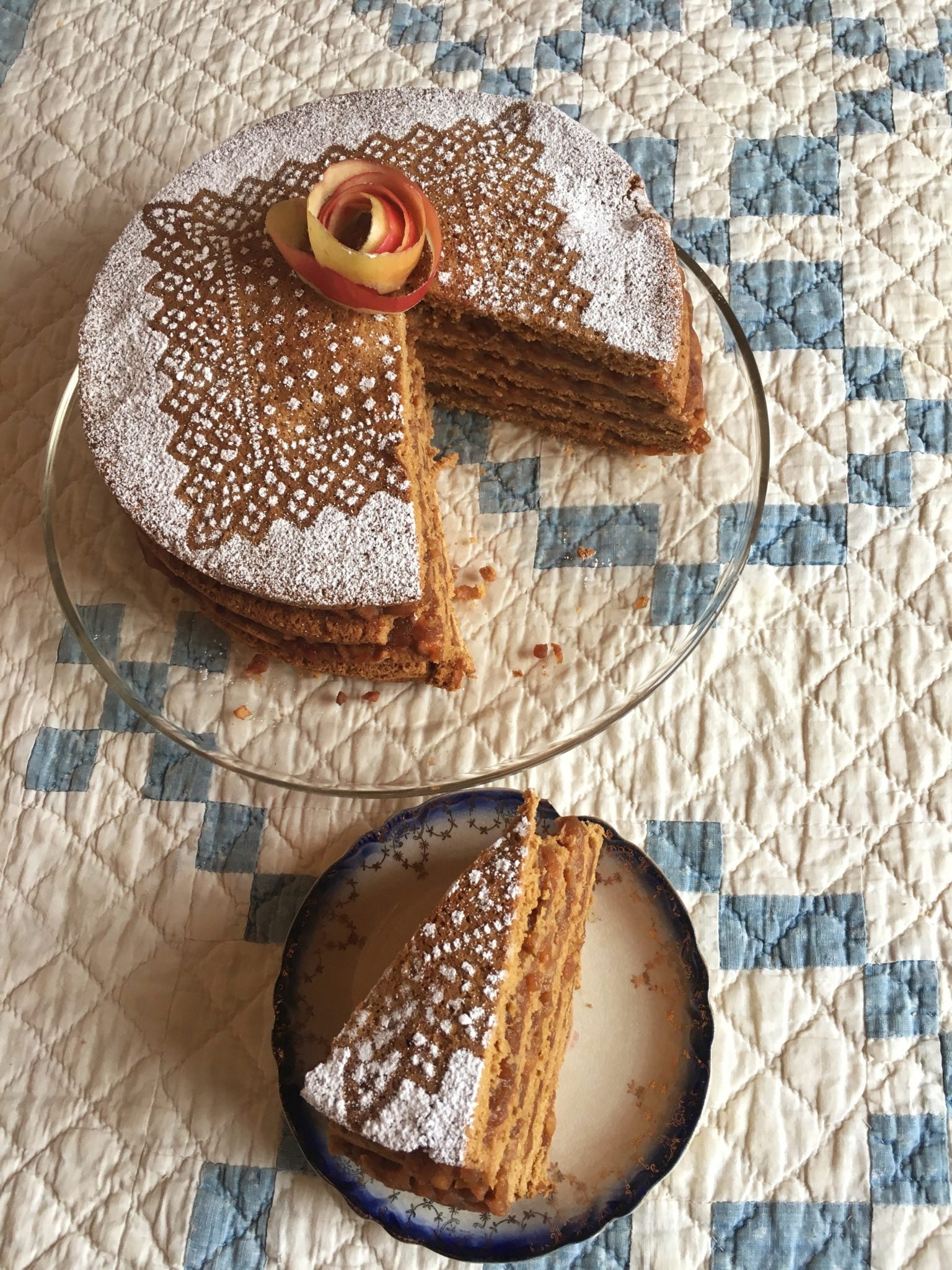 A simple way to dress up the top is simply to use a doily as a stencil. The cake is wonderful with hot coffee or tea.
Give this Appalachian Stack Cake a try, and get a taste of true mountain traditions, courtesy of Sheri Castle and Sift magazine. Let us know what you think in the comments below!
Jump to Comments