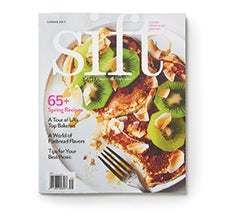 The Spring issue of Sift takes readers on a picnic, and one of the tastiest things in the basket is our Niçoise Salad Sandwich.
There's a certain ease to entertaining outdoors. There's nothing to clean before guests arrive, and no worries about seating or tables. Everything tastes better in the fresh air when you combine good company, a gorgeous view, and the novelty of finding a well-chosen feast in unexpected surroundings.
For Sift's Spring issue, we put together a colorful menu that's just as suitable for a casual gathering as a pinkies-up, elegant outdoor fête. You'll need to get your hands on a copy of Sift for the full lineup – plus great picnic-packing tips – but we wanted to share one of our favorites: Niçoise Salad Sandwich.
We took all the classic French flavors of Niçoise salad and tucked them between two slices of good bread. Baking your own Scali Bread makes a fresh and nutty bed for the hard-boiled eggs, oil-packed tuna, and Dijon-dressed green beans.
This flavor-packed sandwich takes some preparation, so let's get started.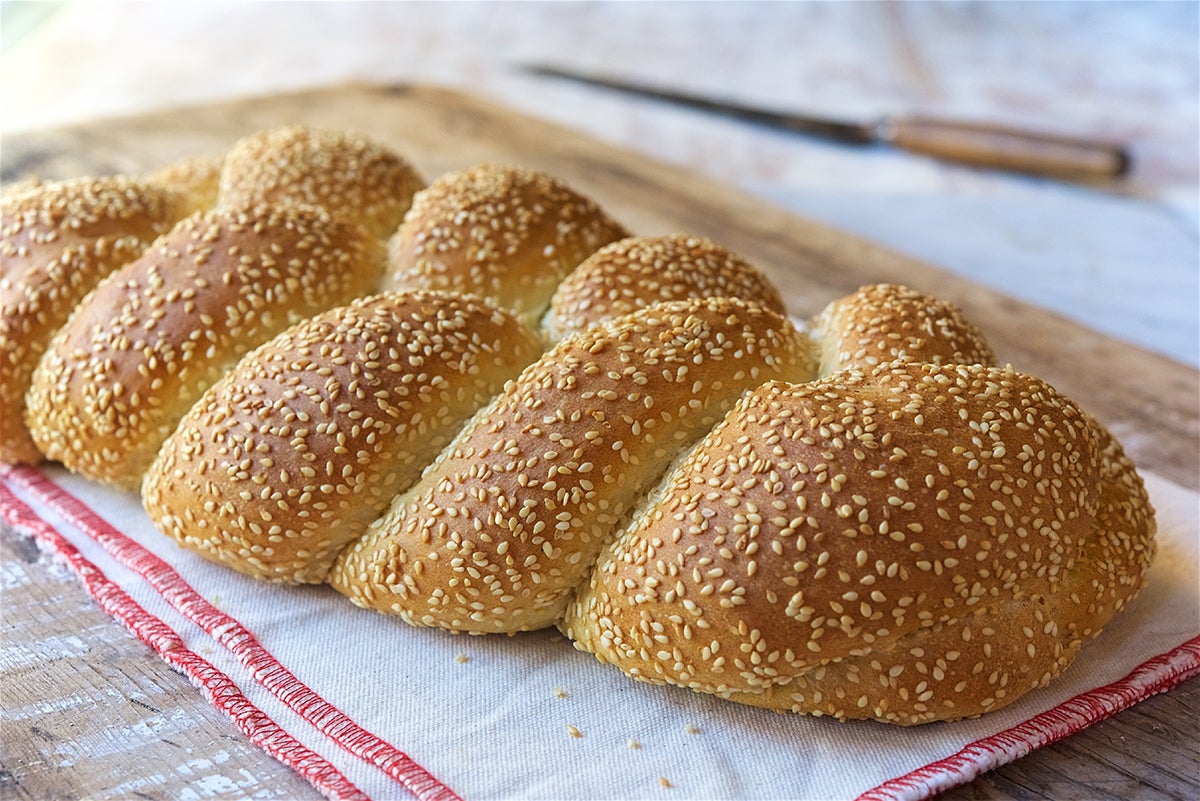 Begin with the Scali Bread
The airy bread has a tender, light crumb and a crisp, sesame-studded crust. A fixture in Boston-area bakeries and supermarkets, Scali Bread goes well with pasta and soups, or sliced into sandwich bread.
PJ Hamel wrote a great step-by-step blog post on Scali Bread back in 2010. It's an oldie but a goodie. Check it out if you want a little more direction than what's offered in the standard recipe.
Today, let's expand on PJ's post by sharing three great pointers for this sandwich.
First, plan ahead. Like many yeast recipes, Scali will take a while. Its stiff, dry starter requires an overnight rest. However, as you'll read later on, the fully assembled sandwich should be chilled for at least 4 hours to truly come together. The final product warrants all this effort, but spontaneous picnickers will need to look for a different entrée.
Second, the online recipe for Scali Bread calls for a "pinch of instant yeast." If that measurement is too loosey-goosey for your tastes, we found that 1/4 teaspoon of instant yeast (or active dry) works best for this recipe.
Third, the secret to this particular sandwich is a little unusual: pressing it down after assembling makes it easier to slice and eat. Happily, that makes it ideal for packing in the bottom of your picnic basket.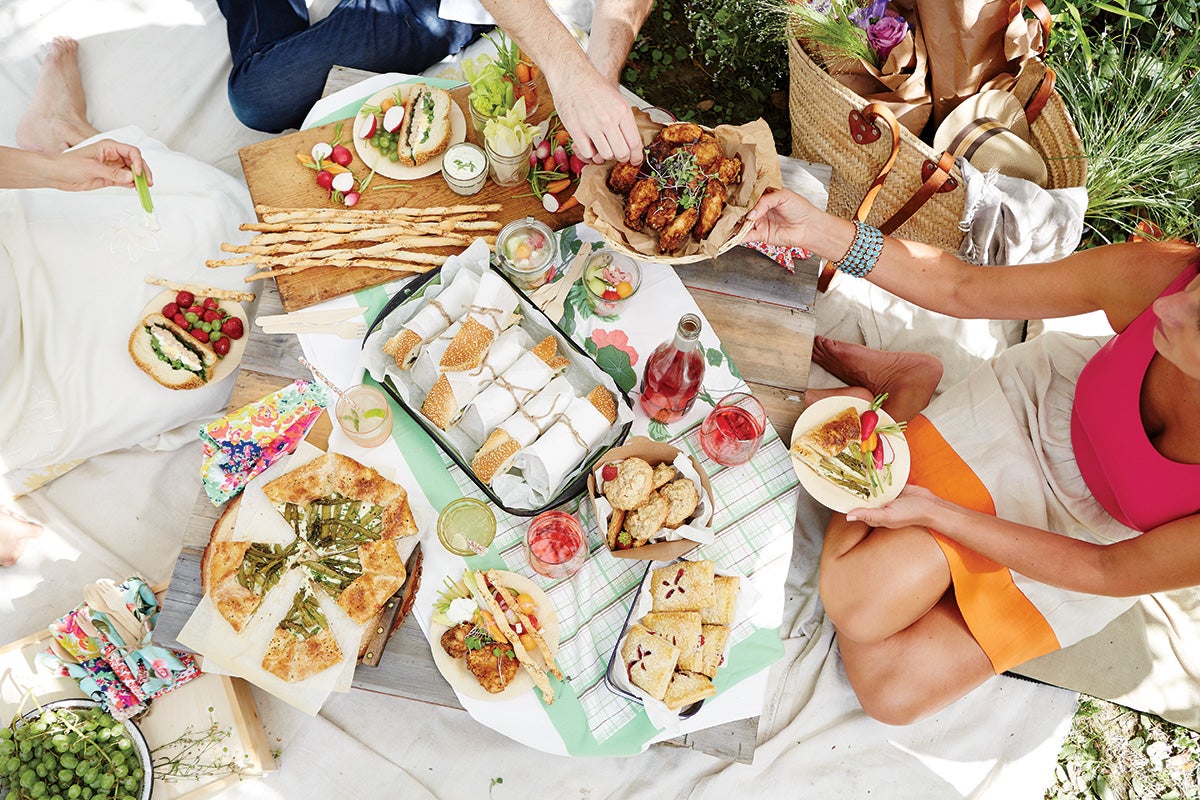 Preparing the dressing
Once the bread is out of the oven and starting to cool, you can move on to the vinaigrette. This salad dressing requires a few simple ingredients:
2 tablespoons white wine vinegar
1 tablespoon Dijon mustard
1 medium shallot, finely chopped
1/4 cup extra-virgin olive oil
salt and pepper to taste
Combine the vinegar, mustard, and shallot in a medium bowl. Whisk in the olive oil a little at a time, to make a thick emulsion. Season to taste, then set aside.

Building your Niçoise Salad Sandwich
Now to the meat of the matter. Pull together the final six ingredients:
2 cups haricots verts (baby green beans)
10 ounces tuna packed in oil
1/2 cup thinly sliced red onion
1/2 cup olive tapenade
1 1/2 cups arugula
4 large eggs, hard-boiled, peeled, and sliced
Trim the stem ends from the haricots verts and blanch briefly in boiling salted water until tender but still crisp (1 to 2 minutes ought to do the trick). Submerge the beans in ice water to stop the cooking, then drain well.
Next, drain the tuna and toss it with half the dressing. Combine the cooked haricots verts and onion and toss with the remaining dressing.
Slice the bread in half horizontally. Remove some of the inside of the bread to make room for the sandwich filling, leaving 1" of the loaf intact around the edges.
Spread the bottom half with the tapenade, then layer arugula over it. Add the tuna, slices of egg, and the mixture of haricots verts and onion. Place the second half of the loaf on top and press down firmly.
Wrap the entire loaf tightly in plastic wrap and lay on a baking sheet. Top with a second baking sheet and place a few canned goods on top to weigh it down. Refrigerate for 4 hours or overnight.
If possible, pack as a whole loaf for your picnic. Finally, slice into eight sandwiches and serve at your destination.
For more great ideas, check out our collection of creative ice cream sandwiches, cherry desserts, and rhubarb treats – and pick up the Spring issue of Sift magazine for deeper dives into each of these delicious inspirations. Picnic paradise awaits.
Jump to Comments