Savory waffles: Does the phrase throw you off? Traditionally a sweet item on the breakfast table, we're used to dousing our waffles with maple syrup. Even waffle recipes that don't call for much sugar are paired with sweet toppings: drifts of whipped cream, heaps of fresh fruit, or a spoonful of chocolate hazelnut spread.
But you shouldn't overlook the savory side of waffles. Consider them a blank canvas, like a crêpe or a bagel, and suddenly a world of flavor options is open to you. Savory waffles are ideal for any meal, from breakfast to lunch to dinner (or even a midnight snack!). They're an excellent base for toppings, whether simple or substantial.
There are three ways to approach making savory waffles:
1. Create plain savory waffles by omitting or reducing the sugar in your favorite recipe
Our Classic Buttermilk Waffle is an excellent choice. Pile on the extras, like chipped beef or fried chicken.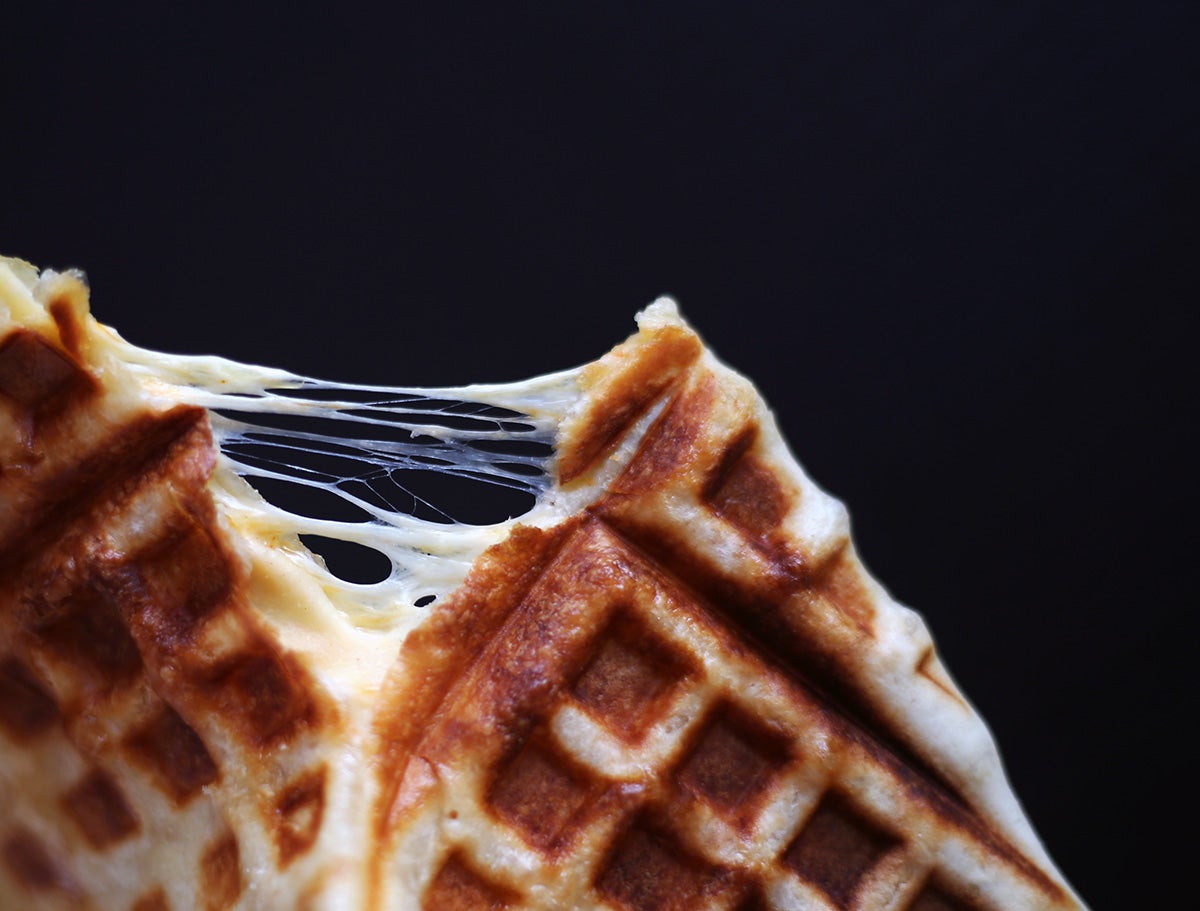 2. Add savory ingredients to the waffle batter itself.
Get creative! Fresh or dried herbs, vegetables, cheeses, spices, and more are all good choices.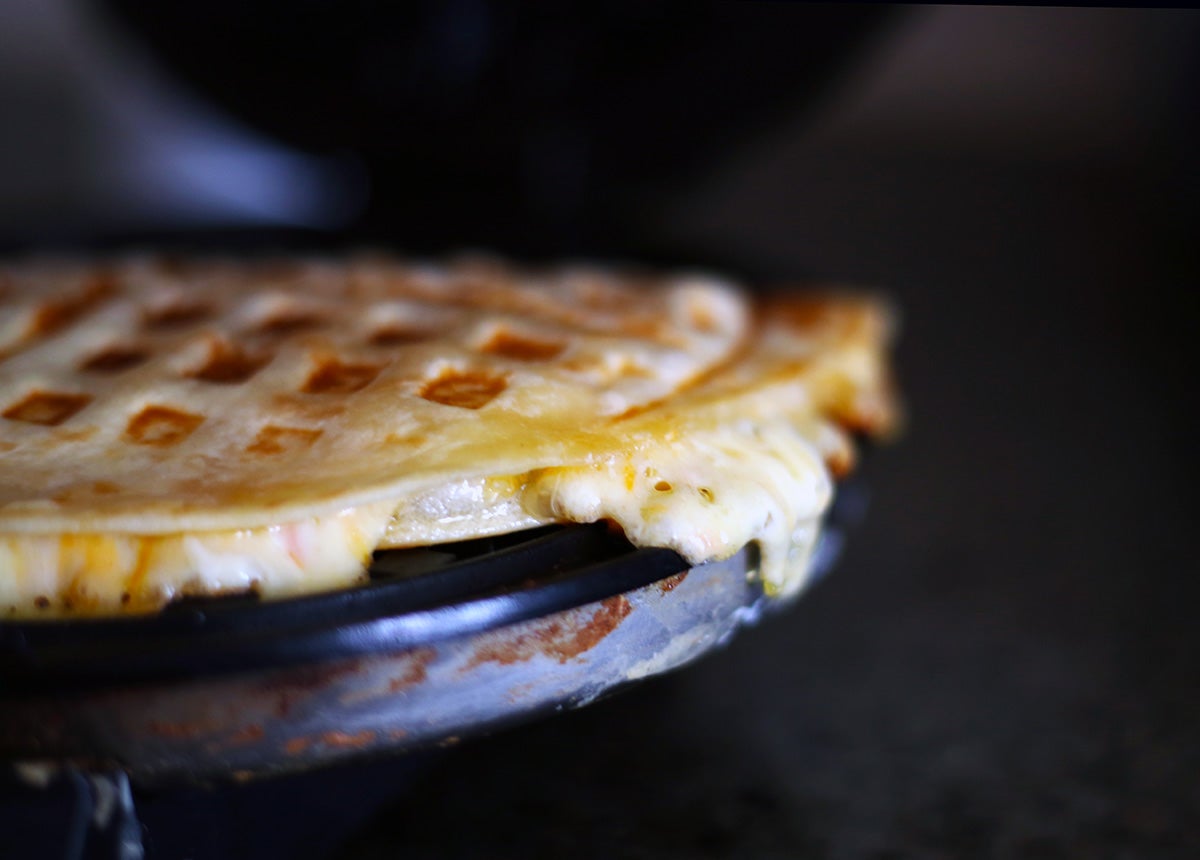 3. Waffle an already savory dish!
A waffle iron is basically a miniature oven or panini press, so anything from hash browns to falafel to cornbread is fair game. Just grease the waffle iron well; foods like cheesy quesadillas and grilled sandwiches are good contenders, since they benefit from all the crispy divots and edges your waffle iron creates. Read our blog post to find out more about all the things you can create in your waffle iron.
Here are some of our favorite ways to enjoy savory waffles, along with some ideas for flavor combinations to get you inspired!
Savory cornmeal waffles
Crisp, buttery cornbread is delicious in its classic form. Bake your cornbread batter in a waffle iron, and it gets even better. All those crunchy edges form a fantastic snack.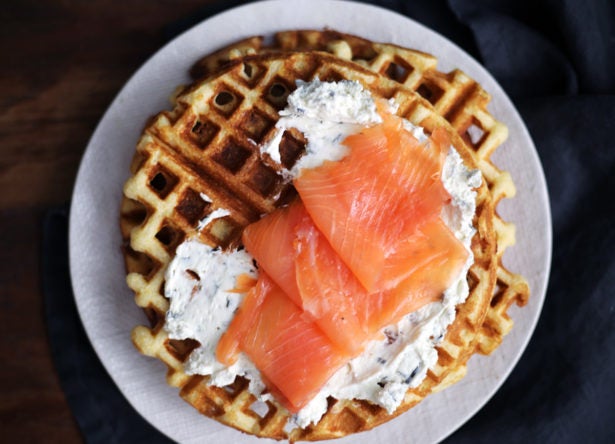 A cornbread waffle makes a wonderful breakfast dish: We played on the idea of a traditional lox and cream cheese bagel and topped ours with a whipped chive cream cheese and delicate slices of smoked salmon. Breakfast is served!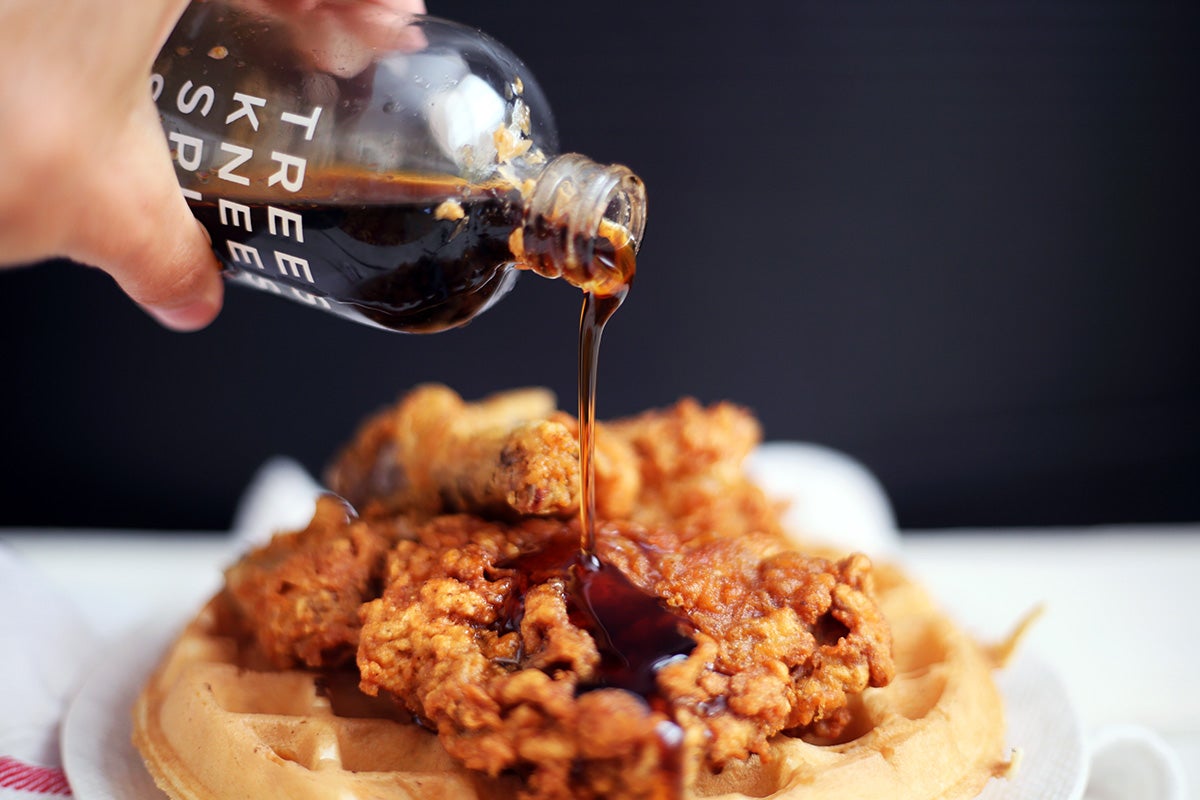 Chicken and waffles
Famous throughout the South, fried chicken served atop waffles is a seriously decadent meal. Any fried chicken connoisseur will wax poetic about the contrasting texture of crunchy chicken and tender, light-as-a-feather buttermilk waffles.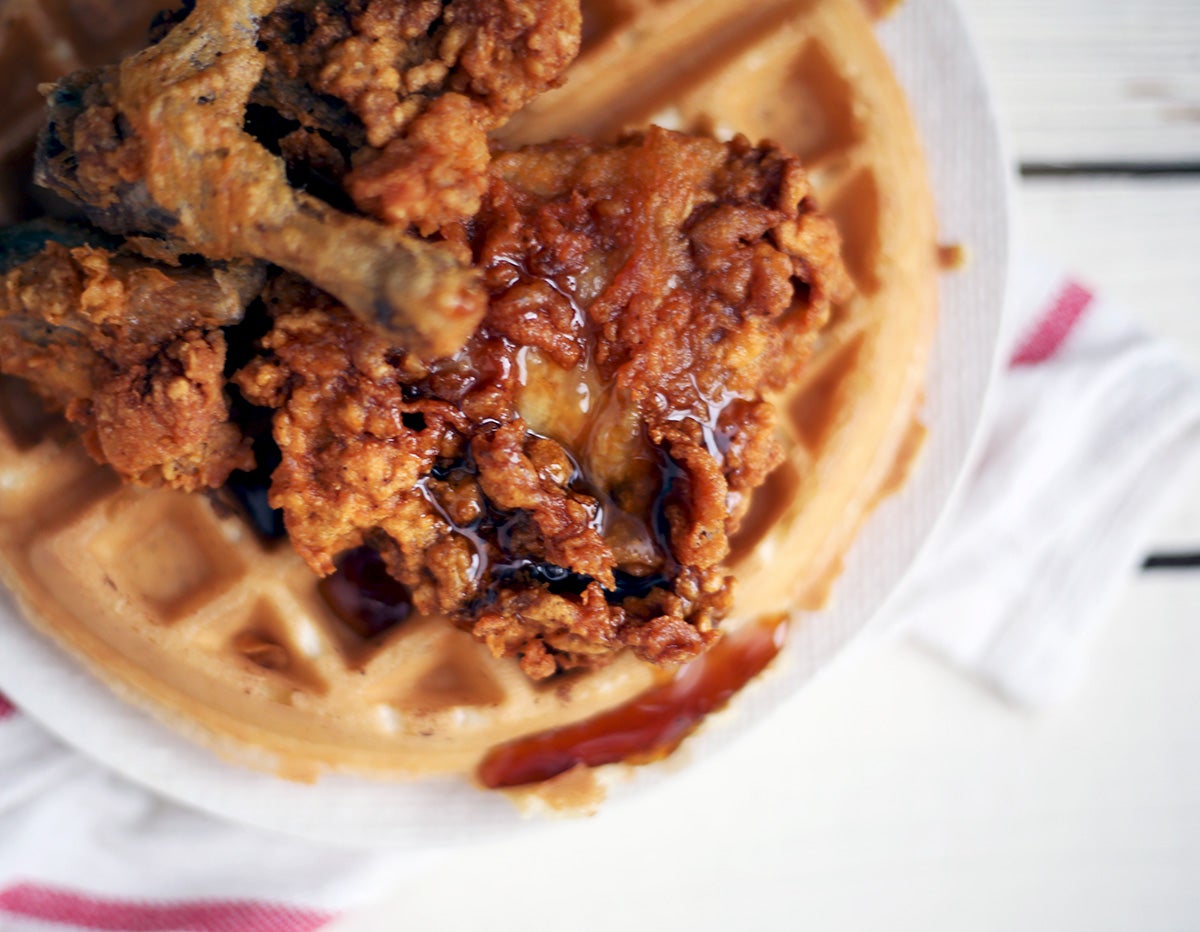 A drizzle of spicy maple syrup or spicy honey adds just the right amount of sweetness to balance all that salt and butter.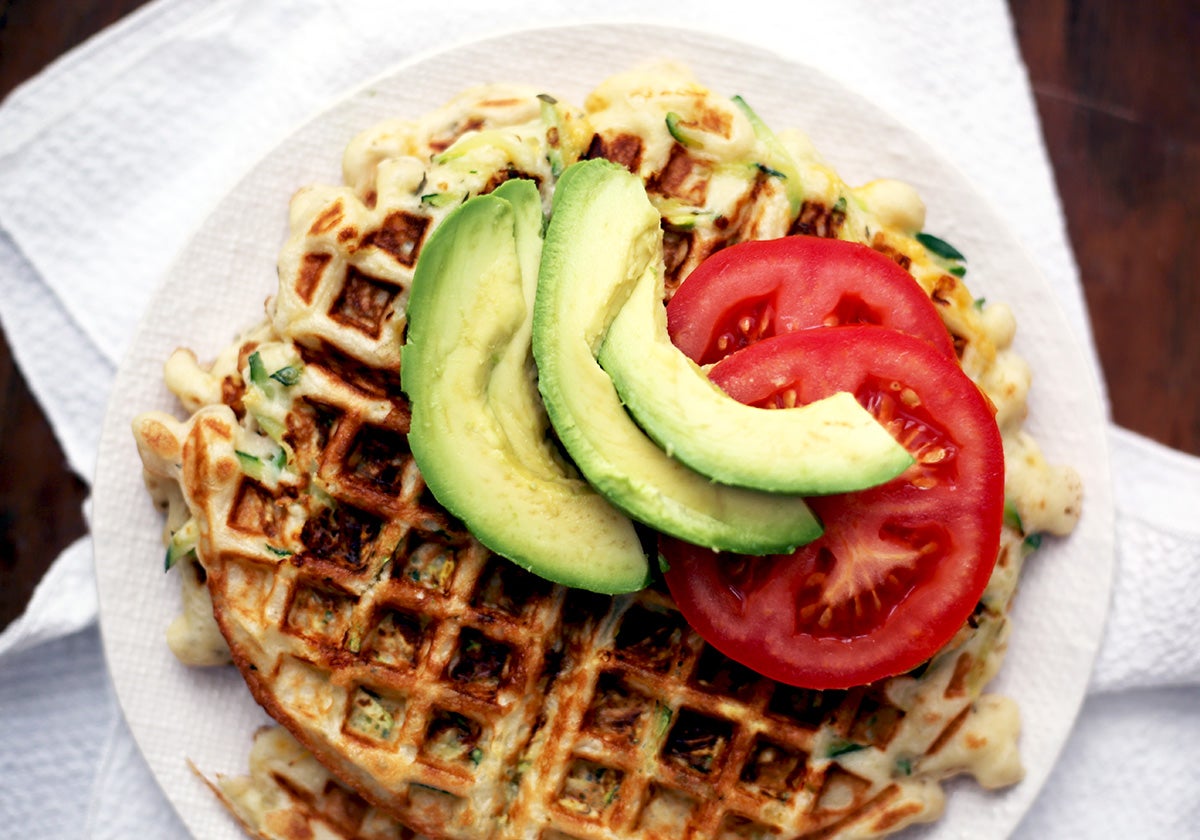 Zucchini waffles
Here's a clever way to eat your vegetables. Start with a simple waffle recipe (omitting the sugar) and add grated zucchini. Be sure to squeeze as much water as you can out of the zucchini before adding it to the batter, or it can get too liquid-y. Depending on what ratio you want, you can add as much as equal parts zucchini to waffle batter.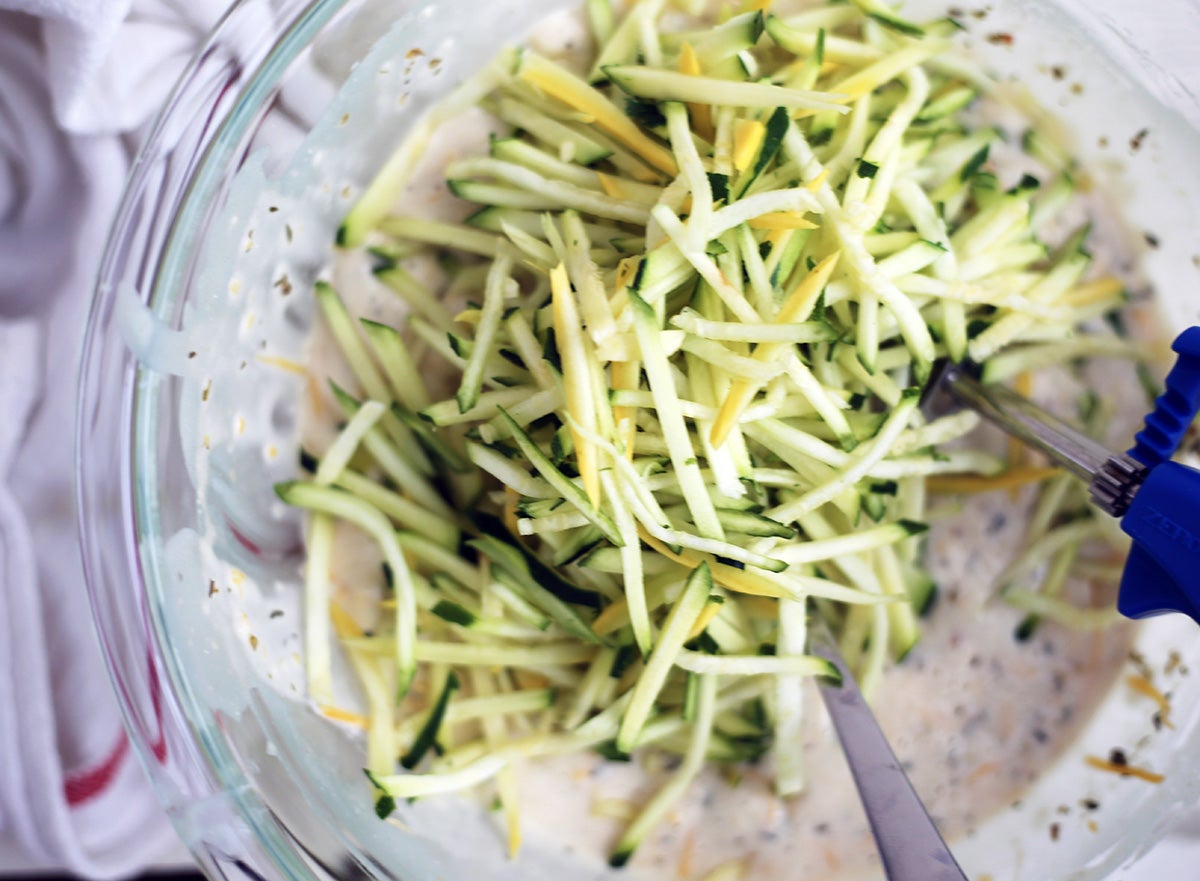 This technique works nicely with other vegetables too, and is a smart way to get pickier eaters to happily devour their five servings a day. Grated potato, chopped fresh baby spinach or kale, chopped roasted cauliflower or broccoli, or even diced bell pepper would all work nicely.
For an even more wholesome meal, top your zucchini waffles with fresh tomato and avocado.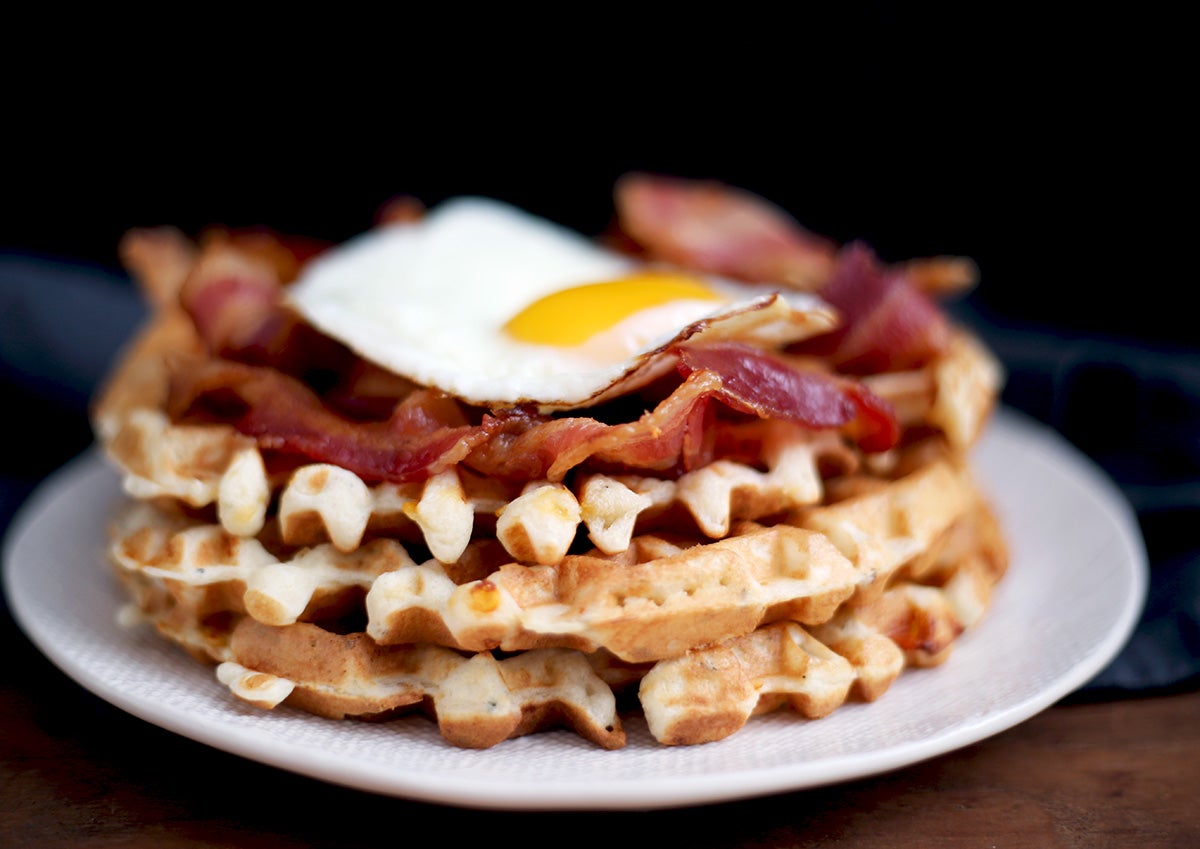 Breakfast waffles
Everything's better with bacon. To up the breakfast ante, whip up a stack of simple savory waffles (try our Classic Sourdough Waffle recipe). Cook a pan of crisp bacon (or bake it for less mess!), fry a couple eggs, and layer it all together. As the yolks break, they run down the waffles, coating them in a deliciously savory sauce. Hot sauce optional!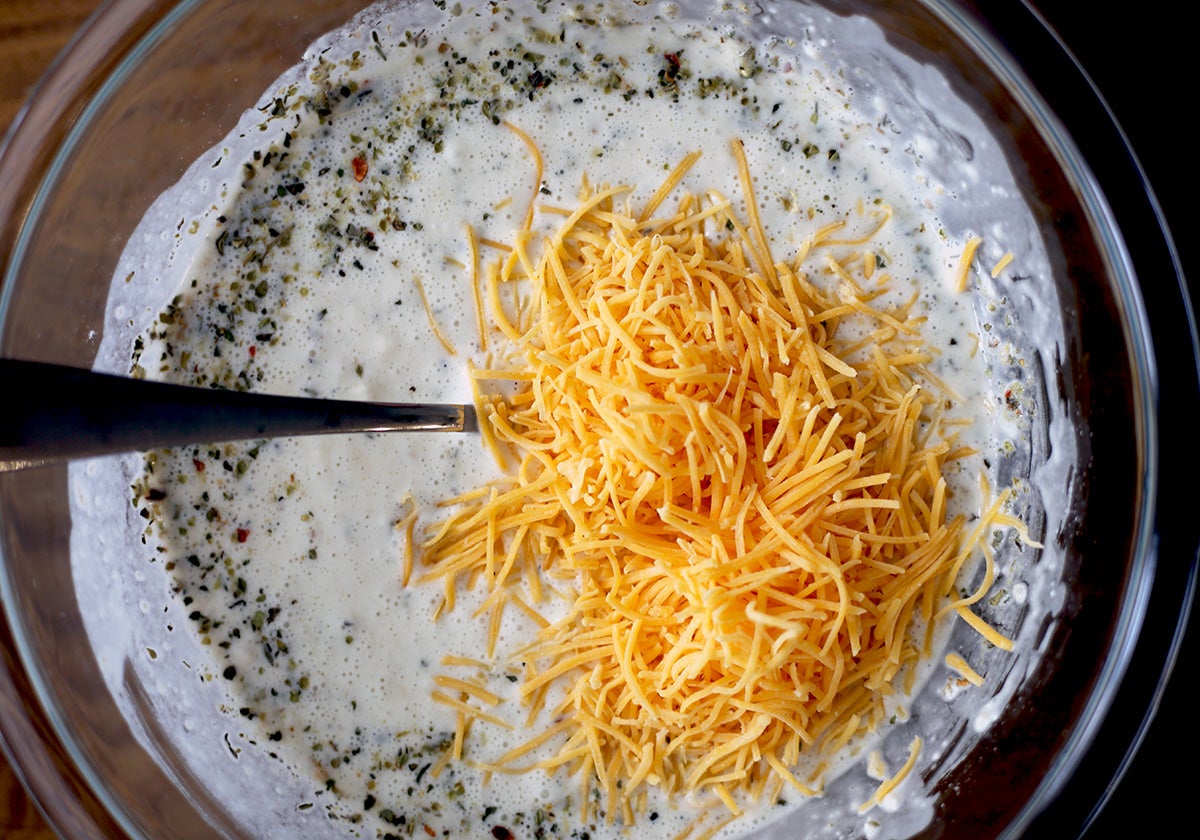 Cheesy herbed waffles
We saved the best (and simplest) for last. Cheese and herbs are the best place to start when you're experimenting with savory waffles. Simply add a handful or two of grated cheese to your batter (omit the sugar, if it's called for), and stir in any herbs and spices you like.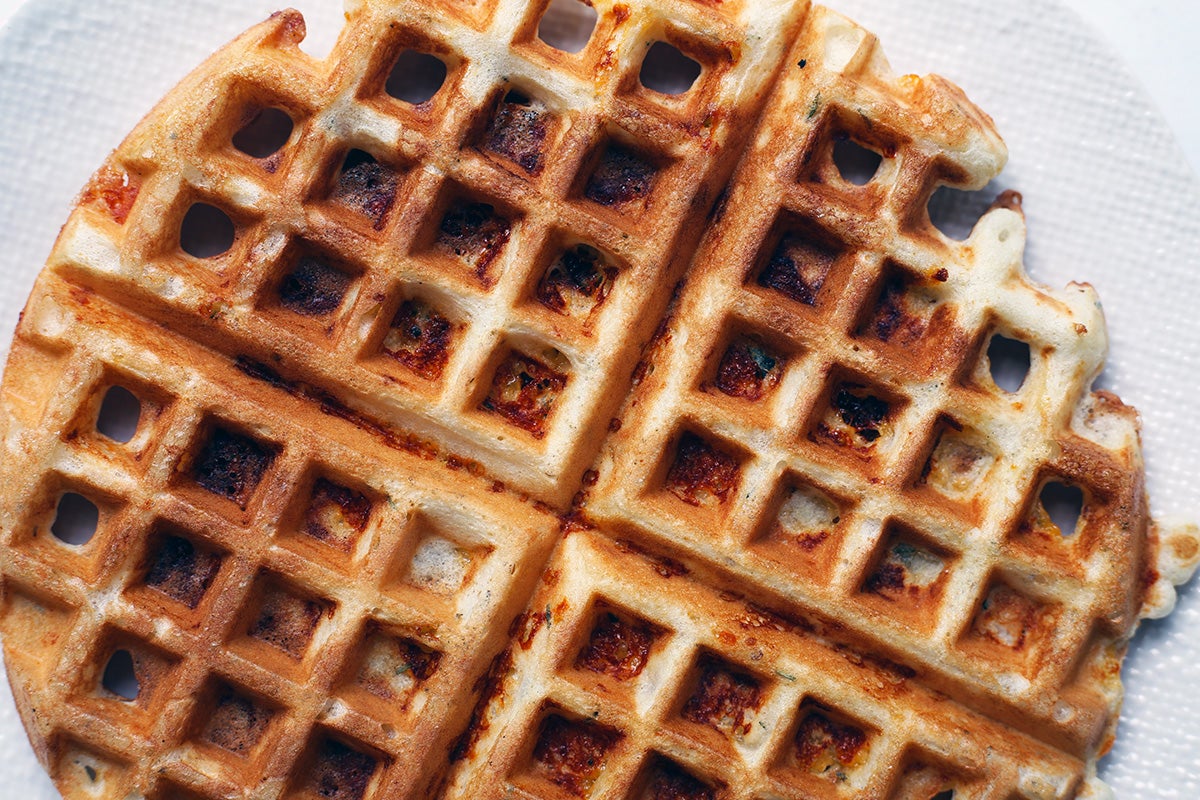 I like a combination of grated cheddar with dried oregano, dried basil, and dried thyme. Parmesan cheese, paprika, and fresh parsley would be delicious. Try Fontina cheese with fresh rosemary, or mozzarella cheese with our pizza seasoning blend.
Are you ready to take waffles to the next level? Try your hand at a savory variation, and let us know in the comments which dishes you dream up.
Jump to Comments