Two things we like at King Arthur Flour: excellent food and leaving a positive mark on the world. But there's nothing we like more than combining the two. And who wouldn't jump at the chance to eat good food, and do good at the same time?
Our annual grilled cheese contest does just that. The Grilled Cheese Challenge took place at our café in Norwich, VT on March 12. For a $5 donation, visitors could sample four different grilled cheese variations (each created by King Arthur employees!) and vote for a winner. We donated the proceeds to WARMTH, a program that provides emergency heating services to families in Vermont.
The overall winner was dubbed the French Melt: a gooey, savory combination of extra-sharp cheddar cheese, caramelized onions, maple-mustard spread, and Vermont Creamery salted maple butter on a tangy King Arthur sourdough.
The sandwiches were so impressive this year that we knew we had to spread the love with you all. Here are the four finalists, plus a few tips to ensure grilled cheese success:
The Sweet and Shallot Grilled Cheese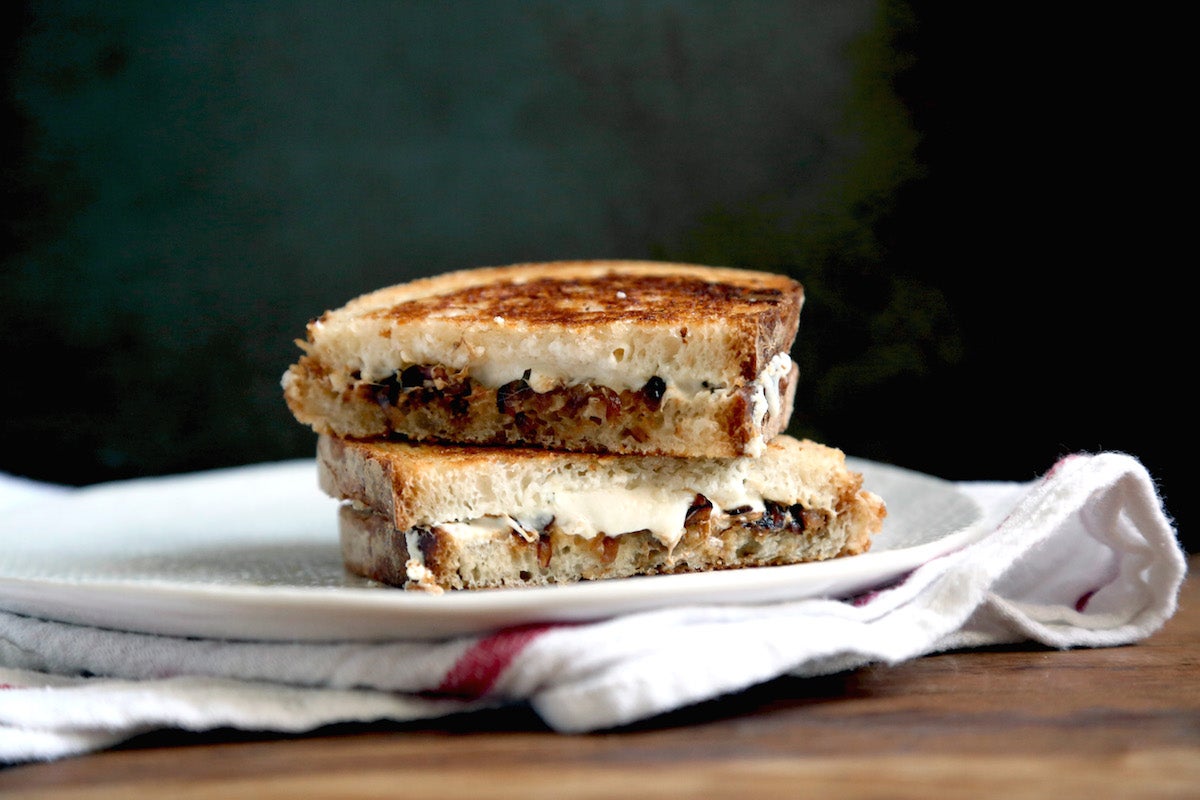 The sandwich:
This sandwich pairs sweet and savory. Creamy herb chèvre and mozzarella melt into caramelized shallots. A bit of boiled cider adds a touch of sweetness to balance out the cheese.
To make it:
Thinly slice a few shallots. Cook them over medium-low heat in some butter, stirring occasionally, until they soften and caramelize. This will take about 10 minutes. When they're almost ready, pour a tablespoon or two of boiled cider into the pan and stir to combine.
Spread a slice of buttered bread with herb chèvre. Top with slices of fresh mozzarella. Heap a tangle of caramelized shallots on top of the cheese. Cook!
Grilled cheese tip 1: Cover the pan
At our Grilled Cheese Challenge, our employees showed off a clever bakers' trick. They covered their pans with baking sheets. If you don't have a lid to fit your pan (it happens!), this is a smart option. Covering the pan traps the heat, cooking the sandwich from all sides – which helps melt the cheese evenly.
The Hog Wild Grilled Cheese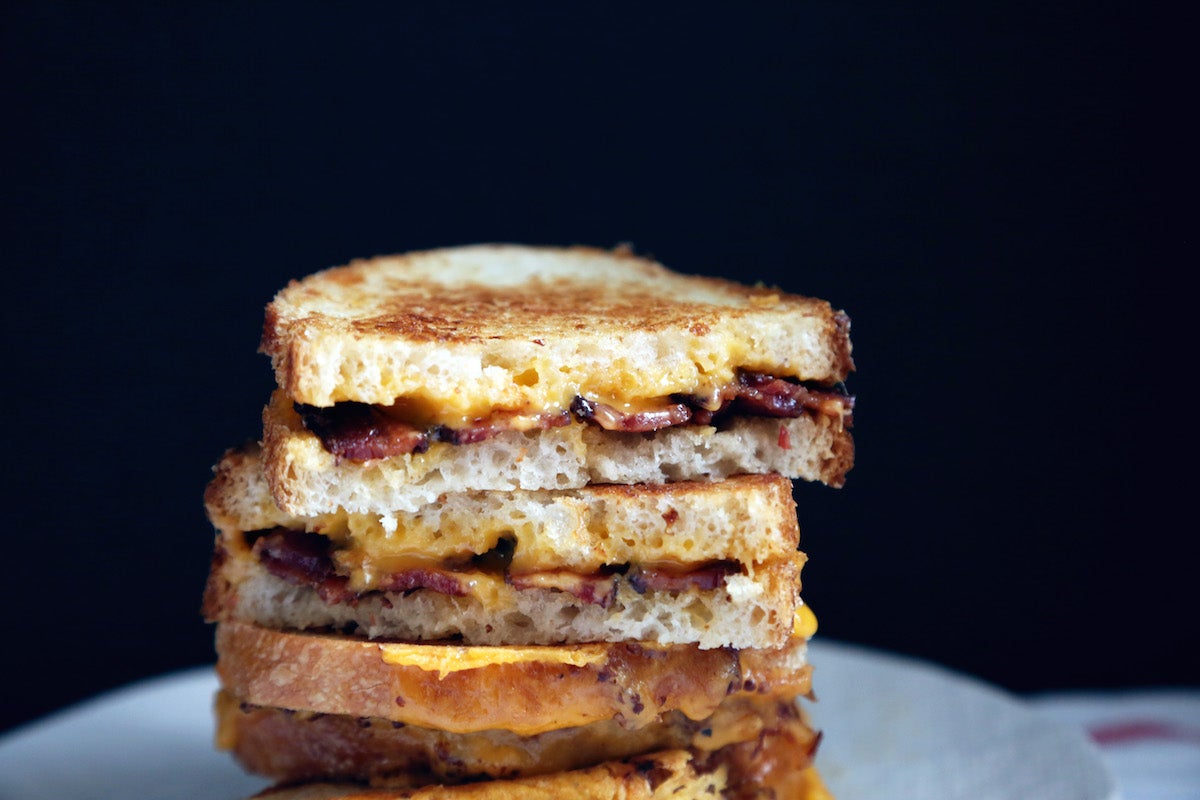 The sandwich:
Go hog wild with your lunch! Crisp bacon, Vermont Farmstead Whistling Pig ale cheddar, and caramelized onions combine to make a crunchy, savory grilled cheese.
To make it:
The ale cheddar has a fantastic hoppy finish. If you can't find it near you, any good sharp cheddar will do. Be sure to make your bacon on the crispier side: The crunchy texture is excellent with the melted cheese. Here's a great technique to cook your bacon without a mess.
Grilled cheese tip 2: Low and Slow
We're all impatient when it comes to grilled cheese. But cooking your sandwich slowly on low heat will ensure it browns uniformly and doesn't burn.
The Green Mountain Special Grilled Cheese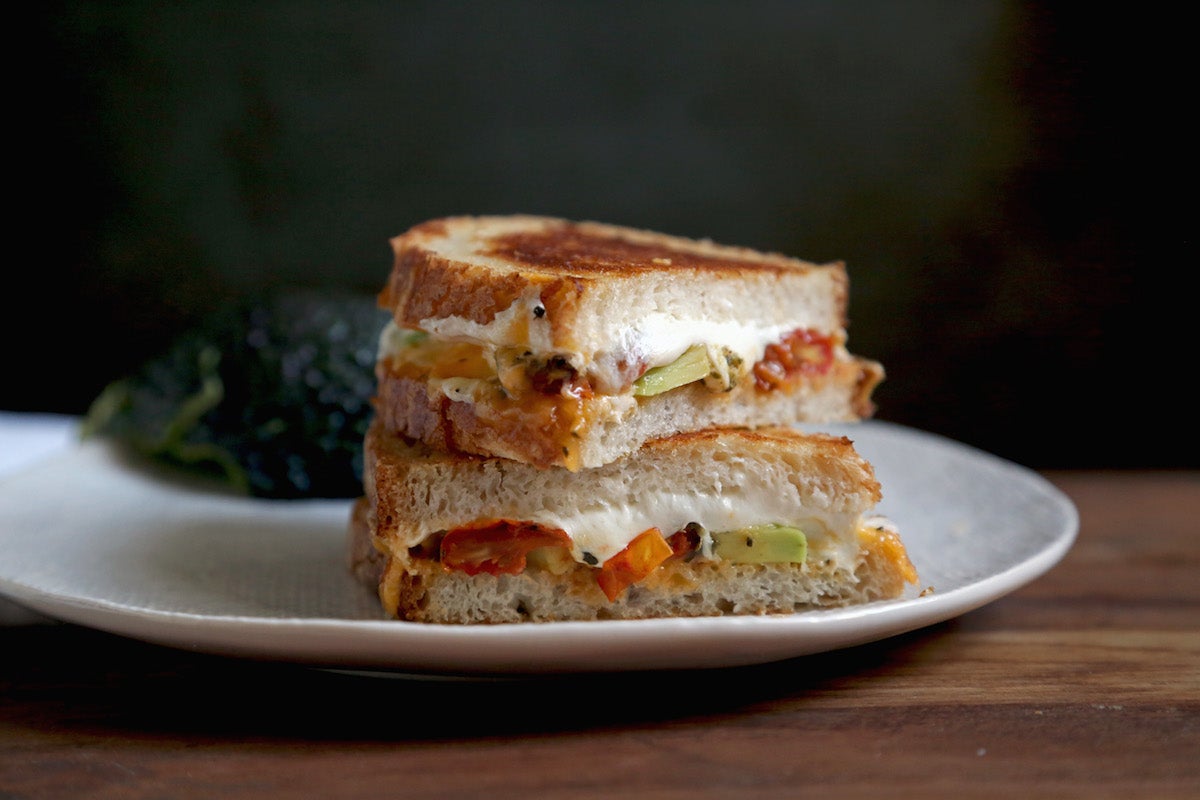 The sandwich:
In honor of our gorgeous state, this sandwich highlights some of Vermont's finest ingredients: Grafton smoked maple cheddar and our very own pizza seasoning! Roasted tomatoes, sliced avocado, and mozzarella round out the sandwich.
Reminiscent of a slice of pizza in the best way possible, this sandwich gets an herb-y, savory kick from the pizza seasoning (a blend of oregano, garlic, onion, and more herbs and spices).
You can use any sharp cheddar (Cabot extra-sharp, pictured below, is a great option).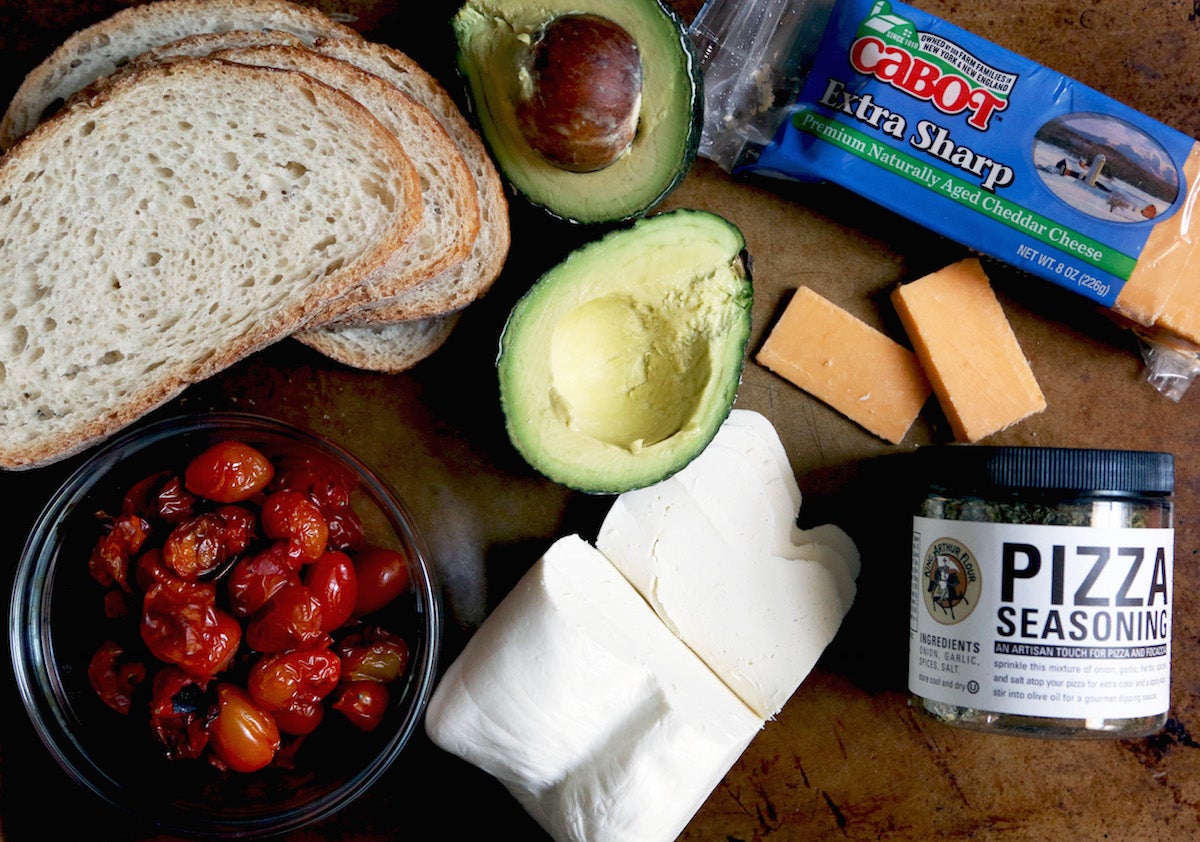 To make it:
Spread tomatoes (we like using cherry tomatoes here) on a parchment-lined baking sheet. Drizzle them with olive oil and sprinkle salt and freshly ground black pepper on top. Roast at 450°F until the tomatoes release their juices and begin to caramelize.
Layer thin slices of cheddar and fresh mozzarella on a slice of bread. Sprinkle generously with pizza seasoning. Top with a handful of roasted tomatoes and a few slices of avocado. Cover with the second piece of bread and cook.
Grilled cheese tip 3: Butter them up
Liberally buttering both sides of your bread will yield a gorgeous golden toasted crust. If you want an even better brown, use a combination of butter and mayonnaise on the outside of the bread.
The French Melt Grilled Cheese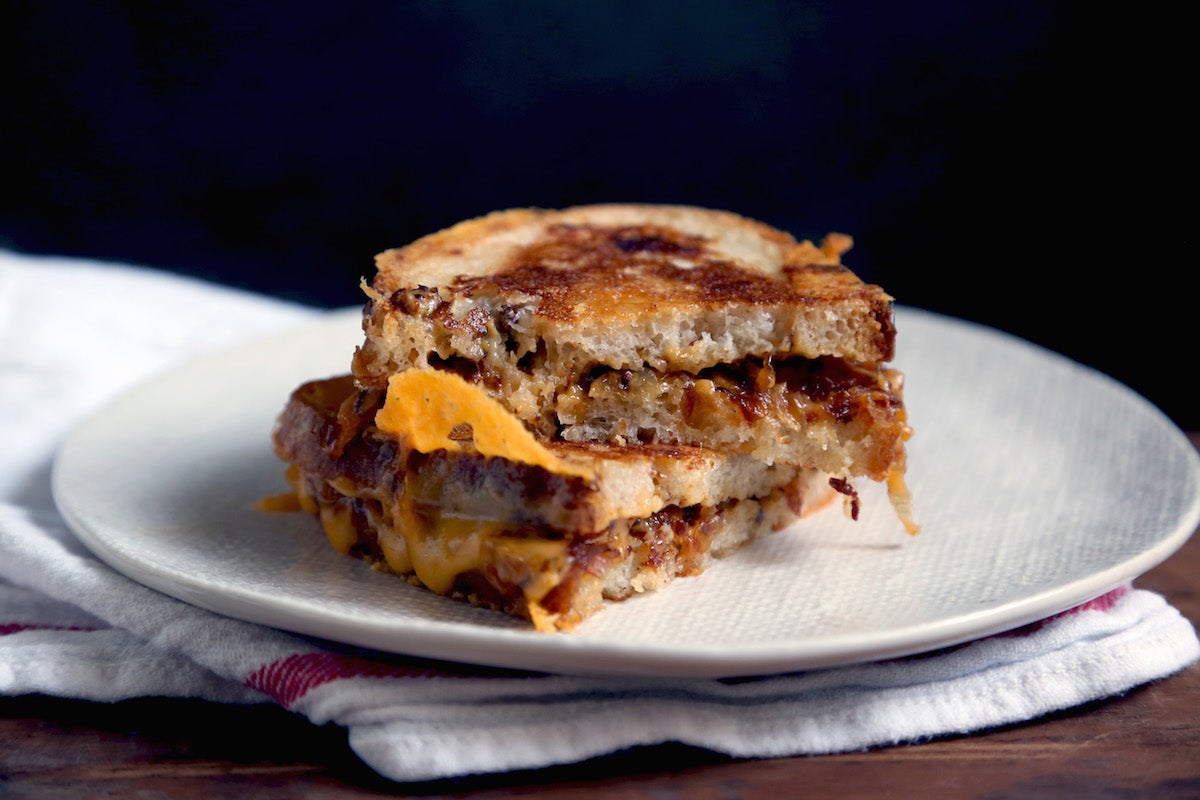 The sandwich:
This sandwich stole the show, for good reason! Two kinds of maple give a deliciously sweet edge to an otherwise savory sandwich. The base is extra-sharp cheddar and caramelized onions. We used maple-mustard spread and Vermont Creamery's cultured butter blended with sea salt and maple sugar to elevate the sandwich to new heights.
To make it:
You can replicate this easily at home. Blend together 3 tablespoons grainy Dijon mustard with 1 tablespoon maple syrup. In a separate small bowl, blend together 3 tablespoons softened butter with a pinch of sea salt and 1 teaspoon maple sugar (or maple syrup if you can't find maple sugar).
Butter the outsides of two slices of bread (or spread with mayonnaise). Spread the inside of one slice liberally with the maple-mustard mixture. Add a layer of sliced cheddar and caramelized onions. Spread the inside of the second slice with the salted maple butter. Cook!
Grilled cheese tip 4: Bread matters
Choose your bread wisely. We like a sturdy, easy-to-slice loaf. Pick a bread that doesn't have too many holes and isn't too fragile, so it can support the filling. We love our Rustic Sourdough Bread, our Classic Sandwich Bread, or our No-Knead Bread for grilled cheese sandwiches.
Grilled cheese goodness
Are you hungry yet? Break out that skillet, and start cooking. We know it's hard to choose from so many good options, so we suggest inviting over friends or family to host your own grilled cheese challenge! Make all four sandwiches, do a taste test, and tell us which wins in the comments below!
If you have another brilliant grilled cheese combination, we want to know that too. Grilled cheese for everyone!
Jump to Comments