The holidays are over. Which means it's time to dial down the sugar, and turn to things savory – like pizza. And calzones: calzones with a twist.
Maybe you've made calzones before. A calzone is simply pizza dough wrapped all the way around its filling, rather than simply cradling the pepperoni et. al. on top. Think giant, savory turnover.
I showed you how to make a classic spinach-ricotta calzone a couple of years ago, shaped and baked as a half-moon.
But since then, I've hit on a shaping method I much prefer: one that's simple, yet produces a striking calzone. Instead of something that looks like a round pizza folded in half – i.e., kinda boring – you get a handsome braid, its melted cheese oozing fetchingly from a peekaboo slatted crust.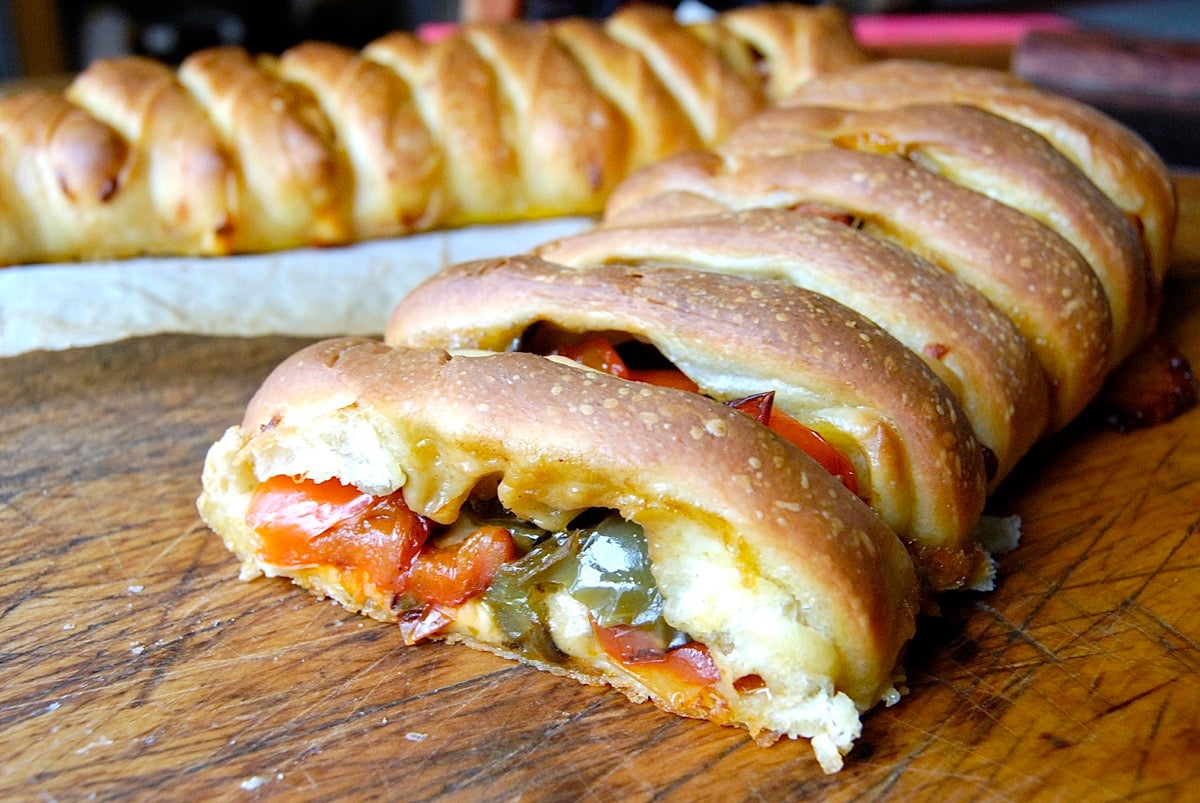 A calzone packed with panache – as well as pepperoni.
Let's make calzones with a twist, shall we?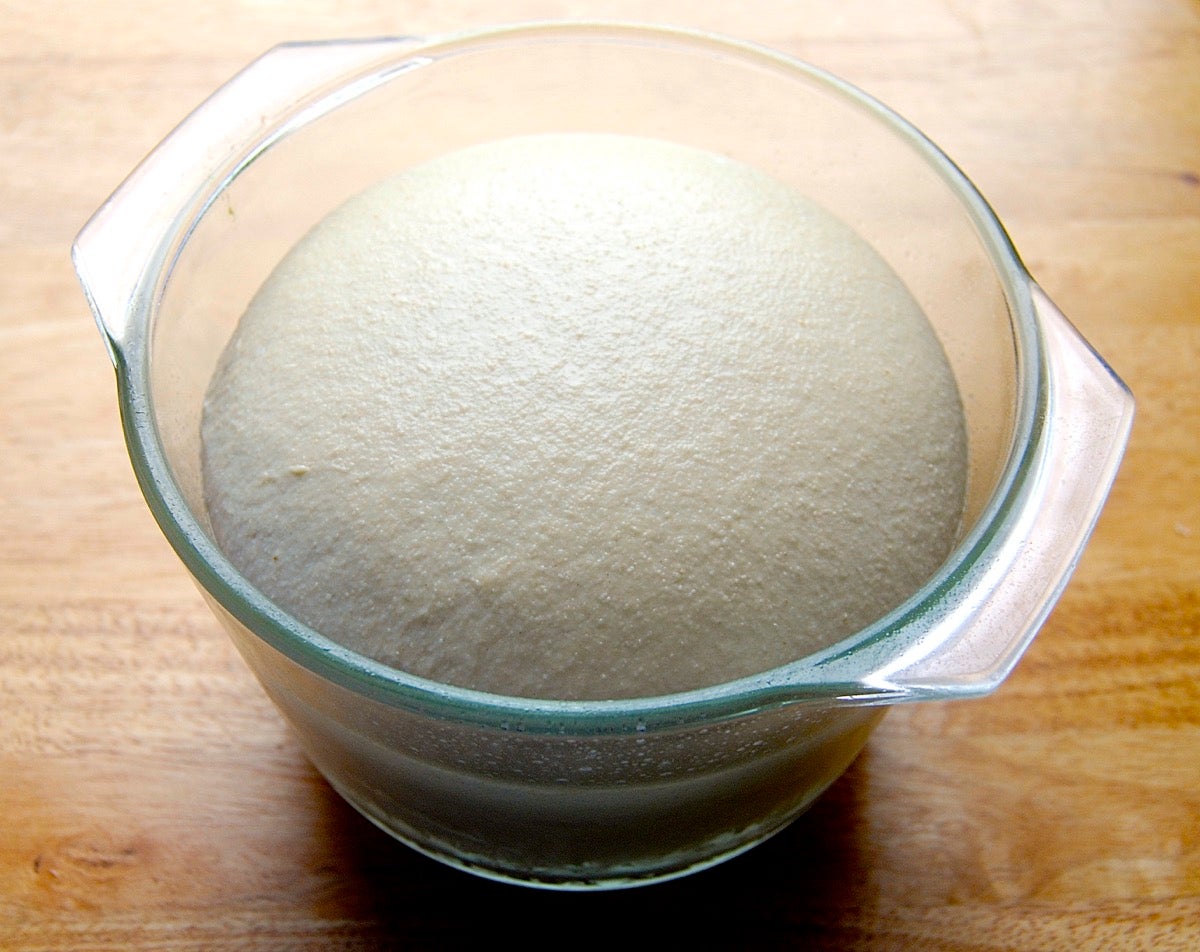 Start with your favorite pizza dough. I'm using our Now or Later Pizza Crust here!
How much dough do you need, exactly? Totally up to you. A recipe using 3 cups of flour will make two medium (12"-long) calzone, or one large (16"). Make that your benchmark when assessing your favorite crust recipe.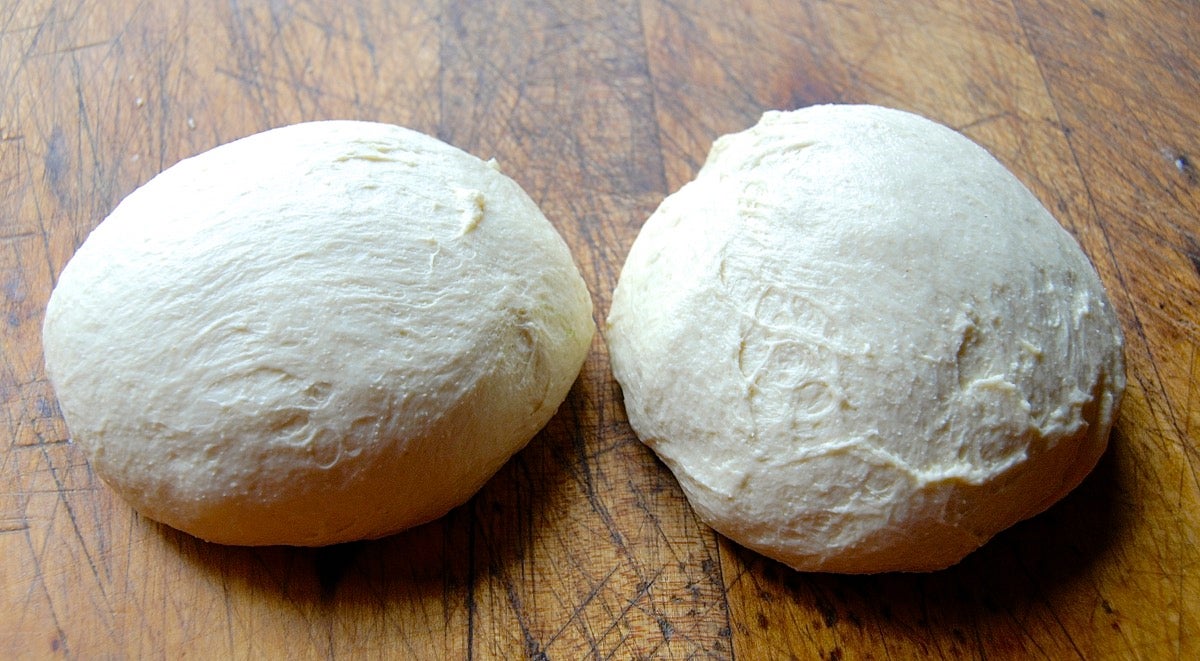 Gently deflate your risen dough, and divide it in half.
Working with one half at a time, roll/pat it into a rectangle whose shorter side is about two-thirds to three-fourths the length of its longer side. For instance, 8" x 12". Or 12" x 16". Do this either right on a lightly greased baking sheet, or on a piece of parchment.
Next, the filling.
Attention, anyone looking for a food-shopping bargain: here's one of my favorite tips. Check out any cooler case close by the deli section at your supermarket and look for a pile of packaged "ends." Ham ends, turkey ends, cold cut ends... and best of all, cheese ends.
I regularly get cheese ends at my local Market Basket supermarket for $1.99/pound. I'm not sure what I'm getting; could be any combination of American, Swiss, provolone, or whatever the deli is slicing.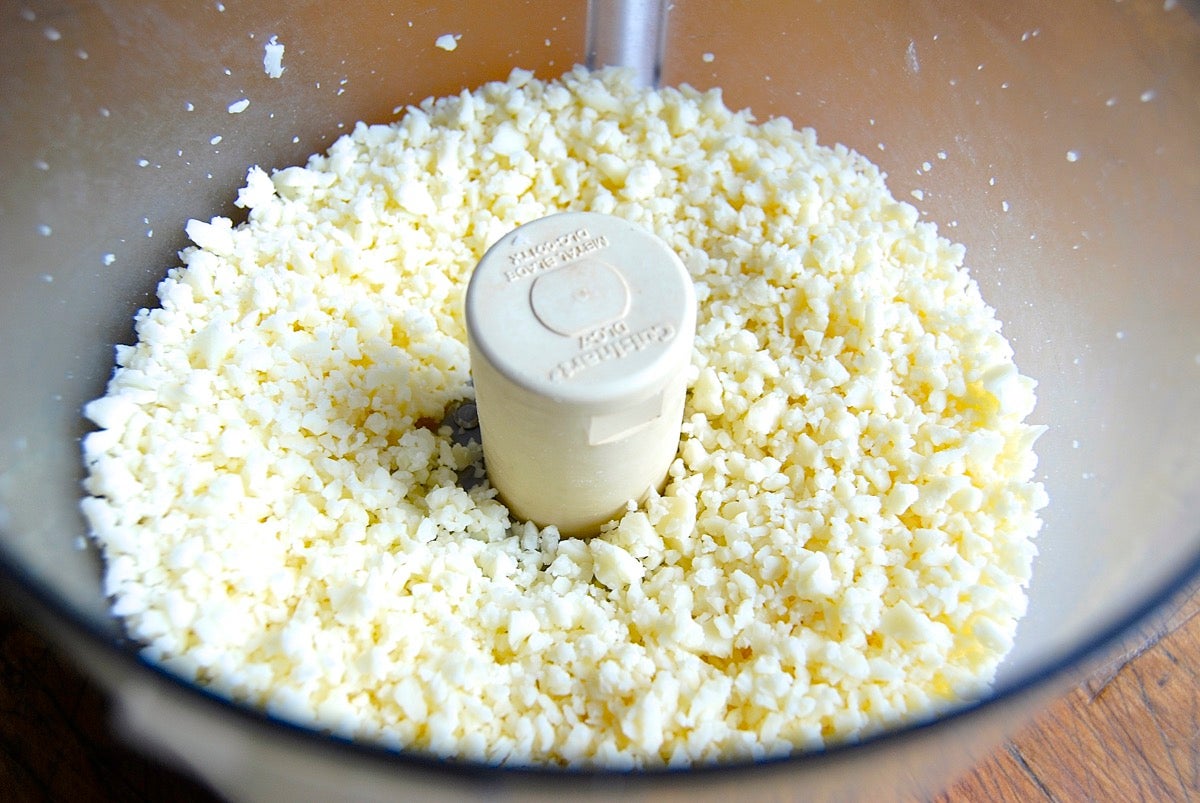 I run the cheese through the food processor, and either use immediately, or freeze.
Voilà! Grated cheese for all of my pizzas, casseroles, lasagna, mac and cheese, etc.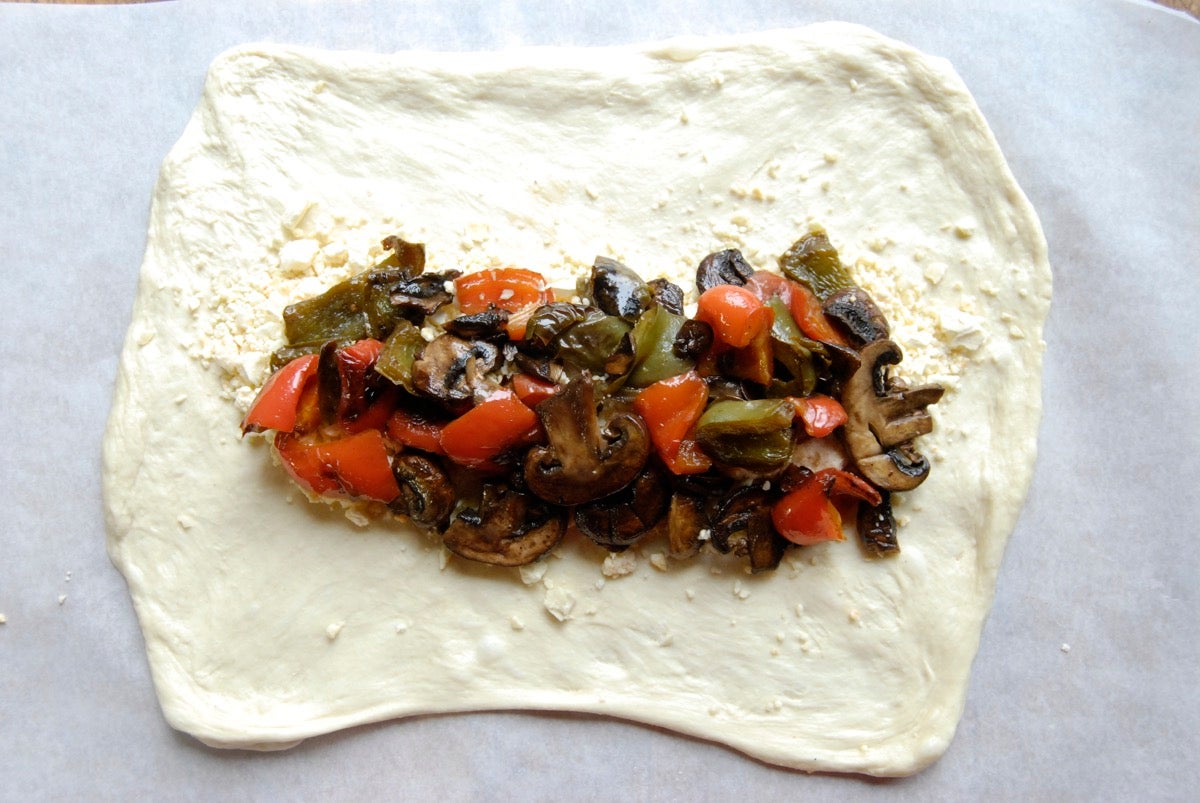 Layer your toppings (fillings) down the center third of the dough, lengthwise. I usually put the cheese down first, in order to showcase the more colorful toppings, which end up peeking through the top crust.
I'm not a huge fan of tomato sauce, which I think makes my crust soggy. I'd rather use oven-roasted tomatoes. For my vegetarian calzone, I'll add sautéed red and green bell peppers, and "baby bella" mushrooms.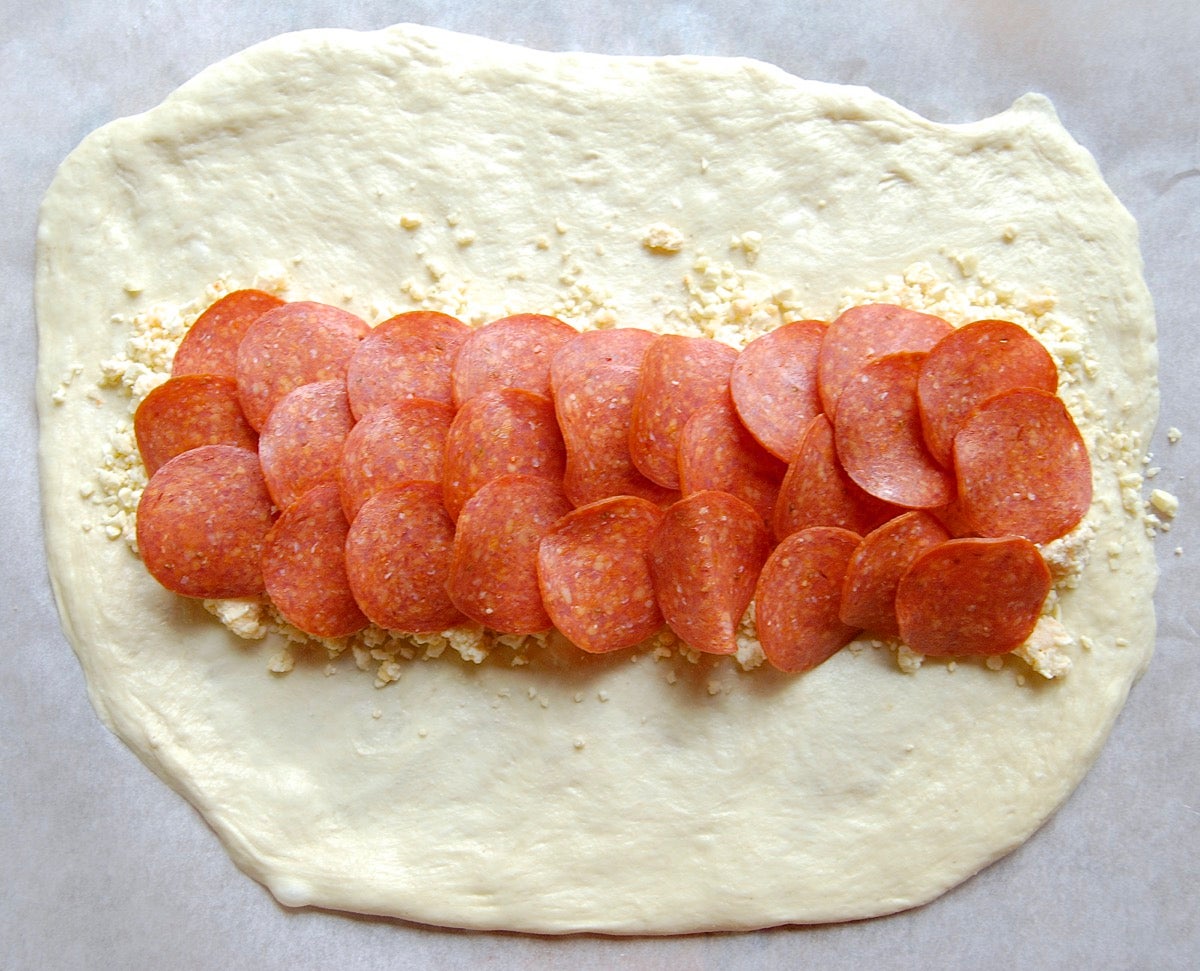 For the classic, I'll stick with pepperoni.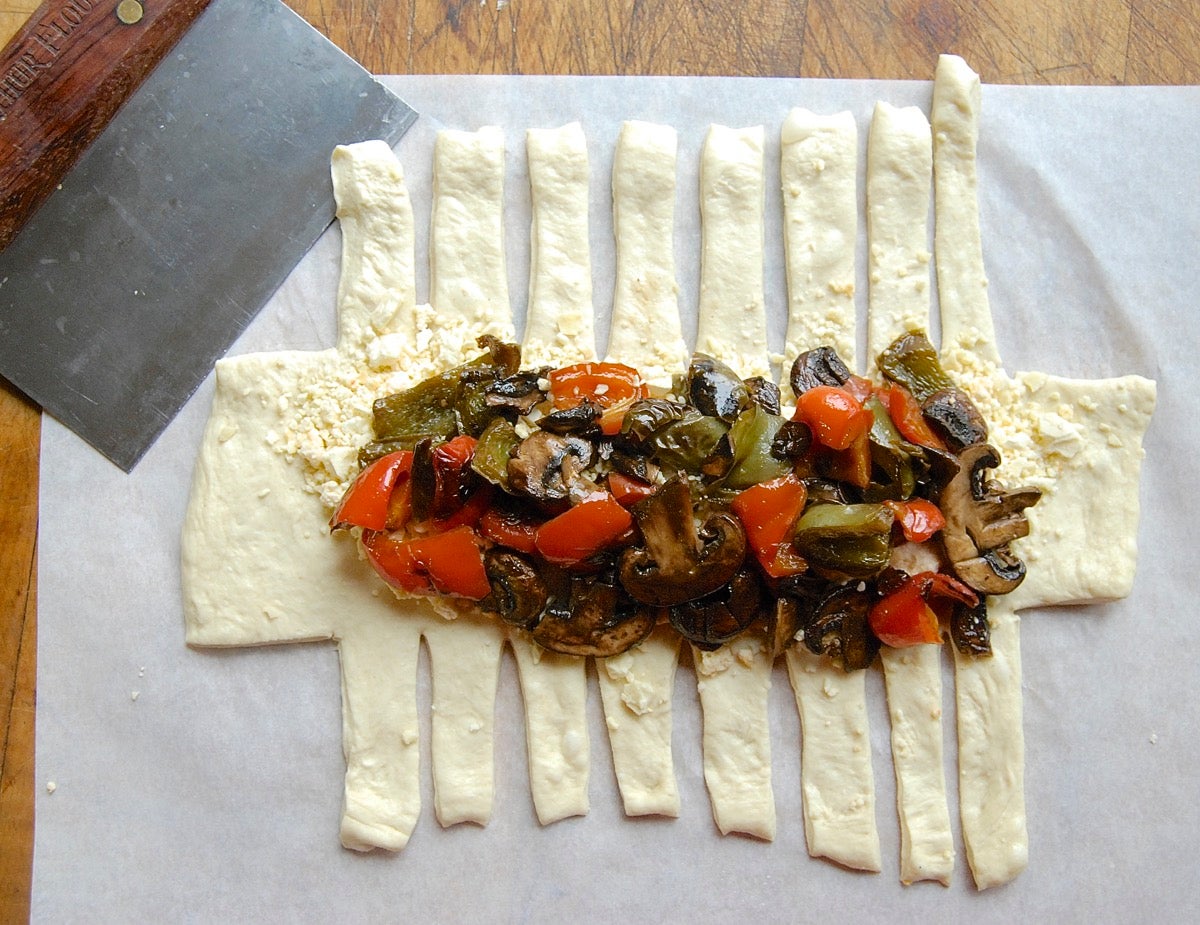 Now for the fun part. Cut 1" to 1 1/2" notches out of each corner of the dough.
Then cut 1" strips down each side, using a pizza wheel, bench knife, scissors, or the tool of your choice.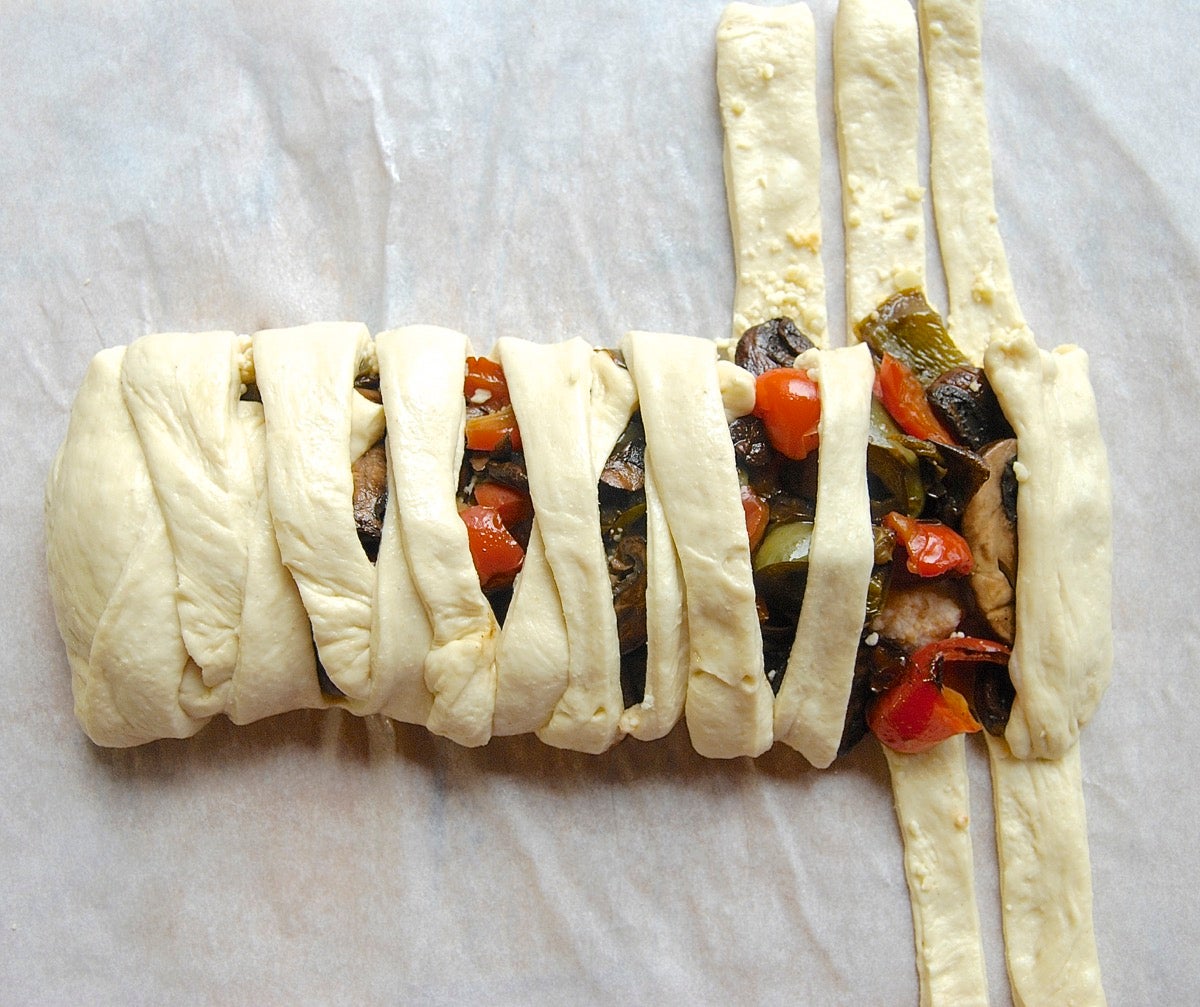 Fold the two ends over the filling. Then fold the strips over the filling, alternating sides as you move down the dough and pinching the strips to the sides of the calzone.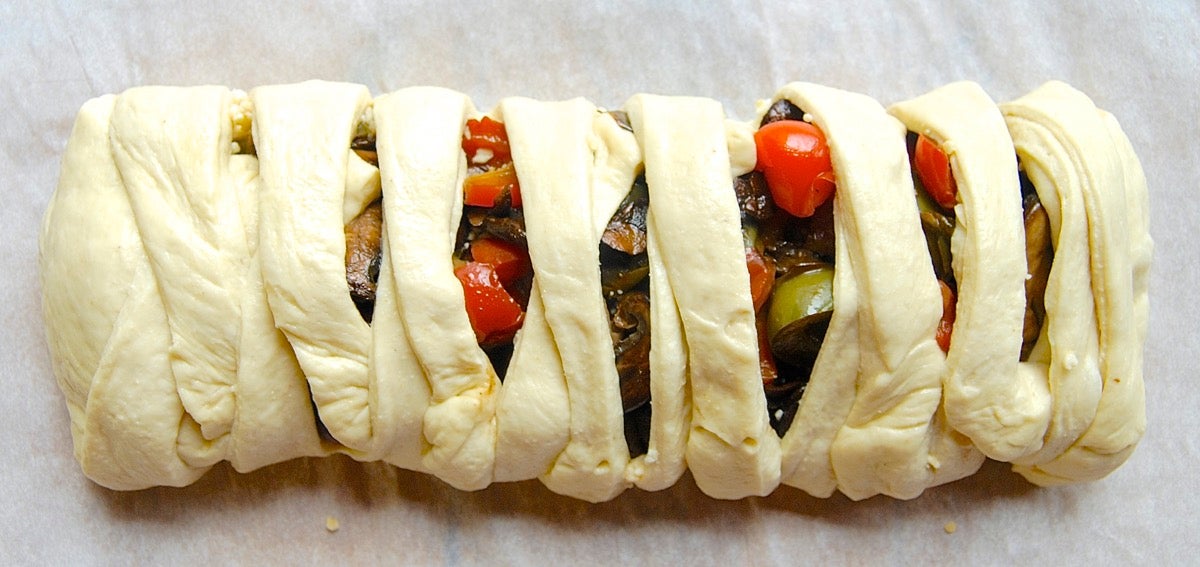 You can bake the calzone immediately, if you like; this will give you the calzone equivalent of thin-crust pizza.
For a lighter calzone, cover it and let it rise for about 45 minutes. While the calzone is rising, preheat the oven to 425°F.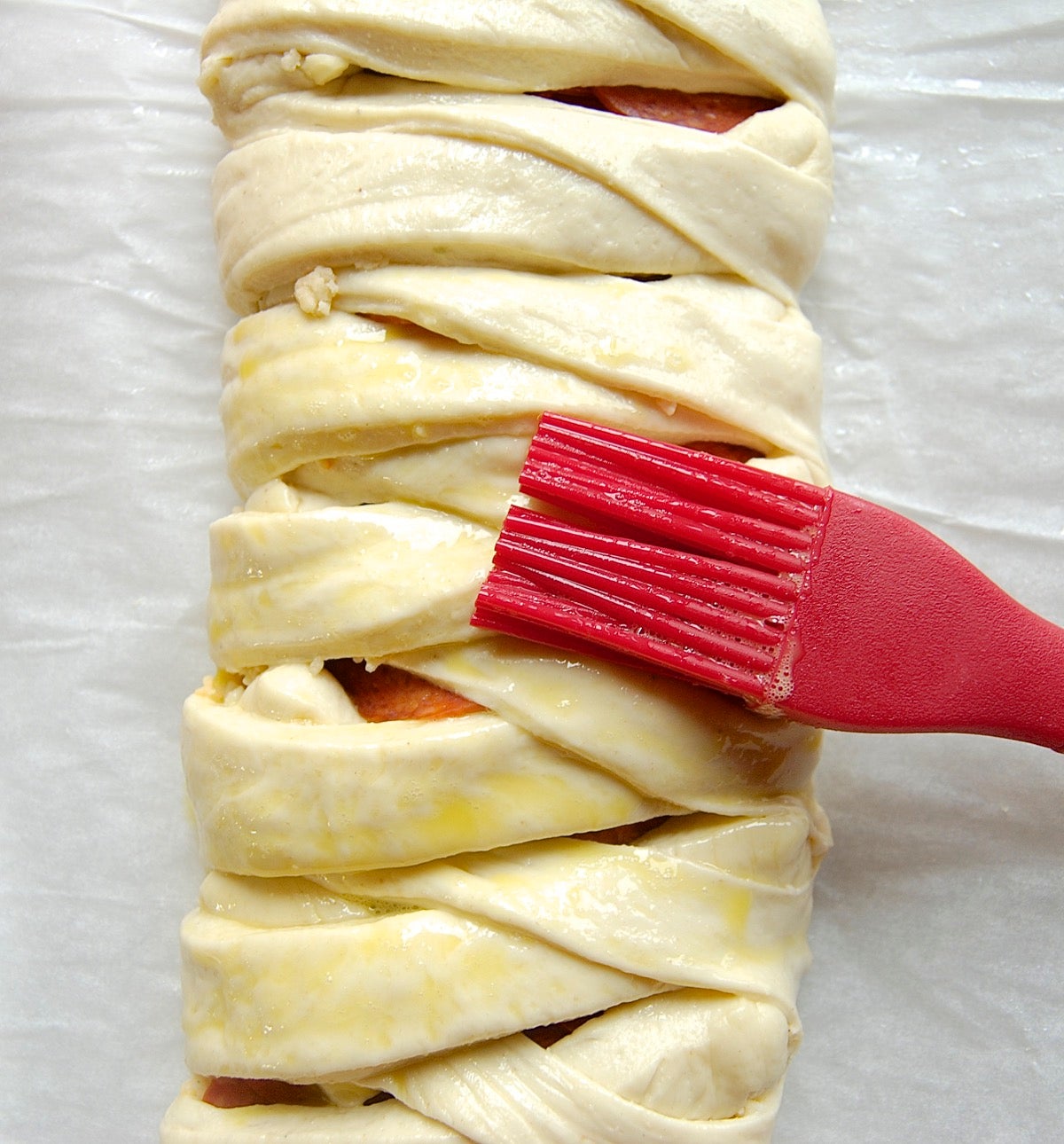 Just before baking, brush the calzone with 1 large egg beaten with 1 tablespoon water, if desired; this will yield a golden brown, slightly shiny crust.
Bake the calzone on a middle rack for 25 to 30 minutes, until it's golden brown.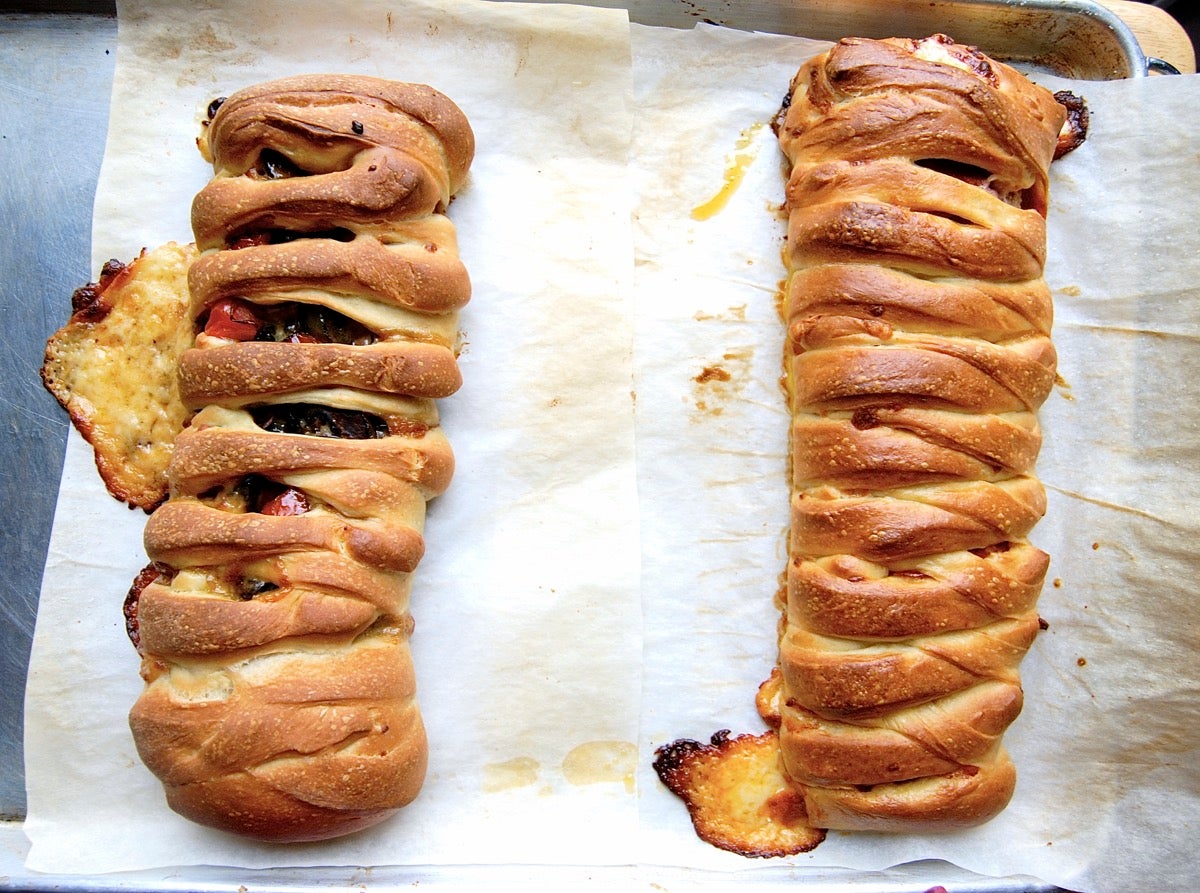 Remove the calzone from the oven, and let it cool for about 10 minutes before slicing and serving.
I always bake calzone on parchment. See why? Easy cleanup!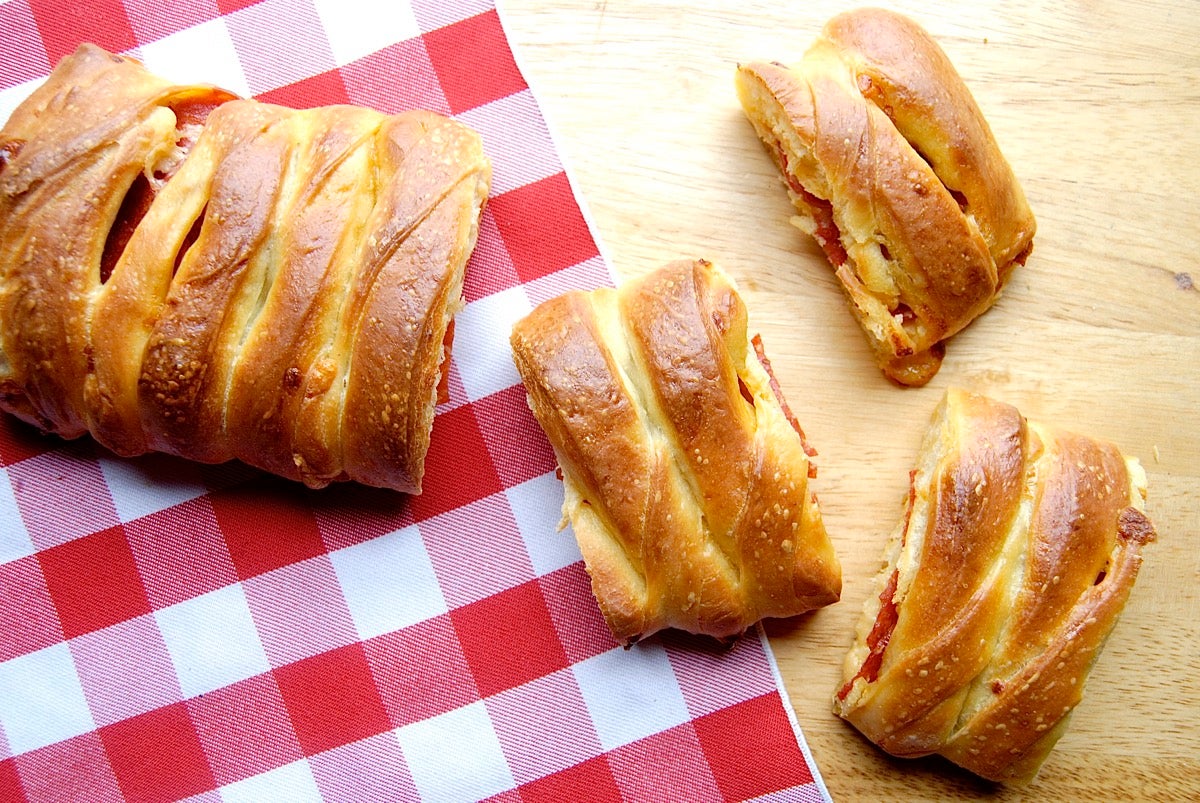 See? Follow the lines of the braid to cut neat little slices.
You can use this same shaping technique with other dough and fillings, like our Braided Lemon Bread. In fact, this "mock braid" is usually used with breakfast breads; for video of the technique using raspberry-cream cheese filling, see how to make a filled braid.
But there's no harm in thinking outside the pizzeria box every now and then, right?
What are your favorite calzone fillings? Let us know in the comments, below! 
Jump to Comments