Did you ever stop and wonder to yourself, as you were stirring together your favorite recipe for pumpkin bread, or banana bread, or zucchini bread –
Hey, how can I make muffins from a quick bread recipe?
Wonder no more – it's both quick, and easy.
1. Choose a recipe that makes about 4 cups of batter.
Notice that word "about"? There's no foolproof formula that will allow you to determine if you can make exactly 12 perfectly shaped muffins from any particular quick bread recipe. But if you're willing to just go with the (batter) flow, you'll be confidently making muffins from quick bread recipes over and over again.
Perhaps your quick bread recipe makes two loaves. In that case, the entire recipe should yield about 8 cups of batter, from which you can make either two dozen muffins, or one loaf and 12 muffins.
A typical muffin uses about 1/4 cup of batter. Fill each well in your muffin pan about 3/4 to nearly full. If you have batter left over, make more muffins. If you don't have enough batter for 12 muffins – so be it.
Our Easy Pumpkin Bread recipe yields two loaves. Let's see what happens when I divide the batter in half, and make one loaf and a dozen muffins.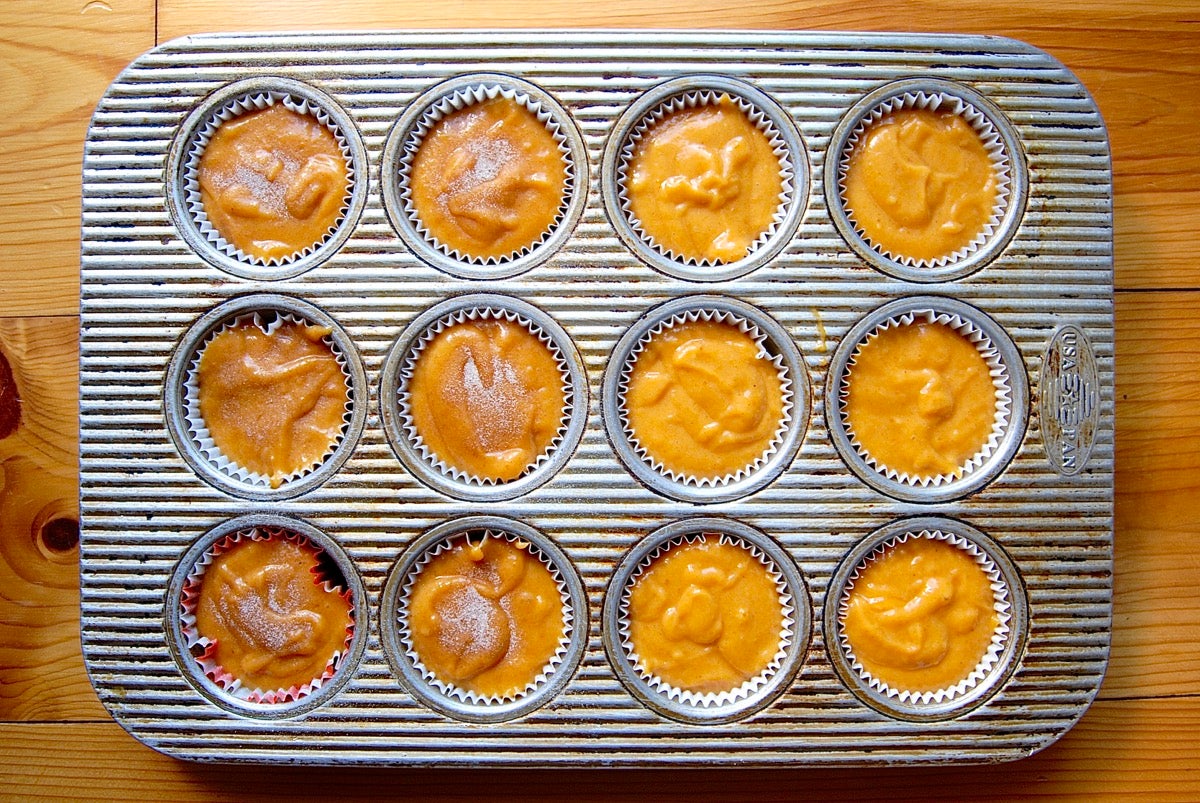 I fill the muffin cups quite full, using about 83g batter in each of the wells.
I always bake with a scale, and it really helps when you're making muffins or cupcakes. Portioning batter by weight is much easier than using a measuring cup; no scraping sticky batter out of the cup and into the pan a dozen times.
2. Oven temperature and time can be flexible.
If you're making a loaf of quick bread + 12 muffins (from a recipe that would ordinarily make two loaves), you might as well bake the muffins right along with the bread. Most quick bread recipes call for baking in a 350°F oven for about 45 to 60 minutes. Baking muffins at this temperature will take about 30 minutes.
Can you bake the muffins at a different temperature? Sure. For quicker results, bake for about 20 to 25 minutes in a 400°F oven. Or for about 23 to 28 minutes at 375°F.
While time is a good guide, the best way to see if a muffin is fully baked is to test it. Stick a toothpick into the center. If it comes out clean or with a few moist crumbs attached, the muffins are done. If any wet batter shows, continue to bake.
If you always thought baking was an exacting science, you're partially right: e.g., using the correct ingredients, and measuring them carefully.
But once your dough or batter is prepared, the science is less important. For instance, turning a quick bread recipe into muffins...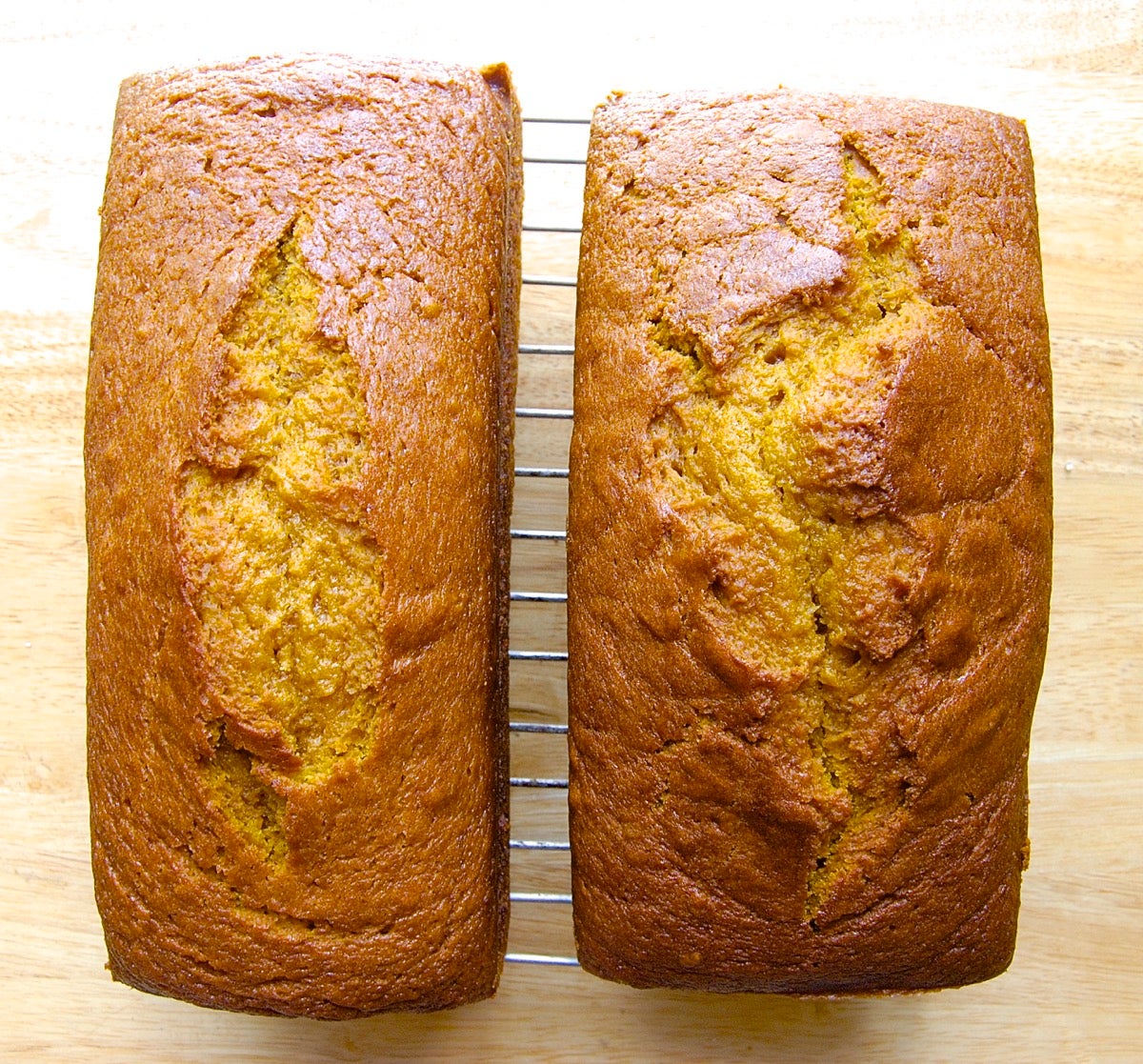 ...or transitioning from an 8 1/2" x 4 1/2" loaf pan to a 9" x 4" pain de mie pan.
Same recipe, same baking time – different shape.
Quick bread, muffins...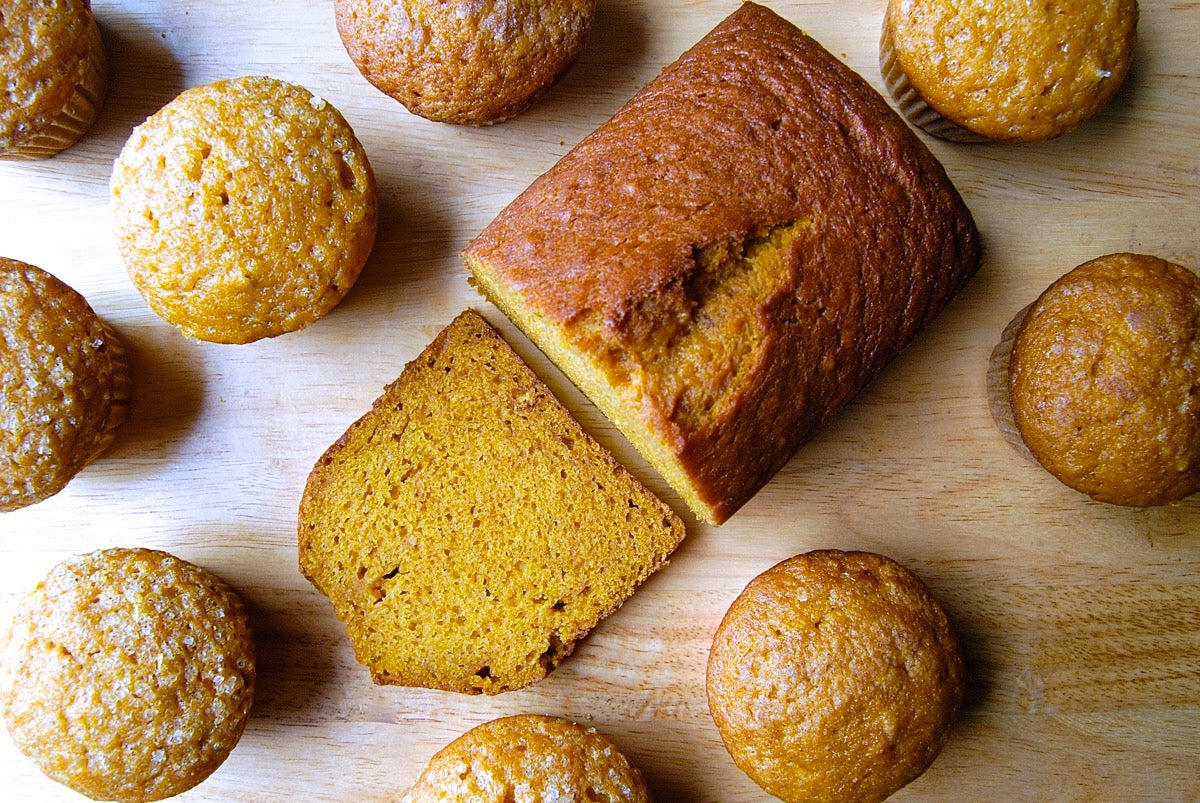 ...all delicious, however you slice it!
And what about going the other way – turning a muffin recipe into a loaf of quick bread?
No problem. Spoon the muffin batter into your lightly greased 8 1/2" x 4 1/2" or 9" x 5" loaf pan; the pan should be about 2/3 to 3/4 full.
For the best-shaped loaf, try to match pan size to the amount of batter; but if you don't care overly much about whether or not your loaf is tall vs. squat, default to a 9" x 5" pan. That way you're guaranteed to avoid overflows.
I chose my favorite muffin recipe, Famous Department Store Blueberry Muffins, to test this out. Since I know the recipe makes 12 rather large muffins, I went right for my 9" x 5" loaf pan.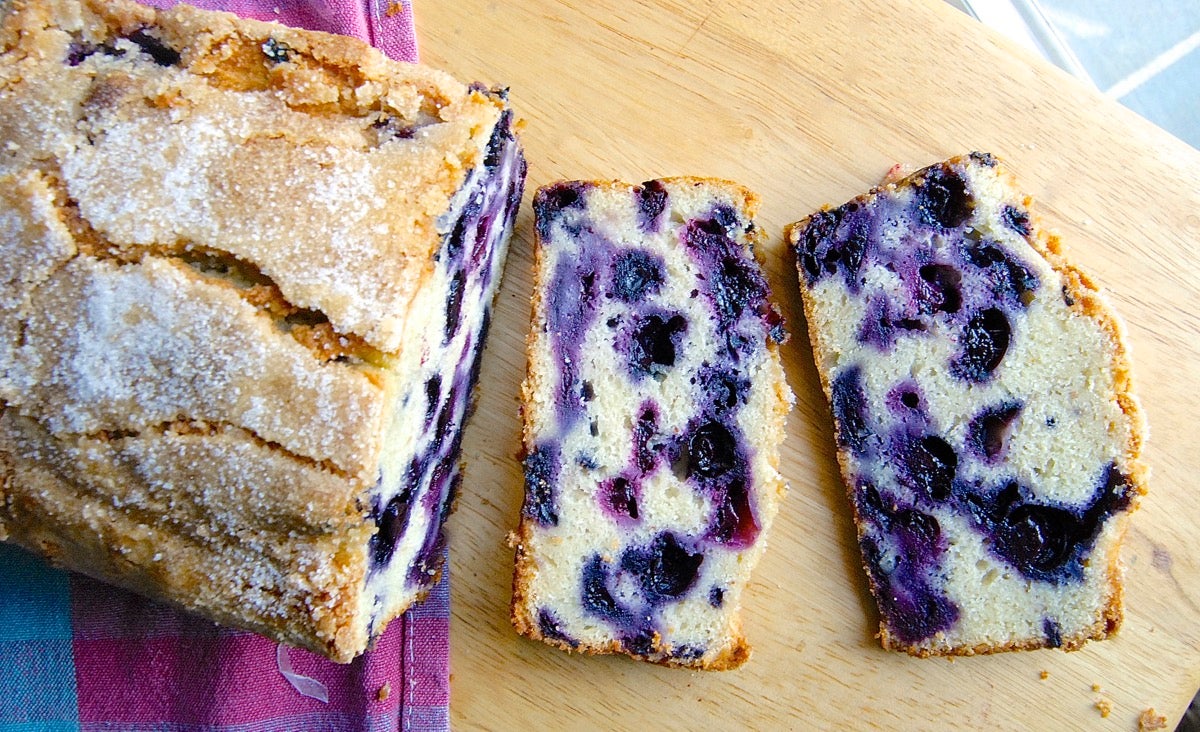 Bake your bread for 45 to 75 minutes in a preheated 350°F oven, testing for doneness the same way as you do for muffins: with a toothpick. Moist and larger loaves (like this one) will need to bake longer than smaller loaves and those that are lighter textured. Just make sure that the toothpick comes out clean.
Quick bread > muffins. Muffins > quick bread. It's a straightforward swap – once you see how it's done.
Ready to try it out? We've got plenty of quick bread recipes to get started. 
Jump to Comments