Pumpkin bread
5 quick and easy makeovers
'Tis the season for pumpkin bread. Moist, tender, and brilliant orange, it's the essence of autumn – and at the top of everyone's "must-bake" list these days.
But what happens when the thrill is gone?
I mean, a slice of pumpkin bread is really tasty. But it's still just a slice of bread. And as wonderful as sliced bread can be, it can sometimes get a shade... old. Creatively speaking, anyway.
If you've ever wondered exactly what "the next best thing since sliced bread" really is – read on.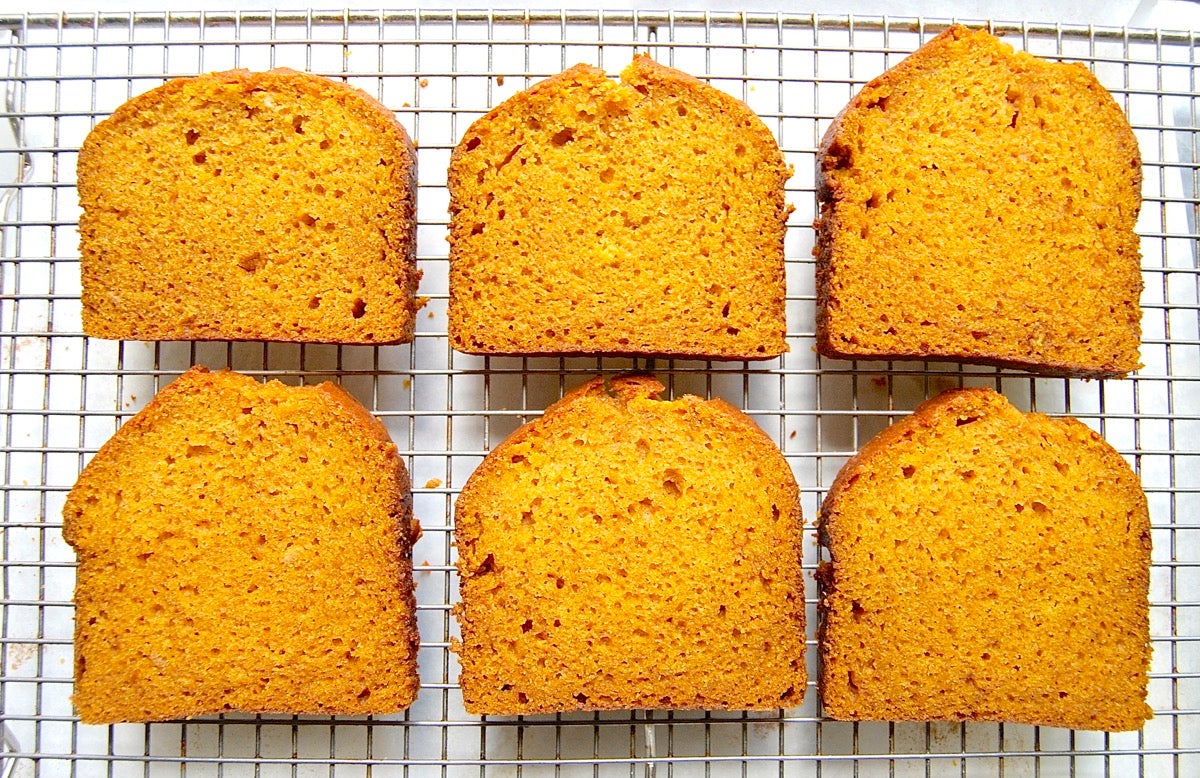 Here it is, sliced pumpkin bread. (Or banana bread, or zucchini bread... any type of quick bread will work.) Maybe you cut up a loaf for brunch, and it didn't get finished. Or perhaps you've got your eye on one of the "makeovers" in this post.
Whatever the reason, sliced pumpkin bread is the basis for our first variation –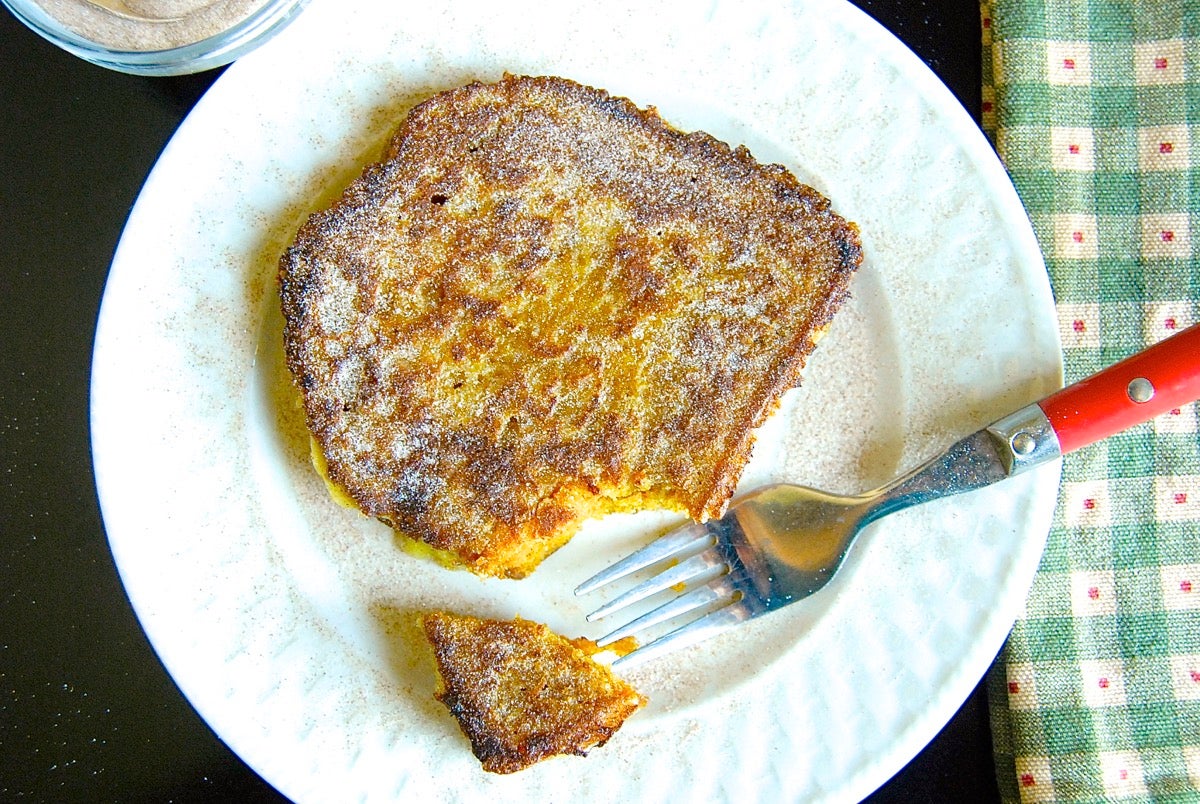 Pumpkin Bread French Toast
Whip up the soaking batter from our French toast recipe, omitting the sugar.
Dip; fry; enjoy. I've showered this piece with cinnamon-sugar, but feel free to top with maple syrup – or homemade ginger syrup, which is an equally tasty companion.
Let's stay in breakfast mode. You won't believe how simple it is to turn pumpkin bread into another morning favorite –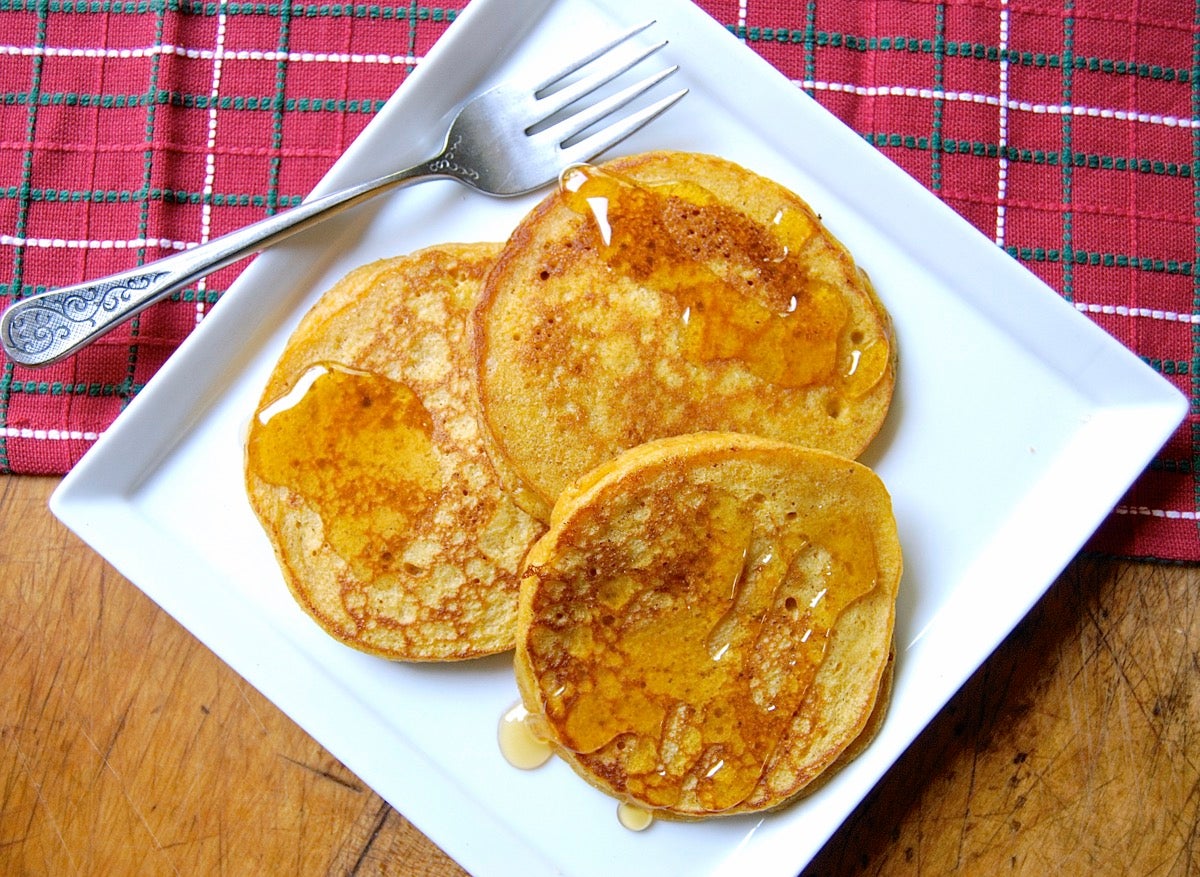 Pumpkin Bread Crumb Pancakes
Tender and moist, these pancakes rely on pumpkin bread for their wonderful golden color.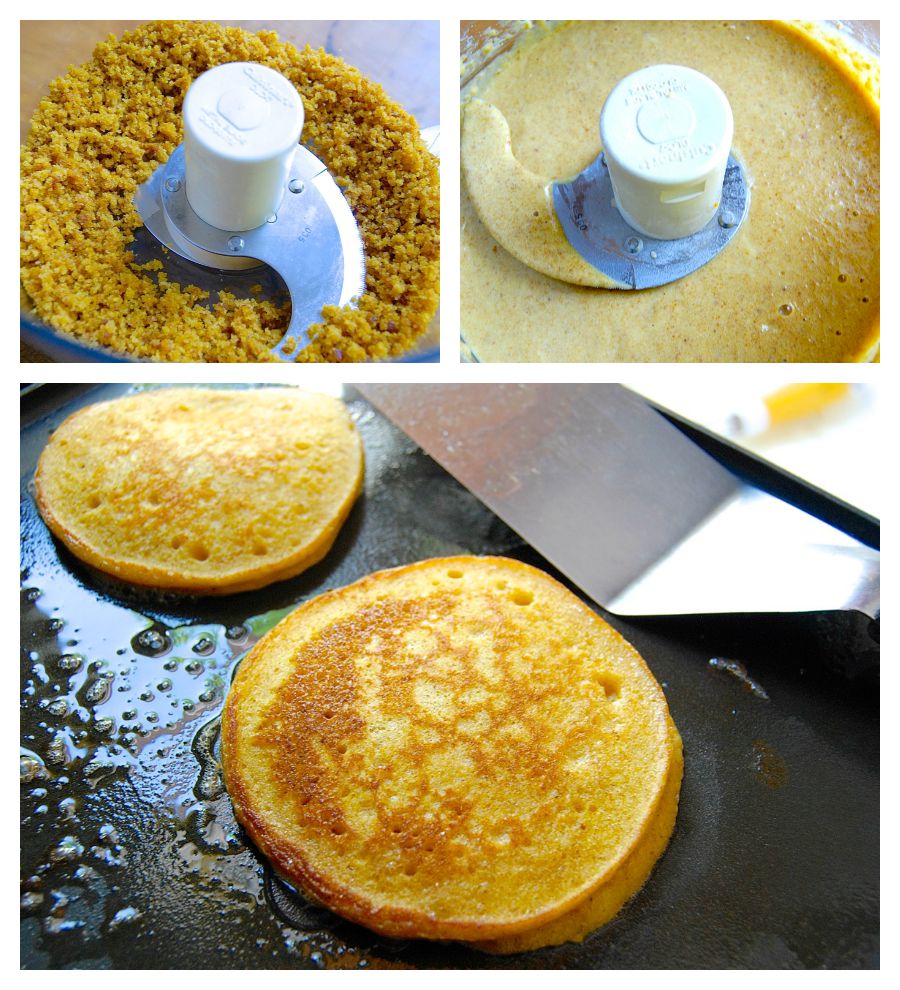 Start by using your food processor to turn a slice or two of pumpkin bread (about 3 1/2 ounces) into 1 cup of crumbs.
Add the following to the processor:
1/2 cup (113g) milk
1/4 cup (57g) King Arthur Unbleached All-Purpose Flour
1 teaspoon baking powder
1/4 teaspoon salt
1 large egg
Process briefly, just until well combined. Pour circles of the batter onto a lightly greased griddle set on medium-high heat.
Cook the pancakes for 2 to 3 minutes on the first side, until golden brown. Flip and cook the other side for about 2 minutes. Serve warm. Yield: about 8 medium (3") pancakes.
We've had a hearty breakfast; now let's jump to dessert. And since we have the griddle out already, we'll use it for a simple yet sumptuous treat –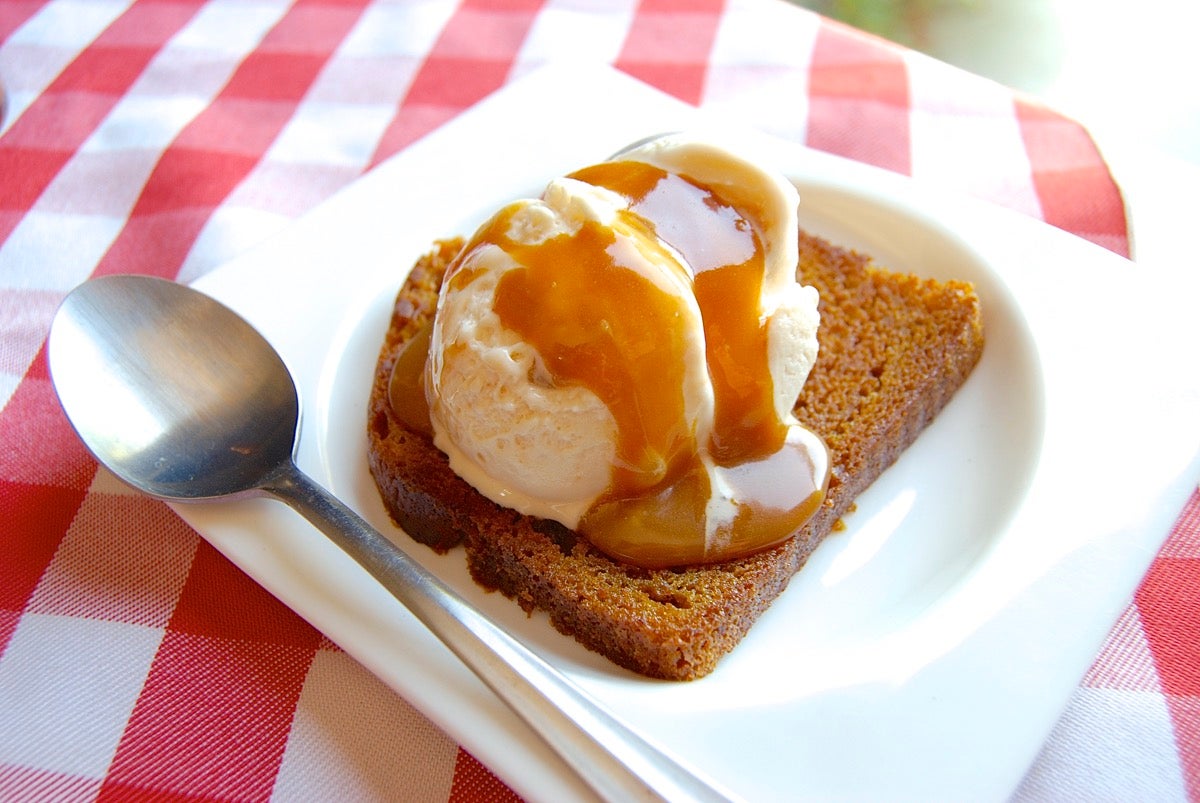 Grilled Pumpkin Bread Sundaes
Butter the griddle, and fry a slice of pumpkin bread on both sides until crisp. Top with ice cream and sauce: homemade caramel sauce is a logical choice, though hot fudge wouldn't be amiss.
Pumpkin bread plays a key role in another easy dessert –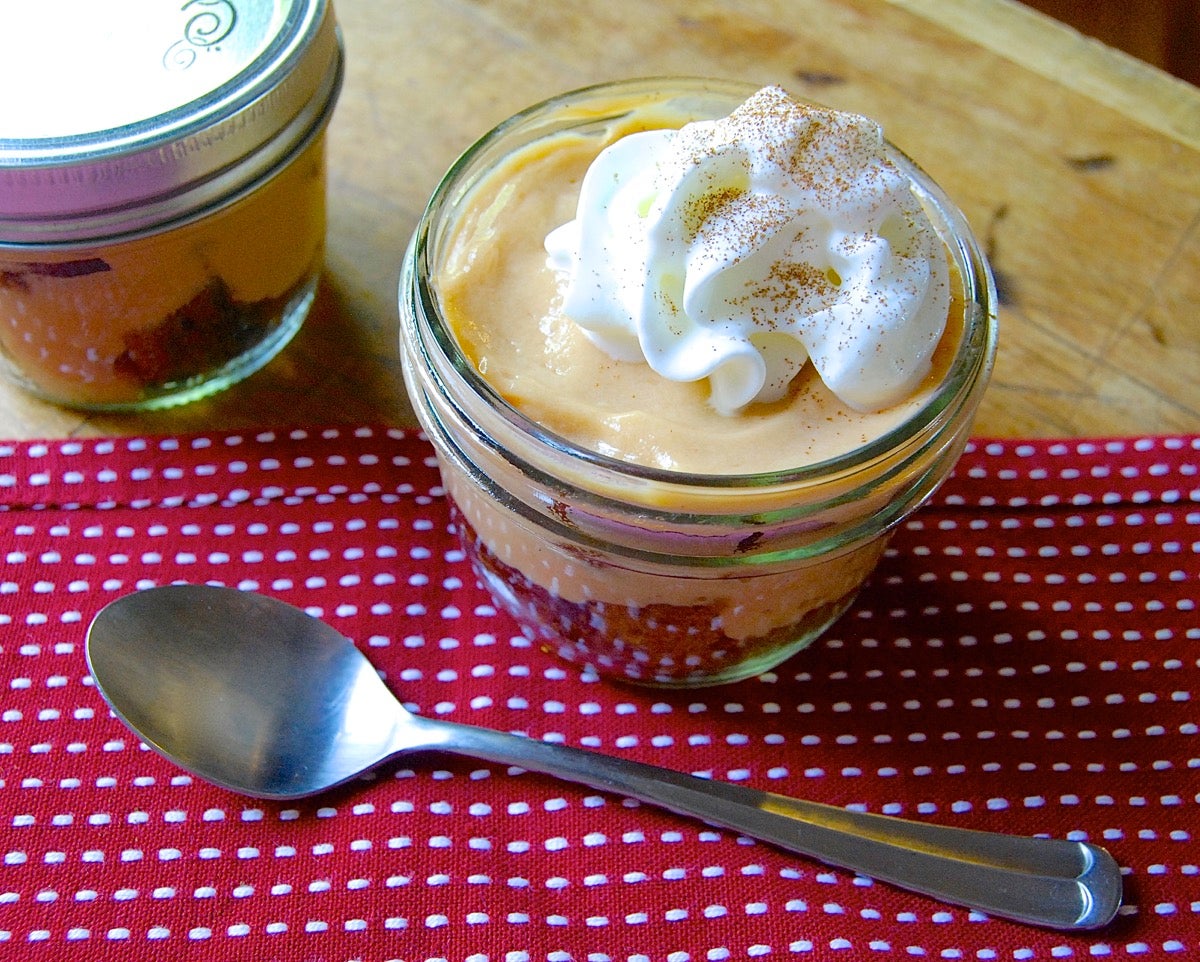 Pumpkin Bread Parfait
Make these layered treats in wide-mouth half-pint mason jars, for the sweetest little take-along dessert you'll ever see.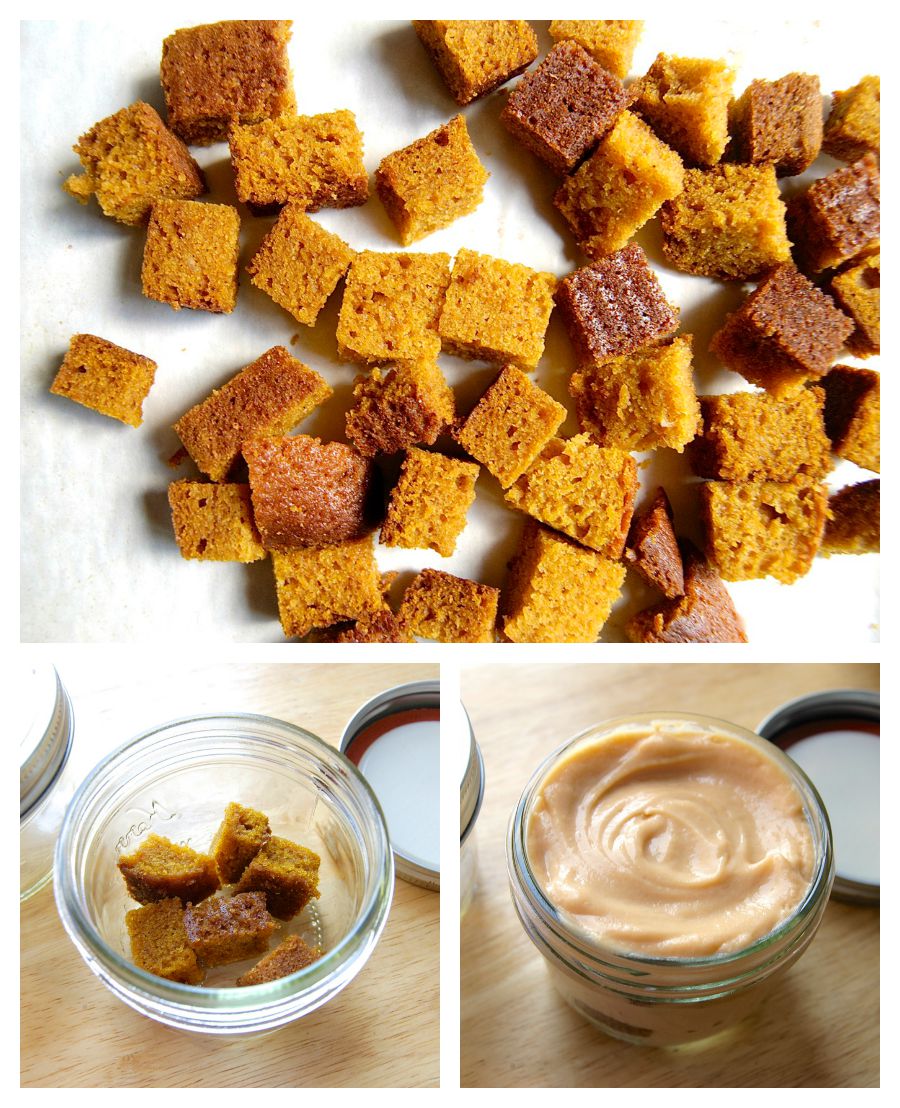 Start with cubes of pumpkin bread that you've let sit out overnight, to dry up a bit; you want the bread to hold its shape once it's covered with filling.
Whip up a batch of your favorite pastry cream. Or opt for easy instant pudding: butterscotch (as I've used here), chocolate, vanilla cheesecake, your choice. There's even a pumpkin instant pudding that appears right around this time of year.
Place cubes of bread in the bottom of the jar. Top with pastry cream or pudding, then another layer of bread, then more cream/pudding. Serve with whipped cream, if desired.
Finally, something for the kids – or adults who have a whimsical relationship with their food.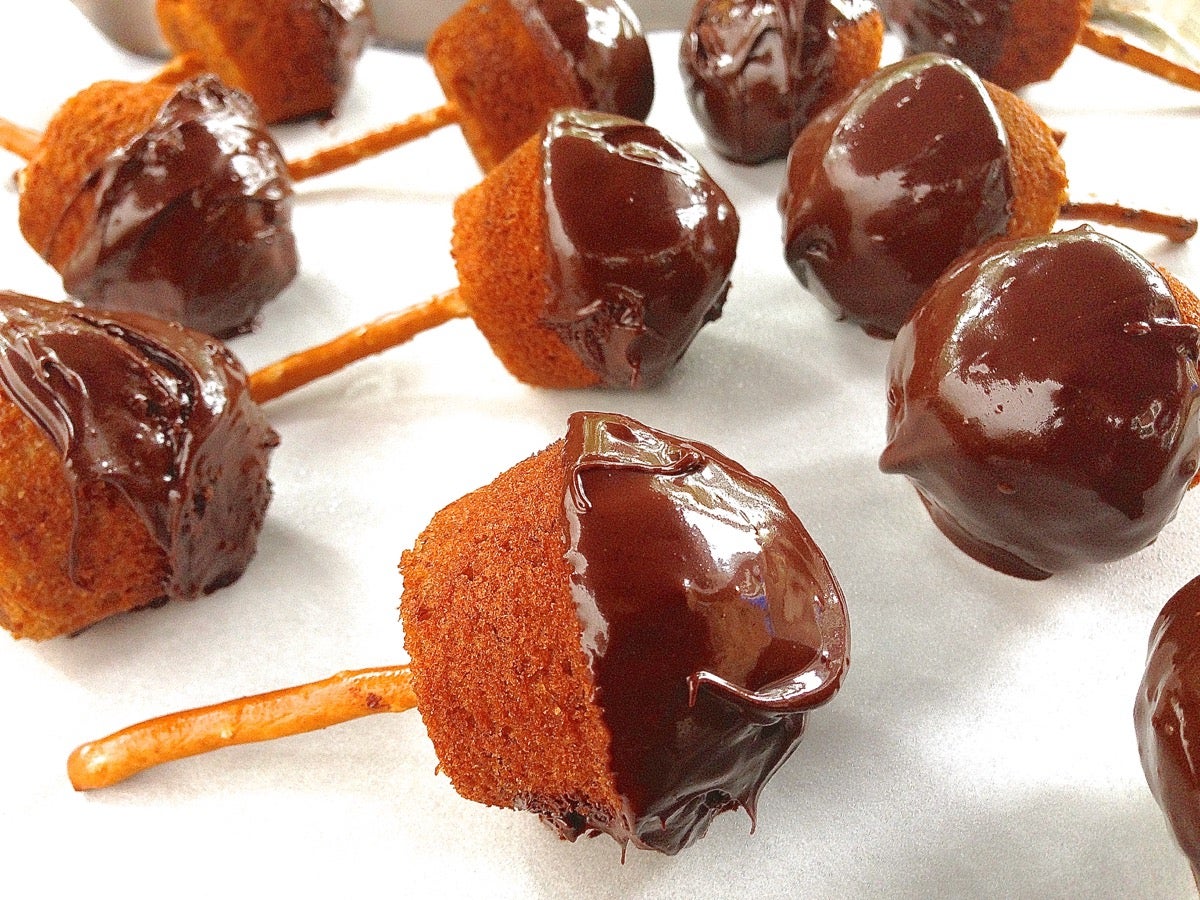 Chocolate-Dipped Pumpkin Bread Pops
Use large (1 1/4" or so) cubes of pumpkin bread. Or do as I've done here: bake the bread (banana bread, in this version) as mini muffins, rather than a loaf.
Melt some chocolate chips. Dip half of each bread cube in the melted chocolate. Add a pretzel stick for a handle, if desired.
Pop into your mouth. Enjoy.
What else can you do with pumpkin bread – or any other quick bread, for that matter? Share (via comments, below) your best creative makeover ideas or recipes starting with pumpkin bread, or banana bread, or zucchini bread...
Jump to Comments