Hello! This is Erin Patinkin and Agatha Kulaga of Ovenly, a bakery based in Brooklyn, New York. We're excited to be guest blogging here at King Arthur Flour about one of our favorite subjects – PIE. Blueberry Nectarine Pie, specifically.
A few weeks ago we stocked up on our favorite road-trip snacks (sour gummies and pizza-flavored Combos, to be exact) and made the drive from Brooklyn to the King Arthur Flour headquarters in Norwich, VT.
When we arrived we were immediately smitten with the place. From the Baking Education Center (BEC) classrooms stocked with every Bundt pan imaginable to the freshly baked pastries at the café (the hazelnut babka was insanely good), the BEC is every baker's dream.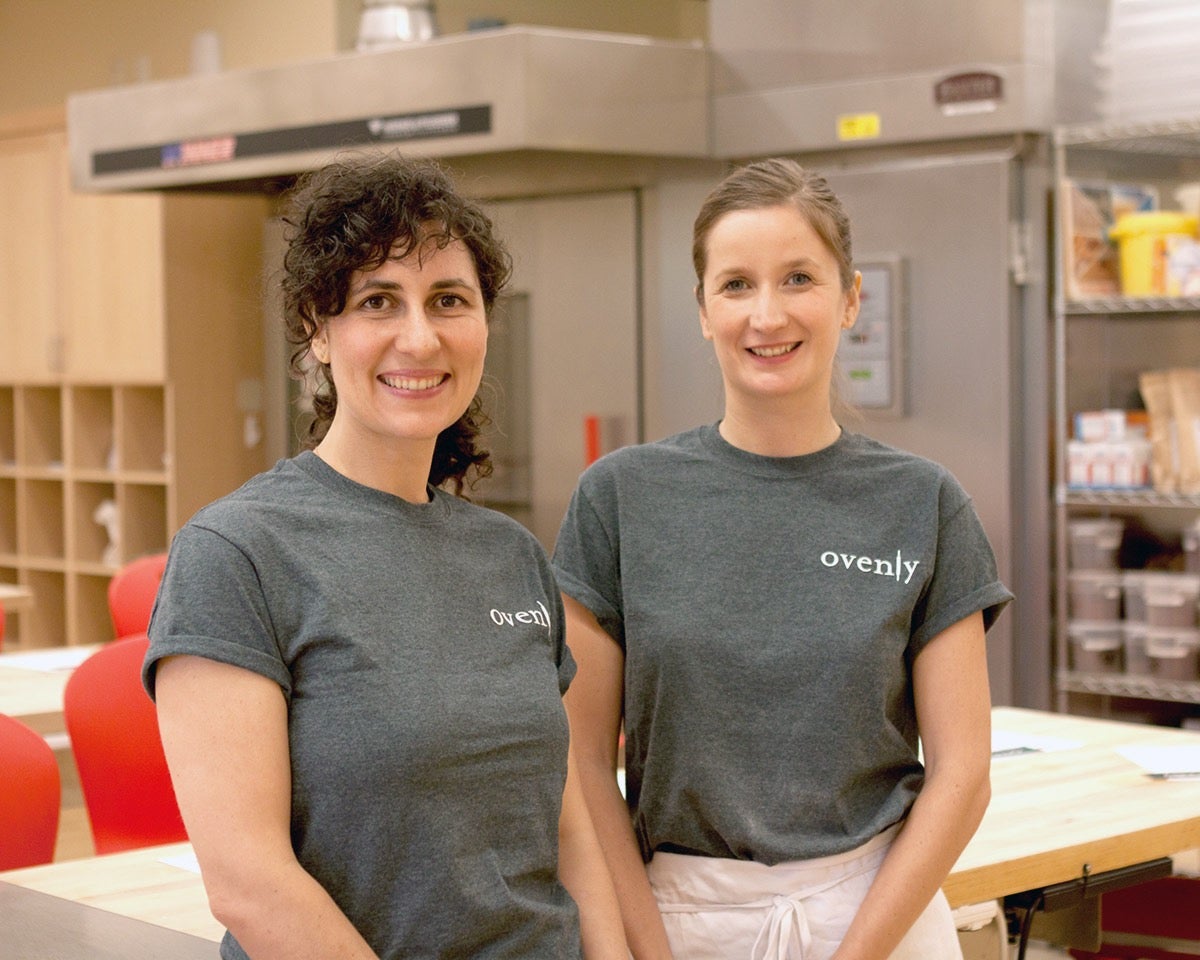 Our class, Crust and Crumble: Seasonal Fruit Pies with Ovenly, focused on mixing and matching different fillings and toppings. We love to bake with seasonal fresh fruits while summer produce is at its finest, making new combinations by combining the best fruit the farmers' market has to offer. Once you've mastered our simple pâte brisée and crispy crumble topping, you'll have the tools to get creative with your own version of your favorite fruit pies.
First, make the crust.
For us, a great pie is judged by the quality of its crust, which should be tender, flaky, and buttery. This is our favorite recipe for an all­-butter pâte brisée, which can be found in o​ur cookbook. We were excited to demo the process fully by hand, Agatha's preferred method.
1 cup (16 tablespoons) unsalted butter
2 1⁄2 cups (10 1/2 ounces) King Arthur Unbleached All-Purpose Flour
2 tablespoons sugar
1 teaspoon salt
1⁄4 cup ice water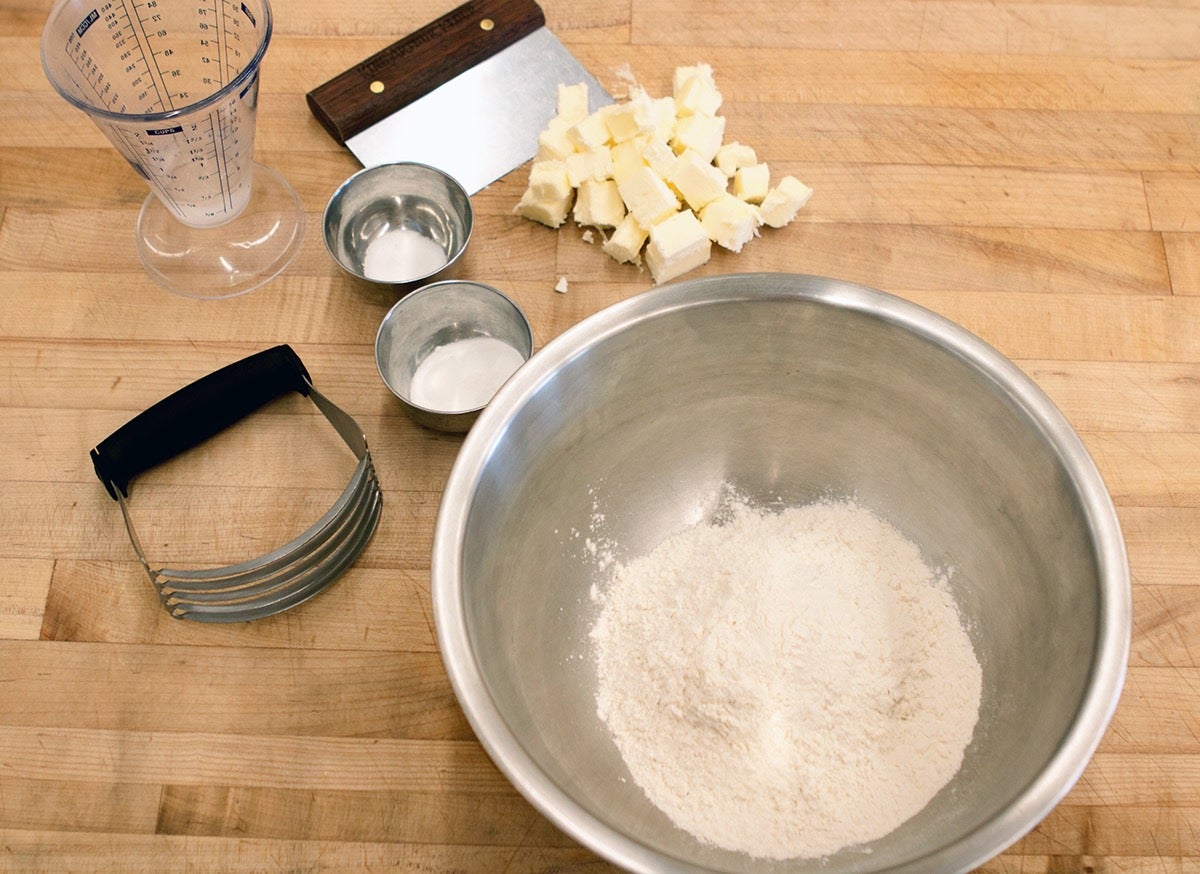 Remember, it's important to start with very cold ingredients. We like to freeze everything (even the flour, pastry knife, and bowl) before preparing the dough. Once everything is chilled, gather your ingredients. Here we have unsalted butter, flour, sugar, salt, and ice water.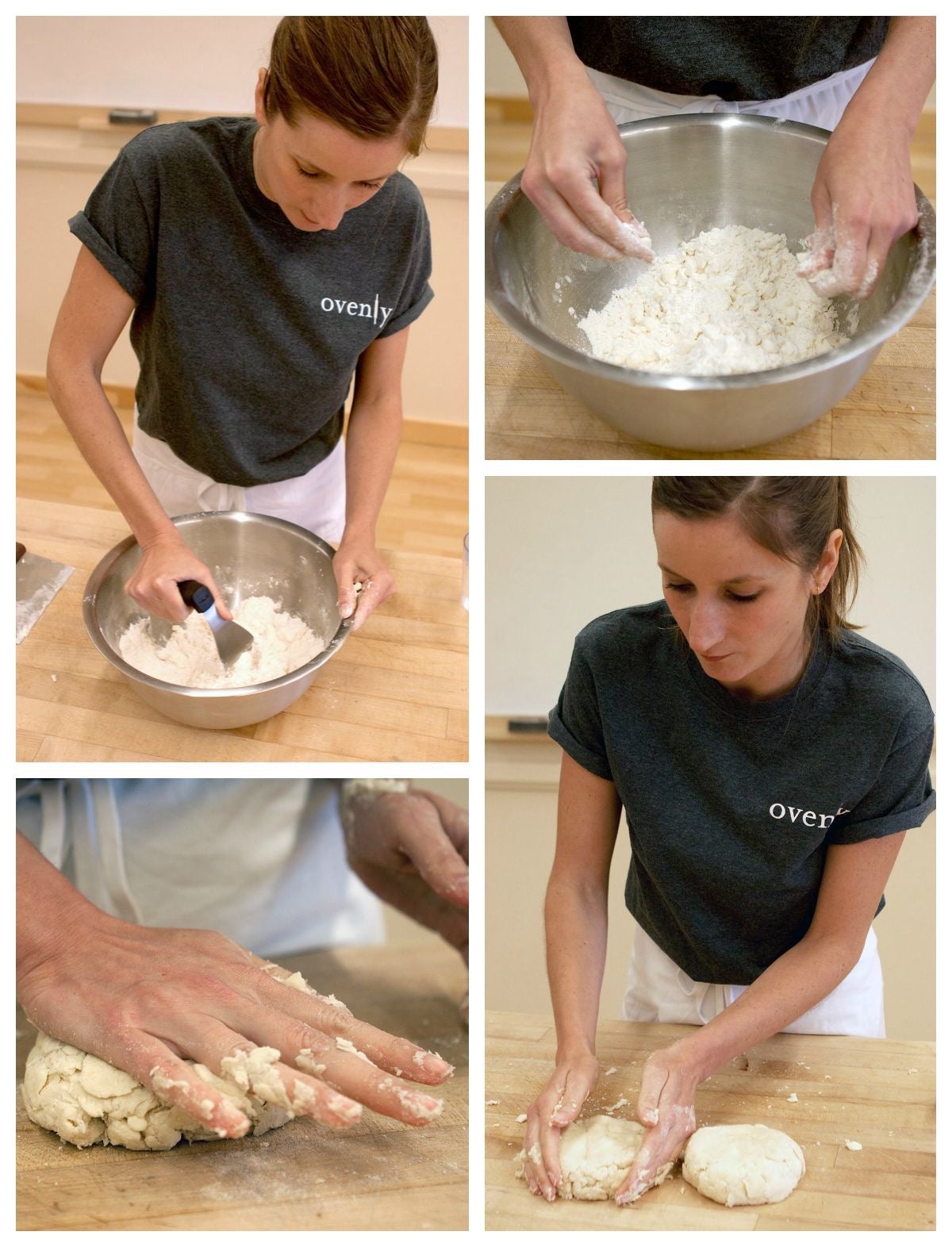 In a large bowl, whisk together the flour, sugar, and salt, then add the butter. Rub the butter and flour together between your fingers until the mixture has a cornmeal-like consistency and no large butter pieces remain.
Add the ice water in a slow stream, and mix with a spoon. If the ingredients are difficult to fully incorporate with a spoon, use your hands.
Press the dough together to loosely combine any ragged pieces of dough. Turn the dough out onto a floured work surface, and using the heel of your hand, press it together, using an outward rubbing motion to incorporate the butter fully. Halve the dough, and form each half into a ball.
Press and shape each half into a 6" disk about 1" thick. Cover with plastic wrap and refrigerate for at least 1 hour, or up to overnight. Refrigerating helps the dough's gluten relax, and makes the dough more elastic, so that it rolls nicely without breaking.
For this Blueberry Nectarine Pie recipe we're only using one of the dough disks; the other one can be frozen for up to a month. Just let it thaw in the refrigerator overnight before using.
Want to make the crust with a touch of whole wheat flour? Try this:
1 cup (16 tablespoons) butter
1 3/4 cups King Arthur Unbleached All-Purpose Flour
3/4 cup King Arthur White Whole Wheat Flour
2 tablespoons Demerara or brown sugar
1 teaspoon salt
7 tablespoons ice water
Prepare as directed above.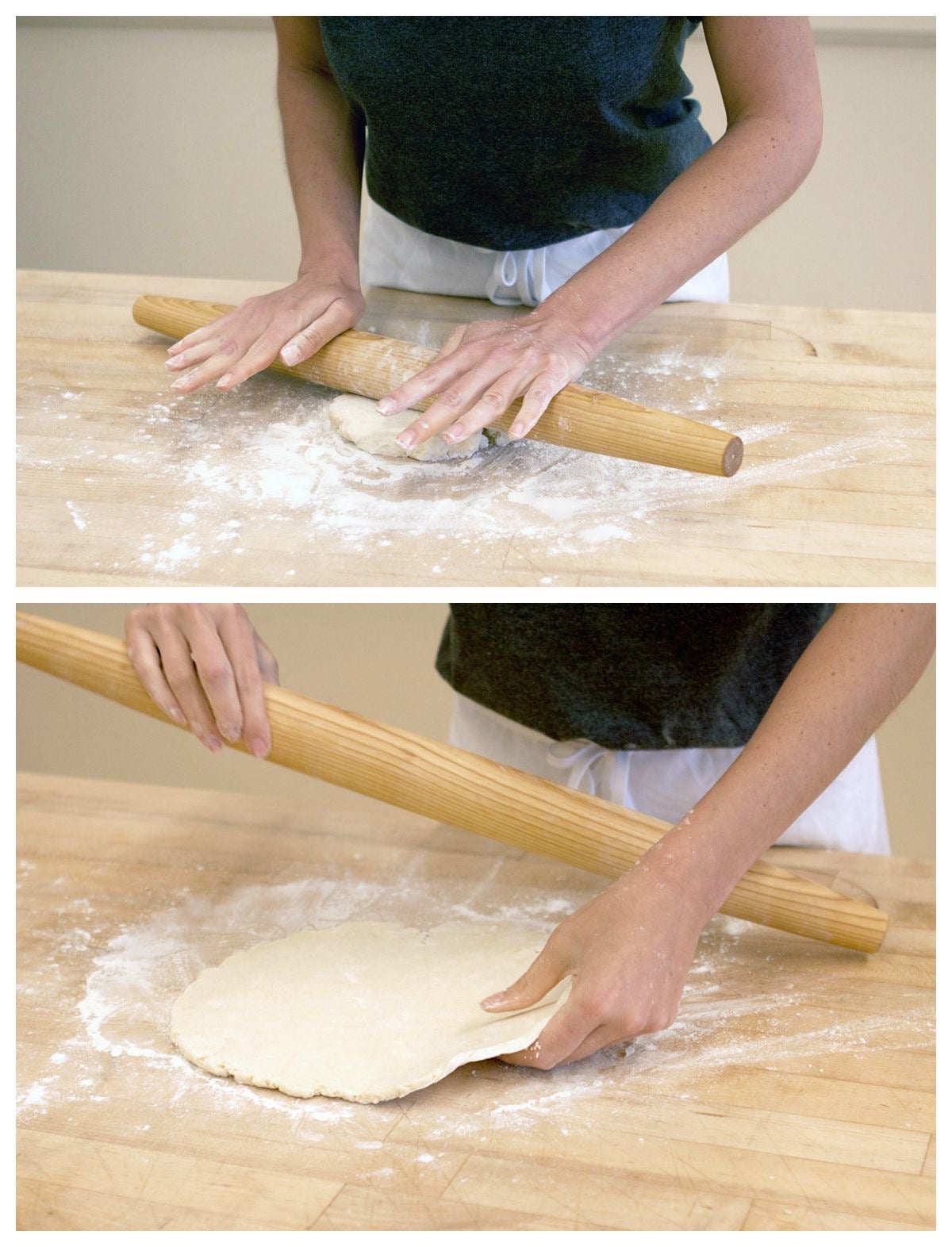 Roll out the crust and put it into a pie pan.
After the dough has chilled sufficiently, remove one disk from the refrigerator and place it on a lightly floured surface. Roll the dough into a 12" circle. To prevent it from sticking to your surface and to ensure uniform thickness, lift and turn the dough a quarter turn as you roll. Always roll from the center of the dough outward.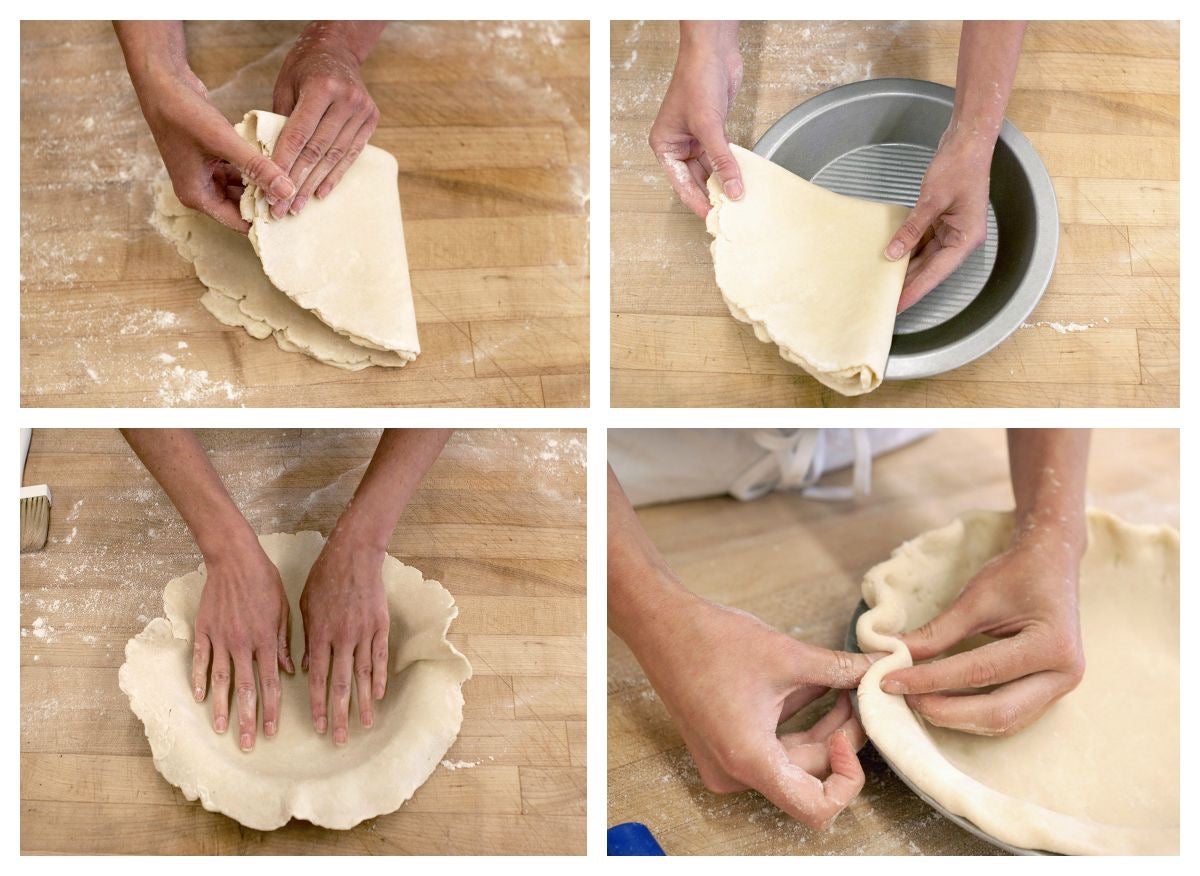 Fold the dough in quarters and gently transfer it to a 9" pie pan, brushing off any excess flour from the bottom. Press the dough against the sides of the pan. Tuck the overhanging dough under itself, crimping as desired. Cover with plastic wrap and refrigerate for about 30 minutes (or freeze for 10 minutes) before filling.
Next, make the filling.
4 large, ripe nectarines (about 5 cups sliced)
1 cup fresh blueberries
1 vanilla bean
1/2 cup King Arthur Unbleached All-Purpose Flour
1/2 cup (packed) light brown sugar
4 teaspoons sugar
Remove the pits from the nectarines and cut the halves into about 1/4"-thick slices. Mix them with the blueberries in a large bowl. Scrape the seeds from the vanilla bean, and mix them into the fruit.
In a separate bowl, mix together the flour, brown sugar and sugar. Add to the fruit mixture, stirring until the fruit is evenly coated. Stir in grated orange peel to taste, if desired. Set the fruit aside.
Can't find nectarines at the market? Here are two more of our favorite summertime combinations:
•5 cups sliced yellow peaches + 1 cup raspberries
•5 cups sliced plums + 1 cup blackberries + 1/4 teaspoon ground black pepper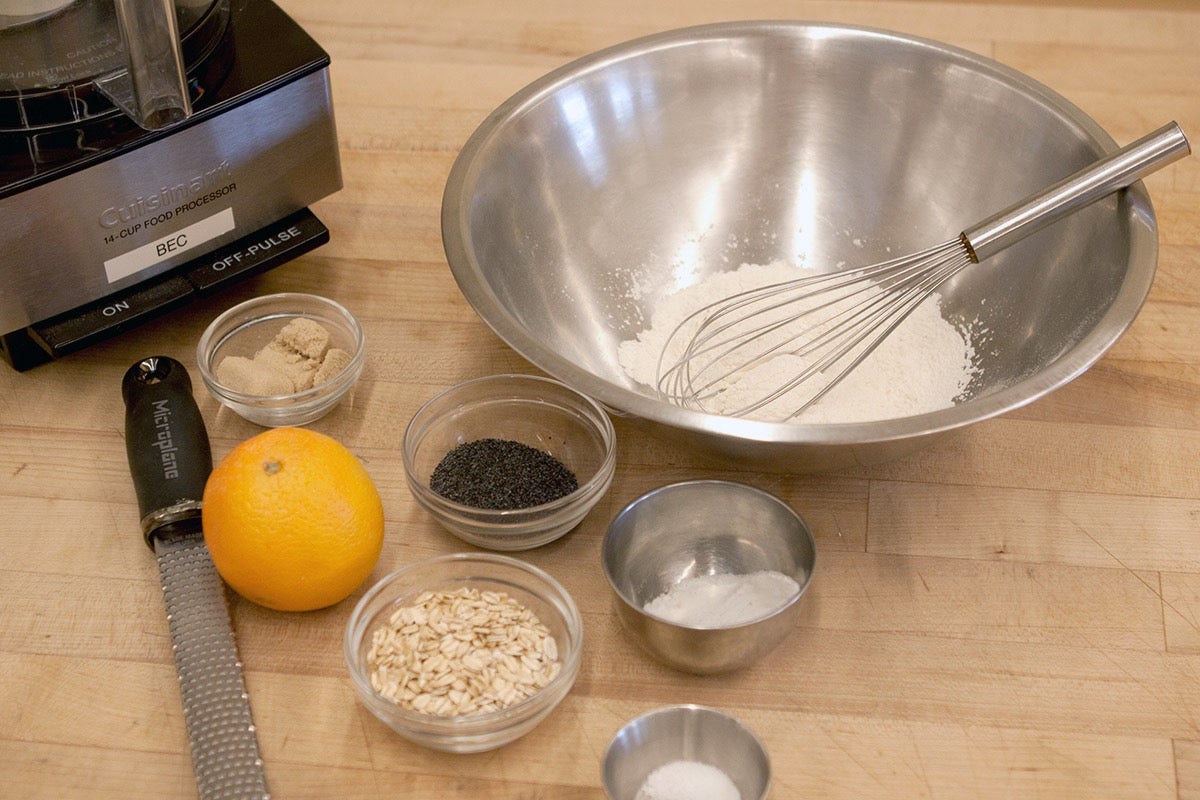 Finally, prepare the crumble.
Now on to the crumble! While Erin was experimenting with recipes this spring she created a brilliant hack for crispy crumbles that's so simple but will forever change how you top fruit desserts: a pre-baked crumble. Which means no more soggy toppings!
We make ours in a food processor, which speeds up the process, but it can also be done by hand.
2 tablespoons vanilla sugar or granulated sugar
3⁄4 cup King Arthur Unbleached All-Purpose Flour
1⁄4 cup rolled oats
2 tablespoons poppy seeds
1⁄2 teaspoon kosher salt
6 tablespoons chilled unsalted butter, cut into 1⁄2" cubes
grated orange peel, to taste; optional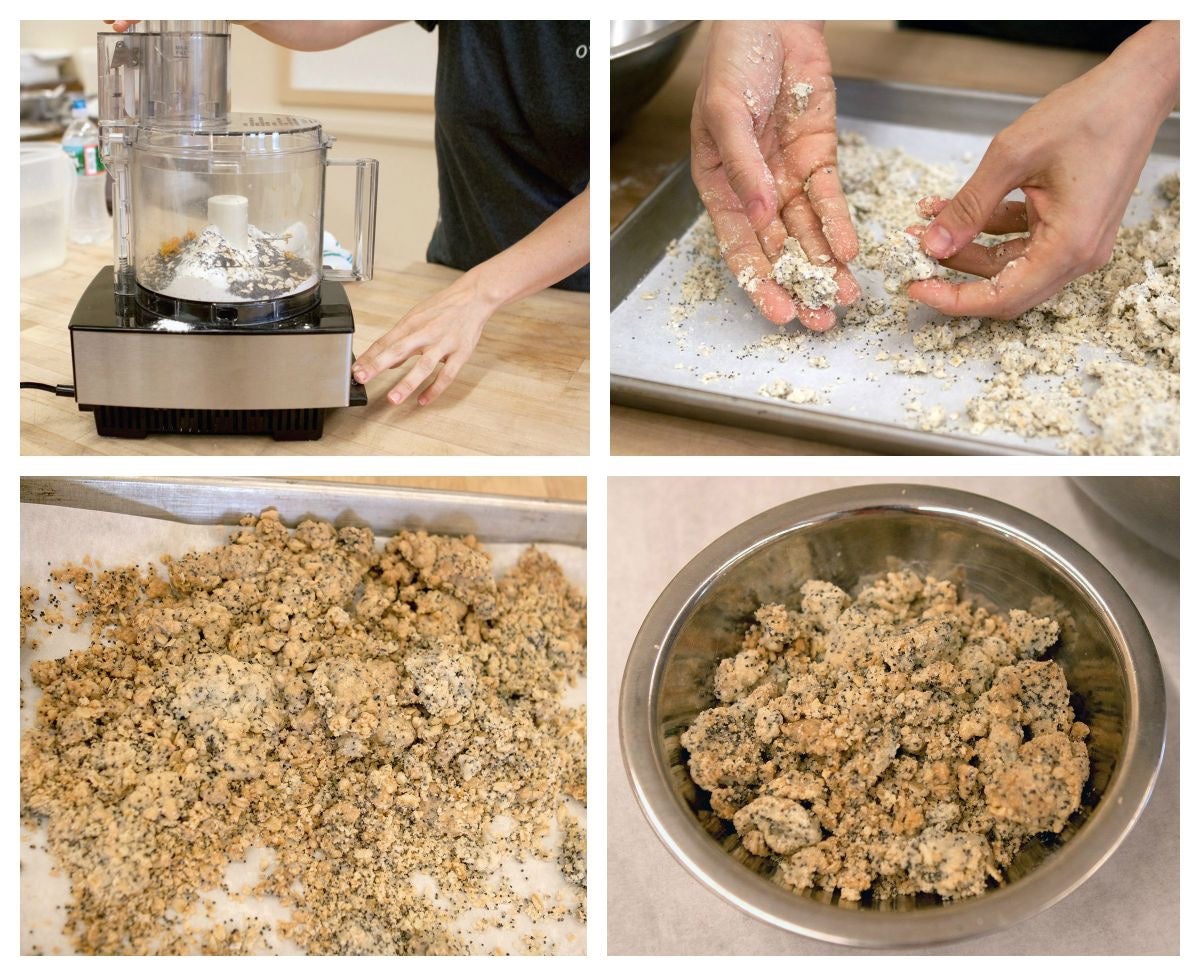 Preheat the oven to 350°F.
In a food processor, combine the vanilla sugar with the flour, oats, poppy seeds, and salt. Add the butter, and grated orange peel (if desired); pulse until a loose dough forms.
Scrape the dough onto a parchment-lined baking sheet, forming small and large clumps of dough with your hands. Bake the crumble topping until cooked through but not browned, about 15 minutes. Transfer it to a rack to cool completely.
Increase the oven temperature to 425ºF. Line a baking sheet with parchment.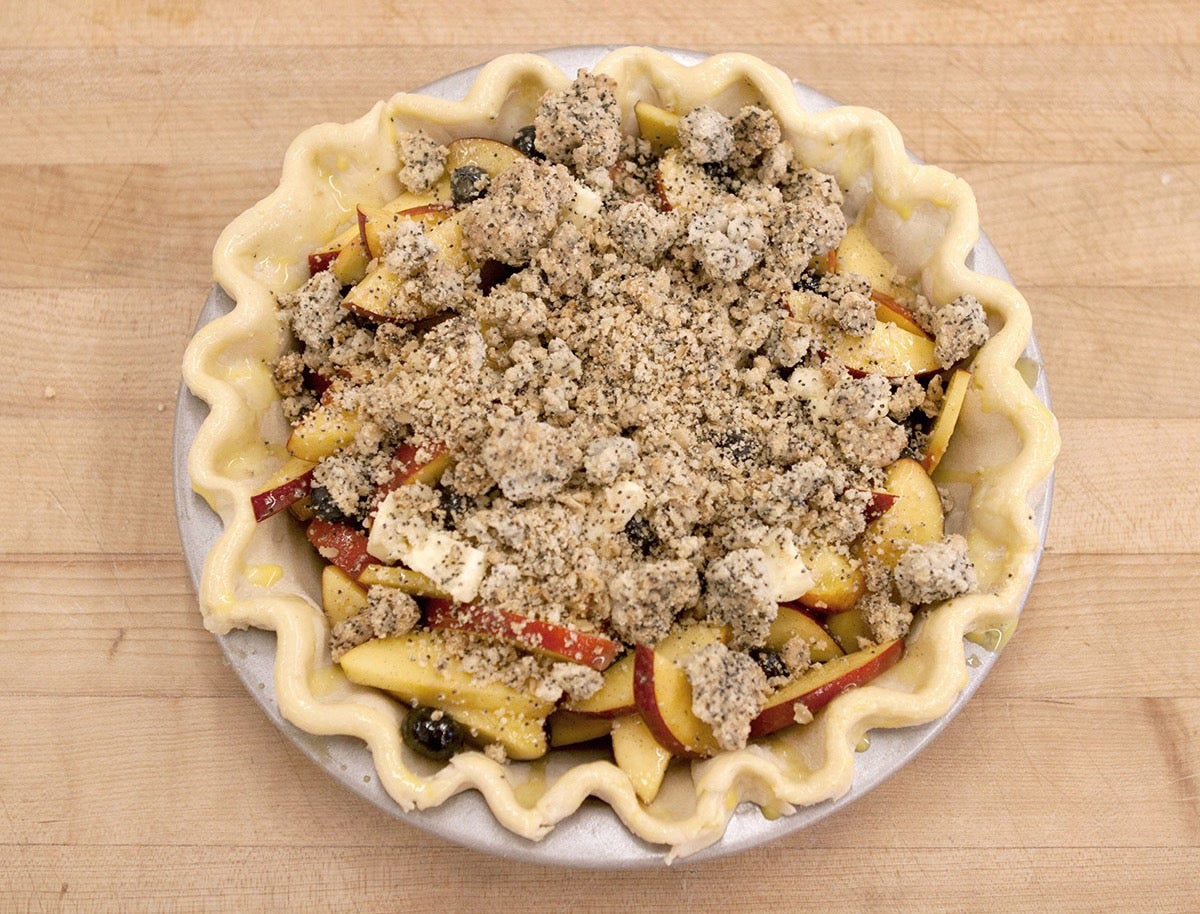 Assemble and bake the pie.
Once the crust is thoroughly chilled and the topping cooled, fill the crust with the fruit mixture. Sprinkle evenly with the crumble topping. Place the pie on the prepared baking sheet.
Bake the pie for 40 to 50 minutes, or until the crust is golden brown.
Remove it from the oven, and let the pie cool for 15 to 20 minutes before slicing and serving. And there you have it: Blueberry Nectarine Pie, a tasty salute to summer.
Want to try something different? Make a free-form rustic tart.
You won't need the topping for this tart, but the remainder of the ingredients are the same.
Roll the crust into a 12" circle. Fold the dough in half and gently transfer it to a parchment-lined baking sheet.
Mound the filling in the center of the crust, and fold the outer edges of the dough over the filling all the way around the tart in an accordion pattern. The crust will overlap on itself; it won't cover the filling completely, leaving about a 3½" to 4" opening in the center of the tart.
Brush the top of the crust evenly with 1 large egg mixed with 1 tablespoon cold water, and sprinkle with about 1 tablespoon sugar.
Bake the tart for 30 to 40 minutes, or until the crust is golden brown.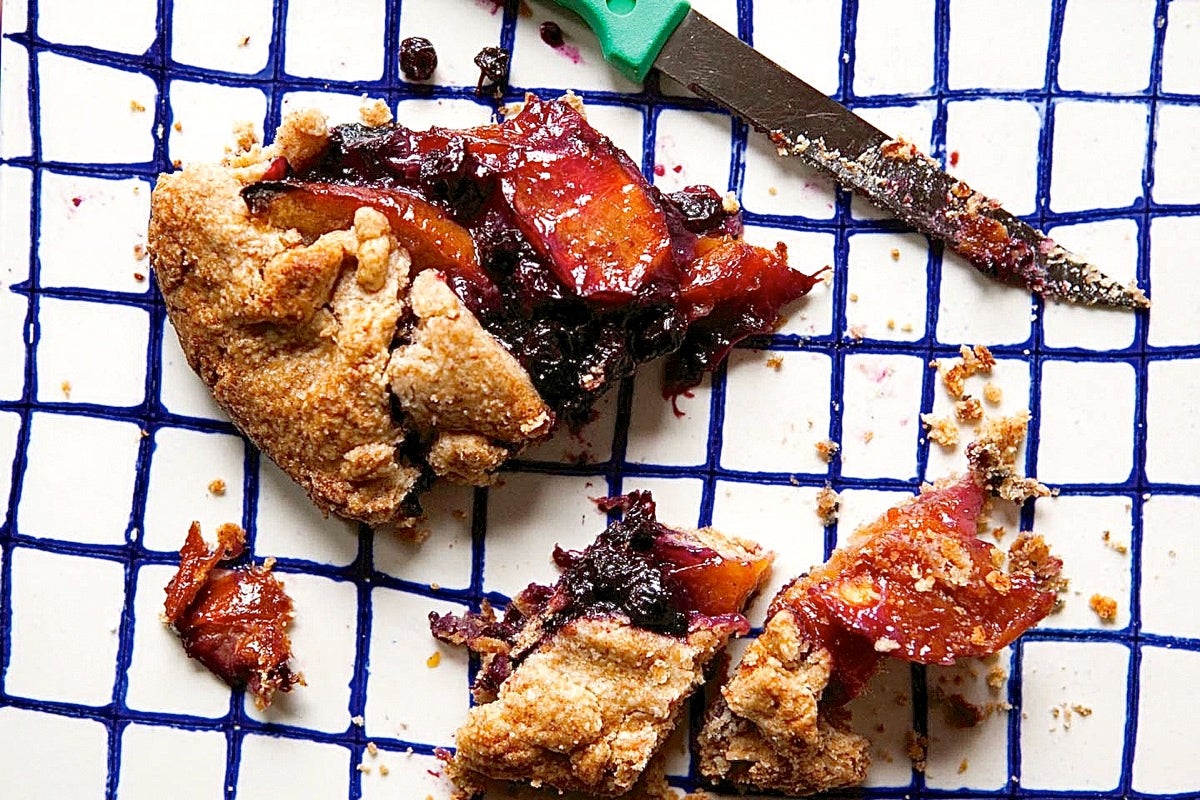 Remove it from the oven, and let it cool for 15 to 20 minutes before slicing and serving.
That's it! Now it's time to enjoy a slice. Thank you King Arthur for having us! We can't wait to be back to Vermont soon!
Discover additional tempting recipes in Erin and Agatha's book, Ovenly: Sweet and Salty Recipes from New York's Most Creative Bakery. And consider taking a baking class with King Arthur! A calendar of upcoming classes is available here. 
Our special thanks to King Arthur Flour's Lee Clark, who took most of the photos for this blog post.
Jump to Comments