Have you ever made a real banana cream pie?
I assume, if you're at all fond of bananas and pudding and comfort food in general, you've made an easy banana cream pie. One that starts with a graham cracker crust; continues with sliced bananas and instant pudding (banana or vanilla, your choice of flavor), and ends with a flourish: Cool Whip! Or Reddi-wip, if you want to shape some fancy rosettes using the can's nozzle.
Or maybe you've made that Southern staple, banana pudding. Often featured on lunchtime buffets down South, as part of a "meat and three" deal (meat, three sides), it's a simple combination of vanilla wafers, pudding, and sliced bananas, all tumbled together and topped with, yes, Cool Whip.
Or, for fancier presentation, layered in a trifle dish. While banana pudding's not pie, it replicates banana cream pie's flavors admirably.
But have you ever made a REAL banana cream pie – one faithful to this diner classic's early 20th-century origins? A pie with flaky, tender crust, filled with fresh bananas and carefully simmered custard, and topped with REAL whipped cream?
Don't get me wrong. I LOVE the typical easy banana cream pie with its "from a box" crust and filling; after all, that was a staple of my mom's baking repertoire. And who doesn't love what Mom used to bake, if only for its happy associated memories?
But you owe it to yourself, just this once, to try traditional banana cream pie.
I'd suggest the same thing if you'd never made brownies except from a boxed mix; or dinner rolls, beyond brown 'n' serve. There's just something about "from scratch" baking that satisfies your soul – as well as your appetite!
Let's start with a single pastry pie crust, one you've rolled out and nestled into a 9" pie pan. If you don't have a favorite pie crust recipe, our Classic Single Pie Crust won't let you down.
Chill the crust for 30 minutes.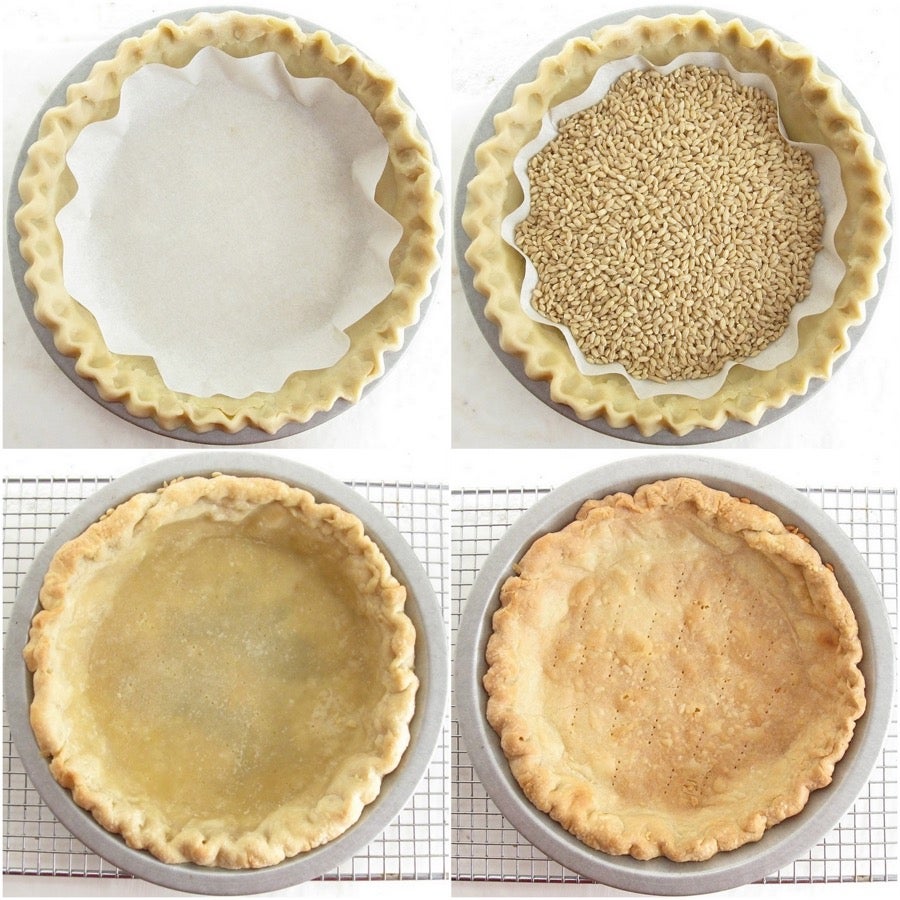 Next, you're going to prebake the crust – i.e., bake it without any filling. This is common practice for pies with fillings that cook atop the stove, rather than bake in the oven: chocolate cream, for instance.
One issue with prebaking crust is that it can tend to slide down the sides of the pan as it bakes. (You've had that happen, right? Frustrating!) Chilling the crust relaxes its gluten, and helps prevent this slippery slide.
Preheat the oven to 375°F. Remove the pie from the refrigerator, and prick its bottom surface all over with a fork; this will help keep it flat. Line the crust with a piece of waxed paper or parchment (a 9" parchment cake round works well), and fill it with dried beans, rice, pie weights, or the oven-safe, food-safe weights of your choice.
Bake the crust for 20 minutes. Remove it from the oven, remove the weights and paper, and continue to bake for 15 to 20 minutes, until it's golden brown across the bottom. Remove the crust from the oven, and cool it on a rack while you make the filling.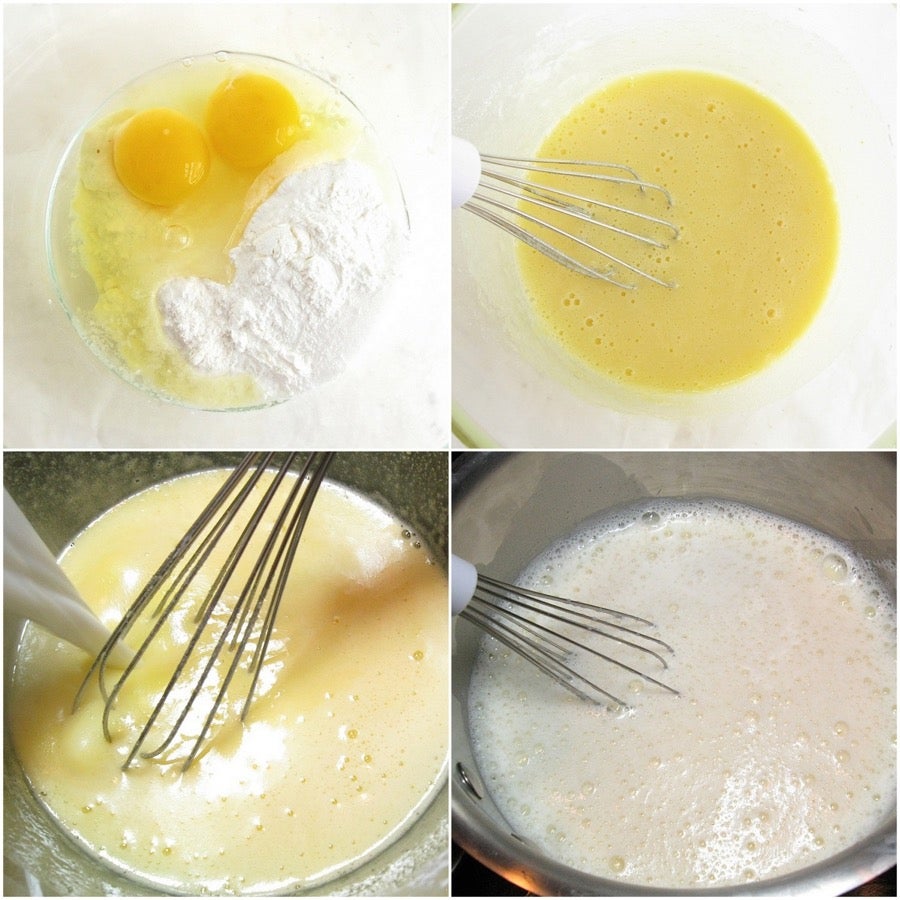 In a heatproof bowl, whisk together the following:
1/2 cup (99g) sugar
2 tablespoons (14g) King Arthur Unbleached All-Purpose Flour
2 tablespoons (18g) cornstarch
1/2 teaspoon salt
2 large eggs
Set this mixture aside for a moment.
In a medium-sized saucepan, bring 2 cups (454g) milk (preferably whole milk) just to a boil. Gradually add the hot milk to the egg mixture, stirring all the while. Return the egg/milk mixture to the saucepan.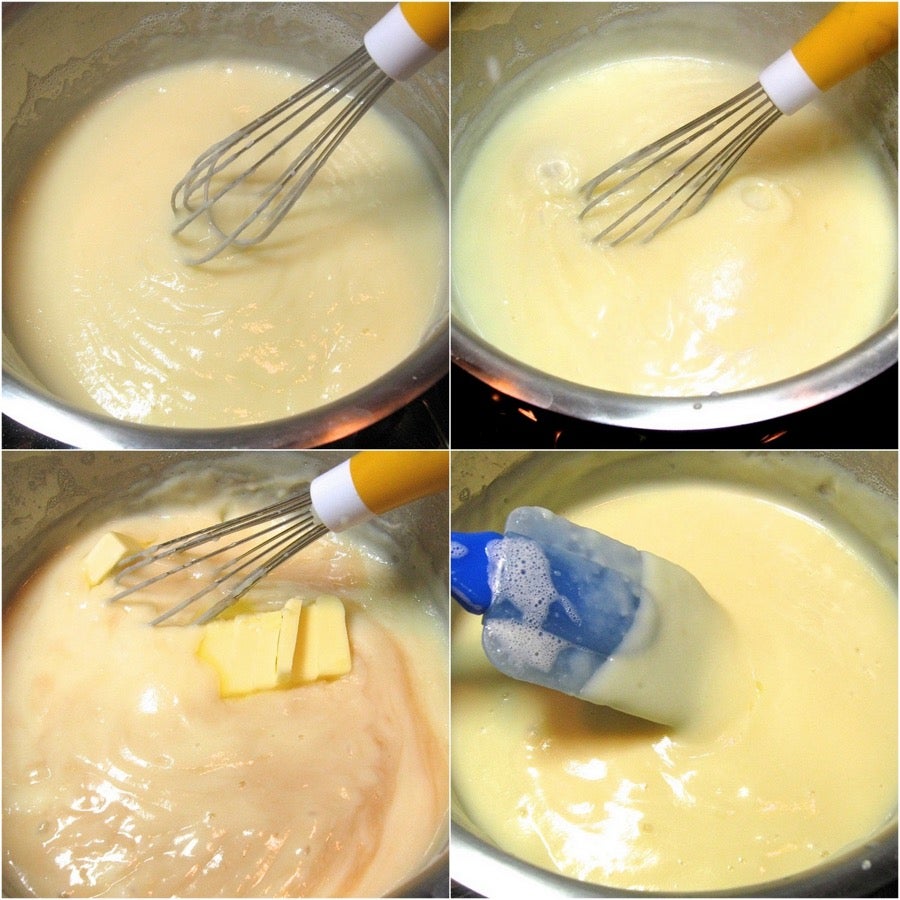 Cook the filling over medium heat, stirring constantly, until the mixture thickens and starts to boil; this will happen quite quickly, so don't leave the stove to do other chores.
Remove the filling from the heat, and add the following, stirring until smooth:
6 tablespoons (85g) room-temperature or soft butter
1/2 to 1 teaspoon vanilla extract, to taste
1/4 teaspoon almond extract, optional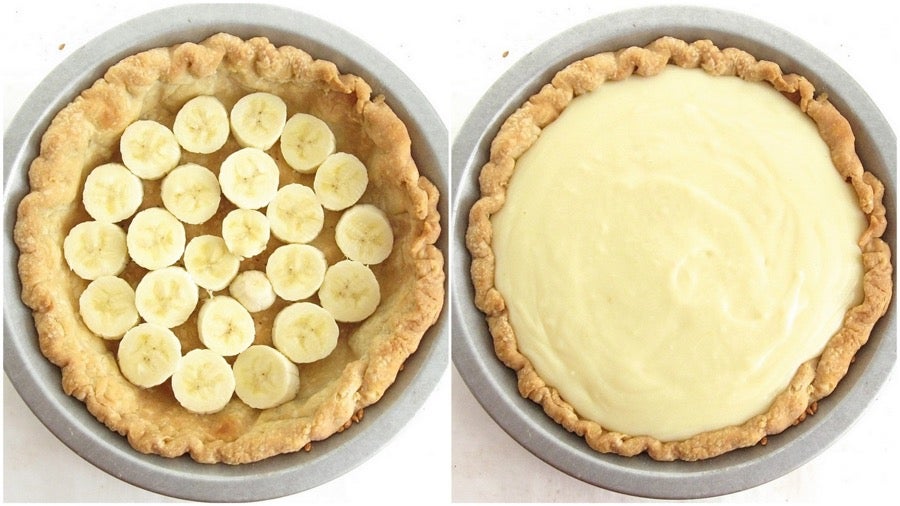 Peel 2 medium bananas, slicing them 1/2" thick. Arrange as many slices as will fit in the crust.
Pour the hot filling over the bananas.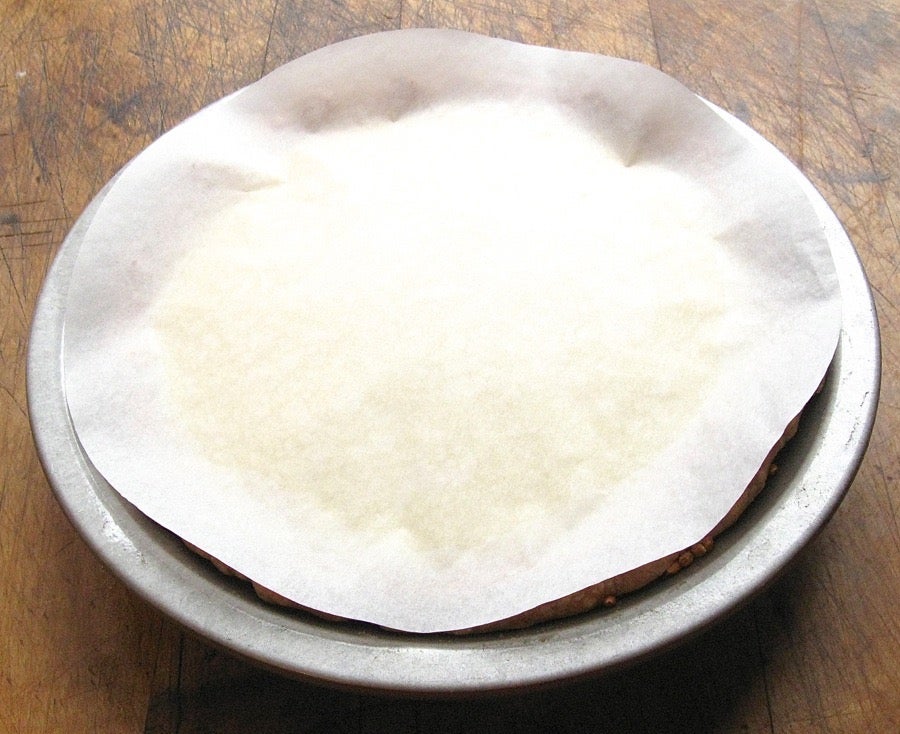 Smooth the surface, and cover it with plastic wrap — or with the same piece of parchment you used to line the crust while it was baking. This will prevent the surface of the filling from developing a "skin" or crust.
Refrigerate the pie until it's completely cold; the filling will thicken and set.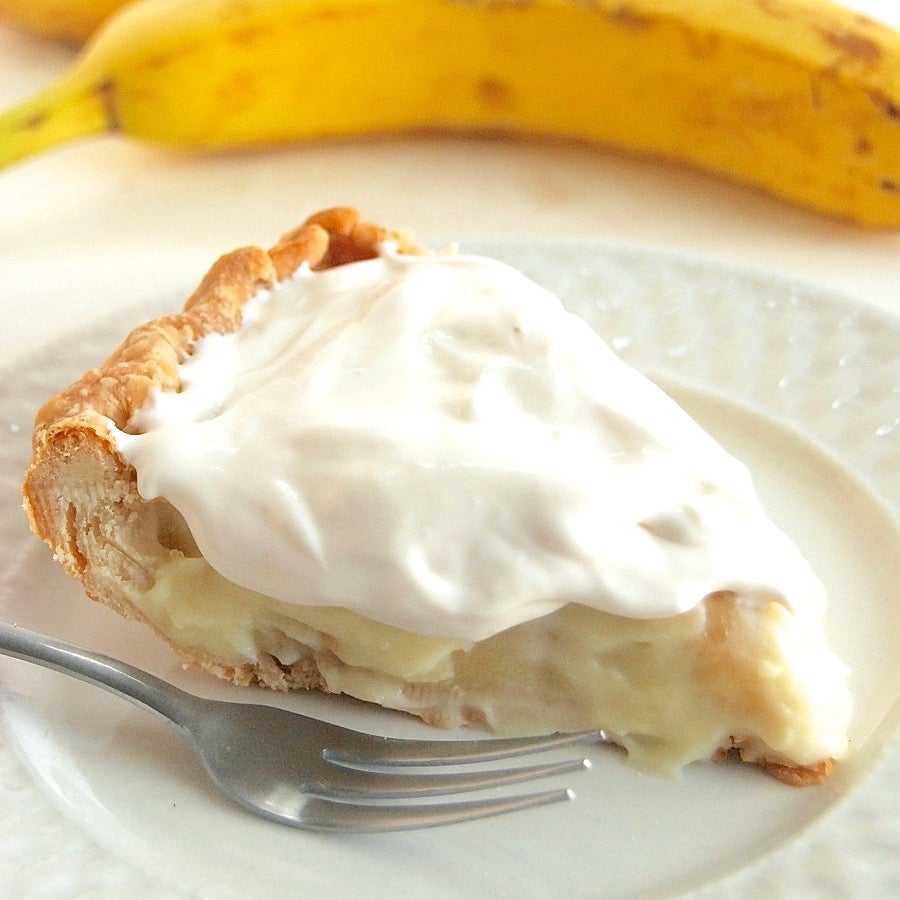 Serve the pie cold, with a dollop of whipped cream, if desired. I happen to like my whipped cream on the "droopy" side; in other words, yes, it was supposed to look like this! But feel free to whip it stiff if that's your preference.
Please bake, rate, and review our recipe for Banana Cream Pie.
Jump to Comments