Hawaiian pineapple.
It really is as good as it gets. Sweeter and more delicious than what we find on the mainland (at least in Vermont!), stopping at the farmer's market for fresh pineapple is one of the highlights of being in Oahu.
I'm fortunate enough to get to spend the month of April in paradise, working and enjoying all that this beautiful island has to offer. I'd have been crazy not to take advantage of this opportunity to blog, if only to show some of the pictures I've taken. It was an awfully cold winter in Vermont, so forgive me if I can't get over how PERFECT it is here!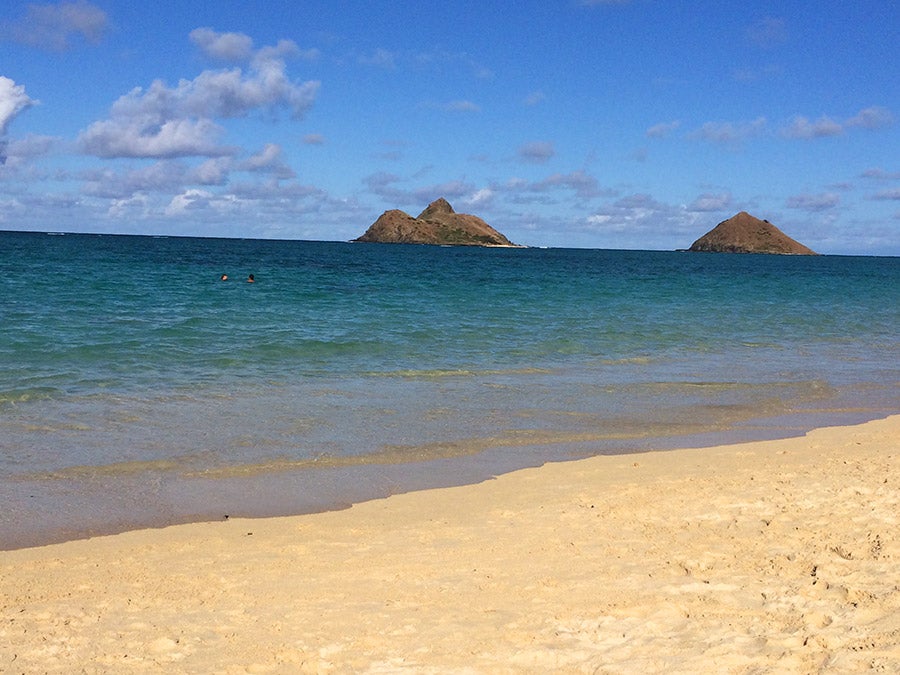 I mean, seriously.
Pineapples aren't native to the Hawaiian Islands, but they are one of the things that turned Hawaii into a major agricultural hub. In fact, Lanai is also known as "Pineapple Island," because it used to be an island-wide pineapple plantation.
So far, I've eaten pineapples on hotdogs, in sandwiches, in smoothies, on top of drinks (winky face!), and just about any other way I can get them. My husband was pretty spot on when he said that we're not going to be able to eat them once we get home to the East Coast. They just won't compare.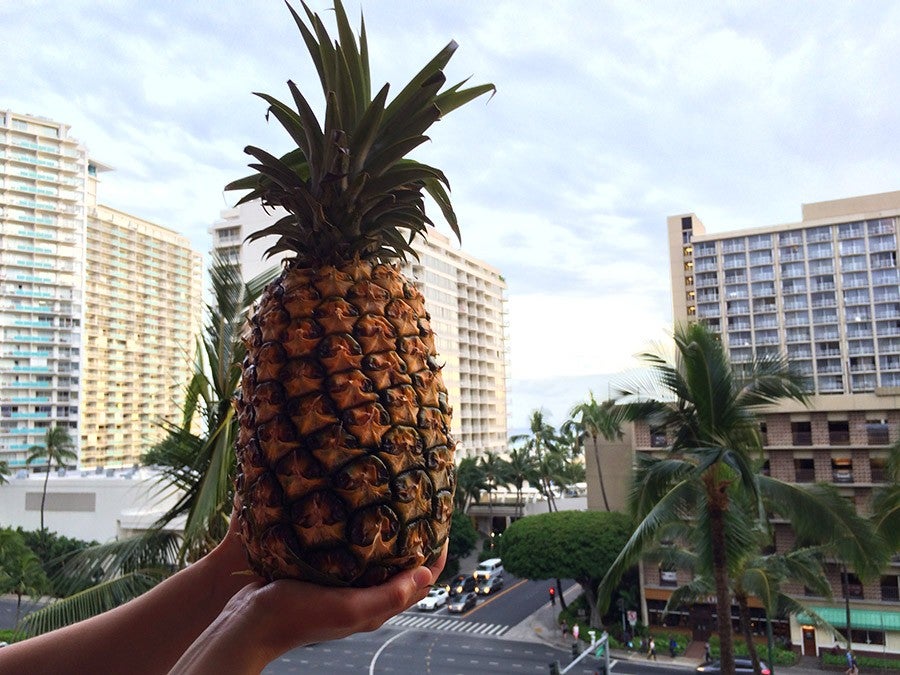 Pineapples are a symbol of hospitality, and the people of the Hawaiian Islands are nothing if not kind and hospitable. Must be all of that smile-inducing sunshine. I just can't get over it!
One thing you see in grocery and convenience stores all over the island are sweet Hawaiian rolls. There are many different local brands available. A popular brand of sweet rolls has even found its way to the mainland, as far away as New England.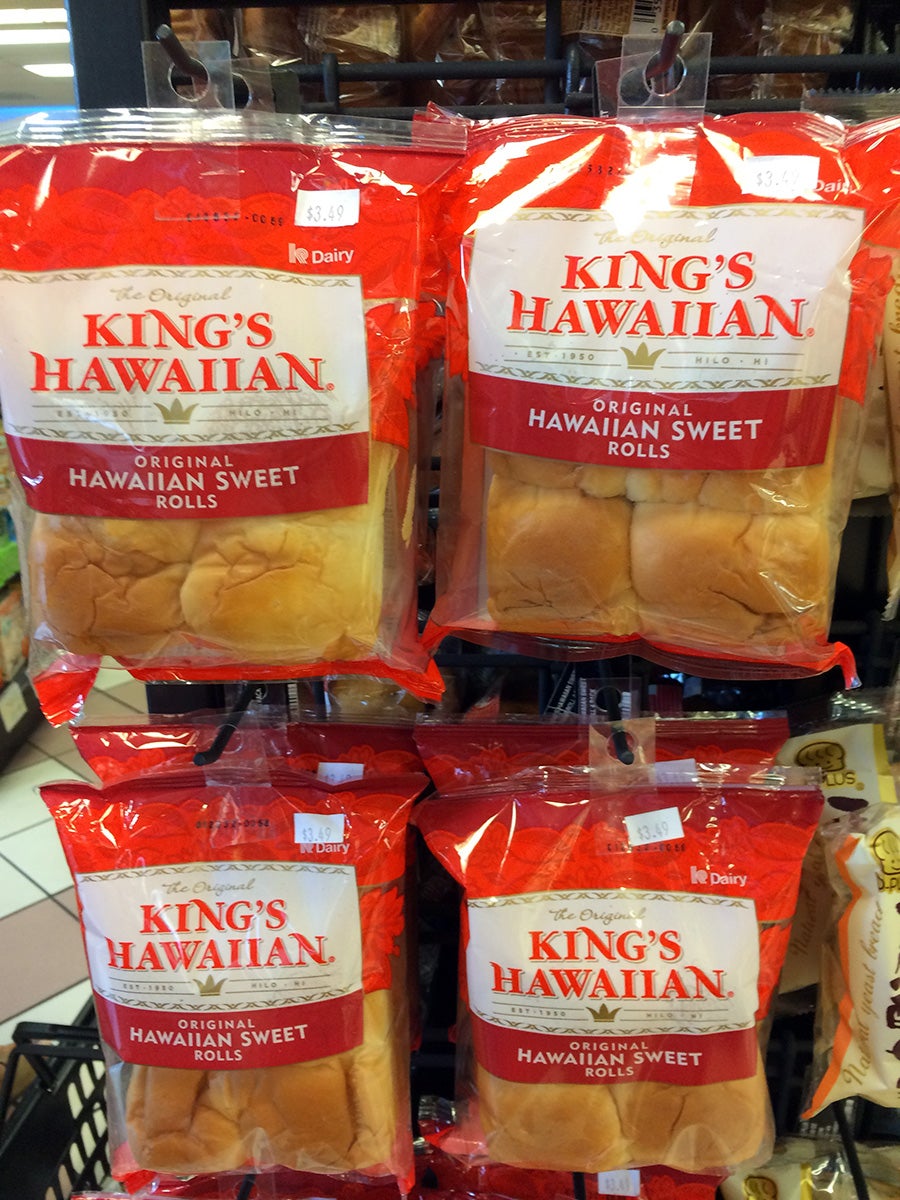 King's Hawaiian rolls are sort of a supermarket hot item. They originated in Hilo, Hawaii, on the big island, in the 1950s. Founder Robert Taira created a bakery selling loaves of soft and sweet breads that, as the company states, "rarely made it home."
I, for one, love when an orange package of those delicious dinner rolls shows up on the dinner table. Usually with one or two missing, but hey, I don't judge. But as a proud employee of King Arthur Flour, I'll tell you homemade is always better, so to the kitchen I went to try to recreate these delicious buns.
Hawaiian buns are very similar to Portuguese bread, and for good reason. It's said that the Portuguese farmers who first settled on the islands brought their bread recipes with them, and they were eagerly embraced and gobbled right down. Our recipe for Portuguese Bread was a terrific starting point.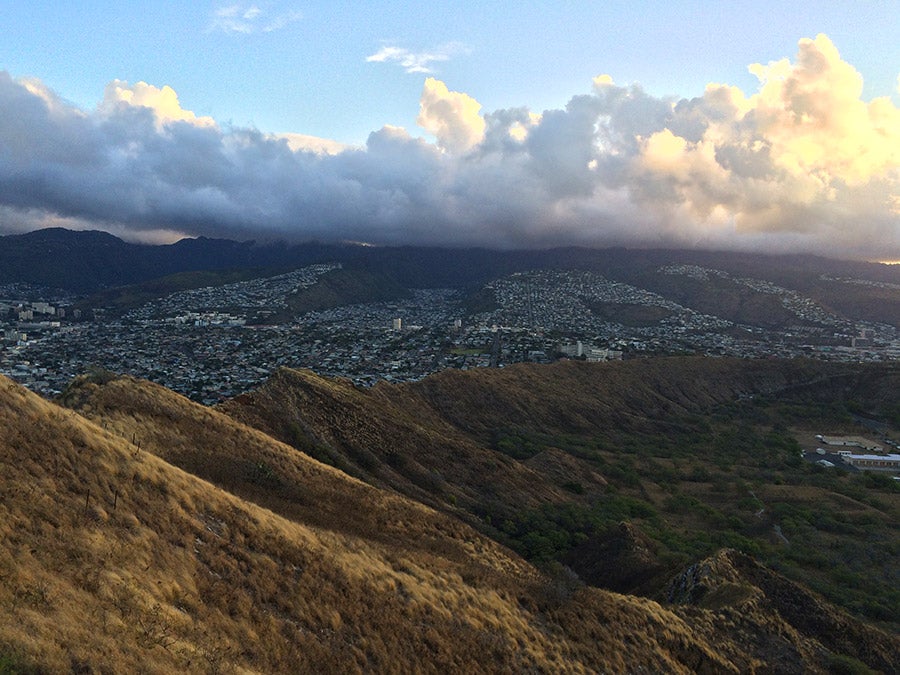 Being in Hawaii inspires me. I mean, it's an absolute paradise, with access to such delicious fresh produce. So to make these buns as "Hawaiian" as possible, I added (you guessed it) pineapple juice as a sweetener in the recipe.
The King's Hawaiian rolls don't list pineapple juice as an ingredient, but these buns taste remarkably similar. And after a test-kitchen taste test, it was decided that the addition of pineapple made these homemade buns a hands-down winner.
The pineapple doesn't take center stage in the buns. What it really does is create an ultra-soft sweet roll, with a little hint of something pleasant that you can't quite place. As you can imagine, it makes them very hard to put down.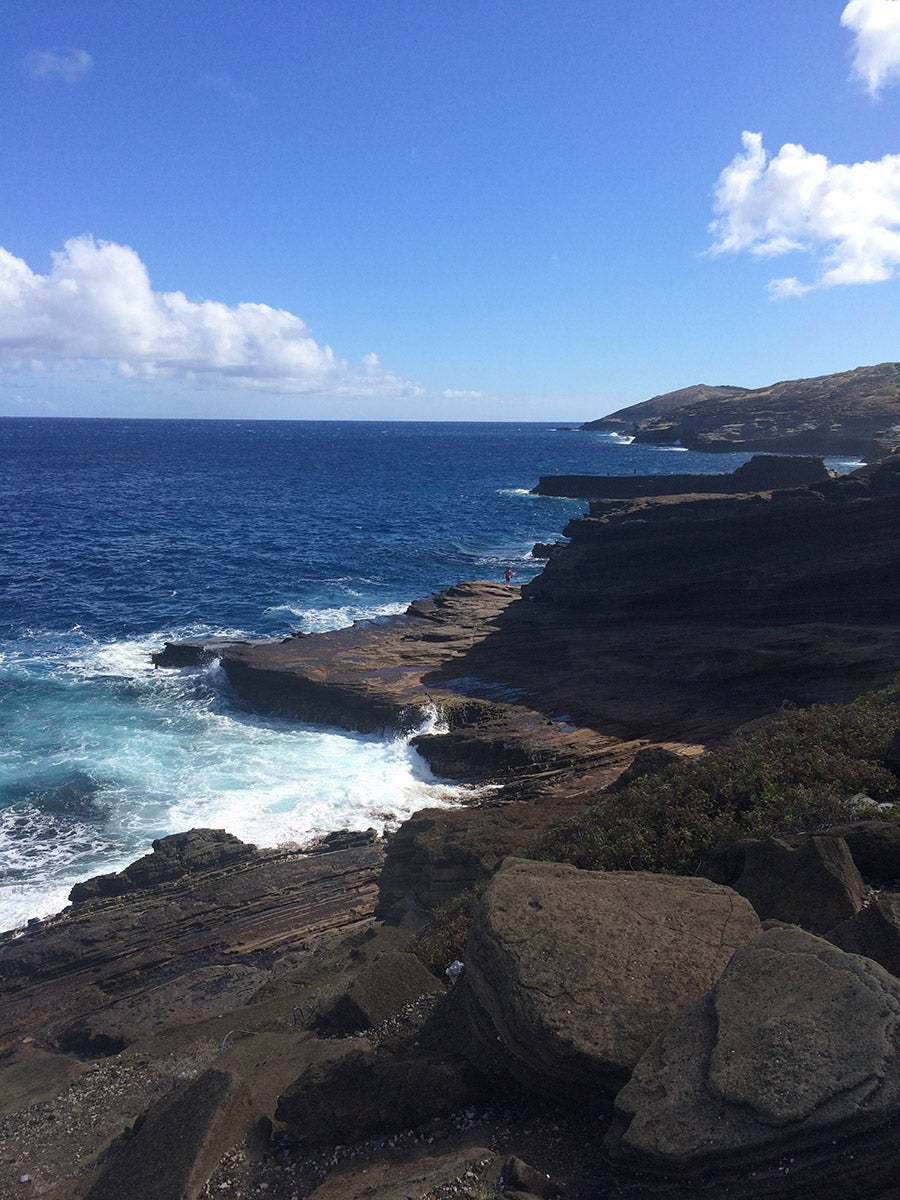 Not convinced that you'd like to make these tasty little Hawaiian buns? Here, just imagine yourself in paradise while you're baking away.
*Sigh* OK. On to tasty rolls!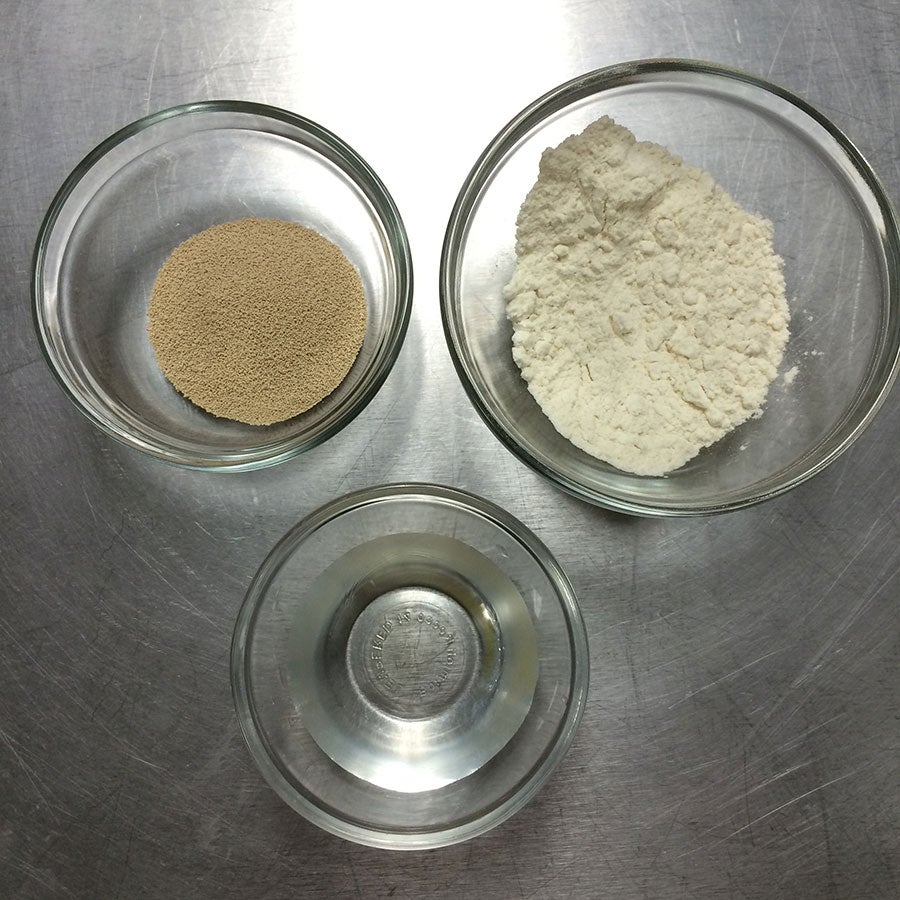 In the bowl of your stand mixer or the bucket of your bread machine, combine:
1/4 cup King Arthur Unbleached All-Purpose Flour 
2 tablespoons water
1 tablespoon instant yeast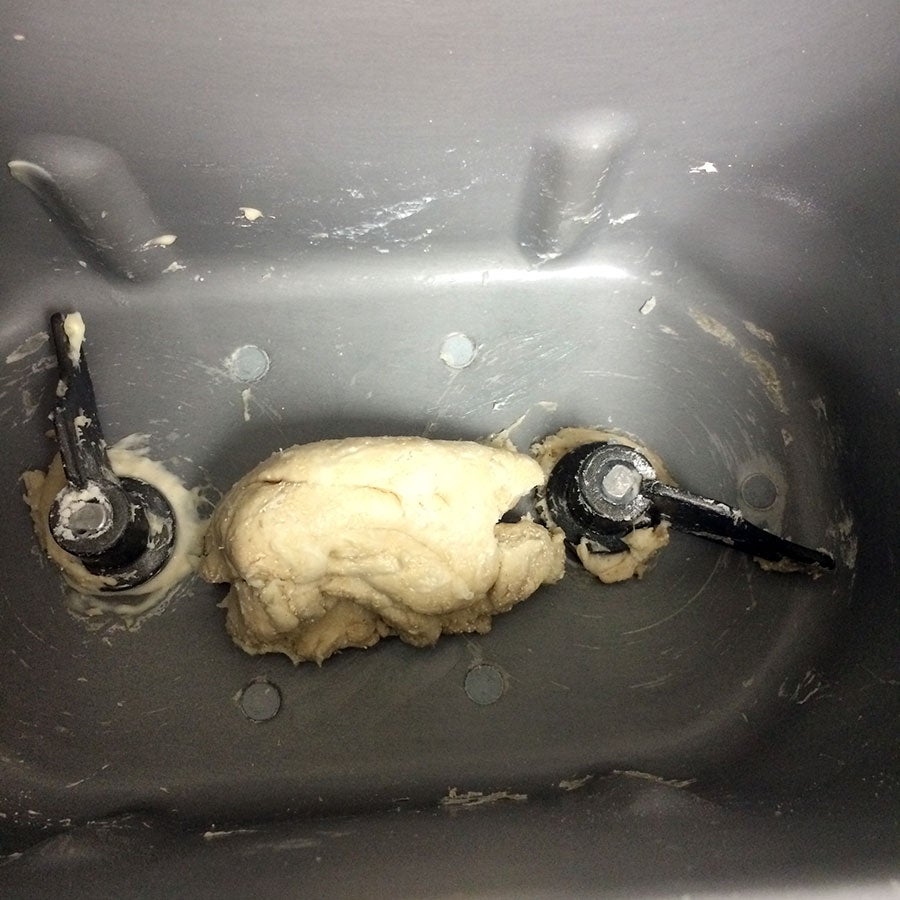 Allow the sponge to rest for 15 minutes. It won't change much in appearance, but it'll give the yeast a little head start.
SAF Gold Instant Yeast is the best yeast for this type of bread. Why is that? Sweetened yeast doughs are extremely slow risers. Sugar attracts water, and when it's in bread dough, it pulls water away from yeast – leaving the yeast thirsty and unable to thrive. This unique strain of yeast is "osmotolerant" – meaning it requires less water. It's like a camel in the desert, unaffected by dry conditions, meaning your loaves will grow big and soft and puffy with ease.
You can certainly use regular instant yeast, but expect a longer rise time, an extra 30 minutes or more for each rise.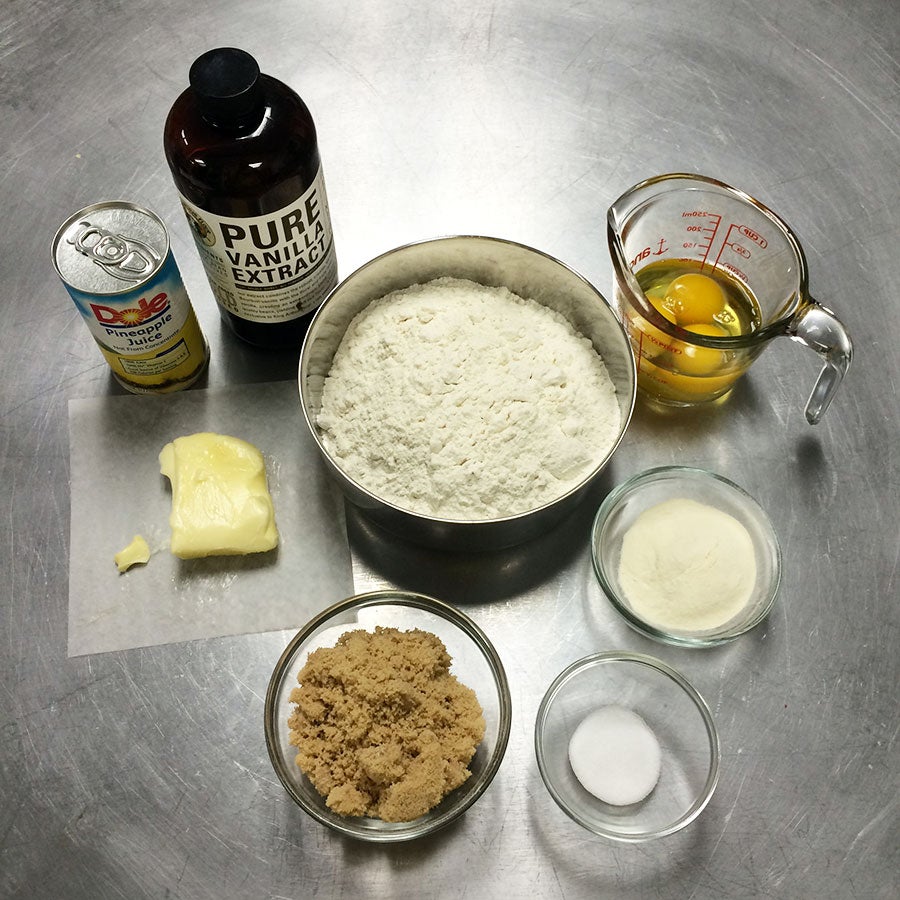 Add the following to the rested sponge:
1/2 cup pineapple juice, canned*
1/3 cup brown sugar
1/4 cup softened unsalted butter
2 large eggs plus 1 large egg yolk (reserve the white for later)
1 teaspoon vanilla
*While we prefer the convenience of canned pineapple juice, this recipe can absolutely be made with fresh. If you want to use fresh pineapple: microwave the juice for 2 minutes until it reaches 200°F, and allow to cool to lukewarm before using. The process of heating will kill any enzymes in the juice, which would otherwise destroy the gluten.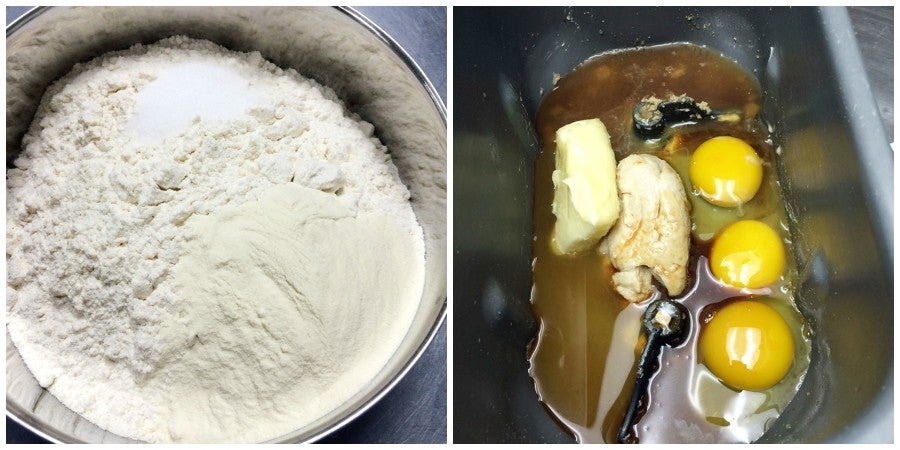 Whisk together:
2 3/4 cup King Arthur Unbleached All-Purpose Flour   
2 tablespoons potato flour
1 1/4 teaspoons salt
After it's fully whisked together, add the dry ingredients to the wet mixture. This extra step ensures the potato flour won't create clumpy pieces in your dough. Trust me – if you don't, it definitely will!
Why the potato flour? The starch in potatoes attracts and holds water, and helps to increase the moisture content in baked goods. This will ensure your little pineapple buns will be ultra-soft and moist when pulled from the oven.
It also helps to extend the shelf life, but we know these won't be around long enough for that to matter!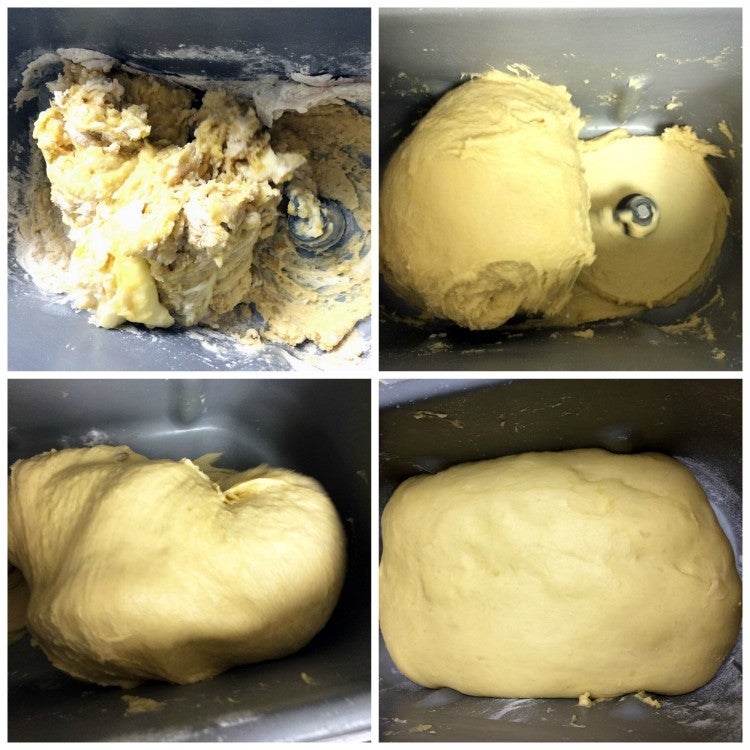 Mix and knead until the dough is cohesive and smooth; it'll be very sticky at first.
If you're using a stand mixer, beat with the flat beater for about 3 minutes at medium-high speed; then scrape the dough into the center of the bowl, switch to the dough hook, and knead for about 5 minutes at medium speed. It will have formed a soft ball, but will probably still be sticking to the bottom of the bowl.
If you're using a bread machine, simply let it go through its entire cycle.
Lightly grease the mixing bowl or a large (8-cup) measure, round the dough into a ball, and place it in the bowl or measure. Cover, and let rise until very puffy, about 1 1/2 to 2 hours.
If you're using a bread machine and the dough hasn't doubled in size when the cycle is complete, simply let it rest in the machine for another 30 to 60 minutes.
Lightly grease a 9" x 13" pan.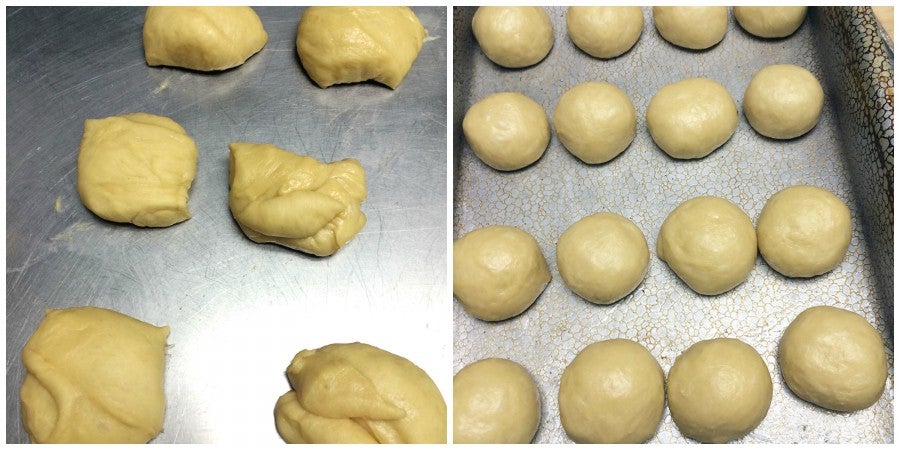 Gently deflate the dough. Divide it into 16 equal pieces, by dividing in half, then in halves again, etc. Round each piece into a smooth ball. Space the buns in the pan.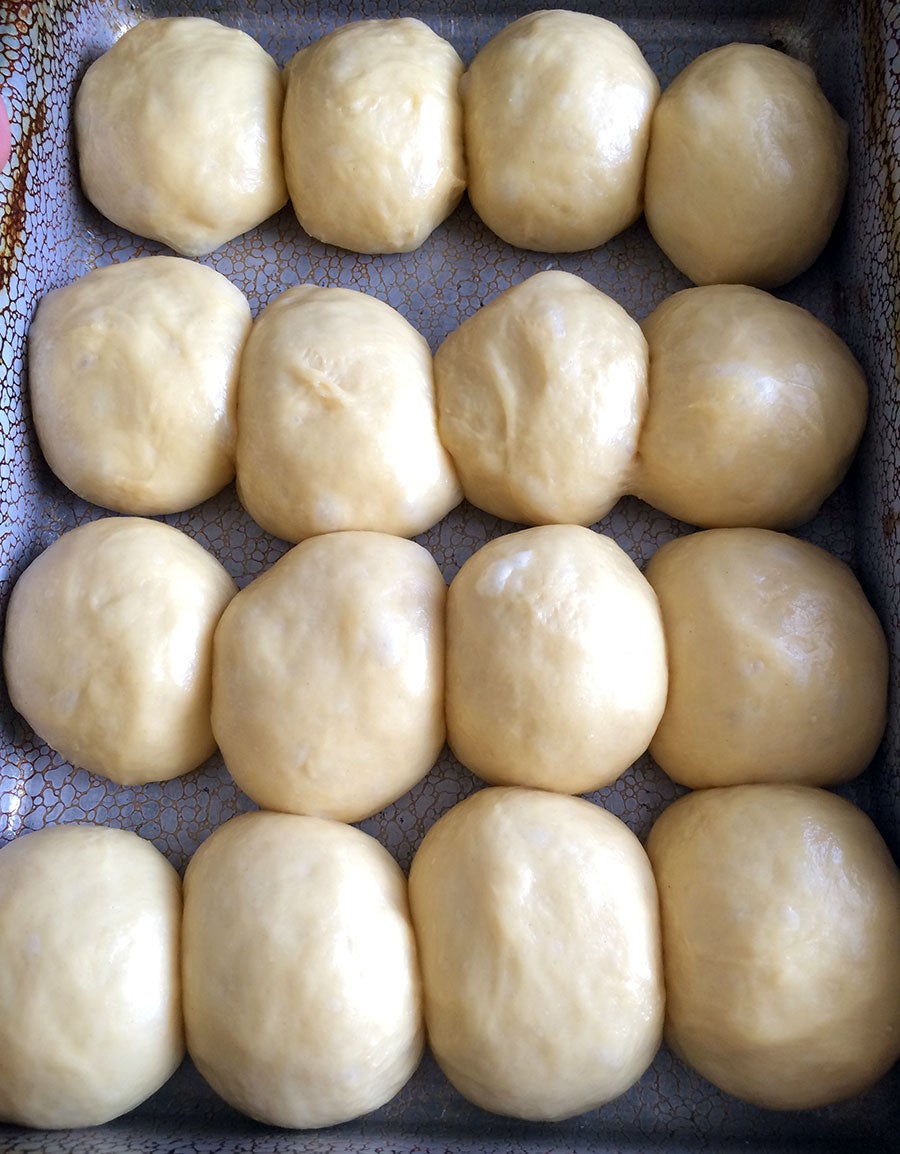 Tent the rolls gently with lightly greased plastic wrap. Let them rise in the pan for 1 hour, until they're nicely puffy. Toward the end of the rising time, preheat the oven to 350°F.
Mix the reserved egg white with 1 tablespoon cold water, and brush onto the surface of the rolls; this will give them a satiny crust.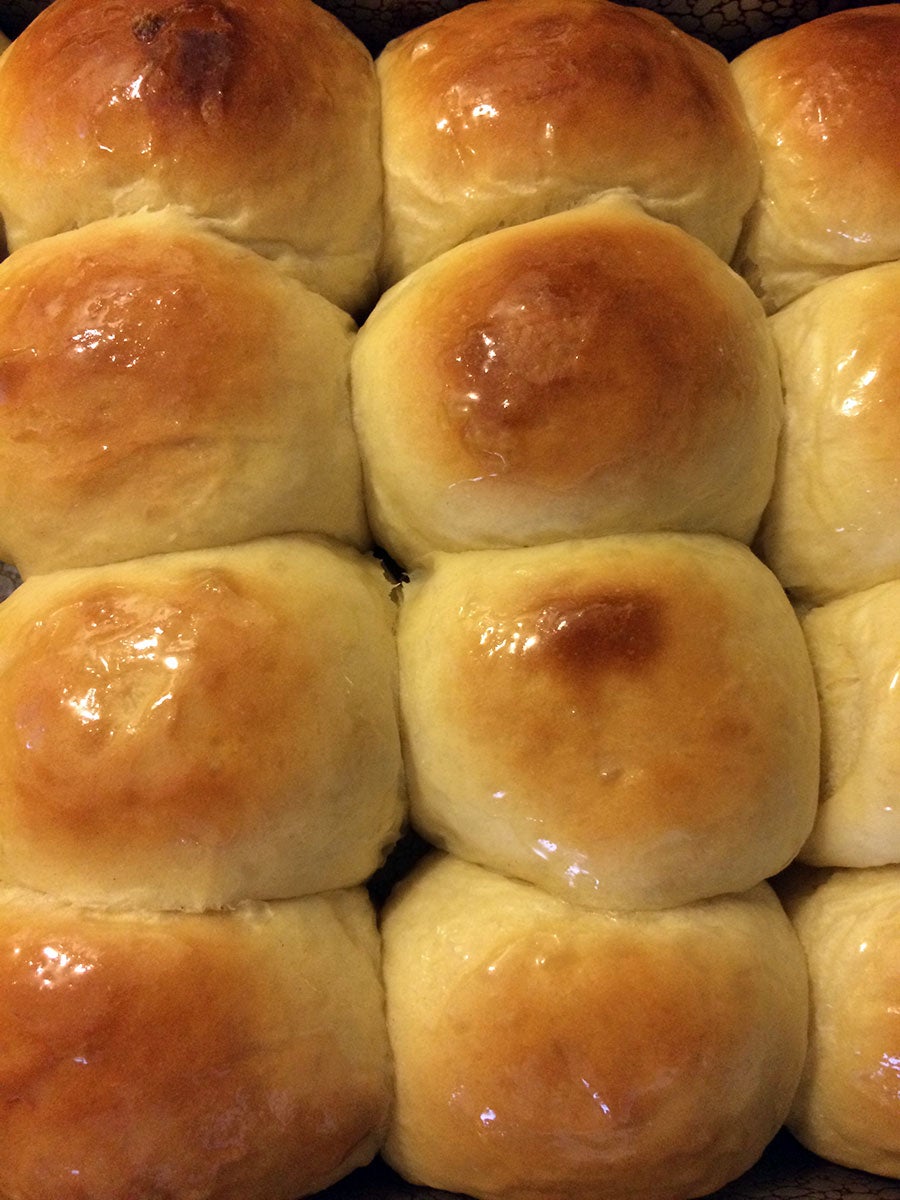 Bake the rolls for 20 to 25 minutes, or until the internal temperature reads 190°F on a digital thermometer.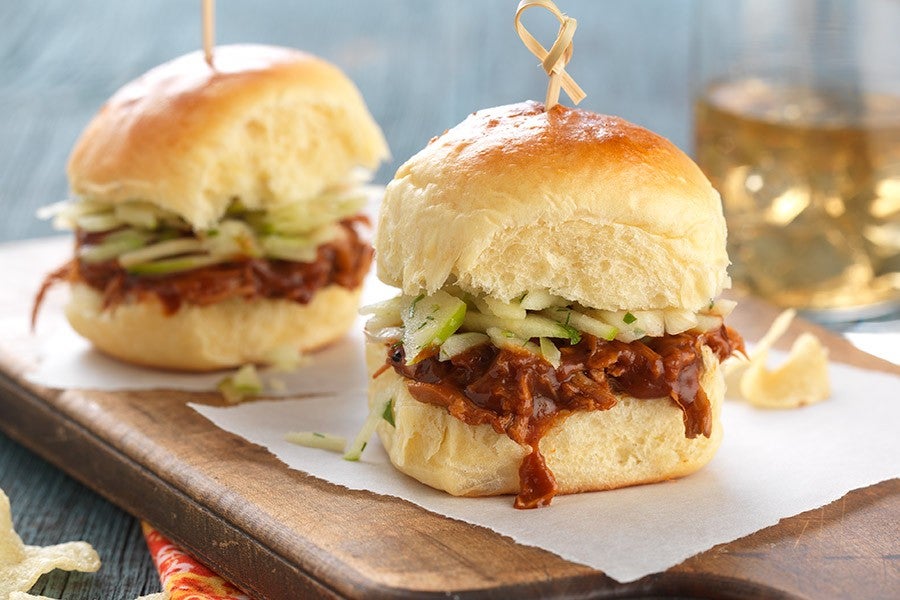 Remove the rolls from the oven, and after a few minutes, turn them out onto a cooling rack. These rolls can be served warm or cold or... you know what? There are no rules with these. Eat them however you can. They're that good!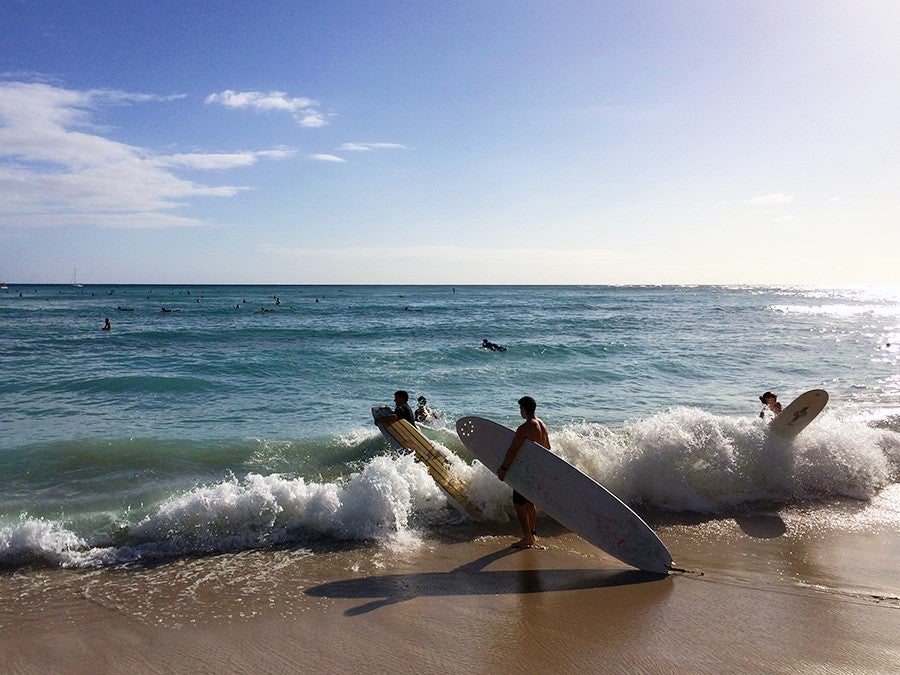 Sorry (not sorry!), last one. I couldn't resist. Aloha!
Please bake, rate, and review our recipe for Hawaiian Buns.
Jump to Comments